Would you like to make your eCommerce store more appealing and easier to use?
Ecommerce store creation can be a time-consuming and complicated process. Aside from researching the best possible themes, you'll need to set them up, customize them, and ensure they'll accommodate all devices.
I bring you the perfect guide to help you choose the ideal & best Shopify dropshipping themes for your business. Your store will be taken to an entirely new level where you can achieve your goals faster with these themes!
15+ Shopify Dropshipping Themes in 2023
#1. Kala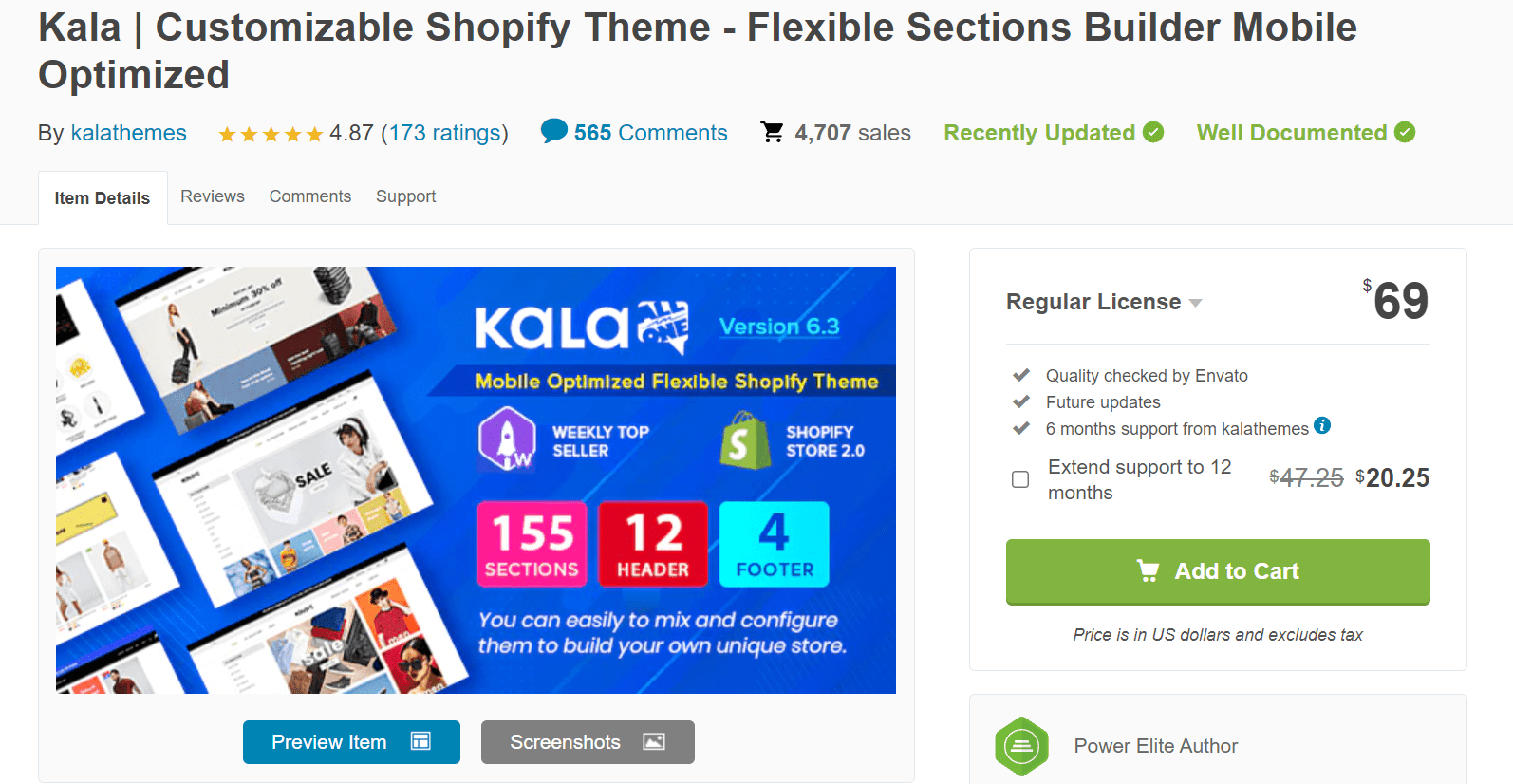 No matter what you're selling, Kala has a variety of layouts and design styles you can choose from, and it's very easy to tailor to your brand's aesthetic.
A mobile-responsive theme for multi-purpose sites, Kala is a multi-purpose theme with a responsive design. Designed for mobile devices, this theme is a perfect choice for shopping on a tablet or smartphone due to its highly optimized UI/UX.
Due to the fact that more and more consumers are shopping online on their phones, Kala is a perfect solution to increase conversions.
Features of Kala Theme
Responsive design for all devices
110+ unique designed sections and product sections
11 different headers
Boost your conversion rate on mobile right away. Let's boost your conversion rate on mobile right away with KALA theme.
Your customers can explore and buy your products straight-forward on mobile. Let's maximize your profit by using this theme for your business.
Mobile friendly designed UI/UX, UX navigation & UX design
Designed specifically to increase mobile sale
Boost your conversion rate with mobile friendly UX
#2. FAP
FAP is one of the most popular dropshipping Shopify themes, and it was designed primarily for eCommerce slots like furniture, beauty, wellness, and fashion.
Business owners can choose to use this contemporary and stylish theme since it offers a responsive design and numerous features, including multiple headers, multiple layouts and styles, landing pages, sale products, and a sales promotion page. The license costs $39. This makes it a very affordable program.
https://youtu.be/XoVAM8oQJfM
Features of FAP theme
The following are some of the features of this responsive eCommerce template:
Many different types of headers
Multiple style & layout
Ready to use for a complete website
Fully customizable
W3C validated code
Well documented code, easy to modify
One of the main features of this responsive eCommerce template is that it is very quick and super lightweight.
This will enable your site to load faster, even on older computers or mobile phones.
#3. Vendy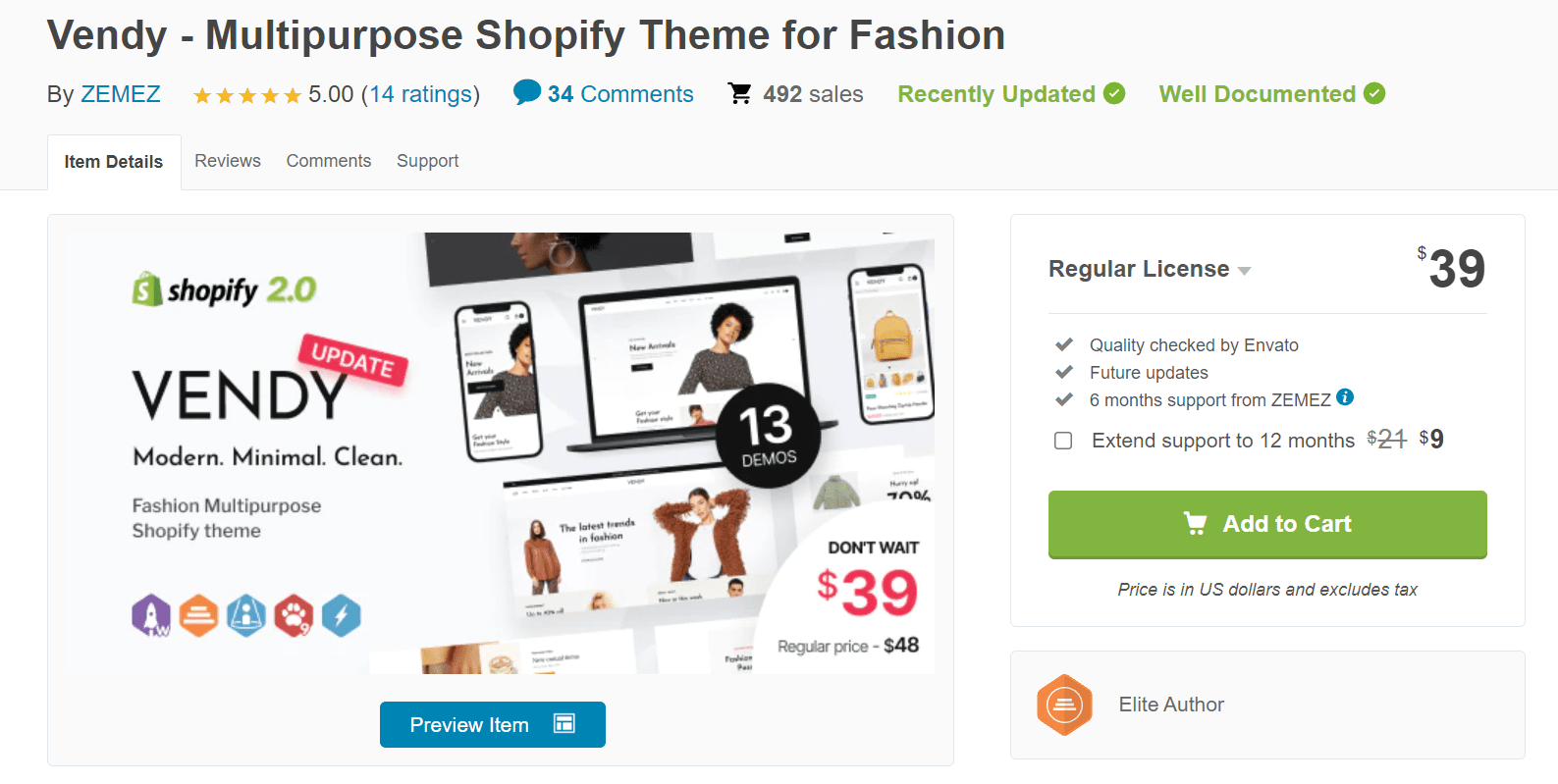 All of the essential Shopify features and formats are pre-installed on this theme, including merchandising, branding, and more.
Vendy pre-styled page sections and layouts can be tweaked a little to meet your goals. As for the Shopify Visual Builder's process, you can rest assured that you will also appreciate it. There are many ways to display your products and communicate with your customers.
Features of Vendy Theme
Flexible – Theme built with high HTML5/CSS3 standards for maximum cross-compatibility, browser compatibility check before purchase!
Secure – No open source code found on live preview server, purchased WordPress theme only!
Unique visuals – You can change the color scheme in just one click!
Clean code – HTML5 and CSS3, all done with care for performance, cleanliness,\ and usability.
Customer support provided via e-mail – One-year service agreement included with purchase.
Vendy is intuitive, so it's easy to find what you're looking for.
Vendy has a clean interface that gives the user an enjoyable experience.
Vendy has a modern and elegant design that your customers will love.
#4. Debutify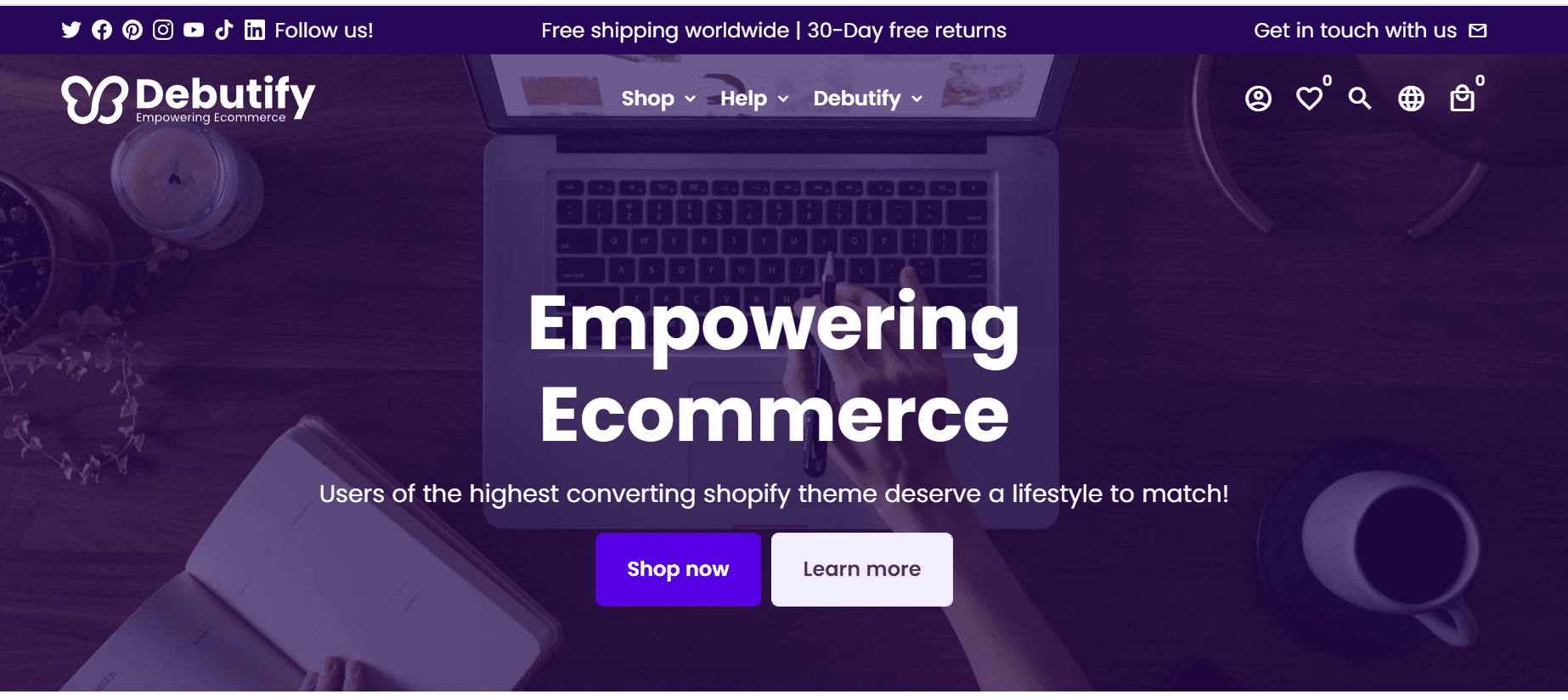 Due to their high conversion rates and excellent customer support, Shopify themes like Debutify are popular worldwide. At the moment, Debutify offers four versions: Starter, Hustler, and Master. 
Almost all the essentials a store owner might need to run and expand their Shopify store are included in the free version of the Debutify theme.
Features of Debutify Themes
Free lifetime updates.
User friendly.
Grow your business with the right tools and strategies.
Scale your store to reach more people in less time than ever before.
Establish a strong foundation for business growth.
Discover the tools and strategies every business needs to grow.
Contains 53 different apps optimized for high conversion that can help you grow and scale your store while boosting sales.
Gives the advanced functionality you need without having to install all the apps you don't.
Comes with an endless number of design options that are fast and easy to implement.
#5. Shopify Booster Theme 
Dropshipping stores can benefit from the exciting features of Booster Theme, as its name suggests. Shopify apps cost around $2000 per year.
This theme is 2.1 times faster than other themes of Shopify. Visitors do not like slow-loading websites, which is why this premium theme speeds uploading time.
Features of Booster Theme
Multiple options for customization
Clean layout and responsive design
Extensive features that focus on CRO functionalities.
Beautiful page designs that you can customize to fit your brand's aesthetic.
Loads of different apps to help you grow your store in a variety of ways.
The price is affordable.
Other Shopify apps will provide you with more features, so the theme saves you money by offering fewer integrations than other themes.
Customizable Theme Options
Clean layout and responsive design
Extensive features that focus on CRO functionalities. These allow you to increase your conversion rate. (I did not know what this meant, I did not want to use the same words he
#6. Gecko 4.0

Regardless of your dropshipping business niche, the Gecko 4.0 theme will suit you well. Over 20 different demos are available and the design is very minimalistic yet modern.
Visitor can easily find their products on its homepage because it is well-organized. Quick view of products is one of its features, as is support for Shopify sections, mega menus, Instagram feed display, and video thumbnails. The theme is very customizable, and the page loads very fast.
Features of Gecko
Drag and drop layout customization
Built-in Mailchimp integration
Instagram Shop integration
Gecko has a huge selection of prebuilt themes for you to choose from.
Gecko comes with a prebuilt shop section perfect for showcasing your products.
Gecko includes an easy-to-use theme options panel, both the frontend and backend. The backend theme options panel is well documented, making it simple for you to edit or change any value without touching a single line of code.
Includes many more features and functions like:
Google Fonts, Less Framework 4, CSS & HTML5 validation and more!
#7. Mega Store
The Mega Store theme has dropshipping stores for everything from gadgets to beauty and fashion. It offers a competent design and all the features required to build a robust dropshipping store that offers the best shopping experience to customers.
The features of this application include a built-in mega menu that is flexible, a smart product quick view, two-level navigation, and product labels that indicate whether the item is new, on sale, or popular.
Besides being responsive, this theme is fully optimized for SEO. Social sharing is also built-in.
Features of MegaStore
MegaStore is a responsive Shopify theme.
MegaStore has a clean and modern design.
MegaStore includes 9 homepage layouts to choose from.
Express your creativity with the many homepage layouts available in MegaStore.
Build an online store that reflects who you are as a person or company with the professional design of this theme.
MegaStore is incredibly easy to customize.
MegaStore includes advanced shipment methods such as Flat Rate and Local Pickup.
#8. Turbo Theme

Team members of Out of the Sandbox like the Turbo theme. There are several features in this theme that are not in other themes.
The product thumbnails contain color swatches and functional toolbar filters as well as product sorting. Full-size banners are also displayed on the select page. Sport and Ludicrous selections (found in the theme editor) are included in this subject. 
With the Sport option, you get all of the features you need to upgrade your websites, like intelligent image loading, infinite scrolls, and "minified" CSS. As an alternative, the Ludicrous option includes the entire kit, including the preloading option.
Features of Turbo Theme
Design is responsive, clean, and modern.
The mobile experience is optimized.
Powerful admin panel with all the necessary tools to build your website.
Turbo provides a great user experience for both customers and admins.
With Turbo, you can have a website that outperforms your competitors in just minutes!
Turbo is an ideal choice for large catalog stores, especially Shopify Plus merchants,
#9. Supply
Supply is another excellent free theme. This theme is available in two color variants: light and blue. You'll be able to wow your clients with both of these designs.
Supply is designed especially for individuals who have a large catalog. You can highlight your best sellers on Supply's home page so they aren't lost among your huge collection.
Features of Supply Theme
1. Collection filtering in the sidebar
2. Slideshow
3. Featured collections on home page
4. Product images in slider
5. Customizable home page
6. Filter products by brand, price, and other options
7. Showcase collections on the home page
8. Easy to use back office
9. Simple blog system
10. Auto-generated thumbnails
11. Customizable sidebars
12. Inline shopping on product pages
13. Built for large catalogs
14. SEO friendly design, SEO tools included
15. Clean and modern design suitable for many niches
#10. Dropshipping Theme by BeStore
The design of BESTore is austere, austere, and bland. You get nine pre-designed layouts and some free features to make your online store easily navigable. A lot of extensions are available for free that make creating an online store easy.
Features of BESTore
Responsive design
Built with the latest web technologies
Drag and drop page builder
Powerful mega menu
Emotional features:
Create a beautiful website that's easy to manage.
Create a polished, professional website without writing a line of code.
Choose from hundreds of mobile-friendly, pre-built page layouts.
100% Open source and regularly updated.
BeStore theme is the most convenient theme that allows you to create a beautiful and fully functional Shopify store in minutes with Drag & Drop Page Builder.
The theme uses the latest web technologies to ensure it's fully responsive, retina ready and mobile friendly.
#11. eCom Turbo

Franklin Hatchett designed and built the eCom Turbo theme. Through the theme installer, this theme integrates high-converting apps and superb features.
Unlike third-party apps, it comes loaded with features. This desktop and mobile app have customizable themes. You can view your store on any mobile device with this theme. It has an excellent user experience.
Features of eCom Turbo theme
Boost conversions with the incredibly fast theme design.
Free ecom course to help you get started.
Customize everything and make it your own.
Built-in scarcity timer to create urgency for purchase.
Increase Instagram profits by customizing the footer area for ads and images that link back to your account.
GEO IP currency recognition helps you avoid international fees when selling internationally.
#12. Claue Theme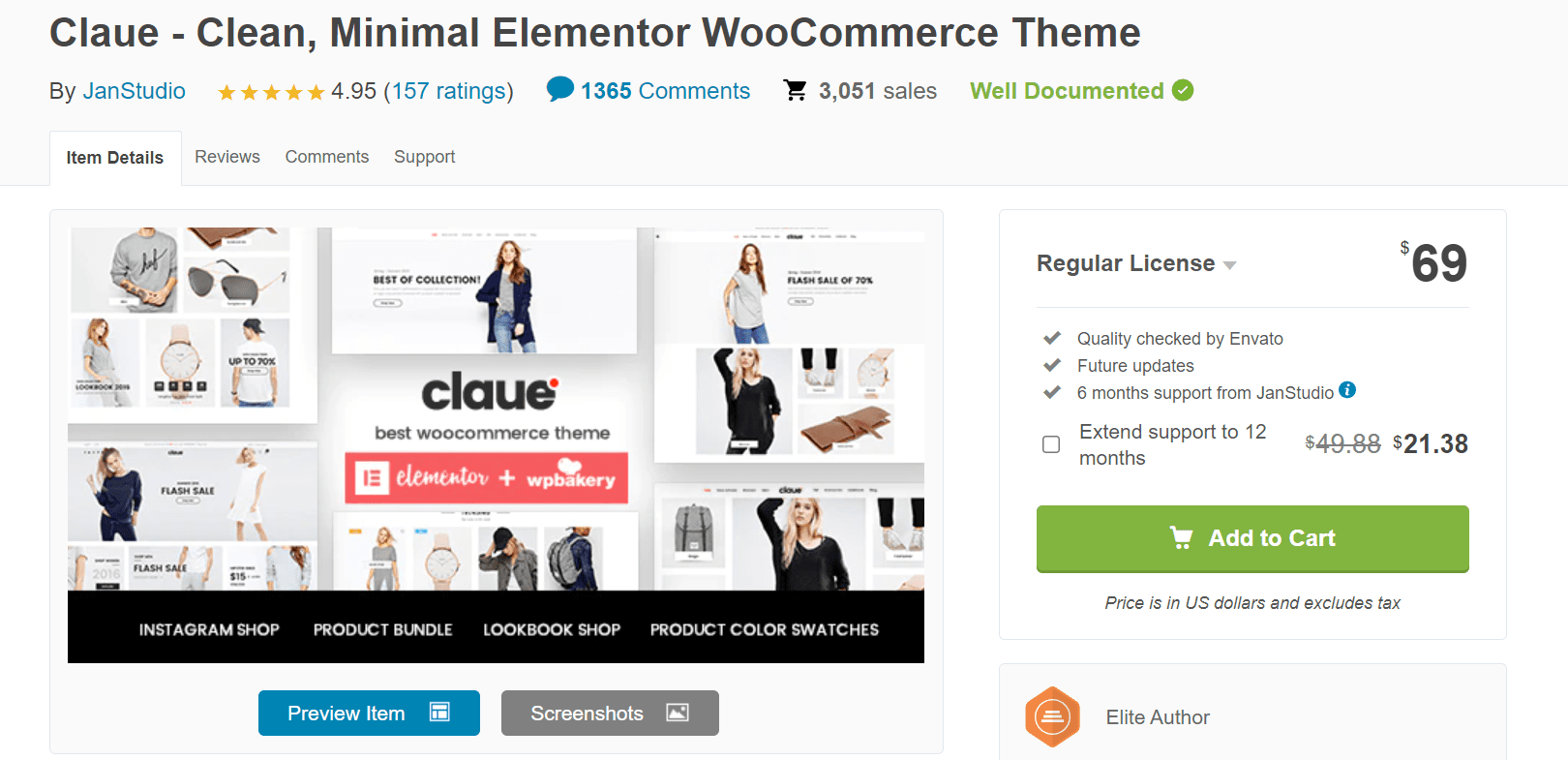 Its sleek design and powerhouse of features make it an excellent dropshipping theme. With its amazing plugins, you can build a powerful dropshipping website.
Due to its seamless integration with social media, it is ranked as one of the best and highest converting Shopify themes for dropshipping businesses.
Features of Shopify theme
Responsive Design – Looks great on any device.
Mobile-friendly checkout process – Checkout has been optimized for easy mobile browsing.
Instagram Social Integration – Show off your products with a clickable link to the product page in your store.
Feel confident in your decision because Claue is backed by a 30-day money-back guarantee, and 24/7 support from our team of experts.
Claue is the perfect fit for your business right out of the box. Don't waste any more time with other themes that need hundreds of dollars worth of coding and features to get it working how you want.
#13. Elessi 3.0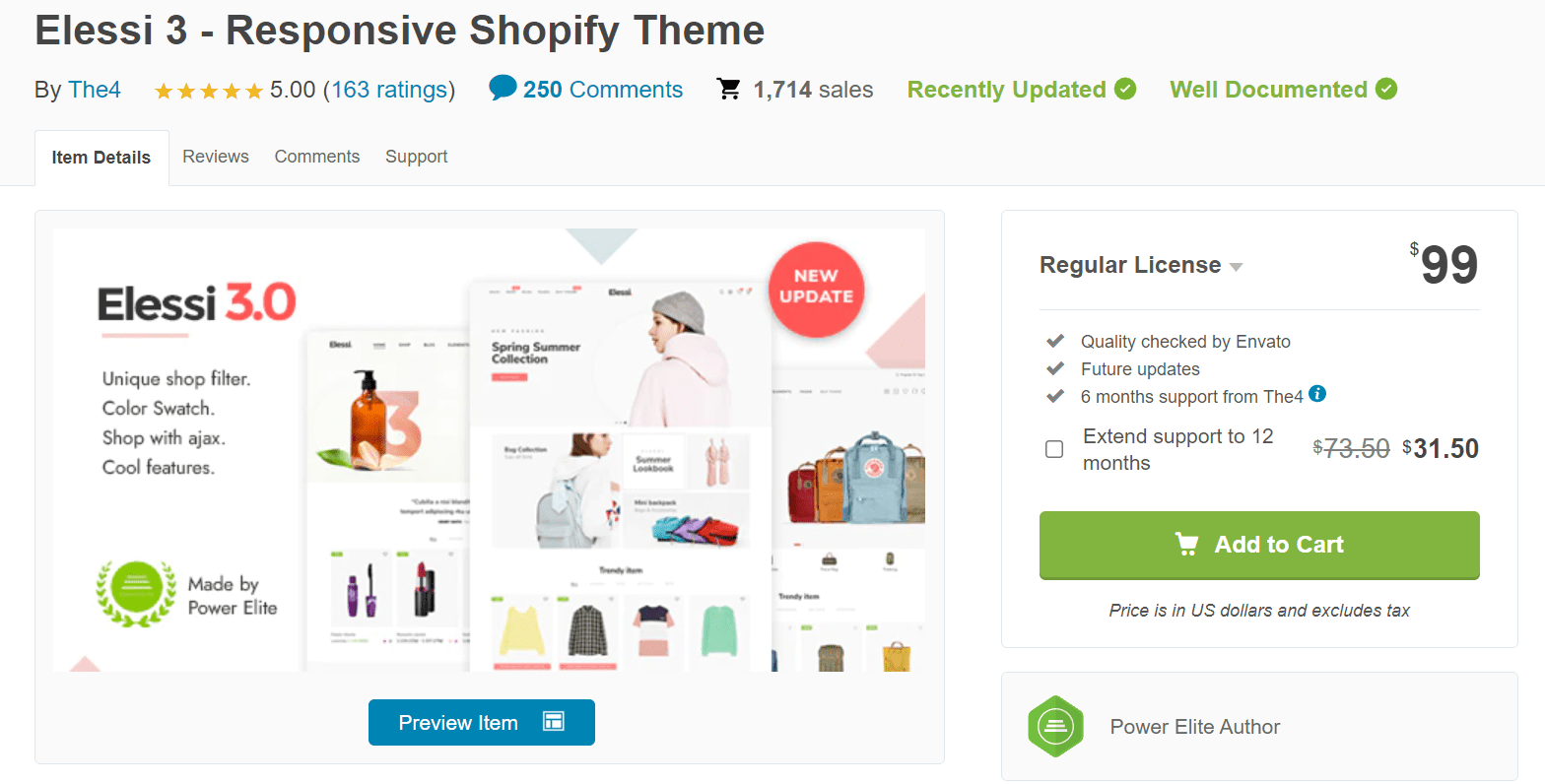 The Elessi 3.0 theme features lovely features, such as wish lists, size guides, sticky add-to-cart options, trust seals, mega menus, product quick views, product countdowns, AJAX-powered search, product filtering, and back in stock notifications, among others.
Features of Elessi 3.0 Theme
Clean, modern design.
User-friendly interface.
Multiple ajax off-canvas Wishlist & Cart Sidebar.
Unique product filtering to help you find what you're looking for faster and easier.
One Click theme install to make your life easier!
Ajax quick view allows your customer to see product details without leaving current page.
Many different options for a newsletter popup box that will rally potential customers.
Unique Compare functionality that lets your customer compare products with one click of a button, and also helps you quickly cross-sell or up-sell more products!
#14. Arthur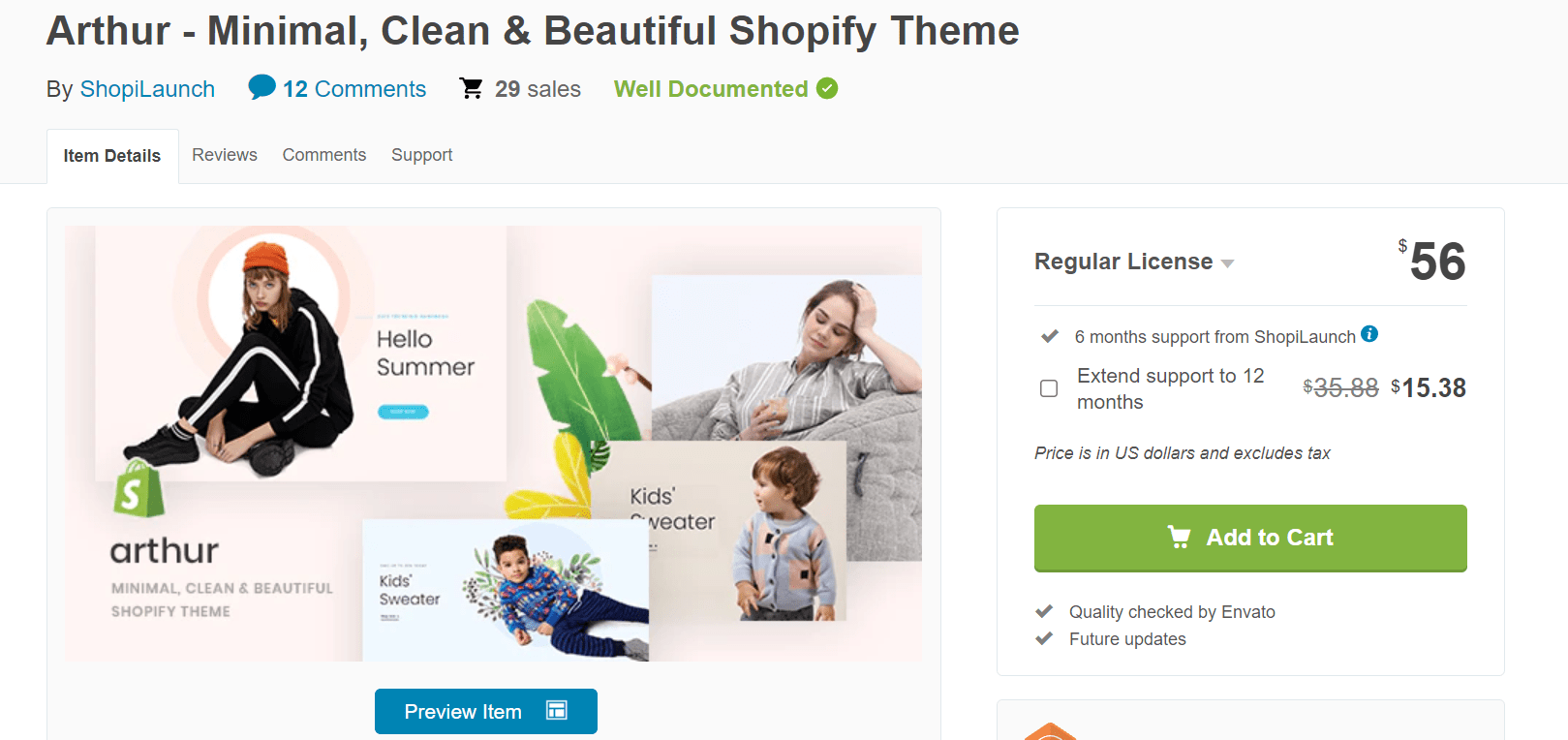 When it comes to a minimalist design and a clean interface, the Arthur Theme is best. Your online store will look fantastic on desktops and mobile devices with this fully responsive theme.
Features of Arthur theme
Arthur is highly flexible.
Arthur has a modern and stylish design.
Arthur looks great on Desktops, Laptops, and Mobile devices.
With unique cool designs, we've made it easy to find the perfect look for your store.
Build an online store that's uniquely yours with our intuitive assistant!
Arthur supports 6 Unique Home layouts.
Arthur has powerful theme options.
Easily add new pages, blog posts, and products to your online store with the assistant page builder.
#15. Simple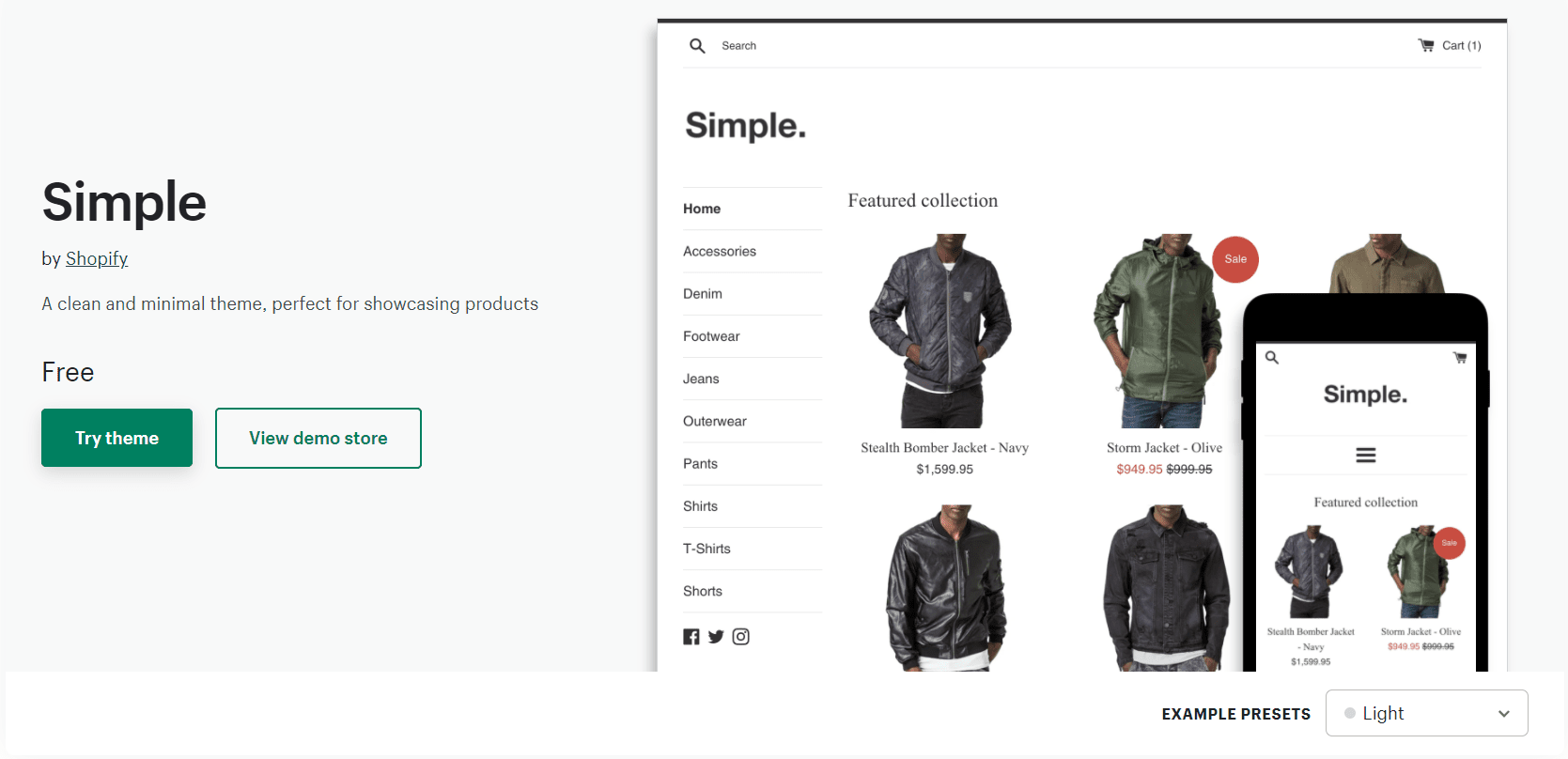 If you're on a budget and can't find a theme you like, then simple is the theme for you. It is a free theme from Shopify. You can still run a dropshipping business with it even though it's free.
The theme follows all Shopify theme requirements, including being mobile-responsive and SEO-friendly. Burst's free stock photos are also included.
Features of Simple Theme
Works with latest Shopify features
Theme is guaranteed to stay up to date and work with Shopify's ever-growing feature set.
Every theme in the store meets Shopify's performance standards, ensuring a faster shopping experience for your buyers.
Try the theme for free with your own products, brand colors, and customizations.
Demo stores are not included but you can get free stock photos from Shopify Burst.
Free high-resolution photos
Free trial is available for this theme.
Try the theme for free with your own products, brand colors, and customizations.
#16. Dropshipping Theme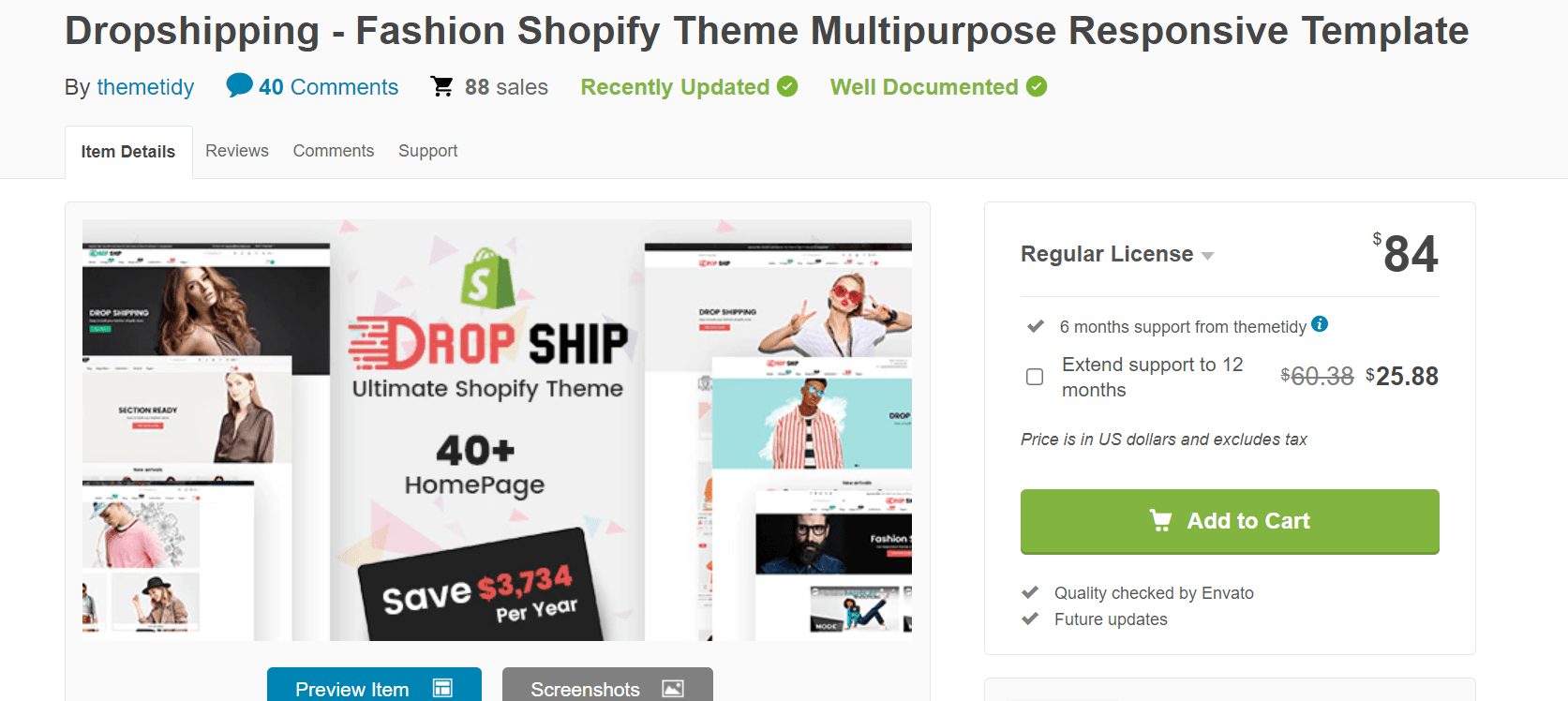 The Dropshipping theme is ideal for all fashion shops since it was designed with fashion stores in mind. It offers more than 40 premade homepage layouts and has a very stylish and modern design. Choosing the perfect layout is simple.
Features of Dropshipping theme
Drag and drop content editing.
Beautiful, responsive design.
Cross-browser compatibility.
Easily customize your store to match your brand's look and feel.
Get a head start on building the perfect online shop for your client with our theme!
Easy to use and straightforward settings page.
Unlimited color options for your background, logo, links & more!
Customize the look of any single product detail view with a fullscreen slideshow.
Easily add or remove products from any collection.
Add a video gallery to any collection
FAQs related to Shopify Dropshipping Themes
🙆‍♀️ What is Shopify?
Shopify is an online store that anyone can set up and sell their products.
🙋‍♀️ Which Shopify theme is best for dropshipping?
I recommend using MegaStore Theme- It is Super Market eCommerce Shopify theme. Another one is Arthur theme which is Minimal, Clean & Beautiful Dropshipping Shopify Theme.
🙇‍♂️ Is Shopify best for dropshipping?
You may be wondering if Shopify is the right platform for your business. Dropshipping with this provider can seem to be an easy choice, as it offers plenty of apps that allow users to add products quickly and easily onto their store without any hassle whatsoever!
🤷‍♀️ What is a dropshipping theme?
The Dropshipping theme is an awesome way to start your own ecommerce store or work with clients who have their own websites. This powerful, yet easy-to understand WordPress platform has everything you need in order for any business idea suited perfectly!
🙎‍♀️ What is the highest converting free Shopify theme?
Debutify is the "Highest converting FREE Shopify theme" that offers clean code, fast page loading speed and features which matter. It claims on average customers are saving over $2k a year with this product - plus 50+ hours of web time saved!
🤷 What sites can I dropship on?
Dropshipping can be done with any website that has an eCommerce storefront, high demand products and excellent customer service. Websites like Shopify, AliExpress , eBay are just some of the many options for dropship stores!
🙇 Which Shopify theme is fastest?
If you're looking for a Shopify theme that will make your website load quickly, then look no further than the Turbo Theme from Out Of The Sandbox. This lightning-fast template was designed with performance in mind and it shows!
🧏‍♂️ Are paid Shopify themes worth it?
Paid Shopify Themes are a great way to get started on the platform, and you'll want one eventually. You can use free themes or templates for now if necessary but don't expect them as much once your store starts growing in popularity!
Quick Links
Conclusion- Best Shopify Dropshipping Themes in 2023
You don't need to have any business experience to get started. Prior experience is not even necessary! You will be able to get started quickly if you learn the fundamentals first.
Growing a business doesn't necessarily mean changing the concept all that much. The more your business grows, the more sales and marketing you'll have to do, but your daily routine will remain relatively the same.