Competitive intelligence is the key to success, especially when you're driving your business in a highly competitive environment. When it comes to online business, you can find such insights from several SaaS tools. One such tool is Similarweb. However, it is not easy for every new business to afford its premium plans. That's the reason why I am writing this list of most affordable Similarweb alternatives in 2021.
So, if you guys are looking out for alternatives to SimilarWeb solutions due to budget or pricing issues, then you are at exactly the right place. I have handpicked this list with long research and found some really cool competitors of Similarweb. You can consider these tools as a perfect SEO tool alternative.
About SimilarWeb
SimilarWeb is undoubtedly a great platform that provides an easy-to-use interface to the users to get detailed business Insights, not only for their own website but also for any other website (it can be a competitor too).
Important statistics such as audience count, total traffic on the website, overall lead from both direct and indirect resources are some of the important parameters that every business should know for their brand success.
This magnificent digital marketing tool is used by Major tech giants such as Google, Microsoft, and eBay as well. However, for small and medium level businesses, SimilarWeb is definitely the right choice. Since it provides all the detailed Insights of the ongoing digital campaigns with the paid plans only, most of the businesses find it costly for them.
You get access to tap into any website's monthly traffic data with its chrome extension. You can install this chrome extension in your browser and it works pretty well, that too for FREE.
10 Best SimilarWeb Alternatives & Competitors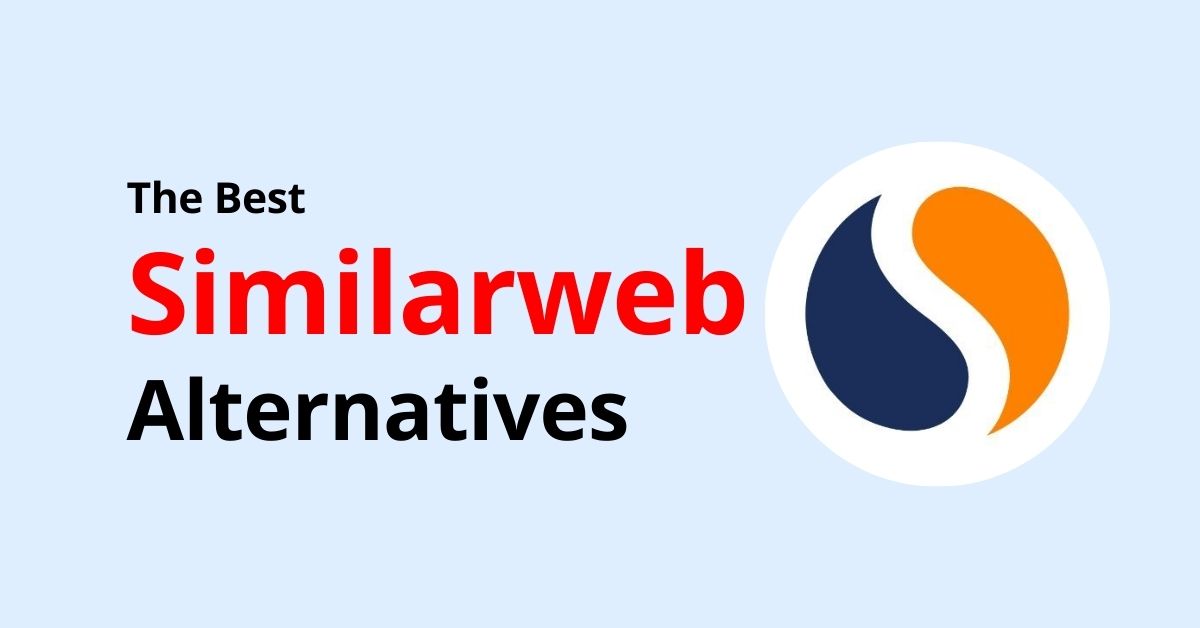 All the alternate options that we will mention below will offer all the formidable services at a low cost. So, let's have a look at all the competitor options:
SEMrush digital marketing tool is certainly a great alternative to the SimilarWeb tool that lets you track down all the analytics and business Insights in just one click.
SEMrush marketing tool has a user base of more than 6 Million users and they are also featuring top-notch clients of the IT sector like HP and Quora. SEMrush also helps the companies in identifying their competitors and their individual marketing strategies which is an important parameter to outshine their business.
Pros
It helps in analyzing competitors' online marketing strategies very easily.
Provides regular updates on the latest market trends for the optimization process.
Detailed Insight reports for both direct and indirect traffic sources can be viewed.
An intuitive and attractive Graphic user interface.
Powerful advertising toolkit feature that gives you all the relevant details of your competitor's ongoing PPC campaigns.
Cons
The only major drawback of SEMrush is that it only provides data and analysis for one search engine that is Google.
Pricing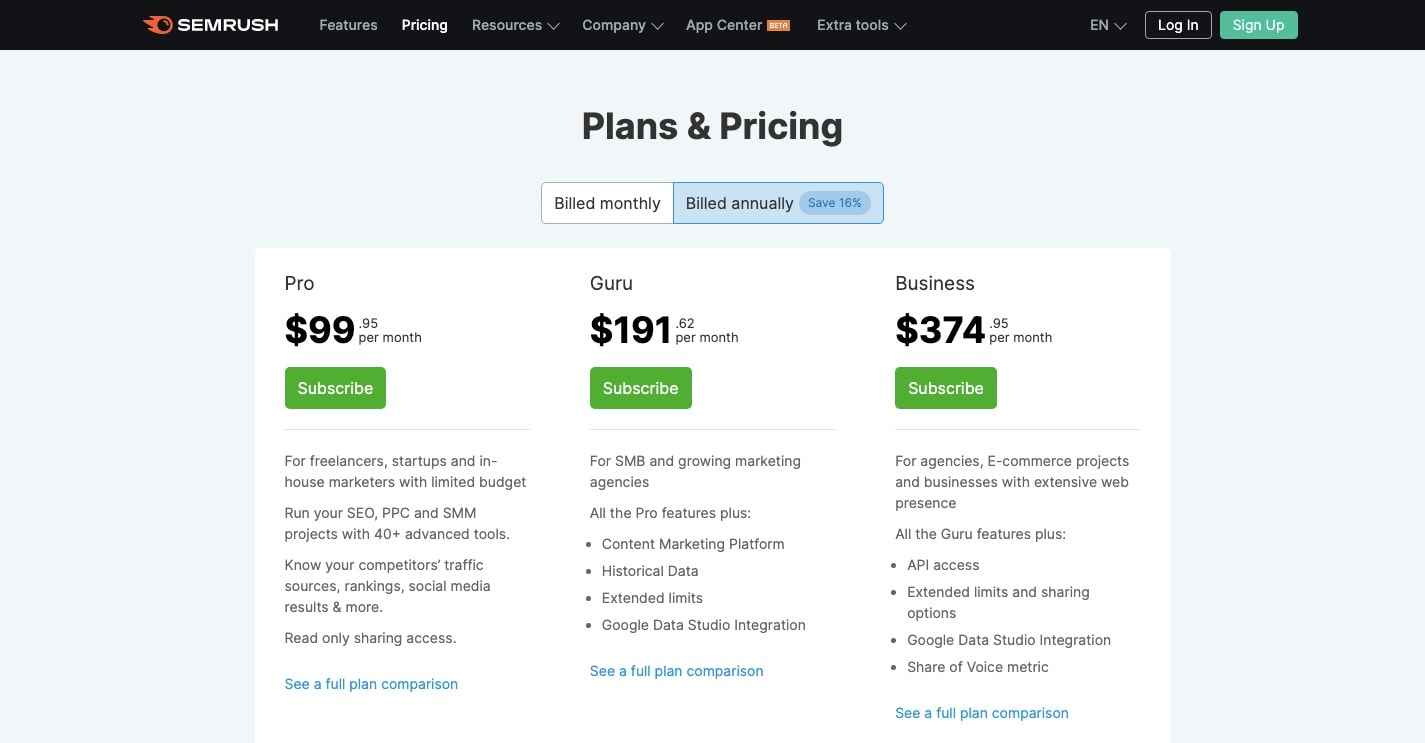 You can definitely consider the annual billing option. It costs less than the monthly plan and will get you a great value.
The Pro plan is enough for basic SEO intelligence where you can track the position of your keywords. Furthermore, you can keep a track of your competitor's performance in search results. All you need to do is to add your competitor's website as a project in your SEMrush dashboard.
Compare, analyze and build your data insights with the most reliable and powerful online marketing tool.
Start a Free Trial of SEMrush Now
–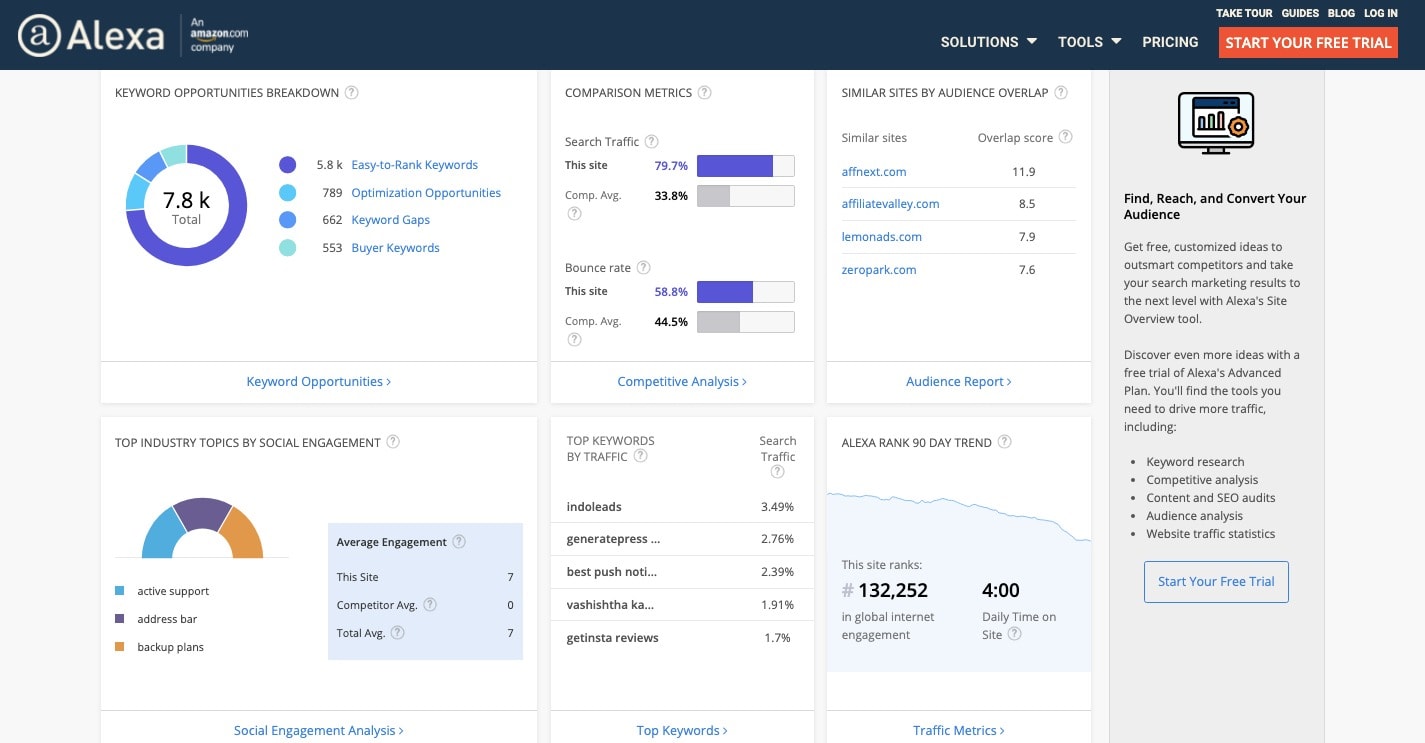 Alexa basically focuses majorly on competitor's websites and runs frequent checks in order to collect useful information. This information includes keywords for which they are ranking, the total number of sources generating web traffic, backlinks etc.
Not just that, Alexa has a global and local index of websites. It ranks websites based on the volume of traffic they have. Better Alexa rank indicates more traffic coming on your website.
Just like Similarweb, Alexa too has a browser extension for chrome users. You get access to limited data analytics for each website around the globe. For every type of analysis, you can scroll to a few rows only.
Pros
Alexa is a pretty useful marketing tool that is used to increase the audience count by maximizing the sources of online traffic generation.
It is also very helpful in identifying those major keywords which competitors are using for their business.
Alexa also has a feature to compare different website domains that provide an overview of different Analytical Insights of competitors' websites.
The graphic user interface of Alexa is also very attractive and responsive as well.
Cons
The main concern with the Alexa marketing tool is that it can only track the data of those users who have installed the Alexa toolbar in their web browsers. That's why it is considered less accurate than the SEMrush marketing tool.
Pricing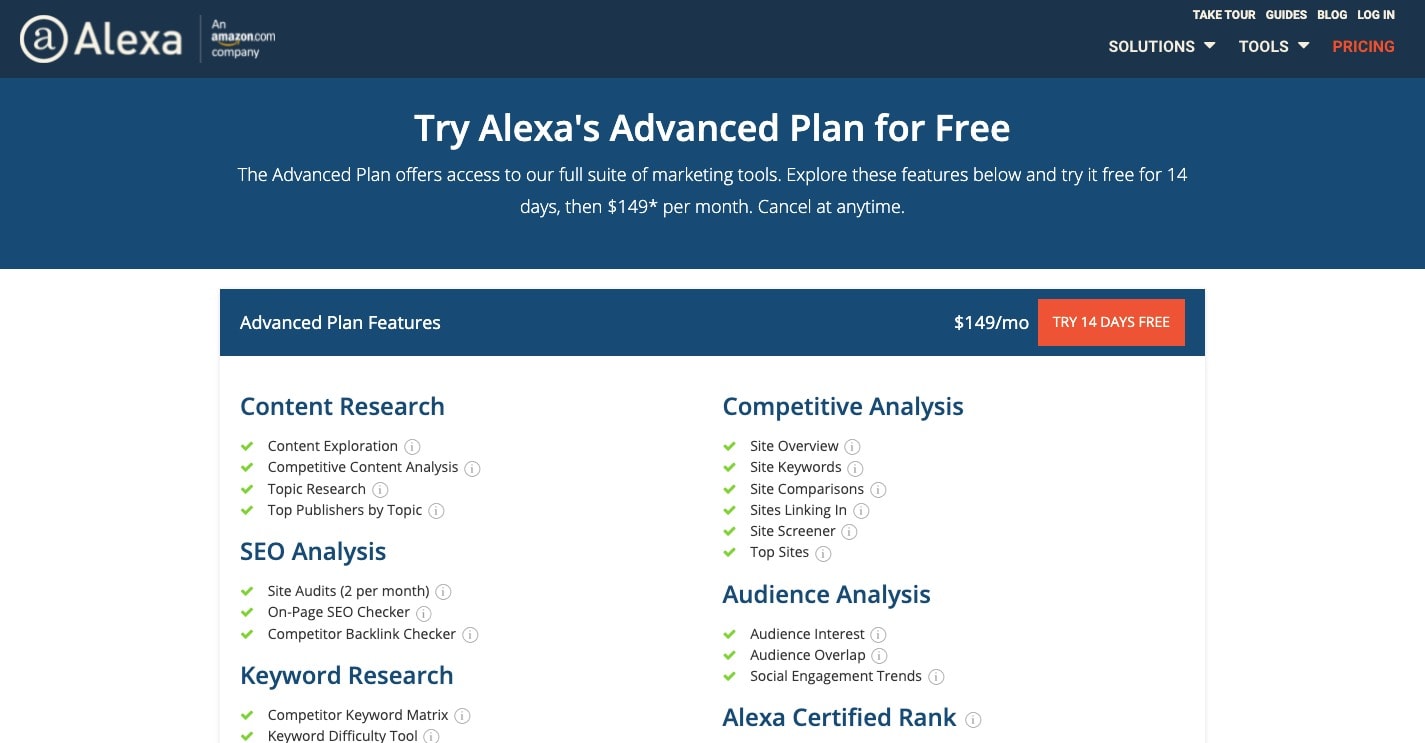 Alexa offers a free 14-Day free trial period to its users. However, the paid subscription will cost around $149 per month to the users.
Start a Free Trial of Alexa Pro Now
–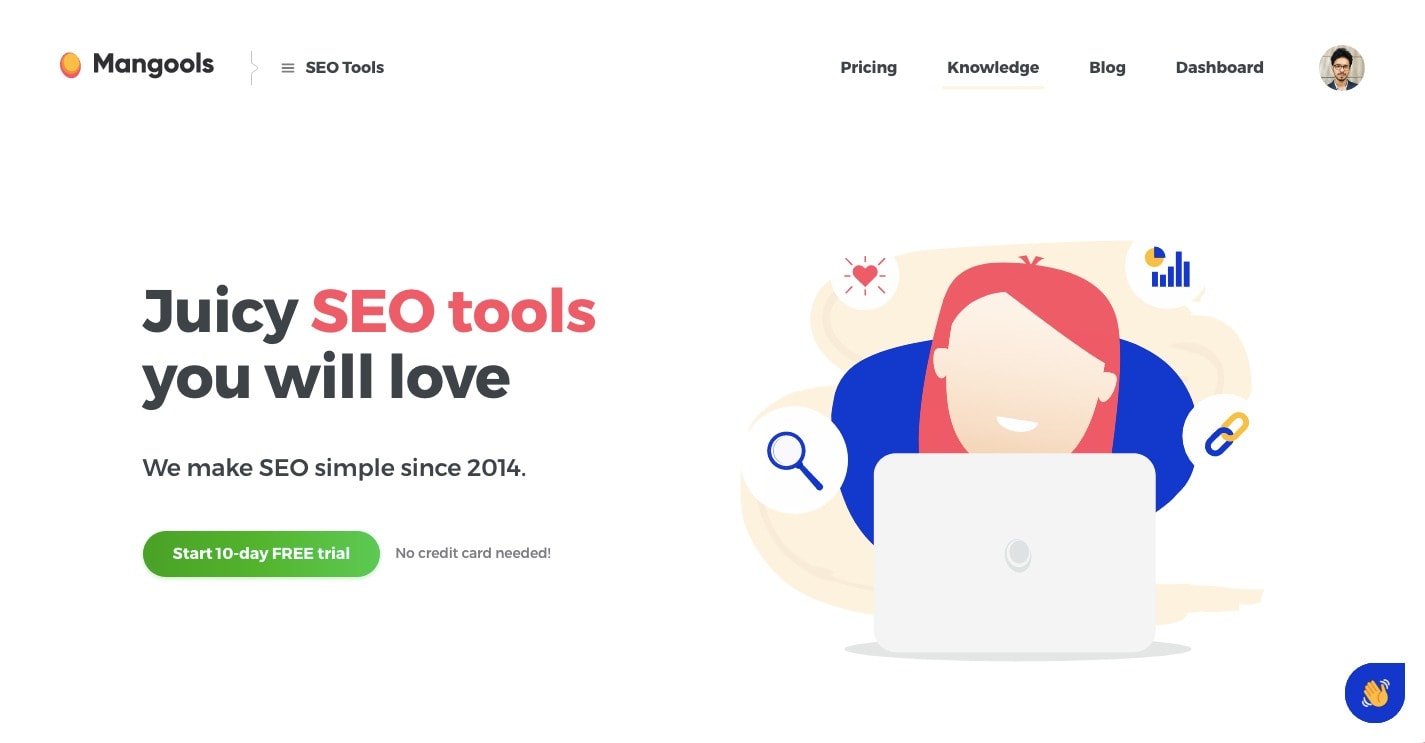 Mangools is definitely an incredible substitute for Similarweb. Mangools is both cost-effective and ideal for small scaled businesses.
This toolset actually contains a whole lot of features which are useful for a growing business with latest market trends. With a single pricing plan, you get access to use a set of tools for different use cases.
While the SiteProfiler will give you a birds-eye view of the authority and traffic of any domain, SERPchecker will keep track of position changes in google for your targeted keywords.
Pros
Featured with Site profiler option to check the high-level SEO authority of competitor's website.
SERPWatcher feature of Mangools helps the users to track down keyword rankings against their search volumes geographically for various different locations.
SERPChecker helps in finding the qualified potential keywords with their SEO scores to increase the traffic exponentially.
Link Miner feature is also one of the best things about Mangloos that provides users a great analysis of competitor's backlinks which is based specifically on Link Strength metric.
Cons
Mangloos digital marketing software doesn't provide possibilities of getting traffic from other major channels such as referral, social or paid channels.
Pricing
Mangloos also has 4 different plans that start from $30 per month to $80 per month. The Mangloos basic plan which has very limited features costs $30 a month. The Mangloos premium pack is $10 more expensive than the basic plan. Whereas the Mangloos Agency plan will cost users around $80 per month. Users can save up to 40% of their money by subscribing to Mangloos annual plans which is surely a great deal.
Start a Free Trial of Mangools Now
This marketing tool is another very magnificent choice as an alternative to SimilarWeb. Serpstat basically has a lot of features to offer and it is ideal for low-budget clients.
Though there are not as many features as Similarweb has to offer, the tool serves the purpose very well.
Here are some pros and cons of Serpstat you should know:
Pros
You can add your competitor's domain and their keywords to keep a track of their keywords. It also will do the same for your own domain as well. It is a great way to compare your organic growth with your rivals.
Discovers and researches for specific keywords that are used by competitors for high rankings.
More affordable than many other marketing tools that are featuring the same features with such a great user interface.
Cons
It doesn't provide proper marketing strategies and guidance to the users in order to outshine the competitors.
Pricing
The pricing plans of Serpstat are available in four different packages.
The Lite package costs $69 per month and the Standard pack will cost $149 per month. Whereas the advanced package will bill $299 and the Enterprise edition will bill around $499 per month.
Start a Free Trial of SERPstat Now
Moz Pro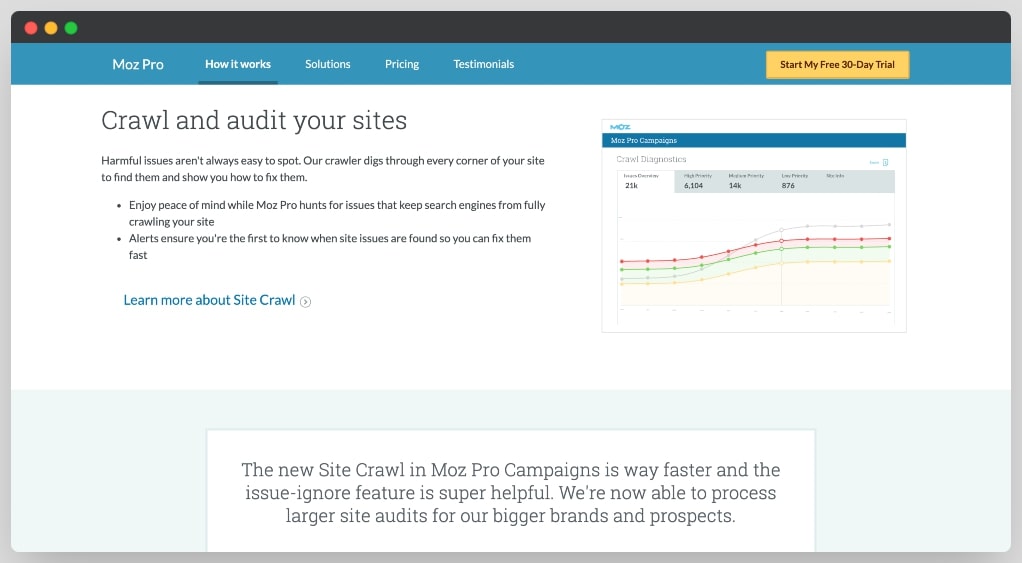 Indeed, one of the top tools in the SEO industry that lets you compare and understand the SEO ranking of any website. This is what Similarweb also does to some point.
The reason why I think Moz Pro is a good alternative to Similarweb is the feature of getting backlink insights and keyword data for any website. You get to know what all keywords are there that drive the most traffic to a specific website. On the other hand, you can easily understand why a website is ranking and how powerful are those backlinks with thier PA (page authority).
Get a Trial of Moz Pro Today
Builtwith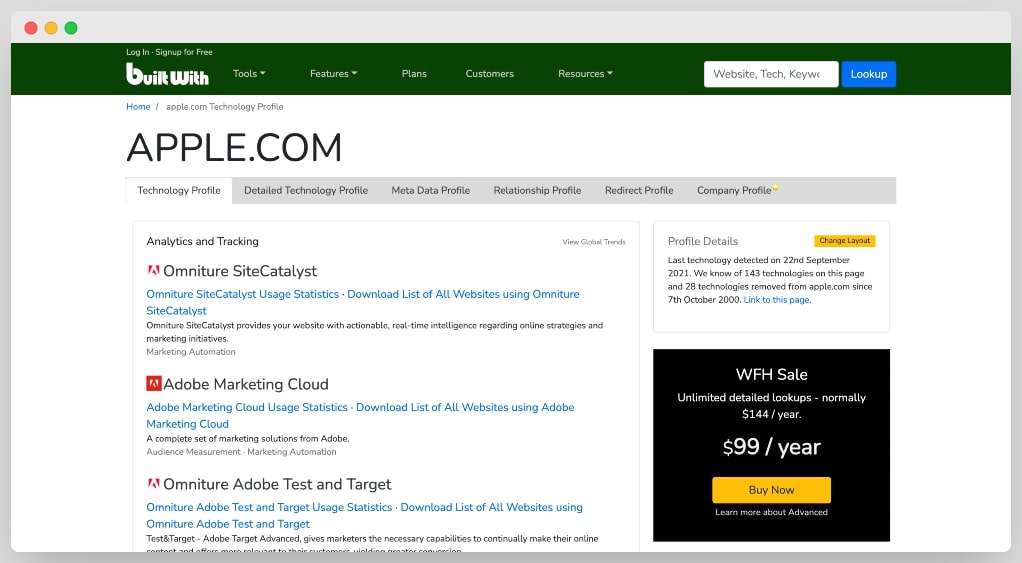 Yet another competitor to Similarweb that has the power of Big-data. Builtwith gives you a profile of all the technologies used to build a website. It is a comprehensive dashboard of a website's tech profile that explains if a website uses a CMS or a different platform. Also, what type of DNS system and CDN is being used on a website; you get access to see everything.
Check Builtwith
Conclusion:
So, these digital marketing tools are some of the best 4 substitutes of SimilarWeb solutions. I really hope subscribing to any of these tools in place of SimilarWeb will definitely make a worth for your business. All these tools are offering tremendous features over one another and that too in a very limited budget range.
Moreover, all these digital marketing tools are pretty much popular among users from all around the globe. That's why these 4 are my favorite picks in place of the SimilarWeb solutions toolkit. Do let me know your favorite pick among these 4 alternatives in the comments section.
Frequently Asked Questions (FAQ's)
Why should you switch from SimilarWeb?
There is no problem with the SimilarWeb solution as far as the features and tools are concerned. However, the subscription charges are way too high for entry-level or small-scale businesses in the market. These extraordinary features really don't justify the worth of spending that much money. That's why switching elsewhere to different options will surely save a lot of bucks and provide you essential services too.
Which is the best alternative to SimilarWeb for beginners?
There can be many alternatives of the SimilarWeb toolkit ideally for beginners depending upon the requirements and strict budget. I have listed all the suitable alternatives with their respective pricing plans.
However, SEMrush will be my favorite pick as it offers the best price for the best features.
Start a Free Trial of SEMrush Now