Marketing through email is one of the best proven and tested strategies for businesses over the years. If you can somehow create a good email database, that will amazingly help you grow your business and make revenue in the long run.
However, the point is how you create a mailing list! For any online business or blog, creating an email list is crucial. Oftentimes, companies invest a lot of money in generating buzz on social media sites that are really important, but in some cases, they are not able to get the results they want since the platforms belong to third parties.
You will be able to use that benefit repeatedly if you create a genuine email database for your site in your own name. Businesses and bloggers use their email lists primarily to promote special offers.
Best WordPress Email Marketing Plugins in 2023
#1. Subscribe Pro
The next email opt-in plugin on our list is Subscribe Pro from MyThemeShop. There is no better plugin for high-quality email subscriptions than this one. With this tool, you can easily design a user-friendly and attractive email opt-in pop-up.
Get Started With

Subscribe Pro

Today
#2. WP Subscribe Pro
Integrating this user-friendly and powerful plugin into your WordPress site will help you expand your email subscriber list. The MyThemeShop plugin called WP subscribes Pro will offer many ultimate ways to boost conversions, increase web traffic, and convert visitors into subscribers with ease.
It is an extension that allows you to connect MailChimp, FeedBurner, and GetResponse email marketing services right on your site, so you can gain more subscribers that way. You can also add widgets to add opt-in forms just like exit intent trigger technology.
Get Started With WP

Subscribe Pro

Today
#3. WP Notification Bar Pro

When you try it out for the first time, you will be blown away by the quality of this plugin. Basically, this plugin is created by MyThemeShop and it provides comprehensive solutions for any type of marketing type activity along with a subscription bar.
With this plugin, you can set up the notification bar in the WordPress admin area, which is extremely easy to do once it is activated. 
There are many options to choose from when it comes to the type of the admin bar, such as button, text, countdown timer, and more. It works like a custom post type, and you can manage the details of bars here as well.
Get Started With

WP Notification Plugin
#4. MailOptin

Using MailOptin, you can generate relevant leads and grow your email list by sending attractive emails, prompting messages on your site, and triggering events automatically. The most popular WordPress plugin can be downloaded and used for free and for a fee.
Get Started With MailOptin

 

Today
#5. SendinBlue
Basically, this is a provider of email marketing services. Email marketing, transactional emails, and mobile texting are its main focus areas.
Beginners and experts alike will find this tool useful. There is a free membership option that covers all the features. There is a limit of 9,000 emails per month in this plugin. A lot of the options and features of SendinBlue come from its WordPress plugin.
Get Started With

SendinBlue

 

Today
#6. MailPoet Newsletter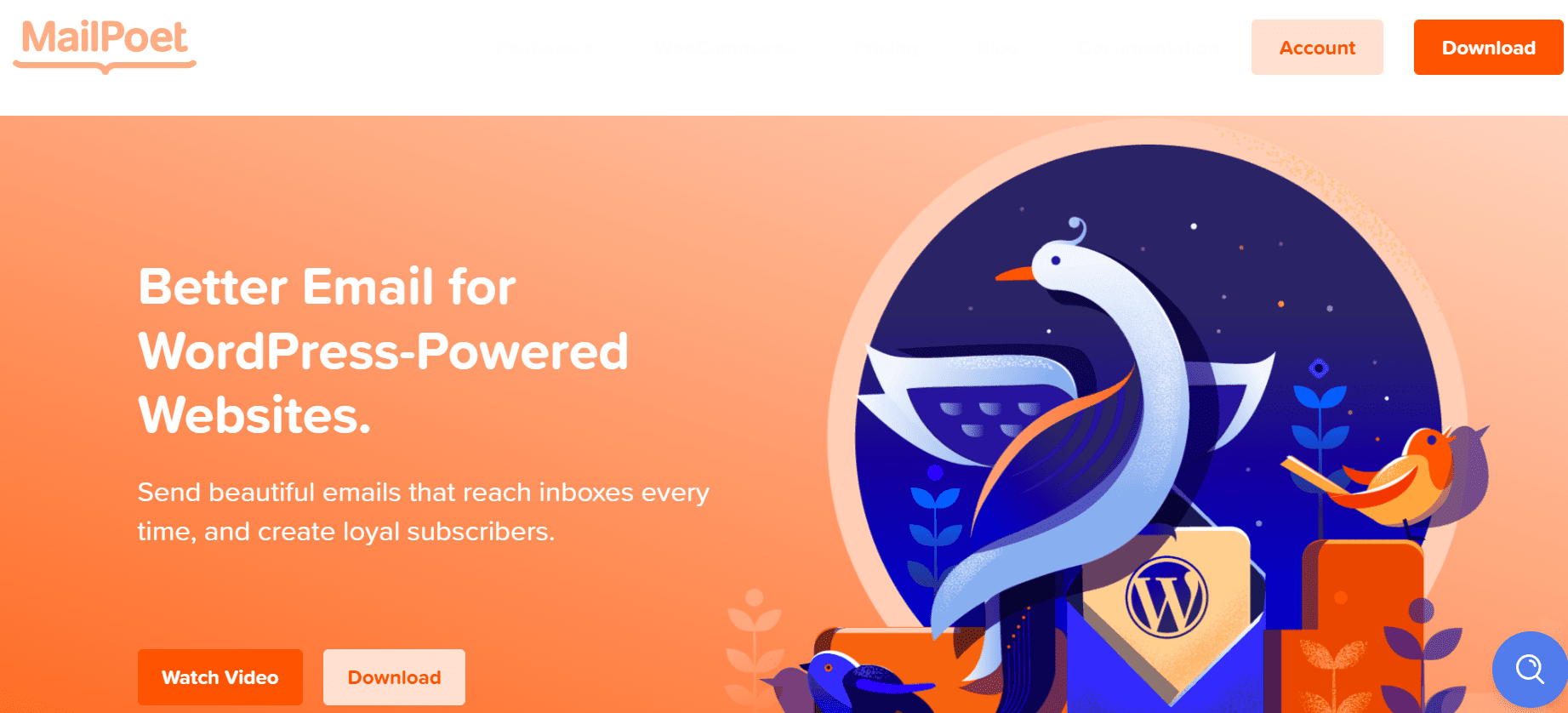 I don't think that means this one has fewer features than others on the list. One of the best things about this free email marketing plugin is that it will send you newsletters along with posting notifications or you can say autoresponders in an eye-catching way.
In this section, you can easily drop the post, images, and social icons. As well as changing the colors and fonts.
Get Started With

MailPoet Plugin

 

Today
#7. Hellobar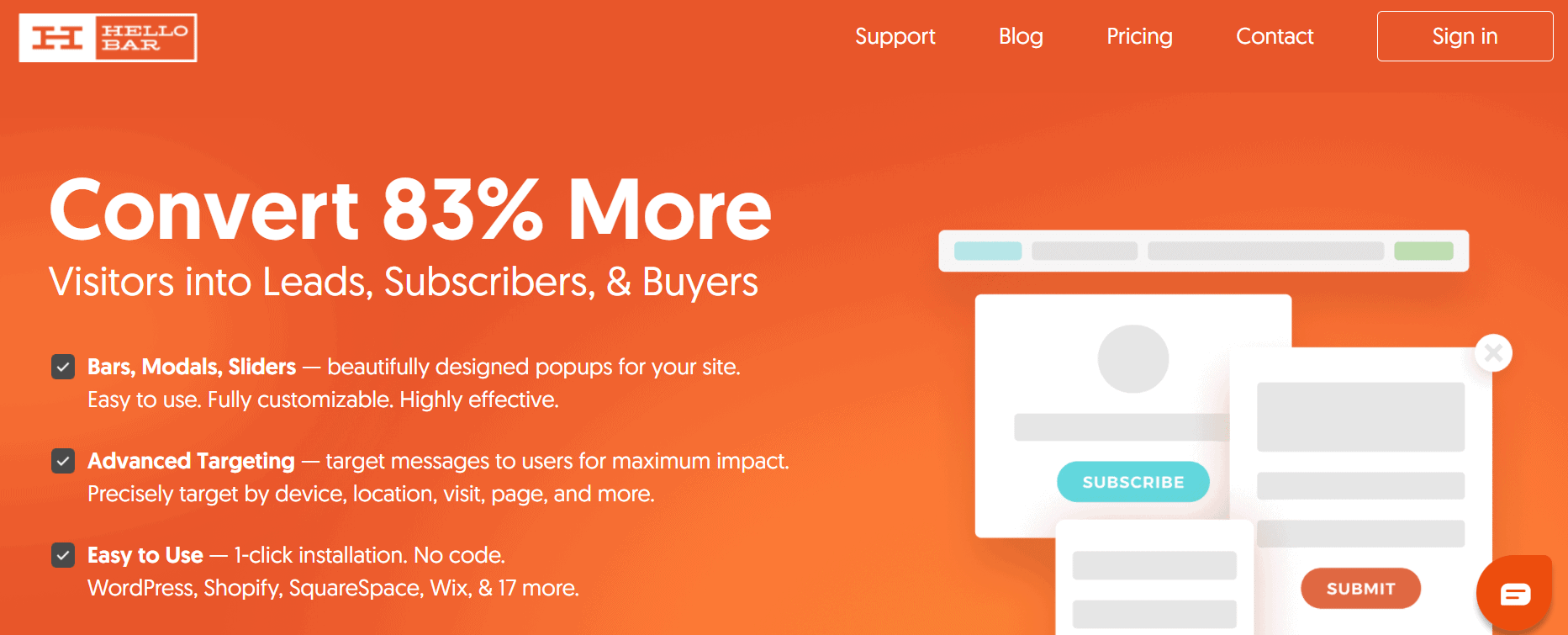 As the name implies, it's a plugin that promotes special offers through the notification bar. You can also use it to collect emails. Generally, bloggers use the Hellobar plugin to increase their website traffic. You can also perform A/B tests right on your blog to test the effectiveness of different messages.
Get Started With

Hellobar Plugin

 

Today
#8. Subscribe2 HTML
There's no doubt this is an excellent email marketing WordPress plugin that allows you to send an email notification directly to your list of subscribers each time a new piece of content is published. In turn, your conversions will increase.
In addition to that, this plugin provides a flexible and user-friendly interface as well as providing the ability to send images, CSS files, as well as HTML emails in just a few minutes.
Get Started With

Subscribe2 Plugin

 

Today
#9. OptinMonster
It works by replacing annoying pop-ups with breathtaking opt-in popups that are lightweight and easy to use. 
Here you can choose from a variety of opt-in types and customize the form as per your requirements. Any WordPress user will be able to create a beautiful opt-in within minutes with this plugin.
In addition, it will allow you to run detailed A/B tests to make sure that you're running the right form or offering on your website.
Here, it will also provide you with page-level targeting for maximum conversion. This really indicates that you can show a different message for each category along with each page. The analytics feature provides you with insights into the view and conversion rates.
Get Started With

OptinMonster Plugin

 

Today
#10. Thrive Leads
A powerful tool to grow your mailing list, Thrive Leads is one of the best and most proven tools available. In addition to generating leads, this plugin can also increase revenue for your website.
Additionally, it allows you to create the discrete type of opt-in form using a simple drag-and-drop interface to create a stunning design.
Get Started With

Thrive Leads

 

Today
#11. Bloom Opt-In Plugin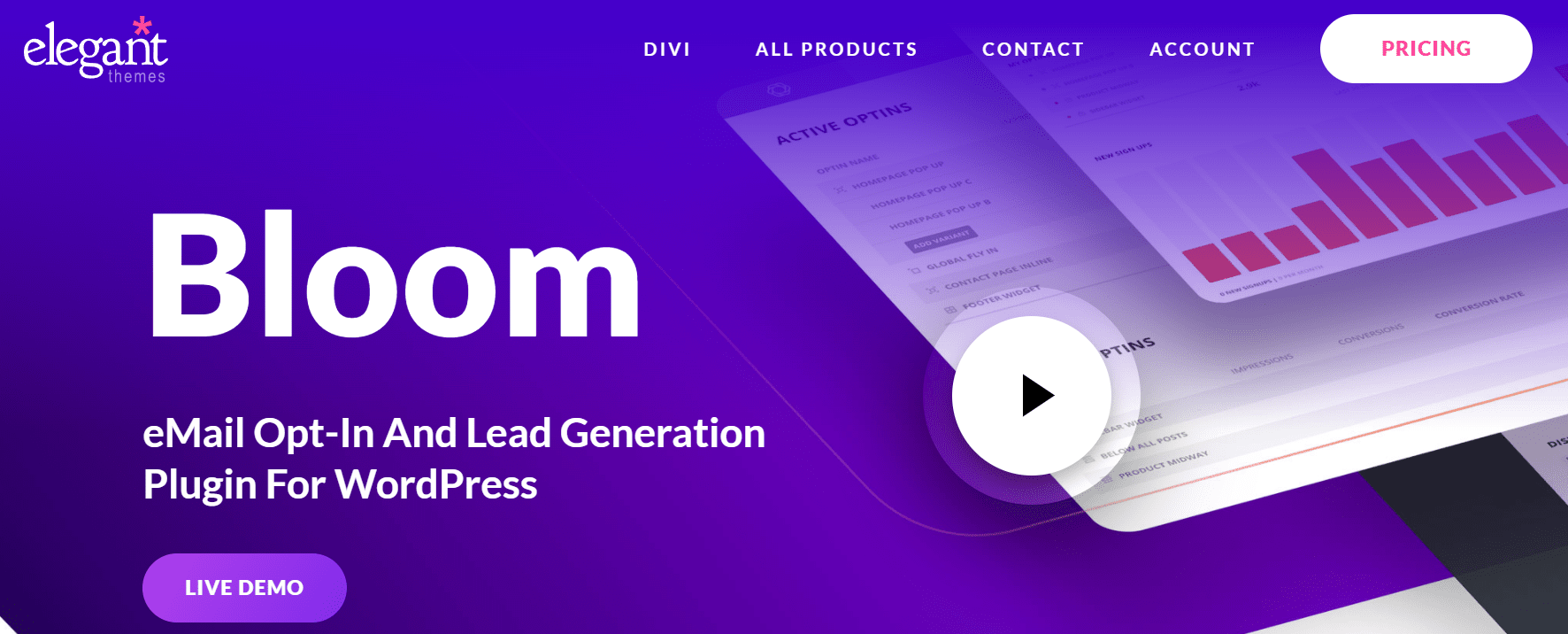 ElegantThemes is the most popular theme platform created by Bloom. ElegantThemes is an email marketing plugin that is among the most comprehensive on the market.
There are many options with this plugin, which basically increases your email subscription list for sure. It is a modern, responsive plugin.
Get Started With

Bloom Plugin

 

Today
#12. Popup Domination
You can also use Popup Domination to grow your mailing list using this WordPress plugin. Your online business will be taken to the next level with this plugin.
With a 60-day money-back guarantee, you can also try it once before buying it. A huge number of WordPress users use this plugin.
Get Started With

Popup Domination

 

Today
#13. Opt-In Panda
With Opt-In Panda, you can hide your content or simply blur it, and you can only give access to your mailing list members by simply providing their email addresses.
This option is perfect if you offer anything free on your site. MailChimp, GetResponse, and Aweber are all compatible with this plugin. It is worth checking out.
#14. Simple Signup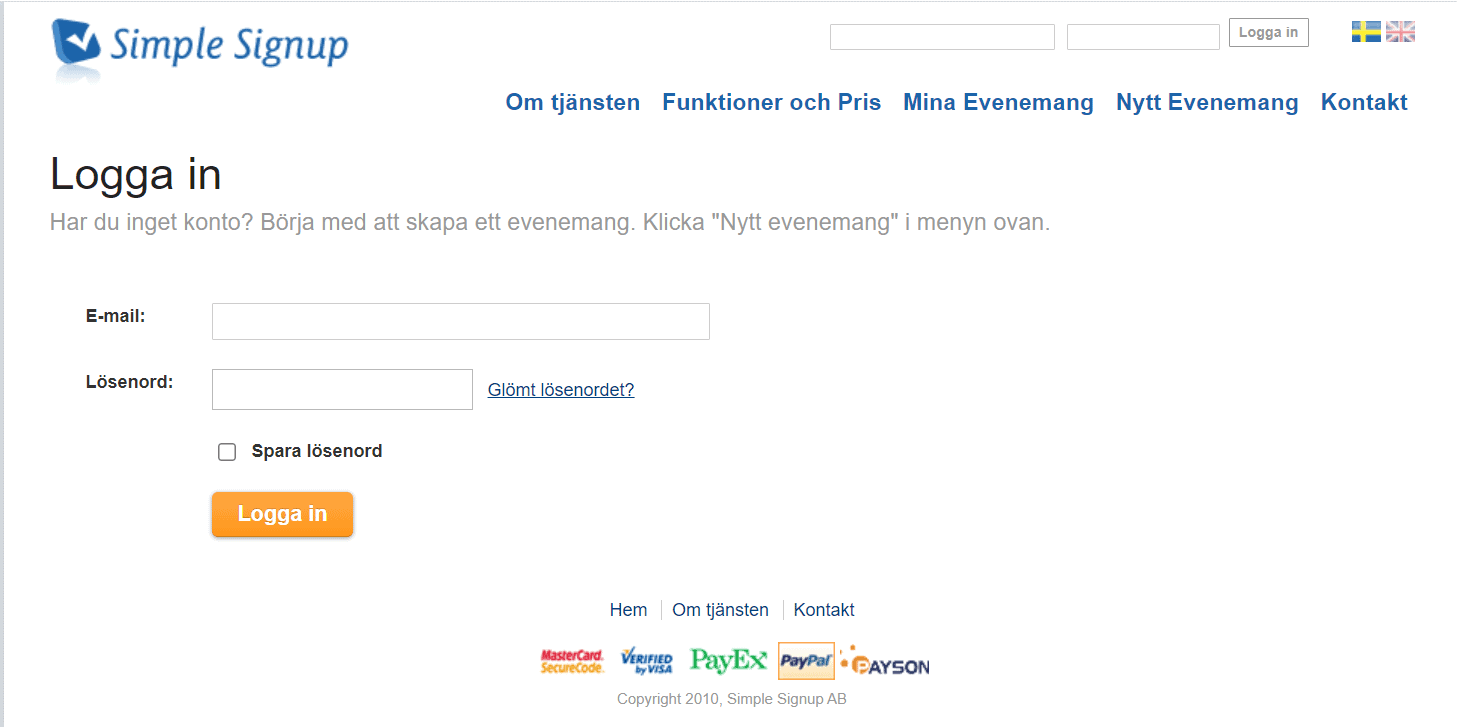 As its name suggests, this is a simple plugin that will help you get up and running quickly with email list building. Its pop-up window makes sure that your email subscription widget is visible to all.
The easiest way to get started is to enter your email address or MailChimp ID after activating the plugin. The widget placement is not very flexible with this plugin. You can play around with the subscription widgets' color combinations here.
Get Started With

Simple Signup Plugin

 

Today
#15. GetSiteControl
Another comprehensive email opt-in plugin that offers a variety of email subscription widget options. You can start using this plugin immediately and you will definitely see a boost in email subscription rates.
In this plugin, you can choose between different subscription types including bars, pop-ups, buttons, and panels.
Use this plugin to show users attention-grabbing messages. You can use this feature for any kind of promotion or offer. This plugin is fully responsive, and the widget will look stunning on any device or screen.
Here you can also control the timing of the widgets and specify when you are willing to trigger them based on scrolling or just after a specific period of time.
Get Started With

GetsiteControl

 

Today
#16. Ninja Popups for WordPress

One of the most popular pop-up plugins, this one is very effective for growing your list. Apart from creating email opt-in forms, this plugin can also be used to show discounts and special offers as well as lock the content.
Get Started With Ninja Popup

 

Today
#17. Plugmatter
Using this plugin you'll be able to create an e-mail subscriptions box below your header sections, which looks great and will help you build your email list. Within the subscription box, you can give your own background image and customize each and everything as well.
Most of the time, you'll find the subscription box below the header of any blog or website; that's what pro bloggers do and it is the most common practice.
Definitely, this plugin is for you if you want to have this kind of email list building option. Additionally, it offers many templates ready for use, so you can select one and begin customizing it right away.
Get Started With Plugmatter

 

Today
#18. LeadPages

Your business will generate leads and sales via the web, emails, SMS, and social media as it is described in the name. I think it is an excellent tool. It helps in increasing conversion rates by displaying gorgeous pop-ups and sign-up forms along with beautiful pop-ups.
Get Started With Leadpages

 

Today
#19. Sumo List Builder 3
By integrating this tool directly into your WordPress site, you can convert web visitors into potential customers and subscribers. By using this tool, you can create inviting pop-ups that will increase visitor traffic directly to your website. They will appear on clicks, timers, and encourage them to stay on your site longer.
Get Started With Sumo List Builder

 

Now
#20. Ninja Kick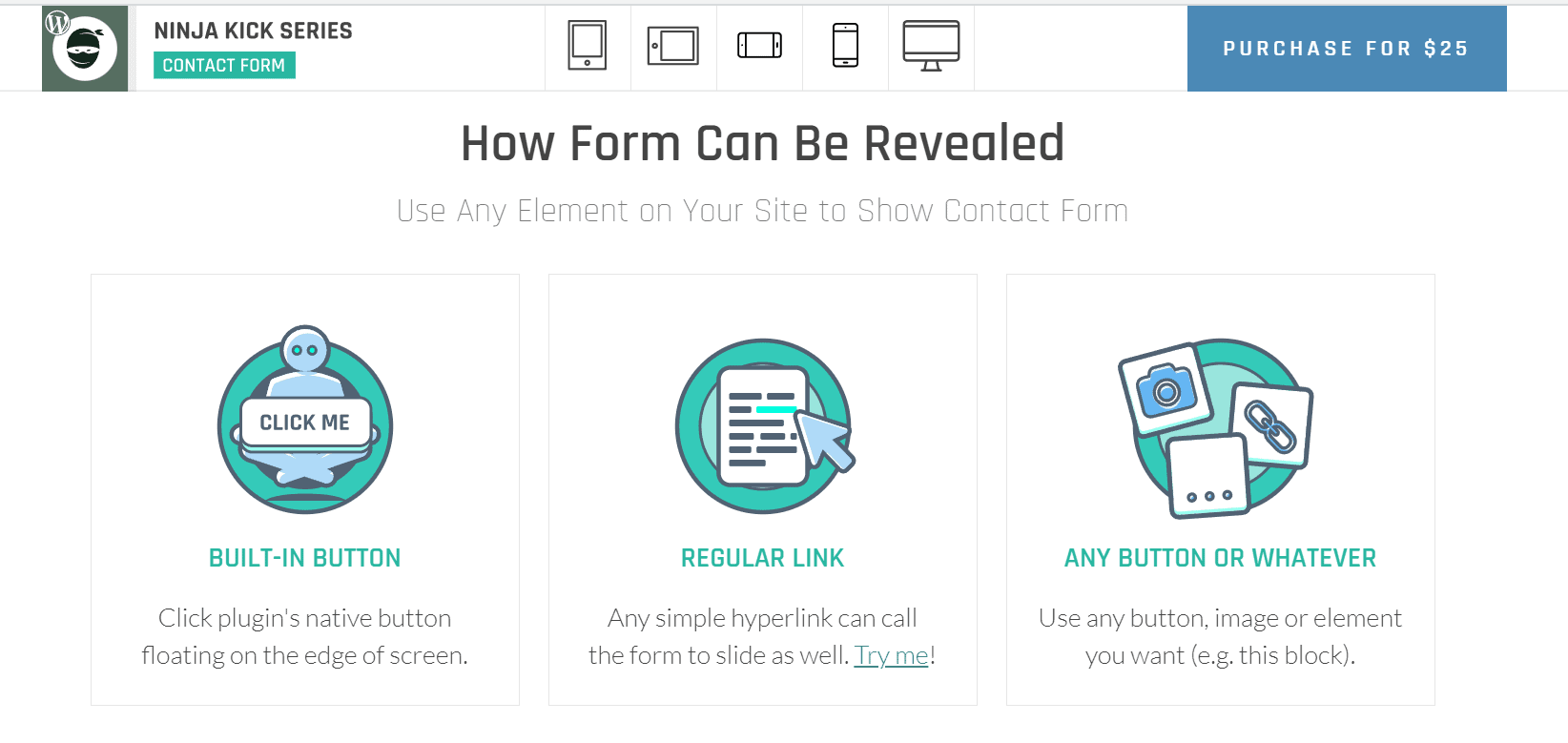 A list-building plugin for your WordPress will definitely aid you in increasing your customer reach in an easy and efficient manner. By using the animation effects such as sliding or pushing, you will also be able to include any subscription form onto your site.
Get Started With Ninjakick

 

Today
#21. Optin Forms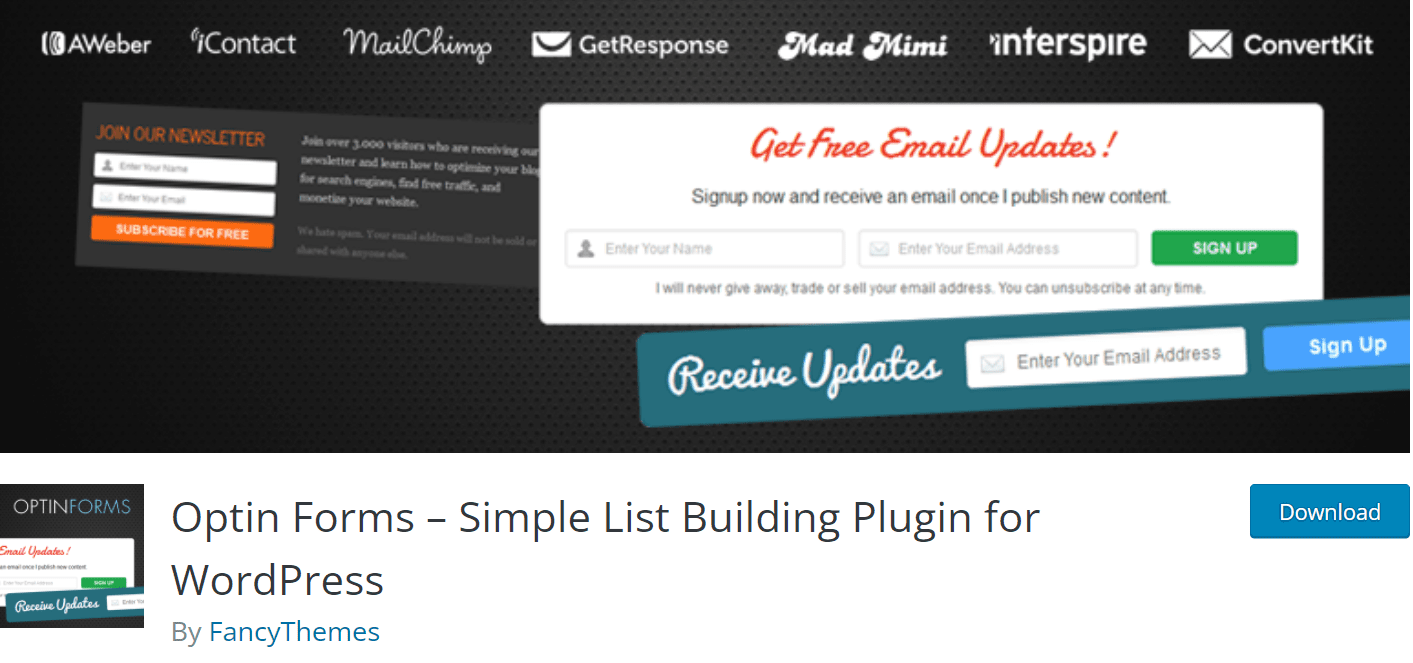 You can start your web business by creating a professional-looking website with WordPress. But keep in mind there are many factors you need to think about before launching your website, such as choosing the right web hosting solution, selecting the right theme, and installing WordPress.
You can, however, boost your visibility by building a stronger email list for your web business.
In order to accomplish that, you will need Optin Forms plugin, which will be helping you increase conversions while putting less effort into the process.
Build your email list quickly by adding the opt-in forms directly to your web pages. Additionally, you can create opt-in forms on your website to quickly build an email list.
Get Started With OptinForms

 

Today
Conclusion- Best WordPress Email Marketing Plugins in 2023
You have now got the list of the best WordPress Email Marketing Plugins. These plugins will help you to grow your mailing list for your site that will be a great source of traffic. All of these WordPress Email Marketing plugins are used by many users and have worked for them, so it will work for you as well.
Here is a list of WordPress Email Marketing Plugins that may be useful to you. Feel free to add many more quality plugins in the comment section so we can include them as well. Spread the word so we can include them as well.