I wrote my honest feedback in this Cloudways review as I have been using their amazing hosting platform. I used it for more than 2 years and still using it.
There are tons of cloud hosting providers. Every provider claims to be the best. Such providers have also proved that cloud hosting is the best way to host a high-performance website.
But who has the time to learn SSH commands to deploy a high-performing server for your website?
Cloudways utilizes the top cloud hosting infrastructures like DigitalOcean and lets you host your website.
You must have heard of several managed hosting service providers. There is one that is renowned for its value for both money and time. I am talking about Cloudways, one of the most outstanding web service providers in the cyber world.
Promising innovation at its best, the simplicity and teamwork provided by Cloudways is quite impressive as these two factors are what make Cloudways the best choice for customers.
There are a number of online platforms that provide excellent hosting services, however, mostly on a shared basis. What makes Cloudways standout is its ability to provide individual space over the internet world.
Having your own personal hosting makes your website work with a higher speed as compared to the traditional ones. See how Cloudways is actually brilliant?
Let me tell you more about how wonderful this platform is in the review below. Read on for more.
Why migrate to Cloudways?
Do you want to make your website load five times faster? Are you still using old-school shared hosting to host your money website? Are you fed up of the slow loading backend of the WordPress dashboard? 
If you're nodding your head in a YES, this Cloudways review is for you.
Yes, many report that their WordPress site loads too slow. This is something affecting their business adversely. But what to do?
I also heard that cloud hosting is the best option to make your website faster. Eventually, I tried digitalocean and AWS both.
But, I didn't have time to mess up with the SSH command line and install putty to manage my server. Installing WordPress on a cloud server using SSH is not that easy (even though I am a professional in this).
I would rather focus on creating more content on my website, decide on different marketing plans. Right?
The Solution (Cloudways)
Cloudways is a Malta-based managed cloud hosting platform where people come together and create scalable and manageable web applications. The sole vision of the company is to empower individuals, businesses, and teams.
There is a range of hosting products and solutions provided by Cloudways may it be WordPress Hosting, WooCommerce hosting, Magento, Laravel, Joomla, Ecommerce, and many more. 
Cloudways can be described as a mediator platform that helps you deploy a server of your choice out of the five best providers.
These servers are from the best providers such as DigitalOcean, Vultr, Linode, AWS (Amazon Web Service), and Google Cloud.
By providing any of these under one platform, Cloudways works with a vision to make things easier for its customers who are both technical experts and amateur.
However, you need not be an expert of managing and creating websites to be able to host and run a site with Cloudways.
What if you can use the power of your favorite cloud infrastructure and manage your websites like a pro at the same time?
What if you can install WordPress or any other CMS with just one click? and make your website load faster enough to beat the competition?
I made this possible with Cloudways. I am explaining the same in my honest and tested cloudways review.
I was thrilled to start using the Cloudways platform because it simulated the curiosity to know what else is there inside the platform to discover and manage my site even more professionally.
The best part of Cloudways platform is, "This has no cPanel." The Cloudways platform is designed in the best way that you understand quickly.
Also read: Free & Paid cPanel Alternatives of all time
Amazing Cloudways features
It may not be famous but Cloudways is renowned for its brilliant Vultr server that many businesses love. As far as the success of Cloudways is concerned, the outstanding features have made it easy for various businesses to perform tasks related to the website.
With simplicity, least restricted choices, full control over applications, transparent working, and awesome experience, Cloudways provide its best services to its customers. 
Let's have a look at some of the main features that make re-designing and management of the website super easy. 
Every hour support with live chats, online tracking, phone access, and much more. 
Assurance to a high-speed performance by taking advantage of a dedicated environment, SSD-based hosting, advanced caches, etc. 
Utmost security via IP whitelisting, dedicated firewalls, free SSL installation, and more. 
Ability to manage the server as per your choice and preferences.
Easy workflow and united collaboration
Backup, restore, server settings, stop the app, custom settings, and various other functions to give you full control with expert's help.
Providing multiple integrations and add-ons in a single account.
Keeping customers updated and on track through server monitoring.
Cloudways Pricing
Talking about the price, it is double the price of the server. If you want to run your website with Cloudways + DigitalOcean, the plans start from 10 bucks.
While you can buy the same droplet directly from DigitalOcean at just $5. That extra money is for the platform which managed that droplet further and gives you a seamless cloud hosting experience.
The price of the cloud server depends on the infrastructure you choose. I have one server deployed on Vultr (New York) and one on Google Cloud Platform.
Performance
I have been using Cloudways for the last few years and one thing that I have found is its brilliant performance. Not to mention that the website is much faster than expected because it takes just 1or 2 seconds to display the pages.
Page-loading time lends a helping hand in obtaining a good rank on search engines which is why it is one of the must-haves.
Also, it is very easy to transfer your WordPress website from other hosting platforms to Cloudways by following a few simple steps. 
One of the best things about Cloudways is that it is super-easy to manage because there are a number of one-click app installations along with easy backups.
I had 1 GB plan with Vultr and I can say that I had reliable and smooth hosting with Cloudways.
Moreover, whenever any changes are made, it allows the actions to live in just one-click making it trouble-free and effortless.
Hence, from making changes like setting a domain, everything is done for you by the diligent Cloudways team.
What I found in my Cloudways review
Easy to use
Everything in the panel is well-understood. The concept is evident. You can deploy servers and install applications inside the servers. Categorizing the apps and servers using project is also possible.
Everything is there inside the control platform of Cloudways. It is sturdy, beautiful, easy to use and impressive.
Unlimited WordPress
In a single server having just 1GB ram and 25GB SSD storage, you can add as many applications (WordPress) as you need.
I currently have 7 in a single server where one of them is a WP multisite network.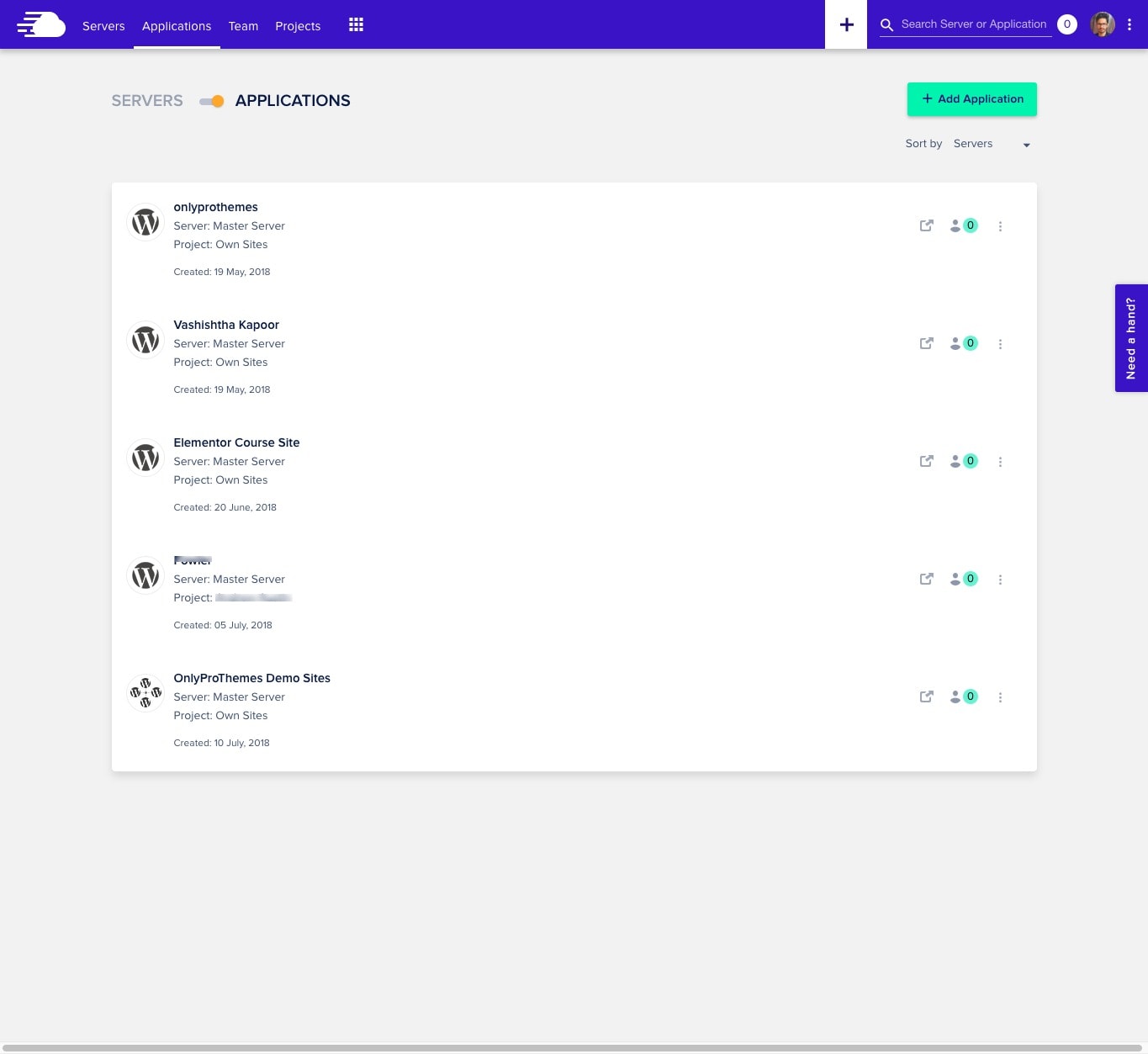 You already know that managed hosting platforms where plans are based on the number of WordPress installs you want. The more you pay, the more WordPress copies you can install.
Cloudways is also managed web hosting company but it just offers you a platform and purchases the server for you on your favorite cloud infrastructure. You can install unlimited application on a server. The only thing that matters is "resources".
More than just WordPress
I believe in WordPress but for people who want to host Magento(resources intensive app), Joomla, Prestashop or any other CMS, cloudways doesn't stay behind. You can easily install the CMS of your choice with a single click.
DigitalOcean, GCP, AWS or Vultr
There are 5 cloud infrastructure providers you can choose from. You can start with the one you believe in.
I recommend DigitalOcean or Vultr if you're not constrained with the cost. In case you love the speed and want to pay for the best infrastructure, AWS and Google Cloud Platform is your choice.
Automatic Scaling
It comes with the best advantage of cloud which is scalability. When your website is going out of storage or bandwidth, your site won't be down. You can still pay for overage or scale up your server to provide more resources to your applications. Perfect?
Free Domains for Staging Apps
With the help of Cloudways Platform, you can install unlimited WordPress or any other web app on a server. Furthermore, you do not need a new domain for each application you're installing there.
You can start with the free subdomain on cloudwaysapps.com. This helps you in testing your website before you point your domain on the server and make your website live for users.
Daily/OnDemand Backups
You also get your websites and even the server backed up automatically and on-demand too. In case you lose the data on your server by any chance, you still have a backup file that you can rollback any time. This backup is stored on the cloud (of course).
Only Secure Access (SSH and sFTP only)
They never let me access my control panel unless I chose you use a secure protocol. I either have to use SSH or sFTP to access the file system of my server. Well, the fact that you can create unlimited sFTP users makes Cloudways more special.
You can create sFTP users for specific apps which is too good actually to experience and use.
I can use this feature to let the client upload files to their website only even while there are tons of websites hosted on the same server but he won't be able to access the files in other app folders.
Install even WP multi-site
If you're planning to hit the grounds with a WordPress multi-site network for any specific purpose such as template demo website or a web 2.0 kind of thing, Cloudways has a place for you.
I am running a demo site network very easily on the Cloudways platform.
Yes, the setup was a bit confusing because I had to work on .htaccess and ftp. But it finally worked and the support team also helped me a lot in setting up the same.
Unlimited one-click Staging
You can create unlimited clones of an application as far as there is unused resources in your server. This feature is more useful than it sounds.
You can create 4 instances of your current website and prepare 4 different designs with your content and decide which one to go live with. How awesome is that?
Clone servers too
You can not only clone applications but also clone servers. Isn't is cool? Of course, it is.
Any additional server will cost you money but application won't.
So, cloning applications is not subjected to charge money but a server is because Cloudways charge you on the number of servers and its usage.
Still, you can relax because you would be charged for any additional server as far as it exists on an hourly rate. When you delete the server, you won't be getting charged for the same.
CDN Integration
Cloudways platform offers the quickest and the easiest CDN integration with their in-house plugin breeze. You just need to enable CDN for the application you want to enable it for and put the values in the plugin configuration.
This not only helps you load your images and media from a different location nearer to the visitor but also helps you cool down your server. As a result, you will see less load on the server in spite of having multiple applications.
Quick SSL Installation in the Platform
Yeah. When we talk about SSL, it has been the necessity nowadays. You need it to show the secure badge in the address bar of your website. Otherwise, it will show unsecured and sometimes chrome will not open your website due to security issues.
Furthermore, without an SSL certificate (encryption) the data transferred between the server and your visitor is not secure. It can be leaked.
In Cloudways, it is easier to install a free SSL certificate just by typing your domain name and email address there. It is as simple as 1 2 3.
Free Cache Plugin
The free cache plugin will help you forget the rest of the caching things that used to bug you again and again with website's functions. It is easy to configure and has fewer options so that you're not confused.
Of course, it is already very much optimized to host a WordPress application with the minimum resources.
Awesome Support
Cloudways is renowned for its brilliant customer services and as per our experience, we found it worth our expectations. In the name of customer support, there is 24*7 live chat support via which you can contact the team to solve your queries anytime.
However, this system is pretty technical because of which, first you need to answer the bot and if it is unable to find a solution to your problem, your query will be automatically transferred to the agent.
So, it might take some time depending upon the complexity of your problem.
Cloudways team will take you to your desired destination by holding hands and guiding you with tutorials and supportive materials.
The support team at Cloudways is very experienced. They always solve my issues in minutes. I never thought of submitting a support ticket and wait for action on the same.
I Just opened the chat box inside the cloudways platform and asked for help whenever I encountered a serious issue.
Control Panel
Cloudways does not provide the traditional C-Panel because of which it is considered to be quite resource-intensive. This resource, somehow, is transferred into handling traffic. Therefore, instead of that, there is server management, application management, and project management. 
In Server Management, you can get access to Monitoring server resources to get a summary of the usage of different applications. Along with this, you can monitor the server's performance, manage its services, adjust backups, and more.
The application management panel allows you to manage all the applications you have on your Cloudways along with accessibility to your website. Through this, you can Monitor applications and understand both logs and analytics. Domain management, Cron job management, SSL Certificate, backup & restoration management, deployment via Git, Migration tools, and CloudwaysCDN, all these come under this panel.
The project management, as the name suggests, allows you to manage various projects your server must-have. 
How to host a WordPress Site with Cloudways
Establishing a website with Cloudways is very easy. It all begins with creating a new account with Cloudways. To create an account, follow the steps mentioned below:
Visit the Cloudways site, on the very first page there will be an option of 'Free Trial'. 
Click on the Free trial button and follow the instructions as said.
You can log into via Linkedin, Google plus, or Github.
Before selecting anything, you need to verify your account via phone number. The Cloudways team will send an OPT on your number, copy it on their verification page and you are all set to get started. 
The next step is to launch your free trial. To do that, go through the following steps.
Select the WordPress version you want to launch. Thereafter, write down your managed application, your preferred server name, and the project. With yours, you'll be given a suitable server along with the size you desire. 
Select the size of your hosting. If you want to try Cloudways for free, you cannot exceed the limit above 2GB. However, if you want more than that, you need to purchase the plan. 
Select a suitable location and click on launch now. 
It might take a few minutes to set up the hosting. Till then you can watch the tutorial of how to plugin your Cloudways on your plugin. 
Once it is done, click on the server and you will be taken to the server management page which is also the c-panel of Cloudways. 
After setting up the account, all you need to do is click on the 'www' button through which you will be taken to application management. 
Click on the WordPress link shown below Application URL. 
This link will take you to your site. 
Follow these steps to bring changes to your WordPress website. 
Visit the application management page and click on the WordPress URL provided below Admin Panel. 
To get the username and password for WordPress Cpanel, go back to the application management page and copy-paste username and password provided under Admin Panel. 
Once you log in, you will be taken to the WordPress Cpanel to access your website.
Security
As mentioned before, Cloudways has the technology that provides the best managed hosting services on the cloud instead of shared hosting. Because of this great service, it is insanely secured.
I know that people are scared to experience website crashes when they attract huge traffic but with Cloudways, there is no need to worry about that. Your website will be in secured hands of hosting and internet experts.
To be more accurate about the technical aspects, you get to access your server using any SSH client. But the user you get won't have root privileges and thus you won't be able to interfere with the server stack.
This makes it easier for Cloudways to never let you get into a self-induced trouble. 😛
Pros of Cloudways Platform
Cloudways has 5 servers and it allows you to decide the server that you want to use for your hosting. This makes it one flexible platform to have a smooth hosting journey.
3-day free trial without any credit/debit card details. 
Excellent security, easy backups, and automatic up-gradation without any hustle. 
For anyone who wants to have multiple websites in one plan, they can make it happen with Cloudways. In just a 1GB plan, one can have more than 10 WordPress websites, however, with less traffic. 
Awesome money-back guarantee. So, if you do not like its services, or face some problem, you can ask for your money back.
One-click migration of the website. 
An amazing page-loading time which helps you achieve a better position on Google. 
Hosting services provided by Cloudways are much better than the traditional hosting providers because they offer individually allocated servers for a single website.
Cloudways provides a totally managed platform where you can design, add applications, and do anything to make your website super awesome. 
Super easy migration. With a few clicks, you can shift your WordPress website to Cloudways without waiting for hours and engaging in a pro-level understanding of the system. 
Cons of Cloudways
Now comes the drawbacks of Cloudways platform. It is always that nothing is perfect. Everything has some cons behind tons of advantages. I thought you must be well aware of all of them before you buy hosting from them.
No Free CDN
The Content delivery network is integrated inside the platform and you can subscribe to a monthly subscription on pay as you go plan. 1 USD per month is charged as the base cost and then you're charged for what you use.
However, it is cheaper than other managed web hosting packages. They offer you a free CDN up to a limit. While cloudways charges you from the starting byte of usage.
* You will be charged $1 for 25 GB per application. Additional consumption will cost $0.04 per GB.
Backups are charged @ $0.05/GB
Of course, the backups are stored on the cloud and that too on safe location.
Even if you forget to take a backup of your WordPress site, Cloudways will automatically backup your server as a whole so that you never lose your data from your hands.
It is charged at USD 0.05 per GB. This fee is totally reasonable. Additionally you can buy an off-site backup plan from a trusted brand.
No "Push Staging to Live Site" feature
One more thing is that you can create multiple clones of a WordPress instance. But, you'll have to move it to live site with your own wit.
The support will help you out in this just like they helped me but there is not a one-click feature to push a staging site to the live site.
If you still have doubt about choosing a Managed hosting provider, then read:
My Honest Cloudways Review 2023
You cannot register domain names in Cloudways. Therefore, to have your domain name, you need to register it from another platform. Well, that's what makes them focus solely on hosting. 
You will need to have your own SMTP server to be able to send emails from you web application.
Limited payment methods. Unlike many servers and hosting providers, Cloudways has only a few payment methods. 
There are not many options available on Cloudways when it comes to selecting suitable locations. 
PHP apps do not have a one-click setting feature as WordPress does. 
Being a fully managed platform, Cloudways can be pretty challenging for newbies and people who are too lazy to start everything from scratch.
Cloudways is a top-notch quality managed cloud hosting platform. It lets me host as many sites I want on a single server.
It charges me for what I actually consume. I can choose from different cloud infrastructure providers such as AWS and Google Cloud Platform. It is cheaper than any other managed WordPress hosting.
My concerns are solved by the support team in real time. What else shall I be looking for?
Wait! I have a bonus for you.
Promo Code Offer: 20% off on 1st Invoice: VASHISHTHA20