Contabo was founded in 2003 with German quality hardware and software solutions. You won't a VPS hosting as low as Contabo with some extra charges on choosing your own data centers. But, here I am with the Contabo coupons and Black Friday deals to save those extra charges on choosing a data center.
Get one of the best deals on this Black Friday with Contabo VPS that offers zero fee on location and setup fees. Read more to know how you can save your money by using the Contabo coupons & deals.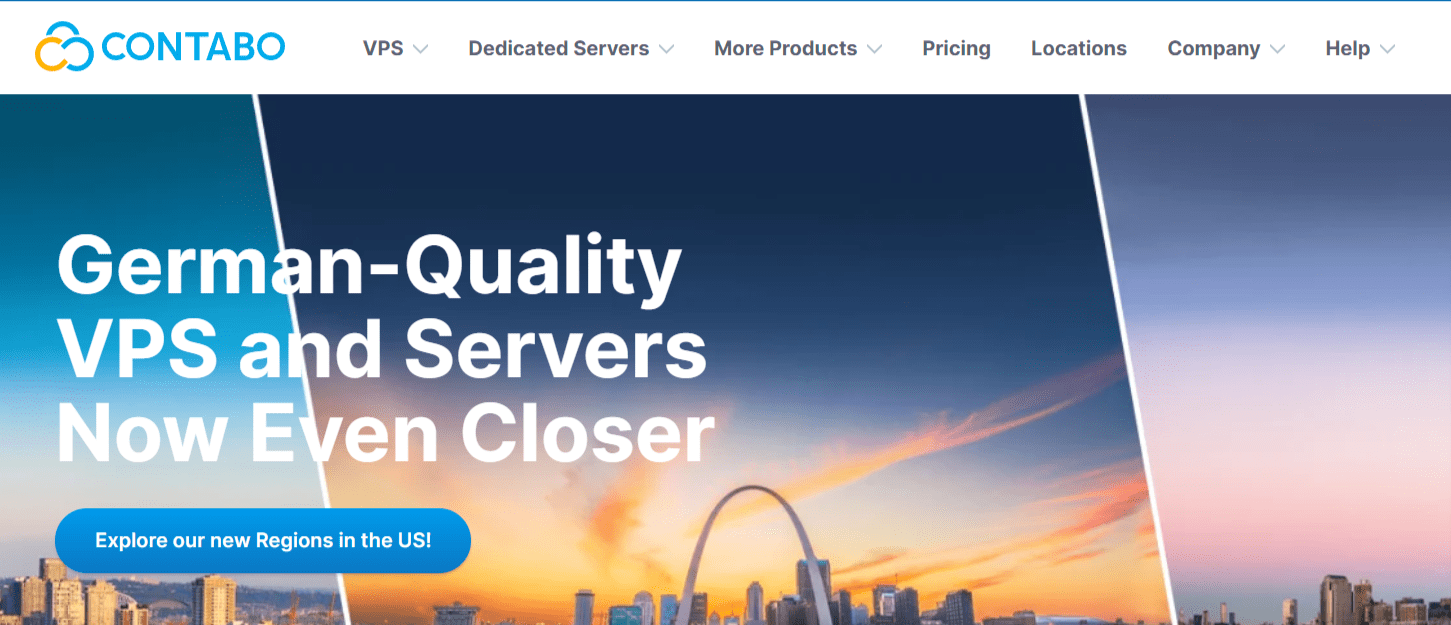 What is Contabo?
Contabo is a German based web hosting company specialized in providing low-cost VPS hosting without compromising on its quality. The prices are incredible not because they are low but because of the quality & performance you get.
There are many awards & recognition earned by Contabo. Some of them includes recognition by Deloitte, HostAdvice, CHIP Hotline Test, German data center award, and more.
Why Should You Choose Contabo Coupons?

Contabo has multiple servers located in 5 regions, 8 locations around the world. When it comes to security, there is no unauthorized access to their data centers. The data centers are under CCTV surveillance and access is given based on magnetic or RFID cards.
With 2 factor authentication, a fake person contacting Contabo with a new email regarding your account is caught. The company is obsessed with security.
Services Offered by Contabo:
Contabo offers the following hosting and other related services globally to every customer:
Web Hosting:
The basic shared web hosting packages start from $3.99 per month with 50 GB space, 20 MySQL databases, 1 domain, and 1000 email addresses. This is most offered by Contabo compared to any other web host. The plan also includes cPanel and 300+ apps including WordPress.
A shared web hosting is perfect if you don't want to manage a server and deal with its complexities. Also, there's a page builder to help you design your site without writing a single line of code.
The plan includes DDoS protection, PHP support, no extra fees, domains & SSL certificates, email & webmail, and phpMyAdmin.
A first-class support is what makes Contabo the best German web hosting provider since 2003.
High-performance VPS: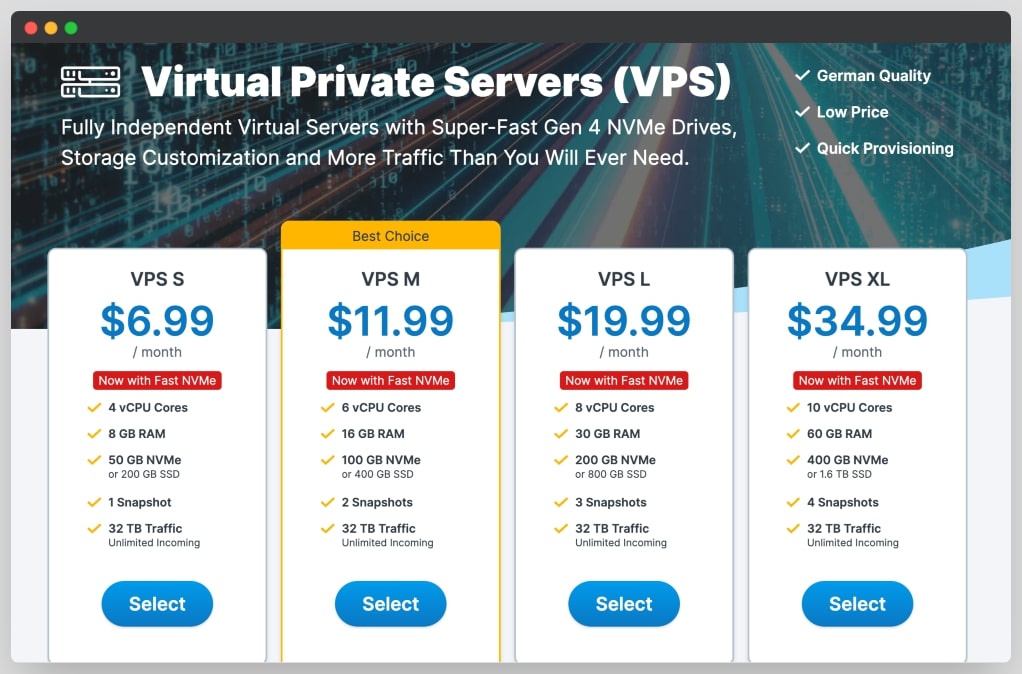 If you are looking for more power to your website, then switch from shared hosting to VPS. But VPS is not for those who have no knowledge on handling a server.
Contabo VPS hosting solutions is power-packed with Super-Fast Gen 4 NVMe Drives. The lowest VPS plan starts at $6.99 per month with 4 vCPU cores, 8 GB RAM, 50 GB NVMe, 1 snapshot, and 32 TB traffic.
You can choose an operating system of your choice. You can install apps on your own at a reasonable price. Although Contabo VPS comes with NVMe storage, you can also choose SSD drives. The NVMe storage comes with 1,000,000 IOPS.
An unlimited bandwidth with no limitations on incoming traffic and 32 TB of outgoing. You won't be charges a penny extra for incoming or outgoing data transfer.
Your server is ready for you within 20 minutes. Just make sure you pay with credit card for fast server provisioning.
Other features included in the VPS are DDoS protection, VNC access, 1 IPv4 & /64 IPv6 Network, Snapshot Technology, and more.
Virtual Dedicated Servers (VDS):
With the flexibility of VPS and power of Dedicated Servers, Contabo VDS is an incredible hosting solution. Starting at $49.99 per month, the server includes 3 physical cores, 24 GB RAM, 180 GB NVMe SSD, 250 Mbit/s port, 32 TB traffic, and more.
Additionally, you can host virtual machines, manage OS reinstall and reboot through web interface.
Dedicated Servers:
If you are a blogger or an individual, then Dedicated Server is not for you. But if you are an agency or an enterprise running a high-end CRM software or any other app, then you need a Dedicated server.
With the Contabo bare metal servers, you are ought to receive a high performance hardware. You have complete control over the hardware and can configure the server with as many resources as you want.
The cost of Contabo Dedicated Servers start at $169.99 per month, but with the Contabo coupons you can save a lot. If you choose the Intel 10-Core dedicated server, then you get Intel Xeon E5 2630v4 10 x 2.20 GHz, 256 GB REG ECC, 1 Gbit/s Port Up to 10 Gbit/s, and 32 TB Traffic Up to 324 TB.
Additionally Dedicated server provides raw computing power. This means there is no one disturbing you and the entire power is in your hands.
You can build private networks using switches and routers if one server is not enough for you. You can choose what type of storage you need – HDD, SSD or NVMe SDD. Also, you could add up to 11 disks and increase the storage further. You can also get Hardware RAID 1, RAID 5 and RAID 10.
You don't have to pay any extra fees for traffic and could host Virtual Machines.
What more?
Apart from hosting services, Contabo offers domain registrations of 300+ TLDs with easy registration or transfer. You could register a .com domain at $2.59 per month.
Contabo offers both cPanel and Plesk control panel, so the choice is yours to choose any one. The DDoS protection is already included in all the VPS, VDS, and Dedicated Server plans. So, your site is always protected from the DDoS attacks.
How to Setup Contabo VPS + CyberPanel (Free admin panel)
After knowing the features and pricing of Contabo VPS, I am assure you woudn't want to miss this hosting service. Above all, you can avail Contabo coupons in this post to save 50% OFF on VPS, VDS, and Dedicated servers.
So once you have purchased the VPS hosting, then comes the crucial part of configuring it.
If you have no idea how to get started with the Contabo VPS server configuration, you can watch this video and reach to the final step.
How To Avail Contabo Coupons + Black Friday Deals 2021?
The Contabo coupons article includes the latest coupons and deals provided by the company.
Unlike other blogs, these coupons are tested and verified. So, when you click on them to buy a service, you will get the discount as told by the company.
Click on the coupon button and wait for the site redirection.
Once you are redirected to the Contabo website, you can choose the VPS or Dedicated Server plan.
Right now, you will get 50% OFF with no setup fees or location fees.
Choose the plan and proceed with the payment using credit card.
Your server will be ready in 20 minutes.
More Black Friday Coupons & Deals:
Frequently Asked Questions on Contabo Coupons & Black Friday Deals
Is there any Contabo Black Friday deal?
Yes, Contabo Black Friday deal offers 50% OFF on VPS hosting plans. There is no setup fees and no location fees.
How To Avail Contabo coupons & deals?
Contabo usually does not offer discount coupons. However, you can keep checking for any special deal going on. For example, Contabo is running a great black friday deal that will last till cyber monday.
What services does Contabo offer?
Contabo offers various hosting services such as Shared hosting, VPS hosting, VDS hosting, and Dedicated servers.
Is Contabo hosting secured?
Yes, Contabo is powered by German technology with data centers monitored 24/7 and are under CCTV surveillance. Only authorized personal with ID cards are allowed to enter the data center.
Does Contabo offer premium support?
Contabo treats every customer as the same and therefore offers premium quality support to everyone.
Does Contabo offer rewards?
You can join the Contabo affiliate program and refer others to purchase Contabo hosting. You get commissions when someone purchase with your affiliate link.
Is there any extra fees for server location selection?
Normally, you have to pay a minimum fees for selecting a server of your choice. But at Black Friday, Contabo won't charge any of its customers on choosing a server of their own choice.
Is SSL certificate free?
When you buy a Contabo VPS plan, you have to purchase an SSL certificate at a price of $89.99 which is a signed SSL.
Why the name Contabo?
Contabo stands for Content Across Borders which means Contabo offers hosting solutions beyond the borders to anyone and everyone across the globe.
Conclusion
Contabo VPS hosting solutions is incorporated with German quality data centers. Black Friday is the best time to avail discounted prices on Contabo VPS solutions. Use Contabo coupons and deals exclusively for our audience.