I know you are looking for the best dropshipping suppliers in Europe. We have a list of suppliers for you to choose from. Dropshipping can be hard because it is hard to find a good supplier when you start out. But don't worry, we have a list of these already.
The Dropshipping model is a good way to sell stuff. You just have to send your orders from customers to the supplier, and he or she will take care of the order. This allows you to test out new product ideas without paying anything upfront, and it is also legitimate because you don't have any problems with delivery.
The European dropshipping suppliers that we list in this article offer products in all kinds of niches. There are also some companies that are focused on a specific niche. However, first, let's talk about dropshipping in Europe.
What is dropshipping?
Dropshipping is a type of retail business where the seller takes orders but does not have the things they are selling in stock. They give their order to another person or company, who then ships it to you.
A retail store doesn't have any control over what they sell. They just get it from someone else and then sell it.
This means that you don't need a store or a warehouse. You can sell things online and people will buy them. The seller makes money when the price of their product is higher than what they bought it for. However, it is less than what other people are selling it for.
Top 11 Best Dropshipping Suppliers in Europe
The supplier is here to do all the work for you. But if you want a supplier in Europe, then they would be someone located in Europe that stocks your products. Also,  ships out orders for you when people order from your website. So, here are all the suppliers you can contact. Read on…
1. Spocket
Our next dropshipping supplier on the list is Spocket. Spocket helps you choose the best products to sell. You can find US/EU suppliers that offer high-quality products. Find deals on inventory and other great products. Choose a supplier that offers quick delivery times!
If you want to find good products to sell, Spocket can help. You can search for products by category and test them out. You can also order samples so that you know if the product will work well in your store. Moreover. there are many suppliers in Spocket that will work with your store, like Shopify, BigCommerce, Wix, and WooCommerce.
2. Brandsgateway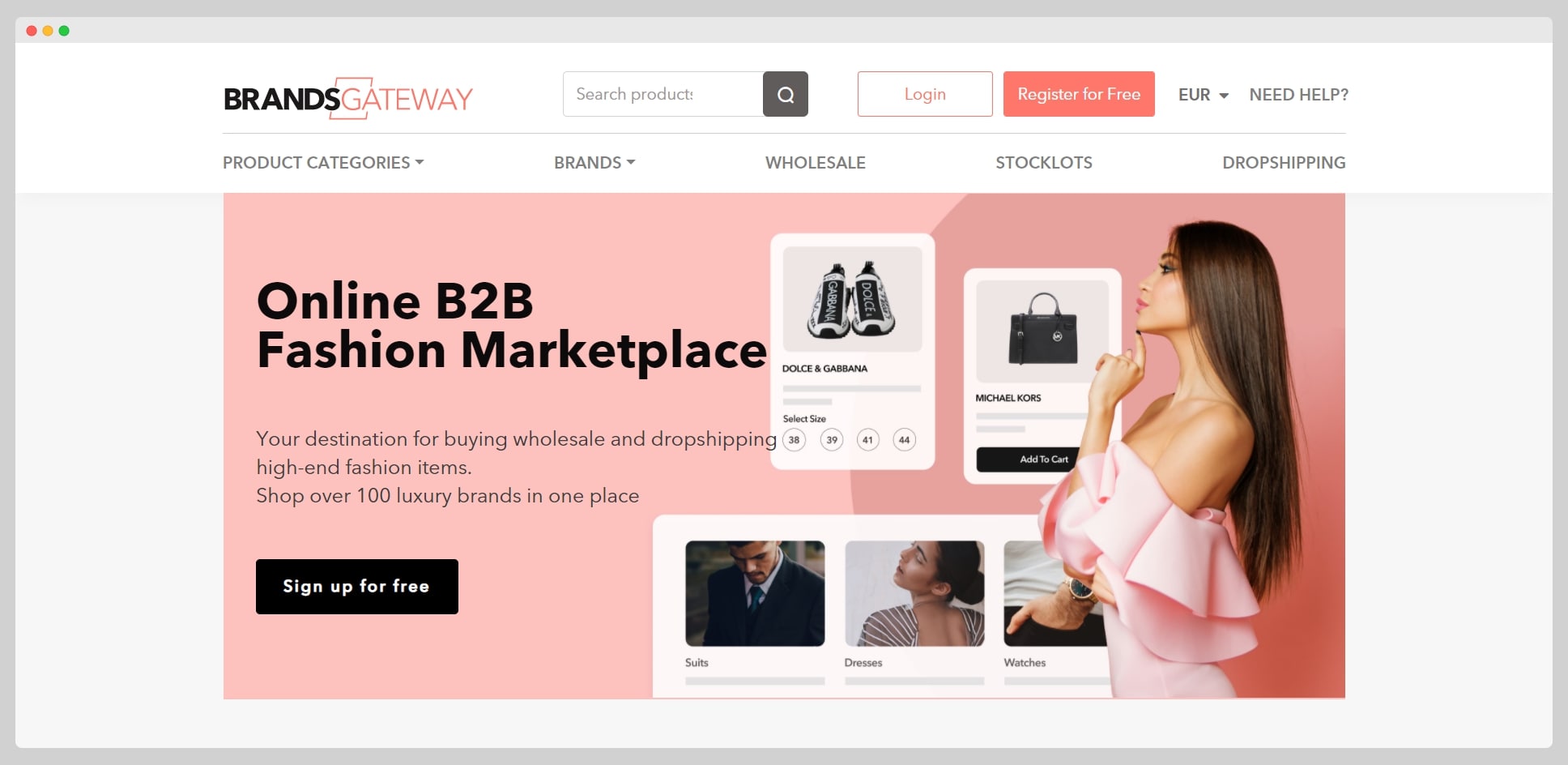 BrandsGateway Online B2B Fashion Marketplace is the destination for people who want to buy wholesale or dropship high-end fashion items. It has over 100 luxury brands. At BrandsGateway, you can shop from over 70+ different brands of designer clothes.
BrandsGateway is an online business that helps people start or expand their businesses. BrandsGateway has a plugin that you can use to upload products, synchronize inventory, and send orders back to the company so it can ship the product directly to your customers for you!
Through BrandsGateway, you can get access to thousands of luxury fashion products. You will have a chance to make more money because they offer genuine wholesale prices. They also ship your orders within 24 hours and charge a flat rate for shipping worldwide. Try it out and see how well it delivers you the best products.
3. WholesaleDeals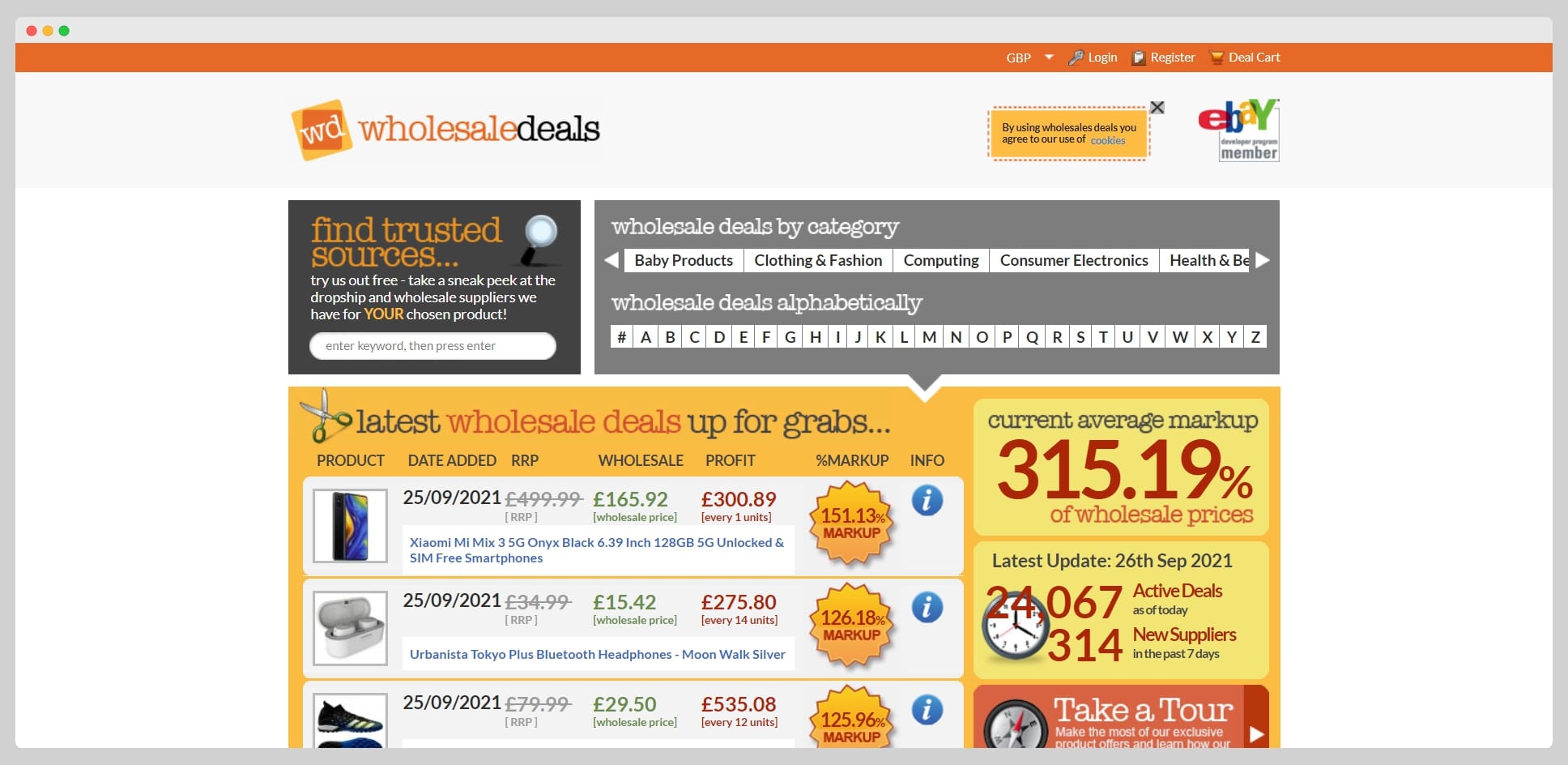 WholesaleDeals is a big company in Europe. They sell lots of things from electronics to toys, and they're the most popular service for this in the UK. They started making money by selling other peoples' products on eBay and then came up with their own product line which is now very popular.
Wholesaledeals are like eSources. You can talk to any of the suppliers on the platform. The only thing you have to do is place an order with your supplier after talking to them. And, if you want, WholeSaleDeals will tell you how much money you will make by selling that product on eBay or Amazon.
Here's more to it. You will absolutely love this platform because WholesaleDeals is a place to buy from because they have a lot of different products and sell licensed ones like Disney. They have been verified for more than 10 years and the estimation tool they have tells you how much money you will earn when you sell something on their site.
4. AWGifts Dropshipping
AWGifts offers many different products for people who want to sell beauty products and fragrances. They are available in many countries, like Poland, Hungary, the Czech Republic, Austria, Spain, and the U.K. which has millions of people. And they make all their products in the U.K., through a partnership with other companies.
AWGifts is a good place to buy things. You can sell all sorts of things like candles, bathroom accessories, and hand-crafted products. There are no subscription fees and over 3000 thousand different products available.
AWGifts has been doing it since 1995 and they are dedicated to their customers. They care about the customer's experience because the team dropships gifts all over the world every day. Take a look at their departments or go to the main menu bar where you can find links to all of them and top-selling products lines.
5. Syncee
Syncee is a website where you can find the right products to dropship or bring your own product. The site has hundreds of reliable suppliers that you can choose from. In fact, Alibaba.com chose Syncee as a dropshipping technology partner. Alibaba is an online website for selling products. You can choose from thousands of products in different categories.
Syncee is a place to buy products for your store. You can find the right product instantly. You can explore reliable suppliers from all over the world, including the US, EU, and AU. If you need products quickly, you will always find someone near you who has them fast.
6. BigBuy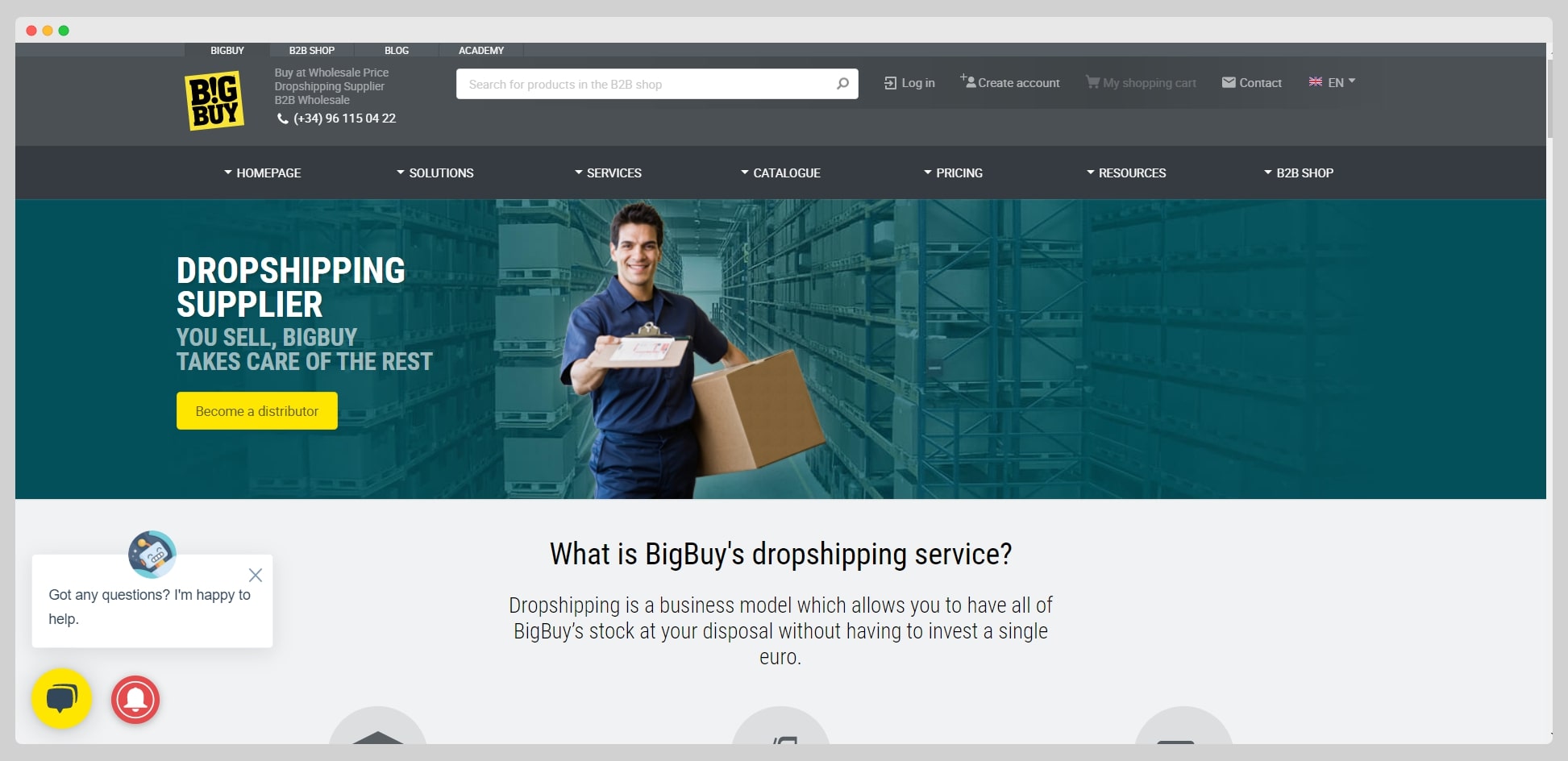 BigBuy's dropshipping service allows you to use all of their products without paying anything for them. You just have to sell them. BigBuy is an online store that sells products. You don't need to buy or invest in your own stock. BigBuy will take care of buying and shipping the products to the people who order them. It also keeps track of the shipments and makes sure they are delivered on time.
BigBuy is a dropshipping company that sells products online. It has a very big warehouse where it stores and distributes its own products. BigBuy gives people access to wholesale prices, which you need for a dropshipping service. BigBuy's prices are very cheap for deliveries across Europe, and there are many different shipping companies you can use. Moreover, you can find information about the different types of products on the website.
7. Printful
The next item in this list is just FAB. In 2020, there were more than 362,000 people using Printful. Print is a company where you can open your own online store and they will print the products that you sell on-demand. Printful has fulfillment centers in the USA, Europe, Africa, Asia, and other places. They work with 21 different eCommerce platforms to sell on those sites as well as their own site too.
Print-On-Demand By PrintFul is a way to make custom products and sell them. You can print items as soon as the order is made and without having a minimum amount of orders. POD can take 2-7 days for your order to be fulfilled, and then it will ship to you.
Beginning in 2020, there will be over 300K active customers with Printful. You can join them. With Printful, you have the freedom to experiment with your brand and products without the risk of ordering too much inventory or not being able to sell it all. The service also offers custom branding for your business that will look great on every product that is fulfilled.
8. eSource.co.uk
eSources.co.uk is a website that helps people buy things from wholesalers and drop shippers in the UK and other countries. You can contact any supplier for free, but if you want to buy something, then you have to pay a fee.
eSource is a trade portal that offers 4 different registration options for people. Trade buyers can sign up to see wholesale items or clearance lines from UK suppliers, wholesalers, importers, distributors, and manufacturers. If your business is in the UK but supplies something to other places, you can list your company on eSource.
9. Brands Distribution
Brands Distribution is a good company. It has a lot of clothes and accessories from over 120 Italian and international brands. They have both wholesale catalogs and dropshipping catalogs, so you can choose whichever one you want. They also have assistants to help you with different things if you need them.
Brandsdistribution is a company that sells clothes online. They sell items from brands including Nike, Adidas, and Under Armour. They have been in the clothing business for a long time and now they use the internet to sell products. Anyone who wants to buy clothes can register on their website.
10. E-nuc
E-nuc is one of the best sites for buying electronic accessories. You can register on their website, pick your products, and they will be shipped directly to your customers. The delivered products will have the company's name and logo, as well as a price. There is an extra cost for shipping from 0.95 EUR to VAT% depending on the size of the order.
E-Nuc has a wide selection of spare parts for notebooks, spare parts for telephony, free phones, ink and toners, consoles, accessories for consoles and video games. E-Nuc is a company that makes computers and video games. It has been around since 1997 and 2001. Thousands of people have bought things from them and they learned how to do better.
11. Centralpoint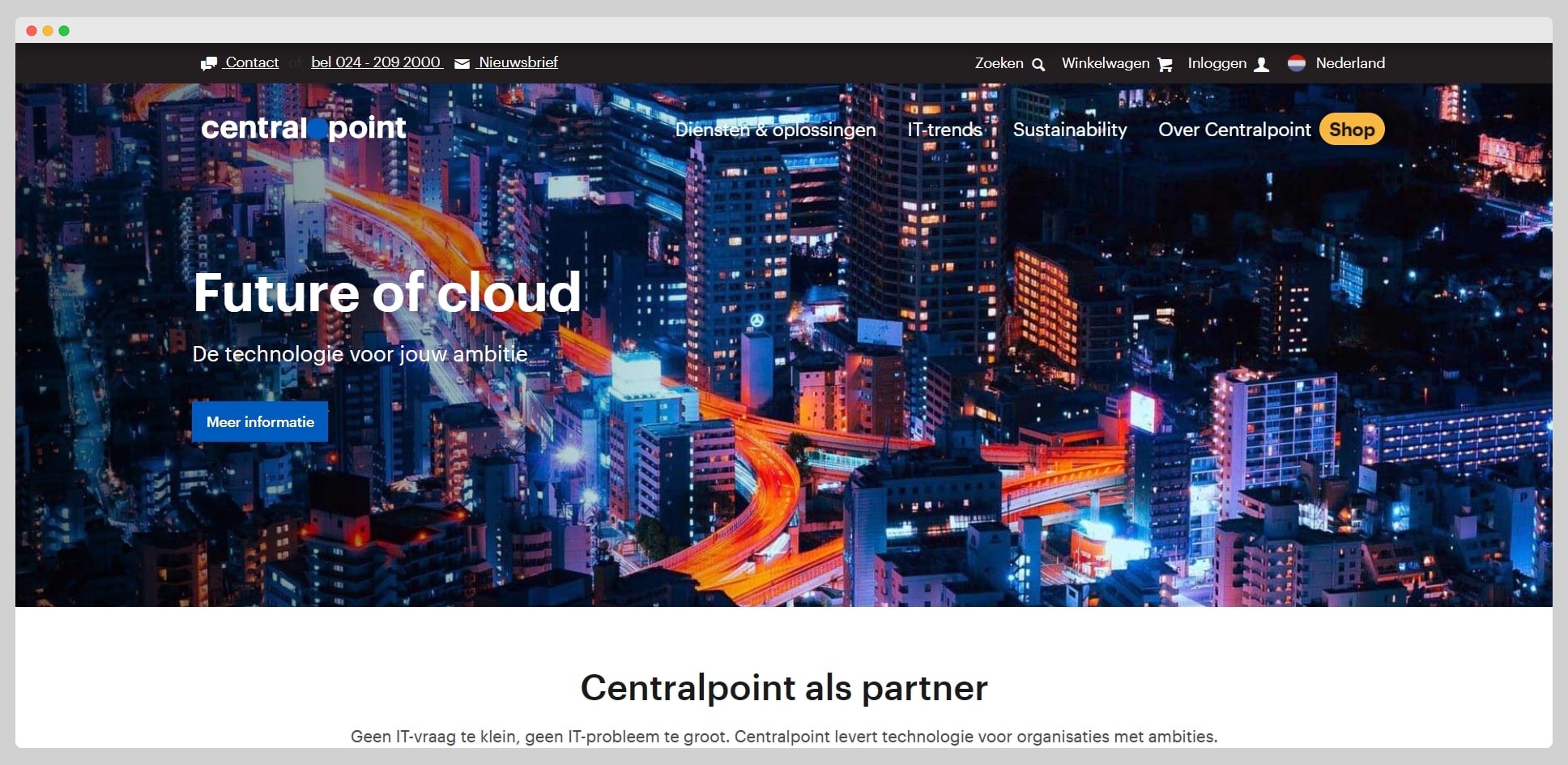 Next up we have CentralPoint which is an IT company. It has dropped shipping costs and it is popular in Belgium and the Netherlands because of this. There are over 2 million products at CentralPoint, and they have 3,000 brands that sell their products on CentralPoint.
Centralpoint is a store that sells all sorts of electronics. They have computers, monitors, printers, networking devices, and storage. If you're into technology yourself, there are many ways to use Centralpoint's products to advertise your own stuff.
That's not just it, Centralpoint is a company that provides IT solutions to organizations. It can be used by both large and small companies. They provide the best technology, no matter what it is that you need. They keep things simple and understand complex issues. It's a company that only does what they're good at so other people can do the same thing too.
12. Joom
Last but not the least, I have Joom which is a company in Latvia. It sells mostly Chinese-imported products. Since it started back in 2016, it has gotten bigger. There are over 10 million products for 90 million customers to buy on Joom.
Most of Joom's customers come from large European countries and Russia. The only problem is that they might not make as much profit when they sell products from China. They sell a lot of different things like electronics, pets, beauty products, and more.
If you liked the store's goods, you can add them to "Favorites" so next time you want to buy something, your favorite items are right there. But this option is not on the website or in our mobile apps. Undoubted, Joom is the best in all the world. Products from Korea and Thailand are good too.
FAQs (Best Dropshipping Suppliers in Europe)
Does dropshipping work in Europe?
Retailers can then ship the products to customers. Shopify bought Oberlo in 2017. BigBuy is a Spanish company that sells more than 80,000 products and dropships all over Europe.
Which country is best for dropshipping?
When you are thinking of countries to target as dropshipping, you should think of the United States first. The second best country in the United Kingdom. The third best country is Australia. Canada is number four on this list. Germany is number five on this list and France is number six on this list. Scandinavia (Norway, Sweden, Denmark) are the seventh on this list and Spain is last on this list.
Can I do dropship in Germany?
Dropshipping in Germany is a way to run a business without holding inventory or shipping products. You can spend your time on other things like advertising and customer service.
Is Amazon a dropshipping company?
You can sell goods on Amazon as long as you are the seller of record. You must be identified on invoices, packing slips, and other information about the products. This is important for following Amazon's policies.
Can I drop ship anywhere in the world?
Dropshipping is a good way to sell products. You don't need to have inventory because the supplier sends them directly to people who order from you. Dropshipping also means that you can sell anywhere in the world too. There are many parts of running a business that is automated which will make it easy for you as well as time-saving and money-saving!
Is dropshipping legal Ireland?
Yes, dropshipping is legal in Ireland. Your products need to be legal to sell in Ireland. You will also need to follow the Competition and Consumer Protection Commission and the Consumer Protection Act 2007.
How do I start international dropshipping?
You can start a dropshipping business by choosing a niche. Do research on your competitors and find a supplier that is reputable. Make an online store and then market it to get customers. Look at your store and see how it is doing, then make changes if needed.
Wrapping up
Which Dropshipping supplier is the go-to one?
The winner
The winner is WholesaleDeals. This site connects suppliers with resellers. The company has been in business for a long time and it knows how to do this business. One of the best features of Wholesale Deals is that you can compare deals from different suppliers to get the best deal. You may also order defective items, fix them, and then sell them on the site as well.
The cheapest
Spocket is a platform that helps you get things delivered to your house that too for FREE. It gives you 30%-60% off the price of goods. You can order on Spocket and it has an easy process. You can buy high-quality products from many different sellers with Spocket, too!
The best features
Again, WholesalerDeals is here. The Wholesalerdeals' goal is to make the best supplier directory. They want to be sure they are very trustworthy. So they go through a lot of steps before adding a supplier. They refuse more than half of their listings because not all suppliers are good enough for their directory.
The Wholesaler has great pages that will show you details about the supplier, such as what they sell, where they ship to, and what the minimum order size is.
Conclusion
I hope that this list helped you to find a good dropshipping supplier for your products. If not, then look at some of the best vendors that are from Europe. They might be able to ship faster than Chinese suppliers!
Do not forget to leave a comment below if you have any suggestions or questions about this list!
Oh, wait! Here is more for you. Read on and get the best stuff about eCommerce