You might have come across various blogs and different websites, connected to WordPress. Oh! Come on, There are over 33% the of the overall web using WordPress CMS. And many running on genesis child themes but you never know they're using it.
The best genesis child themes would require Genesis Framework to be there in your WordPress to be able to function. Of course, you can not activate any Genesis child theme if you don't have the framework.
Every Child theme of genesis (by studiopress) comes bundled with the framework when you buy any of it from Studiopress. See Details Here.
So, today I am going to talk about some amazing and nice WordPress child themes for Genesis Framework which are prevalent in 2023.
These themes are SEO friendly and fast loading at the same time which makes them a perfect combination for a blogger.
Update: StudioPress was acquired by WPEngine. Now many legacy themes by StudioPress will be available for FREE download.
30+ Best Genesis Child Themes of 2023
1 Focus Pro – Best Genesis Child Theme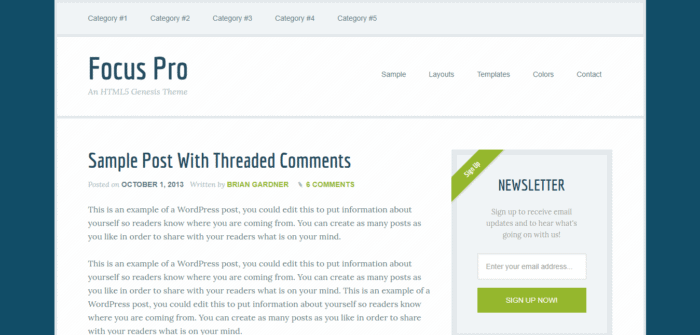 The most lightweight, fast and furious genesis child theme which is minimalistic in appearance and elegant in nature works great for bloggers who are writing quality content and have desires to get seen on the first page of Google.
It has two menu locations in the header and an ad space right aside the logo container. The theme comes in five color schemes and with elegant email subscription form widget to capture leads in style.
2 Agentpress Pro
The theme is lightweight and flat with stunnning colors and homepage widgets. Or say, this is a widgetized wordpress theme specially made for a real estate agency's website.
There is no space for an advertisement in the header while ads can be displayed in the sidebar loyally. Homepage area looks pretty corporate and that's why it is loved by corporate website owners.
I've seen a lot of real estate websites using this amazing theme and ranking well of search engines.
3. Eleven40 Pro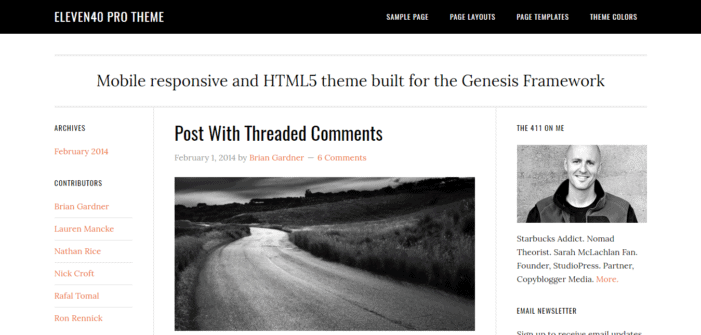 Talking about the theme, it keeps the primary menu in the header. It comes in three-column layout for homepage and a two-column layout for archives and posts but most of the bloggers use a two-column homepage and their blog looks great on this genesis child theme.
4 The Daily Dish for Food Blog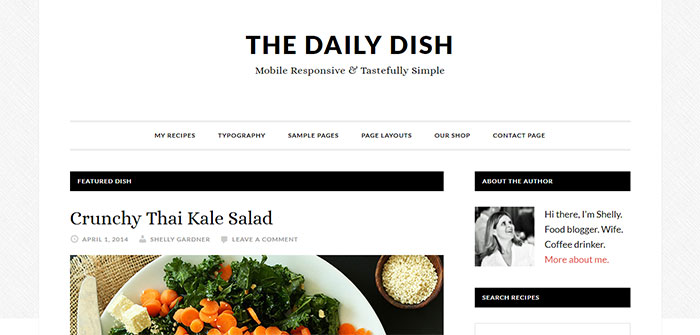 I live in a community which is full of bloggers (digital life). Most of my friends are fashion bloggers or food bloggers and I love reading their blog.
Most of the times I land on their blog while searching for a recipe on google and 70% of those blogs use thedailydish genesis child theme.
It would not be wrong if I say that this child theme is made only for fashion and food bloggers and the theme is feminine in nature. 🙂 😉 😛
5. Magazine Pro WordPress Theme
Do you know what I love in a few of the best genesis child themes? It is the assurance of top-notch optimization and creativeness practiced by professional designers.
A blog with quality content and plugged in with magazine pro genesis child theme is cherry on the cake for your blogging career.
It is one of the best flat, responsive, elegant, stunning and high-quality WordPress theme ever designed with a great user experience score.
Having two menu containers in the header with an ad space makes it a monetization ready WordPress theme while boxed style and flat looks make it a content-focused layout.
6 Genesis Framework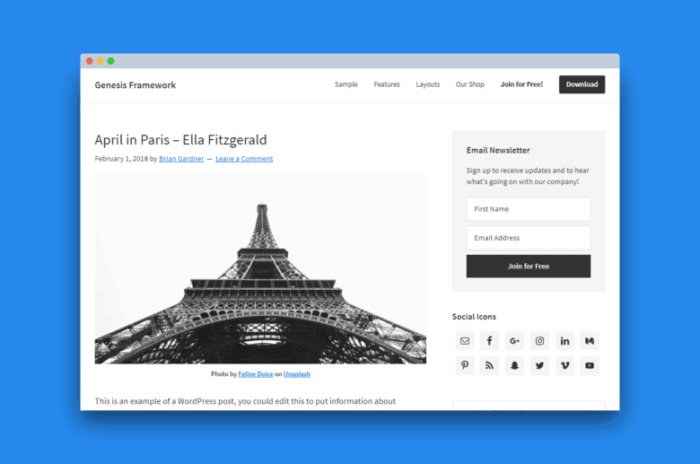 Genesis Framework is one of the most reliable wordpress theme frameworks. The complexity of the code is yet there but the simplicity in design is wonderful.
You won't find clutter in any of the best genesis child themes because the theme file structure is too unique and simplified for a developer to understand.
7 Monochrome Pro Theme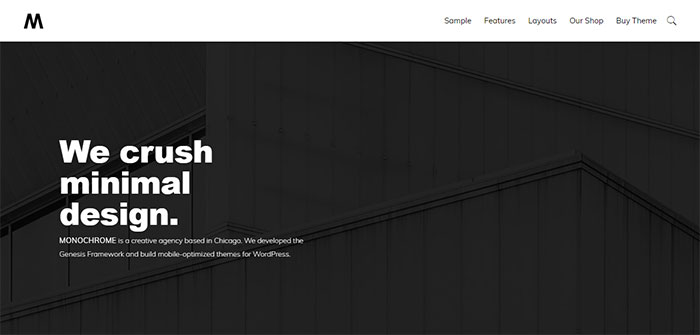 Meant for business added with the simplicity of the genesis framework, Monochrome stands out from the rest of the business WordPress themes.
Elegant appear animations and clean content sections attract the reader's eyes on the layout. and it increases conversions as a result.
8 Foodie Pro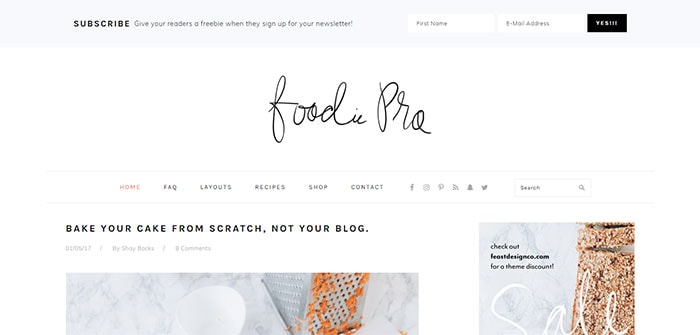 Simply stylish, completely personalized and one of the best genesis child themes is made especially with the taste of food blogs.
Stuff with delicious food images and hit it up with a good narration and you're on the pursuit to your professional food blog.
9 Infinity Pro
I feel like it can be a suitable layout of choice for a health startup website or an app startup. But so far design is concerned, it is dynamic in nature, impressive by design and clean from the readers point of view.
Talking about the font scheme, I found something different here, did you?
10 Refined Pro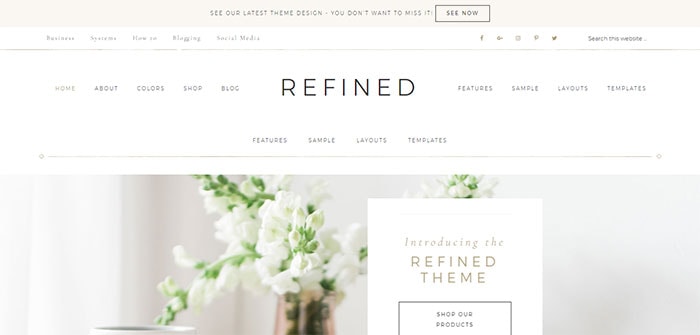 Yes. The first idea come in my mind after having a quick look at the template is "let's craft and develop a jewellary store or fashion blog with this wordpress theme. Because golden color scheme is good for luxury kind of websites.
11 Digital Pro
Especially if you're a technology enthusiast or having a personal tech blog that fucus text content, Digital pro is something you must check out first.
Schema ready layout and large font is always a bonus here along with the quality of genesis framework.
12 SmartPassiveIncome Theme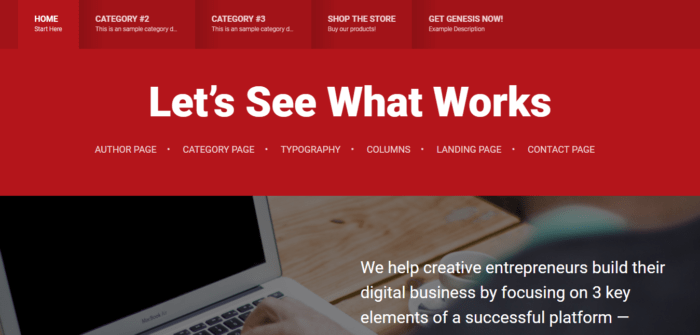 I wonder if you're into digital marketing/affiliate marketing and never ever heard about SmartPassiveIncome by Patt Flynn. A Stunning and conversion focused theme looks very elegant and professional.
This theme used to be the ornament of the popular affiliate marketing blog smartpassiveincome.com
13 Wellness Pro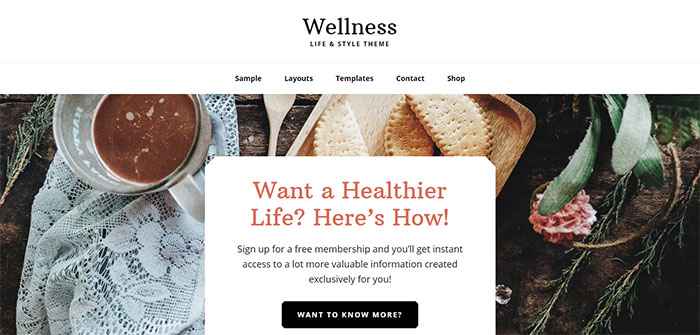 This wordpress theme can rock on your site and impress your readers if you manage it well. I like the header post slider that has the parallax background image. Adorable.
14 Altitude Pro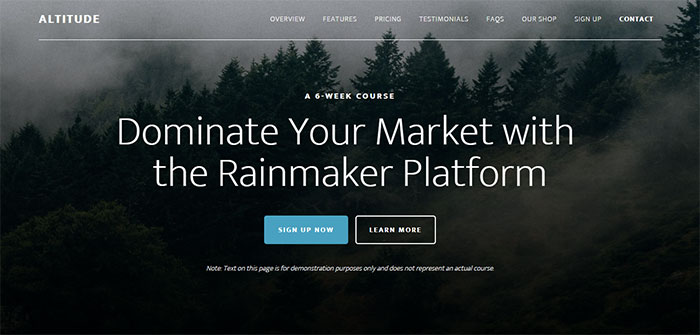 A product website. This is my first thought for this layout. Pricing table, header offer section and call to action footer; what else you need for a product website.
One page scrolling, parallax background sections, faq container and footer call to action; everything is ready to get the ball of your business rolling in.
15 Atmosphere Pro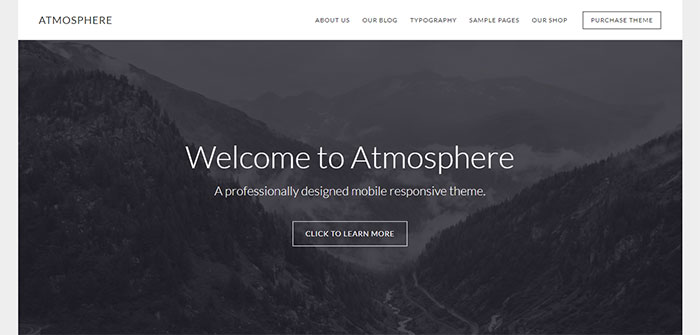 You're wrong if you think "it is one of the worst black and white themes ever." Chessboard content sections are the point of attraction and I like this idea. Furthermore, editing this section with widgets is beauty.
16 Parallax Pro Theme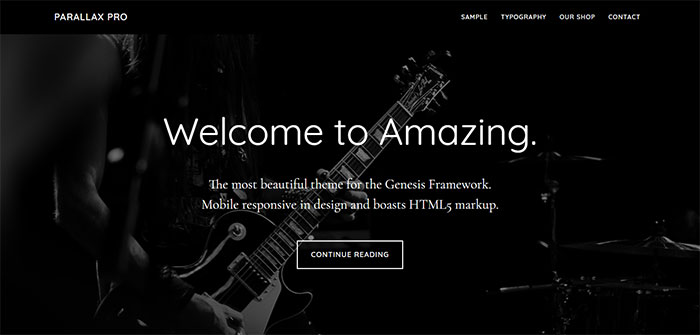 No. Not Again. This is simple yet stylish enough because of its parallax background sections. Pricing table is yet another thing you may like about the theme.
It is a real parallax theme because every alternate section is having a parallax background image.
17 Author Pro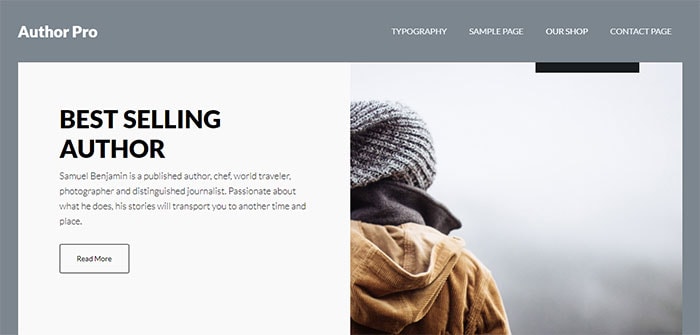 Simply nothing more than something an author would love. Just in case you're an author and want to showcase the book you've written or say your portfolio or publications, Author Pro is the best theme you'll ever choose. 
Read More About:
Conclusion
After taking a look at all of the above themes,  I will say that it is a waste of time if you are still thinking whether to buy it or not.
Another option is to visit mythemeshop.com where you can get a lot of free WordPress themes to make your blog look beautiful and make several hundred dollars with it.
Have a nice going with your blog. Have a nice day. Don't be sad. Start using any of these best genesis child themes today. 
😀 🙂