Why is there a buzz going around everywhere about blog or blogging? This is because blogging gives freedom from your daily 9 to 5 job routine.
You can sit back, relax and enjoy a cup of coffee while blogging about anything you like.
Though it's not as easy as it sounds, I am here to assist you start a blog in India.
I have helped many newbies start a blog from scratch and today you are the lucky ones.
So keep reading and start blogging!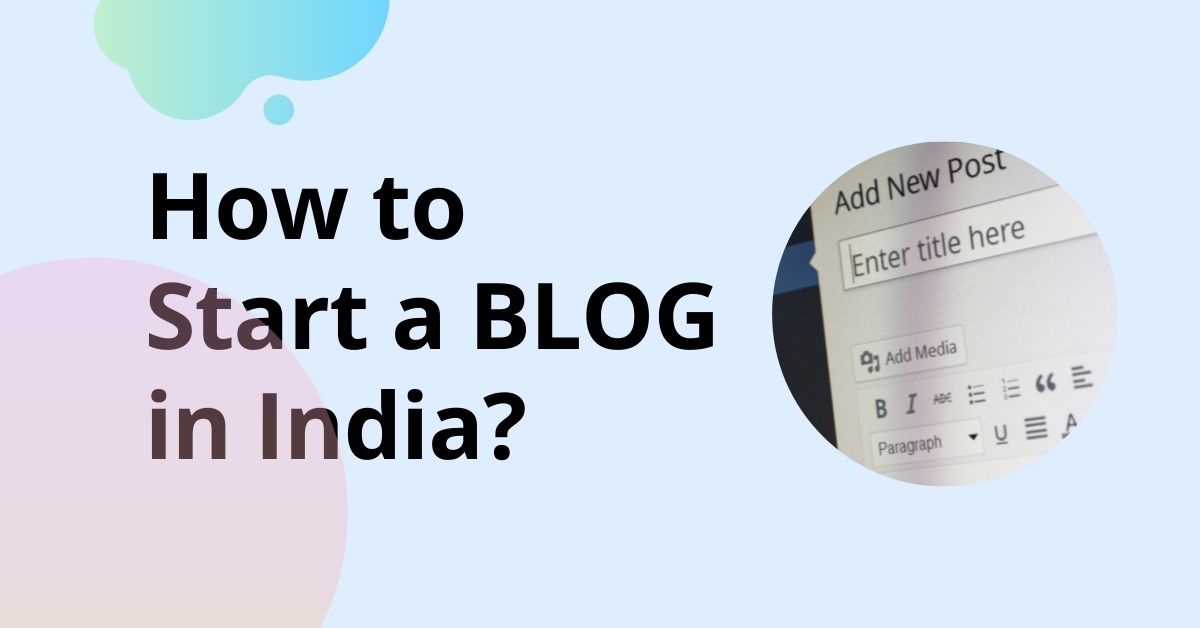 What is a BLOG?
A blog is an online property owned by you where you share your thoughts and people read and acknowledge it.
A blog can consist of text, images and videos. For some people blogging could be a part-time money making machine. But once you are into it, you will love the way you can scale your blogging business.
Not just an individual, but even companies have a blog to inform customers about their product and technology. A blog serves as the best means to differentiate your product from others.
All you need for a powerful blog is rock solid domain and web hosting technology. In the later part of this article, you will learn how to start a blog.
Why Do You Start a BLOG?
A blog is all about good content and remember content is the king. Some people start a blog to utilize their free time and write about something they love.
Others take blogging on a commercial level. For example, this vashishthakapoor.com is a blog built on WordPress. I am going to tell you how you start one for yourself.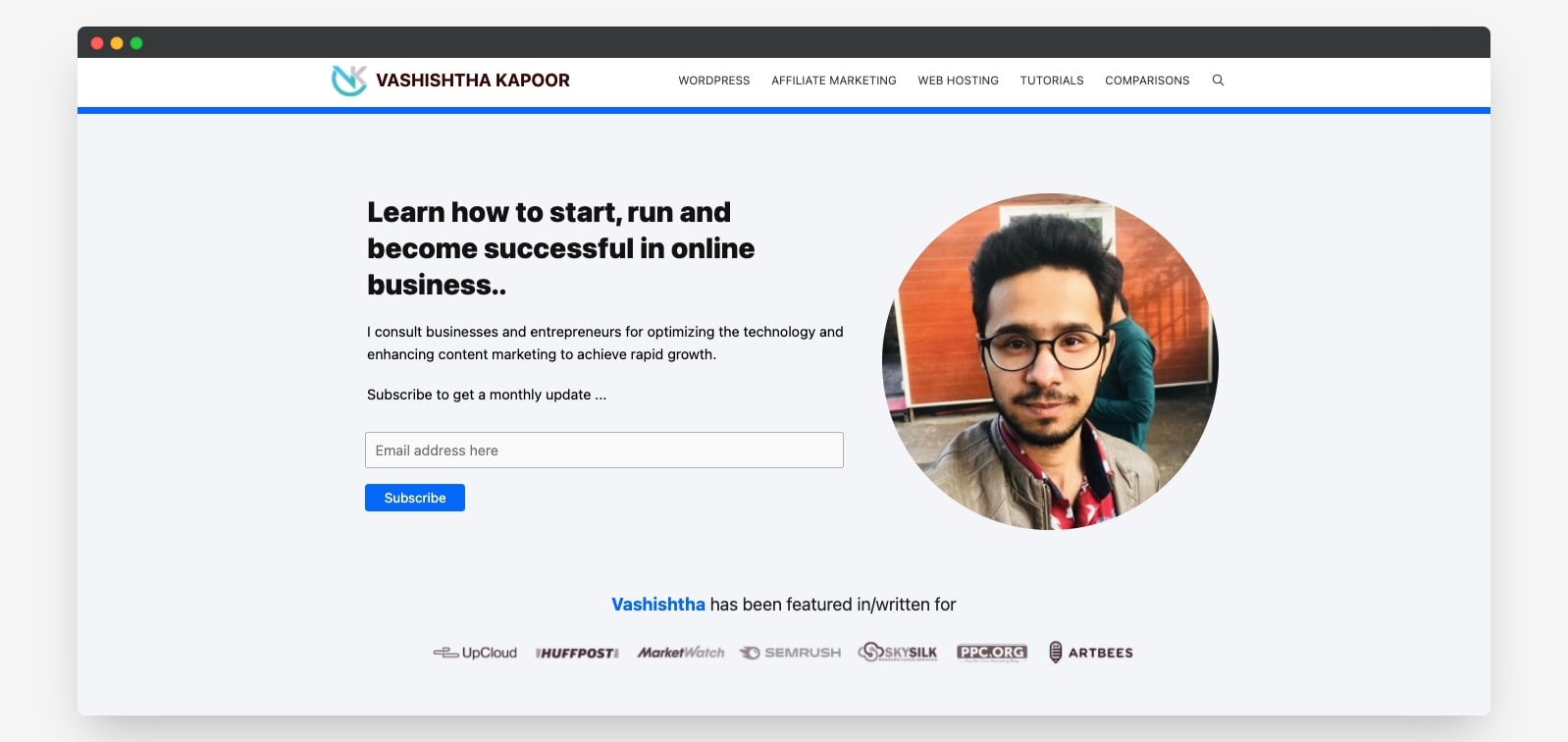 So, it's completely up to you what you want to do with your ideas.
Who knows, your ideas might be liked by a big brand and you get paid for it.
One thing to keep in mind is to choose a niche and start a blog in India. India is not just a place of worship but a place with hundreds of emerging bloggers each day.
With millions of blogs published on Google, how will your blog reach millions of visitors worldwide?
You shouldn't be worried about the reach as all blogs are not the same. You can keep your blog different from others in many aspects.
Once you start a blog, you will learn how to scale it and attract maximum traffic worldwide.
What is the earning potential of a self-hosted BLOG?
First of all, let me tell you what a self-hosted blog is?
A self-hosted blog means having your own domain name and web hosting service. Most bloggers look for free blogging platforms like Bloggers or Medium. But these free platforms offer less features.
Having a self-hosted blog allows you to customize the look as you want at an affordable price. There's a huge earning potential with a self-hosted blog. If your blog becomes popular, you will see brands approaching you to advertise on your blog.
You can run Google AdSense and earn money from automated ads.
You can earn money using affiliate marketing through your blog by writing reviews of products or services that you use.
So are you ready to start a blog in india?
Learn step-by-step process to start a blog with SeekaHost.app
How to choose a domain name?
A domain name is how people will search your blog on search engines like Google. If you are starting a blog for the first time, you should be very keen on choosing a domain name.
If you need help in picking up a domain name, you can take help from the Domain Name Generator tools.
While registering a domain name, you should keep the following things in mind:
Don't keep it too long. One or two words is the best.
The domain name should reflect your work. If you are starting a food blog, the name could be funky but should attract the audience at the first sight.
Register a .com domain and if not available, then go for other extensions like .in, or .net TLD's.
It would be great to have a single dashboard through which you could manage both, domain and hosting.
Buy cheaper domains at a cheaper renewal price. Some domain registrars offer cheap first time domain registration, but their renewal rates are higher.
But you don't have to waste time exploring for cheap domain registration. In this post, I will show you how you can buy domains at SeekaHost.app at an affordable price.
If you have reached this step, it means you are really into the blogging space. So, now I will show you how you can buy a cheap .com domain name at SeekaHost.app in a few clicks.
One thing that makes SeekaHost.app favorable to register domains is its PBN service. The PBN manager allows you to register multiple domains and host them at SeekaHost.
If you are starting a blog in India, then you won't find a cheaper domain registration like SeekaHost. The .com domain registration price starts at $5.99 which is approximately Rs.440 in India.
To register a .com domain, visit SeekaHost.app and enter the domain name in the search box.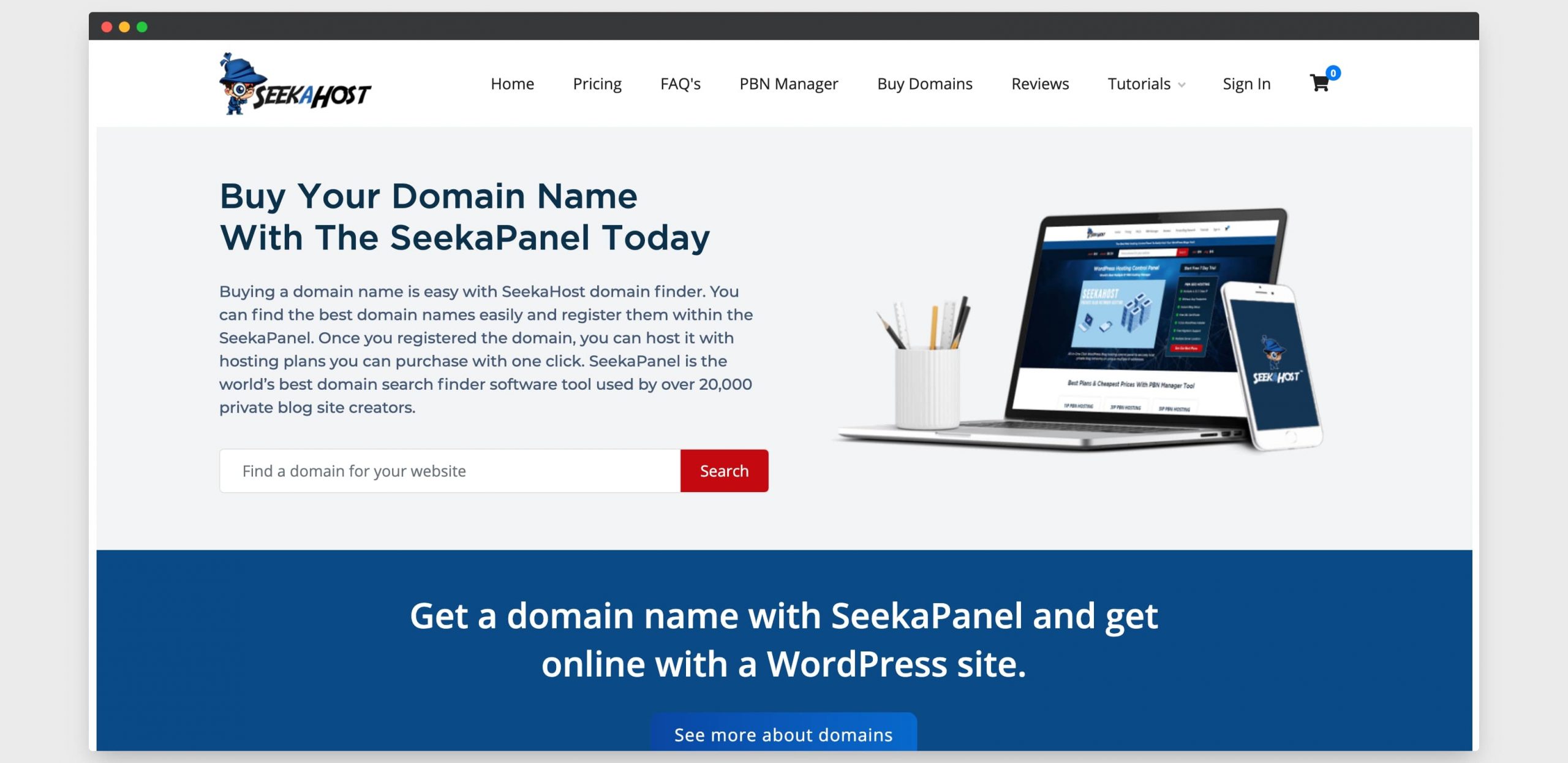 Click on the search button to find the domain availability. If the domain name is available, add it to the cart before someone else does it.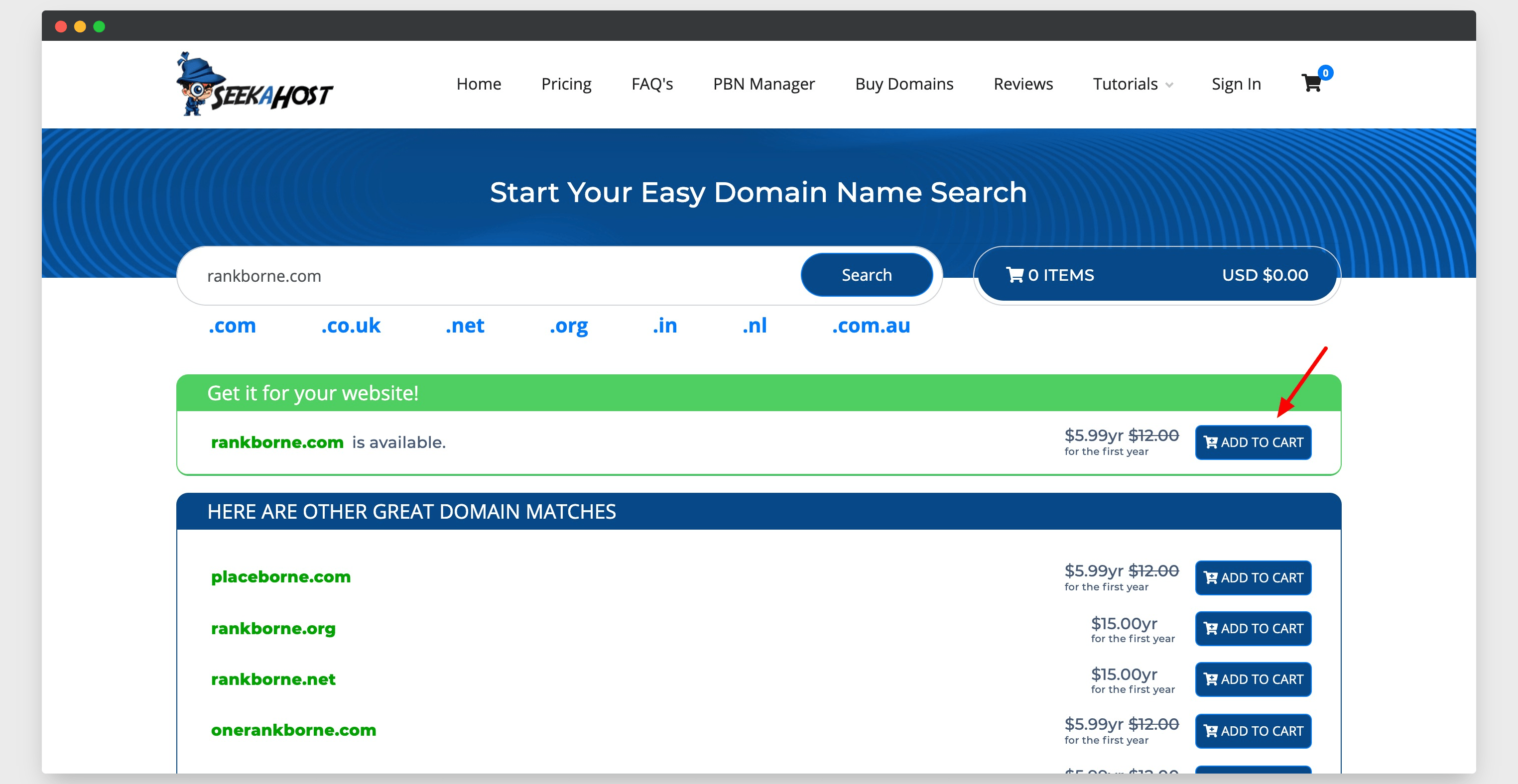 Proceed with the checkout, where you will be asked to login into the SeekaHost.app account. Since you are a first time buyer, you can register a free account and then log into the SeekaHost.app domain manager.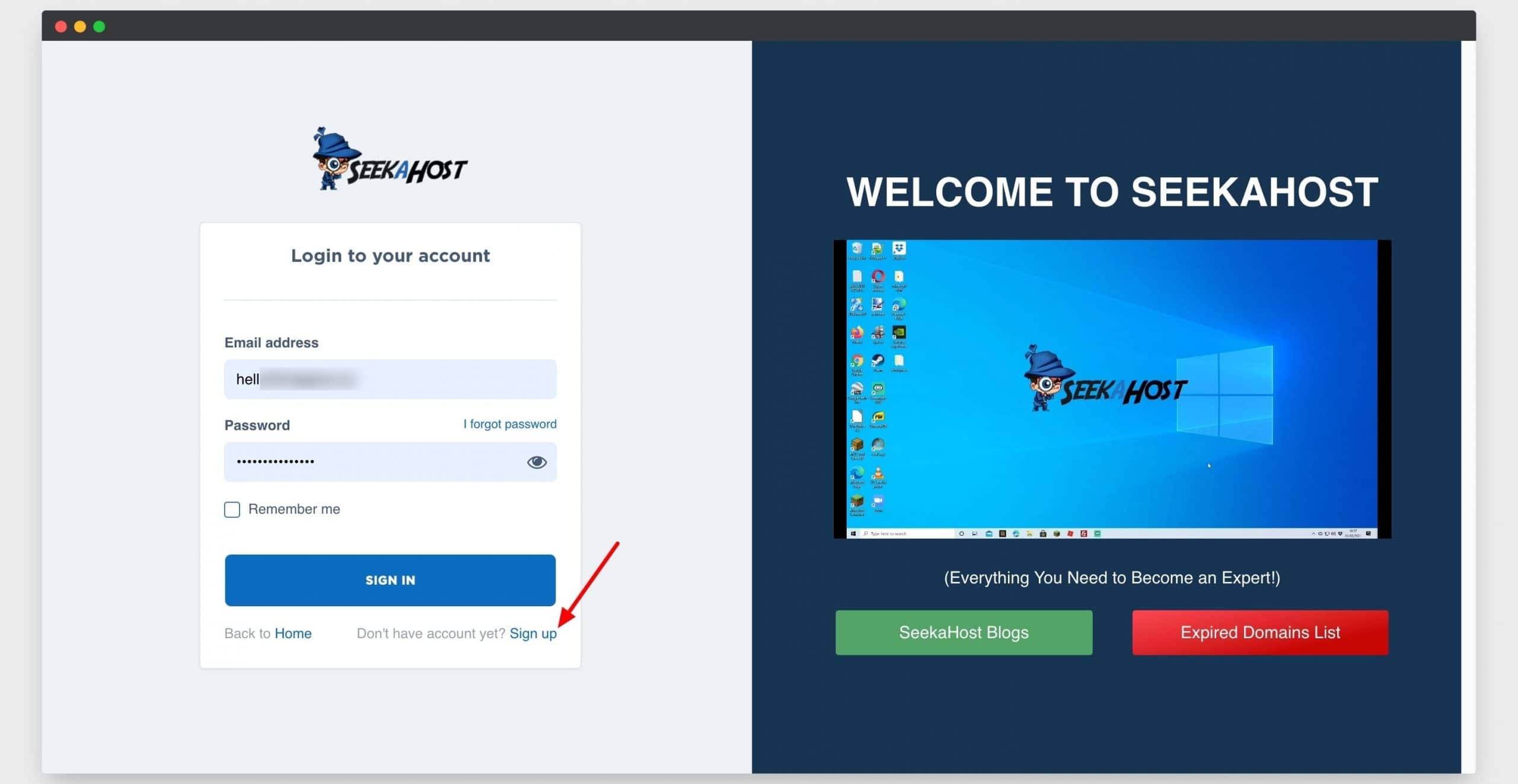 Once logged in, you can see the domain name and its price per year with some additional options. You can pay extra to get additional services like privacy protection.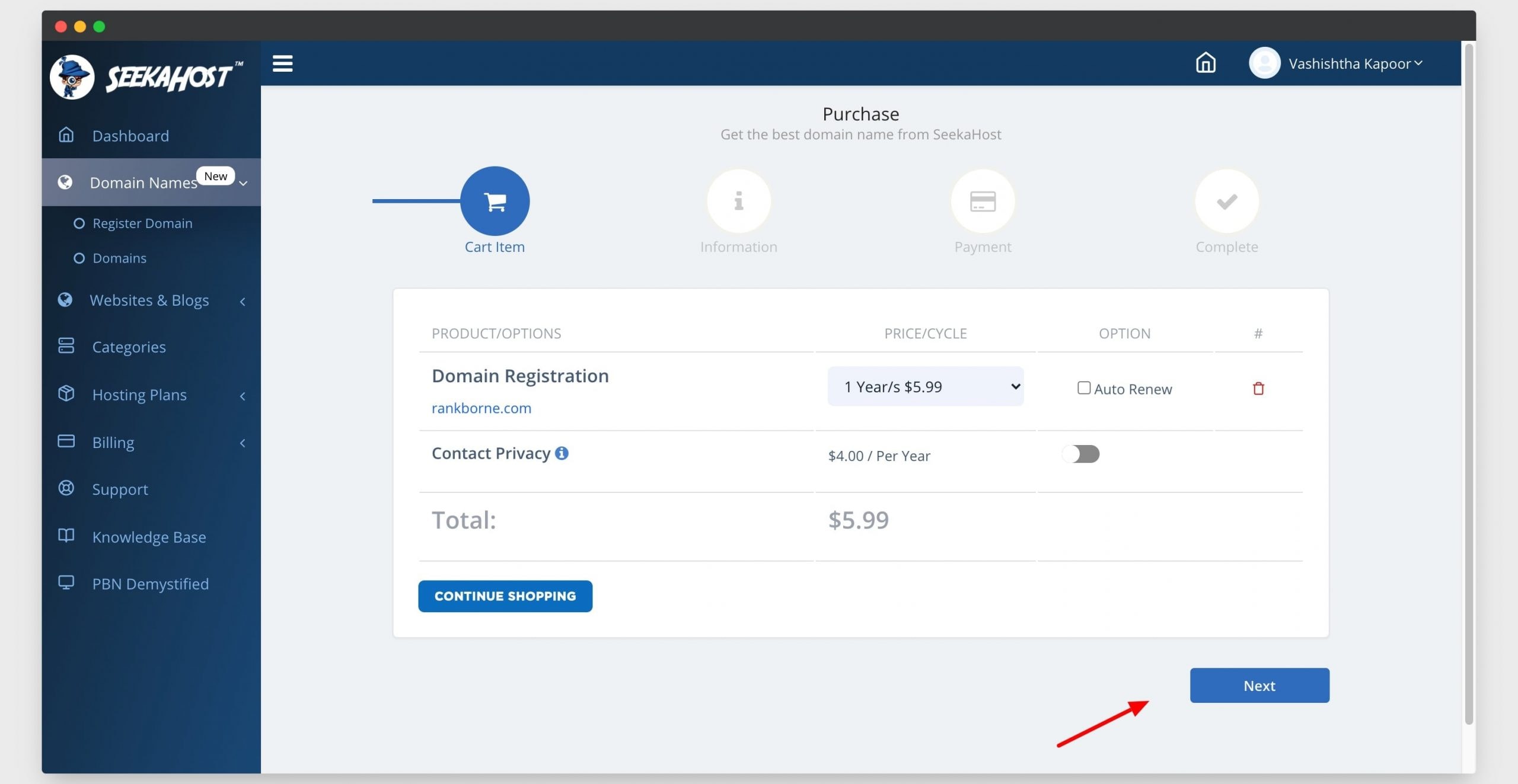 Click on Next and enter your basic information that is required for Whois.
Check if your domain is available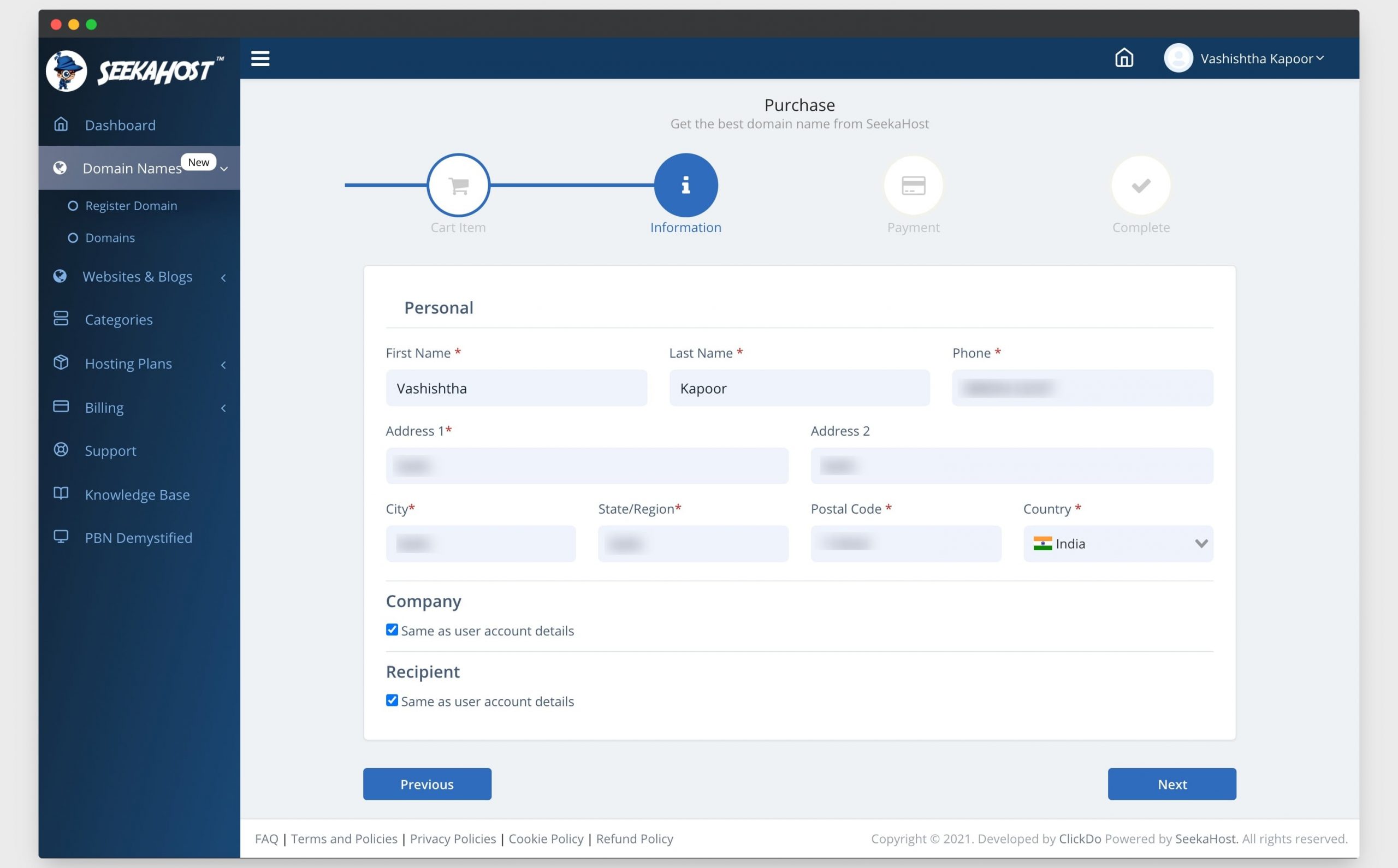 Again click on Next and choose the payment method to pay for the domain charges. Click on Order now, and you will get a confirmation email from SeekaHost.app for domain registration.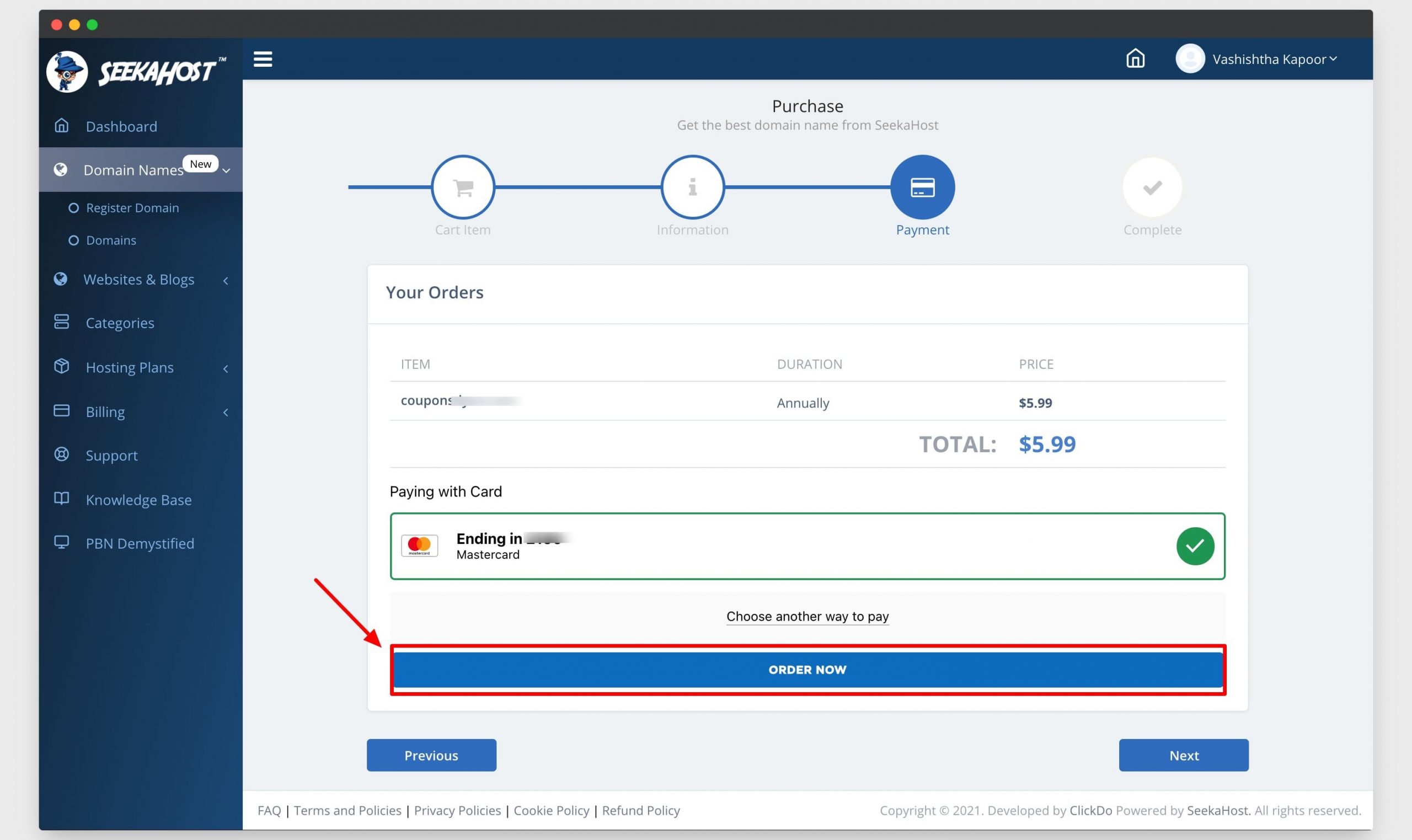 I hope you understood the steps to register a domain name at SeekaHost.app at the cheapest price.
After a successful transaction, you can see the list of domains in "Domain Names >> Domains". As you can see, I have more than 8 domains purchased on Seekahost.app
Now I will show you how to buy a hosting plan using the same dashboard.
You don't need to logout from the dashboard to buy a hosting. This is the best part about SeekaHost.app that allows you to manage both domain and hosting from a single dashboard.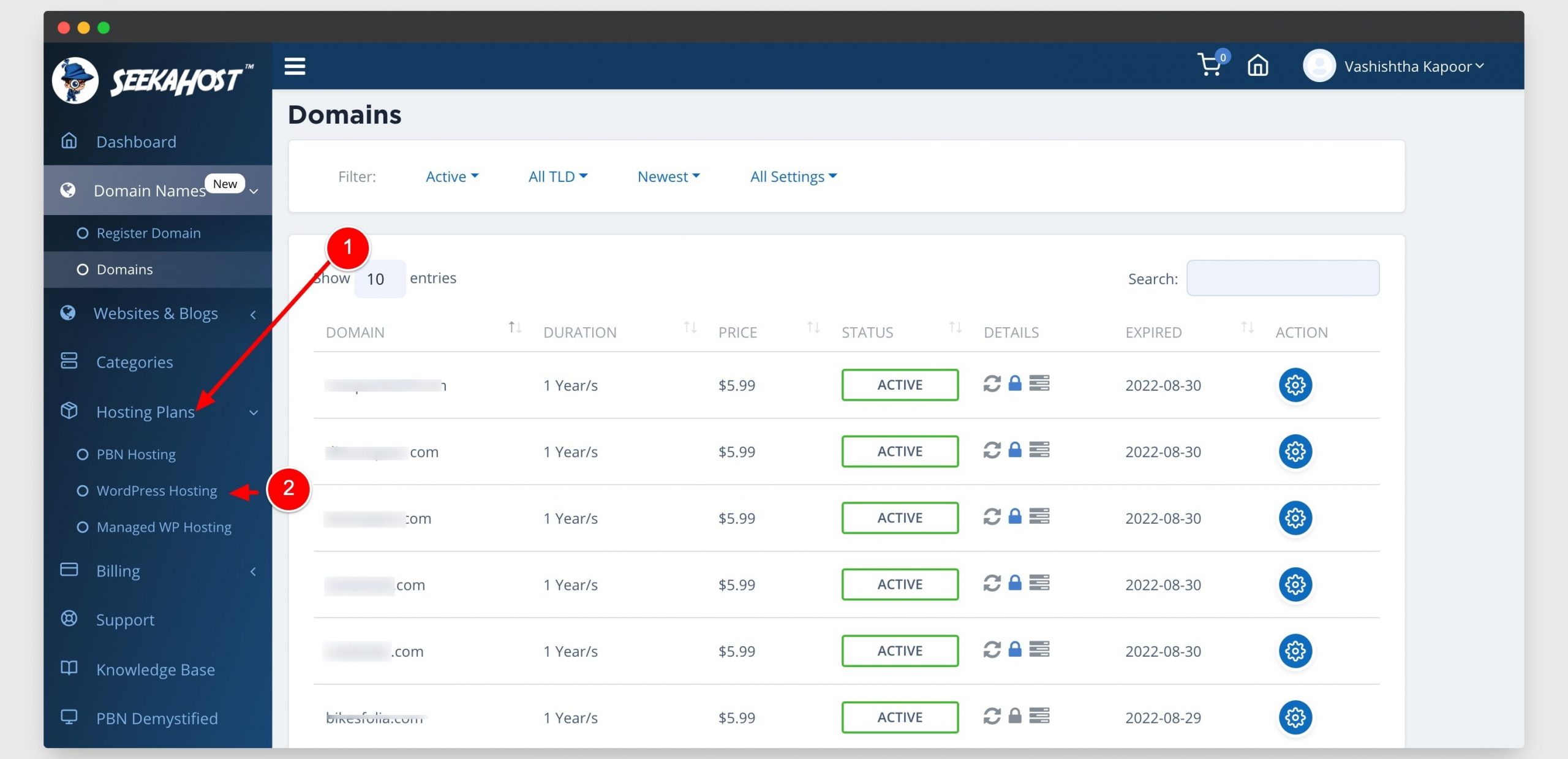 In the same dashboard, you will find a Hosting plan on the left side of the navigation panel. Click on it to expand and you will see WordPress hosting. You can choose the Starter plan at $1.49 per month if you have a single website.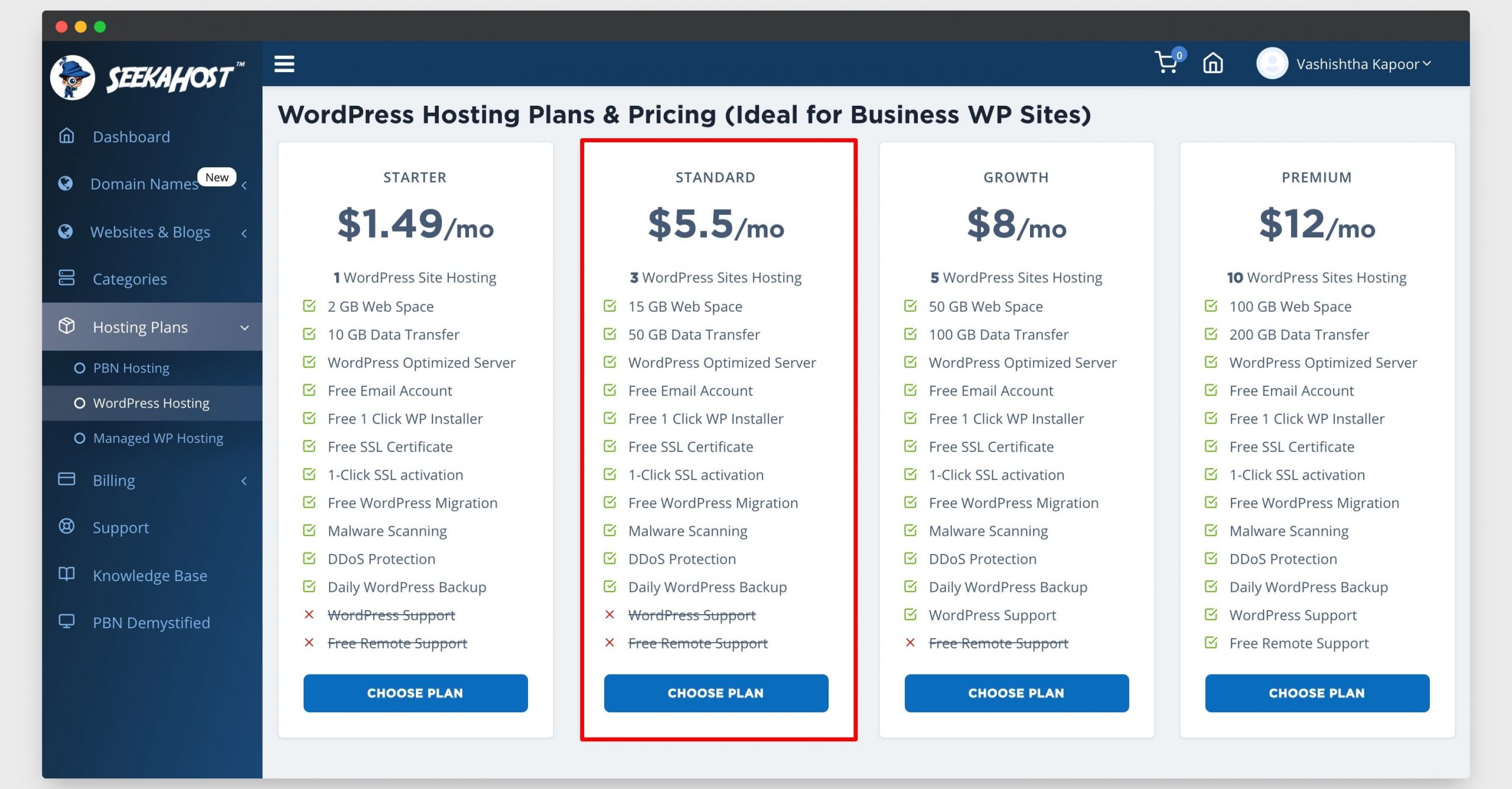 I would recommend you choose the Standard plan starting at $5.5 per month with 15 GB disc space. But as long as you only need to host 1 website in the start, the Starter plan is enough for you.
Simply click on Choose Plan and proceed with the payment process. On the left side, you can see the option WordPress & blogs. Click on WordPress sites, and you will find your site online.
Look, how easy it was to register a domain name and a WordPress hosting using the SeekaHost.app manager.
You can now add a WordPress site by entering the site domain and get WordPress installed successfully.
Changing Nameservers and Setting UP SSL security
So, you have your WordPress site ready, but there are a few more steps left. You need to change the Nameservers and set up SSL certificates on your site.
To change the nameservers and point your domain to SeekaHost, you need to copy the nameservers.
Go to the websites and blogs option and click on the Settings or Action button.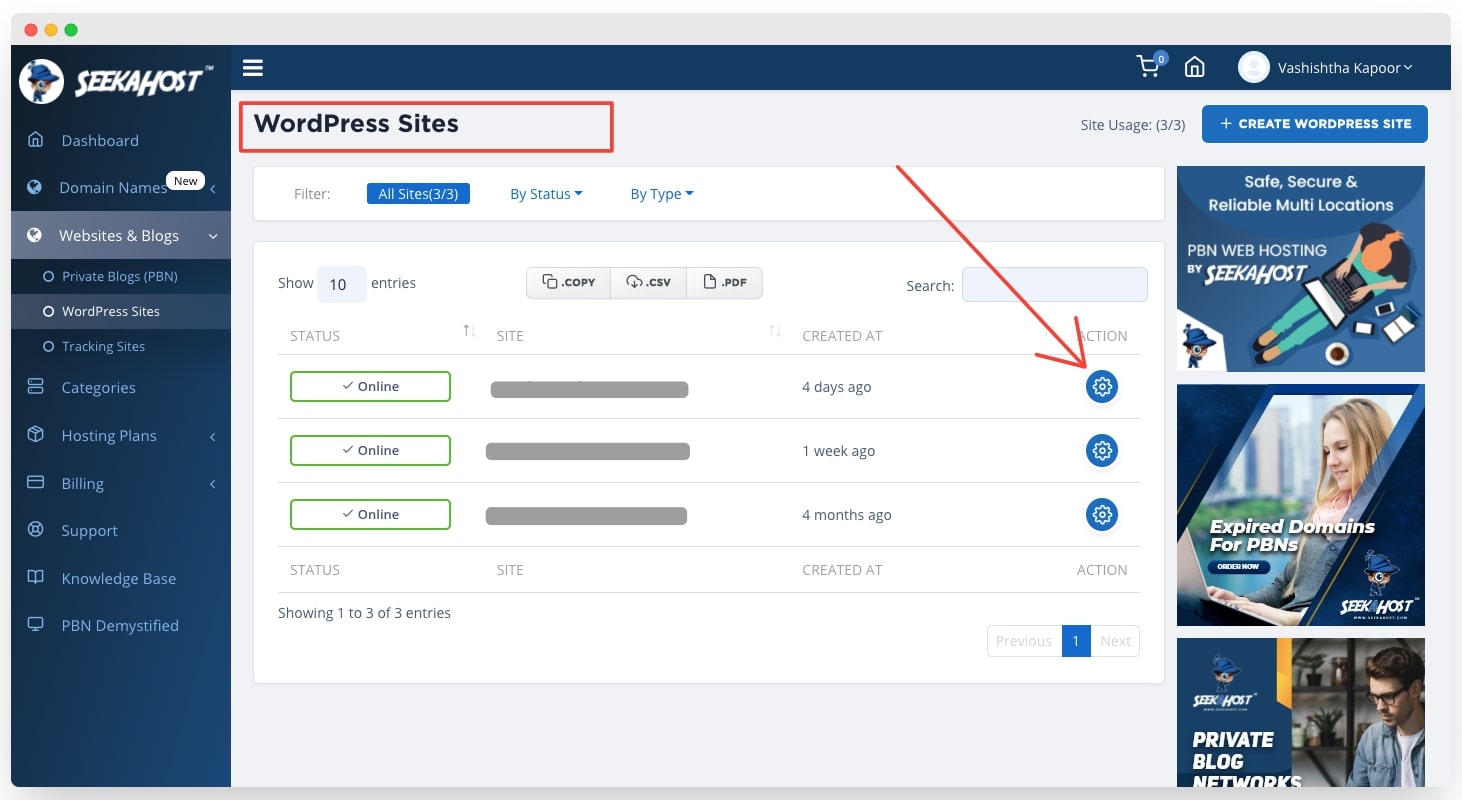 You will find the Nameservers listed as
ns1.seekaappcontrol.com
ns2.seekaappcontrol.com
Now copy them.
Likewise, Now go to the Domain names option and find your domain name. Click on the Settings or Action button. On the right hand side, you can see the nameservers option.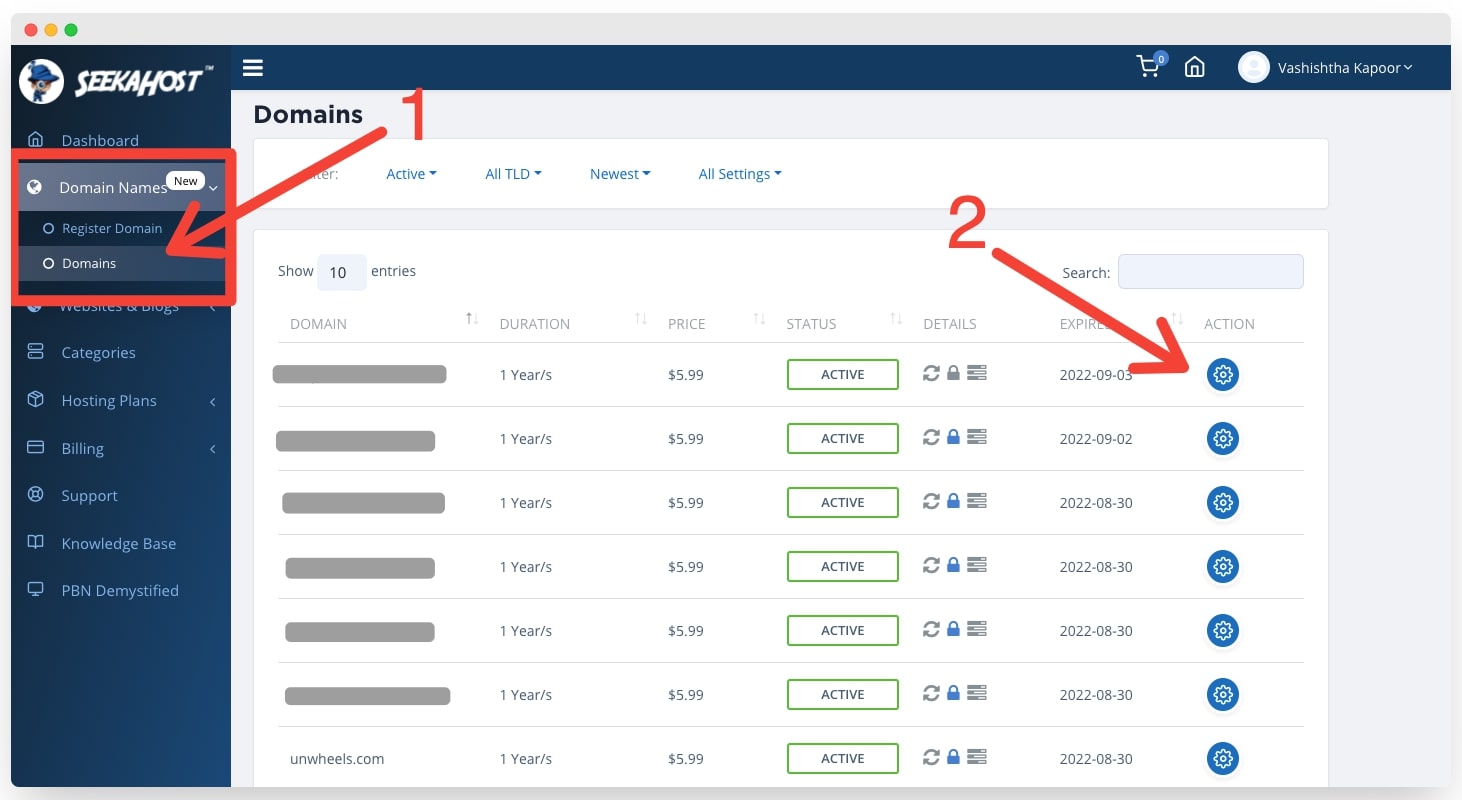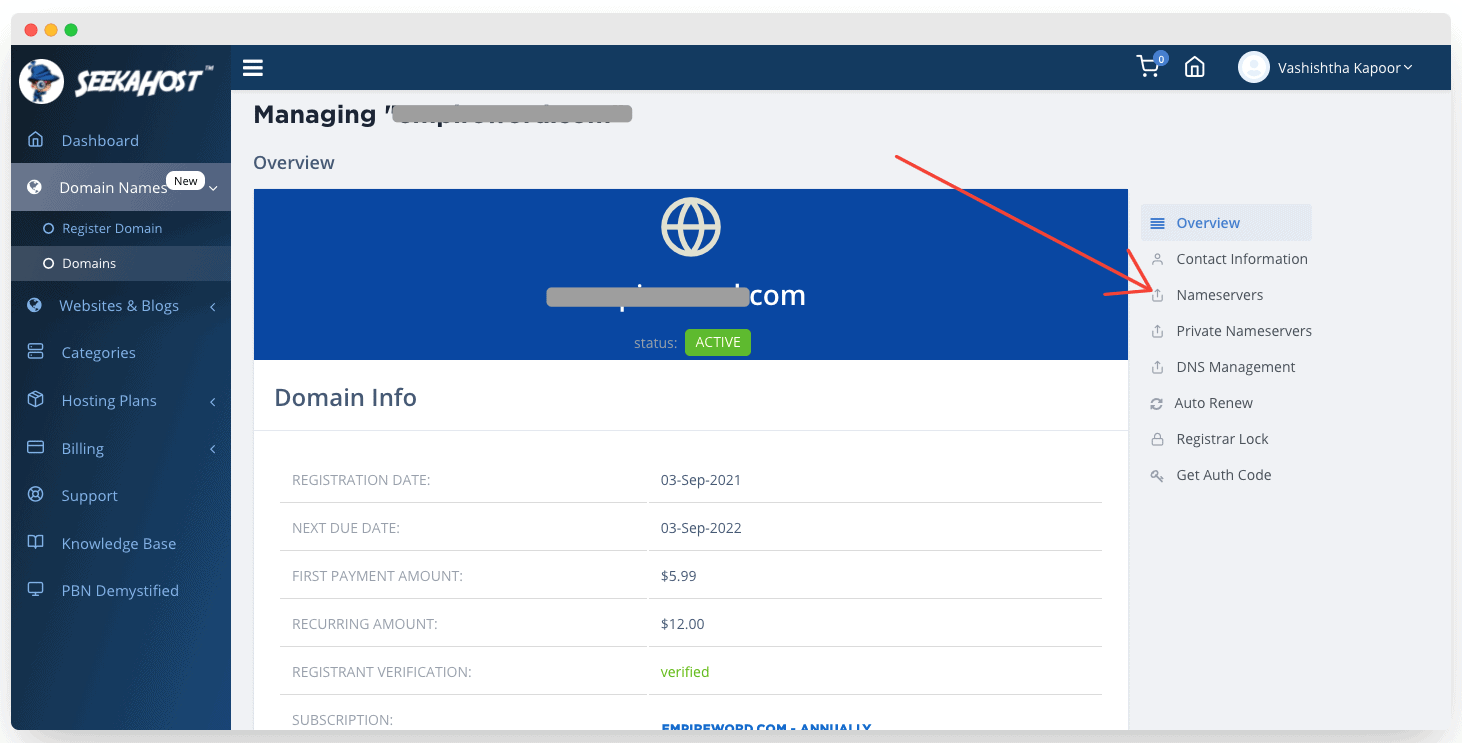 Choose the Custom nameservers option and paste the above two nameservers. Click on Change Nameservers to point the domain to SeekaHost WordPress hosting.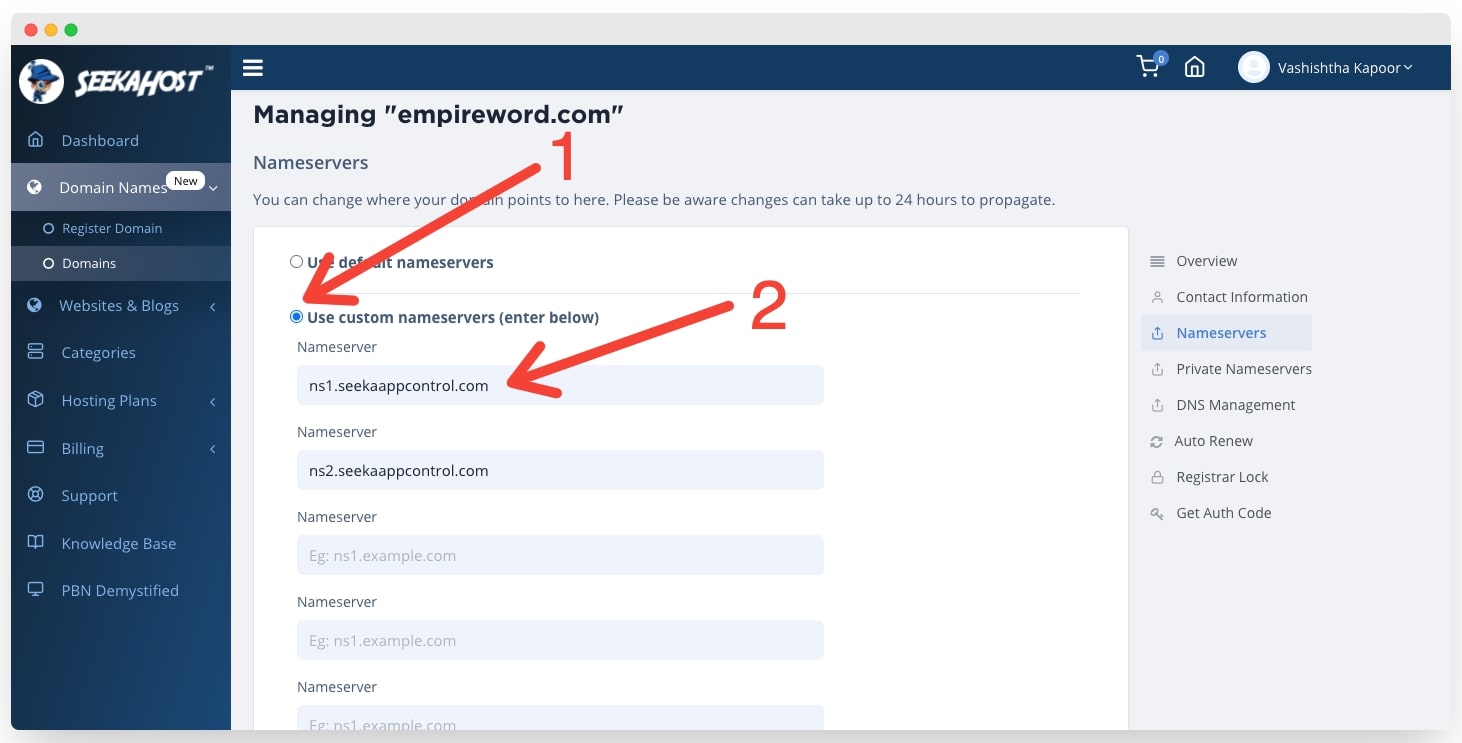 Proceed with enabling the SSL certificate on your domain. Enabling SSL requires updating the nameservers which we have already done.
Simply activate the SSL padlock and within 30 minutes SSL will get activated on your site.
Get back to your hosting account. Click action icon after your website name and navigate to SSL from the right sidebar menu.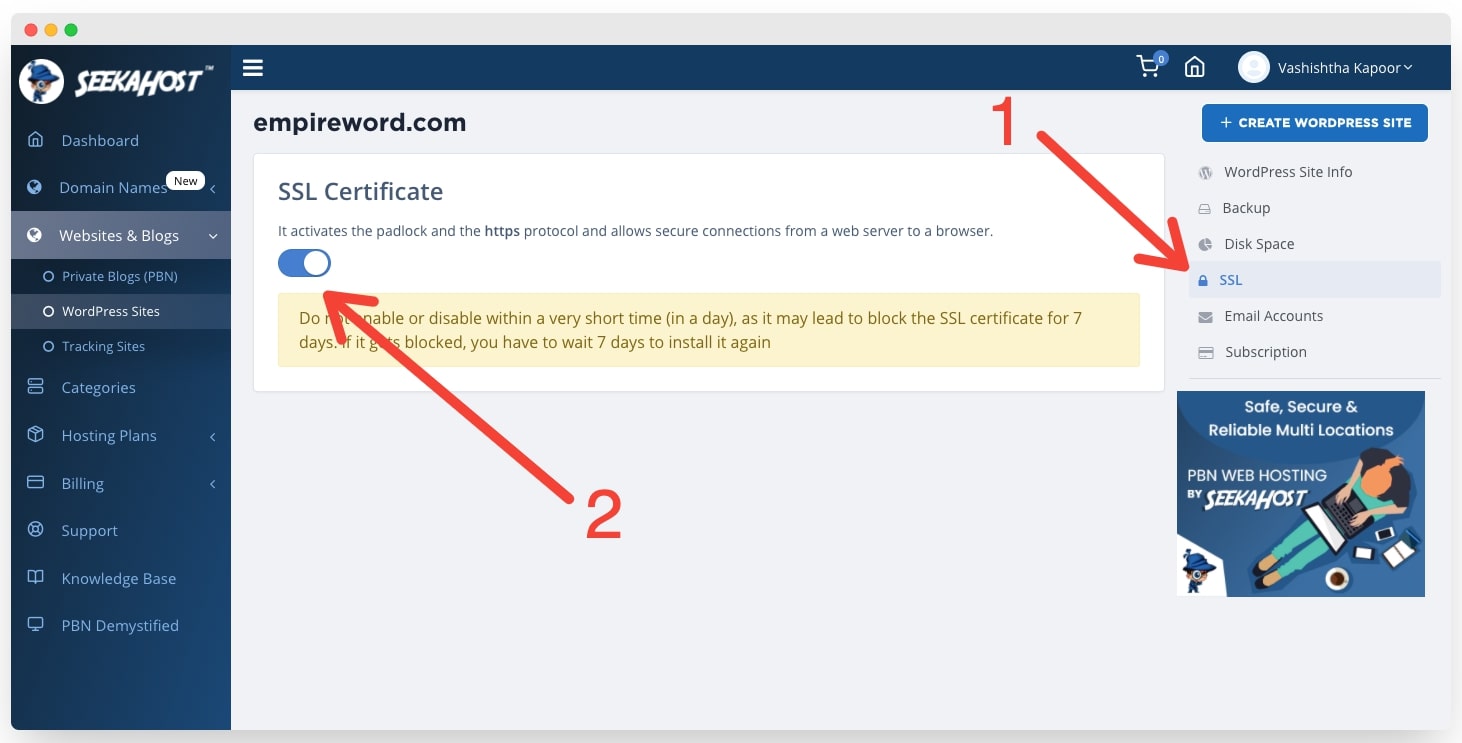 You will receive an email from SeekaHost.app confirming that you have a WordPress site set up successfully. In the same email, you will receive the username, password and link to access your WordPress dashboard.
Start your Blog Today!
Uploading a Theme and the list of important plugins
Wow, you now have your WordPress site up and running. To run a WordPress site, you need a WordPress theme and plugins to customize it accordingly.
Once you add a WordPress site, you get an email with the login details like this.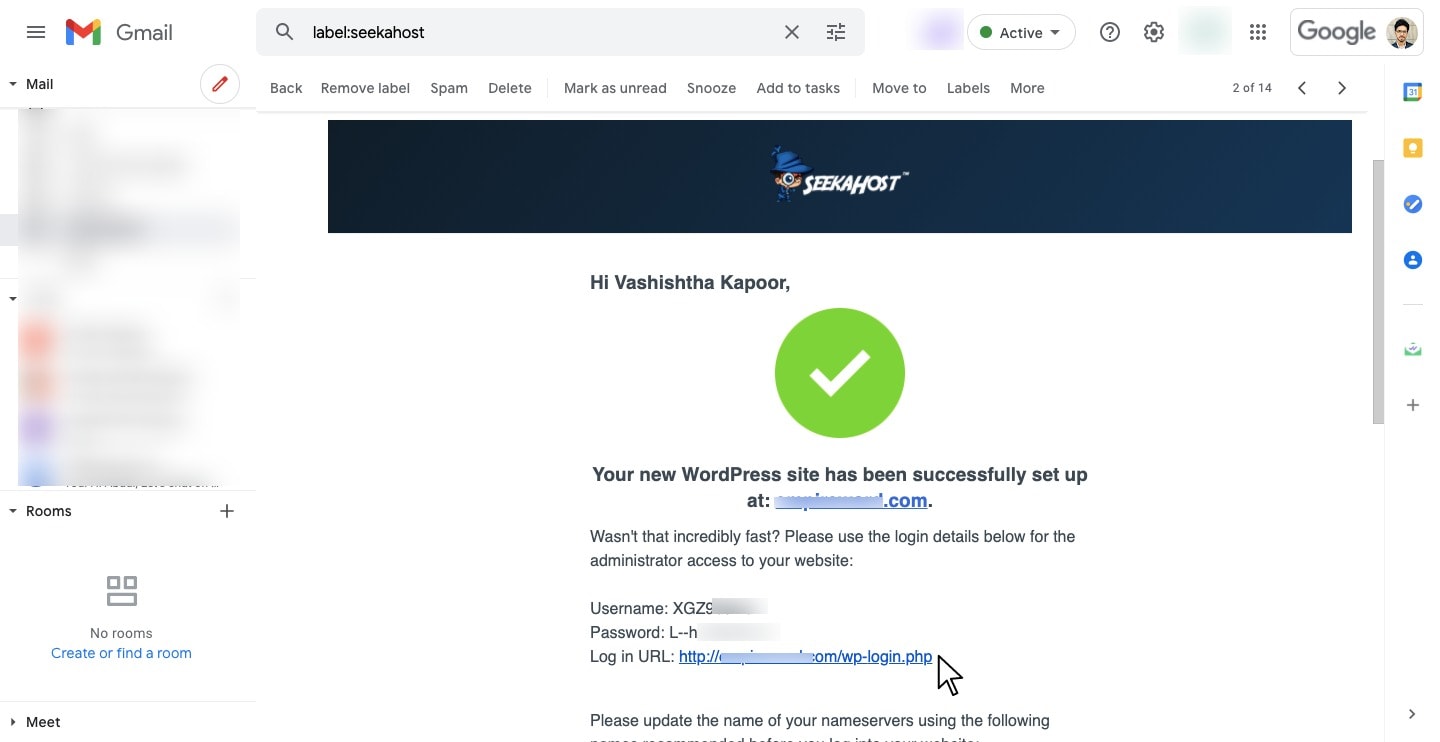 Use the details to login to your website's admin dashboard.
To install a theme, go to Appearance > Themes, and click on Add new. You can either choose a free theme or install a Pro version by uploading the theme file.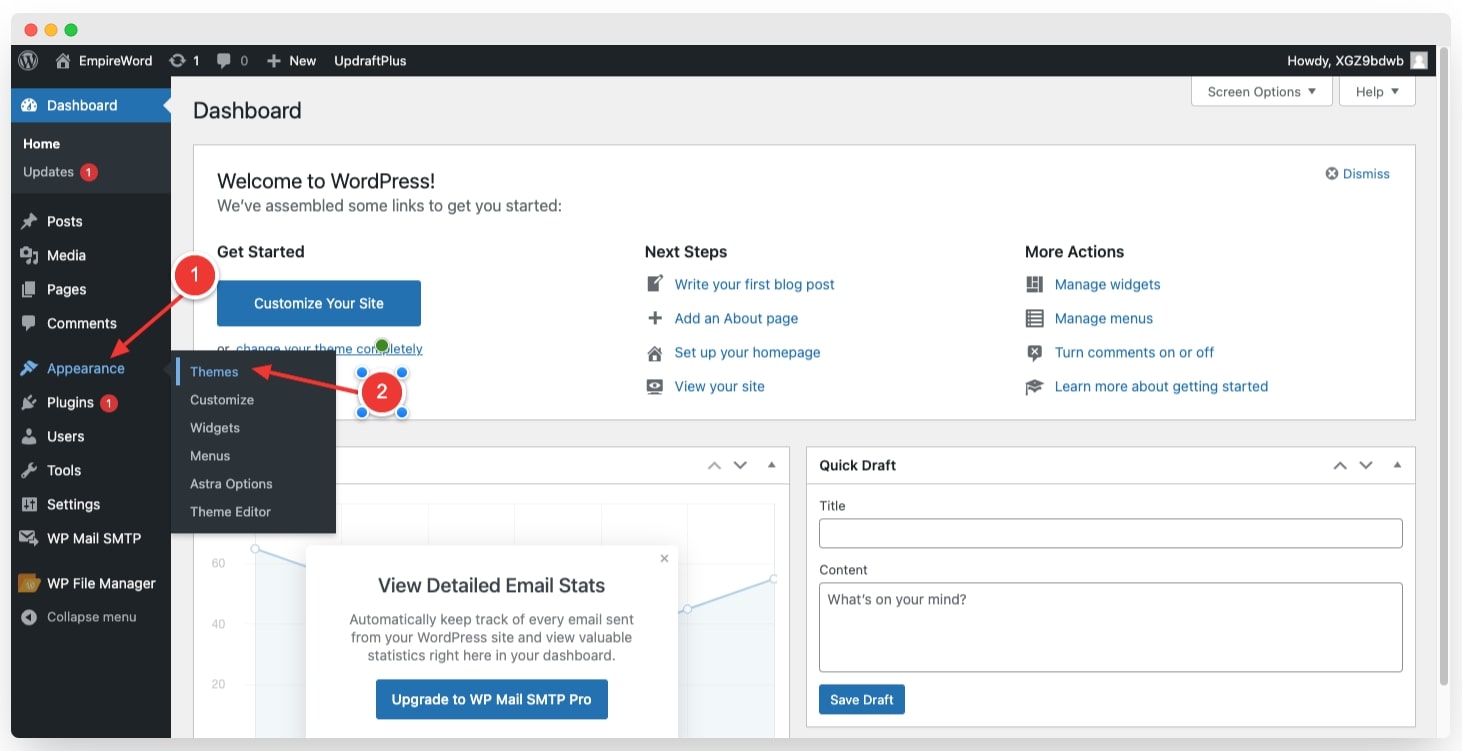 In my opinion, GeneratePress Pro is the best WordPress theme to start a blog.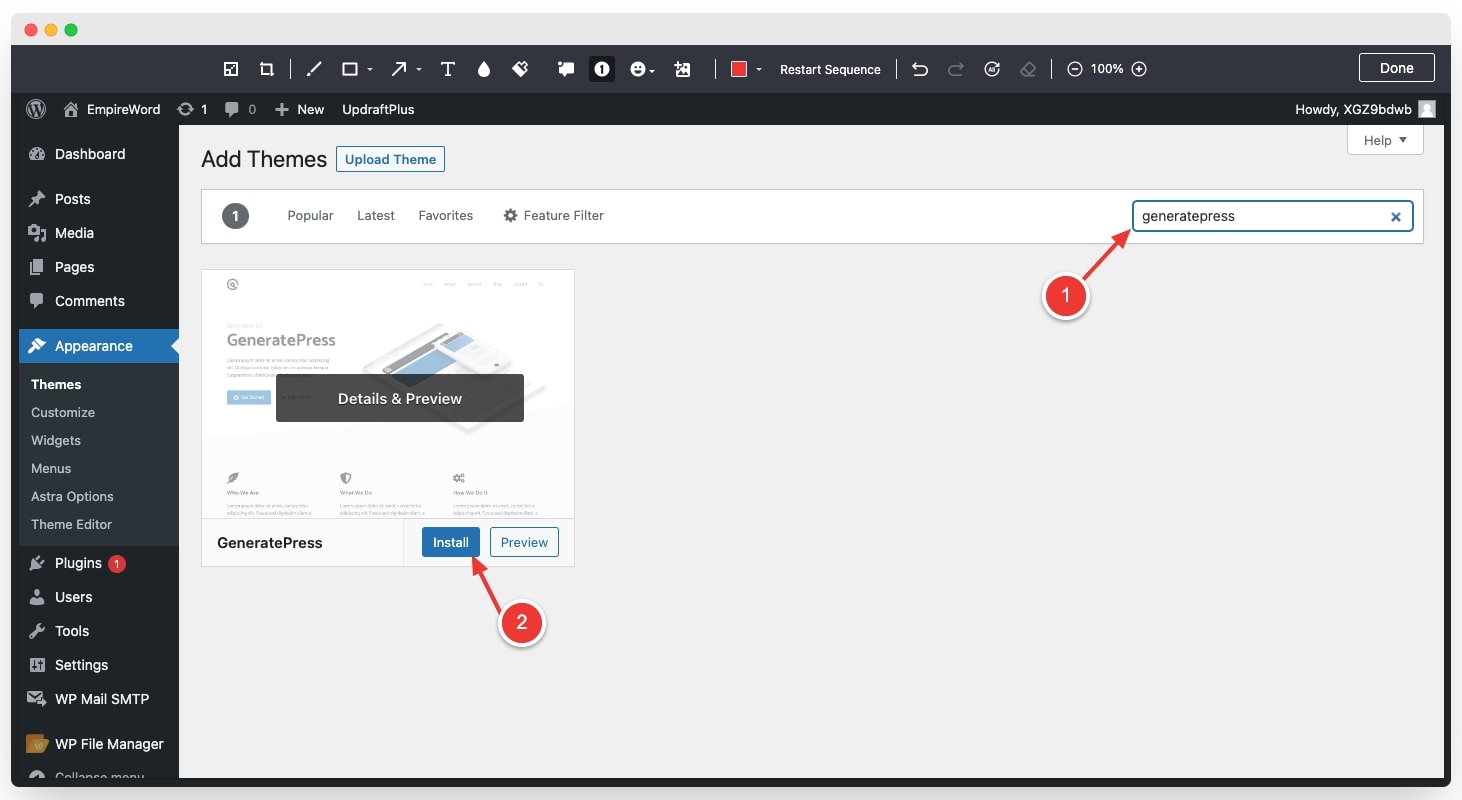 Coming to the plugins section inside the WordPress dashboard, you can install important plugins. Before installing any plugin, check if it's compatible with the WordPress version installed. Do not flood your site with unnecessary plugins as it would slow down your site performance.
List of Some Important Plugins:
Updraft Plus: For backup and restore.
LiteSpeed Cache / WP Rocket: To speed up your site performance.
WPForms: To create forms and collect email leads.
Elementor: A free landing page builder plugin to customize your site with drag and drop functionality.
Classic Editor: If you are new and find the Block editor difficult, you should install this plugin.
Yoast SEO: For better site ranking on Google.
Another necessary step is to set the right permalink structure for your blog. The default structure is no more in the trend.
Go to Settings >> Permalink and set the permalink structure to post-name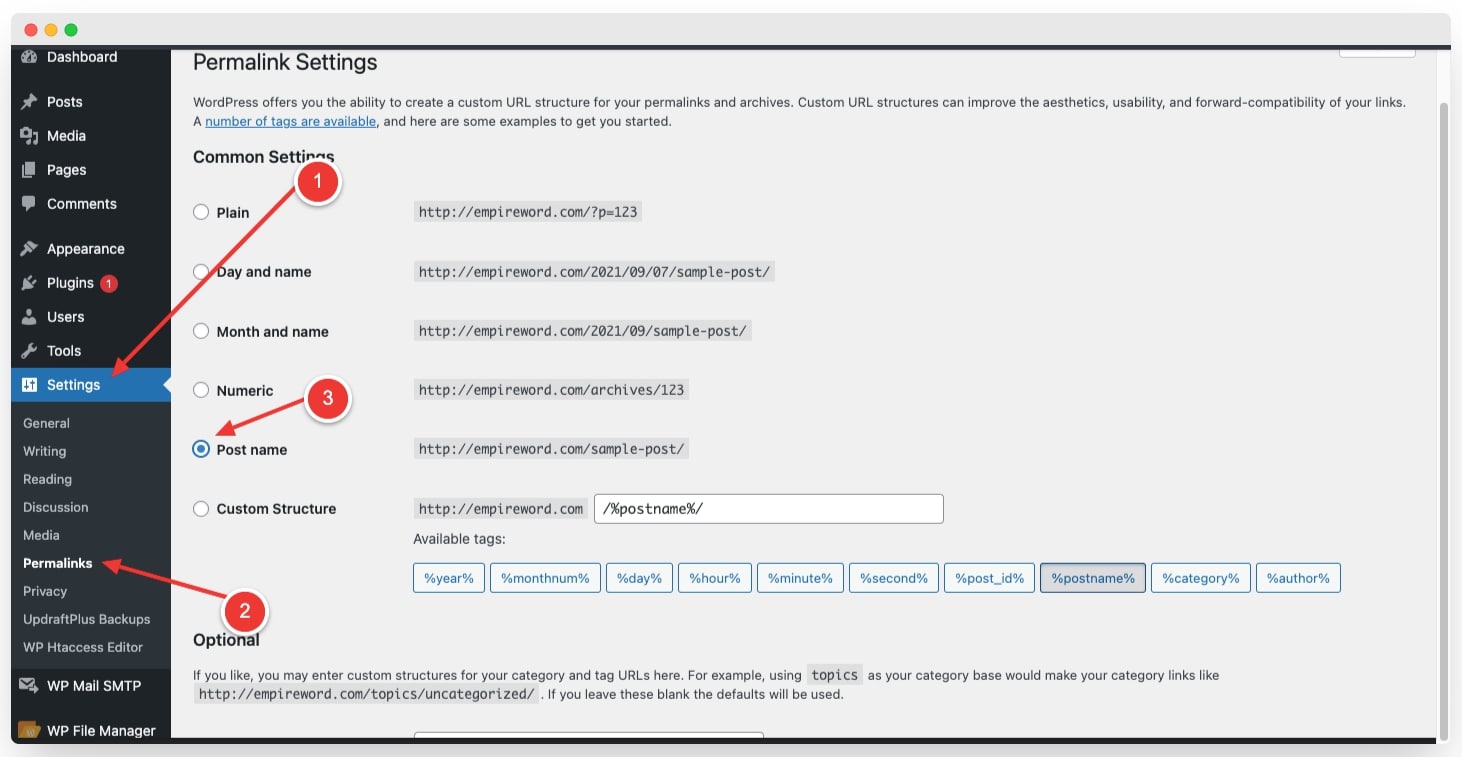 Start your Blog Today!
Creating a content Plan
Just setting up a WordPress blog won't make it successful. You need a good content plan or strategy. I have listed out some content strategies that you shouldn't miss out on your blog.
Set your goals daily, weekly and monthly. When you have your goals set, you will try harder to achieve them everyday.
Do some research and find similar blogs that share the same ideas like yours. This will help you figure out the ways to keep your blog unique.
A blog will attract an audience only if the topics are unique. Try to talk about topics that are trending. Do some keyword research and target keywords that you want your blog to rank high on Google.
Lots of content doesn't mean good traffic. If the content is less but has a targeted approach, even then it will work wonders for you. So schedule your contents and publish it accordingly.
I hope these content strategies help you build a successful blog.
Checklist after launching your BLOG to make it successful
After you have launched your blog, you need to keep working on it to compete with others. Here's a checklist of what you need to keep in mind after launching your blog.
Make sure your site is visible to search engines. Ensure to manually index articles on Google.
Set up Google Analytics for your site to check the traffic your site receives every month. You can install the MonsterInsights plugin and integrate Google Analytics to see the analytics inside the WordPress dashboard.
Make sure you have enabled automatic backup and have the backup file on your local machine or server.
Site security is a must as your site can get hacked or get affected by malwares. You can get Sucuri WordPress security services to protect your site from DDoS attacks and more. Additionally you can secure your site by limiting login attempts. You can install the WP Limit Login Attempts plugin. Also, you can create a new login for editing purposes and assign it as Editor role.
Set up Google Search Console to learn about the factors affecting the performance of your site. You can identify the health of internal and external links, sitemaps, mobile visibility, and more.
Get yourself a CDN service from popular CDNs like CloudFlare, MaxCDN, or any other. A CDN helps deliver your site content faster to users in another country or region. It stores your site content on a network of servers and delivers the content using the nearest server.
A caching plugin can help load your site in under 3 seconds. You can install W3 Total Cache, LiteSpeed Cache or any other free cache plugin. But WPRocket is the best WordPress cache plugin to boost your site speed.
(How to / Ideas) make money from your BLOG
So you are working hard but you might also expect to earn from your blog. I will tell you the best ways to make money from your blog.
Sign up for Google AdSense and start monetizing your blog. With Google AdSense, you can earn money whenever a user sees the ads or clicks on it. You can earn by both CPM and CPC.
Join affiliate networks and start promoting products via affiliate marketing. Affiliate marketing is popular nowadays because it offers high commissions. You can join CJ Affiliate, ShareASale, etc.
Sponsored articles is another way to earn money from blogging. There are brands waiting to promote their products on blogs. If your site receives good traffic, you will find advertisers ready to pay you for sponsored posts.
AdSense is not the only option for displaying ads on your blog. Getting approved for AdSense is difficult especially if your blog is new. Another Google AdSense alternative is to join display advertising networks like Media.net, PropellerAds, etc.
You can sell ads directly to advertisers by cutting out the middleman. There's a huge potential to make money by selling ads directly to advertisers.
Another way to make money from your blog is to sell an eBook or a digital product. You can sell online services as a freelancer. This could be website designing, content writing, SEO consulting, or more.
Conclusion
So we have reached the end of this article and I hope the information covered here will be a big asset for you.
Its never too late to start a blog and with SeekaHost.app, you can do it in clicks.