Everyone, nowadays, is starting their businesses online. This is not just about e-commerce but any business be it blogging, marketing, or even pursuing hobbies. What is the reason behind this? Yes, the power of the internet reaches the world without any hindrance.
How do you think they earn without selling a single physical product? Earning huge money is possible because of all the digital products available on the internet. This can be a membership program, paid newsletter, or even online courses.
While many platforms offer these services, Hyax is the best. So, here we are with a detailed Hyax review that will help you understand how good or bad it is for your online business.
Let's see what Hyax does.
What is Hyax?
Hyax is a platform where you can create digital products and courses to sell on their online platforms. It is one of the best ways to sell courses, physical products, newsletters, membership, and other digital products.
Why do companies like Hyax?
Well, one of those reasons is that the team provides handle subscriptions, file delivery, and gated content under one roof. This excellence was built through the experience of many years of marketing and brand building.
Summary
Hyax is an online selling tool that you can utilize to build membership sites, landing pages, eCommerce store and online courses.
eCommerce Stores

Build Courses

Sell Memberships
Hyax was built around 10 years ago and since then, it has been growing its reach for better services. This platform works with 4-5 different apps for all of its core business activities. In the initial years, it was hard for Hyax to handle customers and offer a great experience. However, today, it is one of the most trusted places for many businesses and entrepreneurs.
What you can do with Hyax?
For a well-described Hyax review, we have to look at all the services it specializes in. As per our best knowledge and experience, there are 4 of the best ones available at Hyax. Check them out:
Online courses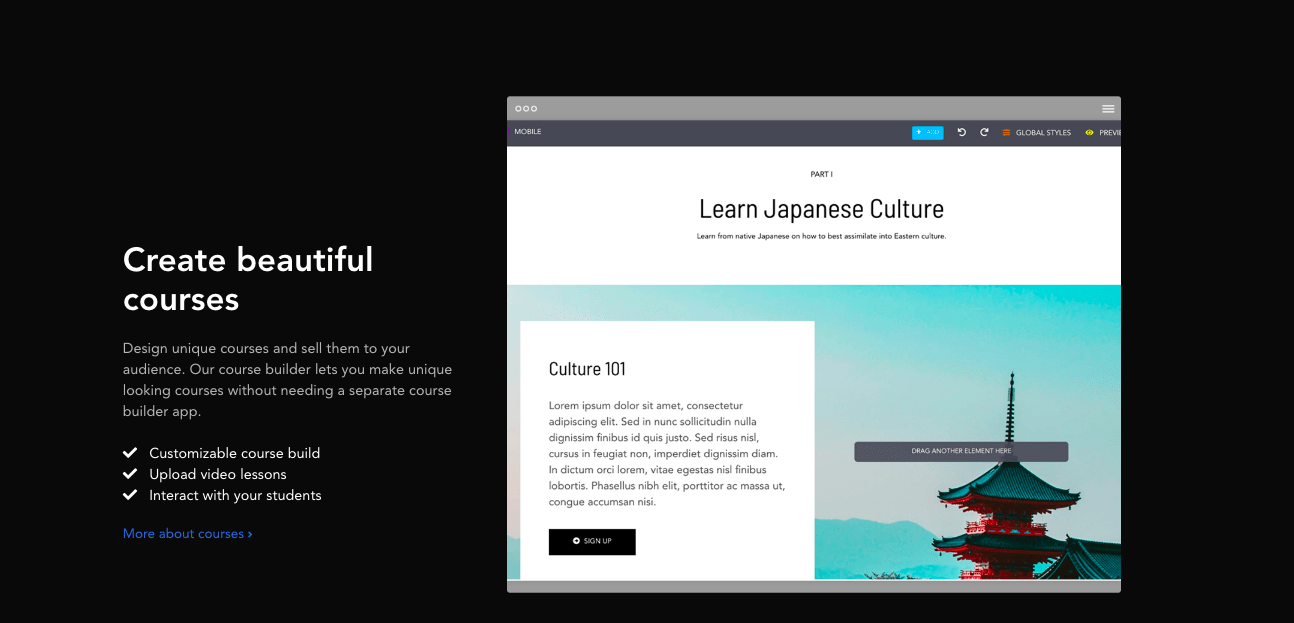 There are millions of courses available on the internet. What are the sole criteria? To pass on your knowledge to others. Hyax can help you do that + maintaining your community.
Creating courses with Hyax is not so difficult. It allows you to maintain your uniqueness and sell your courses to your audience.
You can upload videos for better explanations.
It makes students interaction easy
You can simply customize your courses as per your expectations.
Create a course on Hyax Today
Online store creation
Having an online store of one of the reasons why people prefer the internet for their business. It costs the least, you don't need to have a physical shop, and it's a lot manageable.
Hyax here offers digit store creation that allows you to sell single or multiple products under one roof (not a physical one). It works with speed to create your fully-customized store with built-in upsells.
You can use the templates.
It has a high order value
Works seamlessly, especially at the post-purchase stage.
It is fully customized but you can always use its beautiful designs
Develop your own eCommerce Store with Hyax Now
Landing page creation
Selling digital products becomes difficult if you do not have a nice and effective landing page. Hyax is there to help you out with that.
Sales funnel and good marketing can make you more money than you can ever make through promotions. Hyax makes these a lot easier for you. Without any knowledge of OR code, you can design your landing page with ease.
It offers beautiful designs
It is mobile friendly
Hyax has offered step funnels or even a single landing page.
Create a perfect sales funnel and landing page on Hyax Today
Membership sites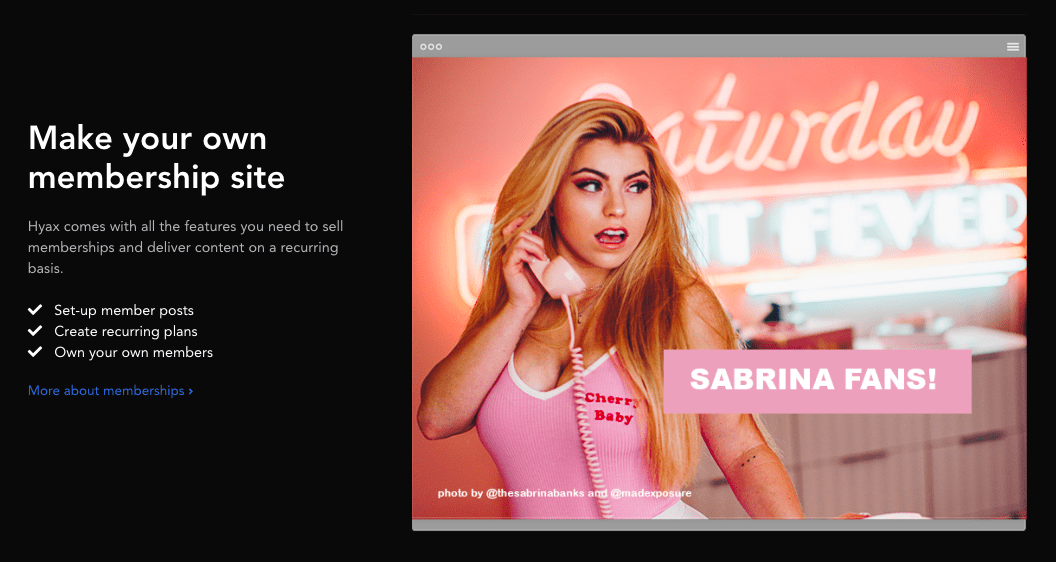 Netflix does not work without membership. Yes, we know there is nothing new about membership. How about you have one membership website too? This is possible via Hyax.
Its tools come with excellent and fully featured websites. You can invite people through membership.
It helps you set up your member's posts.
Create effective plans
You can manage your members with ease.
All these services Hyax offers just to help you reach your audience and sell digital products like any successful entrepreneur.
Accept payments online for your membership program now
What features does Hyax offer?
Many features make Hyax a perfect go-to platform to increase your business especially. Here is a list you can try.
Amazing learning management system
Creating a learning management system can be a tough job for many platforms. But when it comes to Hyax, it has many services to offer. Be it academic learning, corporate services, or even e-commerce services.
What else? To enhance the awesomeness of its learning management system, there are many other things it has. From blended learning, an easy-to-use learner portal, to making things easier for eLearning companies, Hyax is a perfect thing to go for.
Video management system
Videos are a few of the major sources for maintaining trust amongst your customers. So, Hyax takes care of your video management system. How does it do it?
Hyax offers regular analytics, allows you to upload bulk videos, and also it supports mobile screens. You can upload videos and share them on your social media with ease. Also, it works with the utmost privacy options and video looping.
E-commerce activities
From CRM to promotional management and multi-store management, Hyax has a lot of facilities when it comes to e-commerce. To ease up your work, it offers amazing templates that you can use. Apart from that, it has a data security system and works on your SEO for the best results.
Website builders
If we talk about building a whole new website with Hyax, its tools make it absolutely easy for the users. It supports auto-updates, provides landing pages and long forms articles, also works with real-time editing. For beginners, this is the right tool at it supports easy drag and drop support. What else? You can enjoy its pre-built templates and make the best use of SEO management.
Remarkable community
By community, we mean Hyax allows you to create and maintain your own community for better reachability and trust-building. It provides you excellent content management, group management, membership management, and overall website management. Isn't it just awesome?
Helpful e-learning authoring tools
What e-learning is all about? It usually revolves around online courses and tests. This is where Hyax steps in. It is popular in the industry for its course publication ability. It provides excellent instructor-led courses, PowerPoint conversions, and tests/quiz creation. You can even manage videos you upload to your courses. Also, manages your templates without any hindrance.
All these features make Hyax a perfect platform for you to gain more customers and win the hearts of people in your industry. Using these, you can pass on your knowledge to someone who is as passionate as you.
Create a course on Hyax Today
Pricing
Pricing is one of the major topics when it comes to writing Hyax review, or any review for that matter. One of the best things about Hyax is that it offers a free trial with every plan it offers. Now, coming to the point, Hyax has three plans
Beginner plan- this one is for beginners (as the name suggests) and the price is not that high. It comes in just $99 a month ($49 after discount). With this, you will get:
Membership
Blog posts
Multiple-step funnels.
Courses
Ecommerce
SSL certificate
Hosting/CDN and more
Advanced plan- this one is the best seller and will cost you $199/month ($99 after discount). It has everything that comes with the beginner plan. Apart from that, there is:
No Hyax branding,
Unlimited page views
Up to 6 projects
25k contacts
And 40 courses/products.
Enterprise plan- this is the best amongst all three. However, this one is for big enterprises who are poking for every possibility of selling their digital product. Hence, this has everything Hyax has to offer.
Also, you can customize the plan as per your need. The price, on the other hand, is according to the needs. So, pay for what you want and nothing else.
We can say that the prices of Hyax are not that expensive. They are quite reasonable, especially for the people who are staying put with the digital product selling.
Create a course on Hyax Today
Support system
Moving further with this Hyax review, we can say that it is pretty impressive when it comes to supporting. Its system works on web-based systems such as cloud and SaaS. With this, you can easily share your wisdom with anyone in the world.
Coming to personal support, Hyax offers live online sessions for better training of the users. Apart from that, the team organizes webinars and provides documentation for better understanding. Moreover, if you face any difficulty, you can always reach out to the team via online chat (only available during business hours).
How to use Hyax?
Now, in this Hyax review, we'll discuss how we can use it from scratch.
Go to the Hyax website, and sign up.
Fill in your details and select your industry.
The project
Once you set up an account, it is time to create a new project.
Click on 'New Project'. Give it a username and change the settings as you want.
Enter a domain name and subdomain that you want to share with your audience.
Fill in the rest of the formalities and move to payment. Once done, you will have your project with you.
The course
Ho to Hyax course builder and click on 'Create New Course'.
Add title, descriptions, add relevant images, and more.
Select plan, make the payment, and you are done.
Even if you are left with something or do not choose the right thing, you can always go back to that page even after buying the plan and make changes.
Go to Course Lessons, add content as per your choice. Simply click on new lessons and follow the process.
For landing page
Go to the Hyax dashboard and click on marketing> funnels & Landing pages.
Select 'Create New'. Select 'Sell Products' for which you want the landing page.
You can select a pre-designed template or create your own. Edit the content, write our own, attach the link, and publish.
Now, it's ready to share.
For digital product
Go to the list of products, then Simple products, and select Create New Product.
Here comes the form in which you can add all the details be it title or description.
Add images, select category, and mention the product.
Now choose price and product option. Select regular products if you want no variant.
Now set up all the systems and publish the product.
Working with Hyax is not difficult as many may think. So, even if you are a beginner, you can easily use its functions and start selling online.
Pros
Free trial available in all plans
A 15-day no-questions-asked for refund.
Offers many services.
It works with 0% transaction fees
Reasonable and beginner-friendly
Easy drag and drop option
You can produce many products through one platform
100k/month page views with the least expensive plan.
Amazing platform for e-commerce
Awesome services for Academic and educational services.
Video conferencing available.
Cloud and Saas support
Cons
Does not work on anything except web-based systems

No SCORM conferencing
Conclusion
There can be many digital product builders out there but there is nothing like Hyax. With years of expertise and perfection in its services, you will not feel disappointed for sure.
From this Hyax review, you can figure out how great it is and what it is perfect for your digital products. So, sell online and gain more audience and revenue from the internet.
Create a course on Hyax Today