Having a blog has its perks; it can give you authority and get you noticed, but doing everything manually in 2021 isn't something that will help you succeed.
Your readers will look for your blog posts if you create useful and relevant content, meaning that this is not a task you should automate, but blogs are not just about content creation.
If your blogging process aims for engagement and you aim to become an authority in your niche, there are surely some marketing tasks that you can automate.
Get Moosend Now
But do you have an idea about the tools you can use? And more importantly, do you have an idea on how to use an email marketing and marketing automation tool, such as Moosend, to supercharge your conversion through your blog?
Let's find out!
More About Moosend
Moosend is an all-in-one email marketing and marketing automation tool that promises to streamline your tasks and help you reach your goals.
Moosend's platform is intuitive, with a short learning curve and a design that is fun and easy to use. Its features cover a variety of email marketing and marketing automation needs. 
For example, the Drag-and-Drop email editor that requires no prior HTML knowledge and the library packed with email newsletter templates that are fully customizable will give you the inspiration you need. This will engage your audience and keep your readers on their toes.
If you're unsure about how to build your email list through blogging or even how to make it work, landing page and subscription form tools will help you with lead generation, while automation triggers and workflows will save you time, allowing you to focus on more important tasks.
Getting Started With Moosend
Step 1: Access Moosend's homepage and click on the "Get Moosend for free" button at the top right-hand side.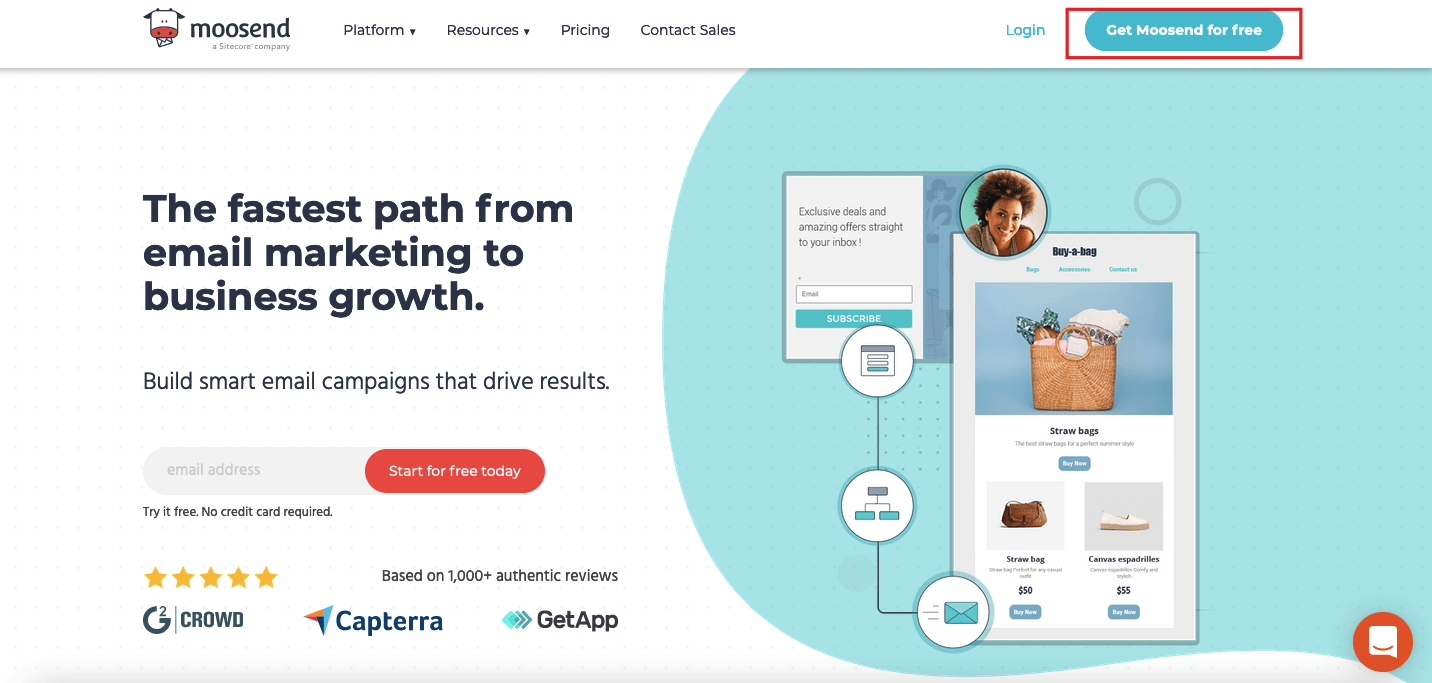 Step 2: You will be redirected to Moosend's registration page and will be asked to use a business email to register for a free account.
Step 3: After registering your email address and clicking continue, you be redirected to this screen:
As you can see here, you will be asked to create a login domain – a custom URL for your account to make sure you won't get lost -, set a password, and accept the Terms and Conditions before hitting "Register".
Step 4: At this stage, you will be asked for your first and last name, and you will begin the onboarding process.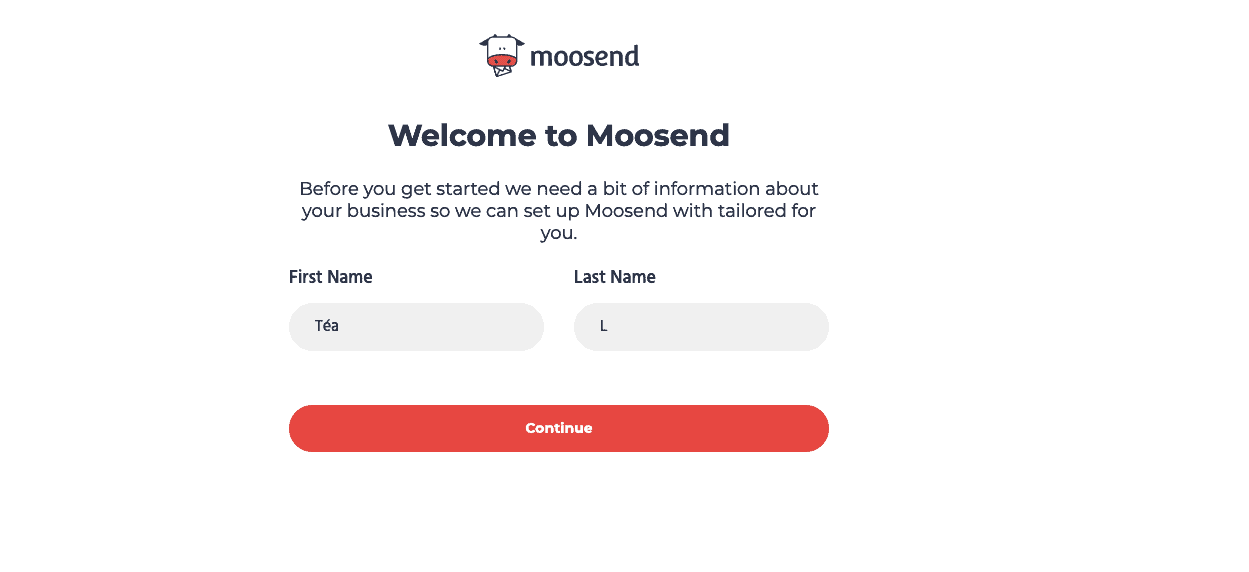 Step 5: You will need to set your company's address, as anti-spam laws can harm both your blog and efforts and the ESP's credibility: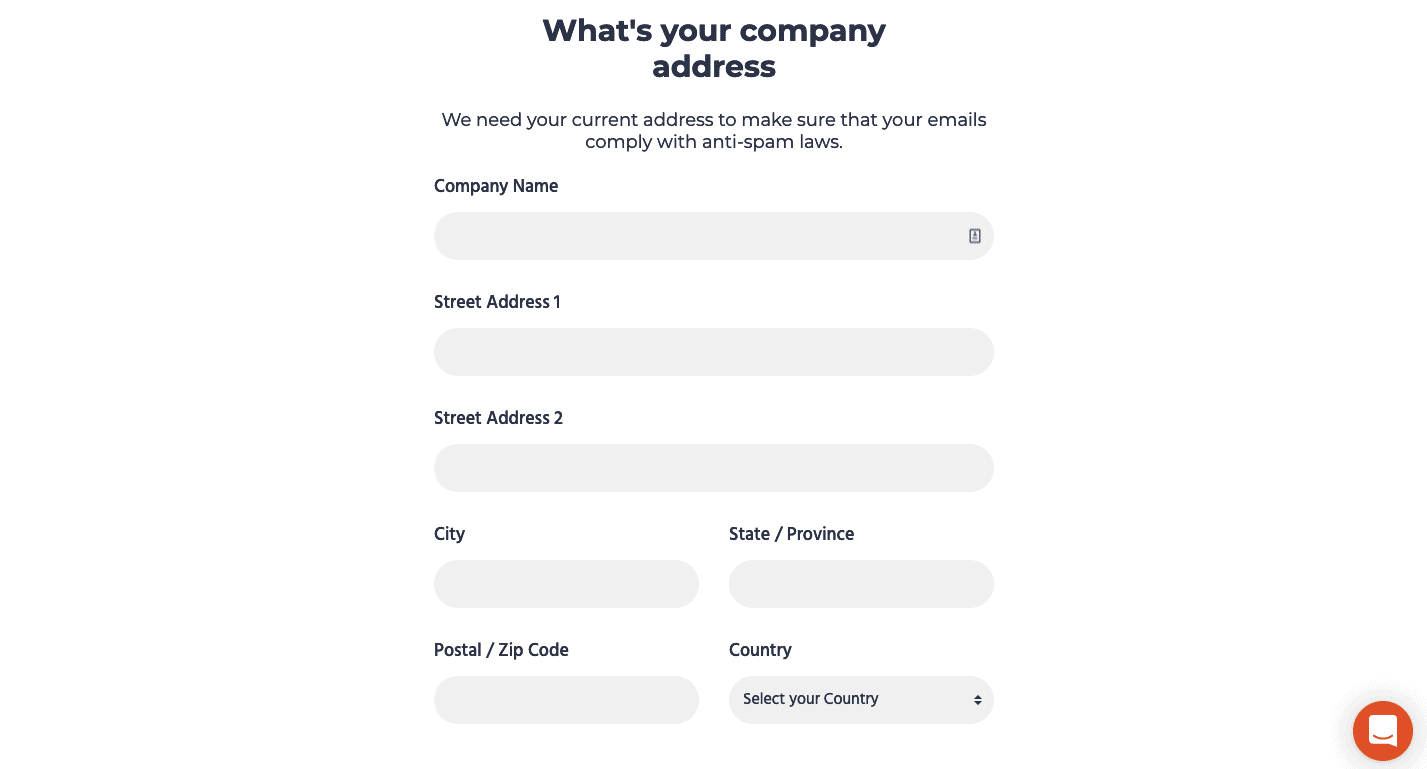 Step 6: Letting Moosend know more bout your business will give the ESP an idea of who you are and your individual needs.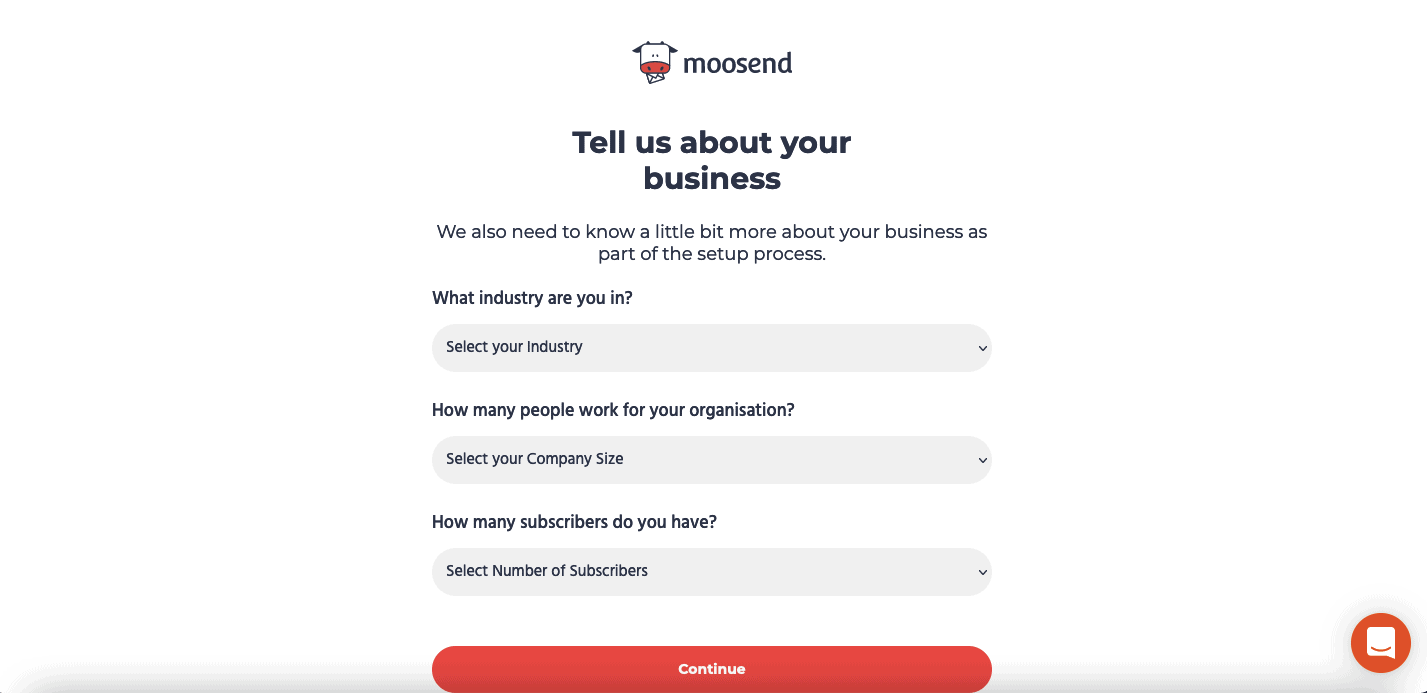 Step 7: Look for an activation email in your inbox: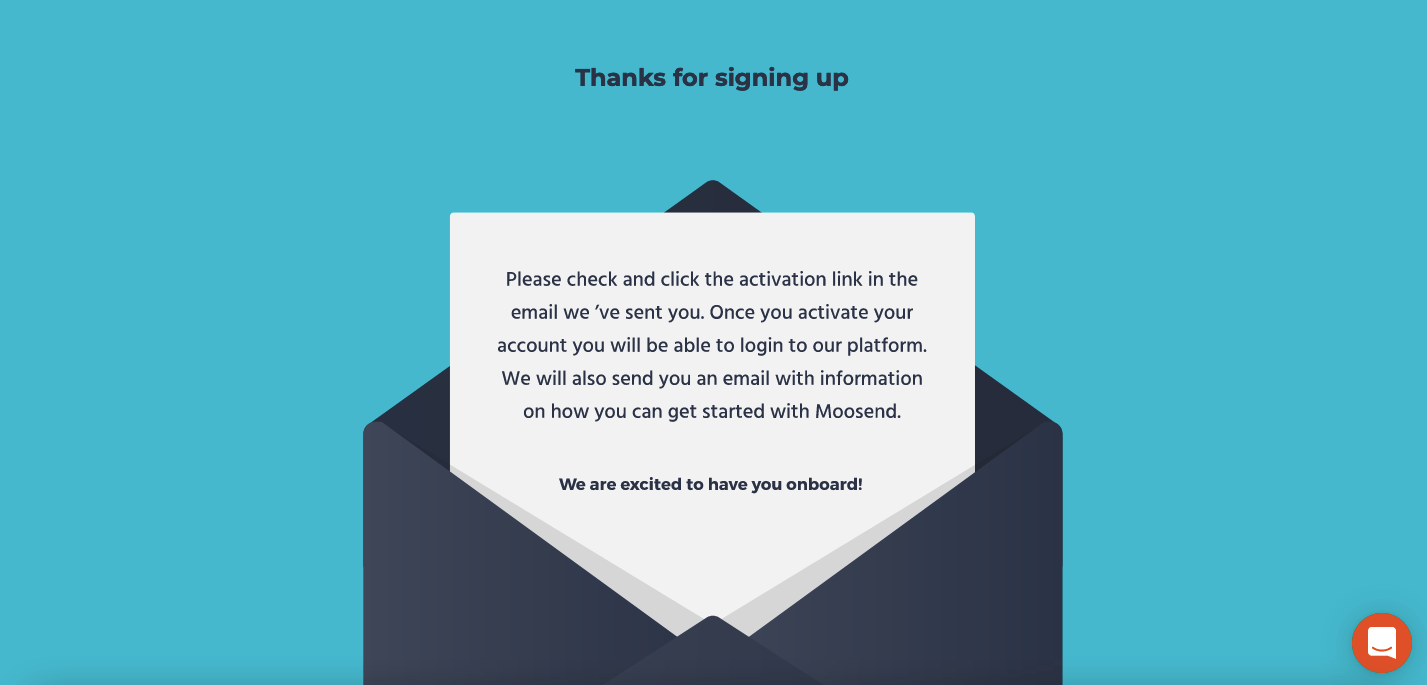 Step 8: Once you verify your email and log in, this is what you will see: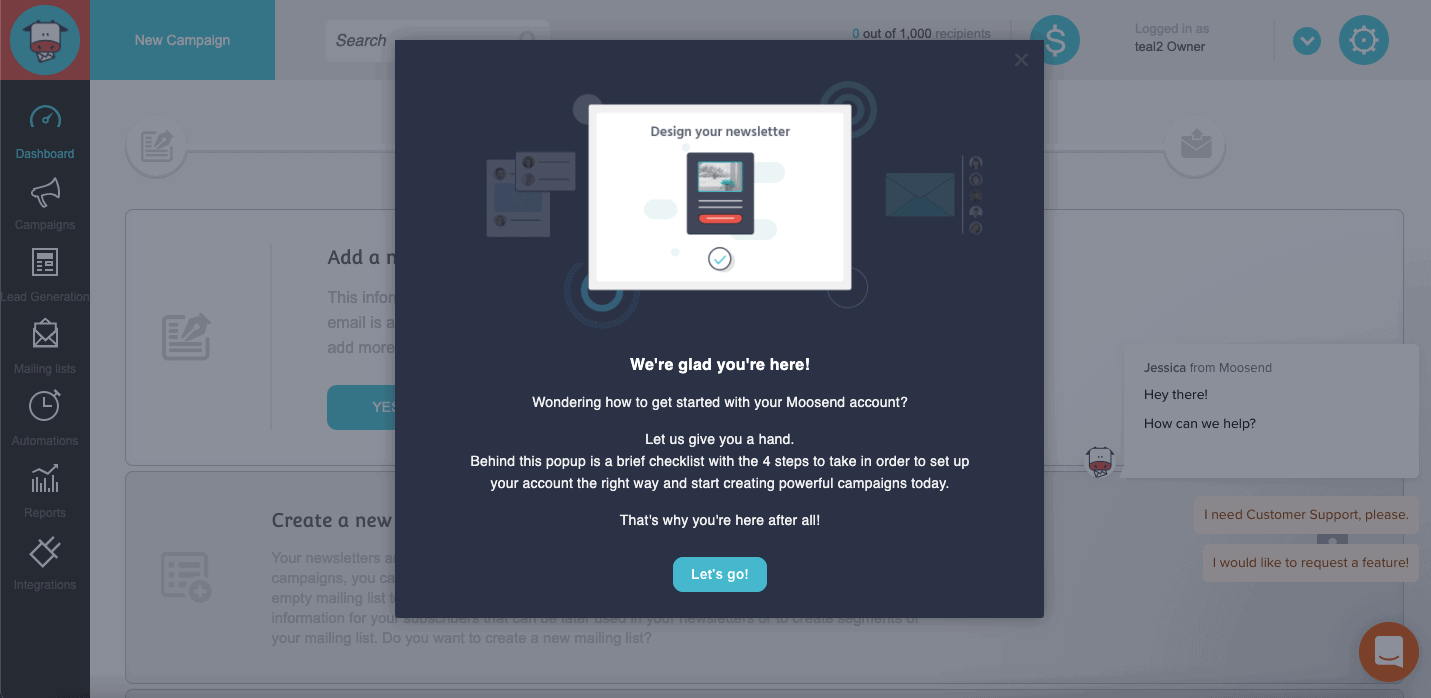 Moosend is now all set and ready to get you through its onboarding process, by giving you a mini-tutorial of the main tasks that will allow you to use the platform and expertly streamline your workflow.
Your dashboard will look like this: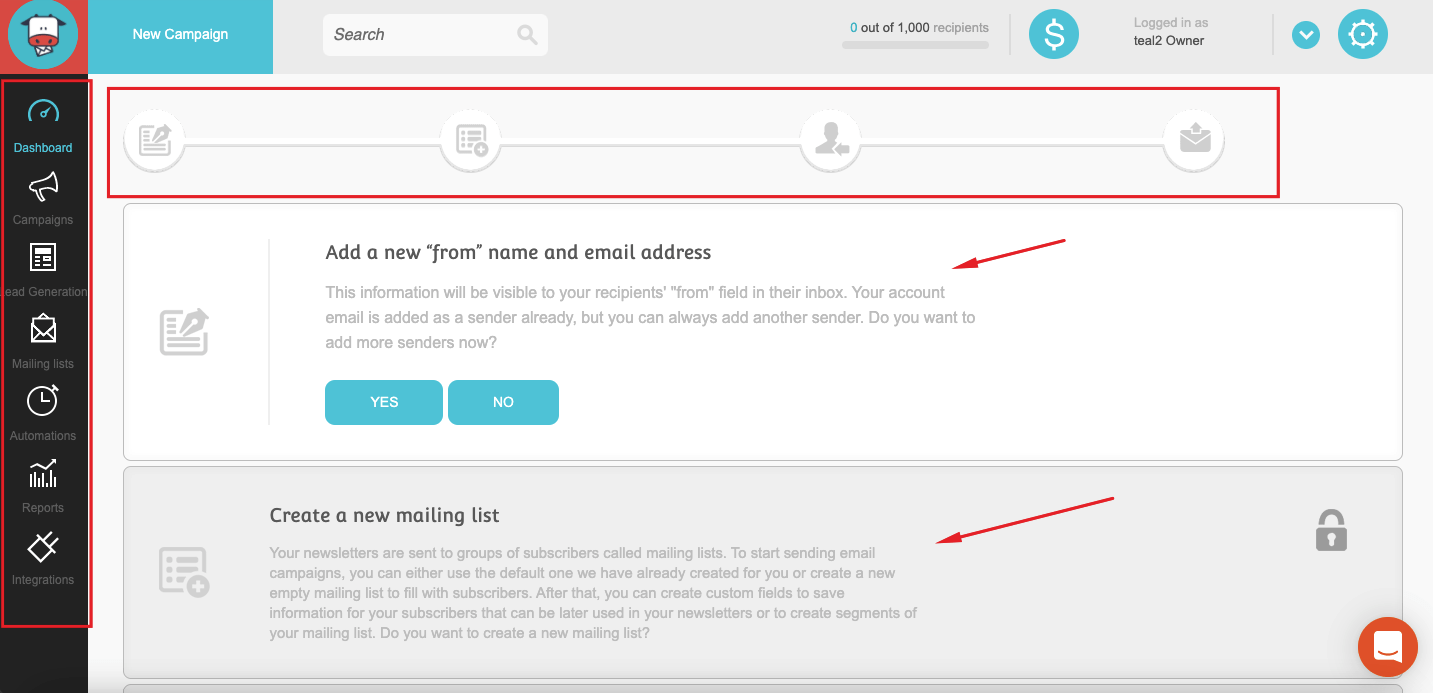 As you can see, you've got all the necessary tools on your left-hand side and a progress bar at the top of the page. Right below that, you will see the necessary actions that will get you through your very first campaign.
Exploring and Setting Automation Workflows
Once you familiarize yourself with the dashboard, it's time to see how you will generate leads and grow your email list.
Growing your email list as a blogger is crucial. Sending the perfect email sequence at the ideal time and making educated decisions using data will help you build your brand as a blogger, rise above the competition, and generate more visitors and social media followers just by including the right links and social media buttons.
Let's see how you're going to use the two lead generation tools Moosend's platform has created for your blog.
Landing Pages
Landing pages are a lead-gen machine, and an SEO booster all rolled into one. They can be interactive and contain only the information your prospect needs to know at that specific point in time.
Moosend's Drag-and-Drop landing page builder, the landing page templates of the library that you can customize how you want to, and the widgets you can use to ensure your brand's visuals are on-point, will help you create a brand with solid content marketing goals.
The landing page editor ensures that your landing pages are perfect for all devices, while the feature is GDPR compliant.
Lastly, your creations can be saved and re-visited whenever you want.
Subscription Forms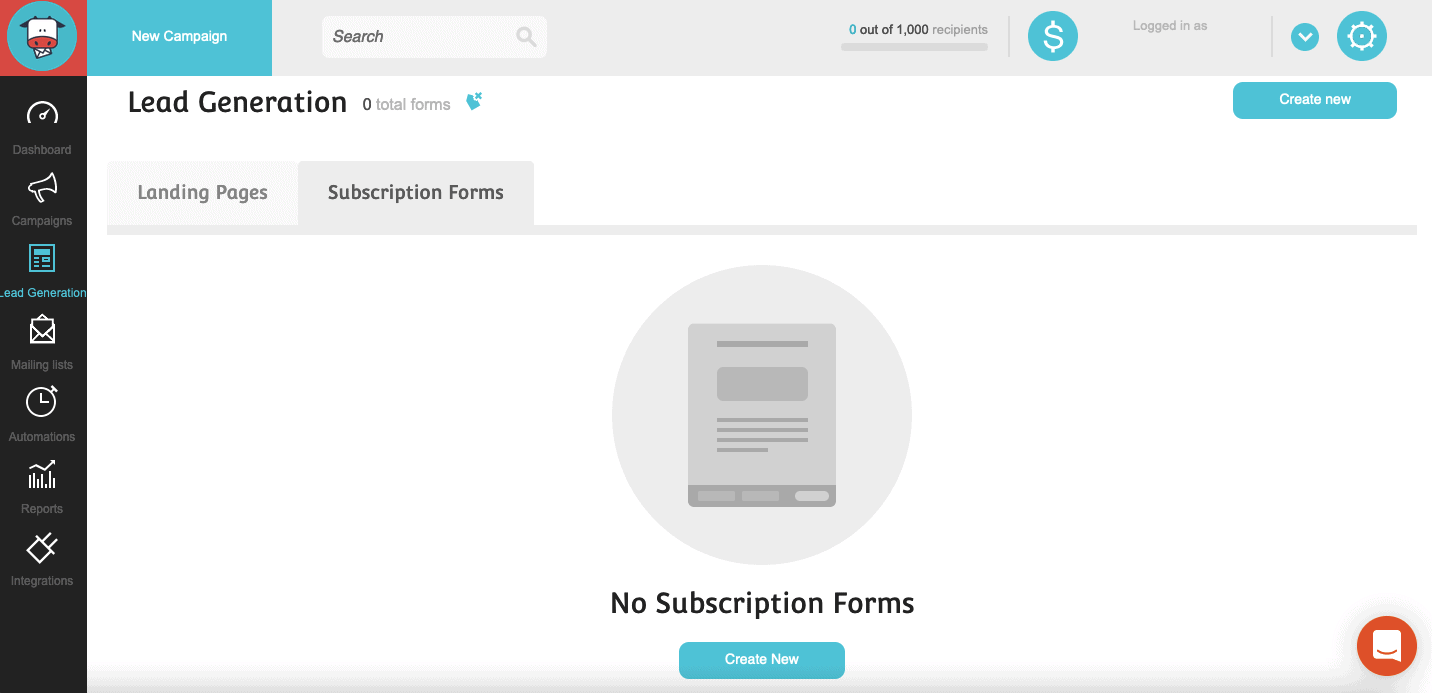 With subscription forms, your blog visitors will be asked to give their email addresses in exchange for exclusive content or updates – or both – helping you create an email list with people who will definitely love your content.
Just use the "Lead Generation" button to your left, click on the "Subscription Forms" tab and then "Create New". You'll see this screen: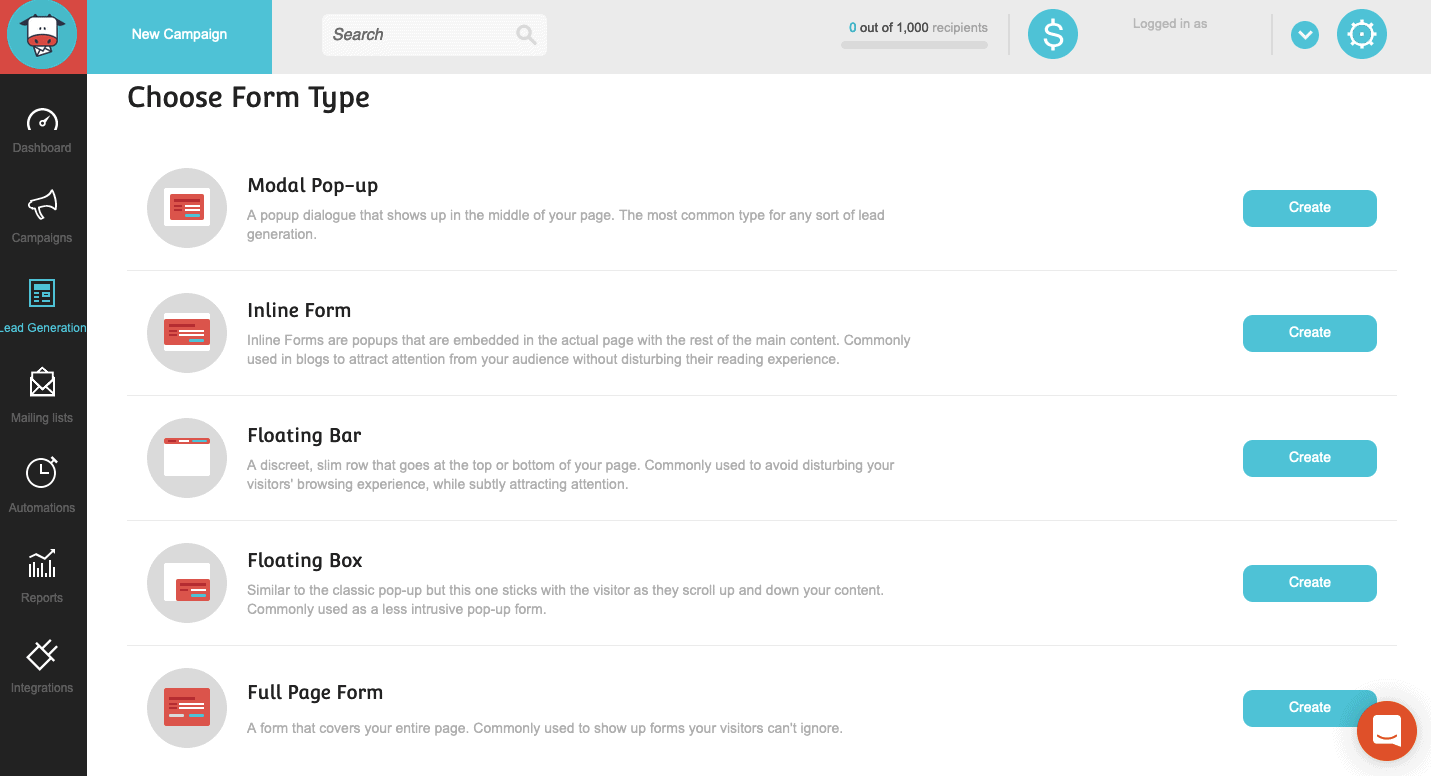 The form types are the following:
The Modal Pop-up: A dialogue box that pops up in the middle of your page.
The Inline Form: The best one for your blog, is embedded into your blog, non-disruptive but attention-grabbing.
The Floating Bar: Can be added to the header or footer of your blog.
The Floating Box: A pop-up that will stay in place as the reader scrolls down your blog.
The Full Page Form: Exactly what the name indicates. Use it if you're sure your readers won't be annoyed, as it covers the entire page.
Choose a subscription form type and then head straight to the Designer. It's user-friendly, Drag-and-Drop, with zero HTML knowledge.
You can also choose what forms you will display to which visitor, by taking into account various data, such as their location, their device, or the blog post they're viewing at a specific point in time.
This optimization will give you a lot of liberty on how to use your lead generation tools, while the results will allow you to understand how to boost your conversion rate and your ROI.
Get Moosend Now
Email Campaigns
Generally speaking, email marketing is one of the best ways to keep your audience engaged and boost your conversion and credibility by urging them to share your marketing message with their contacts.
Moosend, as an email marketing and marketing automation platform, offers a variety of email marketing tools. Such as:
A robust email editor
Segmentation and personalization that lead to targeted results
A/B testing tools to make educated decisions
As a blogger, the best-automated email marketing sequence you could set would be an RSS campaign. So, access your dashboard:
Click on the "Campaigns" tab and then on the RSS Campaign tab.
An RSS campaign allows bloggers to set up an email that is triggered every time there's a new blog post. This is why bloggers and publishers love it. It automates the process of letting your audience know about your new content.
Just follow these steps:
First of all, go to your "Campaign Settings" and give all the necessary information. Don't forget to set your RSS feed URL.
Then, click on the "Recurrency Settings":
Set the frequency how you'd like. You can choose daily, weekly, or monthly, pick out the perfect time and date that works for your audience, and then, start sending. That way, your readers will always come back and you'll be able to grow your writing portfolio along with your audience.
After all, there's no use in creating content that doesn't engage.
Having gone through these steps, it's time for the fun part.
Moosend's Email Editor
Moosend's Drag-and-Drop email editor that comes equipped with a free newsletter template library is the ideal way to create email newsletters that will be ideal for your audience.
Just click on the "Create Template" button and then the "Take me to the Editor":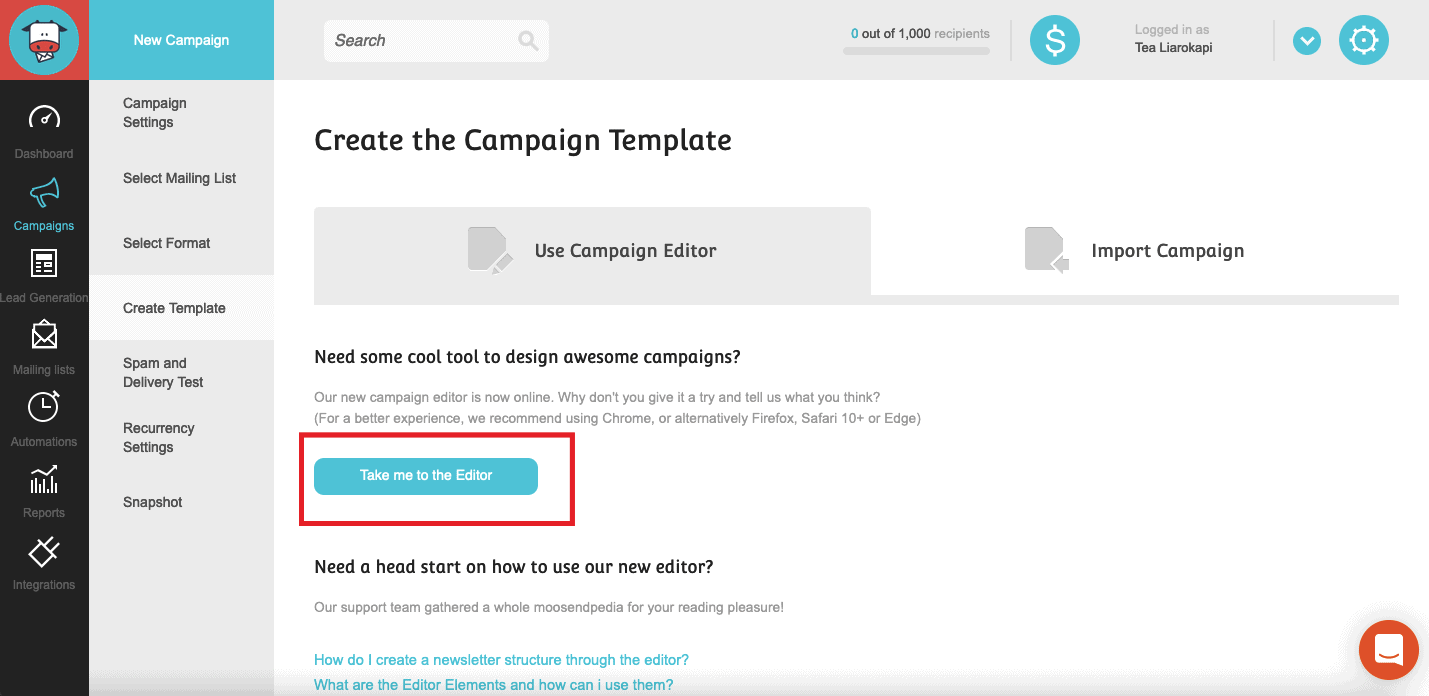 After that, you'll be able to access the email templates that will be perfect for your blog's audience: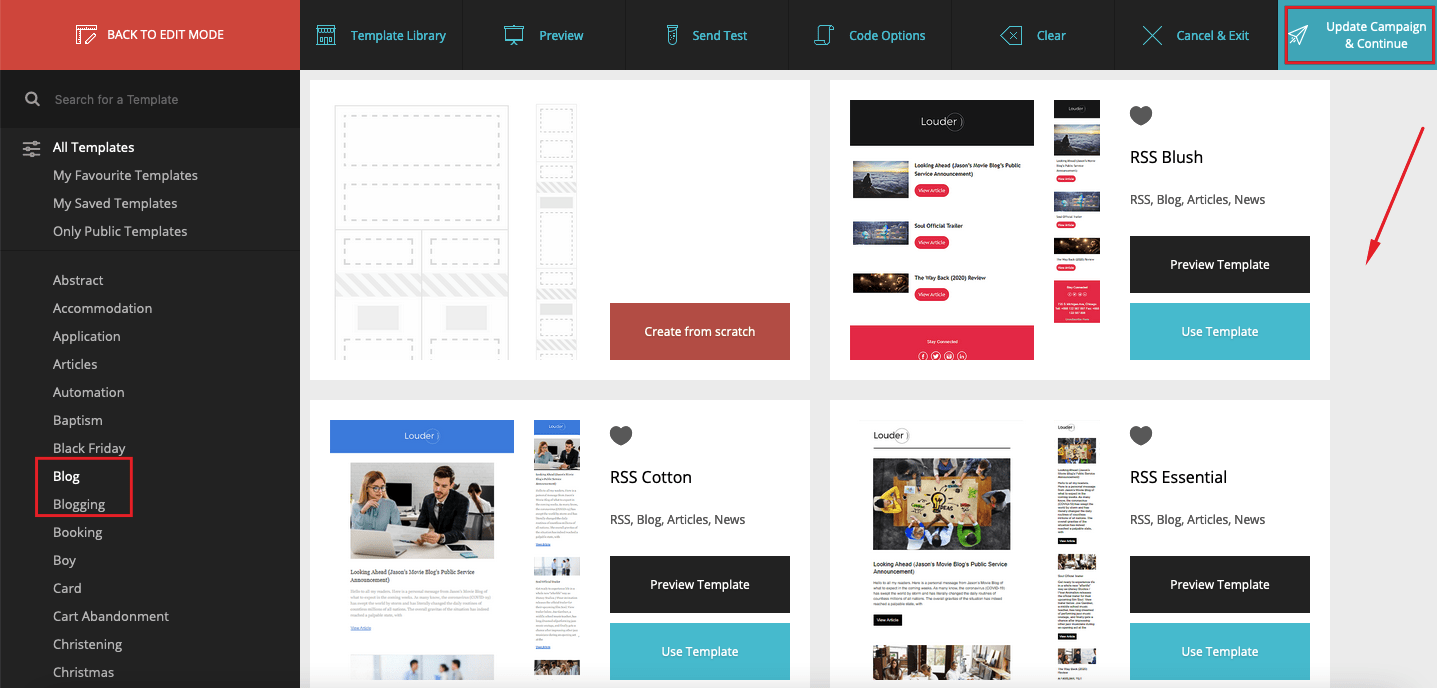 Once you pick out the template you love, you'll be taken to the Editor and you can start customizing: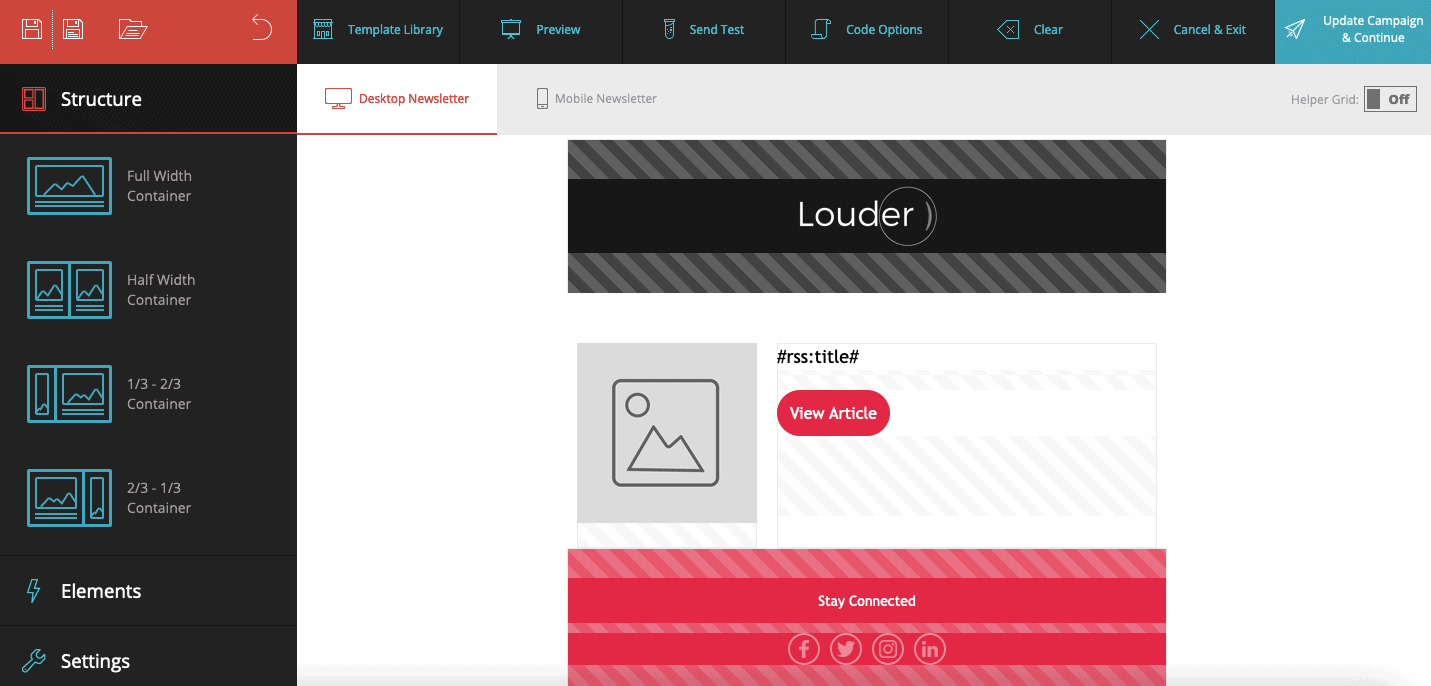 Use the blocks you can see to your left, to drag and drop the elements you need. Use interactive elements, different content types, plain text, and, of course, the social media icons that will urge your audience to share your content around.
Moosend's library carries anything from GIFs and videos to excellent photography and even "Conditional Visibility" options that will show your audience exactly what they're looking for, in terms of content:
With this function, you can alter what each of your subscribers sees. This is especially useful if you've got a blog with multiple topics. Just click on the field you'd like to use – the subscriber's city, country, anything you find useful – and alter accordingly.
Setting an Automation Workflow
Moosend's automation recipes allow bloggers to create email autoresponders and build drip campaigns with messages that will be triggered and tailor-made. Here's how to do this:
Go to the Automations tab to your left and pick out the automation sequence you think will work best for you:
I picked the "Welcome Email" sequence. The welcome email sequence is ideal to welcome new subscribers, get your blog noticed, and help readers figure out what they love best about your blog.
 The sequence looks like this: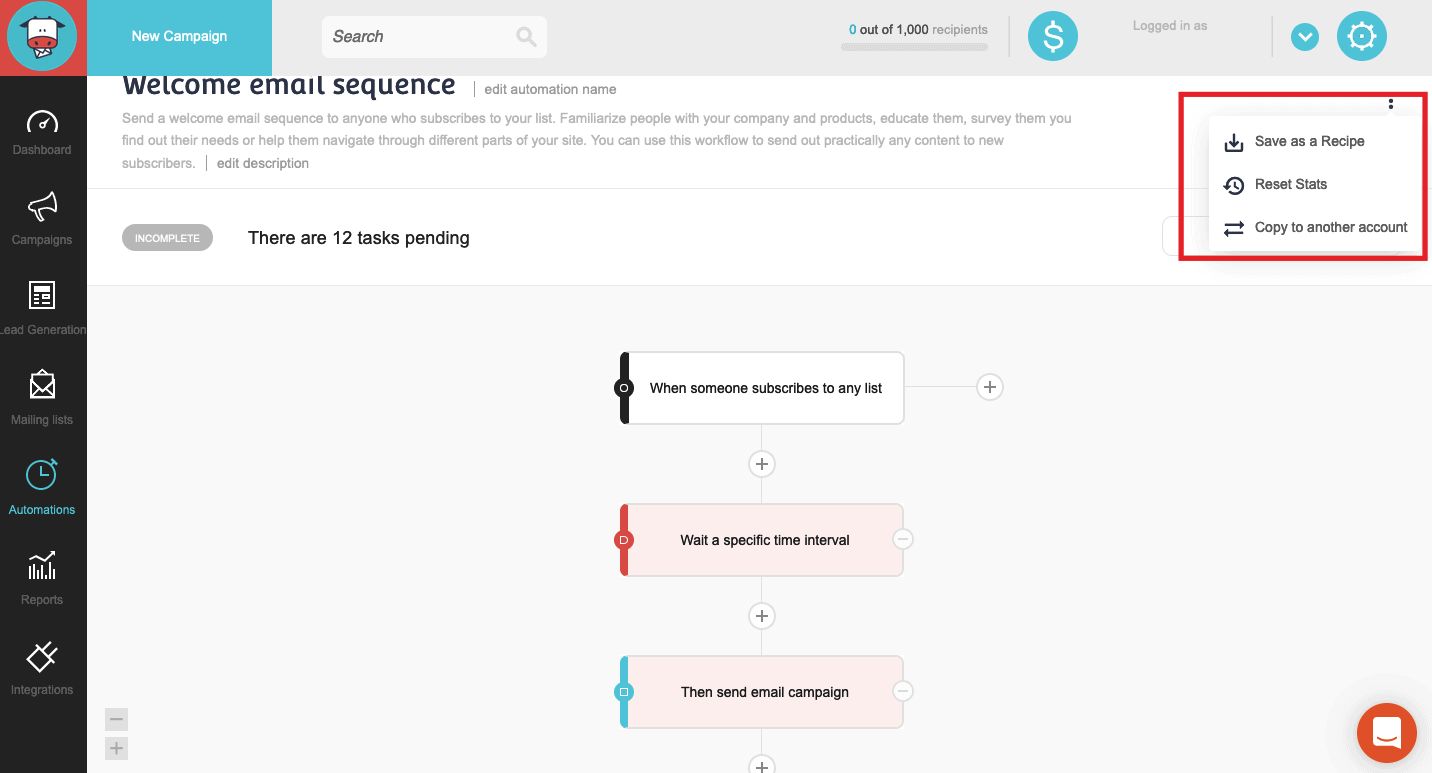 And as you can see, you can save it, reset it or even copy it and reuse it.
There are ready-made automation recipes, but if you find that none works the way you'd want it to, you can always make one of your own and make sure it caters to your readers' needs. Like so: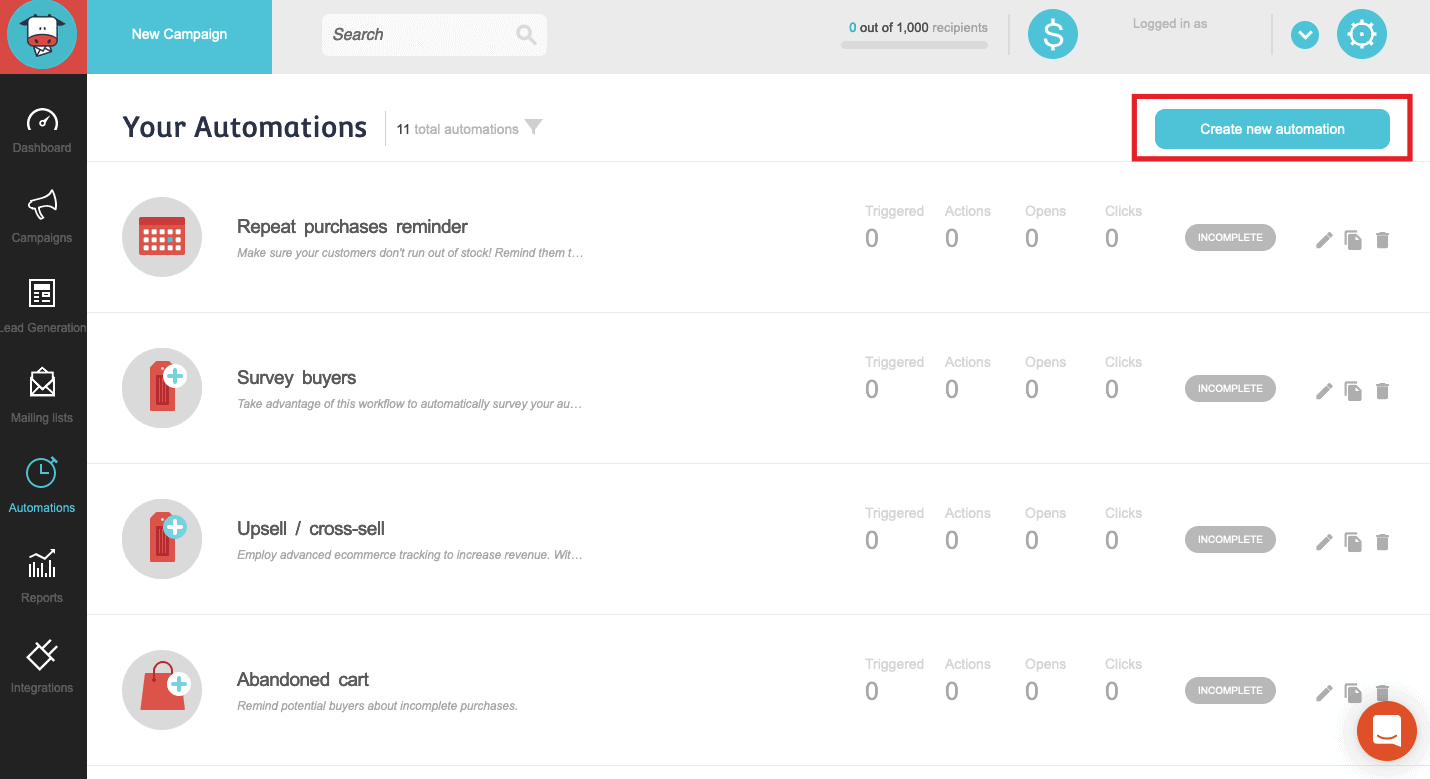 Click on the "Create New Automation" button and then on the "Create a Custom Automation" button as follows: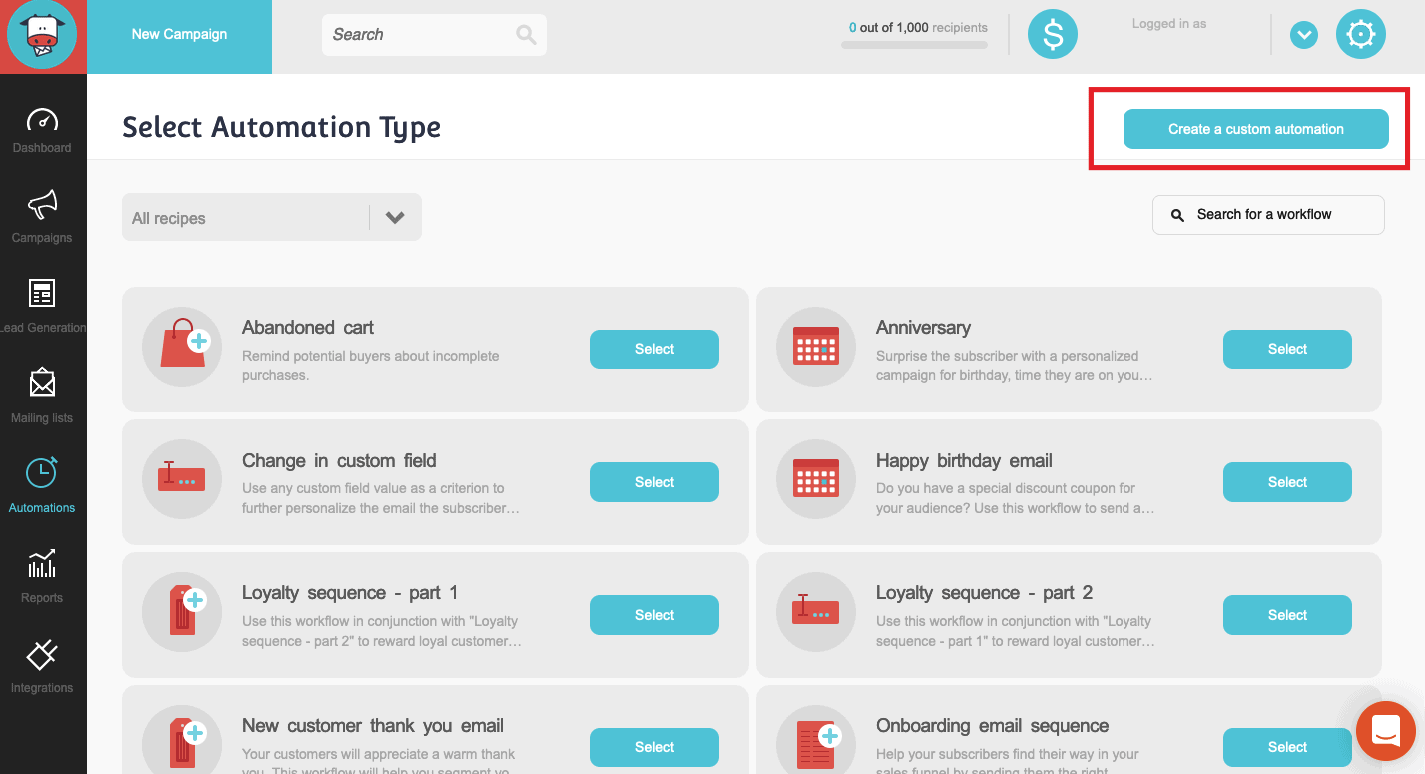 You'll end up on this page here: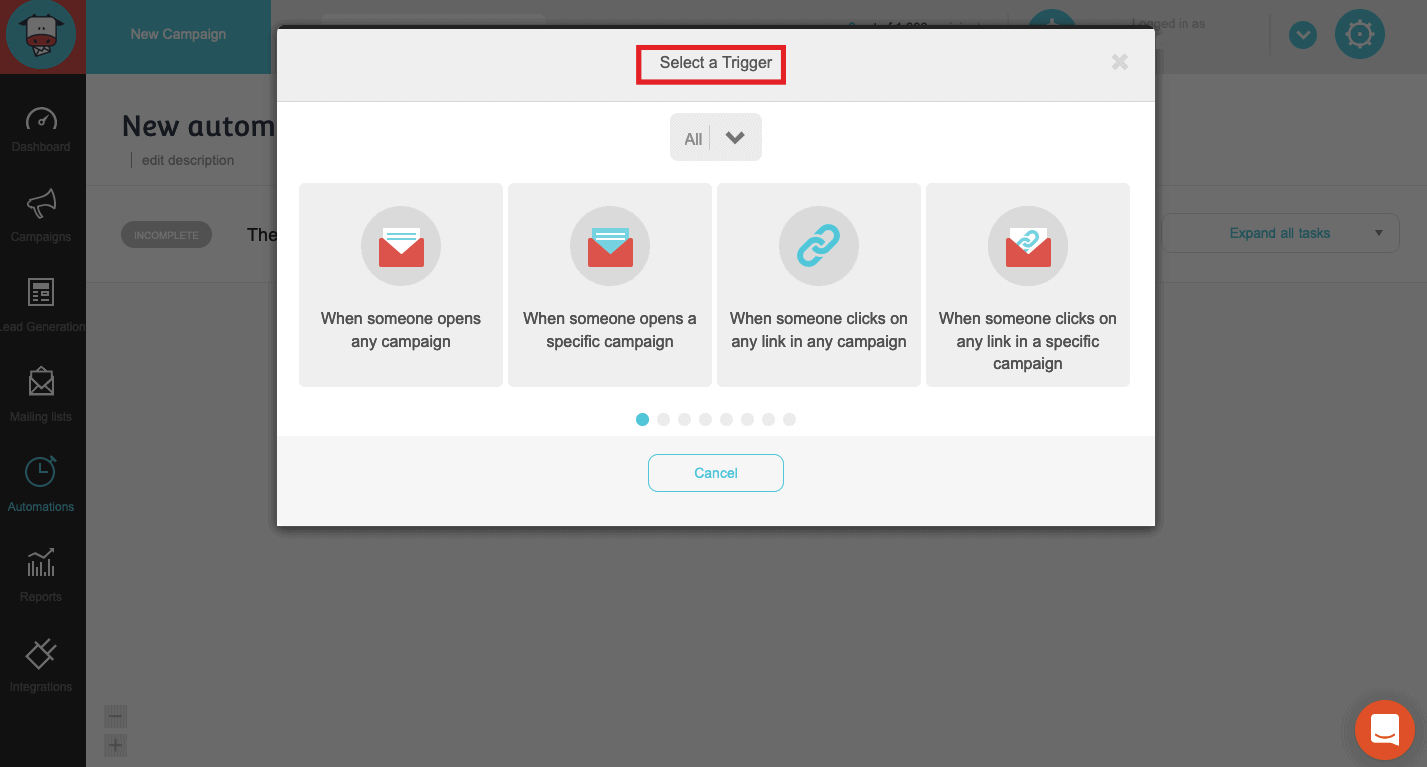 Click on the "Select a Trigger" button and start customizing!
Moosend's automation flow builder will allow you to create custom sequences in an intuitive manner. This builder is also Drag-and-Drop, ensuring the short learning curve that the platform promises, as there won't be a new methodology for you to familiarize yourself with.
Remarkable Features Of Moosend
Apart from the email marketing and marketing automation aspect, Moosend comes with various features that can help bloggers and publishers create automated email sequences that will hit the mark every time.
Get Moosend Now
Personalization and Segmentation
The platform stores all the data you need and makes sure you can create very small segments, even real-time as your readers interact with your content. That way, you'll make great use of even segments that are underused, apart from the tried-and-true age/gender/location ones.
On the other hand, personalization tags will help you create email content that will resonate with your target audience and your readers, making them more likely to interact with your blog and share it with their friends and on their social media.
After all, relevant content is something everyone enjoys.
A/B Testing
Moosend allows you to create an A/B split Campaign and test various versions of your email. Just change a key parameter in copy, design, even your subject line, and see what works best for your audience.
You can track the performance of each version and pick the winner after a 24-hour test length. That way, A/B testing will lead you to data-driven, educated decisions that will bring better results, as you'll know exactly what your readers love to interact with.
Analytics
Reading data and presenting analytics reports can be a hassle, especially when you don't know how to utilize them. And bloggers are not data scientists or use dashboards filled with data in their day-to-day lives.
Moosend's analytics give bloggers a bird's eye view of their readers using two methods:
The information is summarized and presented visually in an easy-to-read chart.
Heatmaps track the readers' behavior on your blog and help you see exactly what made them stop and stare.
That way, you'll always know how to communicate with them through content that they loved. If, for example, your heatmaps show that video background performs better on your blog page, you'll know to create something similar.
Moosend's metrics and insights work in your favor when you're trying to decode your readers' behavior and visualize data that will be useful when creating your customer personas, pinpointing the most used devices and operating systems, and, of course, creating your automation workflows for your website.
Pricing Plans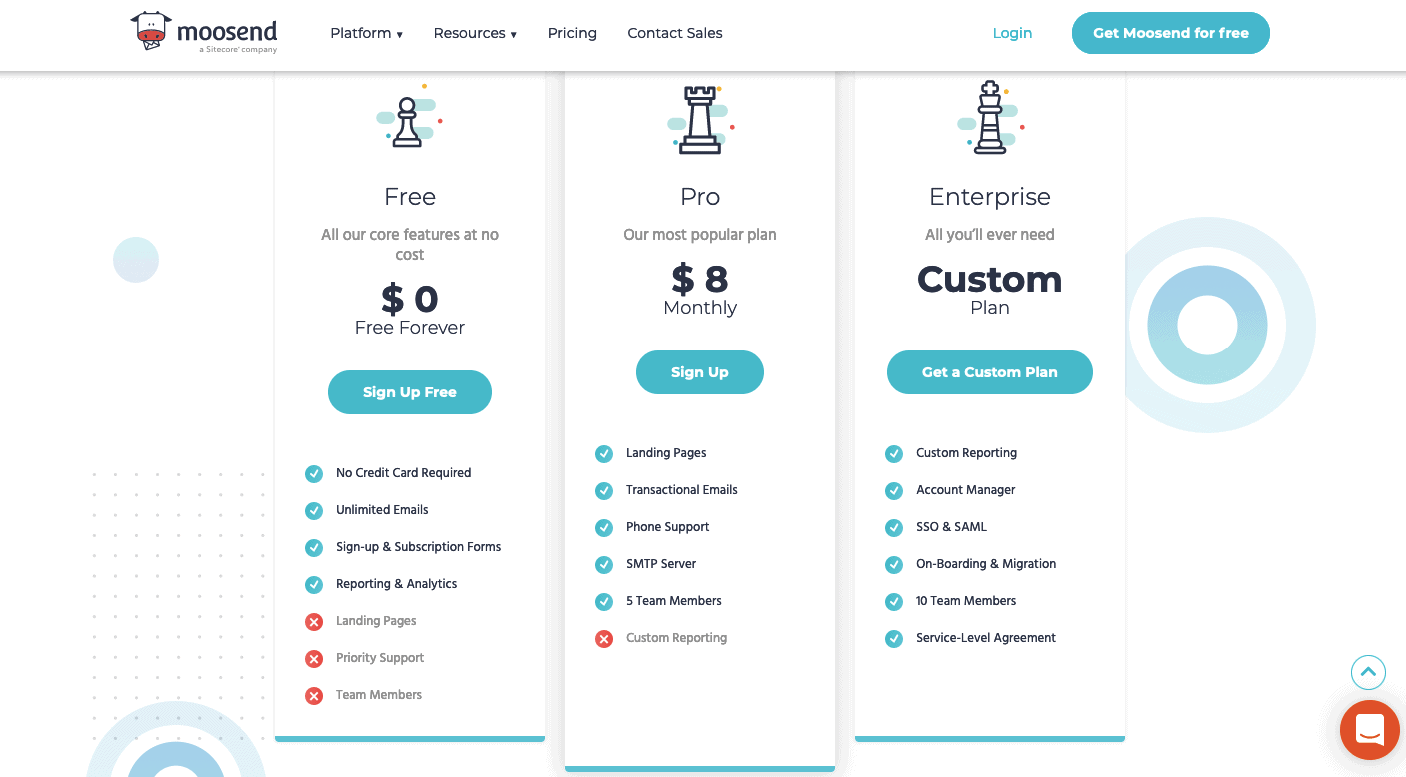 Apart from a robust platform, Moosend also provides an affordable pricing plan, with three tiers and a fourth "hidden" option.
The Free Forever plan: It is, indeed, free forever and can include up to 1,000 unique subscribers. Since the platform's pricing is subscriber-based, this means that any subscribers can be in as many lists as you want – it will still count as one. The Free Forever plan allows you to send as many emails as you want, and it's excellent if you're just starting out as a blogger.
The Pro plan: The most popular one, starts at $8/month. The Pro plan includes all features apart from the Custom Reporting feature. You can use it for more than 1,000 subscribers.
The Enterprise plan: A custom-made plan that meets the needs of the customer down to a tee.
And now for the hidden option: the Credits.
Use them if email marketing is not what you want to pursue. If a PR plan sounds better, to build some meaningful relationships and collaborations with other bloggers, credits are more up your alley.
You can purchase as many as you want. Each credit amounts to a number of emails and there is no expiration date.
Summing Up
Moosend's platform is ideal for your blog and can help you automate email marketing actions in no time, as well as gather data and track user behaviour. The platform is user-friendly, intuitive, and can power up your blog's conversion in no time.
And if you've got a favourite tool that you've been using for your blog so far, check out Moosend's integrations. There are more than 100, and there's surely one for you in there. That way, you won't have to worry about learning something from scratch or changing tools.
Get Moosend Now