As we all have seen a huge shift in the WordPress industry towards page builders and its demand, it is not easy to find a good WordPress theme for your blog that has all the features you'll ever look for. But, after a long time, I came across a very good theme that meets my design expectations and the code quality requirement at the same time.
Outspoken Theme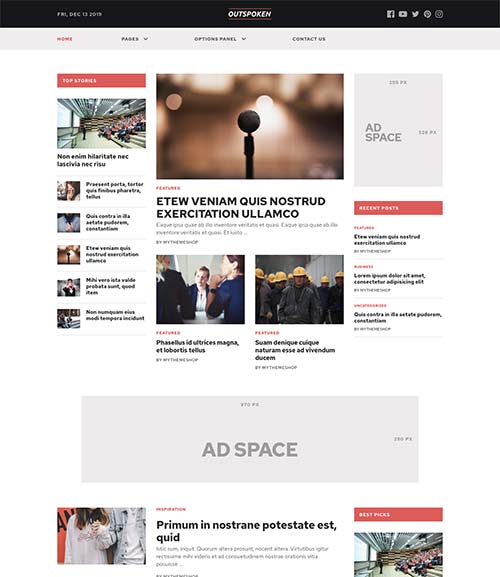 Outspoken WordPress theme is them build on modern design and code standards featuring a news magazine layout, rich snippets ready code and a powerful theme options panel. Following the legacy of Mythemeshop products, this theme also has a clean and optimized design. Built especially for bloggers and marketers who want to give their website a magazine's look and feel.
In this review, I will go through all the features one by one and in-detail.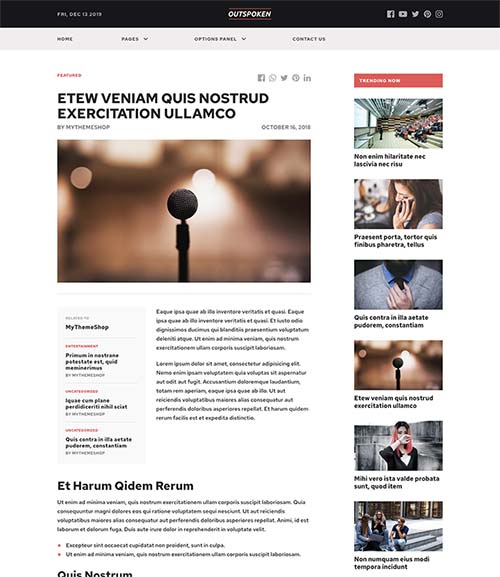 Outspoken is a perfect alternative to the Newspaper theme. You can also find the design cool enough that can be considered as an alternative to the News Pro theme.
Pricing
$19 for a single site
$29 for 3  sites
$36 for UL sites
Buy Theme Now
Features
Powerfully speed optimized to serve pages in a blazing fast speed
5 Predesigned homepage layouts to choose from
Ads ready theme with header ad code along with large banner (970x250px) support
Responsiveness and SEO Ready code is the basic feature that comes packed with any MTS theme
The option to choose the position of the sidebar, visibility of header and footer, the layout of the post
Gutenberg ready code so that you don't find bugs while editing your posts with Gutenberg editor
Elementor ready or say it – Page builders ready theme
Speed Optimized Code
A well-designed and optimized wp theme that is not only SEO Ready but also comes packed with 5 pre-designed homepage layout is almost a rare combination. You get the option to enable/disable the prefetching feature. This feature loads the first article as a background process when a user is on the homepage. It prefetches the homepage when you're on the single post/page.
Moreover, it supports any of the WordPress caching plugins that you use. It further has an option to enable/disable the lazy load images features. Lazy load feature has a big hand in optimizing the speed of your website and bring the first visible print of the website at the earliest.
Buy Theme Now
Check Demo
Speed Tests
Yes, its time to test out the speed of the demo website URL. After all, it just has the demo content and is not heavy. When you upload the theme on your website, the results can vary that depend on
Your web hosting server's location, configuration, and optimization
Optimization configuration of your WordPress install. (for example caches, compression, minification, and loading of scripts)
Size of your web pages and the number of requests
Now let's start our speed tests.
The above screenshot is from Gtmetrix where you can test your own website's speed and check what are the areas of improvement.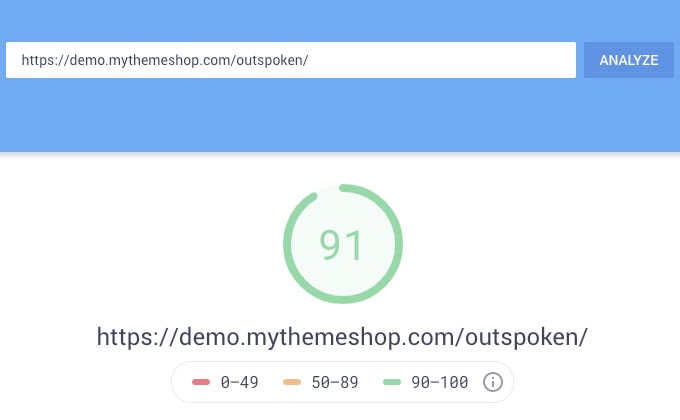 The theme is well-optimized for speed not only on desktop but also on mobile and other devices. If speed is your main concern and you're ready to change your WordPress theme to a very minimal, clean yet attractive layout, the Outspoken theme is my advice.
It is not easy to score 90+ on Yslow standards. Well, the theme scored 91. If you're not able to reach such a score, I offer speed optimization services that you can hire me for.
Wait, I think something is missing.
Yes, and that's the Pingdom speed test.
Let's do that too.
Well-scored 81 on the performance grade meter.
SEO-Optimized Code
A theme that explains and identifies each and every section of the web page is the best seo-optimized theme. For example, Schema Pro is the best example. The outspoken theme also has used the same optimization level and code standards.
Now let me explain what does this means.
Rich markup data on any website is stored in the JSON LD format. This uses schema.org code to define the header, navigation, article section, sidebar, footer and each and every part of the blog.
If you want to check any theme for such tags, you can easily type the URL of that demo page in the Schema data testing tool.
Here are the results from the Outspoken Theme.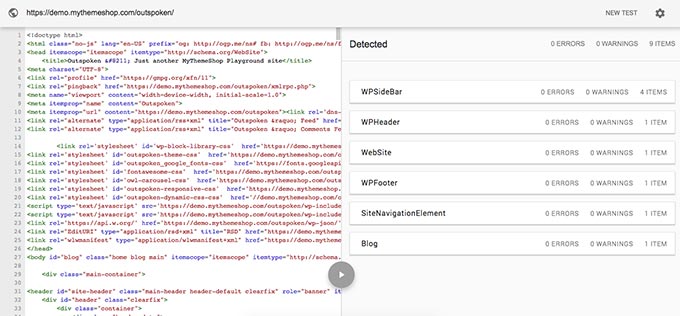 Google's crawlers understand this very well and this further helps you to rank in rich search results for example information box and answer box results.
Modern Theme with Modern Features
I don't think a theme in the today's time can create landing pages for me. However, all I can expect from my SEO optimized theme is to have support for my favorite page builder. Right?
All I expect is not seeing those errors with design and functions when I use either Gutenberg or Elementor page builder to design spaciously elegant landing pages.
The Outspoken theme has these features.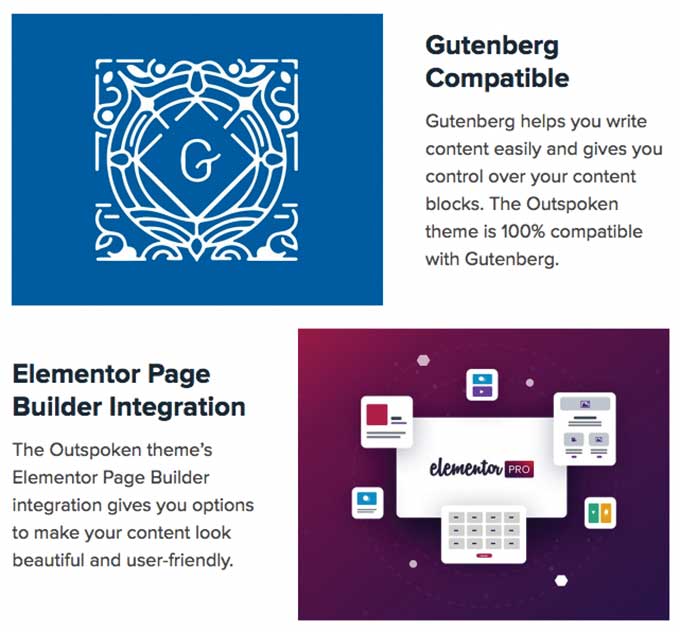 Now this made me more confident to buy the theme and start using it on one of my website because I love designing landing pages for the services I offer. Or for the campaigns I run for my sponsors/advertisers.
Conclusion
In a few words, the outspoken theme is a package as a whole. No doubt, the theme has all the features you want to have in a theme that you may want to customize in future.
I just forgot that I also offer theme customization services. You can reach out to me if you want to have your website customized with the base theme as Outspoken.