One of the most trending modes of advertising and promotion is Popads i.e Pop-up and Pop-under advertising. Connected to the CPI and CPA marketing, it leads to different goals that cost per acquisition and cost per lead.
The reason behind writing this list of the best pop ad networks/ platforms is to give you an idea of how much traffic you can drive to your product page with it.
Pop ads and traffic is best for you if:
You are not using AdSense to monetize your website traffic
You're a merchant and want to boost your website traffic and promote it to real people
You just want more visitors to your website (no matter they convert and make any purchase or not. But this does not mean that the traffic is not going to convert at all.)
Pop advertising is also named pop ads and pop-under media buying. And it is likely to have the same roles as mobile advertising does have.
A flood of traffic and that too at cheap rates. Who does not want that? (I am not talking about the spam/fake traffic or Google Analytics spam.)
I have gathered and crafted this piece of content to introduce you to the top pop ad networks. You might be having questions like – "whether pop ads are good for my website?" or "Is it a waste of time and money to invest in pop ads?" or even "Is there any risk if I use pop ads and Adsense at the same time?"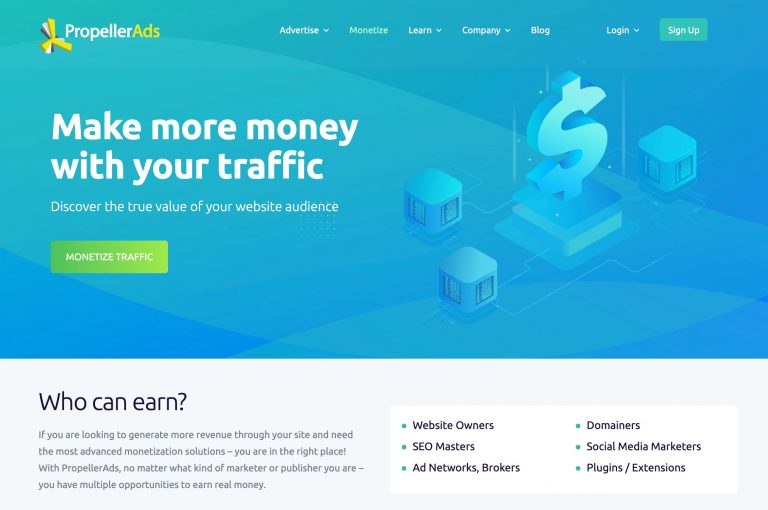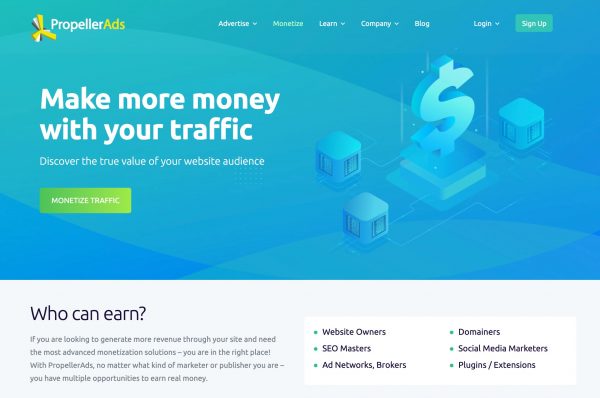 PropellerAds work like a skyrocket if your user has a regular behavior of clicking anywhere on your website or blog. No matter where a user is clicking on your website, a new browser window (containing promotional content) will be opened but under the active window. And this is how Pop-Under ad networks work.
Just taking monetization into consideration, I have heard of some people who lost their AdSense account while using pop ads and AdSense at the same time. However, there are still opportunities.
You have Push Notifications, Popunder ads, In-Page Push, Interstitials and Direct Links. The good thing is that with PropellerAds MultiTag you don't need to create an individual tag for each ad format. Just add MultiTag to your website and enjoy automatic platform optimization.
Works awesome when it comes to targeting and optimizing your ads
PropellerAds offer a massive variety of advertisers in every country and every niche, so no impressions are being wasted
You can monetize 100% of your website traffic
Top 10 Pop Ads Networks of 2021
1 RichAds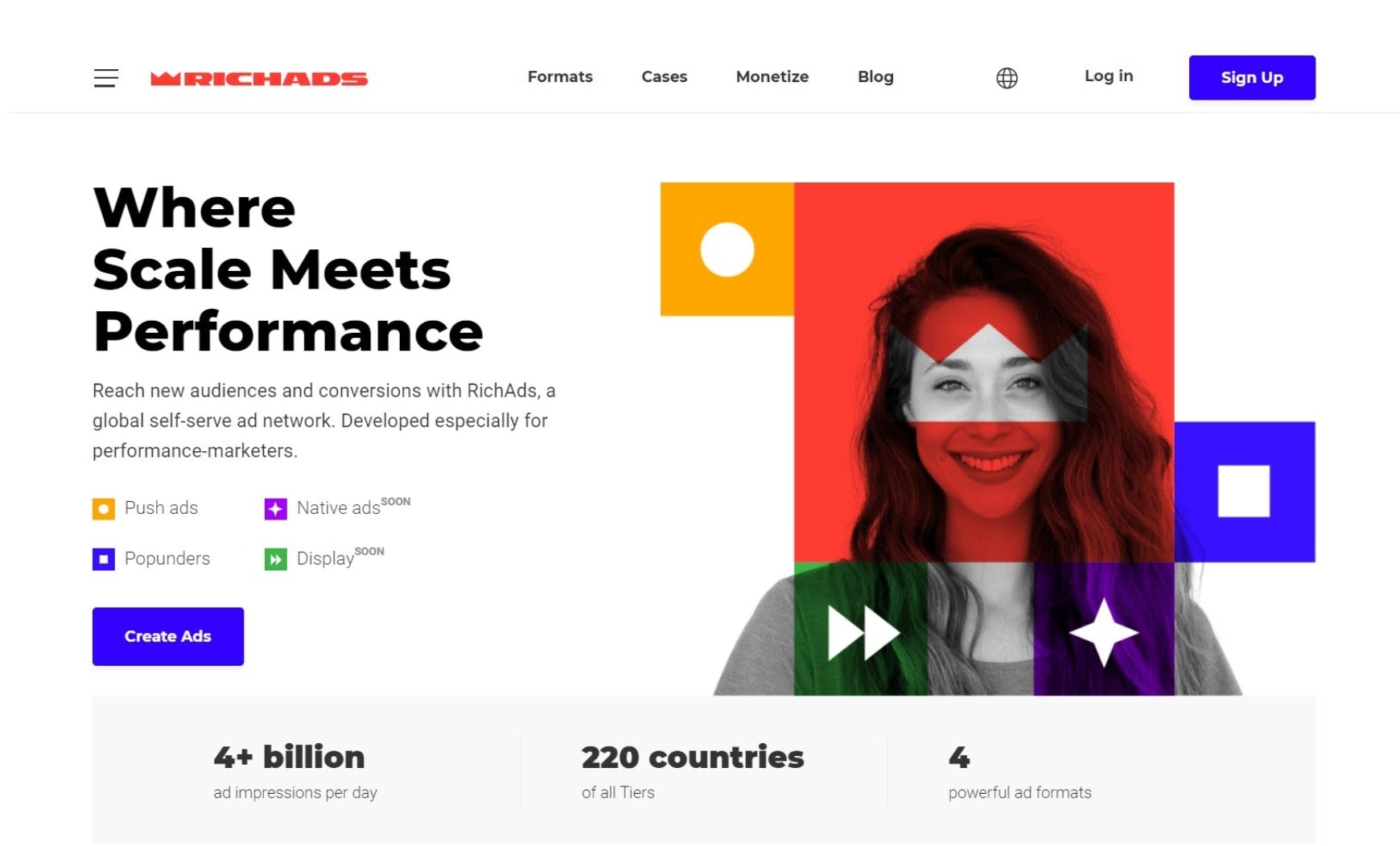 RichAds is a Global High-Quality Pop Traffic Ad Network that helps to generate conversions for any niche from 4 billion ad impressions daily.
The network offers multiple features that help to work with pop traffic and get quality conversions:
Source Sampling – estimate the quality of clicks you get in a small amount from different sources, and scale your success by creating whitelists of the best performing sources, so you spend much less money on testing sources.
Micro bidding – helps to fine-tune your campaigns for maximum performance and accuracy with bid adjustments for different parameters like OS version, etc.
Automated Optimization – allows applying rules according to the most relevant conditions like approved conversions or engaged clicks.
Fraud Prevention – RichAds technology is verified by AdScore.
Smart Targeting – allows optimizing your campaigns for particular OS, Regions, Browser languages, Devices and more
Run cheap all-purpose ads with:
Targeting options: Country, Device, OS, Browser, Carrier, Connection Type, and more
Profitable ad formats: popunder, clickunder
Top verticals: VPN & Antiviruses, Crypto, Gambling, Betting, Sweepstakes, Dating
Minimum deposit: $100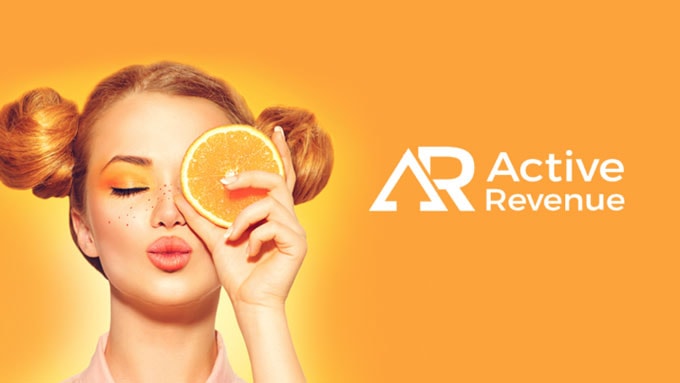 ActiveRevenue is a self-serve traffic platform which allows advertisers access to high performing ad units, granular targeting, real-time bidding on CPM/CPC and multiple optimization capabilities including a sophisticated auto-optimization algorithm.
The available ad-formats are Push Notification, PPR (Zero Click) & Pop-under.
3 AdsTerra
Adsterra is one of the most popular affiliate ads networks, especially for pop ads. More than just a popunder ad network, It is an all-way network. Useful for advertisers and publishers both.
A lot of ad formats are supported to monetize your website. Let it be Banner ads ( leaderboard or sidebar ad sets), Pop Ads, Interstitial, video banners, and even direct links.  More than anything, the regular payment system is the best part.
To talk more about AdsTerra, Banner ads are there. You won't find the popular 300×250 ad size. However, 468×60, 728×90 and 320×50 ad slots are available. Furthermore, considering your mobile traffic, Adsterra has additional marketing technology like sticky footer ads, Pushup ads and more.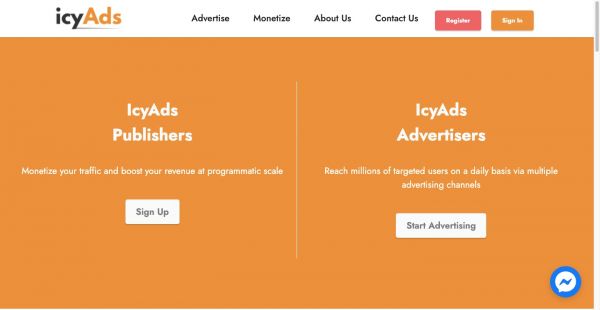 IcyAds is yet another self-serve advertising platform where you can buy traffic for your pop ad campaigns. The platform is not limiting you to run pop ads only. There are more ad types available for you to customize your media plan and make the best use of your advertising budget.
POP, PUSH Notification, Zero Click and more
$50 minimum deposit to start advertising
Dedicated account manager
Publisher platform to also monetize your inventory with Icyads
5 PopAds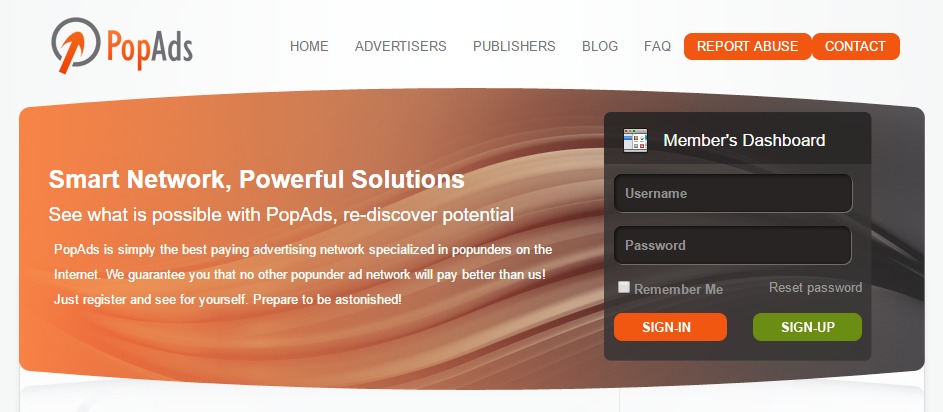 PopAds is the choice of many leading affiliate marketers and media buyers.
Being the choice of top marketers, you can be sure that you will get the highest payout on your campaigns.
Find out the best PopAds Alternatives of 2021 to make money with pop ads.
6 ClickAdu
Clickadu is the leading brand in pop up advertising. Especially when you want to monetize your traffic with a 100% guarantee that you're not going to lose any money out here. Based on Bemob tracking, Clickadu is making it possible to use its self-service platform to earn money.
In case you're an advertiser, you keep good control over your expenses, budget and the leads (conversion) quality. I would love to help you get more exposure for your android app, product or service. Get in touch with me now.
7 Ad-Maven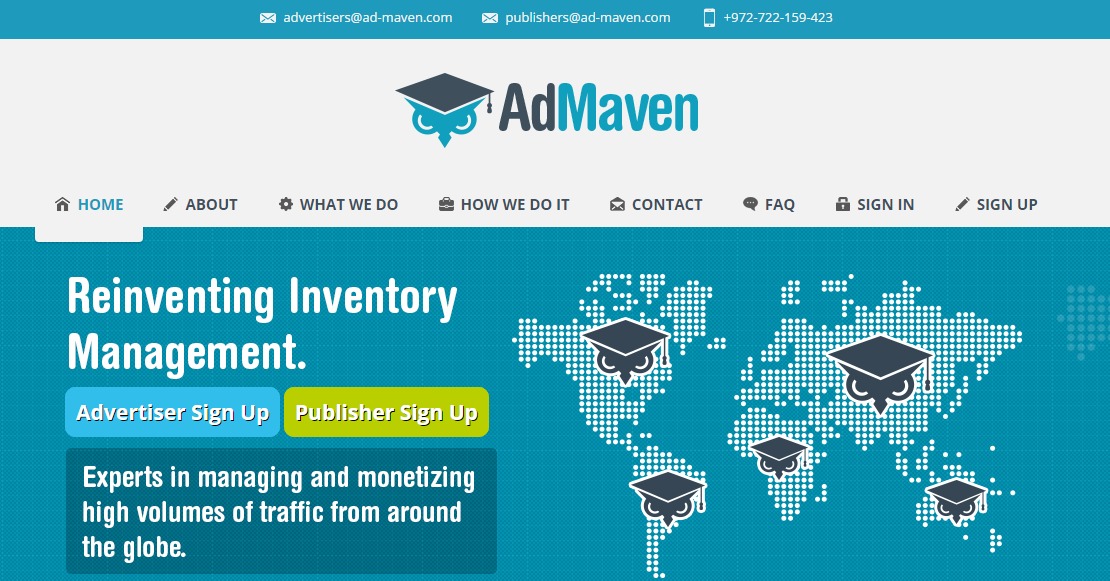 Different ad networks are dealing with and managing a circle of affiliates.
Ad-Maven delivers high-quality full-screen popads which are known as the top-notch quality advertising set.
8 PopCash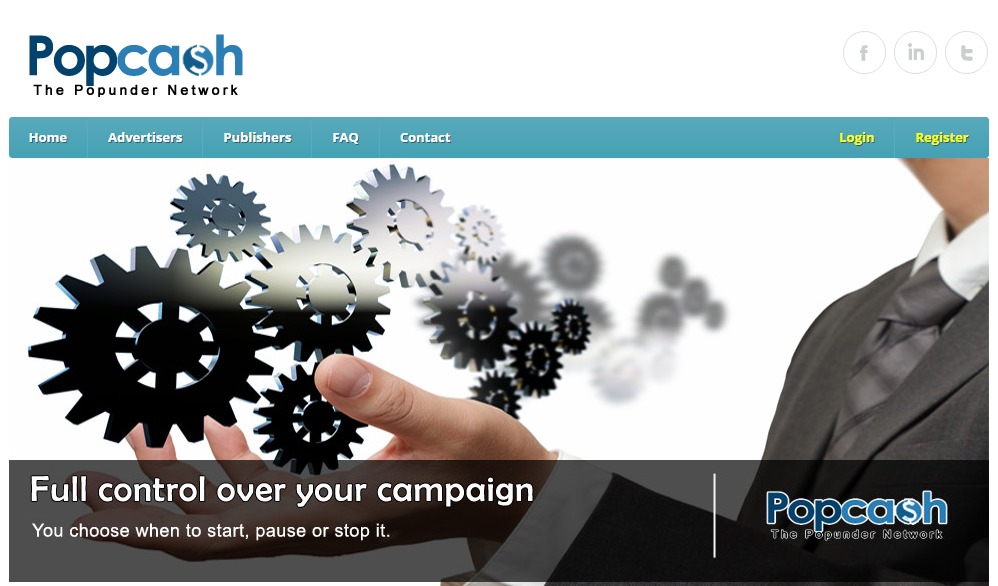 The exclusive PopCash network is the best network if you want to start right now. No painful approval process. Fast quick and easy approval to get you started in a few steps.
The exclusivity is pure
Daily Payments so that you are never out of money or in the queues to get your money in your PayPal or bank account
Quickest approval (not auto-approval)
Referral system so that you grow with the network
Hourly updated stats (a bit slow as you may need real-time tracking and stats.)
9 AdCash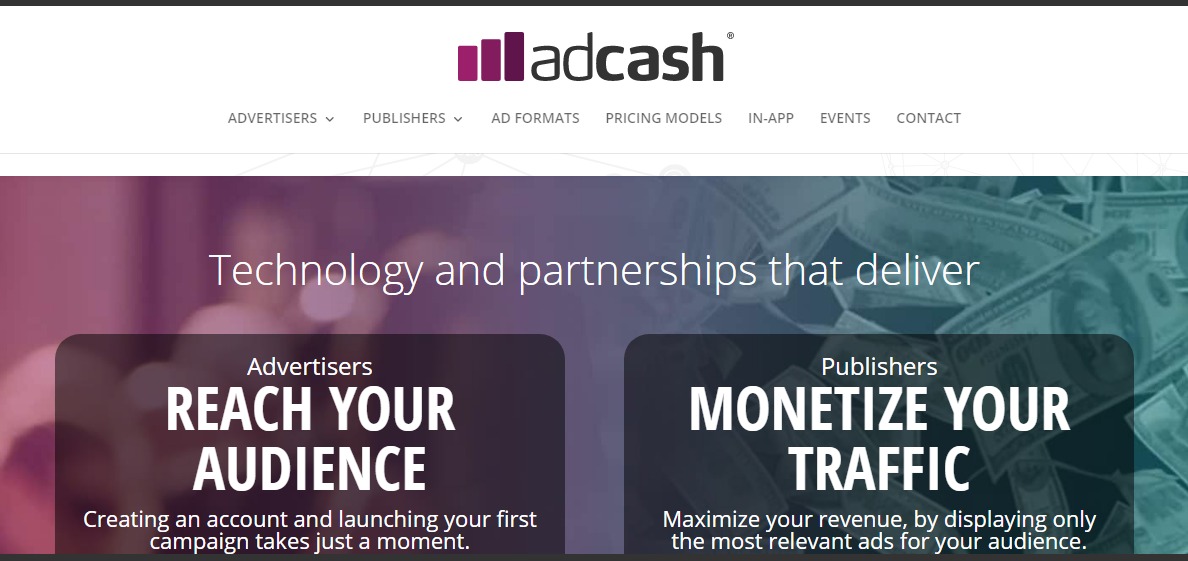 I met AdCash in the Ad:Tech 2017 in Delhi. The network is not only dealing with pop ads. But you can consider monetizing your traffic with them. Empowering some of the highly popular sites to monetize their traffic and advertisers to boost their brand exposure along with huge business, AdCash is a leading network.
10 ExoClick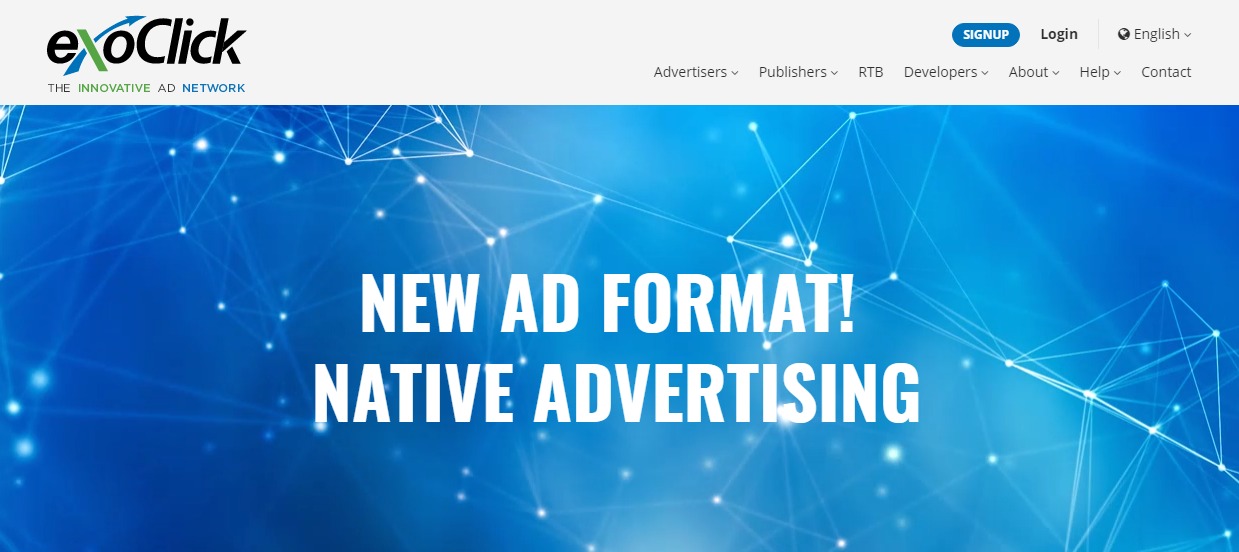 I have seen most of the adult sites monetizing their traffic using ExoClick. I can easily define it like "exotic click"?
Most of the sites that use ExoClick are in the 18+ niche and that is totally reasonable because the advertisers are also promoting products in the 18+ category.
So, that is a great choice to monetize your viral 18+ site with ExoClick. The conversion rate and click through rate gonna be amazing. Trust me.  (the publishers are making millions. Advertisers are for profit).
11 RevenueHits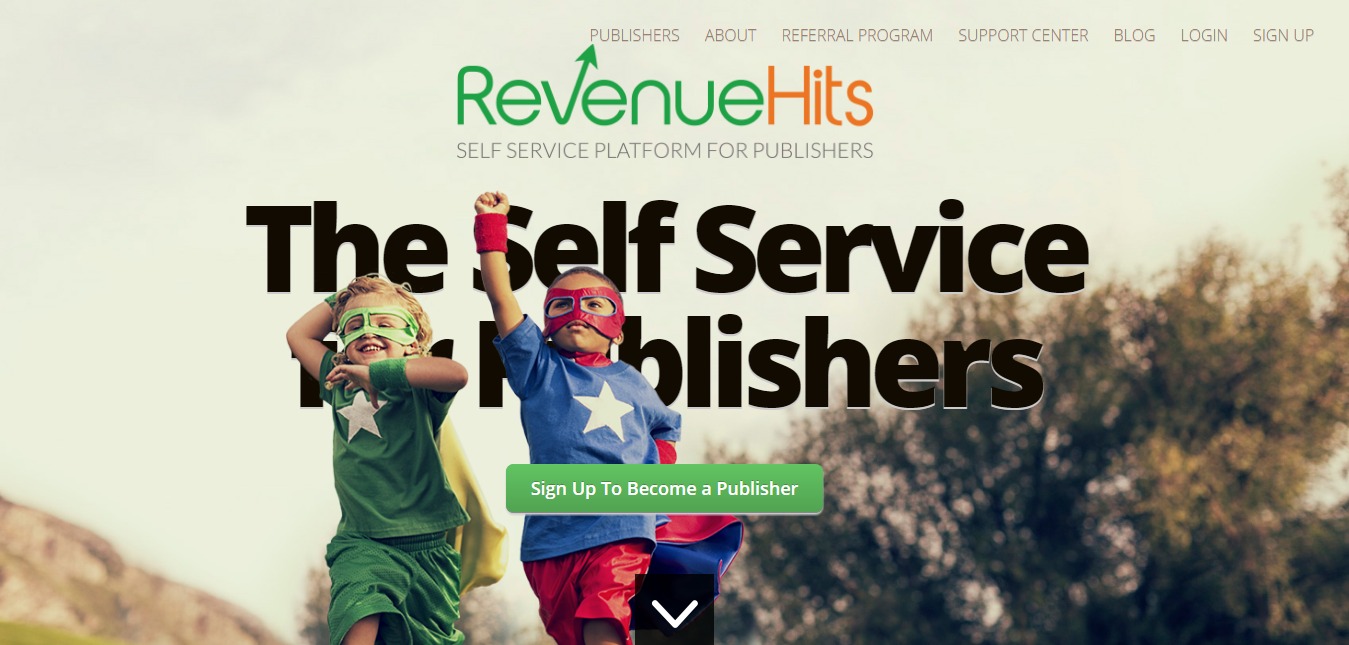 RevenueHits is a renowned affiliate network. I saw webmasters in my friend circle using RevenueHits to earn money through PPC, CPA and PPV ads. But these days I hardly see a professional blogger using this network for earning.
RevenueHits is for niche sites. You get huge traffic and in return you make HUGE. No tall talks. It is real.
12 PopMyAds
PopMyAds, as the name suggests, is yet another popular ad network for pop ads, CPA marketing, and banner advertising. As an advertiser, I seek enough opportunities for increased exposure and market share. You can drive millions of page views for your webpages at the least cost using PopMyAds.
Final Words
When you enter into CPA (affiliate marketing), but not in CPS (cost per sale), it compels your wonders that you can sell website traffic and earn money from it.
Million Dollar Tip: You can use this mode of advertising for your own landing pages. The only thing you would want to do is- learn how to open a pop-under window when someone clicks anywhere on your website. The next thing is opening your own landing page all the time (or randomize it).
Weird but this is the million-dollar business. But you must be knowing how to play it well.