SEO is good and excellent, but how often do you find it hard to keep track of search engine results, blacklisting, keyword research, and more? We all have been there and juggled everything that ensures good search results. Sometimes, that's frustrating and hard to accomplish just right. 
To ease up the SEO work, we do have plenty of tools available in the market. There would be hundreds of tools, and finding the best one is overwhelming. What if we tell you that there is a tool that is effective, reasonable, and totally reliable? Yup, that's Screpy.
Understanding SEO needs is not a piece of cake but something that comes in gradually with practice. However, in this industry of dense competition, you need to work with speed, precision, and accuracy. That's why, Screpy takes care of everything from keyword research, fast-loading pages, Google ranking, website analysis, and much more. 
You must be wondering, 'is Screpy that good or are we just bragging?'. Well, why don't we figure out by looking at every detail of the tool one by one?
Read on and find out if Screpy is a fit for you or not.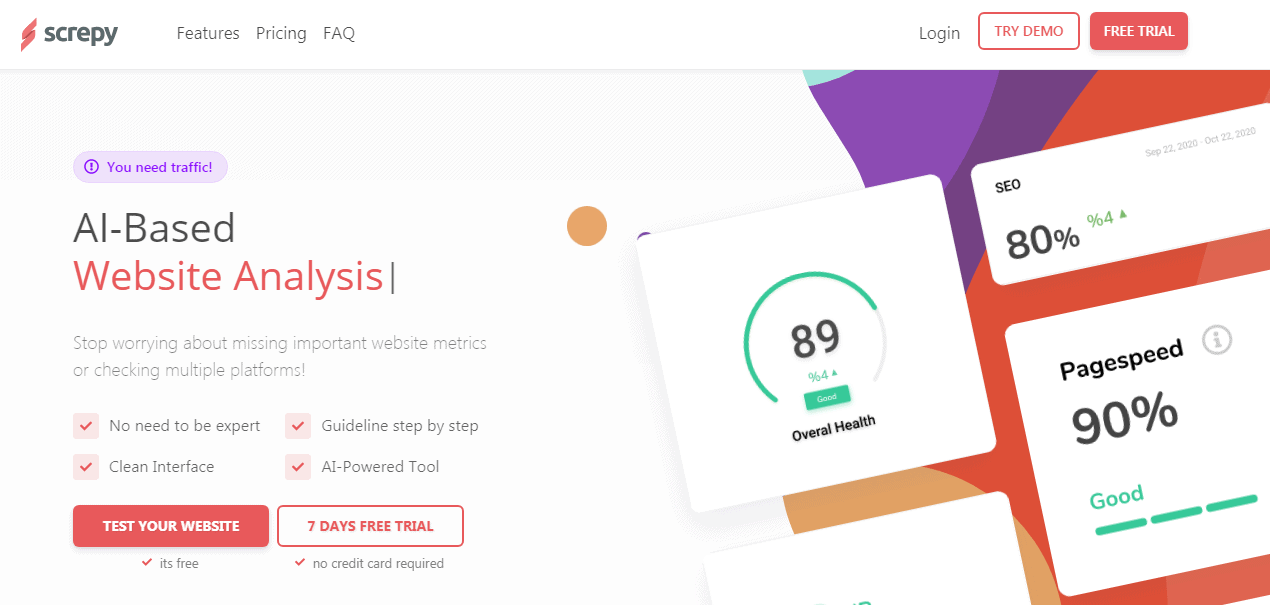 First, let's understand what Screpy exactly is. To brief it up, it is an all-in-one AI SEO strategy tool that takes care of your overall website performance on the internet. You don't have to be an SEO pro. Its clean UI makes things super easy, even if it's a beginner who is using the services. 
Features offered by Screpy: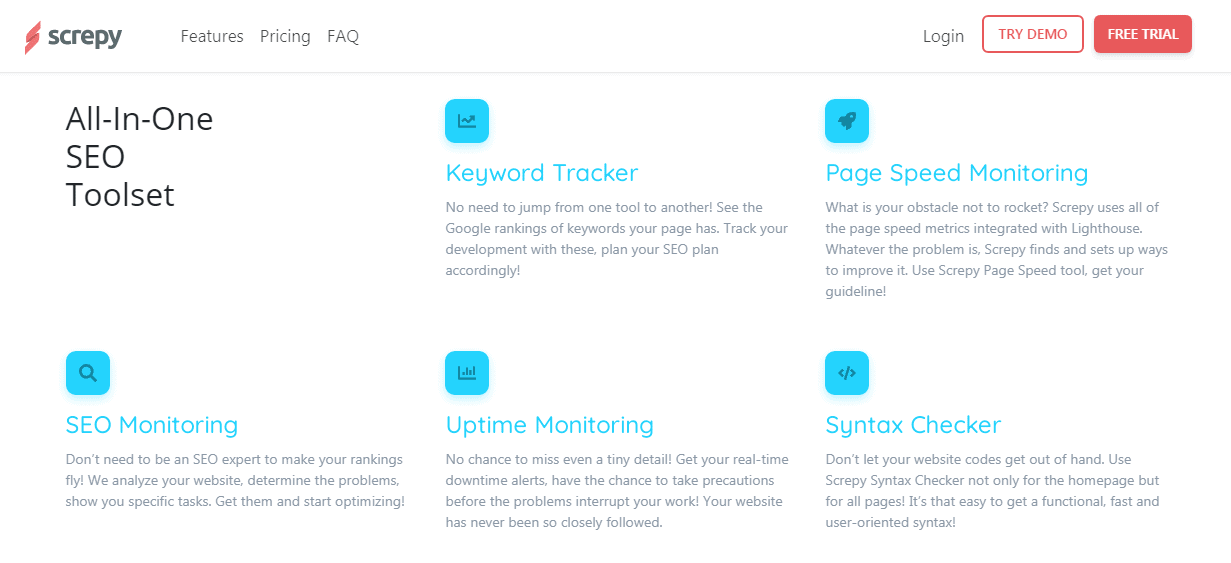 Unlike most SEO tools, Screpy allows you to try and test its services for free. That works for seven days, and it will not ask you to submit any payment details either. All you need to do is follow the steps under its guidelines, and it will surely make you a pro in SEO in no time.
or
Why Choose Screpy?
Screpy is an all-in-one SEO tool that comes with some exciting features. These are what make this tool a go-to solution for the users. So, as an integral part of this review, let's focus on what features make it one good tool. 
Keyword Tracker:
The first thing that makes SEO good is the right keyword research for your website. If this goes wrong, your entire SEO hard work will be a total waste. Keeping this in mind, Screpy helps you add valuable keywords to your project and track their behavior for better results. No matter where you are in the world, what audience you are targeting, or what content you are working on, Screpy gives you the right keyword after a deep analysis. 
Page Speed Monitoring:
Many people would take it for granted that having fast-loading pages on your website significantly contributes to a better rank on search engines. If the page loading speed is slow, your visitors will leave the website in no time. 
To improve your page speed quality and have the visitor's attention right when they click on the website link, Screpy monitors each page through Lighthouse and figures out the problem behind the poor speed. Once the problem is detected, it will show you the ways to improve that for better visitor rates. 
SEO Monitoring:
Yup, SEO is the key factor that Screpy is brilliant at working on, but how does it make it possible? What it does is analyze your overall performance and identify the root cause to detect the core issue. To have it figured out, this tool works best at giving you the best SEO results. 
Uptime Monitoring:
Maintaining a workflow is a must for better performance, which is why Screpy alerts you whenever some real-time downtime is interrupted. It is there to help you figure out the cause so that you can have a specific strategy for this downtime. 
Syntax Checker:
Your website performance doesn't only depend upon just one page. Every page is important to rank to make your website stand out on top. What Screpy does is use its Syntax checker to control the codes and check out for errors on every page of the website. 
Screpy Review: In-Depth Features
Name: Screpy
Description: Screpy is an all-in-one SEO tool powered by AI to test your website for its performance issues. It doesn't need you to be an expert to operate its tool, even a novice can manage the tasks easily with its clean UI. 
Offer price: 9.0
Currency: USD
Operating System: Web Browser
Application Category: SEO
Author: Screpy
Summary
You can use Screpy to push yourself one step further to understand how your website is performing on search engines. Also, keep track of changes in keyword's rankings with Screpy's rank tracking feature.
Keyword Tracker

Speed Monitoring

SEO Monitoring

Uptime Monitoring

Syntax Checker

SERP Results
Pros
14 days money-back if not satisfied.
At any time, you can upgrade or downgrade your plan.
Flexible and easy to understand UI.
Cons
No API access on any plans.
Free trial only for 7 days.
Instead of jumping right at the features that make Screpy a brilliant tool, first, let me show you how you can get access to its dashboard. All it takes is just a few easy steps, and you are all set to explore the tool.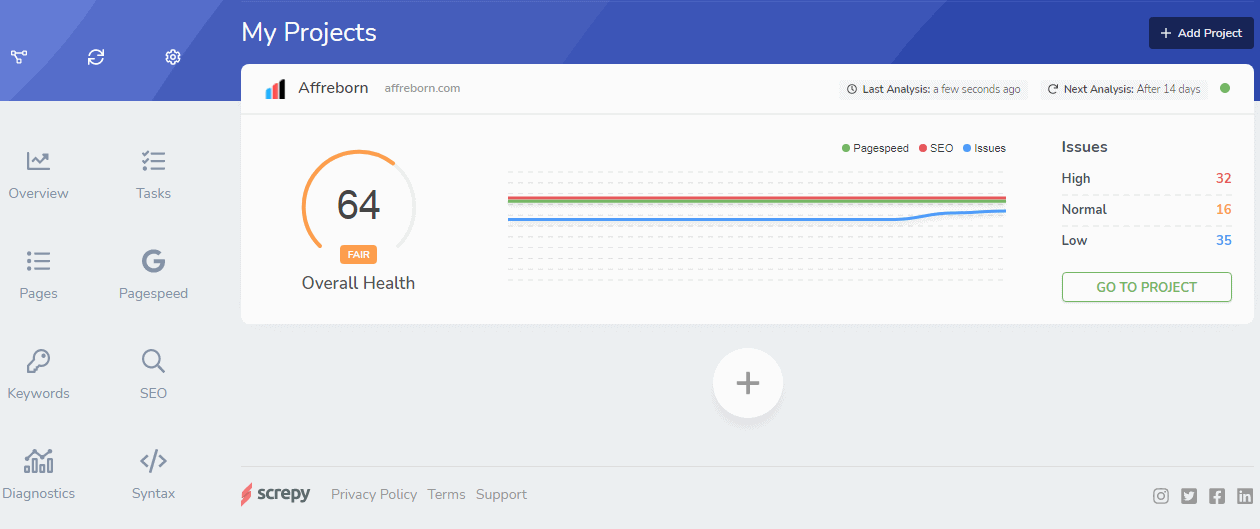 Visit the website of Screpy and hit the free trial button. 

Type in your email address and password.

Once done, click on the 

Add a Project

 option. 

Name the project, paste your website URL, select the location, and hit 

Submit. 
There you go, you have added the link, and now you can check out all the metrics by visiting the left-side menu.
Now, let's dive in deeper and check out what all features make Screpy a great tool to try out.
Page Speed:
How many times do you go to Google, type in your search query, and click on the link that takes time to load? You know there is everything you need on that link, still, having relevant content is not enough for you to wait around for minutes to load the page. 
In this case, you end up backing out and visiting another URL that is fast loading and is somewhat related to what you have been looking for. 
That slow website can be yours too and having a slow speed can make the customer visit your competitor's website in no time. The reason? Nobody likes to wait that long. 
When a customer clicks your website URL and bounces back to the previous page affects your website performance. This is where Screpy comes in with its thorough website health report. These reports on page speed are integrated by Lighthouse that shows tasks you can perform to decrease website bounce rate. 
Figure out the errors with Screpy and work on your page loading speed with perfection. Not just that, you can also keep track of your progress and notice how fast it shows results.
This page speed analysis doesn't only work with the homepage but also on other pages as you add each one of them. Screpy measures the metrics individually for every page. In fact, you can have unlimited scanning reports and results on your dashboard with its reliable features.
Check it out once, and you'll know.
Uptime Monitoring
There can be times when your website will be down out of nowhere. You will have visitors, but they can't get to your website because you don't know about the situation.
What if there is a tool that will alert you whenever your site is down? Screpy takes this responsibility by providing you detailed response time graph. Besides, when you get the notification, you will have a report that shows you where the problem occurred. This way can understand what factor of downtime was affected and how you can fix it.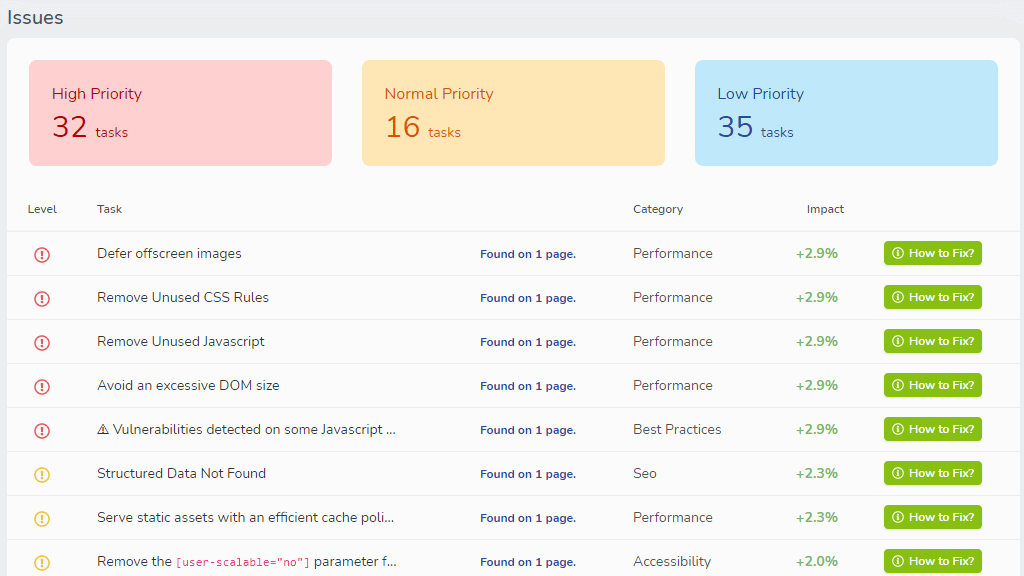 SEO Audit
We have said it before, and we say that again that Screpy is for everyone, no matter if you are an expert or an amateur. Starting your SEO analysis and worming on website ranking is best with Screpy because it gives you steps to follow and helps you lead in the market using a bunch of tricks and tips.
Screpy scans the website and shows you a complete guide on how you can improve your overall performance. All you have to do is follow what it suggests, consider real-time SEO rules, and work on both on-page and off-page SEO without puzzling.
When it comes to working on SEO, Screpy lists down various metrics for you. These include headlines, descriptions, linking, image load, minefield JS & CSS, and unused JS & CSS. You get to work on these ones by one. Also, once you have that green tick on the factors, you don't need to modify the setting thereafter.
Having a green tick is not enough. You still have to keep checking if the red tick comes up. Again the whole process starts just to keep improving your website ranking.
Keyword Research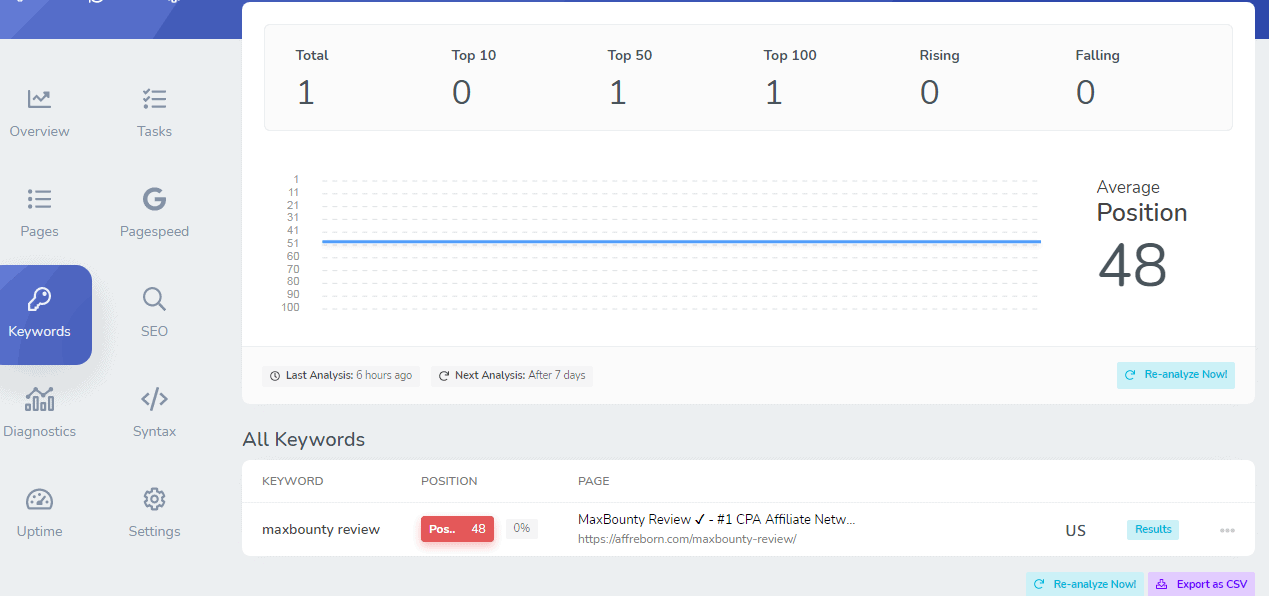 Everything in content marketing starts with having the right Keywords. This is the initiation stage that comes in even before you start writing content for your website. If the keyword target goes wrong, there is no point in anything else.
You know how significant the keyword is. Now imagine if you can have a list with you of possible keywords and highlighted keywords that are easy to target? Scrappy's keyword research makes that happen along with making a keyword list precise to position, location, and 'why' behind that keyword.
Isn't it great?
While we are on the keyword research by Screpy, it is amazing because, unlike most tools, it shows you data for the last 12 months. Based on popularity in region, genre, and fluctuation, you can easily figure out the right one for you.
You take the keyword with you and leave the rest to Screpy because it takes care of its performance in the future. All you need to do is mark it down, and it will keep you updated about where the keyword stands.
Screpy Plans and Pricing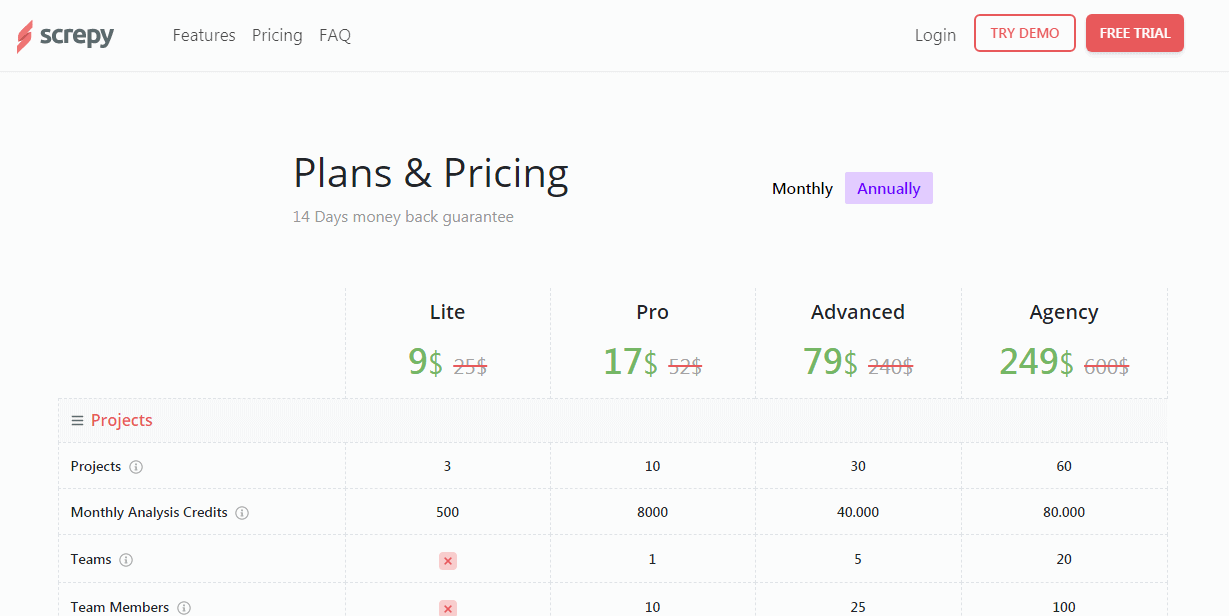 Screpy knows what to do to improve SEO and website ranking on search engine results. However, when we talk about pricing, you must think that it is pretty expensive. That's not the case. Understand why.
First of all, Screpy is here with a 7-day free trial, which is cool because you get to test the product and its features. If that trial goes right, you have three plans to choose from that start with $9 per month. Pretty cheap, right?
Screpy is one good tool that offers two months free, but only if you pay for an annual subscription. Your plan choice totally depends on factors like how many websites you want to rank. So, the expensive one will be only for the marketers and companies that make multiple websites to rank. Besides, you will have plenty of options to make the payment like debit card, credit card, payment apps, and more.
This tool offers you a 14-day money-back guarantee without any questions asked. So, your money won't be stuck with it if you don't find it up to the mark. You can always ask it back if you find it nonreasonable.
Also Read: Other SEO Tools Review
Conclusion: Screpy Review
You may be looking for ways to rank your website but let me tell you. There is no shortcut to have it. All you can do is take help from a tool and do everything professionally with trackable performance. Screpy is what you need to make everything easy for you.
Screpy is one amazing auto-generated and deep detail-providing tool that works tooth and nail for your website's performance. Try out its free trial and see how well it fits your overall needs.