Summary
Sendy is one outstanding self-hosted email newsletter application. This application lets you keep a track of emails via Amazon Simple Email Service (SES) that will allow you to send out bulk emails.
What are your preferred ways of updating your customers and clients with your business updates? You send out messages? Share posts on social media? Well, there are many but the most effective one is the newsletter.
Have you ever thought about why companies tell you to sign-up to receive newsletters? The reason behind this is to share with your the introduction of a new service, up-gradation of an existing service, or anything new that is happening.
Where there are many platforms that offer you newsletter-related services, there is Sendy which is just great. So, we are here with Sendy Review to help you see how amazing this service provider is.

Sendy is one outstanding self-hosted email newsletter application. This application lets you keep a track of emails via Amazon Simple Email Service (SES) that will allow you to send out bulk emails. With Sendy, you can actually send out bulk emails without compromising the deliverability of emails.
Where most of the users are still stuck on automatic platforms like Mailchimp and Aweber, Sendy is a lot different from them. It offers you the freedom you are looking for to get your own stuff done in your way.
Features of Sendy
Now, moving forward with the Sendy review, let's have a look at what features does it offers. So, here they are:
Handling thousands and lakhs of emails is not an easy task. Therefore, Sendy helps you out in arranging such big numbers in groups or 'brands'. You can set your own limits and allow the clients to send out newsletters as and when you want. So, you can have control and make every task easier with Sendy.
Having an accurate report of every campaign is a must when you want to improve your tasks to grow your business. This application offers you that report and helps you analyze it for a better business working. From opened emails, clicks, bounces, segregation, to complaints, cancellations, and a lot more. Sendy shows you the results in an attractive and understandable format.
Listing and subscriber management
Managing your subscriber's email list is a big task and takes a lot of time and effort. But, with Sendy, you can make it a lot easier and faster. Arrange mass imports, delete subscribers, send thank you notes, manage custom fields, and everything that you want. Moreover, in a nutshell, this application makes sending/receiving emails a lot easier.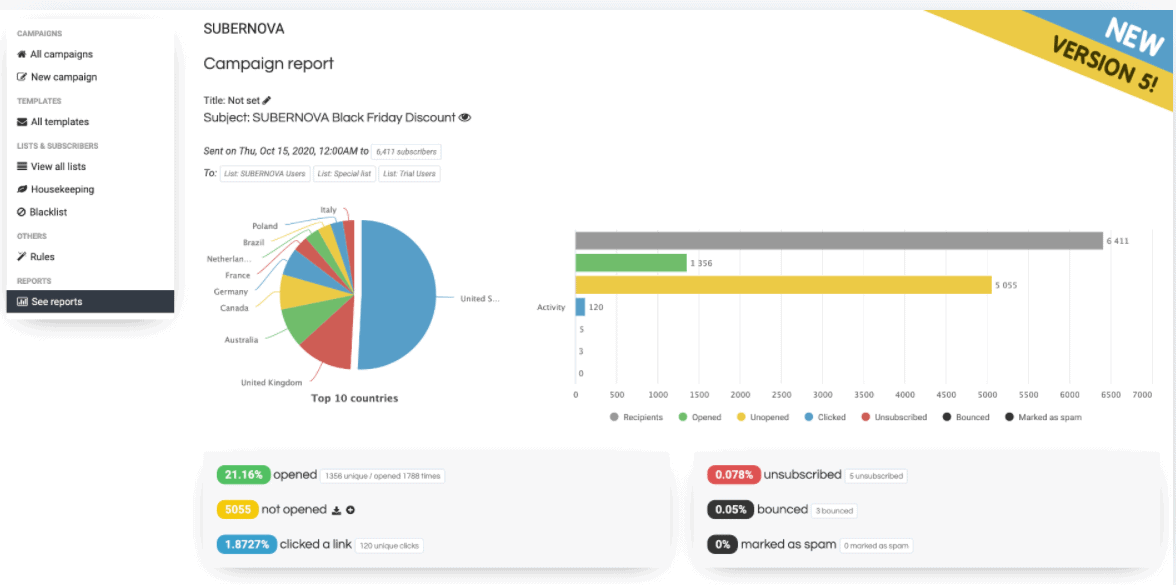 You may find it pretty hard to send out emails from time to time. With Sendy, you can adjust your time and email list to make this process automatic. Besides, it becomes very handy when you get to automatically follow up with your subscribers after every interval of time. Isn't it relaxing? Very much. 
Handling records of bounce and unsubscribe
With Sendy, there is no need to worry about unsubscribers and complaints. The major reason is it cleans such things immediately and without any effort of the user. Moreover, there is no need for you to go through any manual to posting campaigns and just watch them unfold. 
Integration with the third party
It is not like if you work with Sendy you cannot access other applications. Sendy integrates with many other popular applications be it WordPress or Magento. All the credit goes to its third-party developers. Besides, it is really great at working with Zapier, hence, any app available at Zapier can be easily accessed through Sendy. 
Your domain name plays a very important role in maintaining your brand name. Sendy allows you to get rid of any unwanted URL and use your domain name to mark your brand. Also, in other ways, the receiver will be able to recognize you in a go. 
Just like our mails have some unnecessary mails in our trash, Sendy also allows you to delete any extra mails. There are times when you will have a number of unknown email addresses that people might use to sign-in. You can simply delete those. Besides, you can also delete emails from people who never engage with your emails. You can simply clean your email application with just a simple click.
All these outstanding features make Sendy a brilliant application to go for when it comes to sending out emails. However, apart from features, we need to know a lot more about it.
About installation and setup
Let's discuss more installation in this Sendy review. Once you make the payment, you will get detailed information about the installation of Sendy. The team of Sendy will send you a detailed installation guide to your email. Apart from installing the application, you will also receive a guide that walks you through the process of setting up Amazon SES. Simply, nothing complicated. All you need to do is stick to the guide the team provides you and you are good to go.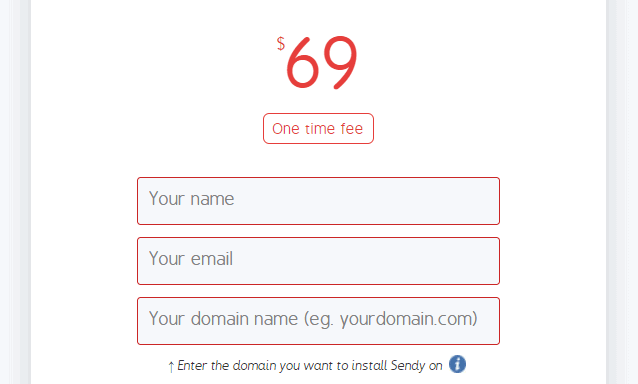 Pricing 
As compared to other platforms, it can be seen that Sendy is a lot cheaper and convenient in terms of price. There is no monthly or annual payment but only a one-time payment of $69. Furthermore, if we compare it to other platforms, sending out about 10,000 mails can cost you $100- $200. However, with Sendy, you can cut down this cost to just $1. Don't believe us? Try it out yourself.
Customer Support
There are not many options available for users to get in contact with the Sendy team. However, if you are looking for a solution, you can either email them with the query or share the doubt using the support forum. It may take some time to respond but it would come up with some well-defined information to help you out. Therefore, it might not be as good as other platforms but still pretty helpful.
Pros
Extremely cheap prices.
No periodic payment but just one-time payment.
Have the flexibility of sending out emails as you want.
Full control over the newsletter activities
Automation of sending out emails
Perfect listing and division of a huge email list
Constant report of the email newsletter to make the best growth decisions.
Cons
Can be difficult for people with no technical knowledge.
There is no pre-made template for sending emails.
No automatic backup.
Even though there is automation, you would need to handle a lot.
Limited options are available to contact the team.
Conclusion to Sendy review
To conclude with this Sendy review, all we can say is that there may be a number of auto-responding email service providers available. However, when it comes to Sendy, it is the ideal platform that allows you to send out emails in a more efficient manner. Yes, it is absolutely cheap and you might need help from a professional or tech expert but once you get used to it, it is totally worth your efforts. So, keep your customers updated and send out emails without any further ado.