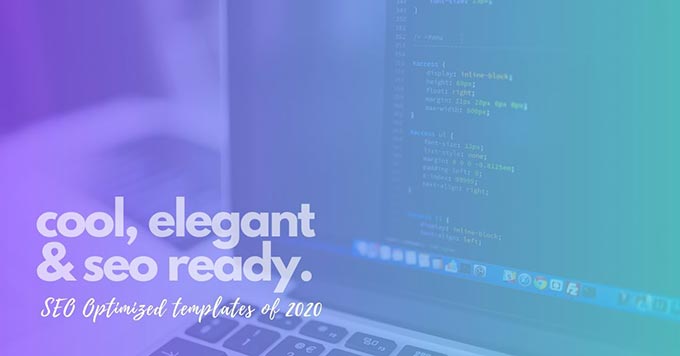 How often did you go to the search button just to have one reliable WordPress blogger template and feel like, 'Nah, this one isn't right.'? Trust me, we all have been there. Having a good template isn't just about giving your blog a can't-take-my-eyes-off look but has more to do with technicalities like SEO and more. However, in this sea of plenty of fishes, it is pretty tough to find one that serves all the purposes.
Not to worry, here is a quick list of all the best SEO-friendly templates that will make your blog look attractive and also keep it on top of the search result.
Let's dive in and see what will suit you the best.
Also see: SEO optimized WordPress themes of 2023
Top SEO Optimized Blogger Templates in 2023
#1. Flat mag SEO-friendly Blogger template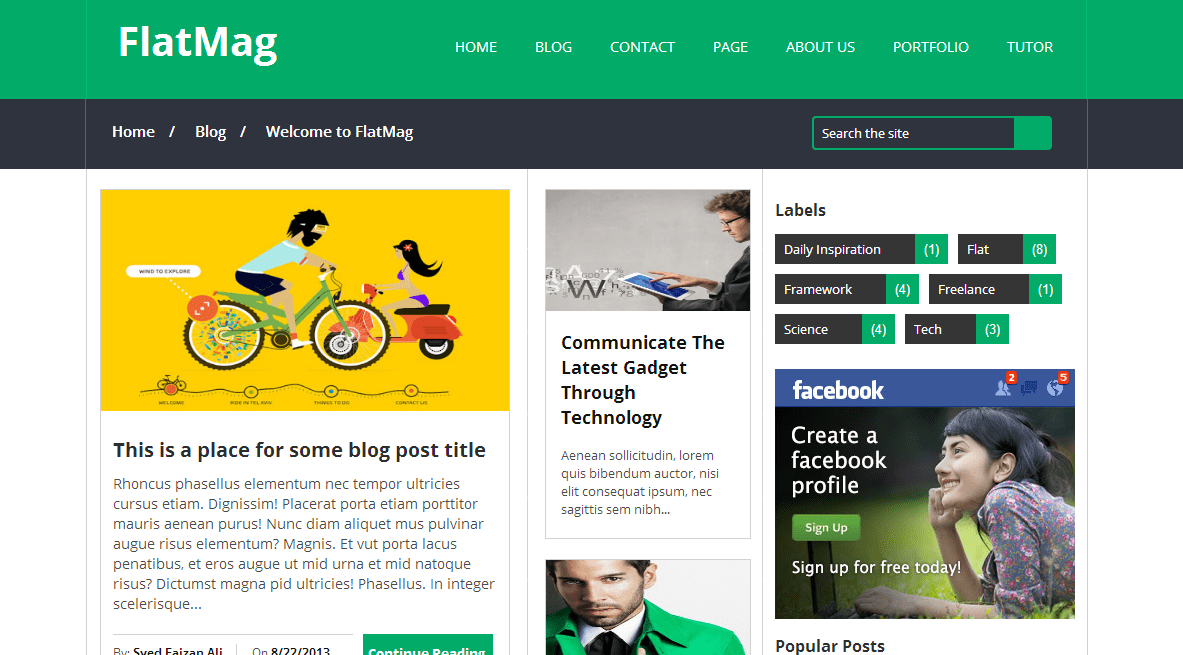 Live Demo/ Download Now
Not a fan of calligraphically-gorgeous websites? Flat Mag is open to go. It's pretty simple, intuitive, and displays the simplicity of your blog. Its clean design is what attracts the most because that's what makes it one of those professional magazine-like websites.
You may think this is too simple. Well, that's the beauty of this template. In fact, there are makes this template a go-to option for you. Moreover, you can even try out the following for the better results:
Good Content (obviously!)
Choose the High-Quality Stock Images
Right widgets work wonders.
Not to forget, better Ad Placement
#2. Magone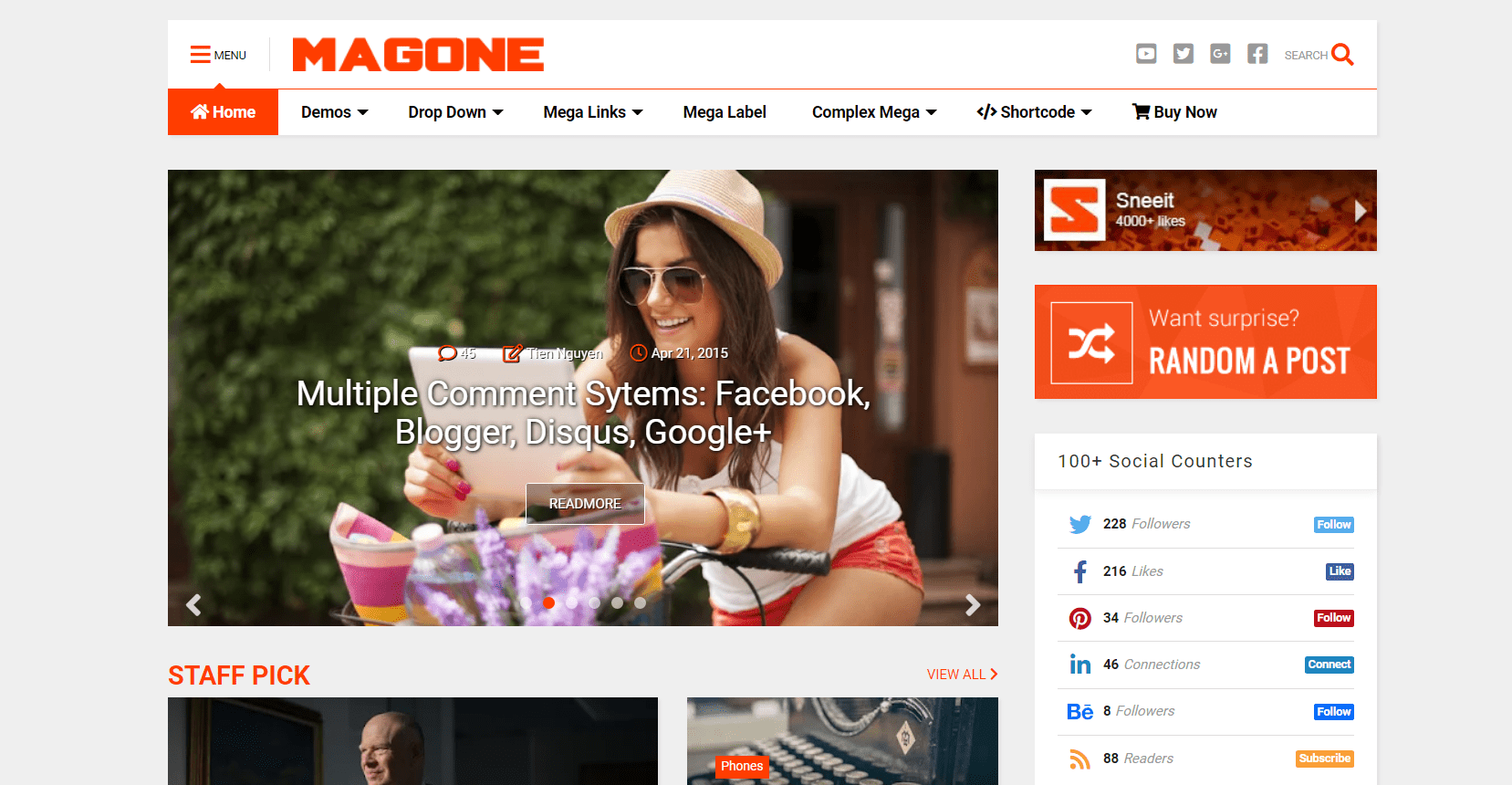 Live Demo/ Download Now
Another simple yet elegant template that stands as one of the best SEO-responsive templates is Magone. This one comes with a simple drag and drops option with a magazine-like look that comes with multiple layouts. You know what it means to your whole blogging website.
Not just this, many features make it an amazing template for the users.
It's a 1-click installer
Comes with a 6-months inclusive support
Has a powerful website builder
Continuous updates
Live Demo/ Download Now
If your blog is from a specific narrowed-down niche, just like mine, you can choose to be simple with simplicity. Stop coming across complexity to look pretty. Simplicity is the template that can get you some bucks in your pocket with minimal effort in editing the blog.
Simplicity is indeed known for its ability to give you organic traffic, compatibility with your content, and friendliness with all the Google bots that ranks the web results. Plus, the good thing is, that it shows all your content right on the home page.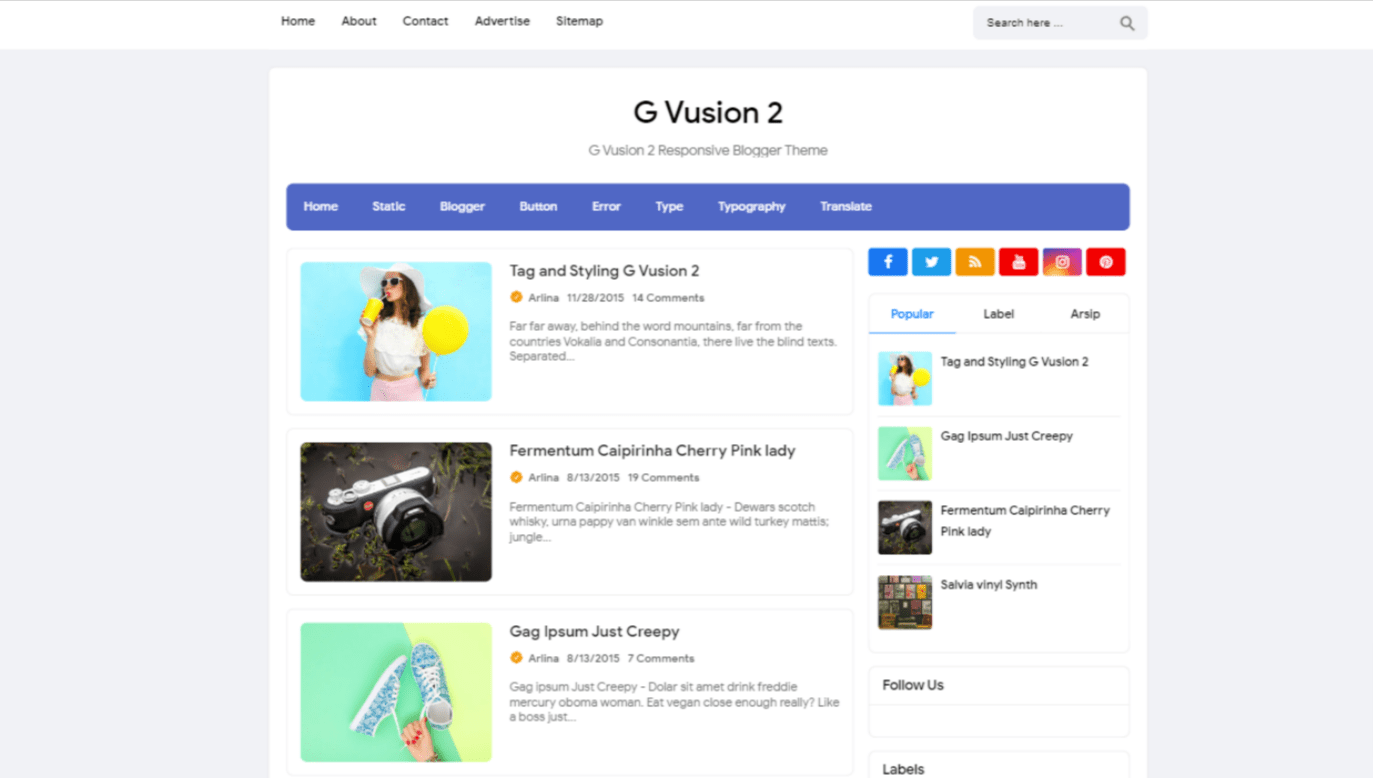 Live Demo/ Download Now
G Vusion comes with an upgrade with an awesome SEO scoring template that totally compliments the content of your blog. This template is created by Arlina Design which doesn't only care about the looks of the website but also has a soft corner for amateurs, which is why you won't need to hassle with coding. Just drag and drop, and you will have a beautiful website.
G Vusion 2 is simply an elegant and simple template that requires no hard work but just a bunch of easy steps. Besides, this is just right for personal blogs with cool widgets, a translation-ready theme, and many more. Surely, you'll love it.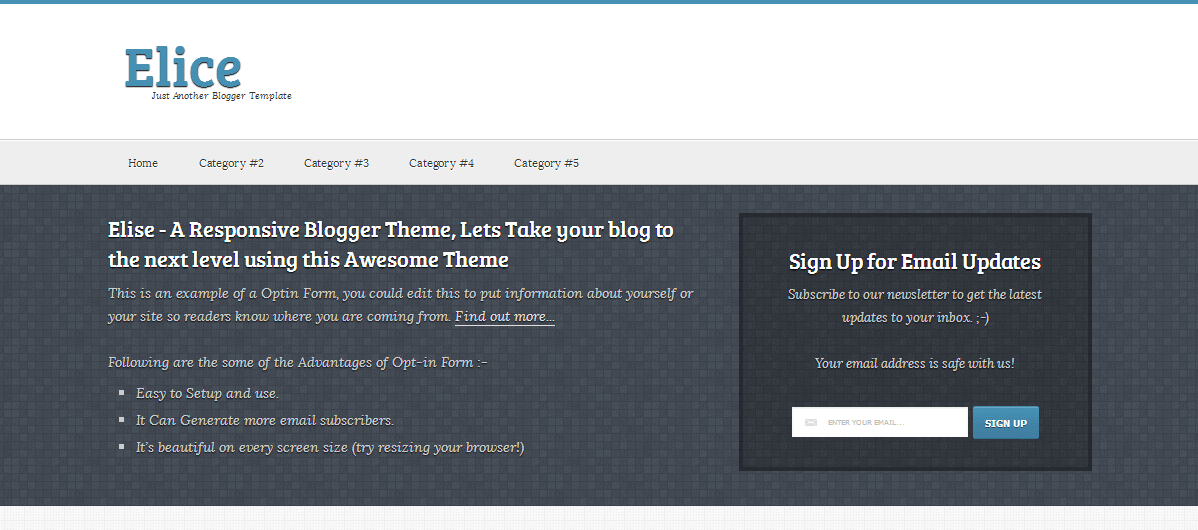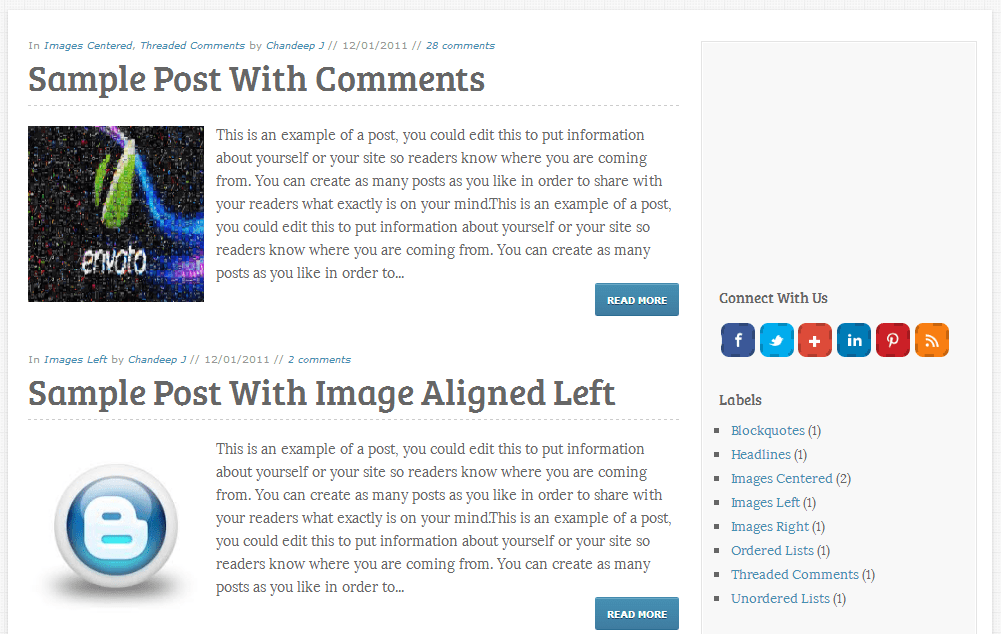 Live Demo/ Download Now
Here comes the theme that looks too technical and serious; Elice is suitable for websites that focus more on studies or tutorials like blogs. Just when you have a look at it, it looks quite similar to that of the Genesis child theme (Generate Pro) type. No matter how professional it looks and how intuitive graphics it has, the game-changing factor is that it is a responsible and highly competitive theme to have for your blog. Trust me. You'll beat the competition with this one.
#6. Timeline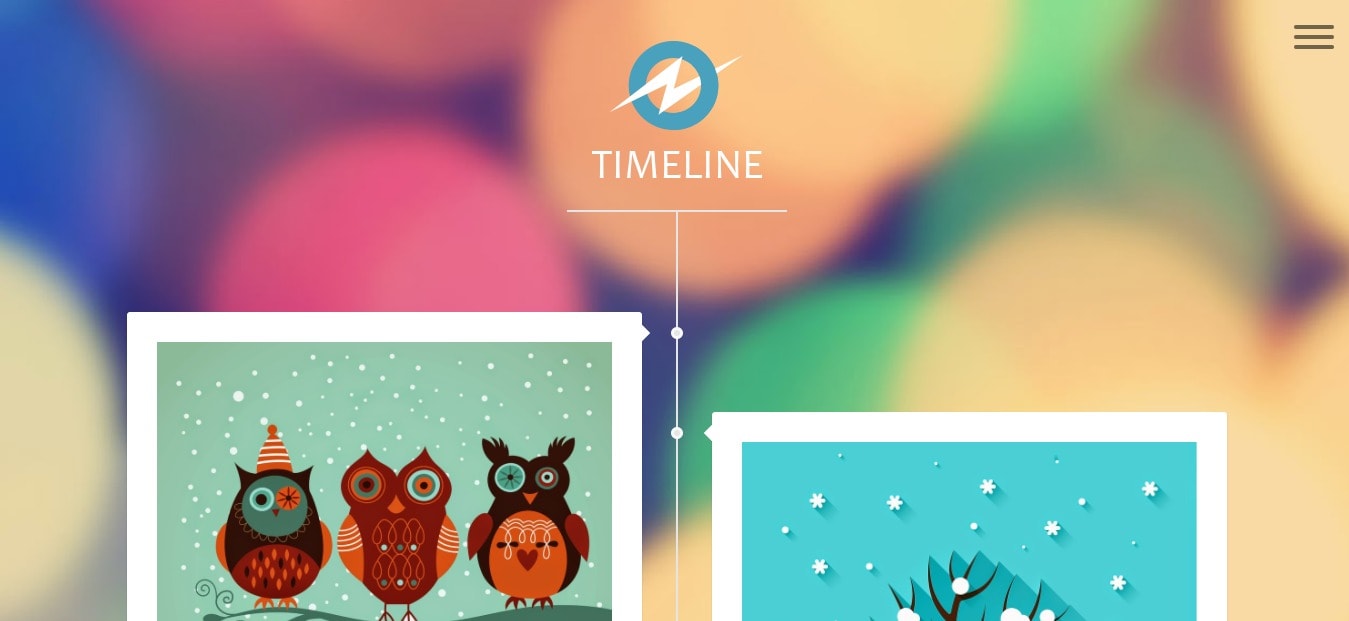 Free Download
There is nothing more catchy than those social media templates. How about having a similar theme on your blog? TimeLine makes it possible for you by giving you the Facebook timeline-like look to your website. As this is like a timeline that looks good on both laptop and mobile, this one will even suit bloggers who love to post daily.
Not just the attractiveness, TimeLine also is an SEO-friendly template that comes with cross-browsing facilities. It allows ads on the template for your extra exposure and earning. Moreover, there are a bunch of exciting features that you will fall in love with once you give it a go.
#7. Fashion blogger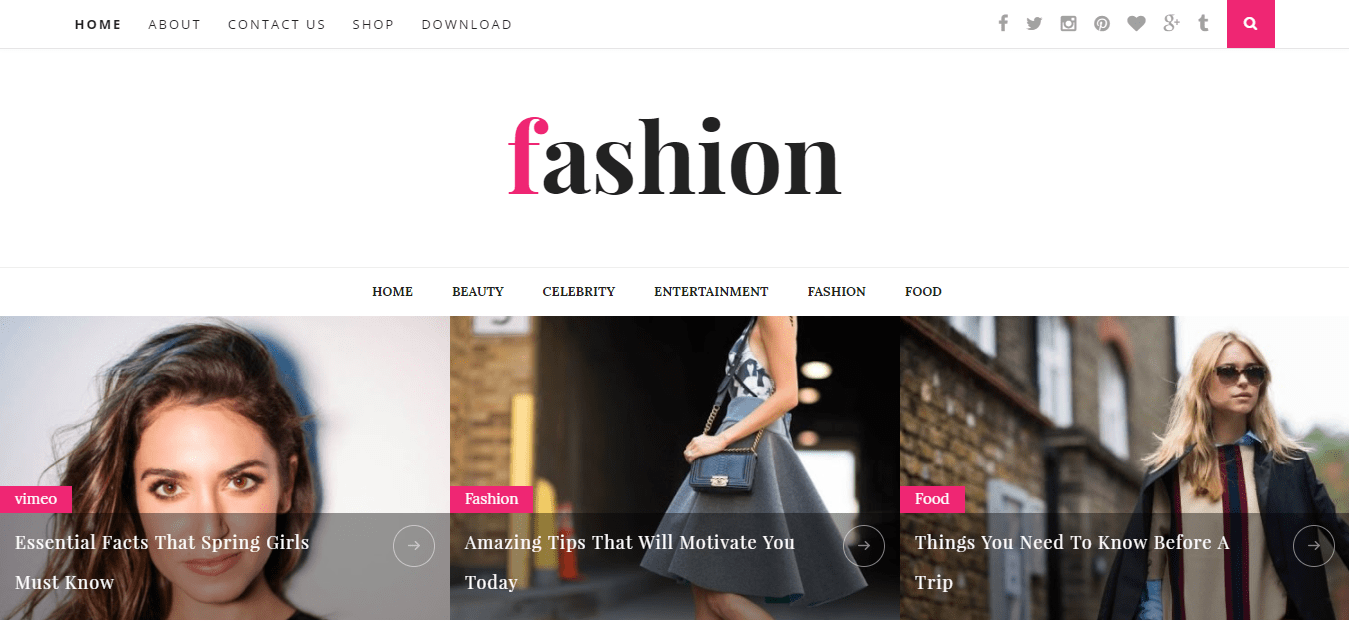 Free Download
Are you a fashion freak and want to share your fashion wisdom with the world? Here is a perfect template for you – Fashion. This is something like an online fashion magazine that displays your fashion updates and blogs really nicely. It's easy to customize and works like a storyteller attracting other fashion freaks right to your website.
Let's talk about Fashion's features a bit. This theme comes with some excellent color manipulation abilities. Along with that, there are some appealing fonts, widgets, and icons where you can share further information as social media connects. So, let us know how perfect does this one looks?
#8. Viral Mag
Free Download
here comes another magazine-looking template for your blog where you can share your unique ideas just like any other renowned name in the industry. ViralMan has the layout and design that you have been seeking since your template search. Not just its design is pleasing to the eyes, but it also is easy to edit.
ViralMag is known for its multi-author box, where readers can sneak peek at the blog's authors. The good thing is that this template is compatible with different browsers so you don't have to work with different SEO algorithms. Moreover, try out its colorful presentations and fonts, and you'll know how amazing it is.
#9. Avocet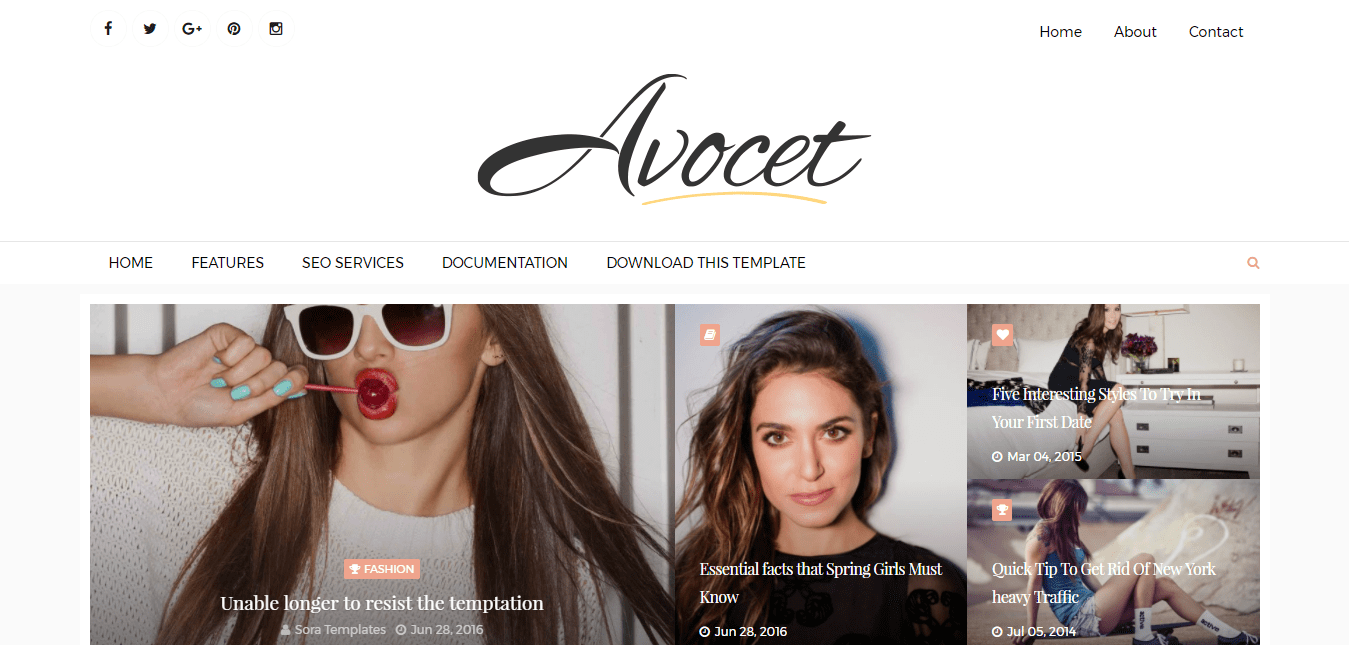 Free Download
everybody loves to follow the expert, and you can look like one using a professional yet fun template for your blog. No wonder Avocet sets itself as an ideal template because of its perfect blend of classic and modern style. If you ask me, I'd say this goes perfectly for bloggers who are into the lifestyle, travel, food, and fashion world.
Avocet is pretty much a popular template mainly because of its typographic features and flexibility of design. There're multiple headers, slides, and layout options that you can experiment with effortlessly. Undoubtedly, once you get the right mix of your preferences, you'll notice its impressive responsiveness.
#10. Gamer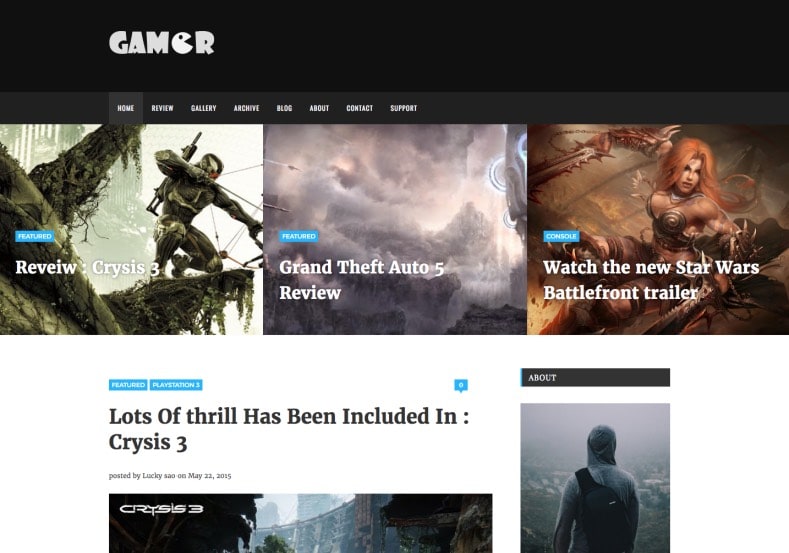 Free Download
The gamer inside you is not satisfied with all the fancy-looking templates, and the search for the perfect template is still on. I totally get you because, let's face it, we all have been here. That's why here's an ideal gaming theme that may quench your thrust for the best one. Gamer is the one that gives you the freedom to present your findings, reviews, trials, and recommendations to the world.
Yes, Gamer is great for gaming blogs, but what else? This template is SEO-friendly that works brilliantly if combined with HTML5 and CSS3 code. It may seem like a classic theme, but it sure gives the pro-gamer vibes that every gaming fan wants to experience. Besides, the layout and color options are exactly what this type of website should have. You know what to do next.
#11. Food and lifestyle blog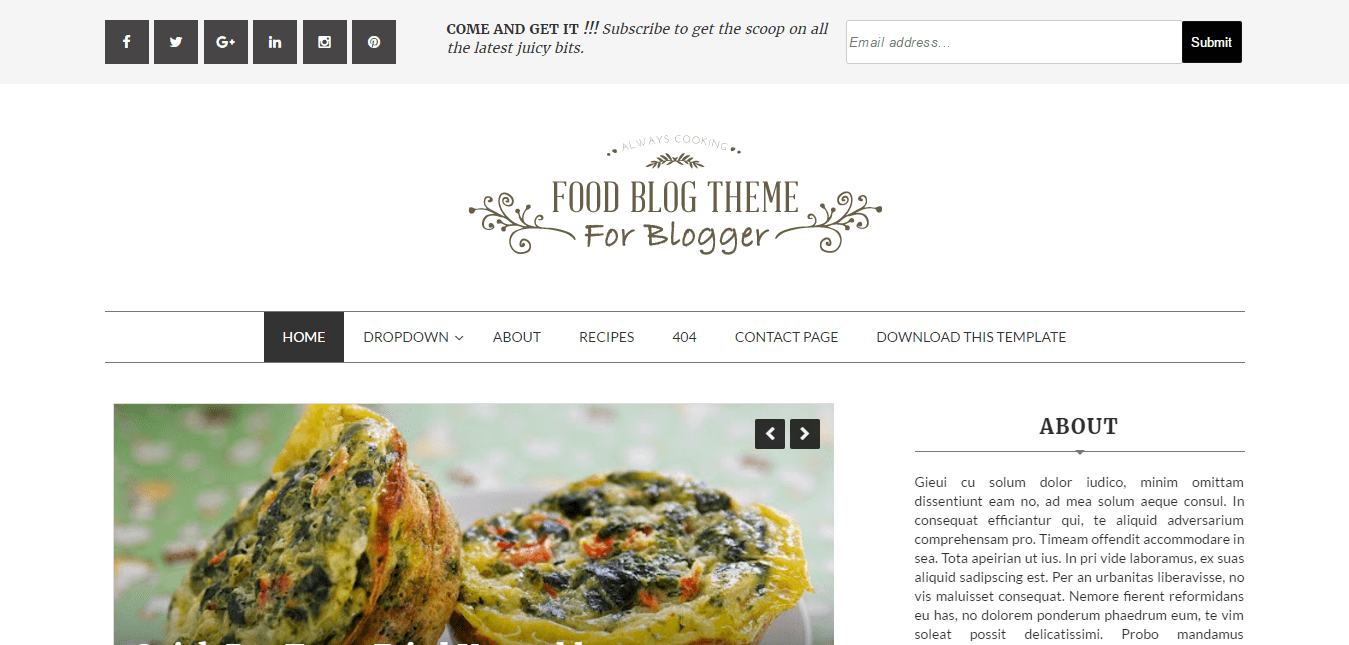 Free Download
There are like gazillions of food blogging themes out there on the internet, and this large collection may seem too overwhelming while you are on a template search. How about having a super simple yet elite-restaurant-looking template for your food blog? The food and Lifestyle template is just the right blend of what you were looking for.
#12. Perk Misty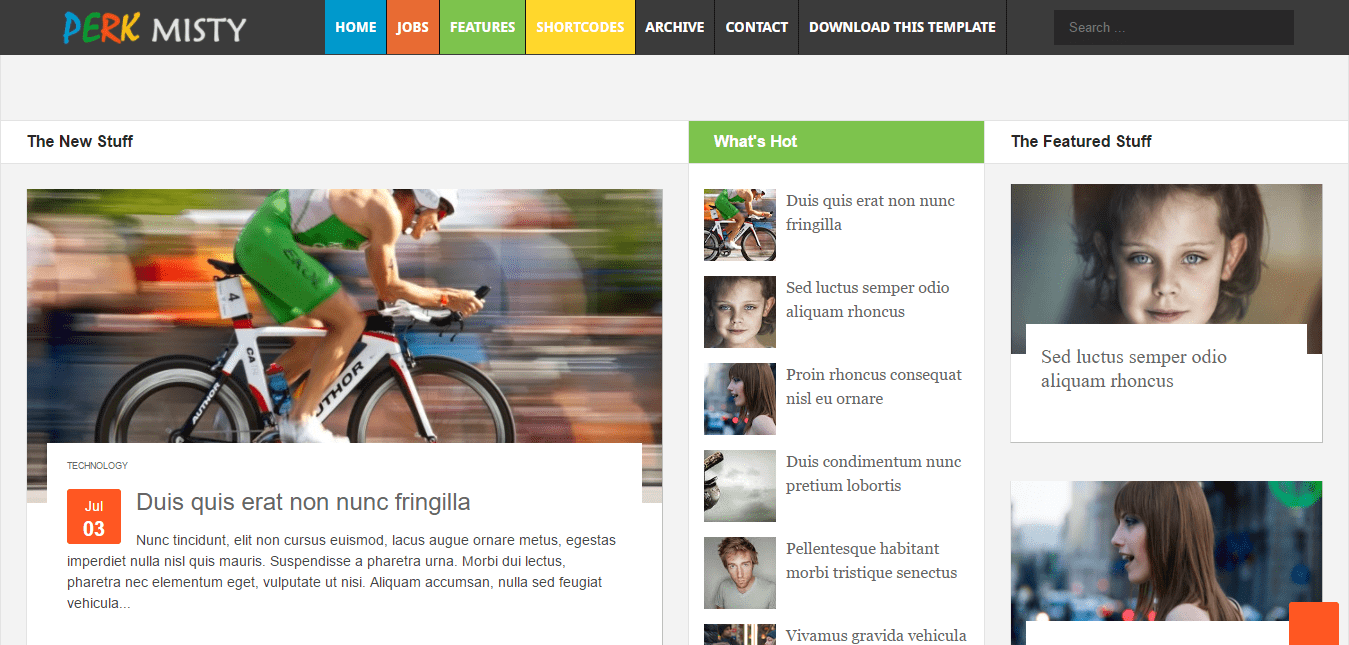 Free Download
With Perk Misty, now you know we have plenty of options for online magazine-type blogs. This one is yet another graceful website template that displays every article of yourself with simplicity but not too much. Again, Perk Misty is one of the best SEO-responsive templates that helps the users rank higher on every search engine there is on the internet. Not to mention, its widget options and media options are top-notch.
#13. Minimalist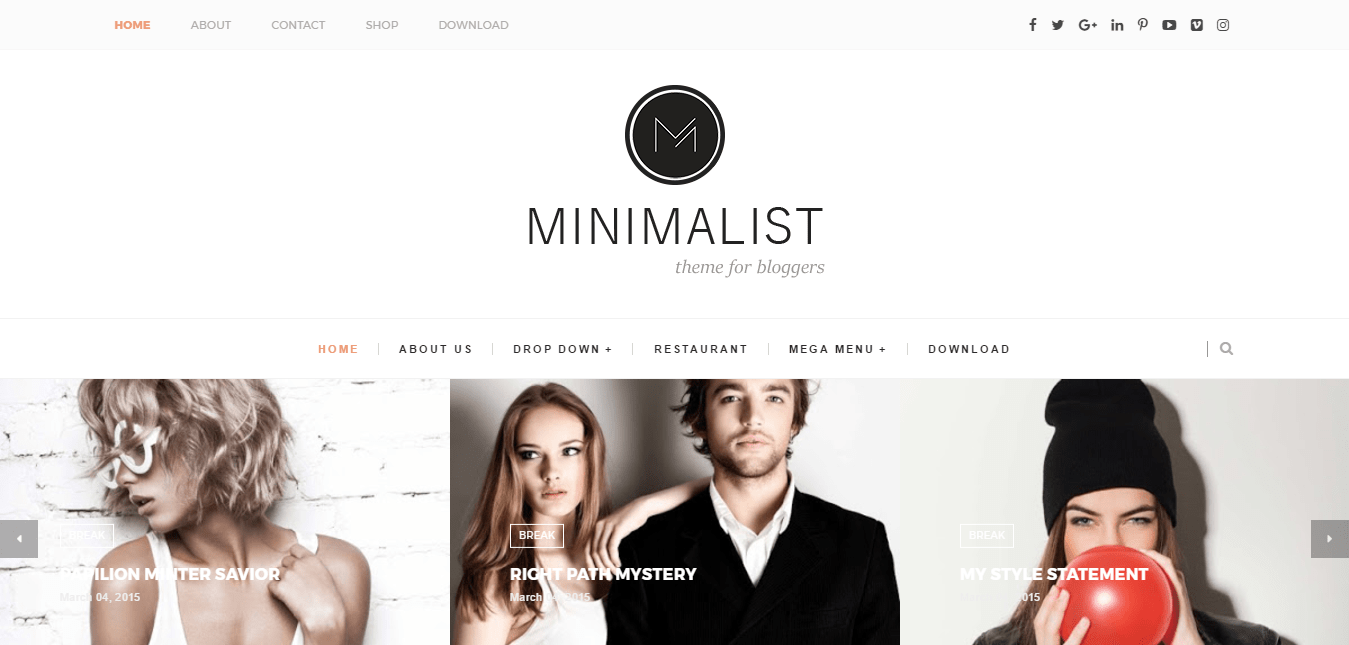 Free Download
With minimal design, minimal calligraphic font, and minimal style, this template is indeed the Minimalistically simple that you would have. No matter how much content you have, it will look amazingly organized on your website with this SEO-friendly template. Not just it, there is a grid-type format that is usually available in 2 forms – slider or carousel. It is simple, but your visitors wouldn't want to take off their eyes from this amazing template.
#14. Sugar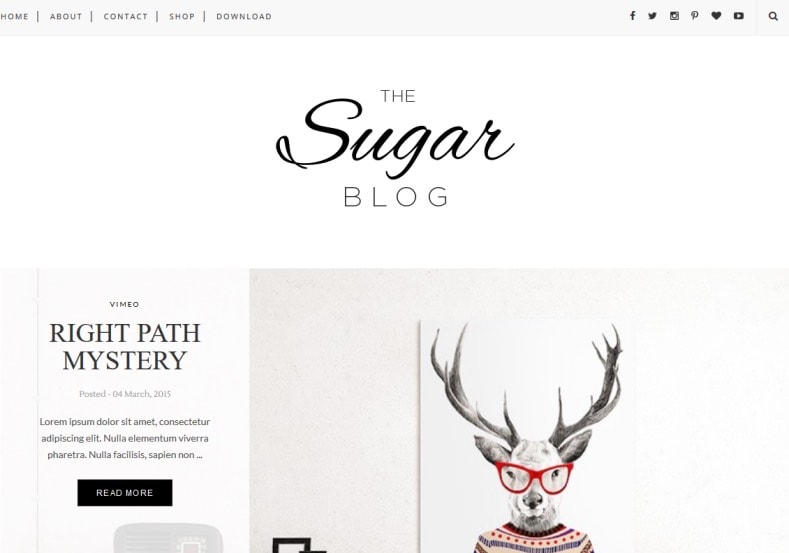 Free Download
Sure, minimalist is too minimal when it comes to design, but how about just a touch of creativity? That's what you can expect from Sugar. This is the best template to be summarized in the word 'Elegance.' Just like the name suggests, Sugar is indeed a sweet template that comes in bright color combinations with a well-cut design.
This one is not only perfect for the blog but also for keeping up with your newsletter. This one is also SEO optimized and has an amazing display of widgets, comments, cross-browsing, and more. To all the personal bloggers, this is the way to go.
#15. Feminist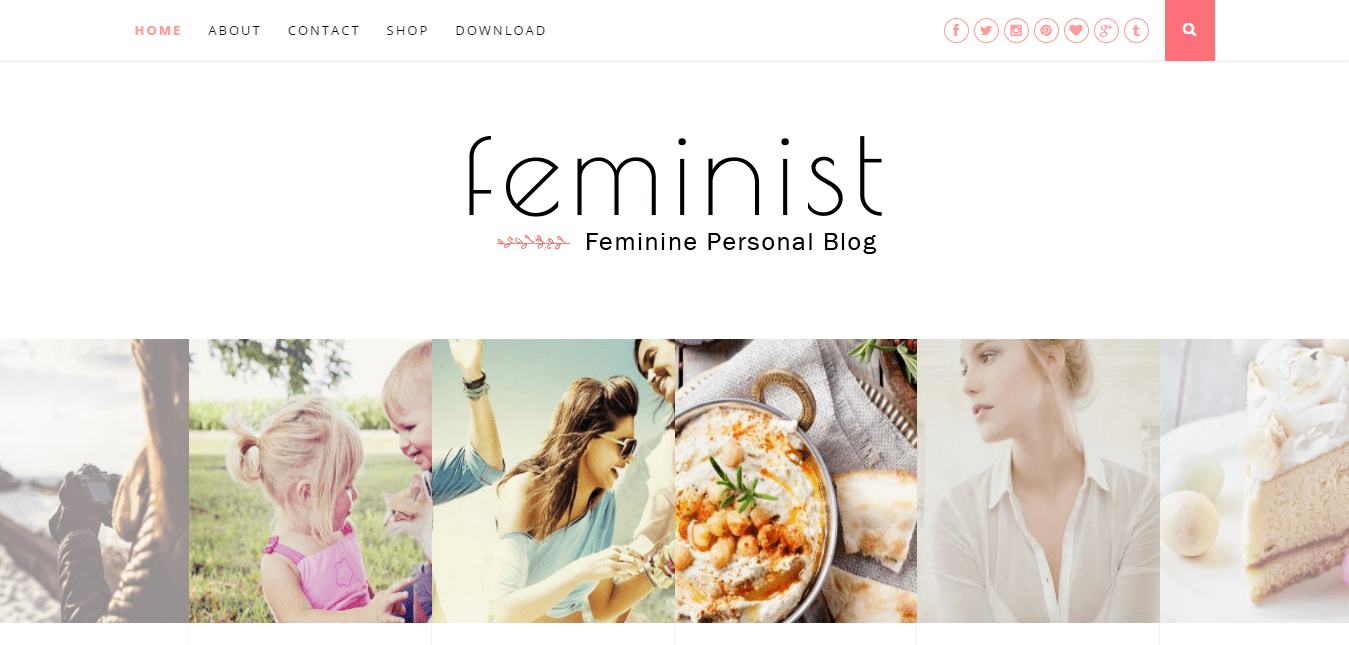 Free Download
Last but definitely not the least is Feminist, which truly defines the feminine touch in you. This is a two-column blogging template that works with a beautiful sidebar. You know how this look is attractive from the reader's viewpoint. It is an SEO-friendly template with exciting features like a personal page, bookmarking icons, subscriptions, and more.
Femininity is also described through its color as everything can be found in the shape of pink color in icons, background, and in other options.
Many of you may not like the tiny iPhone, but I am a fan of the iPhone 12 mini. I like how it looks, how it's easy to carry around, and how it's strong enough. The appearance and texture of the template are the same.
Small and simple enough to pique the user's interest, yet stylish enough to be seen
SEOMag is a beautifully designed and coded blogger theme that is optimized for search engines and runs efficiently on all devices. Because of this, it's an excellent option for anyone looking to establish a blog dedicated to a particularly narrow audience.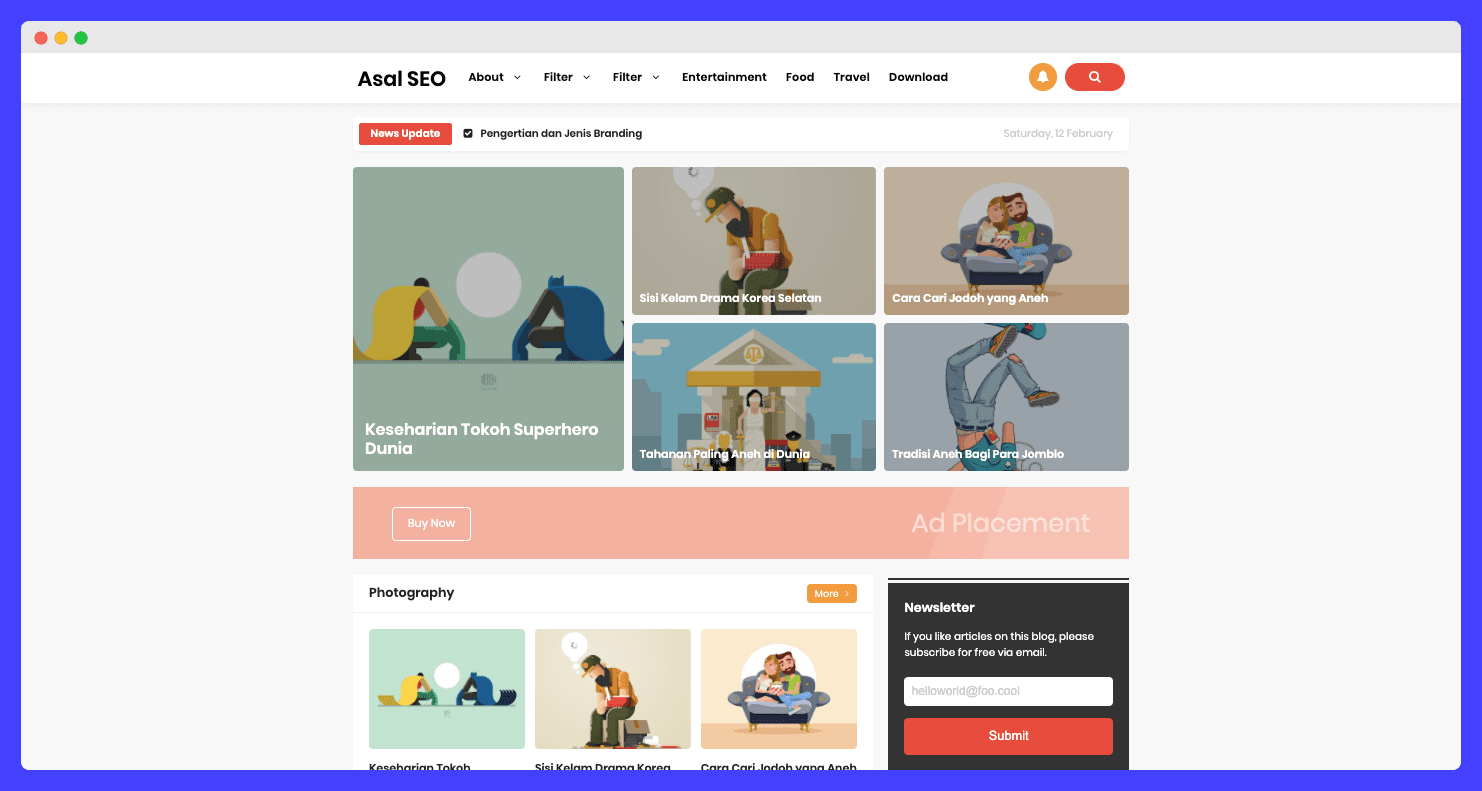 According to what the name says, it appears to be the most search engine optimization (SEO) friendly blogger template of this year. There is also a free version that just includes the most fundamental functions.
However, since it includes more than 4 premium demos in its package, there is significant potential for you to construct a stunning blog using this template. The fact that this design comes in four different styles—style 1, style 2, style 3, and a dark version—makes it a one-of-a-kind option for novice bloggers.
Over to You …
After seeing various blog template options, you may choose the finest option and have fun while writing on the internet.
All of the discussed templates are useful in their own ways, but these two, in particular, aid with readability and presentation. Choose the one that best fits your voice and keep writing your blog.
Conclusion – Best SEO-friendly Blogger Templates
It is all up to you how neat and clean a blog you can maintain. You just have to keep it clutterless.
Well, any of the above free SEO-optimized blogger templates can help you rank higher.