Proxies are becoming increasingly popular in today's digital world, as they can help protect user privacy and security while enabling access to geo-restricted content.
Residential proxies are a type of proxy that uses real residential IP addresses rather than data center IPs, making them more reliable and trustworthy than traditional proxies.
In this article, I will discuss the best residential proxy providers and how they can benefit your online activities.
List of 9 Best Residential Proxy Providers Of 2023
Bright Data was founded in 2014 that offers technological solutions that provide businesses and organizations with complete internet transparency.
Bright Data offers a variety of proxy networks, including rotating and static residential proxies, shared and dedicated data center IPs, and mobile proxy networks.
The provider also offers two powerful proxy-based tools, the Search Engine Crawler, and the Data Unblocker. With a vast proxy pool of over 72 million rotating residential IPs globally, Bright Data is one of the largest proxy networks in the world.
Why choose Bright Data?
100% trusted and compliant.
Real-time performance statistics.
Dedicated managers to help you optimize your proxy performance.
User-friendly dashboard to organize proxies and integrate hassle-free.
Next-gen proprietary technology provides 99.99% network uptime.
Bright Data Pricing
| | |
| --- | --- |
| Pay as you go | $15 per GB |
| Starter | $500/month |
| Advanced | $1000/month |
| Advanced + | $2000/month |
| Enterprise | Contact support |
Smartproxy is a new residential proxy provider quickly catching up to well-established companies like Oxylabs and Bright Data. Unlike these big companies that target corporations, Smartproxy focuses on small and medium businesses and individuals, including sneakerheads, Instagram hustlers, and regular small-time scrappers.
Smartproxy's main offering is premium residential proxies, with a carefully curated list of features and quality line-ups at an appealing price.
The company claims to have a proxy pool of 40 million+ rotating IPs from over 195 locations, including 50 in the US.
These IP addresses come from real mobile and desktop devices and use the IPv4 protocol to ensure anonymity, privacy, and security when web scraping.
Why Choose Smartproxy?
Geo-target over 195 locations with no IP blocking.
A real pool of desktop and mobile device IPs that are undetectable.
Usage statistics in real-time of the proxy traffic.
Easy to set up with unlimited connections.
Dedicated support 24/7.
Pricing:
| | |
| --- | --- |
| Pay as you go | $12.5 per GB |
| Micro | $80/month |
| Starter | $225/month |
| Regular | $400/month |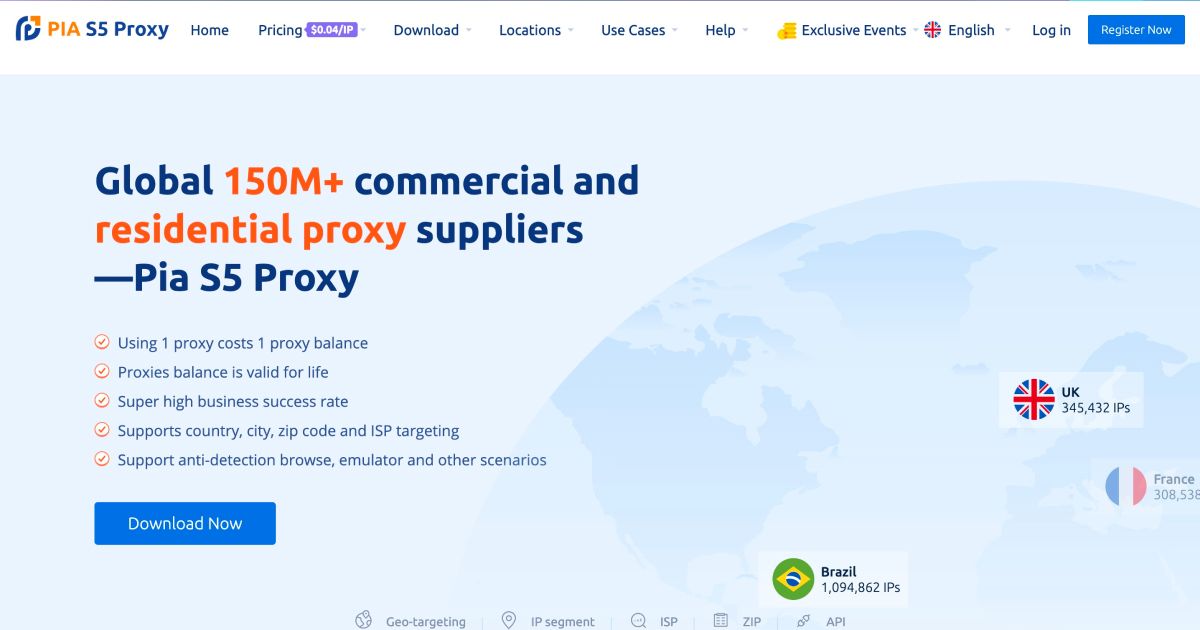 PIA S5 Proxy has a high success rate with over 150 Million residential proxies ethically sourced from verified suppliers.
The company provides various payment options including cryptocurrencies, PayPal, and more. This makes it super easy for customers to complete their payment via their preferred payment method.
You can also integrate PIA S5 proxy with third-party software like anti-detect browsers seamlessly. With advanced GEO targeting, you can target any city, country, region, ISP, and Zip code.
All the proxy plans offered by PIA S5 are affordable and you can start using proxies right away once your payment is processed.
Why Choose PIA S5?
Largest pool of residential proxies.
Unlimited bandwidth.
Multiple payment options.
Excellent support via email and Telegram.
Geo-targeting.
Multiple devices supported.
| | |
| --- | --- |
| Plans | Price |
| 200 IPs | $0.24/IP |
| 400 IPs | $0.16/IP |
| 620 IPs | $0.13/IP |
| 1200+600IPs | $00.07/IP |
| 3000 IPs | $0.11/IP |
| 5000+2000IPs | $0.07/IP |
When it comes to the best residential proxy providers, ProxyEmpire is #1 on the list.
ProxyEmpire is one of the leading proxy providers on the market and for good reason. With an extensive network of over 5.3 million ethically sourced rotating real residential proxies, it's the perfect solution for anyone looking to access location or ISP-specific content while maintaining a high level of anonymity.
What's more, each plan is supported by VIP integration to get you up and running quickly and easily – no technical knowledge is needed. Whether you need help with geo-targeting, sneaker bots or simply average browsing, ProxyEmpire has you covered with packages tailored to your exact needs.
For many businesses, particularly ones that need to stay competitive, having uninterrupted access to different parts of the world is essential. Retrieving data and making sure it arrives quickly and safely are critical components of SEO success as well. This is why ProxyEmpire is a must-have service for anyone who needs restrictive access rights, speed, and reliable connection options with no geographical or IP limitations.
Instead of worrying about blocked IPs or slower speeds due to throttling, you have a reliable automated solution that allows unlimited concurrent connections from any GEO location – so you can access anything you need!
With this service, businesses never have to worry again about restricted access to their business intelligence tools as they can easily bypass these concerns with just one connection.
Sign up today and find out why so many businesses and individuals entrust us with their proxying needs.
ProxyEmpire Pricing:
| | |
| --- | --- |
| Pay as you go | $15 per GB |
| Starter | $45/month |
| Hobby | $159/month |
| Startup | $300/month |
#5. StormProxies
Storm Proxies was established in 2016 by a group of SEO specialists. They specialize in providing residential IP proxies and offer three different types of proxies.
All their plans come with unlimited bandwidth and are affordable, starting at $50 per month for 5 ports.
It has a pool of over 70,000 rotational residential IPs sourced from real user devices worldwide. Despite this, they have limited location options, including US and EU IPs.
As a result, users may need more access to location-sensitive activities. Additionally, they do not offer support for the SOCKS5 protocol.
Why Choose Storm Proxies?
Offers high speed and performance.
Instant account activation after payment.
No bandwidth limitation.
Get a full refund if not satisfied within 24 hours.
24/7 premium support.
100% anonymous proxies.
Pricing:
All Storm Proxies residential proxy plans offer unlimited bandwidth with a 700K pool of IPs.
| | |
| --- | --- |
| Plans | Price |
| 5 Ports Proxies | $50 Billed Monthly |
| 10 Ports Proxies | $90 Billed Monthly |
| 20 Ports Proxies | $160 Billed Monthly |
| 50 Ports Proxies | $300 Billed Monthly |
#6. NetNut
NetNut is a leading proxy network established in 2017 that offers services differently from other residential proxy providers. The company sources its 20 million residential IPs from ISPs, with the help of DiviNetworks.
This makes the stealth and speed of its fast residential proxies unmatched. The deployment of a dynamic P2P on top of the ISP proxy network ensures that there is unlimited availability of proxies, with the recommendation to make as many requests as possible for better results.
NetNut offers two types of rotating residential proxy plans, Bandwidth based and request based, with the cheapest plan starting from $300/month.
However, the company doesn't support the SOCKS5 protocol, and its list of supported geo-locations is limited to cities and states in the US. The company provides HTTP & HTTPS protocols, IP whitelisting, 24/7 IP availability, a hybrid P2P proxy network, and a Chrome extension and API for stats.
Why Choose NetNut?
Integrate proxies with any browser. Proxies get rotated by browser session automatically.
P2P proxy network offers fast performance.
Supports any use case.
Sticky IPs to control rotating proxy sessions.
Dedicated private proxy pools optimized for high speed.
API integration with real-time stats.
7-day free trial
Pricing
| | |
| --- | --- |
| Plans | Price |
| Nano | $20 per month |
| Micro | $90 per month |
| Mini | $175 per month |
| Starter | $300 per month |
| Advanced | $600 per month |
| Production | $800 per month |
| Semi-Pro | $625 per month |
| Professional | $2500 per month |
| Master | $4000 per month |
The Best Value Residential Proxy Service Provider
Lunaproxy provides you with 200+ millions of residential proxy pools, positioning according to global countries and regions, and guarantees unlimited concurrent speed! Help you easily protect online privacy, protect the network or collect publicly available data , support social media marketing, SEO optimization, travel aggregation, sneaker Proxy…
With Lunaproxy, you can enjoy unlimited concurrent sessions, zero IP blocking, zero verification codes, global coverage, and 90 million stable residential proxies. This enables businesses to scale up their web data scraping and monitoring activities while enhancing their insights and decision-making capabilities.
Why Do I Recommend Using Lunaproxy?
Lightning Fast Response Time:
JSON Automatic Parsing and Flexible Parameter Adjustment:
Unlimited Concurrent Sessions:
Zero IP Blocking:
Global Coverage:
200+ Millions Residential Proxies
Lunaproxy pricing
| | |
| --- | --- |
| Plans | Price |
| Residential Proxy | $0.8/GB |
| Unlimited Package | $83/day |
| Static proxy | $1.0/IP |
SOAX Residential-Proxies is a UK-based proxy service provider established in 2019. It offers a range of mobile and residential backconnect proxies for data scraping and monitoring purposes.
SOAX provides an attractive alternative to expensive feature-rich proxy providers and cheap limited services. The company targets medium to small enterprises and individual data scrapers with its flexible services and pricing plans.
SOAX boasts a large pool of residential and mobile proxies, with over 5 million residential and over 3.5 million mobile proxies provided by real internet service providers worldwide.
These proxies rotate by default to minimize downtime, and you can set a custom proxy rotation time upon account creation. Despite port limitations, SOAX advertises its services as unlimited, with the basic plan offering 300 ports and allowing for more than 30 concurrent connections.
Why Choose Soax?
99.9% network uptime
100% compliant
5M + proxies worldwide
A verified pool of IPs – safe & secure to use
Award-winning software with world-class support
The dashboard is user-friendly and flexible.
Also Read: SOAX Review: Best Residential & Mobile Proxy Provider
Pricing:
| | |
| --- | --- |
| Plans | Price |
| Starter Proxies | $99/month |
| Pro Proxies | $300/month |
| Plus Proxies | $500/month |
| Regular Proxies | $700/month |
#9. PrivateProxy.me
PrivateProxy.me is a London-based IT company that offers private proxy services. Operated and owned by Aqua Networks Limited, the company has over ten years of experience in the market and has served thousands of customers globally.
The company provides dedicated proxies from its proxy server collection, which is considered more secure than P2P proxies.
PrivateProxy.me offers flexible intervals for rotating private proxies to ensure new IPs on each new request. The IP addresses come from real user devices and are not resold by other providers.
Although the provider does not offer advanced security protocols, it encrypts data transfers through your browser with SSL encryption.
Why Choose PrivateProxy.me?
Affordable wide pool of IPs.
Wide selection of proxies for cities, states, and counties that keeps expanding continuously.
Bulk residential proxies provide 100% uptime guaranteed.
24/7 round-the-clock support.
Exclusive IPs.
Private dashboard to configure and set up IPs.
Pricing:
| | |
| --- | --- |
| Plans | Price |
| Newbie | $5 per month |
| Ameteur | $15 per month |
| Starter | $50 per month |
| Professional | $120 per month |
| Business | $200 per month |
| Corporate | $400 per month |
| Enterprise | $900 per month |
| Jedi | $2500 per month |
| Custom | Call for Quotation |
#10. Geonode
Geonode is a reliable residential proxy provider based in Singapore that provides private residential proxies to help users bypass geo-restrictions and maintain anonymity when scraping the internet.
With over 2 million IPs sourced from real devices across 140 locations, Geonode's massive pool of proxies can be traced to an actual geo-location for safe scraping.
What sets Geonode apart is that they do not limit the bandwidth used, allowing users to scrape the web without fear of being disconnected.
The provider also supports SOCK, HTTPS, and HTTP protocols for versatility. The continuous rotation of proxies and sticky ports ensures that users remain anonymous while scraping the web.
Why Choose Geonode?
Unlimited backconnect residential proxies starting at $35/month
Simple and quick authentication
Multi-language support including PHP, Python, etc.
Advanced proxy control features such as geo-targeting, ISP-targeting, etc.
Continuous proxy rotation provides the best proxy for high success rates.
Pricing:
| | |
| --- | --- |
| Plans | Price |
| Pay as you go | $4 per GB |
| Starter | $45/month |
| Medium | $300/month |
| Enterprise | $2000/month |
Oxylab is a trusted and reliable provider of the best mobile residential proxies. The company has established itself as a leading tech company, operating in the legitimate white area and providing quality customer service. Oxylab has a user-friendly website and offers insurance coverage for all its products.
Oxylab offers a wide range of proxy services, unmetered residential proxies and a specialized real-time web crawler for large-scale data retrieval. Its large and stable proxy network provides a pool of 100M+ IPs in 195 locations worldwide, allowing users to access geo-restricted content easily.
Why Choose Oxylabs Residential Proxies?
Unlimited concurrent sessions.
99.95% success rates.
City and state-level Geo-targeting.
Manage proxy, Whitelist IPs, view statistics, and more via the dashboard.
Free proxy manager for Chrome browser.
Pricing:
| | |
| --- | --- |
| Pay as you go | $15 per GB |
| Starter | $300/month |
| Advanced | $600/month |
| Premium | $800/month |
#12. Shifter
Shifter, formerly known as reverseproxies.com, is an established residential proxy provider that has grown to become one of the most popular options in the market.
With a vast pool of 31 million proxy addresses spread globally, Shifter is known for its peer-to-peer network that ensures users can bypass geo-restrictions.
One of the key differentiators of Shifter is its pricing model, which is based on the number of ports/gateways rather than the amount of bandwidth used. This makes it an attractive option for those who need unlimited bandwidth without incurring additional charges.
In addition, Shifter supports both SOCKS5 and HTTPS protocols, allowing for a flexible and customizable user experience.
Why Choose Shifter?
Scale instantly with 99.9% uptime
Easily customize proxy rotation time.
Global coverage.
Money-back guarantee.
No IP blocking
Can be integrated easily even by non-technical users.
User-friendly user panel with advanced features.
Pricing (Special Rotating Proxies):
| | |
| --- | --- |
| 5 Special Rotating | $199.99 |
| 10 Special Rotating | $299.99 |
| 25 Special Rotating | $599.99 |
| 50 Special Rotating | $1199.99 |
| 100 Special Rotating | $2399.99 |
| 250 Special Rotating | $5999.99 |
| 500 Special Rotating | $11999.99 |
| 1000 Special Rotating | $23999.99 |
Also Read:
Don't stop here. There are more exciting things for you. Do read them and know the best stuff on the internet. Be it about your internet proxies.
FAQs
Is there a Residential proxies free trial?
Yes, residential proxies from different proxy providers come with a free trial. The free trial could be of 24 hours up to 7 days. Some proxy providers do not provide a free trial but do offer a money-back guarantee.
Are Residential Proxies Legal?
Yes, Residential-proxies are legal as far as your country's law does not prohibit the use of residential proxies.
Conclusion
In conclusion, choosing the best residential proxy provider will depend on your specific needs and budget. Depending on what you need it for, many different options are available to fit any use case.
Whether you're looking for reliable access to blocked content or a secure way to hide your IP address, one of these providers can help you find the perfect solution.
Be sure to research all of your options carefully before deciding so that you get the best possible service at the best possible price.
With careful consideration and the right provider, you can trust that they will provide the security and reliability needed in today's online environment.
All of these providers offer great value, but make sure they meet all your requirements before making a purchase. With the right provider, you can trust that your data and online activities will remain safe and secure.
Regardless of which provider you choose, you can be sure that they will help keep your online presence secure and private for a long time.