Nowadays, residential proxies are gaining popularity on the internet worldwide. Not for any malware but for all good reasons there are. Be it about account management, industrial and customer research, trading of goods. and more.
Data centers' IP addresses may make things pretty hard but proxies are here to make things easier. That's why you need the tip of residential proxies providers for your business growth.
IP addresses are often recognized by big organizations and they know you are using them to get information. Some of this information may be denied to be used by you. That's where residential proxies come in to save time and money you may spend otherwise to have the right information on your PCs.
Residential proxies' route goes straight through your home, or what we call ISP. It then masks the IP address and gives you regular network accessibility seamlessly.
So, without any further ado, let's begin with our top residential proxies provider of the year 2021.
What are Residential Proxies?
residential IPs is a type of IP address used by a household. When you set up the Internet in a new house or apartment, you get a residential IP.
Every time you view a webpage, residential proxies are making it possible for you. Residential proxies are top-quality, highly anonymous proxies that always get the job done.
A proxy that automatically switches between IPs would be the best solution (both in functionality and ease of use).
Because residential IPs come from individual home computers, they are more trustworthy in comparison to other proxies. For instance, datacenter IPs use in bulk on cloud-hosted, virtual servers and enjoy much less trust from websites for their creation.
Top Residential Proxies Providers
Residential proxies are used to create a safe, anonymous browsing experience. The past year or so has seen new residential proxy providers popping up all over the internet. We've found the best ones around. Here's what we discovered:
The list of the best residential proxy providers is incomplete without NetNut Proxies. This company gives you access to multiple sub-user accounts, but make sure that you are not breaching any rules.
On top of all, the dedicated client support team helps you out with 32 countries covered in the network.
The NetNut residential IP network, the first globally available network dedicated to internet data collection and related services.
Unlike a proxy or VPN provider offering a private corporate IP, this network is fully utilized with its allocated resources.
Furthermore, it costs less than half of a data-center IP offering, thereby significantly lowering the entry threshold into the world of data collection.
Pricing
Starter – $300/month 
Advanced  – $625/month
Production – $800/month
Semi-Pro – $1625/month
Professional – $2500/month
Master – $4000/month
Features
Dedicated account manager
Competitive pricing
City / State selection
Email support
Unlimited connections
7-day free trial
OxyLabs provides thousands of IP addresses daily, each one specifically registered to our customers' names. All IPs come with unlimited bandwidth and 24/7/365 support.
This one is dedicated to customer service excellence because it is our customers who make us what we are today.
With the goal of providing top-quality white-listed proxy services, it has built a reputation for being one of the most reliable proxy providers in the industry.
If you are looking for the best proxies, look no further than OxyLabs. Offering you their services since 2008, they have well over 2 million dedicated IPs hosted in 82 locations worldwide.
Its services go with HTTP, SOCKS5, and HTTPS protocols and allow you to access your proxies 'on demand' if you subscribe to any of their plans.
Pricing
Starter – $300/month
Business – $600/month
Corporate – $900/month
Enterprise – $5,000/month
Features
Easy to use interface
99.2% success rates
Supports SOCKS5 protocol
Over 70 million residential proxies
Covers 195 locations
Unlimited concurrent sessions
Dubbed next-gen proxies
Storm Proxies are extremely unique because they are the only proxy service that provides datacenter proxies, which are dedicated VPN connections to multiple data centers all over the world.
This makes our proxies the fastest and only scalable proxy service because no other proxy service provides this type of proxy.
Moreover, its Reverse Backconnect proxy service is good for SEO tools, web scrapers, video streaming applications, data mining software, games, and almost anything else.
If you're a novice or a non-technical user, StormProxies.com offers a good starting proxy to access blocked content.
They offer a simple subscription-based pricing plan for each IP address, which makes it easier to determine the price beforehand.
Their IP addresses are available in many different countries and use ports without needing authentication.
Pricing
5 Ports Residential Proxies – $50/month
10 Ports Residential Proxies – $90/month
20 Ports Residential Proxies – $160/month
50 Ports Residential Proxies – $300/month
Features
Unlimited bandwidth
Premium Support 24 / 7
Proxy rotating time is every 5 minutes.
1 Access IP.
Configuration options
 70,000 rotating residential IPs pool
Amazing speed of proxies
Special plans as per your convenience.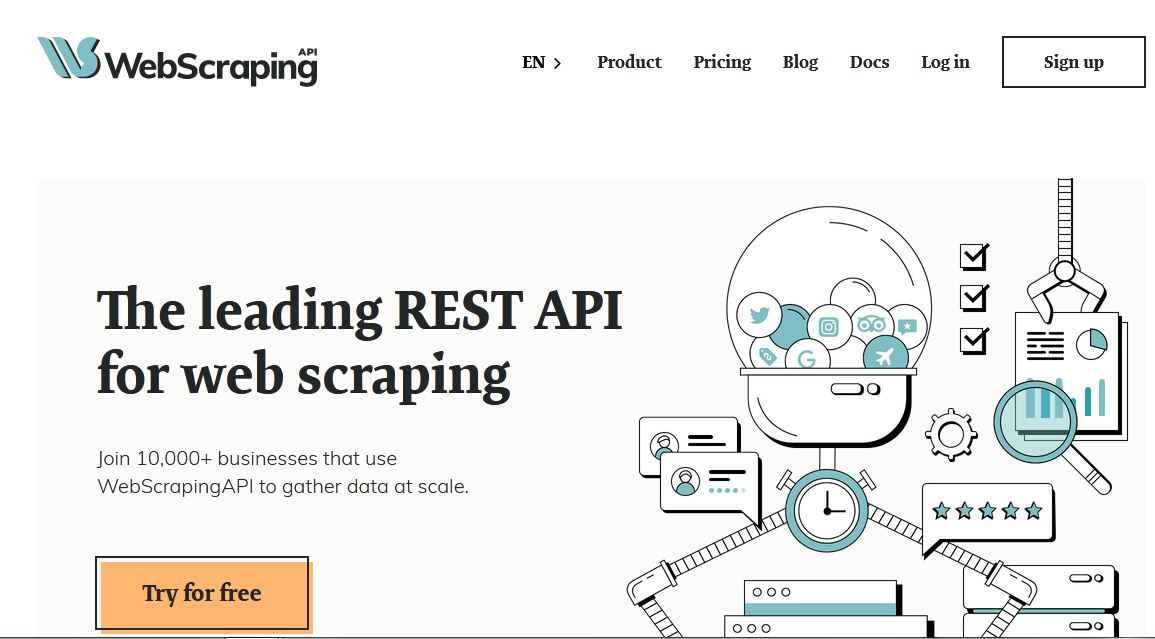 WebScrapingAPI's proxy providers are in high demand, providing high-quality web scrapping products that can dramatically change the way you browse. As a service provider, they probably provide the fastest and largest pool of proxies you could hope for.
And get this: not only do their proxies get you around regional restrictions, but they get you around marketing restrictions, too!
Even considering all of this, there are still other benefits to using WebScrapingAPI.
The WebScrapingAPI is a comprehensive, feature-rich, and most importantly – easy to use residential proxy provider. The API can fetch any page and handle your browsing from CAPTCHAs to Javascript rendering to request throttling. In a nutshell, you'll have an all-inclusive web scraping tool in your computer.
Pricing
FREE Trial – $0
Grow – $90/mo
Enterprise – Custom
Features
Javascript rendering
All Geotargeting
Lightning-fast scraping,
Email support
5,000 free API calls for a start
Fast and secure data transport.
Works on any type of webpage
The Bright Data platform is the trusted solution for data collection campaigns. The platform's easy-to-use interface and global headquarters in San Francisco delivered some excellent and world-class web data all the time.
Thousands of campaigns rely on Bright Data monthly to deliver accurate and full coverage data within their target market.
Residential IPs are commonly only found with shared proxies. Bright Data gives you the option of using either.
However, as per my experience, it is that you will have better uptime, reliability, and performance with dedicated proxies, so we recommend using these.
Pricing
EXPERIMENTING – $300/month
STARTER – $500/month
PRODUCTION – $1,000/month
PLUS – $3,000/month
ENTERPRISE – Customized
Features
99.99% uptime. SLA included
Phone Number Extraction
Amazing data collection tools
Document Extraction
Helps in extracting Email Addresses
Web Data Extraction
Extends Images
Pricing Extraction
10,000 data professionals
Extracts IP Address
GeoSurf is another amazing residential proxy network with close to two million residential IP addresses in 192 countries worldwide.
This variety is likely to present you with more geo-location problems than simply using the U.S. or European IP addresses available on some other networks.
On the other hand, if you're going to target websites hosted in Asia, GeoSurf is one good-to-go option.
GeoSurf offers web proxy services with permanent IP addresses for users looking to conceal their actual location.
Businesses, developers, journalists, bloggers, and SEO professionals are locked down to the copious amount of data for scraping purposes – including 38GB of bandwidth per month (much more than its competitors).
Pricing
Starter – $450/month
Professional – $900/month
Plus – $2000/month
Enterprise – customized
Features
Single server setup
A steady and fast connection.
Data collection and analysis
Generating an arbitrary IP address
Safe and effortless navigation
Secure your data
Stay anonymous
Last but not least we have Smartproxy as the best residential proxy of 2021. The Smartproxy company is working with multiple tracks at the same time, so they are able to offer you over 40 million IP addresses that are going through real mobile and desktop proxy networks.
Besides, they are offering unlimited connections and threads, unlike most of the other services available.
With Smartproxy, you can choose your country-level targeting and decide between a random proxy that rotates your IP address with every request or a sticky one, which would change it after 10 to 30 minutes.
This one is a pretty impressive tool to go with, a very advanced but easy-to-use Chrome extension that generates the Proxy addresses.
Pricing
Micro – $75 + VAT/month
Starter – $200 + VAT/month
Regular – $400 + VAT/month
Features
over 195 locations globally
Overcomes restriction is remarkable
Use multiple accounts
Multiple sources
Verifies ads
Unlimited connections
Scraps data
Sneaker cooking
Don't stop here. There are more exciting things for you. Read them and know the best stuff on the internet. Be it about your internet proxies.
FAQs (Residential Proxies Providers)
What is a residential proxy?
Residential Proxies are here to help you choose different locations and browse without any hurdle from your home. It allows you to surf through the internet as if you are browsing from your selected place. So, no more errors on your webpage loading.
Are residential proxies legal?
Residential proxies are more like an informal consent that allows you to use the internet from a different location. These IP addresses are thoroughly tested and verified for your accurate uses.
Are residential proxies good?
Residential proxies are legit because even if some site is not working from your current location, you can use a different IP address and get the information you are looking for. So, its a LOT helpful.
How much do residential proxies cost?
Residential proxies usually cost like $4/GB or can cost as little as $0.4 per proxy.
How long do residential proxies last?
These proxies often made with auto-rotate system and refresh in 1, 5, or even 30 minutes. However, you can use a proxy for like 24 hours straight.
Conclusion
Sometimes you find it really annoying when your internet surfing stops because of some site restrictions. In that case, a proxy always comes in handy.
These residential proxies are here to do the job for you. As they are the top residential proxies provider, you can rely on any of these for your unstoppable internet browsing. So, make the best out of your surfing.