Let's face it; nothing is successful without necessary marketing and advertising. Are you running your business online? It is not a surprise that you need to work with a good ad network for the best delivery of your marketing campaign.
We know one ad network that makes it a lot easier to get things done for you. That is none other than TrafficNomads. Besides, here you will get to know a lot about this excellent platform through this honest TrafficNomads review.
More about that later, let's understand why exactly do we need an ad network.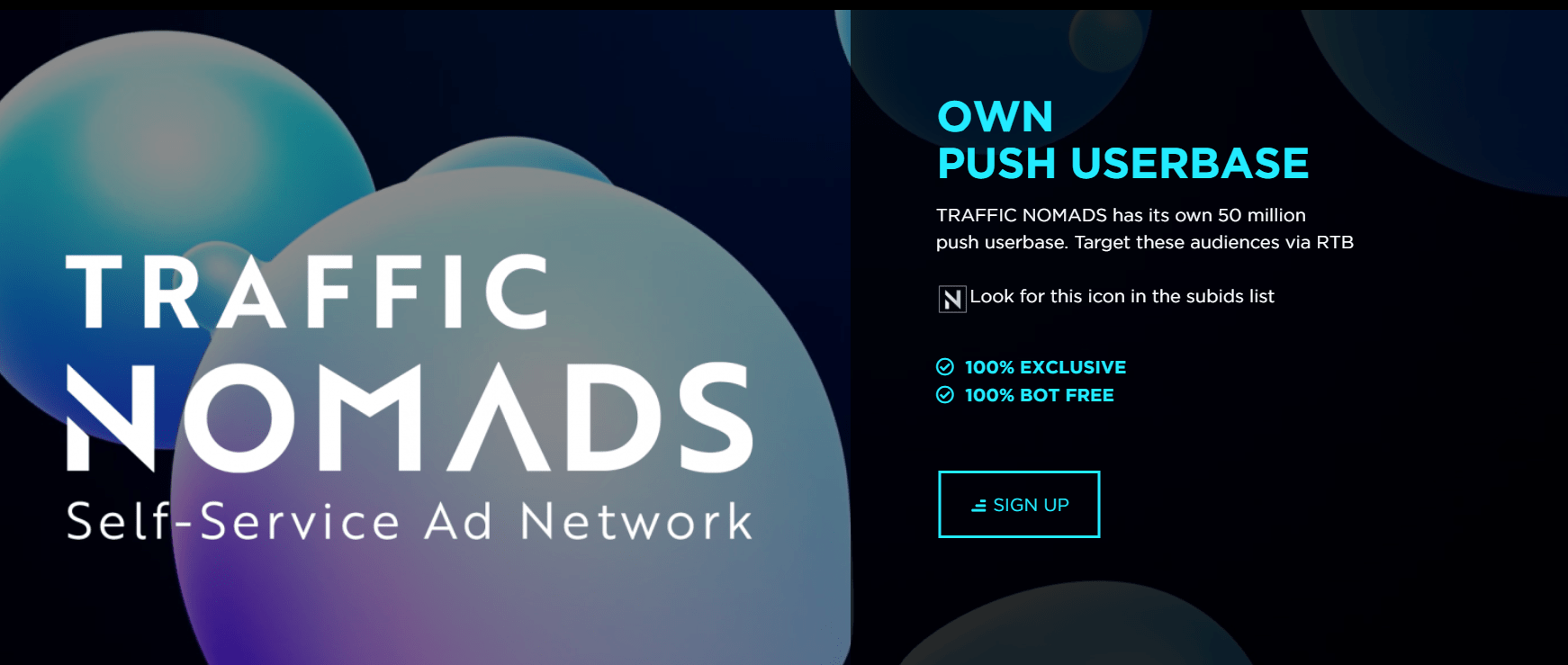 Why an Ad Network?
Ad Network is a must for any business that wants to promote their brand/product/application on the internet. How? Let's figure it out.
It allows you to set up a campaign to reach out to as many peoples as you want. It's the best way to target your audience. To make it easier, ad networks like TrafficNomad step it.
Ad networks are one great source of monetization especially when it comes to mobile advertisement.
They are the best technical and commercial intermediaries between advertisers and publishers.
Apart from these, many other reasons make Ad networks the best thing a business can have. Now, let's move forward to this TrafficNomads Review and see what all features do the platform have.
What is TrafficNomads?
Counted amongst the best-ever ad networks on the internet, TrafficNomads is one fantastic advertising service provider. Since then, it has been known as one of the best ad network platforms.
TrafficNomads is the preference of many businesses. The major reason behind this love is its focus on providing the best technology that revolves around traffic monetization and ROI boosting. Besides, they work with the sole mission of offering advertising services coming straight from the advertisers.
Talking about its mission, TrafficNomads works with 100% focus on its ad performance which undoubtedly results in high-converting traffic. Well, it is not easy to be in the position of the world's first most NOMAD COMPANY.
Features of TrafficNomads
As far as the review is concerned, it would be unfair if we do not discuss the features of the platform. So, let's look at a factor that makes it the best forum for your ad network.
Even though Traffic Nomads is a self-service platform, the support team is very attentive and always available to help you all the steps of the way. If you spend more than 1000$/month and send the postback to the platform, the support team can create and optimize the campaigns for you!
This platform offers you the stats and all other records such as results, stops, edits, restarts. All these data, arranged in a comprehensive table, help you compare your records, hence, better performance at the end.
Traffic Nomads gives you the authority to pause the campaign whenever you want. This option is beneficial as it allows you to pause the campaign in case you make the best out of it or even if it doesn't work well.
Set a bid (zone & campaign)
What about setting a bid on your processes? With TrafficNomads, you can do it. The best part is, you can set bids as per the zone or even the campaign. Moreover, you can visit a toll on which you can check available volumes, average bids, and CTRs.
In case you have many campaigns going on, it becomes hard to find the one that you are looking for. So, with Traffic Nomads, you can narrow down the campaign by using its filter options. Be it related to casinos, e-commerce, dating, or crypto.
Download your statistics and files
It is not like you can just access your information over the internet. This platform allows you to keep your records with you forward. So, you can simply download things on your system and make a report of your campaign.
By easy Finance I mean you can send all the reports to your accounting team. How? You can simply update your billing details, estimate your payment history, and get a formal invoice that you can forward to your accounting team.
Traffic Nomads allows you to see your KPI or Key Performance Indicator that simply helps you analyze your strategies. Besides, this is not just the overall KPI but per campaign indicators. Hence, a great way to have a deeper understanding of your campaign and create the best ad network with Traffic Nomads.
All these outstanding features make TrafficNomads a world-class choice for anyone who wants to start their campaign with a trusted platform. So, you can make the best use of these features and have a successful campaign.
Account Levels 
Traffic Nomads has 3 account levels, based on how much you spend

Beginner- This one is best for beginners, as the name suggests, but there are some limitations. There is no manager and no temporary credits available.
Pro- Once you get to know how it works and how you can handle your campaigns, you can upgrade your plan to Pro. With this level, you will get the managers but no temporary credit.
Premium- For the company that has enough capital to spend on the ad networks, the Premium category is the best. With this level, you will get all the support with managers and credits.
How to use TrafficNomads?
Trust me, there is no rocket-science in starting your campaign with TrafficNomads. You must be wondering how. So, to clear out your thoughts, let's have a look at the easy steps to set-up your campaign.
Visit TrafficNomad's official website and set up your account by clicking on the 'Register' button.
That button will take you to the category page. Understand everything here and click on 'Continue'.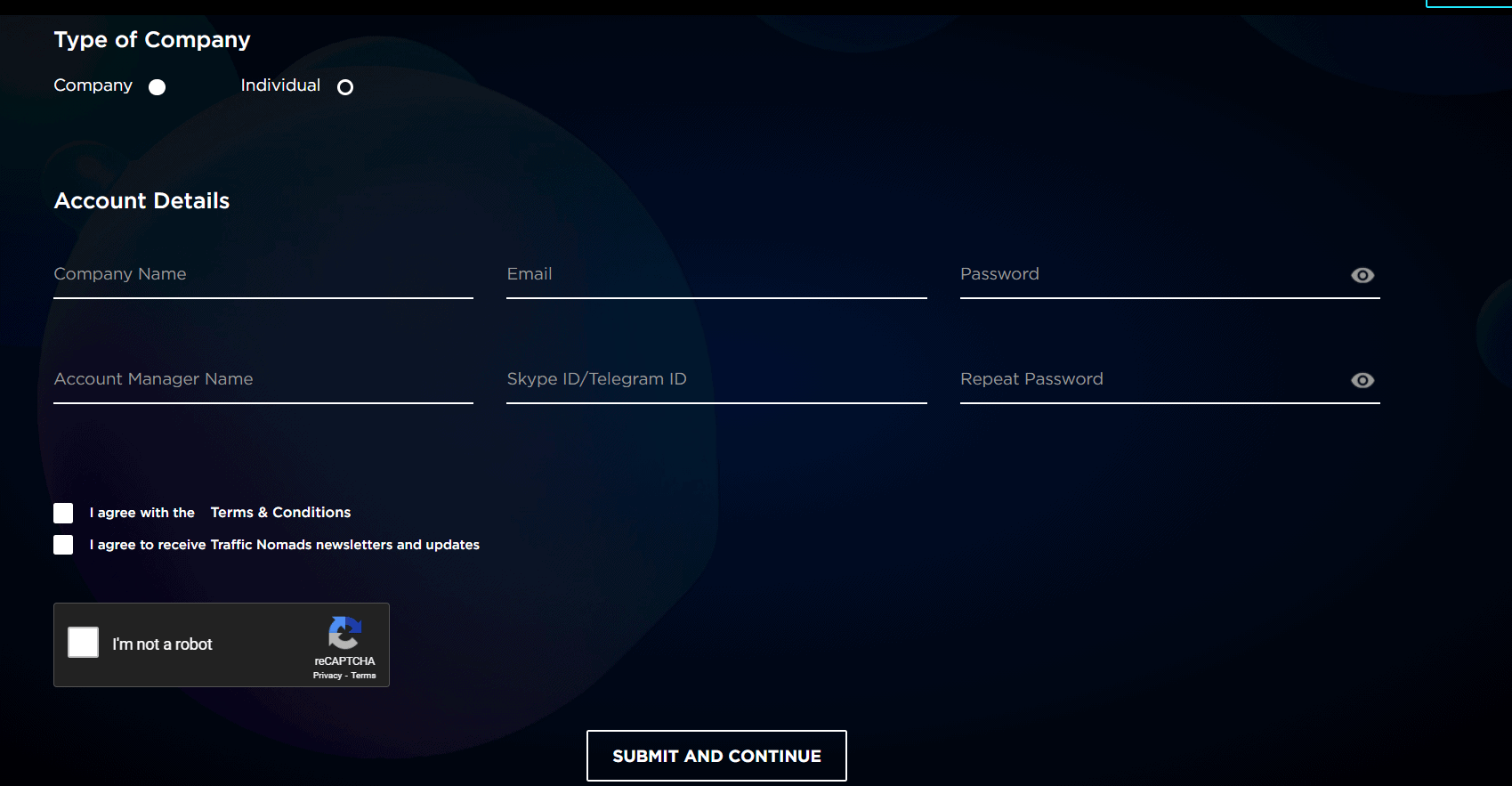 Once you come to the details form, you can add all your details click on 'Submit and Continue'.
Thereafter, add billing details on the next page.
Now, on the last page, you will come across the form that will ask you questions about your requirements. Type of advertiser, buyer experience, expected budget, and more.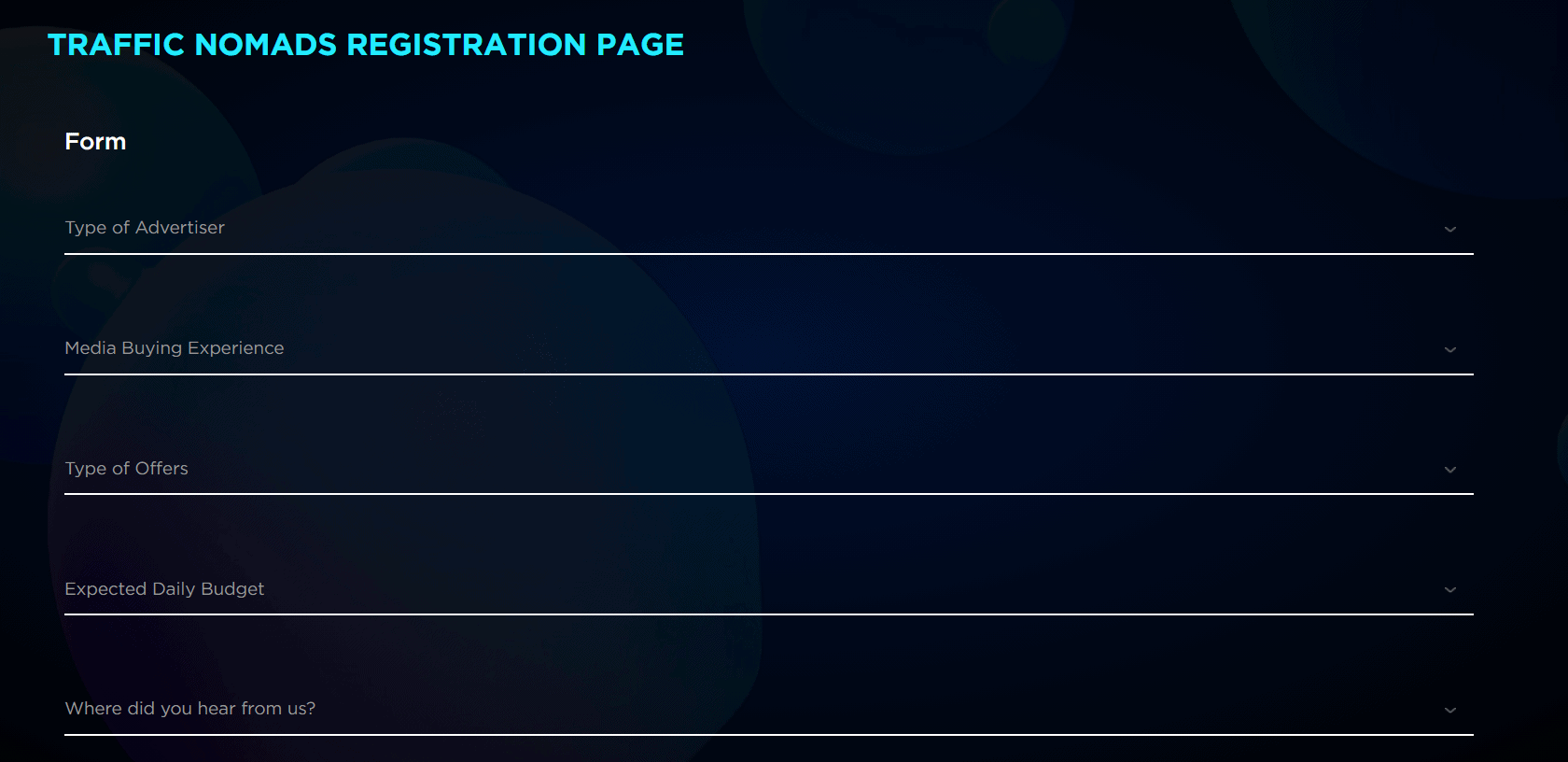 Well, there you go. Your application is sent to the team.
Now, wait for a few hours because the team reviews your application within 1 business day. Once they find it good enough, you will be approved to start your campaign.
As the team approves your application, you can set up a bar, filter your campaign, and begin with your advertisement.
New Campaign as an Advertiser
The campaign creation is very simple with Traffic Nomads. With the minimum input, you will be able to launch your first campaign there.
🔥BONUS: If you are an advertiser looking for traffic monetization & ROI boosting, I have a special coupon code for you from Traffic Nomads.
VKAPOORNOMADS10SM – Use my special coupon and avail 10% OFF on your first topup.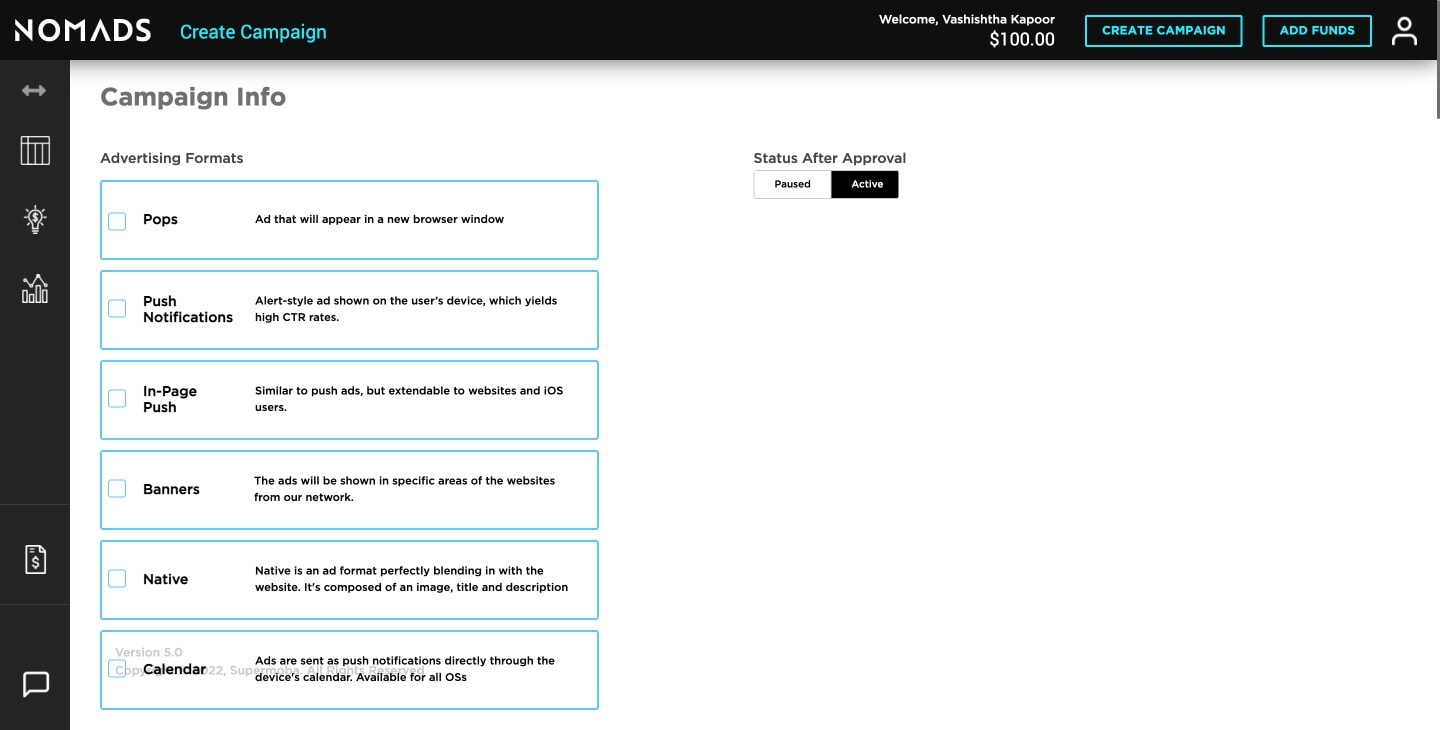 The best part is that you can run any sort of campaign from one dashboard. The available options as I previously mentioned in this review are Push notifications, pops, In-page push, banners, native ads, and Calendar ads.
My personal favorite ad-format is Push notifications.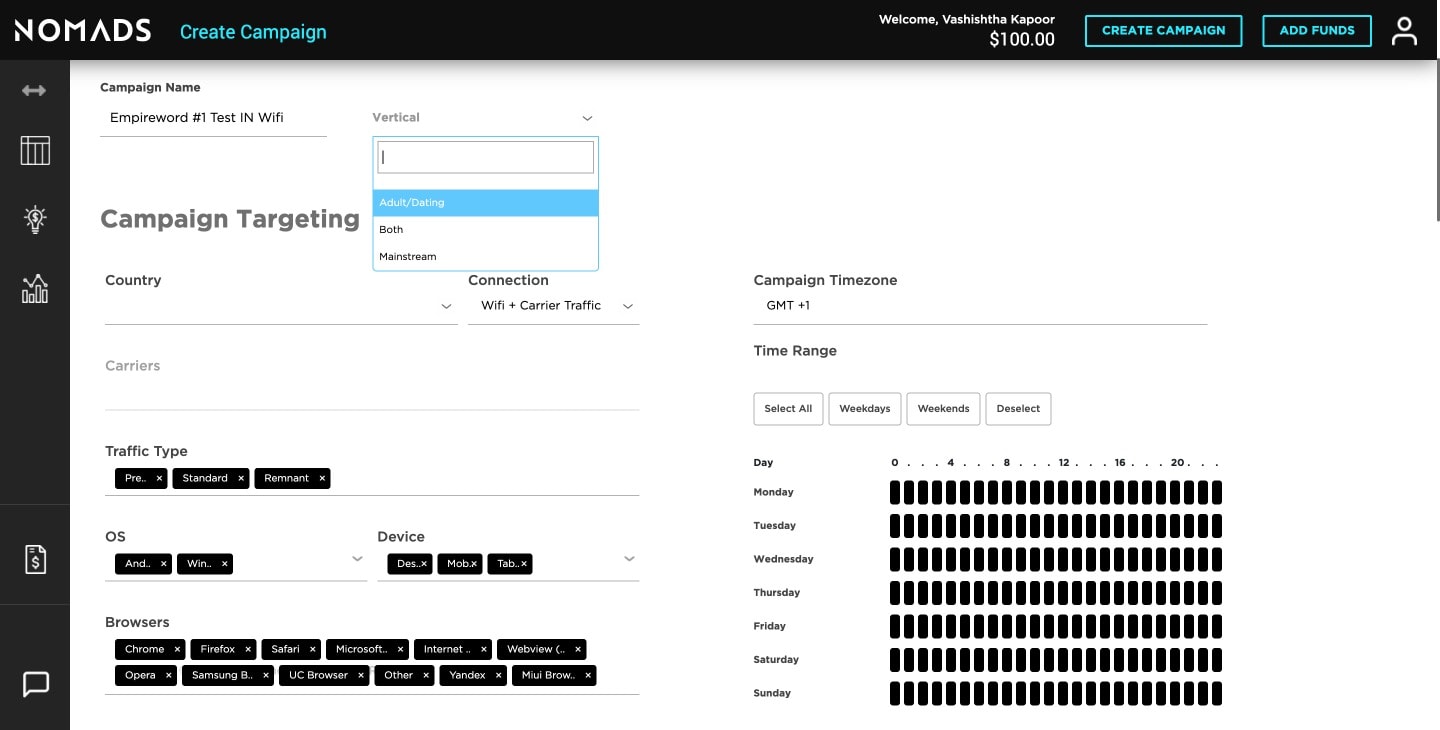 You should write such a campaign name that can easily remind you of why you created the event with most of the campaign setup options.
Campaign Targeting is always the most important factor of any advertising campaign. I believe that you must test multiple campaigns with different targeting to understand what combination works for you.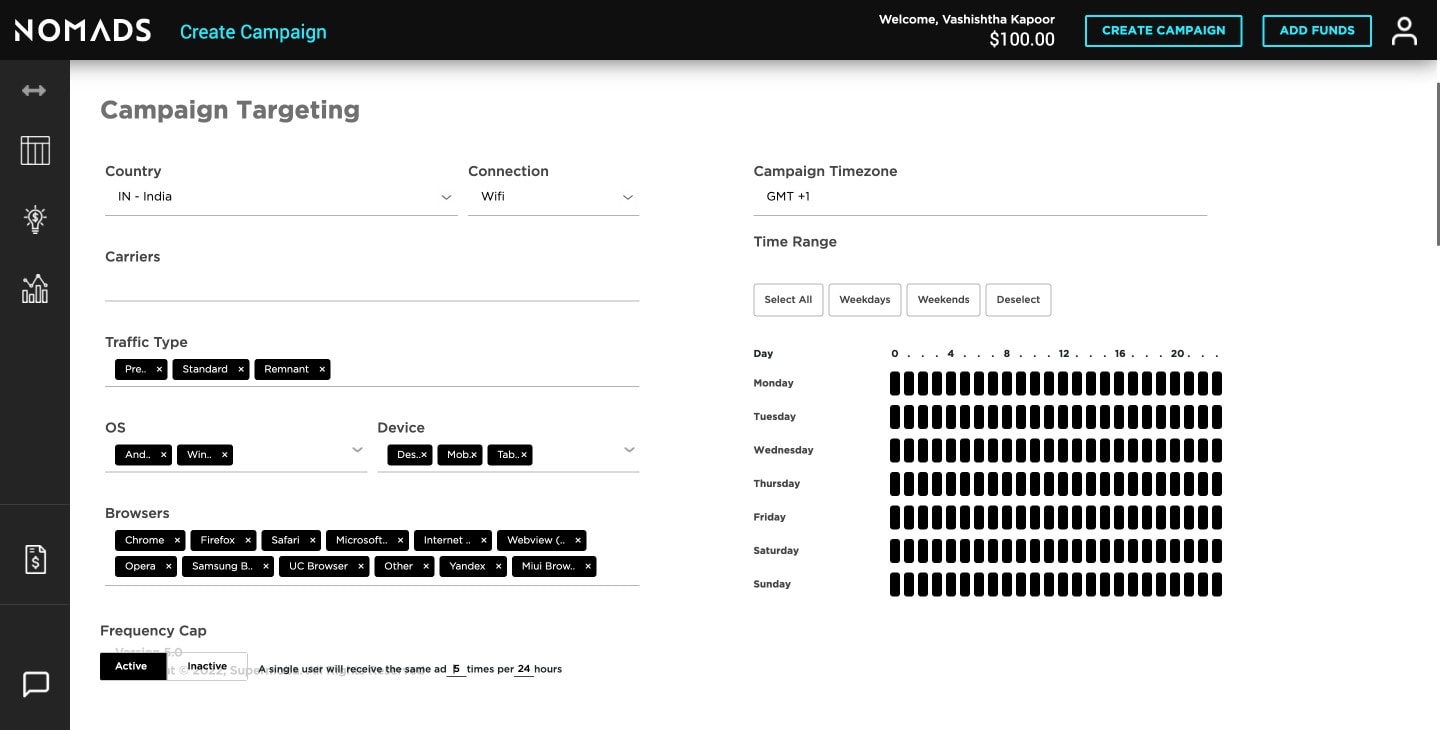 The ad creative (content and images) play a very vital role in the performance of the ads. You must be running the campaign always with multiple ad creatives.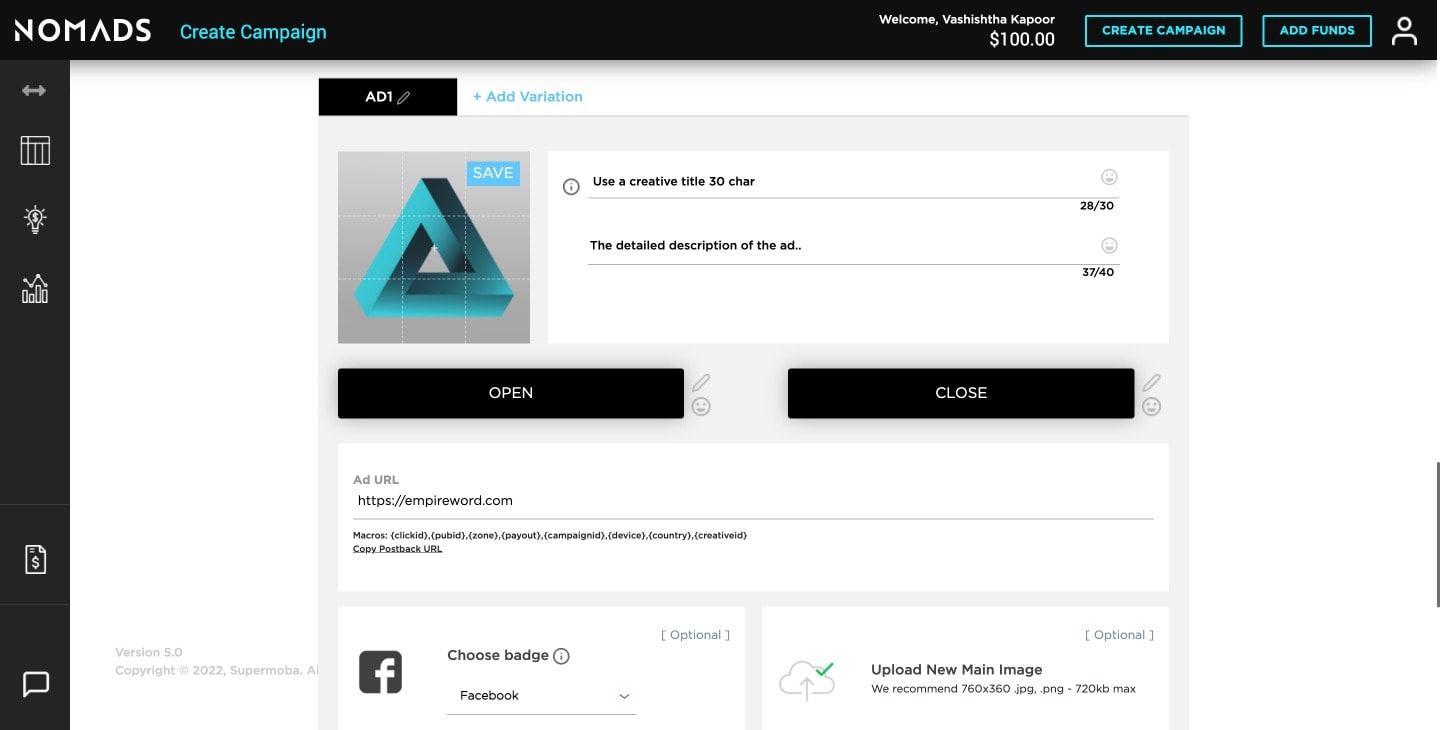 Once you're ready with all the settings for the campaign, go ahead and submit your campaign.
It goes into the moderation instantly. Once it is approved, it will start pushing traffic on your landing page.
Pros
Have full access to your campaign strategies.
Register without any debit/credit card details.
Filer your campaign for easy access.
Easy to access the dashboard
Downloadable record and information
Easy book-keeping through invoice
User-friendly
Excellent team support
Perfect for new platforms
Gives suggestions if needed.
Starts with a budget of $50
Cons
You need to wait for approval to start your campaign
Conclusion 
With this TrafficNomads review, you can understand how good and worth-giving-a-shot it is.
So, without any second thought, register now and start your ad campaign with the most trusted platform out there.