Wix is a proven one-stop website creation platform. It offers hundreds of unique templates, a simple drag-and-drop editor, and hundreds of apps to add any functionality to your website. If you want to create the perfect website and publish it, Wix simplifies the process. You can create your site yourself without the need for any professional help. Here are 6 beautiful templates from Wix website builder that can be used by professionals and businesses from different fields.
1. Vintage Car Garage
Although named on 'vintage' cars, this automotive template from Wix is perfect for all types of garages. You can add an animated background with a picture of your own garage's interior. The features of this template include:
Allow Online Booking: Let your customers book an appointment online. In fact, the Wix App Market offers a number of dedicated apps like "Book Appointments Online" to add this feature to your website.
List Services: List all the services you offer – Paintwork, Repairs, Upholstery, and others.
Add Testimonials: Use Infuse Testimonials, Testimonials, Testimonial Builder, or Social Testimonials apps to allow your customers to leave reviews and ratings.
2. T-Shirt Market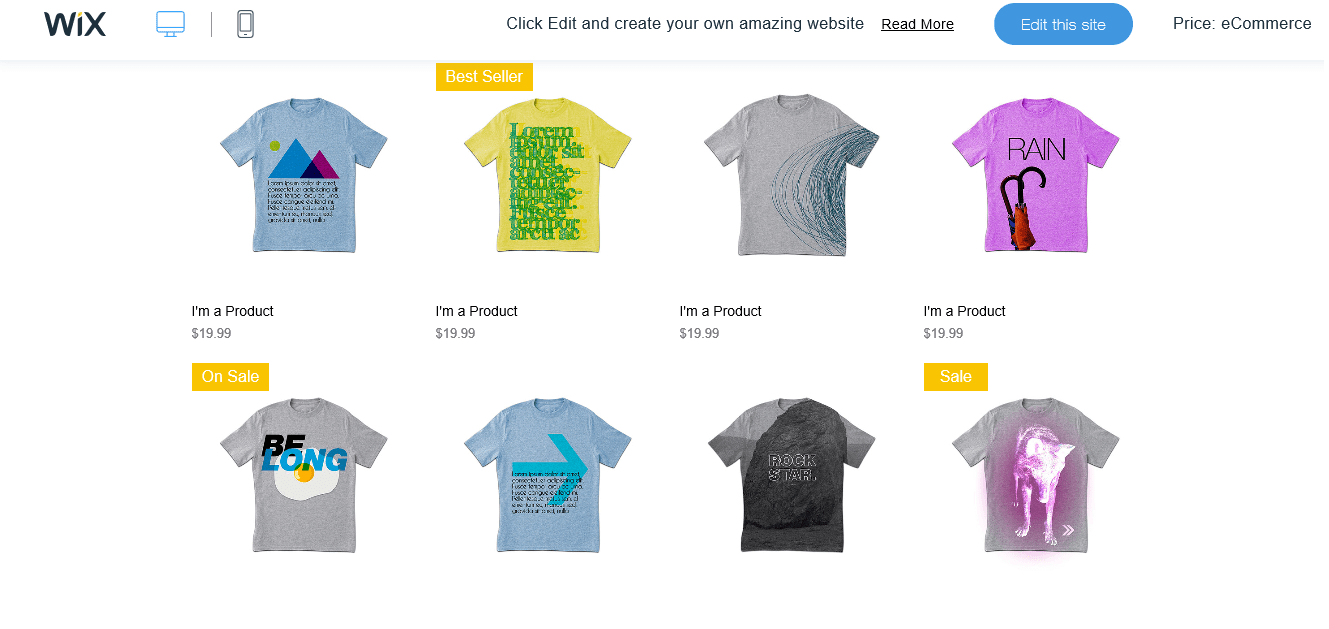 If you went to build an online store to sell clothes, T-Shirt Market is a beautiful and practical template from Wix. It provides a straightforward interface to showcase your collection along with the price.
Whenever a shopper clicks on a product, the site will open the product description page where you can provide all the details. Add as many product images, create a detailed description, list rate and size, and the option to add the product to cart (with quantity and other options).
Enhance your online store with a series of apps from Wix, including:
Use Wix Pro Gallery to display your products in the best possible way and draw more customer attention.
3. Photography Showcase
Equipped with a powerful camera and an interesting story to tell, there are more photography enthusiasts today than ever before. Whether you are a professional photographer or not, this template is perfect for you on so many levels.
Create a dedicated photography website with this template, whether you are nature photographer or a commercial one.
Create and show your portfolio
Control the image quality
Add built-in image controls and protect from unauthorized access
Use social sharing to get more visitors
Add thousands of photos and videos
Choose the best layout from several options
The Wix Pro Gallery is just the perfect tool you will need to enhance this template.
4. Video Portfolio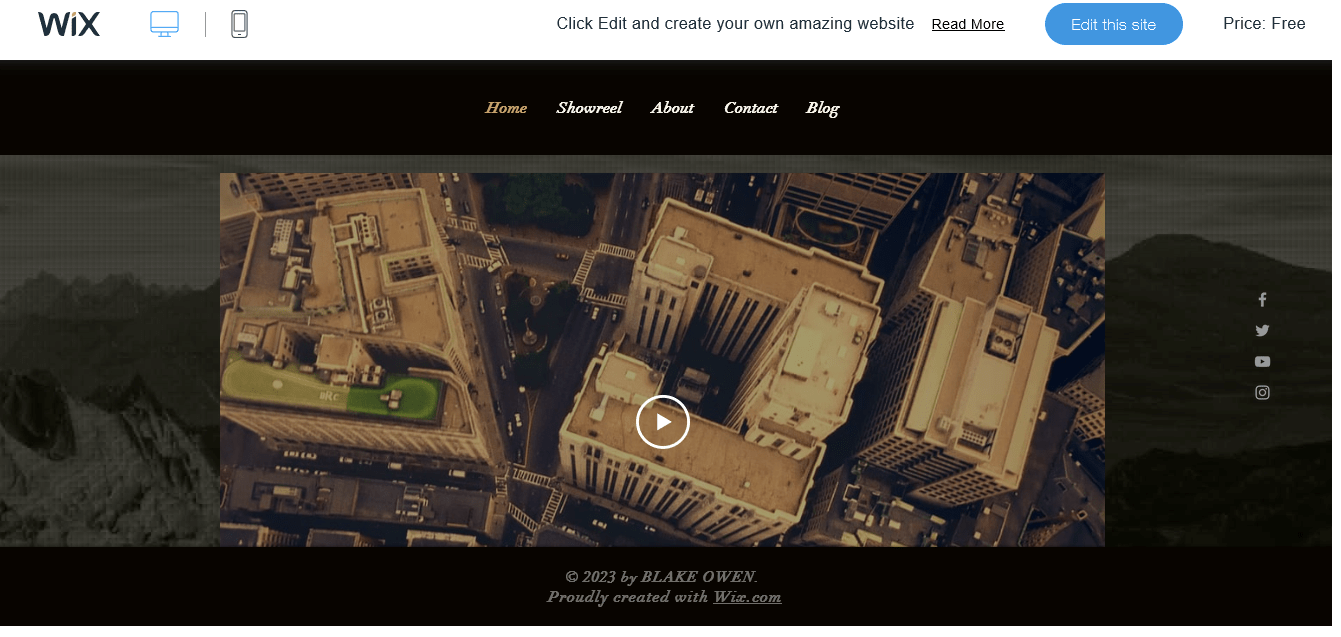 Whatever the size of your film studio or profession, "Video Portfolio" is an excellent Wix template for you to showcase your portfolio to your potential clients. Simplicity is what defines this template – something that is highly valued in the professional arena.
You could be a filmmaker, director, producer, videographer, or a creative professional, this template will provide you the perfect base to create an online presence and promote your services.
Add the Wix Video app to this template and you can enhance its functions like anything.
Display all your videos on your website
Integrate or synch with YouTube and social media profiles
Stream videos in high quality
This app can even allow creative professionals to sell or rent their videos on a zero commission basis.
5. Solo Artist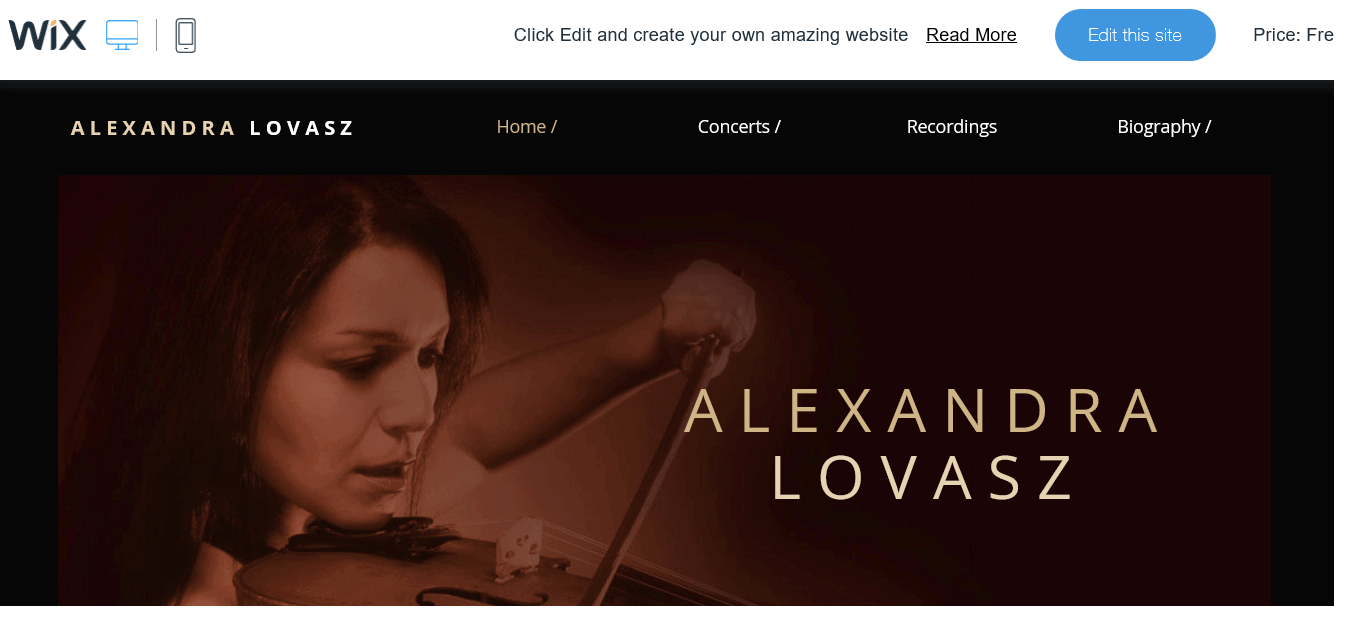 Some of the best music artists never get the breakthrough. But with your own website, you can certainly reach out to the world and leave your own impression. Whether you are a performing artist, a well-established musician or a creative professional, the Solo Artist template from Wix provides you just the right tools to showcase your services.
Share your work or even sell your music using Wix Music app. List the dates and venues for all your upcoming concerts and events. Showcase your work on your website by sharing your recordings.
You can also show reviews from your clients and add apps to allow them to book your performance.
6. Graphic Design Portfolio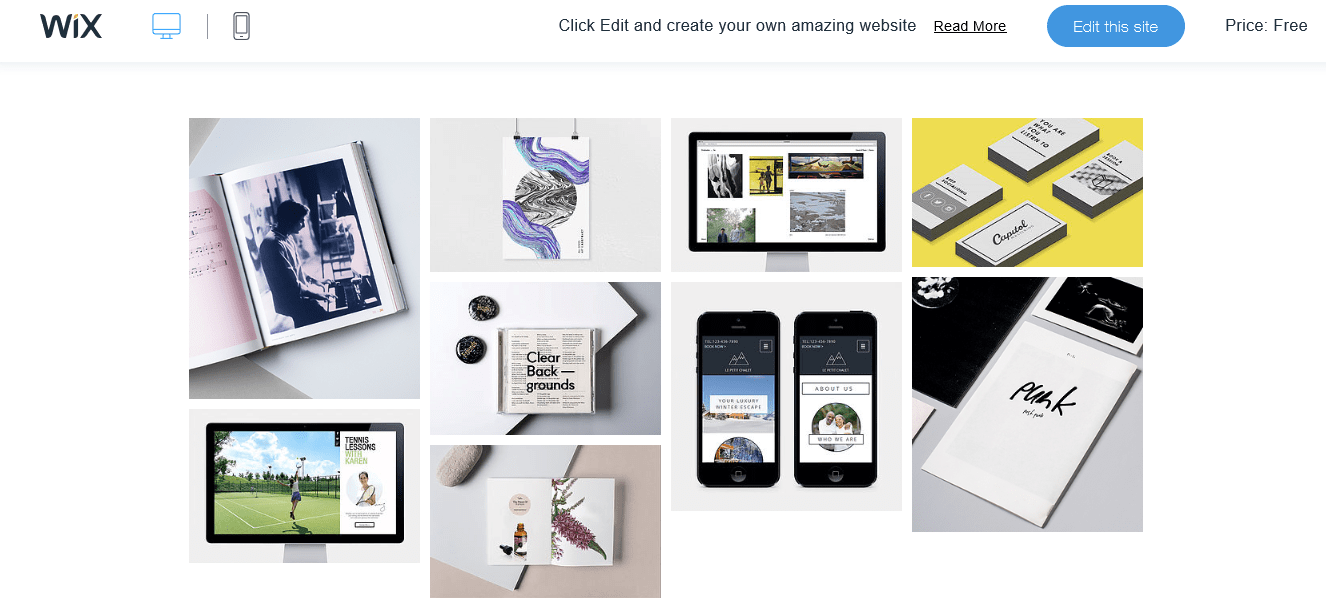 Having your own website can take you to the world. With the Graphic Design Portfolio, graphic designers can promote and offer their services to potential clients located anywhere in the world. Showcase your portfolio of previous work and use the Wix Pro Gallery app to protect it from anyone accessing it without your permission.
Allow your clients to book your services online. You can even add online payment processors to your website to accept payments from clients for your work.
All the Wix templates are mobile optimized. You can also use Wix SEO Wiz to optimize your site for Google and other search engines. The website builder provides an easy-to-use Editor to edit your template, add apps, videos, photos, and different kinds of functions and features. The site creation process involves a simple drag-and-drop model.
sdsa