Do you know that anybody can create a WordPress blog in the time it takes to drink a large cup of delicious hot coffee?
Yes, even if you have no prior expertise with blogging or website creation, there is no need to make things more difficult than necessary. At the very least, it is my perspective, and that is what I am here to assist you with today!
To begin, congrats for making it this far! To get started with a WordPress blog on Bluehost today, you'll need two items:
You should already have a fantastic blog subject in mind and a great blog name in mind.

Now all you need is a simple step-by-step WordPress tutorial to get your blog up and visible to the world.
What's the greatest part?
I created this lesson for complete newcomers to blogging. If you believe that starting a blog from scratch is very complex and difficult, have no fear. I've been in your shoe and I completely understand how you feel!
And, although we'll cover a few minor details, I'll take you through everything step by step.
Because here's the situation:
When you begin a WordPress blog, you want to ensure that everything is configured properly. I understand that you do not want your site to collapse, forcing you to spend sleepless hours attempting to restore it.
As a result, at the end of this article, you'll have a rock-solid technological foundation for your site that will last for years to come. 
I use the same tools described in this Bluehost WordPress tutorial on my sites, so I am certain that they function flawlessly.
That being stated, follow along and I'll walk you through the process of creating your own WordPress site on Bluehost today!
Get BlueHost Now
By The way, How about having your BlueHost plans at a discount? Explore BlueHost coupons and get the best discount right now.
What exactly is a blog?
If you are not required to understand what a blog is, skip this step.
A blog is an online diary in which you may create and post articles on almost any subject.
Blogging has existed for a long period; it is not new. However, it has developed into a formidable force. For some bloggers, their blogs serve as a virtual extension of their businesses.
Additionally, blogging is an excellent method of content marketing. Additionally, businesses utilize blogging to raise awareness of their brand, goods, and services.
What is a blogger, and how does one become a blogger?
A blogger is an individual who maintains a blog. Managing a blog includes routinely producing and publishing blog entries, generating other kinds of online content and marketing, creating goods and providing services, building a community, and servicing an audience.
Why should YOU begin your own blog?
A blog may be about whatever you choose. If you want to create a blog as a pastime, it is perfectly OK. Even better if you want to establish a blog as a commercial endeavor.
Globally, there are approximately 600 million blogs. True, I get what you're thinking. You'll have your job cut out for you if you're going to compete with that many blogs, correct?
However, this should not deter you, since not all blogs are made equal. Some blogs become very popular, while others are one-hit wonders, but the overwhelming majority remain undetected.
Get BlueHost Now
Step By Step Process to Start a Blog with Bluehost
Their homepage looks something like this –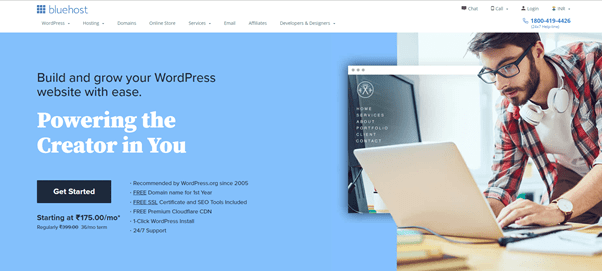 Step – 2

: Now, navigate to 'Hosting', and then click on 'Shared Hosting'. 

Step – 3

: Scroll down and you will see a page like this –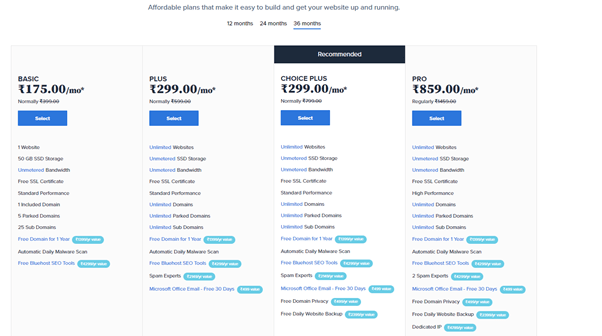 Choose the plan you think would be ideal for you. I would recommend 'Choice Plus'. Click on 'Select' below the plan you think is ideal for you. 
Step – 4

: Then you will be asked to register with a free domain name. The screen would look something like this – 
Step – 5

: After selecting the domain click on 'Next'. 

Step – 6

: Then you will be asked to create an account. The screen would look something likens this –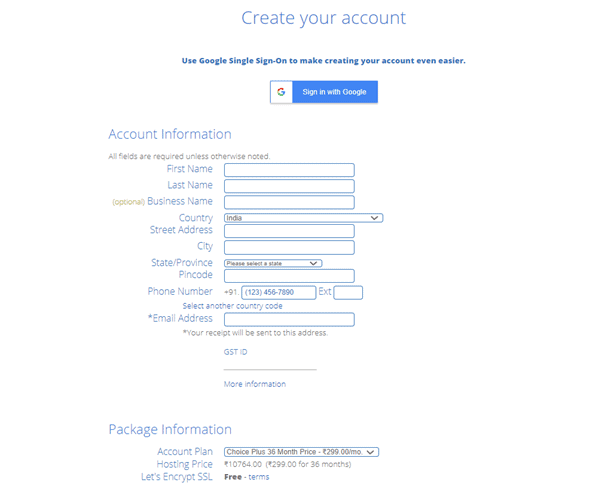 Step – 7

: Then fill up all the payment information asked for and hit 'Submit'. See the screenshot below – 
Step – 8

: Log in to your Bluehost account. You will be welcomed by Bluehost and Bluehost will ask you to set up your new password. Do it. 

Step – 9

: Next, you will be asked to choose themes for your blog. 

Step – 10

: As soon as you have chosen a theme, you will be taken to the Bluehost dashboard. 

Step – 11

: Open the WordPress dashboard. Your screen may appear a little different than this one because you are a new user.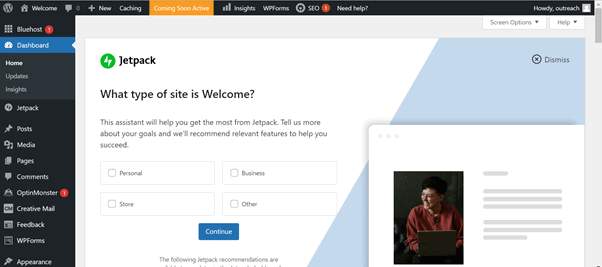 Step – 12

: Navigate to 'Posts' and click on 'Add New'. The screen would look something like this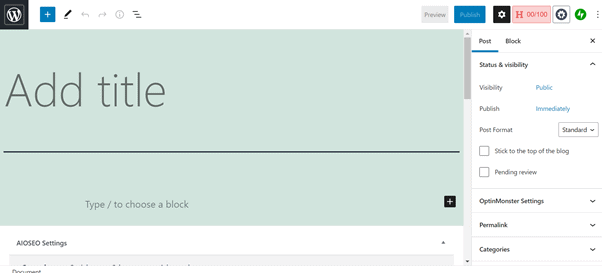 Step – 13

: Write down or copy-paste everything you want on your post. Everything from now on is pretty basic. 

Step – 14

: On the right side you will see various options, from there you can select a featured image, categories, etc. Just have a look at them and you will know. The menu would look something like this –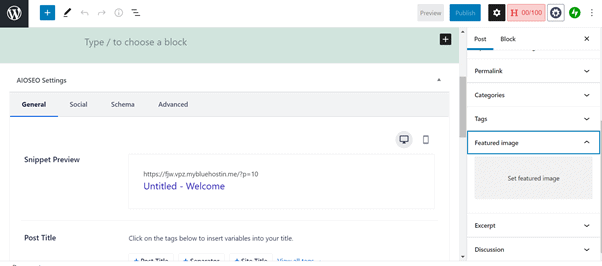 Step – 15

: Scroll down and you will see various options, like snippet preview. Post tile, etc. Fill them up. 

Step – 16

: When you are done, just scroll up and hit 'Publish'. That is it. You have successfully published your first post with WordPress. 
Conclusion
To begin, congratulations on making it this far! You should now have a firm grasp on how to create a WordPress site on Bluehost in 2021.
The critical aspect at this stage is to have all of the technical procedures in place. If you followed this Bluehost WordPress instruction to the letter, you won't have any technical difficulties.
You now have a fully functioning blog that will last for years, and you can begin producing great material for your visitors immediately!
I understand that this is a lot to take in. However, understanding how to create a WordPress blog and publish your first blog post is all that is required at this stage.
Thus, spend some time studying your WordPress dashboard and the blog post editor we discussed before. That will be your primary tool for producing excellent articles in the future to attract traffic and monetize your blog.
This will be an incredible adventure, and I'm here to help you along the way! I'll ensure that your journey is as smooth as possible.
Now I'm interested in hearing from you!
Let me know what you think in the comments section below! Kindly tell me what inspired you to start a blog!
Get BlueHost Now