It is quite challenging to choose a proxy server that is not only fast but also undetectable. Proxies are majorly available as residential and datacenter proxies. Residential proxies are hard to detect and datacenter proxies are fast.
What if you could get the combination of both the proxies in one?
ISP proxy has a combined feature of residential + datacenter proxies. In this guide, I will explain the benefits and use cases of ISP proxies.
What is an ISP Proxy?
An ISP proxy acts as an intermediary server between your computer and the website server. ISP proxies are not real device IPs and are instead hosted on a server.
ISP proxies were nothing but datacenter IPs. Since residential IPs rely on real users, there had to be a way out of this.
Proxy providers made a solution by registering datacenter IPs under internet service providers and thus ISP proxies were born.
You won't find many ISP proxy providers as the concept is new and is expensive compared to datacenter & residential proxies.
Let me clear up your confusion that static residential proxies and ISP proxies are the same. When there were only a few providers, the name was static residential. However, upon being discovered by others, it was renamed as ISP. 
Types of ISP Proxies
ISP proxies are available as Static and Rotating ISP proxies.
Static: The most common type of ISP proxies is static ISP proxies. These proxies are more often used to access geo-restricted content by getting an IP of a particular location. This helps you bypass IP blocks and CAPTCHAS.
Rotating: Rotating ISP proxies keep rotating IPs at a set interval. You can manually change the rotation time in the proxy settings. Such proxies are often used for web scraping or social media management.
How does ISP Proxies Work?
ISP proxies work just like any other proxies. It establishes a secure connection by providing anonymous IPs that support all protocols including HTTP/HTTPS/SOCKS5.
By using the internet service provider ASN, the IP assigned to you becomes more authentic and genuine. So, ISP is a combination of datacenter IP speed and residential IP security. You can rotate ISP proxies and get fresh IP automatically or enjoy sticky sessions for up to 30 minutes.
Let me show you the steps to start a free trial of ISP proxies. In this guide, I have chosen Netnut's free trial steps.
Step 1– Visit Netnut and click on Start free trial
Step 2 – All the fields are mandatory. You have to use legit mobile number as Netnut sends you an OTP for verification. Unless you fill all the details, you won't be able to go to the next step.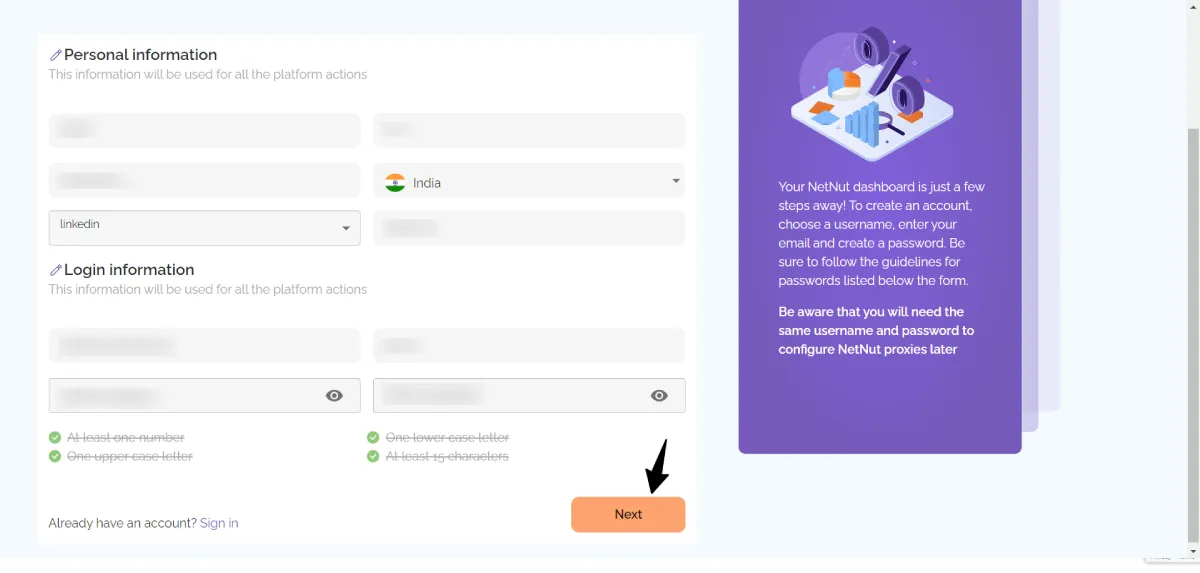 Step 3 – Click on Next and enter the OTP recieved on your phone.
Step 4 – If you are signing on behalf of a company, toggle the option or else continue as an individual. Select the purpose of using Netnut proxies, choose the type (I have chosen ISP), and decide the amount of bandwidth required.
Clicking on Next will take you to the Netnut dashboard where you need to contact the support team to activate the trial.
Pros and Cons
PROS 👍
Experience speed of up to 1 Gbps
High network uptime of 99.9%
Unlimited bandwidth depends largely on pricing models.
Legitimate IPs result in high anonymity.
Optionally rotate IPs.
CONS 👎
Price is higher than residential & datacenter proxies.
A limited number of locations.
Use Cases of ISP Proxies
Residential and datacenter proxies might not help you in accessing sites that look for real identity. In such a scenario, you can handshake with ISP proxies.
ISP proxies are very useful for managing multiple social media handles for clients. You can integrate ISP proxies with anti-detect browsers which would further provide a unique IP address and keep your profile authenticity.
ISP proxies work well for web scraping tasks and also sneaker copping. When you cop sneakers on popular sneaker sites, you need high speed to checkout faster, or else you lose the game.
ISP vs Residential Proxies
| Parameters | ISP | Residential |
| --- | --- | --- |
| 1. Source | Internet Service Providers | Real device IPs |
| 2. Type | Static + Rotating | Rotating |
| 3. Location Coverage | Not very large | Wide coverage |
| 4. Speed | Faster than residential | Moderate |
| 5. Network Uptime | Very High | High but can vary |
| 6. IP Pool | Small as very few providers | Very large |
| 7. Price | Pricier than residential IPs | Affordable |
| 8. Useful For | Sneaker copping | Web scraping |
How To Choose ISP Proxies?
I often test software and tools based on some criteria and the same applies to proxies too. Here are some common factors that I look for when testing a proxy server that you should consider before choosing one.
🌎 IP Pool: Look for proxy providers that offer a large proxy pool as that gives you more location coverage.
💲 Price: I never recommend free proxies as those are not safe at all. But that does not mean you have to choose costly proxies. Look at the use case and depending upon your budget choose proxies. Don't go for proxies that are too cheap just to upsell and compete with other proxy brands. I recommend choosing affordable proxies.
🚀 Speed & Uptime: You will find proxies that promise 99.9% uptime but fail to deliver the speed. It's better to test proxies with a free trial and check their uptime for different locations.
🛡️ Security: Proxies are not illegal, but sometimes you should read the laws carefully. I recommend choosing proxies that are CCPA and GDPR-compliant.
Relax! You don't need to brainstorm to find the best ISP proxies as I have curated a list of top ISP proxies. I am a proxy tester, so I know which ISP proxy works best. Here are my top recommendations:
1. Netnut – 7-day free trial
2. Smartproxy – Fast & reliable
3. Bright Data – A verified pool of proxies
Conclusion
ISP proxies are a powerful combination of residential and datacenter proxies. However, fewer limitations do not change the fact that it is becoming more popular for many use cases.
FAQs
What are the challenges of ISP proxies?
ISP proxies have fewer locations and although they have large subnets, they are still not as good as P2P residential proxies.
Are ISP proxies costlier than P2P proxies?
ISP proxies are costlier than datacenter and residential proxies. You can pay for ISP proxies per IP or per traffic.