A content writer cannot be replaced by Jarvis. Instead of one blog post, you will be able to write two to five. By training your content writer with Jarvis, you will dramatically increase his/her output! Read this Jarvis.ai Review to get in-depth knowledge of this tool.
Having tried a number of AI writing tools, I can say Jarvis is the best when it comes to the quality of output. Writing persuasive blog posts is especially important if you are writing content that sells.
This blog post is a review of Jarvis (Conversion.ai).
About Jarvis.AI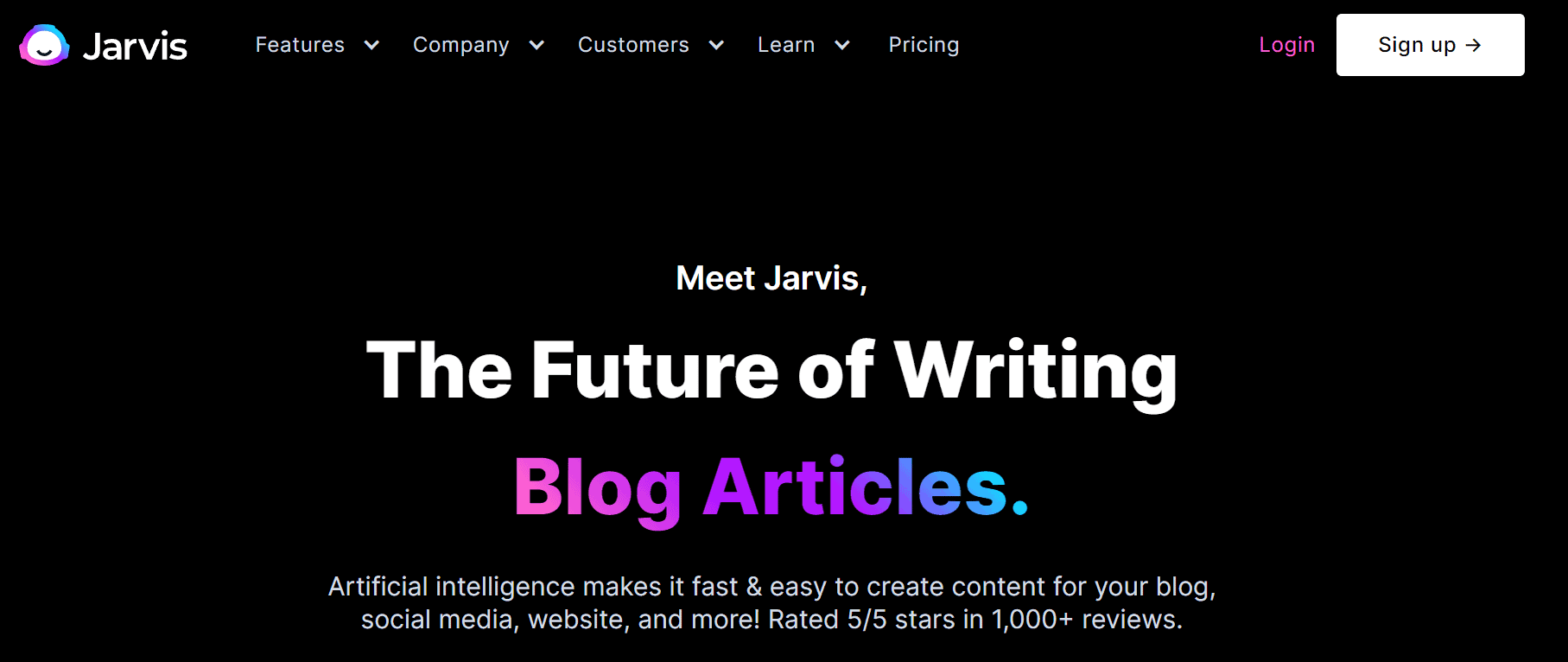 You first need to know what is Jarvis.AI before you actually buy it. Jarvis.AI is an artificial intelligence that has been trained to create new, creative content.
The Jarvis.ai service (formerly Conversion.ai) uses artificial intelligence to create content for websites. It's like writing entire blog posts, books, marketing campaigns, and more – completely automatically.
It generates educational blog articles that are plagiarism-free and keyword-rich. Increase sales and ROAS by easily writing and testing more copy variations.
Jarvis.AI Features

Get Jarvis Today
#1. Long-Form Assistant
Write blog posts, video scripts, sales pages, and more with this feature. With the team member feature, you can share an email or a post with multiple teammates and receive feedback from each of them simultaneously. Collaborating has never been easier.
A great deal of importance can be placed on the input we provide to the AI. Ensure that the description is descriptive enough and that the tone of the statement is appropriate. As with any other AI tool, Jarvis works by analyzing patterns.
AI will compose content based on your input if it is good.
#2. Jarvis Recipes
At the time of writing this blog post, Jarvis Recipes was introduced.
Let us know what you mean by recipes.
To get a high-quality copy or content, you need to run a series of prompts or commands.
Let's see how it goes.
Additionally, if you are entrusting the outline to a writer, you can include an explainer video!
Why Choose Jarvis.AI?
Jarvis.ai is a product of the same company that makes UseProof. With Jarvis' other popular product, UseProof, and their understanding of copywriting, they understand what makes copy compelling.
Jarvis (Conversion.ai) stands out from the competition due to its deep understanding of direct response copywriting coupled with a powerful AI.
Jarvis.ai has been acquiring companies. As of March 29, 2021, they purchased tools like Headline and ShortlyAI. Headlime was acquired to improve their AI algorithm, and ShortlyAI (which was a very strategic acquisition) to integrate GPT-3 commands (called Boss Mode) into their app which paid off for the company really well.
Get Jarvis Today
Jarvis.AI Templates
There are many copywriting templates in Jarvis.ai. Select a template and fill in the details to have Jarvis create a relevant copy for you. Here are some of the templates that you can try out.
#1. Content Improver:
It rewrites content so that it is more engaging, creative, and interesting.
#2. Product Description:
This Lets you write compelling product descriptions for use on your website, emails, and social media.
#3. Problem-Agitate-Solution (PAS) Framework:
Encourages new marketing copy ideas.
#4. Short Social Posts:
Write social media posts under 140 characters.
#5. AIDA Framework:
This is the oldest marketing framework in existence. The four AIDA components are attention, interest, desire, and action.
#6. Creative Story:
Including storytelling in your content creation process is a great idea.
#7. Blog Post Intro Paragraph:
Helps you figure out what to write in the opening paragraph of your post as well as get rid of writer's block.
#8. Sentence Expander:
It lets you expand a short sentence or a few words into a more creative, interesting, and engaging longer sentence.
#9. Text Summarizer:
Extract the most important information from a text.
#10. Blog Post Topic Ideas:
Come up with ideas for new blog posts that will be interesting to readers and rank well on Google.
#11. Feature to Benefit:
Communicate benefits that will motivate people to act.
#12. Video Description (YouTube):
Creating search-engine-optimized descriptions for YouTube videos.
#13. Video Script Hook and Introduction:
Describe your video in a way that will capture your viewers' attention and motivate them to watch to the end.
#14. Persuasive Bullet Points:
Create persuasive bullet points to insert into landing pages, emails, and other forms of communication.
#15. Unique Value Propositions:
Develop a strong statement that describes the benefit of your offer.
Quick Links
Conclusion- Jarvis.ai Review In 2023
There are many reasons why Jarvis (Conversion.ai) might suit your needs.
The templates-only plan is popular among bloggers, who use it to create fragments of their posts.
If you plan to use that "Compose" button a lot, you might want to opt for an unlimited plan instead.
Get Jarvis Today