Are you still struggling to get the most out of your first-page Google rankings in 2021?
Well, You can do that with adding more features to your SERP snippets. And to do the same, you have to configure the schema.org markup to your web pages.
Having the review star rating on Google SERPs benefits a lot to stand out of the box and get the reader to click on your listing there. This is what these best schema plugins do.
It is very important to always stand out of the box to attract the attention of a person. And this rule comes in practice in a circumstance where you have to compete with 9 more search results on the first page of Google search results page.

Do you want a SERP snippet like this? Check out the schema plugins for WordPress listed below.
---
Best Schema Plugins for WordPress To Get Best SERP's in 2021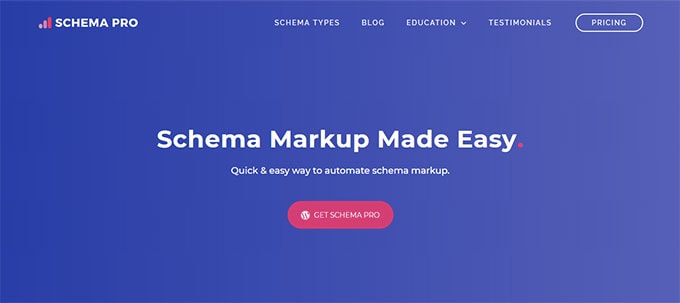 Developed by Brainstorm Force, Schema Pro is one of the best plugins to display the star ratings on Google. With a huge list of features, Schema Pro defines each and every section of your website. This helps Google understand your content structure.
As a result, it becomes easier for your website to outrank the competitors who aren't able to explain its structure to the Google bot.
I am currently using this plugin in 2021 and it works like a charm. You can not only add any kind of structured markup on your posts but also use custom fields to design your own layout for reviews, business pages, events and any other kind of snippet.
---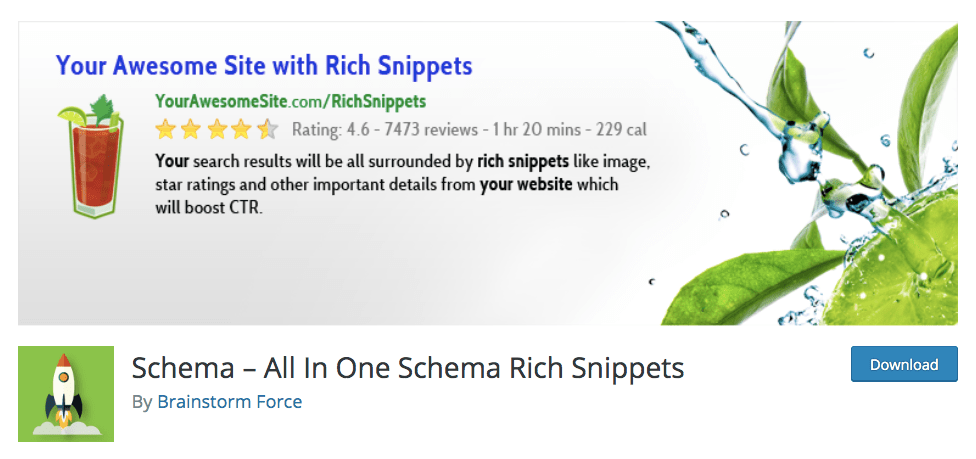 All in one schema.org rich snippets is the first plugin in our list for websites and blogs. It is exceptionally popular and prestigious module that is accessible for review markup.
It is a free plugin that has all the essential elements. All in one schema.org rich snippets is a solid and stable module/plugin to enhance your search result snippets. It is intuitively amazing to give you a chance to emerge from the rivalry.
The Rich Snippets Plugin's Features:
✅ Enables support for common schema including recipes, ratings, events, products, people, and recipes.
✅ It is very easy to set up and configure
✅ The best part of the plugin is that, it supports most themes and adapts the code automatically to ensure visibility of star ratings in SERP.
---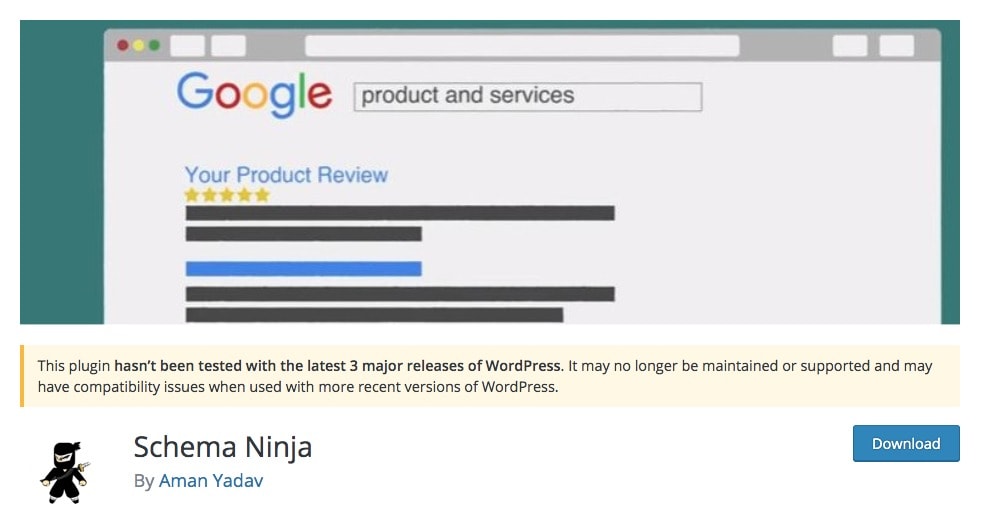 SchemaNinja is the latest WordPress plugin (that I am using on this blog) that gets reviews markup schema data very fast on Google SERPs. Not just the review markup, but also helping to make more money from the CTA buttons after each review box.
Features of SchemaNinja
✅ Rich Reviews
✅ Good Appearance of reviews
✅ Responsive
✅ Quick Review Stars in Google search
---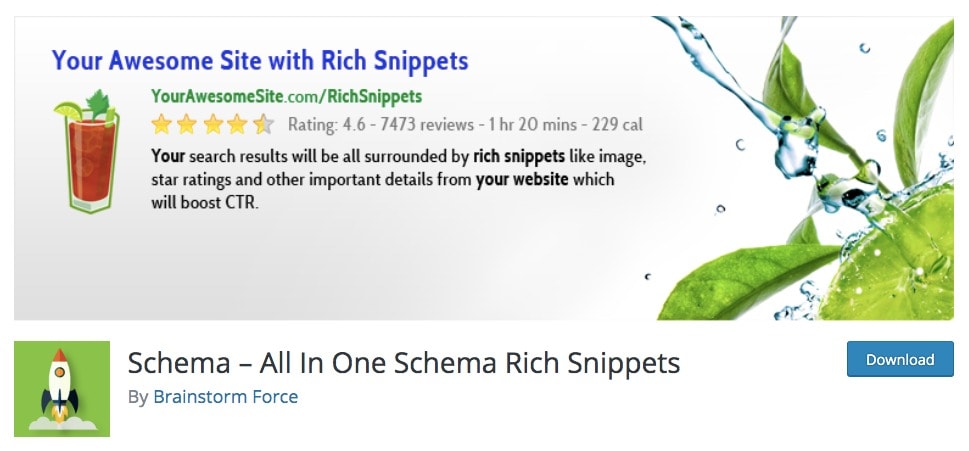 WP Rich Snippets plugin offers rich snippets particularly for surveys/reviews and others related site pages. It is an extremely known and easy to use module that empower you to choose from a substantial variety of alternatives to fabricate rich bits.
By using WP Rich Snippets you can create own attractive stylish reviews for the appraisal posts on your page.You have full control over what pattern information is added to each post and page.
Features of WP Rich Snippets:
✅ Offers a multitude of accessible schema types to add to your posts, prices, and hours opens, percentages, star ratings, votes, and addresses.
✅ Easy to access, and helpful support.
✅ Offers Multilanguage translation.
✅ Easy to setup and configure.
✅ Add-ons accessible to participate with WooCommerce.
✅ Enables visitors to add reviews through WordPress comments.
---
It is another flexible plugin that can be the best plugin for generating the rich snippets and also a schema shortcode generator. You can use it to create shortcodes, which apparatus schema markup and you can also set your data to be either visible or inconspicuous.
When distinguished with other free plugins it doesn't create schema directly. besides this, it gives you full command to reconstruct each post or page and select what to show.
Features of Rich Snippets WordPress Plugin:
✅ Create shortcodes to contrivance schema markup
✅ Select the place to display your schema data on your post or page for the audience to see.
---
Schema app structured data is an exceptionally straightforward and propelled device that is intended for WordPress users to alter their composition specifically and effectively and you can do this with no coding.
Features of Schema App Structured Data:
✅ Automatically adds schema to all your pages and posts
✅ You can easily edit scheme for each page or post without any coding information.
✅ Integrate with WooCommerce
✅ Available premium version with advanced features and full support.
---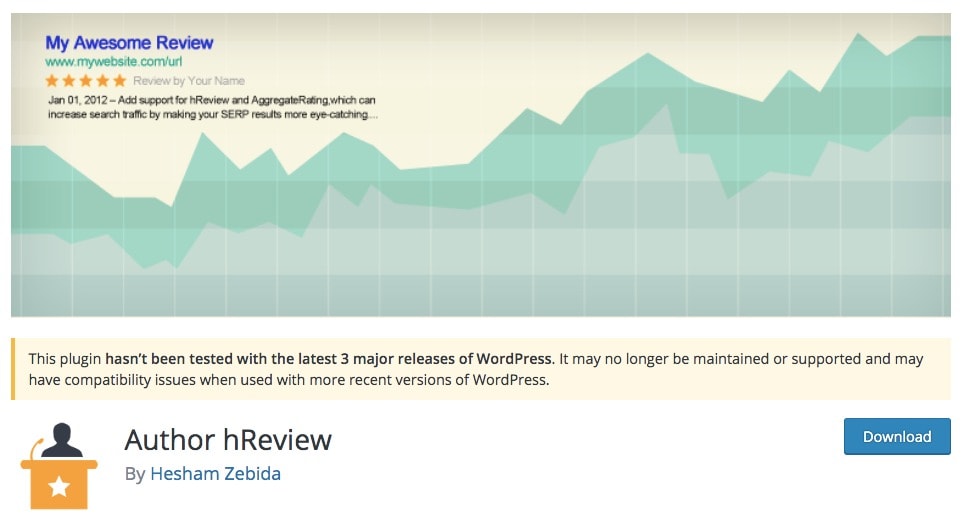 Author hReview, available for $69, is a WP rich bits plugin that on a very basic level reduce the unconventionality of the graph markup. The snippets are definitely not hard to use and can help you in embeddings studies/comments as rich snippets for your blog sections.
Features of Creator hreview:
✅ Smooth Functionality.
✅ Compatible for WooCommerece.
✅ It's Cheaper Than Others.
Why Rich Snippets/Schema WordPress Plugins
Using schema plugins is fun. You not only make your review blogs/pages look better with the review boxes but also improve your visibility in search results. At the same time, the user can quickly understand the rating you've given to the reviewed product/thing.
The product you're reviewing can be anything. It can be a song, book, article, product or event. It can also be a recipe.
Yes, recipe. You can also make your recipe blog stand out in search results by using the best Schema plugins for WordPress.
How to test Schema Markup from Schema Plugins
Above schema plugins will simply add a code in your page's body which defines values of the review.
You can further verify if everything is set to rock with Structured data testing tool.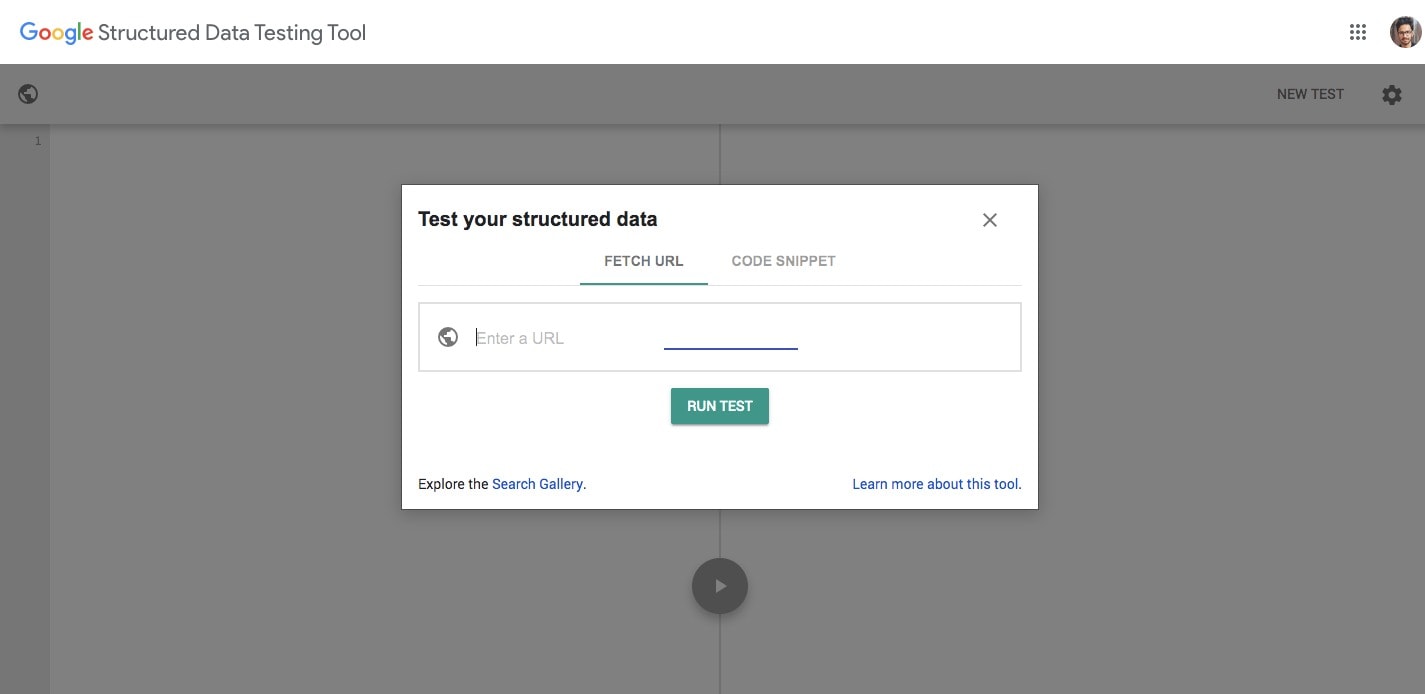 You only have to paste the post URL here and hit "RUN TEST". The tool then will show you something like this.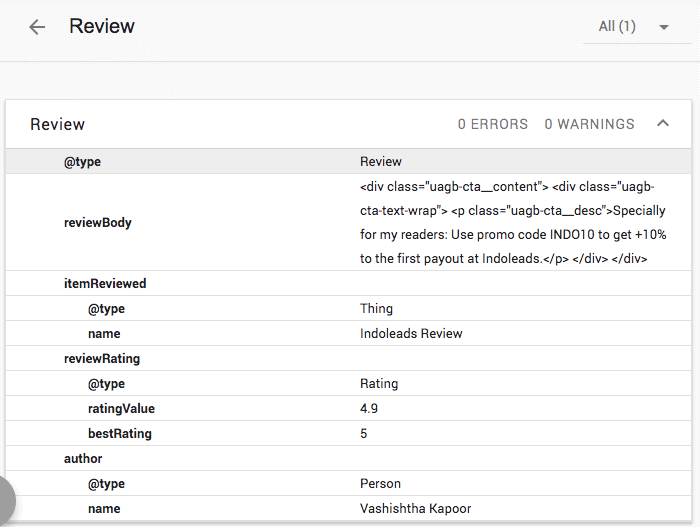 User Reviews?
User reviews are important when you have a review website and that too is run by your readers. Showing right number of stars on Google based on the user reviews and the editor review becomes a very fundamental feature if yours is a review-based/business listing website.
For example, here is a website which has the feature for users to post reviews for a business that is listed on the website.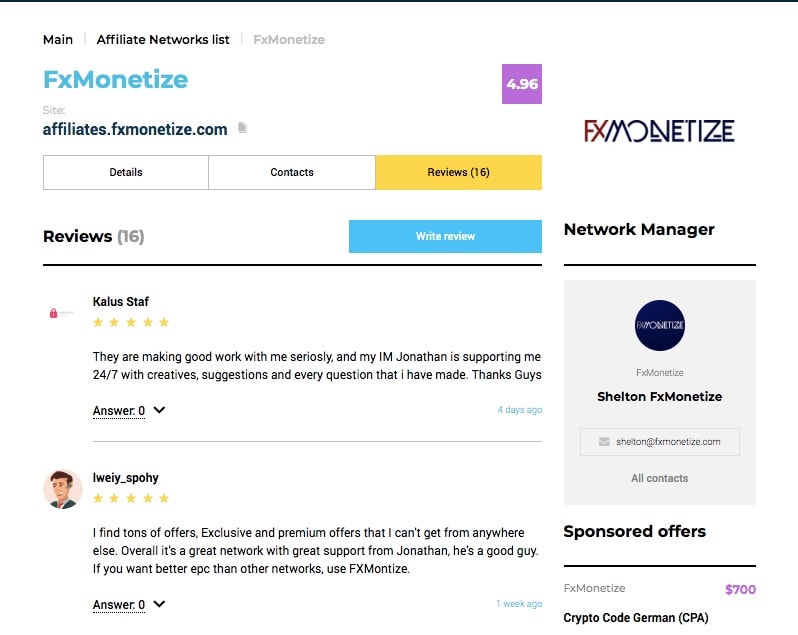 Now, the job of a webmaster would be to aggregate the ratings from all the users and show it correctly on Google. and on the website, of course.
To do this, you need to have a powerful schema plugin for WordPress which supports user reviews through the comment form.
Schema for Reviews is compulsory?
Many people have this question if they really need a schema review plugin to show review stars in Google.
The answer is Yes. You very much need a WordPress plugin to make it easier for you to insert JSON-LD review markup to your blog posts. There are many themes which have built-in review system. You can use them too.
Schema Plugins Review $69
Summary
These plugins are a great way to improve your ranks on Google and any other search engine. It is a must use feature for any webmaster.
Rich Snippets
Improved CTR
Visually Appealing
Improves UI
Pros
Enough of the improvements to stand out on search engine results.
Cons
Frequent plugin changes may put you in trouble and the stars won't show up in Google.
Which Schema Plugin do experts use?
I personally use WP Review pro by MyThemeShop to display the review box and star ratings in Google. It also has the option to offer users to post reviews.