We all blog ultimately to make money out of it. Right?
There may be some hobby bloggers. Still, a majority of bloggers' primary motive is making a living blogging. Let me ask you one thing!
Which kind of traffic is the best to get us the maximum profit?
Before you get into anything else, let me tell you it is organic. Traffic from search engines gets you the highest conversions which is why your site should be SEO optimized.
Your WordPress theme has a vital role in making your site search engine friendly. So here are the best themes optimized for search engines.
Why you need an SEO Ready (aka SEO Optimized) WordPress Theme in 2020?
Technology has been offering us various mediums for bridging the global geographical distances. The ease with which one can strategically place their desired information on one single platform not only helps the end-user gauge all data but also helps the advertisers to earn some monies while showcasing the same. Well, we all channelize our energies and resources towards making some revenue after all.
What is fascinating to observe is how various hobby bloggers eventually turn to blog as a source of livelihood. Where blogging is becoming the most trending fad in today's digital life, one needs to lay utmost importance to understanding how can we capitalize on the traffic. Once, we identify the total visitor's efforts need to be made to understand how to segregate the relevant traffic and ensure it makes the maximum possible profit for us. One need not fret! As complicated it may sound, everything is organic, thus, one needs to ensure that to achieve desired traffic hits the website is SEO optimized.
WordPress is your one-stop destination with various options to make your website search engine friendly. Mentioned below are a few of their themes that are ideal for any blogger (fresher or experienced) both aesthetically and optimized for the webmaster.

Best SEO Optimized WordPress Themes
#1 Socially Viral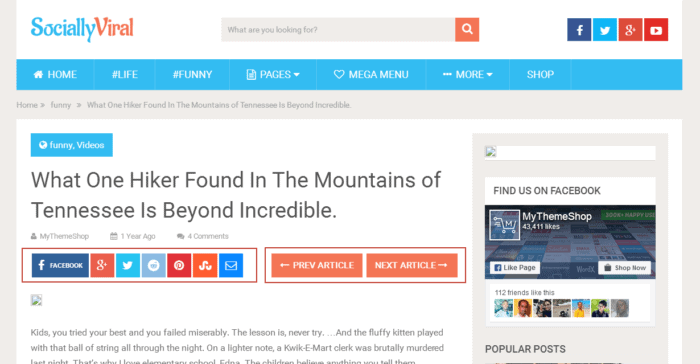 See DemoDiscount LinkFastest Hosting
Being a WordPress blogger, you might have heard of MyThemeShop. It is a marketplace for WordPress bloggers rich with themes and plugins.
Socially Viral is a theme developed by MTS. If you are in pursuit of finding an SEO optimized theme for your viral website, Socially Viral can be the one.
The developers were keen enough to provide spot for advertisements. So, you are getting not only an SEO optimized theme but an AdSense ready one too
---
#2 BeTheme
✅ Performance Grade: D 67
💾 Page Size: 2.6 mb
⏳ Load Time: 2.26 s
📲 Requests: 167
See DemoDiscount LinkFastest Hosting
Betheme is not just another theme to help you design a website. It also offers you a huge list of predesigned templates. This list has websites made on BeBuilder for almost every purpose.
---
#3 Schema WordPress Theme
See DemoDiscount LinkFastest Hosting
Schema theme makes it easier for you to rank on the top of SERP. Elegant & clean design is the attraction of the theme. I also love the way HTML tags are used for titles and content.
All you need is a good SEO plugin to outrank the rivals. You can use either Yoast SEO or Rankmath while both are nice. If used well, you can outrank them in a month or two. The theme can also be used to run a small niche-based eCommerce store.
The theme has got a clean and SEO optimized code so that search engines never ignore your blog. Once you buy this from MyThemeShop, you will get timely updates.
The theme has got a clean and SEO optimized code so that search engines never ignore your blog. Once you buy this from MyThemeShop, you will get timely updates.
The shop template is quite clean and woocommerce optimized.
It is kinda easy for me to list down the pressing features of this theme as I am personally using the same:
Fastest WP Theme ever
The option to customize each sidebar further helps in optimizing each post
An impressive theme options panel to customize almost everything
eCommerce optimized layout and code
SEO ready title tag and content
---
#4 Astra Pro
See DemoDiscount LinkFastest Hosting
With the evolution of page builders, especially Elementor, ASTRA has created a reputed name for itself. The design of the theme is very professional i.e. crisp and minimalistic and it is loaded with predesigned templates that can be imported on the website. It gives the option to customize the typography i.e. the header, footer, content section, sidebar width and style and has the ability to support any page builder plugin of your choice.
Also, I recommend that someone who is entering the world of digital marketing for the first time should try and use this theme to experience all required nuances in detail and receive the required kick start.
---
#5 SEO WP
See DemoDiscount LinkFastest Hosting
A freelancer offering digital services like SEO, SMO &/ or Guest Posting for CRM needs to definitely try this theme. The huge collection of icons, graphics, and guides helps to successfully run a digital marketing agency.
---
#6 Newspaper
See DemoDiscount LinkFastest Hosting
Newspaper is yet another SEO-friendly and purposefully designed WordPress theme for a news/magazine website. However, the theme deals well with the requirement of a clean, elegant and minimal SEO-friendly blog/website.
Let's talk about the usage of the theme. It comes packed with templates for different kind of demo sites. These demo sites contain layouts for niches such as technology, fashion, food, travel and a lot more.
---
#7 Adsense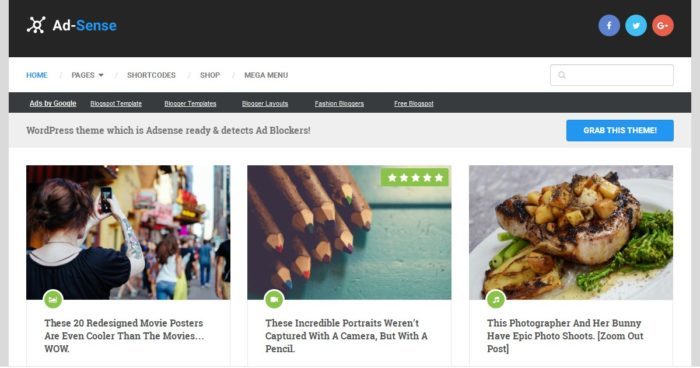 See DemoDiscount LinkFastest Hosting
I am sure like me the Adsense theme is not a new theme for many. This blog you are scrolling through right now has been supported by the very theme for more than 6 months by the same. Alongside, I was able to deliver few freelance projects with the help of the same, with customer satisfaction being one assessment parameter.
The theme has already ensured its name in the best dollar-friendly themes. Firstly, the theme has a clean and optimized code. Secondly, the design score is above average. Lastly, it helps you earn the maximum dollars.
---
#8 Authority Pro
See DemoDiscount LinkFastest Hosting
The simple, clean and old-school layout catches the heart very easily. This theme is a perfect combination of class and simultaneity. Adding to it, the power of the Genesis framework adds value to the product.
Genesis themes already have exceptional SEO-optimization code and layout. This cool looking theme is a bonus if you choose to design your website with this theme. Not just the authority pro, but also any other genesis child theme will come with SEO advantages to rank for keywords with the least to worry about the optimization.
---
#9 Corporate Pro
See DemoDiscount LinkFastest Hosting
I get it. You have to attract the focus of your users right on your content. A webmaster is happy when his website's content is being consumed. The corporate pro theme helps you in the same.
The corporate pro theme can be said to be the best SEO-optimized template.
It is not a hidden fact that the primary goal is to be able to attract users to your content and the overall website.
---
#10 Magazine Pro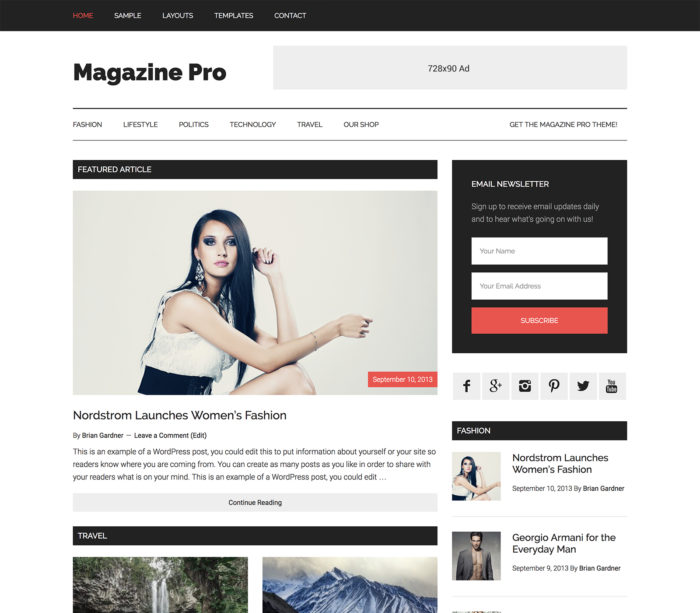 See DemoDiscount LinkFastest Hosting
You heard of the Genesis framework, didn't you? It is the popular WP framework developed by StudioPress.
I have been using this theme on one of my blogs since long. The best thing about Magazine Pro is the simple coding, due to which it has got the best search engine friendliness and loading speed as well.
Genesis also has a plugin called Simple Hooks. If you install this plugin, you can insert any code into any part of the theme you want.
A magazine website is built with a goal of showcasing the maximum content before a scroll. You can accomplish the same with the Magazine Pro theme. The reason being a genesis child theme, this theme scores well on SERP for your keywords.
---
#11 Rehub
See DemoDiscount LinkFastest Hosting
One of the most-selling blogging themes, rehub, comes packed with the core features of an elegant review/comparison website. Adding to the core features, the SEO optimization efforts are remarkable. That's the reason why its here on this list.
You can create a user-friendly review, coupon or comparison website. Besides this, you can also run a creatively exceptional blog. I never thought of the widespread use of the theme before I used it.
---
#12 Zerif Pro OnePage
See DemoDiscount LinkFastest Hosting
Zerif has been the most downloaded theme on wordpress.org. Ever since the launch, there have been regular updates and improvements. These improvements include Gutenberg support, page-builder support and a lot more. By the way, Zerif is a one-page website theme.
I don't have any doubt about the quality of the theme because I run multiple websites. Most of the sites are using Zerif pro.

---
#13 Sahifa Theme
See DemoDiscount LinkFastest Hosting
I have seen many websites using this theme. No matter you have a multiniche or a microniche site, Sahifa can come handy with its search engine optimized codes.
There are tons of features included with Sahifa like a mega menu, slider, multiple theme layouts, social counter widget, free plugins, etc. These features never leave you in a lack of possibilities with design.

---
#14 Novo
See DemoDiscount LinkFastest Hosting
The theme is ideal for a photography blog. It has the ability to showcase the various moods in a single scroll or just listing the various videos one has worked on. The theme offers features like HTML5 & CSS3 Valid Code, Beautiful and Awesome Design.
---
#15 News Pro
See DemoDiscount LinkFastest Hosting
I am not fond of monochrome-styled designs. However, I like the way it presents your content.
---
Did we find the Best SEO Optimized WordPress Themes of 2020?
You now have more than ten of the best SEO optimized WordPress themes.
If you ask me to recommend the best one, I can't stop myself from suggesting Schema. In my experience, it is the best search engine friendly theme.
But you should check out fast woocommerce themes as well, especially when your intent is starting an eCommerce marketplace.