When it comes to taking your business online, everything boils down to having a website that works like your online presence. Now, where there you are looking to start a website, there is a need for reliable hosting. However, the good news is that there are plenty of options available in the market, just like ResellerClub. 
Why ResellerClub? ResellerClub is one renowned platform that is known for its excellent hosting services. Even though it is a good option to get your website launched on the internet, you would probably need more options to try out. 
So, down there are a bunch of perfect-fit ResellerClub alternatives that give you the services just like ResellerClub. Have a look and see which one best fits your needs.
First, let's understand what ResellerClub is exactly. This is one outstanding hosting provider which is known for its incredible reselling hosting service. Therefore, the name Reseller. 
It is perfect for web designers who deal with many clients at once. We know how you often face the issue of quenching different hosting needs. This is where ResellerClub becomes the best choice for you.  
ResellerClub is renowned for its super-flexible hosting plans that come with many features. You'll love how it works with unlimited disc space and bandwidth and its effortless WHMCS and cPanel. When you have all these in hand, you can earn a lot by selling them to your clients.
ResellerClub Features:
Now, what makes ResellerClub so good? It's all about its excellent features. Now, let's look at them and see how they work. 
You can work with unlimited hosting; every website will have free SSL.

This one offers you a 30-day money-back guarantee.

You can start with the lowest plan and upgrade gradually as and when you find the need.

ResellerClub has 5 data centers across the world. Its services are spread across Austin, the UK, Hong Kong, Turkey, and India.

The company here takes care of all the security patches and upgrades, which is why you can call it semi-managed.

You can create as many email accounts as possible; there's no limit.

There are more than 400 apps that are ready to install. All by Softaculous.

This one offers you the best DDoS protection when you need it. Besides, they care about your protection and offer features like ClamAV antivirus and SSL manager.

If you need help managing your client's websites, you'll have free WHM and cPanel.
Get ResellerClub Hosting
Here are some of the best ResellerClub alternatives in 2023:
List of Top ResellerClub Alternatives in 2023
Right on top, we have DomainRacer, which is known to be the cheapest web hosting provider. The first thing to note about it is its experience. DomainRacer is most similar to ResellerClub. In addition to enjoying recent success, the organization is regarded as a strong rival to each hosting provider on the list of ResellerClub alternatives.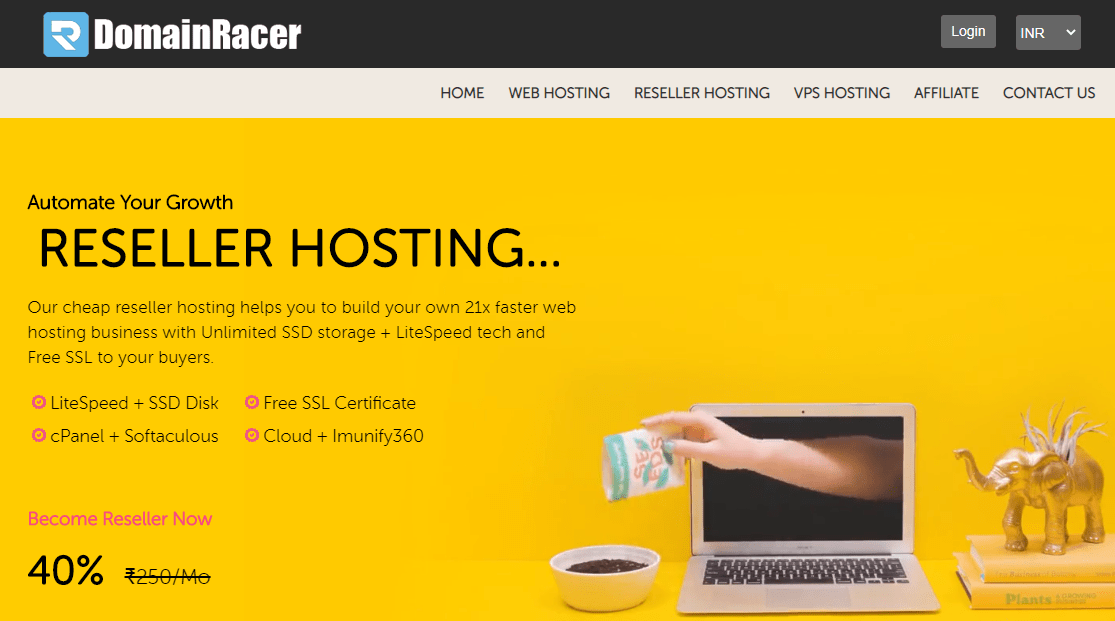 DomainRacer Features:
Get automatic weekly backups.

Your site will run faster and perform better overall, thanks to free SSL and LiteSpeed.

Free hosting transfer from any other site host to DomainRacer.

WordPress is already set up.

You receive reliable security and stability thanks to the excellent CloudLinux infrastructure.

The service is excellent by phone, ticket, and email and outperforms that of most competing platforms.
Get DomainRacer Reseller Hosting
Okay, who doesn't know about GoDaddy regarding website hosting? This is the most excellent ResellerClub alternative in 2022, especially if you want to grow your hosting business with the best out there. Your domain and hosting business can get off the ground with the help of its business automation tool. WHMCS powers every reseller hosting plan offered by GoDaddy.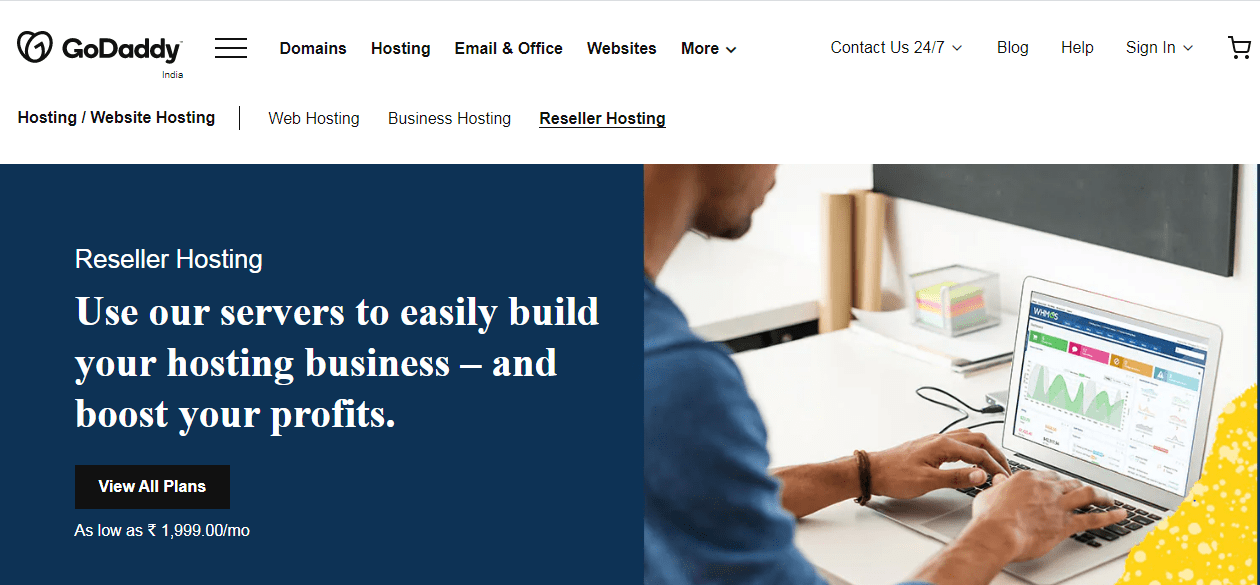 GoDaddy Features:
Accept payments through all well-known payment processors that work with different currencies.

It enables you to design personalized hosting plans using fully programmable resources.

Pay yourself however you wish.

You can save time by using automated invoicing and payment reminders.

Pick from a huge selection of pre-made templates.

Reports that include complete client information and unpaid debts.
Get GoDaddy Reseller Hosting
The greatest hosting firms include Chemicloud. Hence, this stands as one of the finest ResellerClub alternatives. The support staff is quick, dependable, and ready around-the-clock to address any web hosting concerns, so you'll have a wonderful experience.
With the help of MailChannels, WHMCS, CloudLinux, cPanel, Litespeed, Softaculous, and Cloudflare, ChemiCloud reseller hosting runs smoothly. Using the Halloween coupon code HALL50, the company is offering fast, safe, and dependable reseller hosting at a 50% discount.
ChemiCloud Features:
With Chemicloud, enjoy daily backups and free SSL certificates.

With only one click, install WordPress, Joomla, and more.

Site performance is 300 percent faster because of SSD disc space.

Global servers enable you to decrease latency and speed up page loading.

Free site migration without additional fees or downtime.

MailChannels-powered reliable email service that guarantees inbox delivery.

To register any domain extensions, create a free domain reseller account.
Get ChemiCloud Reseller Hosting
HostGator is a top-notch web hosting provider for bloggers and small businesses that provides various effective tools, including a fantastic website builder. However, HostGator's reseller hosting plans will catch you off guard. They are made so that you can make a lot of money. HostGator is a Houston-based company that offers dedicated, shared, reseller, and virtual private server web hosting.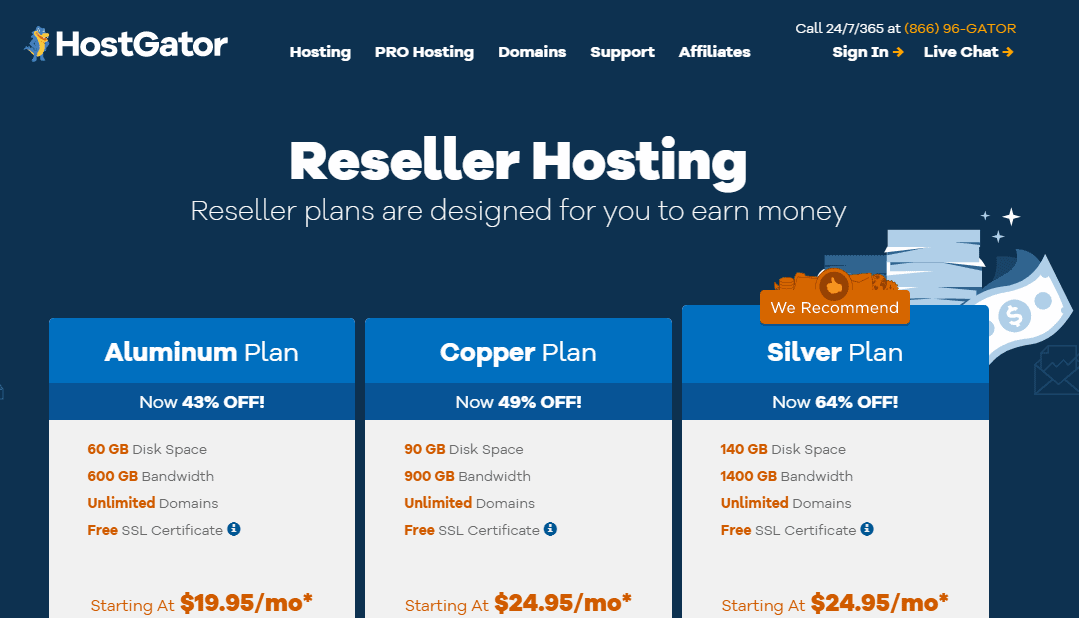 HostGator Features:
HostGator offers a 45-day refund policy.

Powerful tools like billing software and WHM.

You can always scale up or down as needed.

24/7 award-winning customer service.

You'll definitely love the guaranteed uptime of 99.9%.

Flexible resource distribution enables you to meet your client's needs.
Read: HostGator Review
Get HostGator Reseller Hosting
Up next, we have Namecheap. Based in Phoenix, Arizona, the US, Namecheap is a domain name registrar with ICANN accreditation that offers domain name registration and web hosting. Reseller hosting from its offers affordable hosting plans without sacrificing quality. All of the plans include unmetered bandwidth, free cPanel/WHM, and a 30-day money-back guarantee. 
Something Namecheap is doing is effective for thousands of businesses worldwide. You can be confident that they have ironed out many bugs over time and now offer a generally excellent product.
NameCheap Features:
Namecheap provides bandwidth not limited

Quickly install WordPress and control everything from one dashboard.

White-label marketing, billing, and other solutions are intuitively designed.

cPanel and WHM are absolutely free.

High-performance reseller servers powered by RAID 6 Pure SSD, Dell, and Cisco.

They have an impressive 24/7 live chat, a help desk, and immediate support.

Guaranteed 30-day refund
Read: NameCheap Black Friday Deals 2023
Get NameCheap Reseller Hosting
GreenGeeks is one of the most environmentally concerned hosting providers. This is why it is known as one amazing green web hosting company with a 300 percent dedication to green energy. Each reseller hosting bundle comes with hundreds of built-in features. Try GreenGeeks' reseller hosting plans if you're in the hosting industry.
Since it has been around since 2008, GreenGeeks has been the leading green web hosting company in the business, regenerating three times as much energy. Each plan includes a free drag-and-drop website builder, a cPanel for managing all of your client's websites, and the ability to host an infinite number of websites.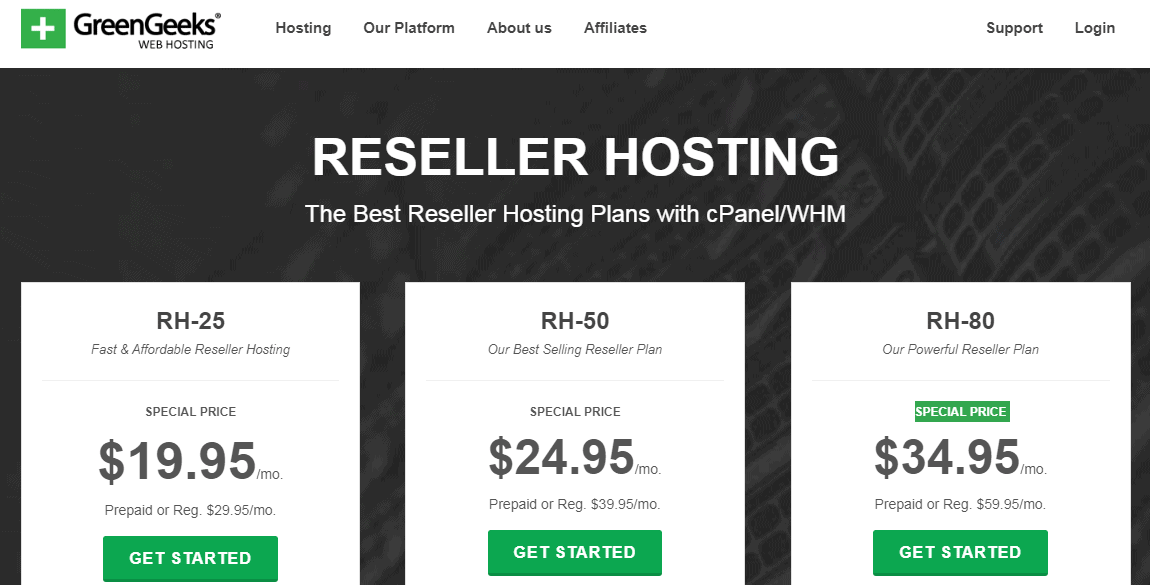 GreenGeeks Features:
GreenGeeks is completely dedicated to renewable energy.

Malware and security flaws are monitored all the time. If any potential risks are found, receive security notification alerts.

Start your own hosting business to make a steady income.

Reseller hosting options that are scalable and flexible that your customers will enjoy.

Access to different PHP versions, staging, Git, WP-CLI, Drush, SFTP, and SSH access are examples of developer tools.
Read: Best Green Web Hosting Providers | Get the latest & verified GreenGeeks Black Friday Deals
Get GreenGeeks Reseller Hosting
Moving on, we have Interserver, which is another great ResellerClub. Its most remarkable qualities are the security, speed, caching, and other features of Interserver reseller hosting. You may benefit from all of these capabilities using its VPS Hosting.
Instant Account Setup, Proactive Backups, Easy Management, and Premium Hardware are among Interserver's strengths. You will have all these once you start using reseller hosting by this one. With solid state discs and a one-click software installer, you can host an unlimited number of domains. No setup fees are necessary, and everything can be controlled using the well-known Web Host software.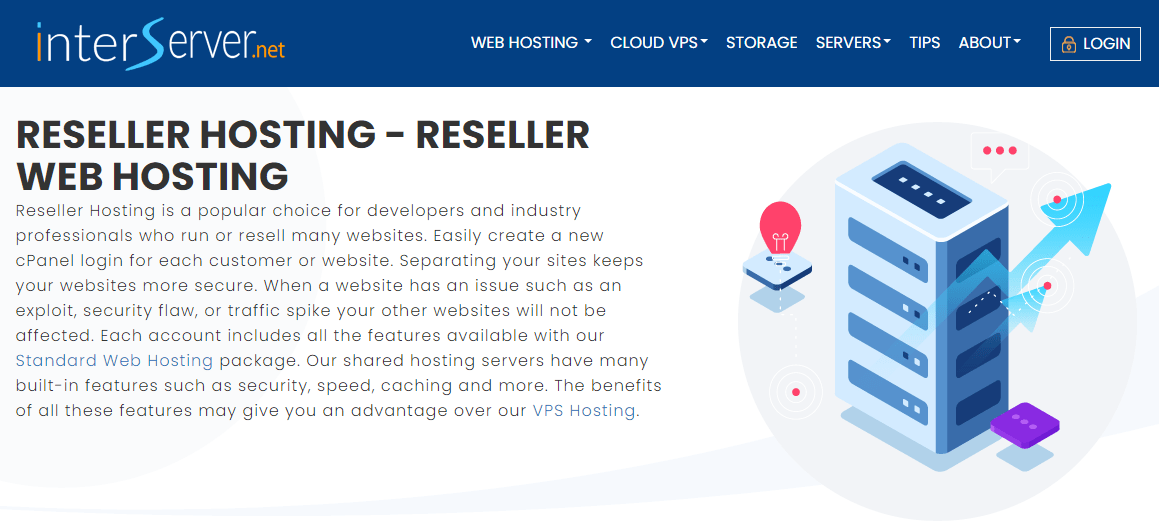 Interserver Features:
Total monthly bandwidth/transfer for all accounts that have been resold 

Never a setup cost!

Manage all of your client's websites with ease using cPanel.

Everyone receives a control panel login.

Secure your data by obtaining daily backups.

Every reseller hosting package is constructed on high-end hardware devices.

You can have private DNS servers and a special IP for a fee.
Read: Interserver Review | Get the latest & verified Interserver Black Friday coupon codes
Get Interserver Reseller Hosting
Next up, we have a privately owned web hosting company based in Canada – HostPapa. This one is known for shared, reseller, and virtual private server hosting. It operates worldwide and mainly in countries like Australia, Germany, New Zealand, Australia, Singapore, India, Hong Kong, the European Union, France, Ireland, Belgium, and many more.
Web designers, freelancers, and businesses may easily manage many websites with HostPapa reseller hosting. Your customers can expand their hosting according to their needs and manage their own accounts. All of your clients may be managed using a simple single dashboard.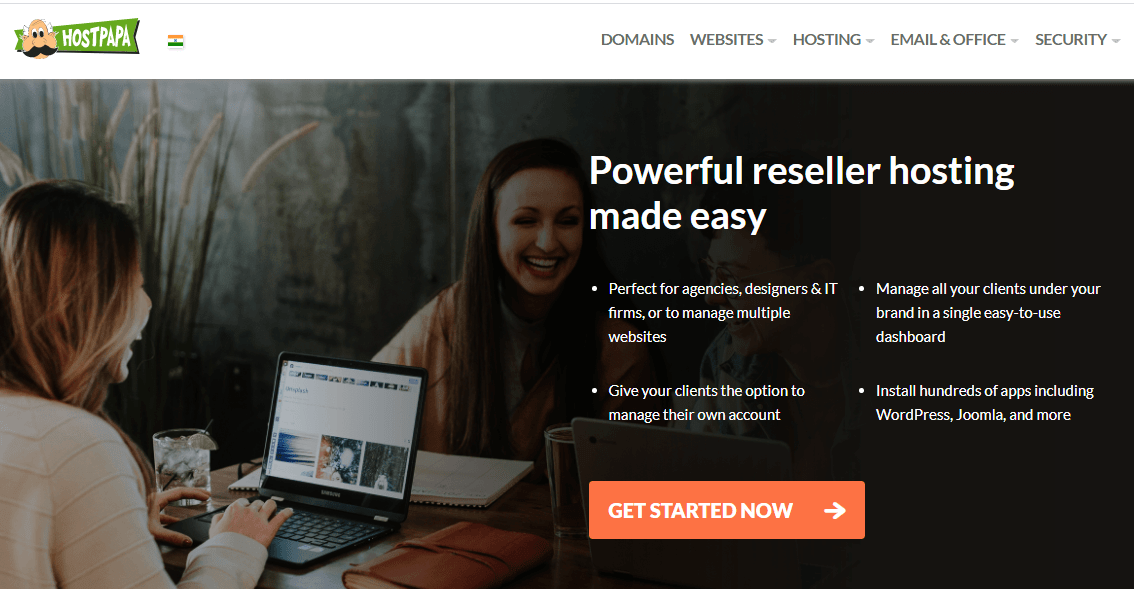 HostPapa Features:
Includes Brute force detection and server firewall.

Tools for billing and automation are free.

A single, user-friendly dashboard

Cost-free SSL certificates.

Allows you to use the super flexible and easy-to-use cPanel for management.

Install many apps on high-performance servers with CDN & SSD, including WordPress, Joomla!, and others.
Get HostPapa Reseller Hosting
A Web Hosting Reseller Plan provides all you need to create your own web hosting business, whether you want to start from scratch or transfer your current account. You might consider becoming an InMotion reseller because this is awesome for you if you want to start earning money.
Web hosting plans for resellers from InMotion include SSDs, SSL certificates, and WHMCS. Email and uptime with expertly managed support are some other resources. You may save money and pick the resources you want with on-demand scaling. With Launch Assist, websites for your clients can be moved without cost.
InMotion Hosting Features:
24/7/365 support by the InMotion team

Use SSD to speed up your website.

A 90-day, full refund guarantee that leads the industry.

Use any CMS, such as Joomla or WordPress to host your website.

Software for billing that is free and simple to use.

DDoS attacks are prevented by tight security.

Twenty years of trusted a fully managed VPS reseller hosting.

Free Auto Installer for More Than 400 Applications.
Get InMotion Reseller Hosting
Our very best A2Hosting is last but certainly not least. Its fully white-labeled Reseller Hosting solutions let you earn money as a reseller. After all, quicker websites have better SEO rankings, reduced bounce rates, and higher conversion rates. You'll appreciate the highly dependable servers and 24/7 Guru Crew Support supported by our 99.9% Uptime Commitment!
For individuals looking to earn like a pro, A2 Hosting offers custom reseller hosting options. In addition to standard reseller hosting, it also provides Turbo reseller and VPS reseller hosting. The website loads at a 20x faster rate because of their Turbo servers.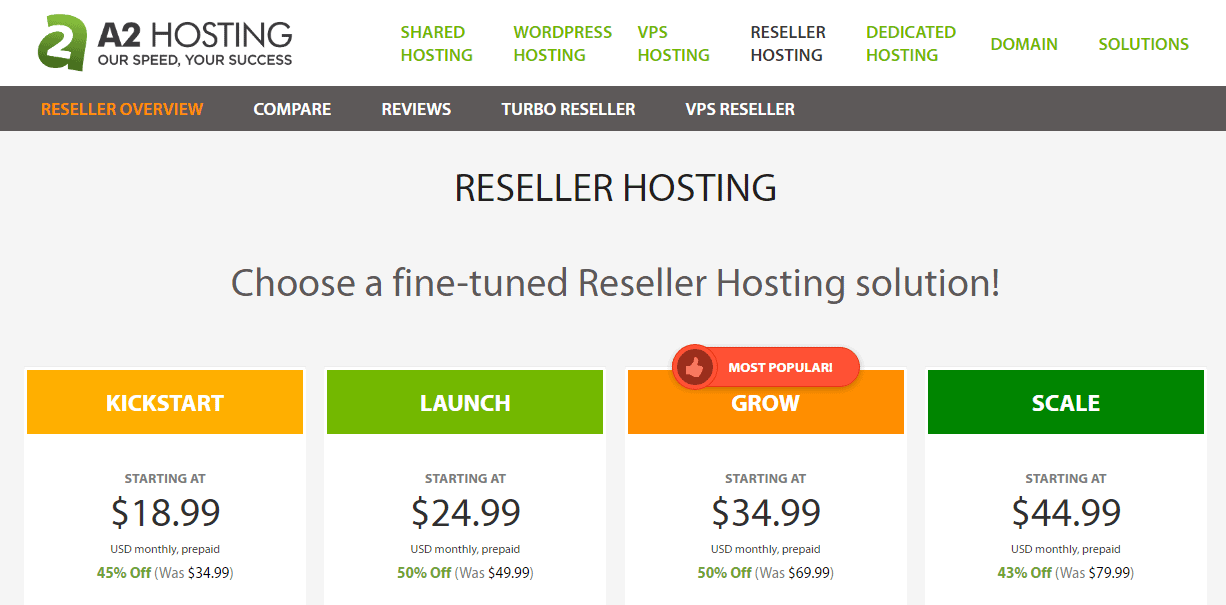 A2 Hosting Features:
WHMCS or Blesta 100% Money Back Guarantee for Automated Billing Software

Increased conversion rate due to up to 20x faster page load times.

Available 24/7/365: Guru Crew help.

A2 Hosting specialists assist you with free site migration with easy hosting management using WHM and cPanel.

Get the money-back guarantee and risk-free hosting.

Servers with a 99.9% uptime guarantee are incredibly reliable.
Read: A2Hosting Black Friday Deals
Get A2 Hosting Reseller Hosting
Also Read: Top Reseller Hosting
Conclusion
The reason reseller hosting is a successful business venture is very clear: you don't need much to run it. Not a lot of money is needed upfront. There is no need for pricey maintenance personnel.
ResellerClub is truly amazing, but you may need to find more options. So, if you want a change, do try out ResellerClub alternatives. ResellerClub offers excellent hosting, but the costs are higher than some of its rivals.
Try out these ResellerClub substitutes and get the best experience with the top ones.