Don't want to scroll down?
To save you time, I have handpicked the list of cheap residential proxies that do not compromise their quality. My #1 recommended cheap residential proxies provider is Netnut.
If you are looking for cheap residential proxies in your budget, then you have landed at the right post. There might be different proxies like datacenter & mobile, but the cheapest residential proxies work best for many businesses.
Sneak Peek At The Top 3 Cheap Residential Proxies
What is a Residential Proxy?
Cheap residential proxies help you remain anonymous for online activities by hiding your original IP address. These are more secure but are a bit costlier than datacenter proxies.
Without further ado, let's delve into the top cheapest residential proxies. These are of two types: rotating and static residential proxies. I have covered both types of proxies in this article.
List of Best & Cheapest Residential Proxies Of 2023
Netnut offers high-speed rotating residential proxies with worldwide coverage. All these IPs belong to real devices that ensure you never get blocked from accessing any website in any location.
Netnut rotating residential proxies are unique compared to other proxies as they combine ISP and P2P proxy networks.
By avoiding US peer proxies, Netnut offers complete anonymity and high-speed web data scraping.
🔥 Feature Highlights:
| | |
| --- | --- |
| 🆓 Free Trial: | 7-day |
| 🌐 IP Pool: | 52 M + auto rotating |
| 🚫 Blocks: | Zero IP blocks or Captchas |
| 📧 Support: | Email |
💲 Pricing:
Pros and Cons:
PROS 👍
Lightning-fast data collection
Zero IP blocks & captchas
Worldwide coverage
Affordable residential proxy pool
CONS 👎
The free trial is only for certified companies.
Bright Data is one of the oldest proxy providers on the market with the fastest residential proxies. These proxies are known to avoid IP bans and blocks that allow you to access geo-restricted websites.
Residential IPs from Bright Data are the only IPs proven to offer 99.99% uptime. There are premium IPs that have a vast geographic coverage spanning up to 98 countries.
With an easy-to-use control panel & API, users can manage their proxies and customize rules as they want.
🔥 Feature Highlights:
| | |
| --- | --- |
| ✔️ Success rate: | 99.9% |
| 🎯 Targeting: | City, ASN, Zip code |
| 🌐 IP Pool: | 72 Million + residential IPs |
| 🛡️ Compliance: | GDPR and CCPA compliant |
💲 Pricing:
Pros and Cons:
PROS 👍
No restrictions on concurrent sessions
Target by city, country, etc.
Over 4,134,794 IPs only in the US region
An award-winning company with quality support.
CONS 👎
Not a cost-effective option for freelancers.
Although Smartproxy has a cheap residential proxies pool of 40M + IPs that offer unmatched performance, speed, and scalability.
Whether it's web scraping, multi-accounting, ad verification, or market intelligence, Smartproxy residential proxies work for every use case.
If you are worried that after buying a residential proxy plan, your money will be stuck, then you are wrong. Smartproxy offers a 14-day money-back guarantee. This ensures your money is safe and you can get it back if you aren't satisfied with the proxy services.
🔥 Feature Highlights:
| | |
| --- | --- |
| 🔒 Protocols: | HTTPS & SOCKS5 |
| ⏲️ Avg response time: | Less than 0.6 s |
| 🎯 Targeting: | country & city-level |
| 🔄 Sessions: | Sticky + rotating both |
💲 Pricing:
Pros and Cons:
PROS 👍
Whitelist proxies
Round-the-clock technical support
Auto-rotate IPs per 30 mins or request manually.
Seamless integration with 3rd party apps.
CONS 👎
The residential proxy pool is less than Netnut & Bright Data.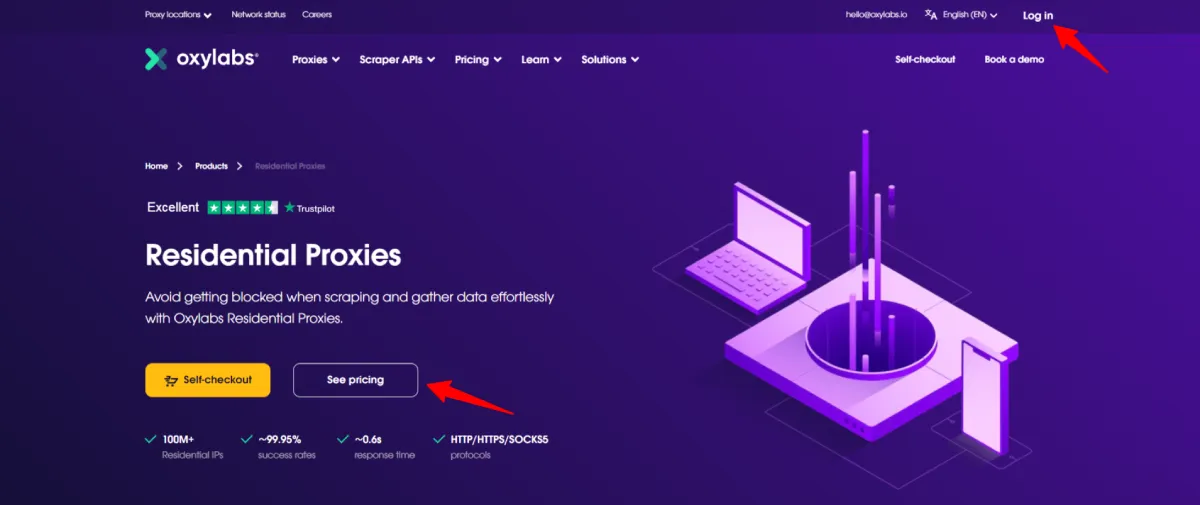 Oxylabs offers over 100M + residential IPs and is therefore not an underrated proxy. When you sign up and buy a residential proxy, you get access to your account dashboard.
The Oxylabs dashboard allows you to track your proxy usage and also lets you add sub-users. You can upgrade your proxy plan and whitelist IPs from within the dashboard.
With its free proxy management tool for the Chrome browser and Android devices, you can add or change IPs with one click.
At no additional fees, Oxylabs offers sticky sessions, 3 sub-users, IP rotations, and an intuitive dashboard.
Except for the Pay as you go plan, Self-service products are refundable within 3 days of first-time purchase.
🔥 Feature Highlights:
| | |
| --- | --- |
| 🔒 Protocols: | HTTP/HTTPS/SOCKS5 |
| ⏲️ Avg response time: | Up to 0.6 s |
| 👨‍💻 Sub-users: | 3 |
| 🌐 Whitelisted IPs: | 10 |
💲 Pricing:
Pros and Cons:
PROS 👍
Ethically sourced proxies
99.95% proxy success rate
Unlimited scaling with unlimited concurrent sessions.
Avoid IP bans & Captchas
State, city & ASN targeting
CONS 👎
Bandwidth limitation as residential proxies is charged per GB.
HighProxies offer elite proxies with username: password authentication along with IP authentication. At the moment, High Proxies does not offer Socks proxies and supports only HTTP and HTTPS proxies.
To upgrade your proxy account, you need to submit a ticket to their support department and everything will be taken care of.
There is no money-back guarantee, but if you wish to ❌ cancel the subscription, you can do so from the control panel. Simply submit a ticket for cancellation by clicking on Request Cancellation and the 💬 support department will help you further.
If you ever get an Access Denied error, it means you are accessing a proxy using unauthenticated IP. Always make sure your IP is authorized to access proxies.
🔥 Feature Highlights:
| | |
| --- | --- |
| 🌎 Locations: | 11 + Countries (USA/Europe/Asia) |
| 💡 Set up: | Free at no additional cost |
| 💬 Support: | 24/7 live support |
| 📌 Types: | Social media, shopping, classified, shared & private proxies |
💲 Pricing: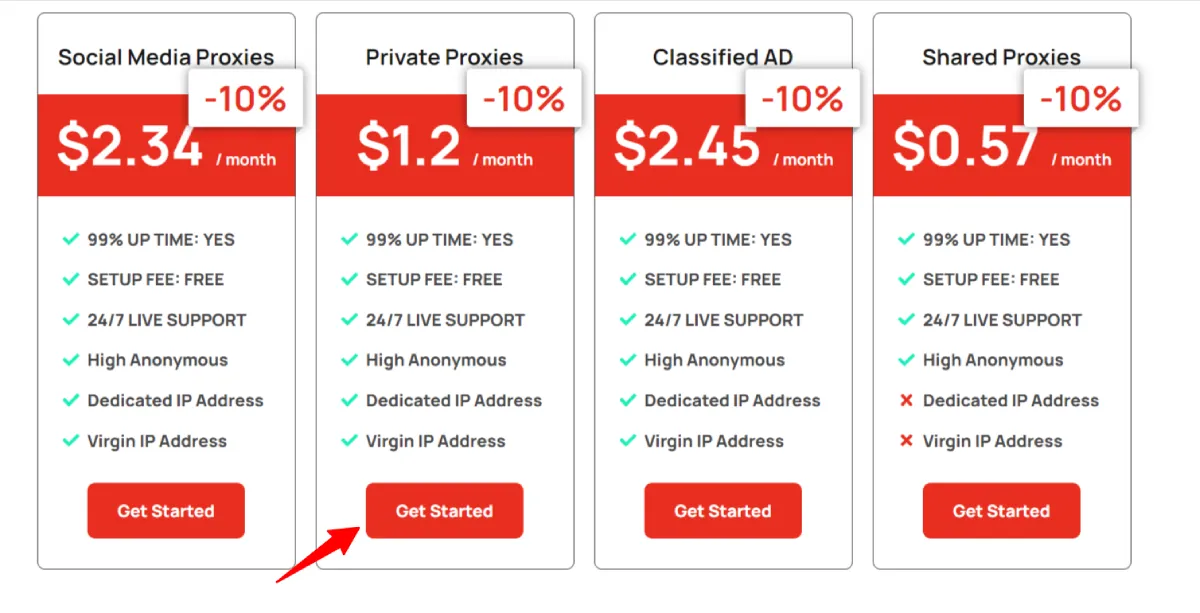 Pros and Cons:
PROS 👍
Accepts payment via Bitcoin/Litecoin & PayPal.
Supports multiple cities & subnets
Supports every modern browser
100% anonymous proxies
CONS 👎
Proxy replacement is done only once a month.
Storm Proxies pricing plans are flexible & tailor-made for high and low budgets. If users are low on budget, they can start with a $19/mo package with one port. For a big budget, users can buy $550/month plan that comes with 100 ports.
Once you have purchased a plan, you can choose the USA, EU, and a mixture of other worldwide country proxies.
You have the main proxies that use residential IPs. You can use these proxies for data scraping by choosing a worldwide location. Do not use the 15 mins IP proxies that auto-rotate IPs every 15 mins for scraping purposes.
You do not need to manually rotate the proxies as the proxy rotation is automated. At no hidden or additional cost, Storm Proxies provides unlimited bandwidth with every proxy plan.
🔥 Feature Highlights:
| | |
| --- | --- |
| 🌐 IP Pool: | 700,000+ Residential Reverse Backconnect Proxies |
| 🔄 IP rotation: | Every 5 minutes |
| 🤑 Refund: | 24 hour money-back only for 5 ports proxies |
| 🛡️ Anonymity: | 100% anonymous proxies |
💲 Pricing: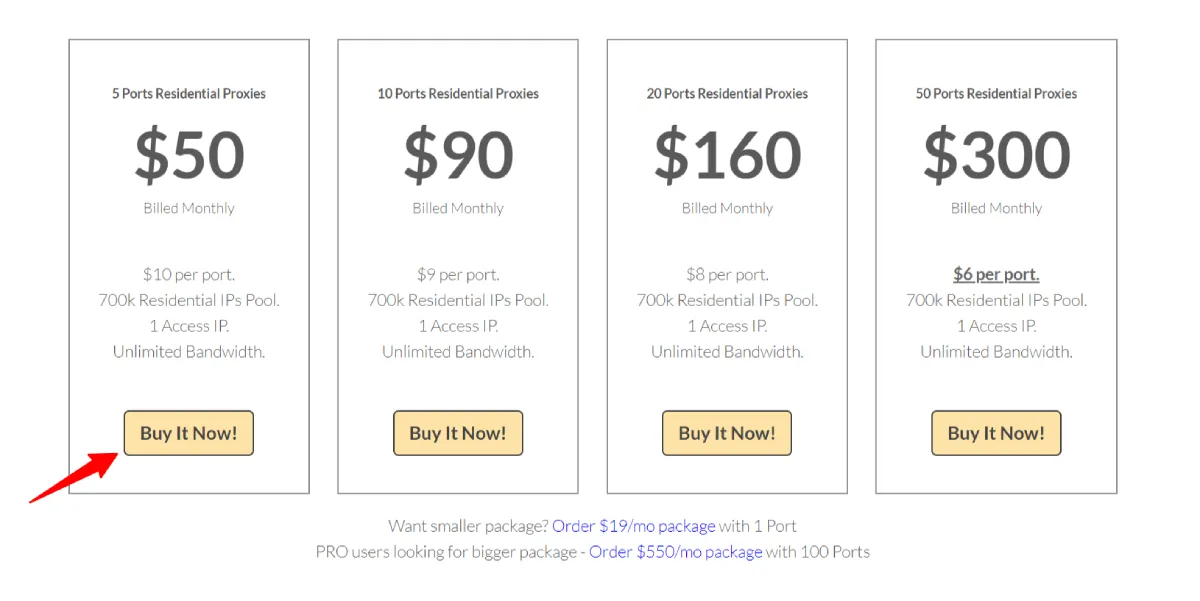 Pros and Cons:
PROS 👍
100% risk-free
Premium support 24/7
Transparent pricing
Highly anonymous proxies
Optimized for high performance
What is the difference between Residential proxies & others?
I will compare the residential proxy with the datacenter proxy in terms of usage and privacy concerns.
✅ If you look at the pricing of both the proxies, then the datacenter is obviously cheaper than the residential. So let's not go into the pricing as I have already shared cheap residential proxies pricing.
✅ Now, if you are buying proxies for copping sneakers or data scraping, then your first choice should be cheap residential proxies. This is because sneaker websites have a strong defensive system against malicious IPs. So when you choose cheap residential proxies your IP reputation will save you from getting blocked.
✅ Another reason for choosing residential IPs over datacenter is that cheap residential proxies come in millions. This gives users a large pool of IP selection.
✅ Last but not least, cheap residential proxies are more anonymous & secure than datacenter proxies.
Useful Proxy Articles
Conclusion – Should I Buy Cheap Residential Proxies?
My top 3 recommendations for the best cheap residential proxies after proper testing are Netnut, Bright Data, and Smartproxy. They might not offer the cheapest residential proxies but their quality is undoubtedly the best.
Rest is your choice but don't fall prey to free proxies as they might leak your identity and sell it in the black market.
FAQs (Cheap Residential Proxies)
What are the usages of a residential proxy?
There are many use cases for a residential proxy. For instance, people use residential proxies for copping sneakers online. As sneaker websites always look for authentic IPs, residential proxies are a big time saver and provide genuine IPs.
How long do residential proxies last?
If you choose auto-rotating proxies you won't have to worry about how long they last. Rotating residential proxies automatically changes the IP address so you can surf the web anonymously.
Do residential proxies protect your identity?
Residential proxies are real device IPs and therefore more secure than datacenter proxies. By choosing cheap residential proxies from this list, you can keep your identity safe & secure.
Can I use free residential proxies?
Don't be mistaken with free cheap residential proxies as you will compromise your privacy & security. Instead, choose from the list of residential proxy free trials and upgrade your account after your trial period expires.