Have you ever thought of starting your own web hosting company and helping people host their websites? Yes, that's a highly potential business when you do it the right way.
You may want to start such hosting company with the least investment in start, build a customer base and then scale it to become the best.
That's the best approach and you can do it by using reseller hosting packages.
What is Reseller Hosting?
Reseller hosting is a type of web hosting where you get to use space allocated on the cloud to host third-party websites and charge them for the same.
The reseller is basically the one who purchases the services of the host in a wholesale price and then sells it further to customers and makes it a profitable business.
Who Is Reseller Hosting Business For?
Reseller hosting can help earn profit if you are a system administrator, a great marketer, web developer or designer since you can then enhance the design by your branding. A specific amount of cloud space is allocated to the reseller.
There are a couple of options available to start your own web hosting company:
Rent a dedicated server from a hosting company
Resell White-label hosting services
Set-up your own Datacenter and sell out servers
In case you choose you set a hosting company by selling out the cPanel hosting, you need a WHMCS account, a reseller hosting account on a trusted reseller hosting company.
Of course, you need to make sure that you choose a reliable reseller hosting provider because more than your own success, your customer's success depend on it.
Although you can set up your own website, pricing packages and terms & conditions.
Even though this might sound confusing and a bit complicated, popular host services have most of the part of software and services already pre-installed that can set up everything in a very short span of time for you.
It then comes up to just registering oneself and then opting for a particular bandwidth and disk space based on the pricing and you are done!
Pricing can a flat fee or on a pay-as-you-go basis and the end use consumer is free to take a decision based on his necessity and requirement.
Top Reseller Web hosting Packages at a Glance
** Updated on June 10, 2020
Here are the top 10 reseller hosting companies that can help building one's own company:
It is a company based in Arizona and was one of the first web hosts in existence founded more than 20 years ago. It has 19 million clients and 62 million registered domains. The pros of GoDaddy include free Office 365 license for a year, good storage limits and free SSL certificates. However, some plans are quite expensive and also there is poor customer support.
GoDaddy is pretty versatile in offering solutions for reselling its services. One has a variety of choices to only sell domains, include hosting, or get access to the full GD portfolio.
All plans utilize the enhanced power of a VPS and every GoDaddy reseller is given WHM and cPanel. GoDaddy manages the technical part for the client and lets the client focus on your business development. The hosting giant GoDaddy applies advanced security, covering hardware and software. Also, every client can enjoy an SSL certificate for free. Every GoDaddy reseller gets assistance through live chat and ticketing 24/7. One has to be very patient to get any useful information from the GoDaddy operators – the chat representatives mostly sound like bots — they only give template responses and useless links.
Reselling with GoDaddy is like betting on a company with long experience and an extensive portfolio of hosting solutions. Few running issues include downtimes on servers and lack of customer support, hence the client should test the service before any choice is made.
Also Read: 6 Best GoDaddy Alternatives & Web Hosting Solutions in 2021
DomainRacer is a global web hosting company and they provide services to you as per your business needs. DomainRacer is best for domain registrations as well as reseller hosting platforms.
If you are looking best and faster reseller hosting company then DomainRacer is the best opportunity for you. They are providing the best various reseller hosting plans at a low cost. DomainRacer is a good reseller hosting company that gives unlimited features.
You are searching best and cheap reseller hosting company then you need to analyze hosting plans. Best reseller hosting is the right platform for growing your website business.
DomainRacer is the provide best plans like mini-plans, start-up plans, growth plans, and success plans with unlimited features at a reasonable cost.
They are offering some extraordinary key specifications:
Instant 24/7 customer support system
Best uptime server guarantee – 99.99%
Unlimited SSD storage and bandwidth
You can get a WHM account with each reseller plan.
7+ highest security – ImunifyAV, Imunify360 + Free SSL certificate
Free WHMCS Billing Available as per Plans
FREE Reseller Hosting Resources
8+ Server Locations (India, UK, USA, Germany, France, Singapore and Canada)
All reseller hosting plans are cheaper than other hosting companies. You can enjoy unlimited features and services at a very affordable cost. DomainRacer is a reasonable reseller hosting company in the world.
They give cPanel accounts according to your reseller plan. We can easily earn money with reseller hosting.

ChemiCloud is a US hosting company with over a decade of experience in the field. Some advantages of ChemiCloud include robust plans, worldwide coverage and fixed pricing.
Some downsides are the client has to pay additionally for WHMCS service, the entry plan is low on space and there are no tutorials or knowledge base.
There are four robust reseller packages await anyone who wants to take advantage of impeccable services of ChemiCloud — Electron, Fusion, Expansion, and Evolution.
The four plans differ only in the allocated SSD space, number of cPanel accounts and monthly traffic. However, prices are on a higher side than competitors.
ChemiCloud is a hosting service that lets the client to get in touch with its operators through a contact page which offers a variety of options for connecting –  contact number, email, a contact form, etc.
ChemiCloud is among the best reseller hosting providers today. It is focused on providing fast and secure solutions for individuals and enterprises alike. ChemiCloud maintains a spotless reputation and thus should be considered.

HostGator is another provider for dedicated web hosting. Few of the advantages include a brand-able control panel, reseller club account that is free and also free Private Domain Name System.
A few downsides are that the servers are overloaded and there is a generic support. The pricing plans are as follows:
Hatching Plan provides a single domain at a reasonable cost of $2.75 per month.
While Baby Plan and Business Plan provide unlimited domains.
All the three plans provide free SSL certificates, a free Word Press Website Transfer and unmetered bandwidth.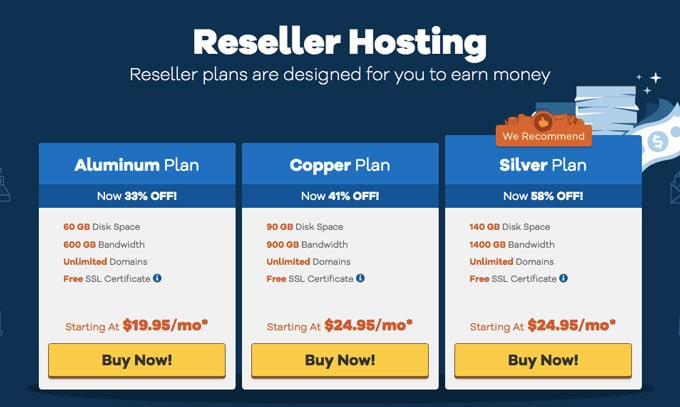 One of the key features is the 45-day money back guarantee. 45 days are enough for a new reseller to test on performance, management and comparison of the host's operational efficiency.
The refund is a hassle-free process and does not involve any questions asked. Coming to customer support, wait time is typically very low – but the quality of service is very pathetic.
Replies are automated and follow a fixed template for a specific type of question rather than customized answers for a problem.
Also Read: HostGator Review: The Cheapest Web Hosting for WordPress? |  HostGator Coupons: Save 70% on Your Hosting
InMotion Hosting has been around for two decades and still remains owned independently. Staff members undergoes rigorous training on various subjects and hence the company is employee-driven.
Advantages of InMotion include good resource allocation, custom cPanel branding and most importantly 90-day money back guarantee. Downsides are that is less affordable and has limited server locations.
InMotion supports shared reselling and offers competitive reseller hosting packages. Even the plan with the least cost comes with 80GB of cloud storage and 800GB of bandwidth monthly.
InMotion supports a multitude of services, be it sales, tech support or billings all offered 24/7 via chat and email.
InMotion is a provider with competitive plans and a plethora of free extras for resellers. The solutions are instantly provisioned, letting the client freely operate as you're his/her own hosting brand.
Coming to customer support, wait time is typically very low and the quality of service is extremely good.
InMotion is one of the best Shared Web Hosting Companies of 2021.
NameCheap is a service that provides domain name registration and web hosting. It is a budget hosting provider with 11 million registered users and 10 million domains.
NameCheap started the unique SSL reseller program which is basically the automation for the purchase of SSL certificates.
Combined with the SSL service offerings that were in place for several years, the SSL reseller program empowers those to directly sell SSL certificates and make gigantic profits.
NameCheap has 3 reseller hosting plans
Nebula $18.88/mo
Galaxy Expert – $32.88/mo
Universe Pro – $48.88/mo
Prices are very much on a higher side as compared to other competitive service providers. Coming to customer support, wait time is typically very low and the quality of service is extremely good. Replies are customized and very much suited to the customer's needs.
Save more with the Namecheap Coupon Codes for Domains & Hosting Discount
It is the most popular and demanding choice of Word Press users. It has client projects in millions primarily because it hosts various Word Press related events.
The main advantages of SiteGround are that it has loads of industry support, it is specifically optimized for Word Press and has various advanced security features. However, it has limited space and a private DNS is a paid service.
SiteGround has 3 popular options:
StartUp plan is for individuals who are just in requirement of a website with limited space of 10 GB and comes at a cheap price of $3.95 per month and 10000 monthly visits.
GrowBig plan is for a mediocre individual, but the greatest benefit is that it comes with the option of unlimited websites and sufficient enough space – 20 GB and can accommodate 25000 monthly visits.
The GoGeek plan is a bit on the expensive side of $11.95 per month but is very well suited for successful entrepreneurs because it also has an option of unlimited websites but also comes with gigantic space of 40 GB and can accommodate 100000 monthly visits. SiteGround is very much generous to offer free SSL Certificates, free CDN and daily backups.
SiteGround and Word Press are very much compatible with each other and there are loads of features that are specifically built keeping Word Press in mind
Servers optimized for Word Press
Advanced caching
Auto updates for plugins
Automatic Word Press Installation
One click site staging
SiteGround offers 24/7 support – the operators are very quick in solving queries and are very well trained in different aspects. SiteGround has a lot to offer who wants become host to make use of their services. It provides a plethora of unique features and security enhancements. It is a #1 choice for Word Press customers.
Also Read: 10 Best & Cheapest SiteGround Alternatives of 2021 | SiteGround Coupons- For Your Dream Website
GreenGeeks is the most environmentally-friendly contender that vouches for a cleaner and greener future, the company gives back almost three times of its energy consumption in the form of renewable energy. The provider's approach for innovated thinking already make 40K+ clients, and their 500K+ websites feel right at home.
Some pros of GreenGeeks are free wildcard SSL, enhanced scalability and green-friendly solutions. The cons include limited number of cPanel accounts, backups kept for just 24 hours and shady excessive usage policy.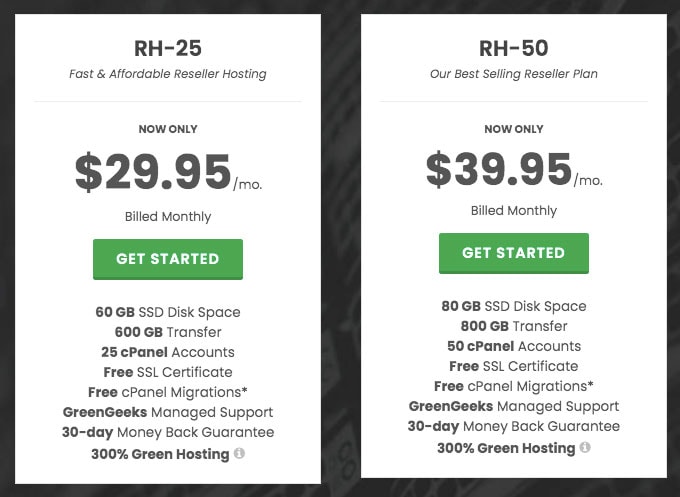 GreenGeeks flaunts five types of reseller accounts which vary in the number of cPanel accounts the client can utilize — 10 on the lowest up to 50 on the highest plan.
The GreenGeeks currently support online shops and businesses that want to benefit from their services. The free Wildcard SSL ensures the client to safeguard his/her domain and all associated subdomains.
24/7 services have been offered for quite some time now and the quest to find new sources of communication is on. Speed and uptime tests confirm that GreenGeeks is reseller hosting service of the highest standard.
Also Read: 10 Best GreenGeeks Alternatives: Costs less than $10/mo | GreenGeeks Coupons- Save 75% on Green Hosting
InterServer is an affordable, full-service web hosting provider that emphasizes on high-quality customer service provided via multiple channels 24/7, 365 days a year.
All of InterServer's plans come with an extensive suite of features that aid to create and maintain the client's website and ensure an online presence easily.
InterServer's shared hosting and Word Press plans provide great value.
All of their plans, including VPS and dedicated server hosting, come with various perks which include a free SSL certificate, excellent customer support, and a 30-day money-back guarantee.
Some of the advantages include price-lock guarantee (no price hikes ever) and Word Press expertise thus ensuring hassle free hosting.
However, some of the down sides are weekly backups as opposed to daily ones and limited free hosting for students.
Pricing policies of Interserver are reasonable with the cheapest plan of $5 per month and plan which is specifically for WordPress, $8 per month.
Even in the cheapest plan, there in unlimited storage and data transfer. Also SSH Caching servers are provided for all plans with speed optimization.
Customer support is easy to get to but there is room for improvement in problem resolution.
Also Read: Interserver hosting review: Host unlimited sites for USD 5/month | InterServer Coupons and Amazing Deals of the year 2021
HostPapa first entered the market as a server that was dedicated and a hosted application supplier. HostPapa is actively supporting the renewable energy saving schema.
Advantages of HostPapa are good resource allocation, custom cPanel planning and 90-days money back guarantee. Few downsides include annoying up-sells and limited server locations.
One can find five plans on HostPapa — Bronze, Silver, Gold, Platinum, Titanium and they are all very much up to the mark and all clients get four CPU cores, 2 GB of memory, 60 GB of storage, and 600GB bandwidth. Also unlimited websites can be hosted as long as they fit within the allocated number of cPanels.
There is a convenient chat box on the HostPapa website and so one can get all queries resolved there. HostPapa is the best fit are developers and web designers that have a large client base. It gives each client instant account access and resources are scaled with constant uptime on all websites. All of this achieved by reduction in carbon footprint and the environmental impact. Thus, it is one of the best reseller hosting services with SSL in the market.
Hope this article will help you to take an informed decision on which reseller hosting service to partner with to be able to run a web hosting company of your own!
You can save more with the HostPapa Coupons- Get Business Hosting at Just $3.95/Month
ResellerClub is a company that sells everything you could ever need for your website, from SSL certificates and domain names to SiteLock security features and an integrated caching and content delivery network (CDN). ResellerClub provides free migrations and pays the client to move his/her website over.
ResellerClub provides a number of plans –  there really is something for everybody. Choose from R1, R2, R3 and R4 plans.Details of plans can be seen below:
However, plans of other companies are actually cheaper, and the money-back guarantee is longer. ResellerClub offers SSH access in even its shared hosting plans, while most other companies make you upgrade to a VPS plan. ResellerClub has a detailed backup policy, which is refreshing.
The company backs up the data which is included in the standard hosting plans. As well as hosting and domain names, it also has a theme store for more than 150 premium website templates. Customer support is offered round the clock.
If you are looking for ResellerClub alternatives, then checkout: 10 Best & Cheapest ResellerClub Alternatives in 2021
Take Down: Did you find the best Reseller Hosting Company?
The companies that I mentioned in this article are reputed and trustworthy. You can try out some more reseller hosting providers and share your experience with my audience.