Are you looking for a powerful advertising platform to enhance your online marketing strategies and boost your brand's reach?
Look no further as we delve into the comprehensive AdMaven Review, where we uncover the capabilities of this platform and how it can transform your advertising campaigns.
AdMaven offers a range of innovative features and tools that enable advertisers to maximize their ROI and connect with their target audience effectively.
In this article, we will explore the various aspects of AdMaven, including its user-friendly interface, diverse monetization options, dedicated support, high-quality traffic, and significant volume, providing you with valuable insights to make an informed decision.
What is AdMaven? – All You Need To Know Before Buying Traffic
AdMaven is an online advertising platform that positions itself as a trusted partner for both advertisers and publishers. With a focus on tailored solutions and understanding the unique needs of its clients, AdMaven aims to help them achieve their advertising goals effectively.
For advertisers, AdMaven offers high-quality direct traffic that allows them to maximize their return on investment and reach their target audience with precision. By providing direct access to a network of publishers, AdMaven ensures that advertisers can deliver their messages to the right audience at the right time. This targeted approach is crucial for advertisers looking to optimize their campaigns and achieve their desired results.
On the other hand, AdMaven also recognizes the importance of maintaining a positive user experience for publishers. With the understanding that generating revenue should not come at the cost of a great user experience, AdMaven offers publishers an impressive Effective Cost Per Mille (ECPM) and high revenue. By utilizing proprietary optimization tools and a vast network of direct advertisers, AdMaven ensures that publishers can monetize their web pages efficiently without compromising user engagement and satisfaction.
AdMaven's reputation as a preferred advertising solution is evident from the 25,000 publishers and advertisers who have chosen their services. The company's ability to deliver exceptional results while prioritizing website safety has made them a trusted partner in the industry. AdMaven's commitment to providing the best monetization options that not only generate revenue but also safeguard website integrity is commendable.
One of AdMaven's key differentiators is its user-friendly and efficient onboarding process. Recognizing that time is valuable, AdMaven ensures that getting started is quick and easy. With their intelligent in-house technology and dedicated partner support, clients can experience a streamlined onboarding process that allows them to start monetizing their websites without hassle. This commitment to providing a smooth and efficient experience from the beginning is highly appreciated by clients.
AdMaven's innovative approach to advertising sets them apart in the industry. The company continuously strives to provide cutting-edge solutions that maximize results for its partners. By combining advanced technology with personalized support, AdMaven goes the extra mile to ensure the success of its clients. This commitment to innovation and customer success highlights AdMaven's dedication to staying ahead of the curve and delivering exceptional value.
AdMaven for Advertisers
If you're an advertiser looking for effective advertising solutions, Ad-Maven Ad Network has got you covered. Their platform offers comprehensive solutions that help advertisers increase their reach, boost sales, and maximize profits.
To get started as an advertiser on Ad-Maven, you'll need to sign up specifically as an advertiser and follow the straightforward processes to begin using the network. What sets Ad-Maven apart is their excellent manager support for advertisers. The dedicated managers are incredibly helpful, guiding advertisers through every step of the process and ensuring a smooth onboarding experience.
One question that often arises is whether Ad-Maven is a reliable source of traffic. In my opinion, regardless of the ad network, the success of your advertising campaign depends on the quality of your product and how well you target your audience. Ad-Maven provides a robust traffic source, and the quality of the traffic is commendable due to their rigorous approval process. The Ad-Maven team manually approves all publisher sites before they are added to the network, filtering out low-quality sites and ensuring that only reputable sites remain for targeting.
Therefore, if you're planning to run ads or offers, Ad-Maven can prove to be a game-changer in terms of traffic quality. With Ad-Maven's abundance of pop traffic, it is advisable for advertisers to focus on offers such as sweepstakes, app installs, lead generation, zip submits, and installations. By leveraging the high-quality traffic from Ad-Maven and creating a compelling landing page with precise targeting, you can generate significant profits and achieve your advertising goals.
AdMaven for Publishers
AdMaven is a renowned online advertising platform that specializes in pop-under ads, a popular monetization method for many publishers. Unlike pop-up windows, pop-unders open a new page underneath the main website, offering a seamless user experience. With over 10 years of experience in the industry, AdMaven has established itself as a leader in full-page advertising, providing publishers with a variety of monetization options.
How To Sign Up For AdMaven?
Step – 1: Go to the official website of AdMaven, hover your cursor to 'SIGN UP', and choose 'Advertisers. 
Step – 2: Fill up the details asked for, check the box, and click on 'Sign up'.
That is it. You are now ready to go ahead and buy traffic.
No matter which ad network you buy traffic from, you have to go through the signup and top up process.
Minimum payment is just 50$
Once you complete the top up using PayPal, Credit Card, Wire, Paxum or Capitalist USD option, you're ready to launch your first campaign.
I will start with a push notification ad campaign.
Go to Campaigns >> Create Push Campaign
(you can create only 2 types of campaigns, push and popunder)
The campaign creation wizard is a 4 step process here. As you can see,
Campaign & Budget
Ad Group Targeting
TQ & Analytics
Push Ads (creatives)
Starting with the Campaign & Budget, you need to give a name to the campaign. Choose when to start the campaign, immediately or on a set date and time.
Choose a total campaign budget and daily budget. Followed by Default CPC, Minimum and Max CPC of your campaign.
How would you like to spend your daily budget?
This is an important factor of advertising that decides how aggressively your ads will be shown to the potential viewers.
If you choose Evenly (which is what I recommend if you have a daily budget of less than 100$), you will get some impressions during the day and your budget will be distributed. This ensures campaign delivery the whole day.
When you want to spend your daily budget as soon as possible, choose ASAP. The only drawback to this is when your daily budget is conceded, your campaign delivery will be paused till the next day.
You also have the option to reject traffic from Web Push and Floating Push ad formats.
Not just that, you can also allow/disallow traffic from interstitials and 3rd party ads.
Campaign Limits keeps you safe from spending more than what your CPA network allows.
The Second Tab, Ad Group Targeting where you can choose the Location.
My campaign is for the French audience. So, I chose France.
Next is Time Targeting, You can choose which day and hours your campaign must deliver ads.
You also have quick selection for Working days, Weekdays and None.
When you run a campaign in a specific region, you must also leverage the option to choose a specific language. When you do that, your campaign will send your ads to even more targeted users.
Also, choose the operating systems and device types.
You can even choose a connection type and specific carrier. This is helpful when you promote mVAS offers on a CPA basis.
Clicking on Next, there is Tab 3, TQ & Analytics.
Here, you can setup blacklist and whitelist based on Domain, IP and Subid.
For advanced media buyers, Auto bid optimizer and impression tracking tool is also there.
Next, Push ads where you need to upload your ad creative.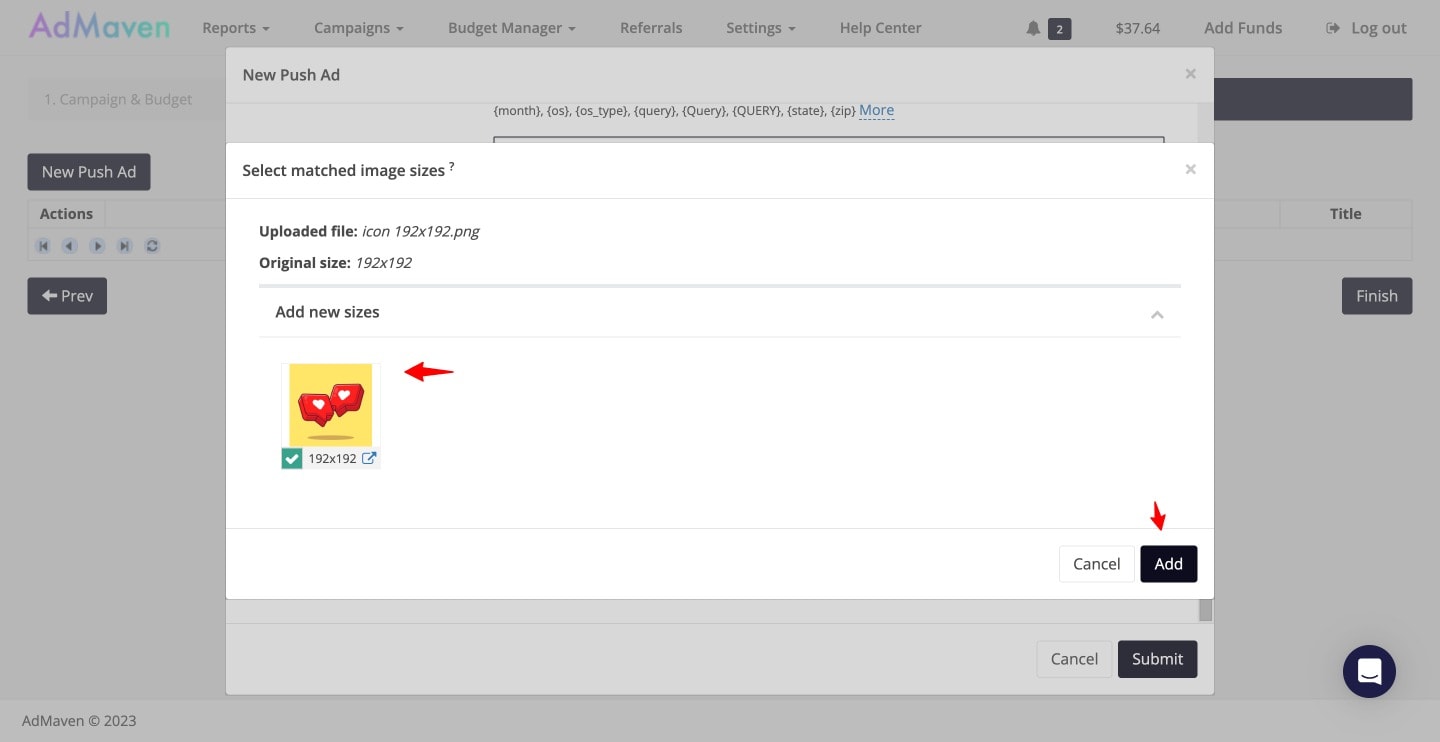 Once you complete the ad creatives setup, click on Submit.
On successful submission, your ads will go into moderation and once approved, traffic will start rolling in.
The creatives are not approved immediately – AdMaven has a big responsibility to its publishers, and they take it very seriously to keep their sources "safe" from fraudulent, misleading, or aggressive ads. To safeguard the quality of their traffic, creative approval takes a bit of time.
While your campaign status will be enabled, you can still check if your creatives are approved or not.
Initially, it will be pending. But when it is approved, the traffic will start rolling in.
Why Do I Recommend Using Ad-Maven?
Easy to Use Interface: AdMaven's interface is designed with user-friendliness in mind. It provides an intuitive and straightforward experience, allowing users to easily navigate through the platform. The interface offers all the necessary information, including analysis, revenue reports, and more, in a clear and accessible manner. Whether you are a beginner or an experienced user, AdMaven's interface makes it easy to manage your advertising campaigns effectively.
Live Assistance: AdMaven provides exceptional customer support on office hours. During the weekend, and the evening hours, we have limited support that's mainly focused on approving funds and campaigns. Whenever you have questions, concerns, or queries, you can rely on dedicated account managers to provide timely and reliable support. This continuous support ensures that you receive assistance whenever you need it, helping you overcome any obstacles or challenges you may encounter along the way. The availability of live assistance sets AdMaven apart, ensuring that you are never left in the dark when it comes to managing your advertising campaigns.
High Traffic Quality: AdMaven maintains a strong focus on delivering high-quality traffic to its advertisers. By exclusively working with established publishers, AdMaven ensures that the traffic you receive is of the highest caliber. This commitment to quality helps you achieve optimal results from your advertising campaigns. With AdMaven, you can rest assured that your ads are being displayed to a reputable and engaged audience, increasing the likelihood of conversions and maximizing your return on investment.
Big Traffic Volumes: AdMaven's vast network generates over 12 billion daily impressions worldwide. This significant volume of traffic provides advertisers with ample opportunities to connect with their target customers. With such extensive reach, you can effectively expand your brand's visibility and increase your chances of reaching your desired audience. The large traffic volumes offered by AdMaven open up new avenues for growth and allow you to scale your advertising efforts effectively.
Ad-Maven Review: Conclusion
AdMaven stands as a reliable and effective advertising platform that combines user-friendly features, diverse monetization options, high-quality traffic, and extensive reach to unlock the full potential of successful advertising campaigns. Whether you are an advertiser seeking maximum ROI or a publisher looking to monetize your website effectively, AdMaven offers the tools, support, and expertise to help you achieve your goals and propel your online presence to new heights.