Finding a provider that seamlessly blends cutting-edge technology with reliability is paramount. In this MonoVM review, we get into the depths of its offerings, dissecting its features, support, and performance. Thus, providing a comprehensive overview of how MonoVM stands as a contender in the competitive world of web hosting.
MonoVM is a highly regarded and well-established name in web hosting providers, renowned for its exceptional blend of dependability and cost-effectiveness.
This prominent company is widely acknowledged for its proficient delivery of an extensive array of hosting solutions, all carefully designed to address a diverse spectrum of requirements within the digital landscape.
🔥 MonoVM Unmatched Features 🔥
⚙️ Exceptional Hardware and Software Infrastructure:
MonoVM elevates web hosting to new heights by utilizing enterprise-grade hardware and software. Its hosting servers operate on cutting-edge Intel and Supermicro processors, harmoniously integrated with high-speed SSDs.
These SSDs are thoughtfully organized in RAID 10 arrays, ingeniously managed by enterprise RAID controllers enhanced with integrated SSD caching. MonoVM's adept technicians meticulously fine-tuned the entire configuration, ensuring optimal performance and reliability.
🚀 Unsurpassed Uptime Reliability:
MonoVM's steadfast commitment to seamless accessibility is epitomized by its remarkable 99.99% Uptime Guarantee. This promise assures clients that their hosted websites and applications will be accessible to users no less than 99.99% of the time.
This unwavering dedication to uptime underscores MonoVM's reliability and professionalism, setting it apart as a trustworthy partner in the digital landscape.
🌩️ Effortless Backups:
With MonoVM at the helm of your hosting needs, the burden of worrying about backups is entirely alleviated. As part of its service, MonoVM includes a complimentary weekly backup feature across all its VPS Hosting plans. This thoughtful inclusion provides clients peace of mind, knowing that their data is safeguarded and retrievable in the face of unexpected events.
⏰ Round-the-Clock Active Support:
MonoVM's customer-centric ethos extends to its 24×7 active support system. Their team of experts is vigilantly prepared to offer outstanding assistance whenever needed. Whether it's a technical query, a concern, or a request for guidance, MonoVM's seasoned support staff are poised to deliver excellence in every interaction. This commitment to uninterrupted support ensures clients are never alone on their hosting journey.
✔️ Fully Managed Servers for Absolute Convenience:
Experience the epitome of hosting convenience with MonoVM's 100% managed servers. Every server under MonoVM's care is meticulously organized, freeing clients from the complexities of server administration. This hands-on approach aids in the intricate server configuration process, allowing clients to focus on their core objectives while leaving the technical intricacies to the experts at MonoVM.
MonoVM Hosting Services + Pricing
From the foundational shared hosting ideal for modest websites and blogs to the more robust and intricate demands met by VPS (Virtual Private Server) and dedicated server hosting, MonoVM prides itself on catering to a broad clientele with unwavering dedication.
1. Shared Hosting –
At the heart of its offerings lies the shared hosting option, meticulously crafted to accommodate the needs of small-scale websites and burgeoning blogs.
This foundational service ensures that even those with modest digital footprints can access a reliable platform for their online presence.
💲 Linux Hosting Pricing:
| PLAN | PRICE |
| --- | --- |
| Linux Web Hosting Eco | $2.09/MO |
| Linux Web hosting Plus | $2.99/MO |
| Linux Web Hosting Plus | $3.99/MO |
| Linux Web Hosting Pro | $4.99/MO |
2. VPS Hosting –
For those with grander aspirations, MonoVM extends its expertise to VPS hosting – a virtual private server environment solution.
This empowers clients with more control and resources than shared hosting, thereby adeptly handling the demands of more intricate online ventures.
💲 Linux VPS Hosting Pricing:
| PLAN | PRICE |
| --- | --- |
| Linux 512 MB | $2.09/MO |
| Linux 1024 MB | $2.99/MO |
| Linux 2048 MB | $3.99/MO |
| Linux 4096 MB | $4.99/MO |
| Linux 6144 MB | $34.99/MO |
| Linux 8192 MB | $45.49/MO |
3. Dedicated Hosting –
The pinnacle of MonoVM's prowess is reached with its dedicated server hosting, which is the quintessential solution for projects of considerable complexity and scale.
By offering an entire server exclusively dedicated to a single client, this hosting option guarantees unparalleled control, security, and performance.
💲 Eco Servers Hosting Pricing:
| PLAN | PRICE |
| --- | --- |
| USA-Custom Server E-2236 | $ 105.5 / monthly |
| USA-Custom Server 5600G | $ 87.91 / Monthly |
| USA-Custom Server E-2336 | $ 105.5 / Monthly |
Why Do I Recommend Using MonoVM?
💳 Diverse Payment Gateways for Unmatched Convenience:
MonoVM sets itself apart by offering a plethora of payment gateways that cater to your preferences. This diversity of payment options ensures that you can easily transact using the method that suits you best.
| 💲 Type | 💳 Payment Methods |
| --- | --- |
| Crypto | Bitcoin (BTC), Ethereum (ETH), Tether (USDT), Binance (BNB), and XRP |
| Other | Credit Cards, PayPal, Wire Transfer, etc. |
🚀 Guaranteed Uptime – A Promise You Can Trust:
MonoVM's commitment to uptime reliability is truly exceptional. Thanks to its state-of-the-art hardware and robust infrastructure, MonoVM pledges an uptime of 99.99%. This assurance underscores its dedication to ensuring that your online presence remains accessible and operational without interruption, reinforcing its position as a reliable and trustworthy hosting provider.
🔗 Direct IPMI Access – Empowering Control:
With MonoVM, you gain exclusive and permanent IPMI (Intelligent Platform Management Interface) access to your dedicated server. This direct control ensures you can tailor your server's functionality to your requirements.
Advantages:
OS installation
Power management
⚙️ Next-Gen Storage Devices for Enhanced Performance:
Should you require superior load times, MonoVM offers the option to upgrade to enterprise-grade SSDs (Solid State Drives) from the traditional high-rpm HDDs. This emphasis on cutting-edge storage solutions showcases MonoVM's commitment to optimizing your hosting experience.
| SSD Type | Advantage |
| --- | --- |
| RAID 10 | Enhances data redundancy and performance |
💻 OS Ready – Your Choice, Your Control:
MonoVM places the power of choice in your hands by offering a comprehensive range of operating systems. Whether you lean towards the latest Windows Server versions or Linux distributions, all MonoVM servers come prepared with your preferred OS. This customization option ensures that your hosting environment aligns perfectly with your needs.
⚡ Unparalleled Performance through High-End Hardware:
MonoVM's dedication to hosting excellence is evident in its DDR4 and ECC RAM deployment across all its servers. This strategic choice translates to unmatched performance levels, underscoring the company's commitment to providing a hosting experience beyond expectations.
| Dedicated server parameters | Configuration |
| --- | --- |
| 1. CPU | Intel Xeon & AMD Ryzen |
| 2. Cores | 4, 6, 8, 16, 20, 32, 64 |
| 3. Threads | 8, 12, 16, 32, 40, 48, 64, 128 |
| 4. RAM | 16GB, 32GB, 64GB |
| 5. Storage | SSD & NVMe |
👉 Flexibility in Infrastructure – Your Vision, Your Server:
MonoVM champions flexibility by allowing you to mold your server infrastructure to your exact specifications. From hardware components to operating systems and software choices, MonoVM grants you the autonomy to craft a hosting environment that mirrors your vision.
🤑 Affordable Prices:
MonoVM understands the importance of value for your investment. It offers competitively priced services that cater to varying budget ranges.
MonoVM Account Sign Up (Testing)
Step 1 – Visit the official MonoVM website and on the top right corner, click on Signup
Step 2 – Fill up the details as asked. Check the box "I am not a robot' and click on Register.
Step 3 – After successful registration, you can now log into your MonoVM dashboard using your registered email address. Check your email for the password.
Step 4 – Welcome to your MonoVM dashboard. As you can see, I have already purchased a Linux VPS hosting plan at $35.99 semiannually. But let me show you how you can get a VPS plan for yourself. To buy any hosting plan, click on "Order a new service".
Step 5 – You can now choose any service like Domain, Web Hosting, VPS, Dedicated, SSL, Email, or management. As I am a server administrator, I would like to choose VPS. I run all my sites on either Cloud or VPS hosting.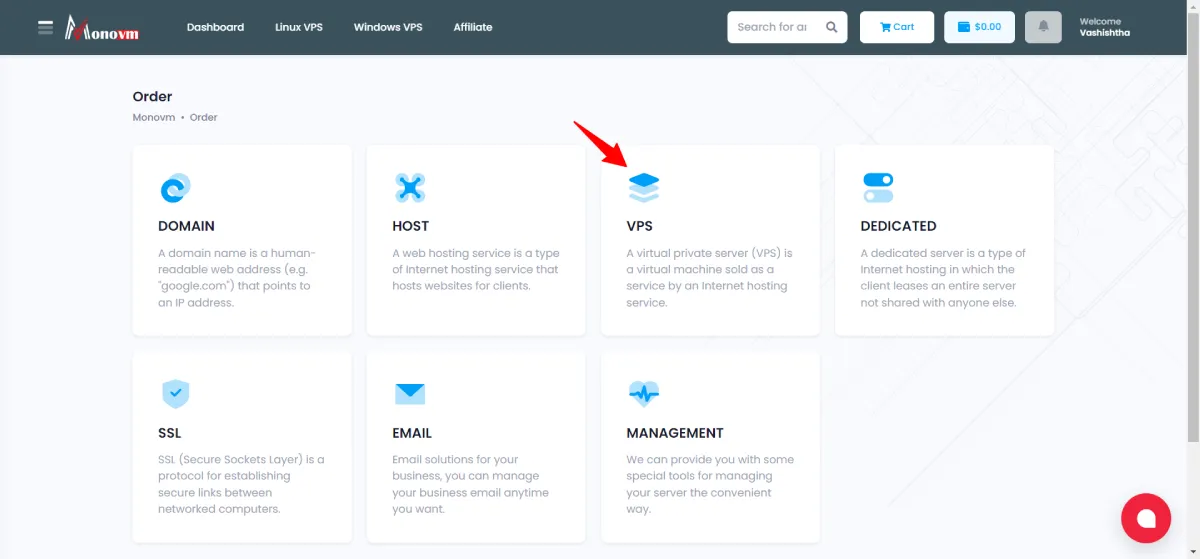 Step 6 – MonoVM offers a magnitude of VPS hosting options. I prefer Linux VPS, so let's click on the Linux 512 MB plan which is billed semi-annually. Before choosing any plan, you can check the plan configuration there and then proceed with the payment.
Step 7 – You can choose OS, Location, Control Panel, and Quantity. Free control panels available include CentOS and Webmin. All other control panels are at an extra charge. You can change the billing cycle and choose 1 year, 2 years, or 3 years.
Step 8 – In this step, you can choose additional services like SSL, web hosting, or buy a new domain. If you already have an existing domain, checkout and complete your payment.
Step 9 – One thing I like about MonoVM is its wide range of payment options. As you can see, it allows users to pay via credit cards, Bitcoin, PayPal, AliPay, Wire Transfer, Skrill, and more. Choose a preferred payment method and click on Checkout.
Step 10 – After successful payment, you can check your paid plan and invoice inside your dashboard.
Step 11 – In the Services tab, you can check your active VPS plan. From here, you can start/stop, restart, turn OFF, and even monitor your usage. You can go to the settings to configure your account or install an application, OS, or control panel.
MonoVM Review: My Verdict
With its enterprise-grade hardware, unwavering uptime, and commitment to customer-centric support, MonoVM asserts itself as a force to be reckoned with in the web hosting arena.
The array of features, from direct IPMI access to customizable infrastructure, speaks to MonoVM's understanding of the diverse needs of its clientele.
Honestly, I have used MonoVM hosting and found out to be super awesome. It's time for you to try MonoVM hosting services!
FAQs
How can I pay for hosting plans?
MonoVM offers multiple payment methods including credit cards, PayPal, wire transfers, and even cryptocurrencies. You can choose your preferred payment methods and pay with one click.
Will I get a refund if I am not satisfied?
MonoVM follows a strict refund policy. You should carefully read its refund terms & conditions. For any refund, you need to raise a ticket. Ensure you have completed your KYC or else your refund will be rejected.