New bloggers often find their blog appealing to the masses and gain many followers. With great new themes, your posts can easily attract plenty of visitors in addition to appreciative fans! So don't hesitate; just use one of these wonderful 2023 blogger templates that are optimized for search engines like Google or Bing when building out an entire site via SEO considerations alone (even though they may not be specifically designed as a template).
If you've been blogging for a while and your website has achieved some level of success, then switching to an Adsense optimized template can really help make things simpler.
Best Adsense Optimized Blogger Templates
#1. Magone
The Magone theme is built with pre-designed templates such as fashion and entertainment in mind, so it will respond well on any site!
Using this design, you can quickly construct amazing blogs on blogspot.com. The design is excellent, simple, and professional, and users will enjoy frequenting the site.
With this great template, you'll be able to craft the perfect blog post for your readers.
Flat design theme with variations
100% Adsense-ready layout
Two columns layout
Homepage slider
#2. Flat News
This red template's header is large enough to accommodate a 728×90 skyscraper banner in addition to the company logo. However, there are numerous locations where you can place an AdSense code.
You may easily alter the color using any competent CSS editor. Choose the accent color, locate the previous hex code, and replace it with the new one.
Clean design with a red color scheme

Color can be easily customized

Homepage widgets to build the blog

Homepage post slider

widget
#3. Adriana
This minimalistic yet Adsense-optimized template has enough features to rank your website/blog on google and generate revenue from it.
Enough work is done behind the template to ensure the availability of varieties not only in the layout(boxed/full-width) but also in the type of sliders.
4 Column homepage post slider widget

Simple and black & white layout

Header section with topbar, logo, and navigation menu

Header search widget available
#4. Anartisis
I was already looking for a template that really is value for money, and I happened to find Anartisis. 9 purposefully designed demo templates prove that the template has widespread compatibility.
Anartisis is the main reason why I will recommend you to start a blog on blogspot.com and purchase a premium template for that. It is totally worth the price.
A perfect competition for the top magazine themes

10+ custom template widgets

Sidebar social icons widget
Creatively display featured posts

on the homepage
#5. Angel
This is an excellent template for articles about Home and decor. Angel is adapted from WordPress with 2 columns, rounded corners, neutral colors, minimalist, etc. This ad-ready template with awesome typography can be integrated with Instagram too.
Content-focused blogger template

Looks like a WordPress theme, but actually a blogger template

Perfect design for personal blogs

3 column homepage featured posts slider
#6. Hillary
Hillary is an elegant theme, most suitable for you if your blogs are related to magazines, food, design, culture, style, sports, etc. The interesting thing is that any user can customize these templates without any hassle.
Clean and simple layout
Single color domination in the color scheme
Header banner space below the featured posts slider on the homepage
Creative sidebar social icons widget
#7. Top Magazine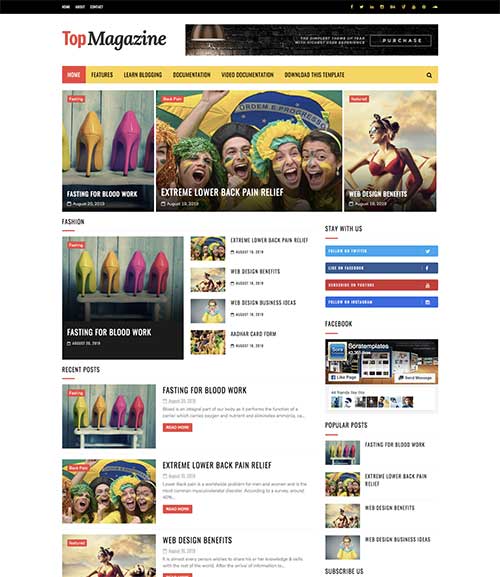 Designed for news, magazines, timelines, etc. Suitable for online digital magazine publishers and owners. Drop-down menu, Tabbed widget ready, post thumbnails, free premium, and many others are its enthusiastic features.
Looks like a perfect design for a news website

Category highlights on the post archives on the homepage

Multiple widgets to design your homepage

Facebook page widget for the sidebar

The free version is available
The Premium version gives you access to remove Footer Credits and lifetime updates
#8. Bolt
Bolt is a smartly built, high-quality featured slider that gives a flat and simple look to your blog. So, better use Bolt if you want to keep your blog simple. It is easy to post contents theme with vibrant colors.
A homepage that resembles a creative one-page portfolio website
A welcome mat screen for increasing your email subscribers list
The Team section and a blog post section for the homepage
Corporate look and design language
#9. Rosemary
Rosemary Fashion can be integrated with Instagram, which is good news. For your exceptional blogs, you may have this as your perfect choice. Its display will leave a long-lasting impression on the live visitors coming your way.
The best design for a fashion or makeup blog
Adsense-optimized Feminine theme
Full-width featured posts slider on the homepage
#10. Sora Book
This template is specially designed for authors and ebook writers. It is very helpful in promoting and selling your online writings. This is an SEO-friendly template. Some features are Slideshow, Right Sidebar, Gallery, Drop Down Menu, Social Bookmark Ready, Post Thumbnails, etc.
One of the best blogger templates for creating a book review blog
Widget for featured books on the homepage
Adsense-optimized layout
Sidebar ads, header ads, and footer advertising space
#11. Smart SEO
Another template has great loading speed with the coolest SEO features and beautiful designs. It has stylish typography but gives your blog an overall professional appearance.
Multi-purpose blogger templates
Not just SEO friendly, but also Adsense ready
Multiple ads on the homepage and single posts
Header ad in the logo section and another one below the navigation menu
#12. Olivia Dark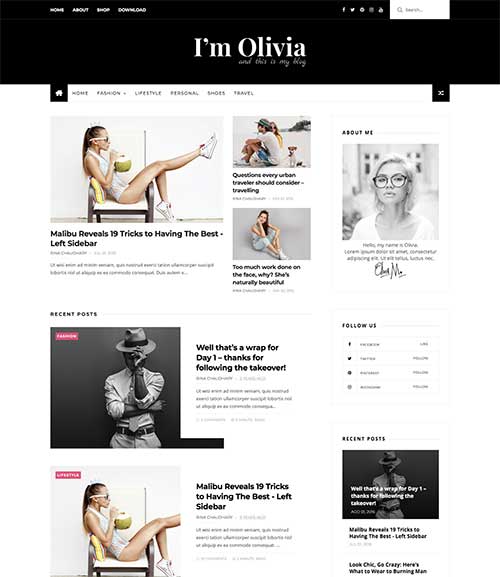 Olivia Dark Blogger Template has many attractive styles of homepages that plays the biggest role in creating a great image in the visitor's mind. It is designed simply but gives a modern look to your blog.
Another feminine blogger template but more professional
Good for fashion or travel blogs as well
The sidebar follower count widget is elegant
Elegant aesthetics
Ads ready blogger templates
$49
Summary
Go with some marvelous Ads Optimized Blogger Templates of 2023. I would still recommend some distinct blogger templates for ranking purpose especially.
Ads ready layout

Colors combination

Optimized clean code
Are these ads-ready blogger templates easy to install and activate?
You can make your blog look like a WordPress BLOG also and enjoy the feel of using the WordPress platform. However, you will get millions of possibilities if you move to a self-hosted platform.
Over To you