Are you looking for an alternative to ClickFunnels? ClickFunnels has become one of the most popular and successful online sales funnels and marketing automation tools in recent years. With its drag-and-drop builder, powerful analytics, and integrations with various platforms, it's easy to see why many business owners have turned to ClickFunnels for their funnel needs. 
However, there are several other options out there that can provide similar features and benefits as ClickFunnels but at a lower cost. From lead generation software to complete website builders, plenty of alternatives are available for those who want more control over their online presence or need more customization options than what ClickFunnels offers.
This article will discuss some of the best ClickFunnels alternatives on the market and what they can offer. We'll also review pricing options, customer support, and other important factors when selecting a funnel builder for your business. With this information, you can make an informed decision about which option is right for you.
Why Look For ClickFunnels Alternatives?
If you're in the market for a landing page builder tool, consider using ClickFunnels. While this platform does offer a simplified way to create visually appealing pages, it also has some limitations and drawbacks that make it worth considering alternatives.
One such issue is the use of generic templates. While these templates may be simple to use, the downside is that many other businesses are likely using the same ones, leading to a lack of uniqueness for your brand.
Another factor to consider is the cost of using ClickFunnels. Compared to other similar services, ClickFunnels is priced significantly higher.
Regarding customization options, ClickFunnels also needs to improve compared to other page builder tools. The platform has limited options for customizing pages and many funnels and visitors.
Performance can also be a concern for ClickFunnels users, as many have reported errors and slow performance with certain features, particularly with the user interface.
While ClickFunnels does offer support through multiple channels such as email, live chat, and ticketing, many customers have reported unsatisfactory experiences with the support team. Complaints range from unresolved technical issues to delayed responses.
Considering these factors, it's worth exploring alternatives to ClickFunnels that better meet your needs in terms of cost, customization options, performance, and support.
List of the Best Clickfunnels Alternatives
FlexiFunnels is an online business software offering a wide range of features to increase sales and conversions. It provides fast web page loading speed, an easy drag & drop landing page builder, profit-boosting checkout pages, and globally secure payment gateway integrations.
Additionally, FlexiFunnels is affordable, making it a priority for businesses. The platform also offers advanced integrations, a completely secured course membership area, and sales data-driven real-time reporting dashboards.
FlexiFunnels offers several reasons for businesses to consider using it. One of the key benefits is its ability to centralize a business at less cost, saving both money and time. This business centralization software eliminates the need for multiple other products, allowing users to focus on one central software. With its advanced reporting dashboard, FlexiFunnels provides valuable data for business decisions.
Another reason to consider FlexiFunnels is its thriving and scalable online business model. The platform provides a range of features that can help businesses generate higher revenue, including optimized checkout pages, bump offers, course membership areas, and superior hosting. Despite these added features, costs remain manageable at a lower level, allowing businesses to make more money and increase profit margins.
Why is FlexiFunnels a better alternative to ClickFunnels?
The basic plan of FlexiFunnels offers 100,000 page views, whereas ClickFunnels allows only 20,000 visitors. FlexiFunnels pricing is $397/year including all the features. ClickFunnels pricing starts at $127/month.
Your video courses are fully piracy protected.
FlexiFunnels allows you to create courses into sections, so a user can buy only a particular part of the course. ClickFunnels does not have this feature.
The right-click is disabled in FlexiFunnels, so nobody can copy your images. ClickFunnels lacks this feature.
ClickFunnels offers only one-time and recurring plans. Whereas FlexiFunnels offers more pricing options.
FlexiFunnels offers multiple payment gateways at the checkout.
ClickFunnels chat support is available from Monday till Friday, but FlexiFunnels has chat support open on Saturdays and Sundays too.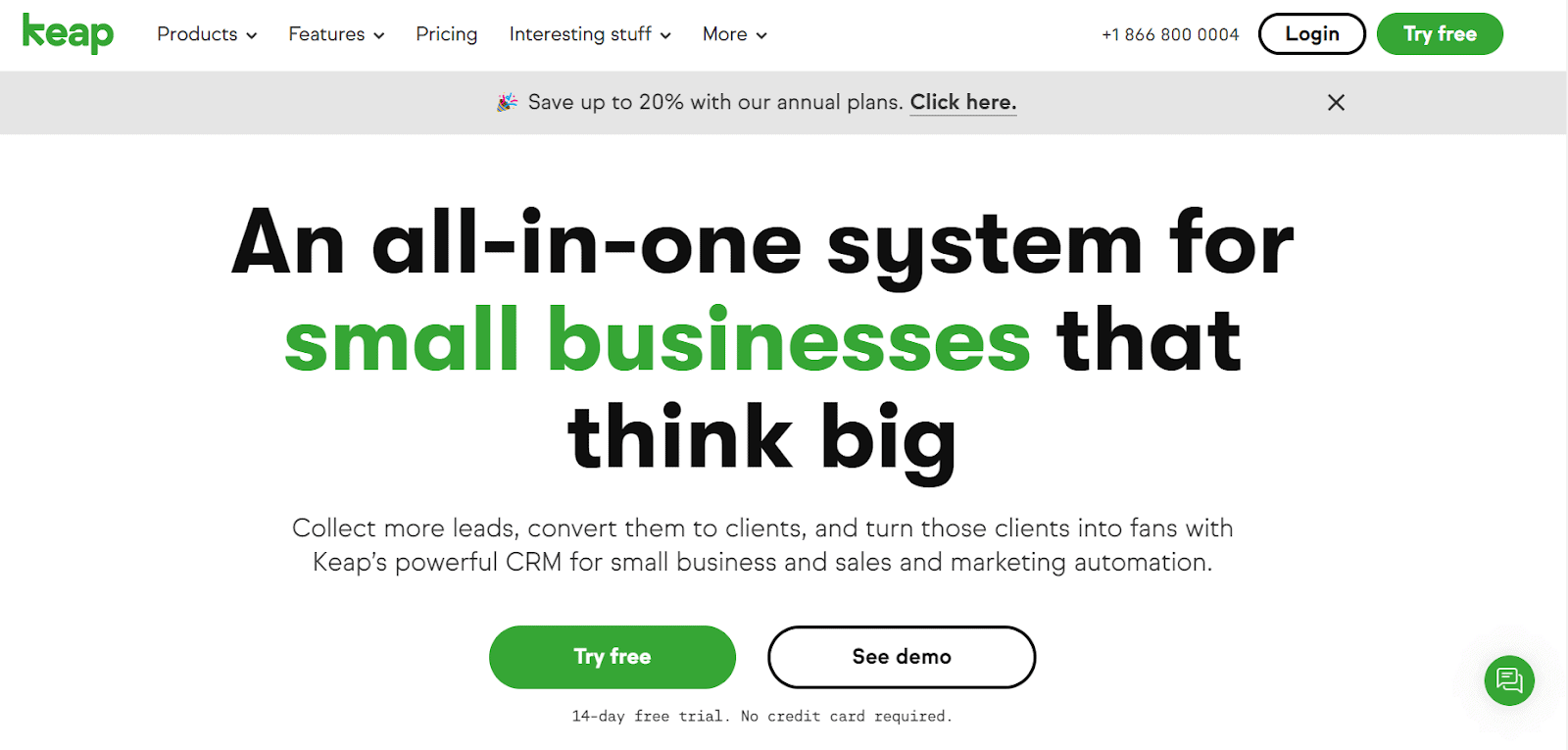 Formerly known as Infusionsoft, Keap is an upgrade from ClickFunnels' features, especially if you already have an established business. It comes with services such as landing pages, lead-gathering tools, automation features, and email distribution.
The customer success manager and drag-and-drop sales funnel builder make it easy to stage your CRM, and the mobile-friendly landing page templates won't slow down your page loading speed.
You can coordinate and monitor leads from a customizable dashboard and drive leads through the sales funnel with automated follow-ups and tasks. Keap has 24/7 support options, a large community, and a wealth of documentation, webinars, and tutorial videos.
Key features include unlimited email marketing, a fast-loading template, powerful automation features, and invoicing and keep charges on the basis of contacts.
If you have 1000 contacts, you would need to pay $189 per month for the Keap subscription. It's good for businesses which have high customer lifetime value(LTV).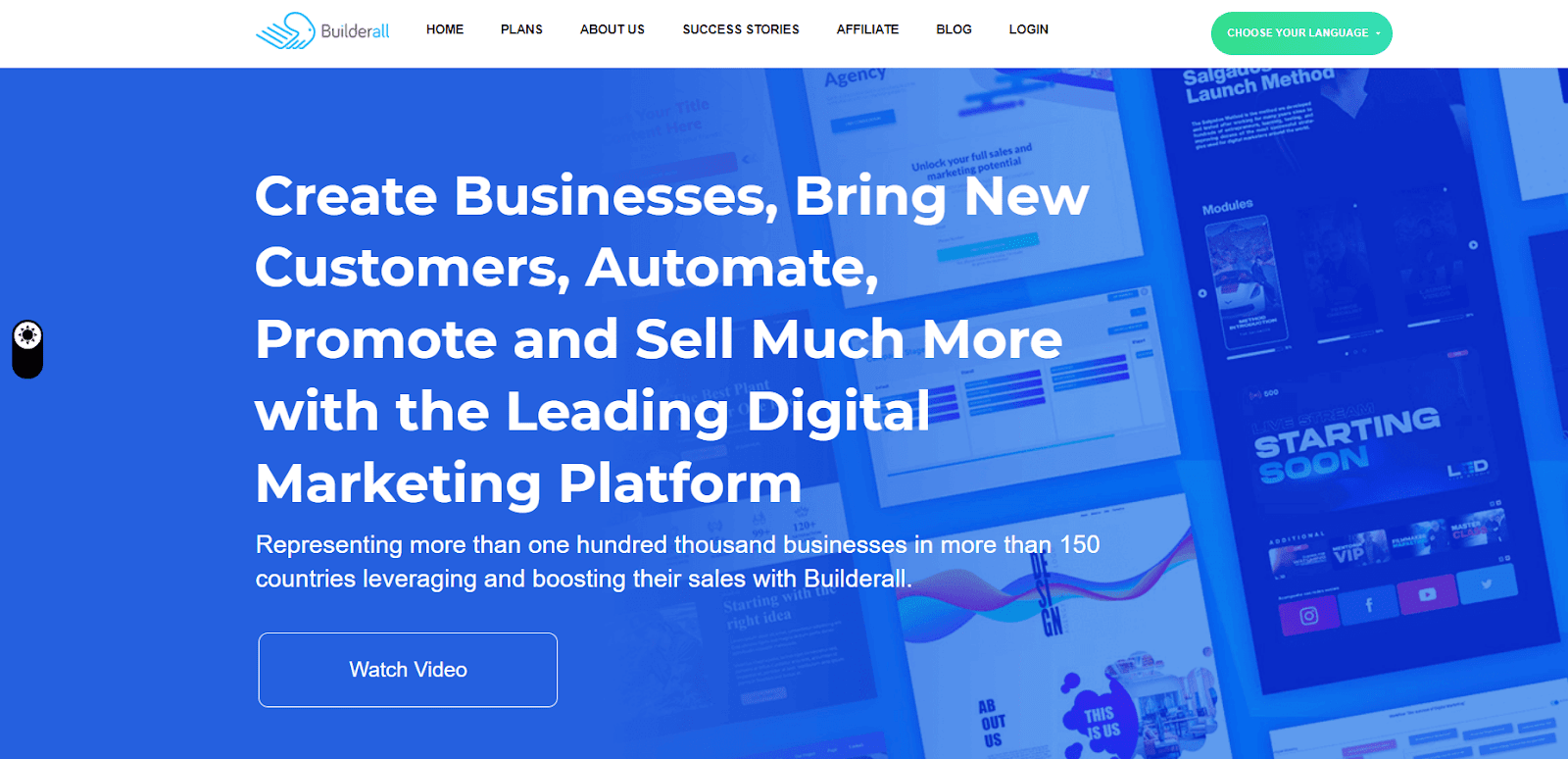 Builderall is a powerful ecosystem for digital marketing, website building, and website hosting. It offers many tools, including an AI-powered dashboard, funnel builder, drag-and-drop website builder, website chatbot, e-learning platforms, and a support desk. Builderall comes with three website builders, all of which allow you to create professional websites without any prior experience, and the templates are offered for free.
With the Mailing Boss tool, you can also build membership websites, use heat mapping to optimize conversion rates, and stay on top of your email campaigns. Key features include multiple drag-and-drop website builders, web hosting, split testing, customizable templates, and integrations with third-party services.
The initial plans of Builderall cost $16.90/mo for 1 domain & 3 subdomains & $76.90/mo for 3 domains & 5 subdomains. If you want access to full support, a helpdesk system & more features, you would need to upgrade to the premium plan which costs $87.90/mo.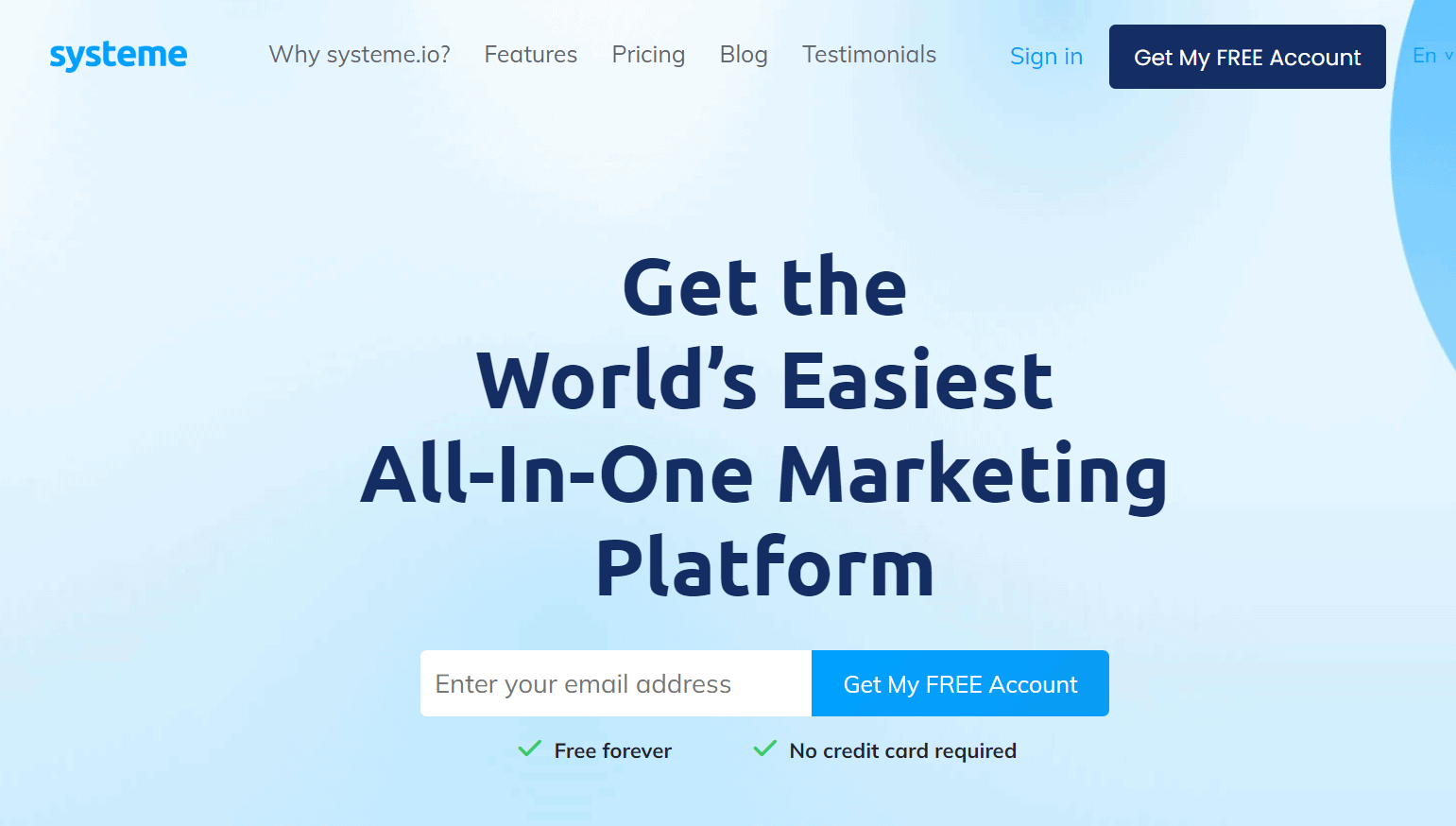 With over 200,000 subscribers, Systeme.io is a no-fuss ClickFunnels alternative that allows you to set up affiliate programs, develop online courses, design automation workflows, build websites, launch email marketing campaigns, and create sales funnels. The funnel builder is easy to use, and the pre-made templates are fast and offer in-depth editing.
Systeme.io offers 1 email campaign & a maximum of 2000 members in its initial plan. If you want to enjoy more features you would need to upgrade to one of its paid plans.
There are 3 ways in which systeme.io provides support
1  Facebook group, 
2. Help articles,
3- Email support. 
The only drawback where Systeme.io has is that it does not have a live chat support like that of ClickFunnels or FlexiFunnels to get your queries answered instantly.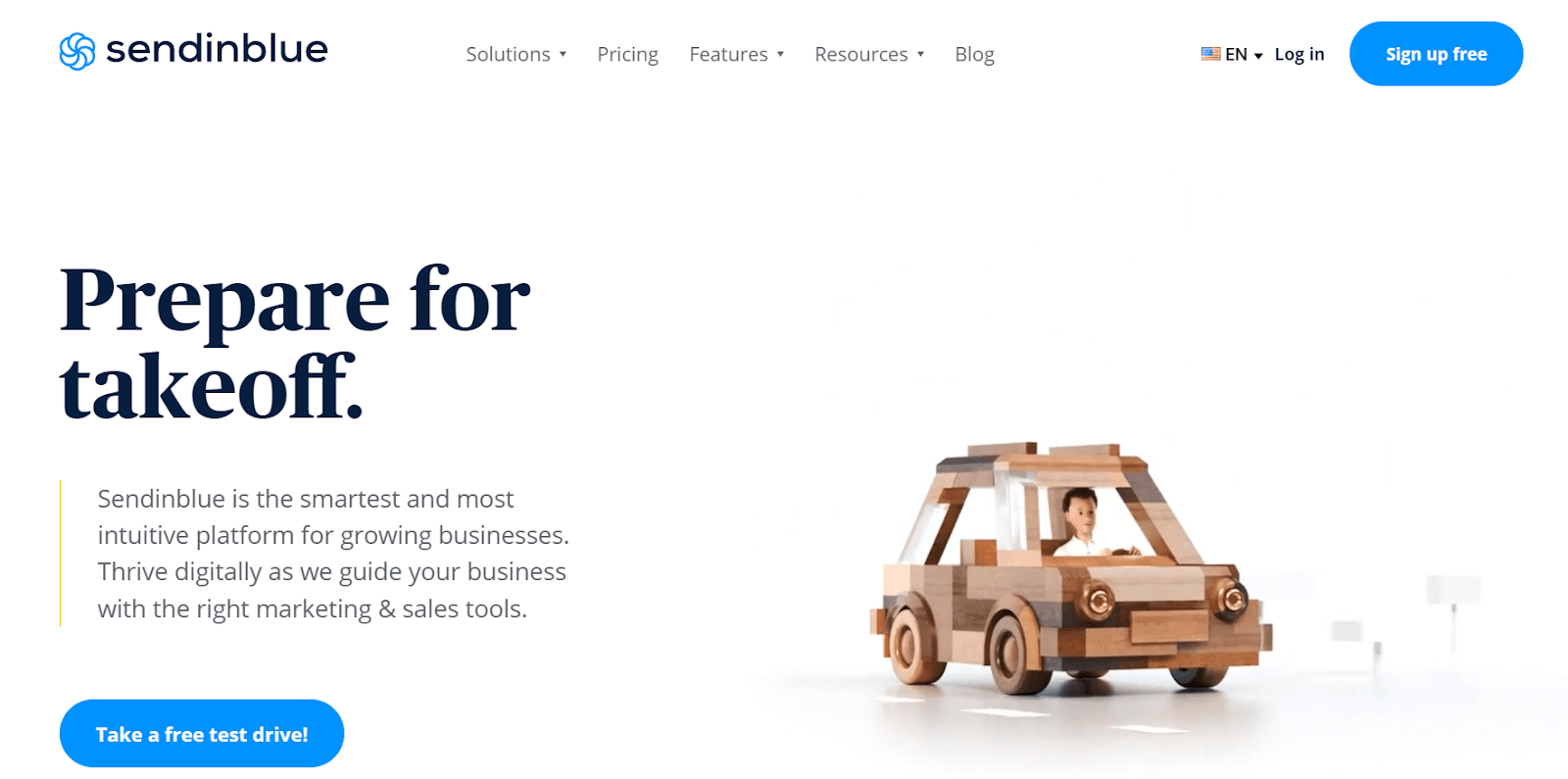 Sendinblue is a top digital marketing platform that offers a suite of tools for productive communication with your audience. In 2018, it released its landing page creator, which allows you to create a landing page with a smooth drag-and-drop builder and pre-existing templates.
Why Is Sendinblue Better than ClickFunnels?
You can track visitor activity on your website with the Sendinblue Tracker tool and develop automated workflows to scale your business.
Sendinblue's multilingual support desk is known for being quick and helpful, and you can reach them through a ticket system or by phone.
Key features include a landing page creator, visitor tracking, email engagement analytics, and multilingual support.
ClickFunnels only supports web-based platforms, whereas Sendinblue supports mobile devices too.
Sendinblue pricing starts at only $25/month whereas ClickFunnels pricing starts at $127/month
There is only MailChimp integration with ClickFunnels. On the other hand, Sendinblue offers multiple integrations including Adobe Commerce, Big Commerce, Google Analytics, and more.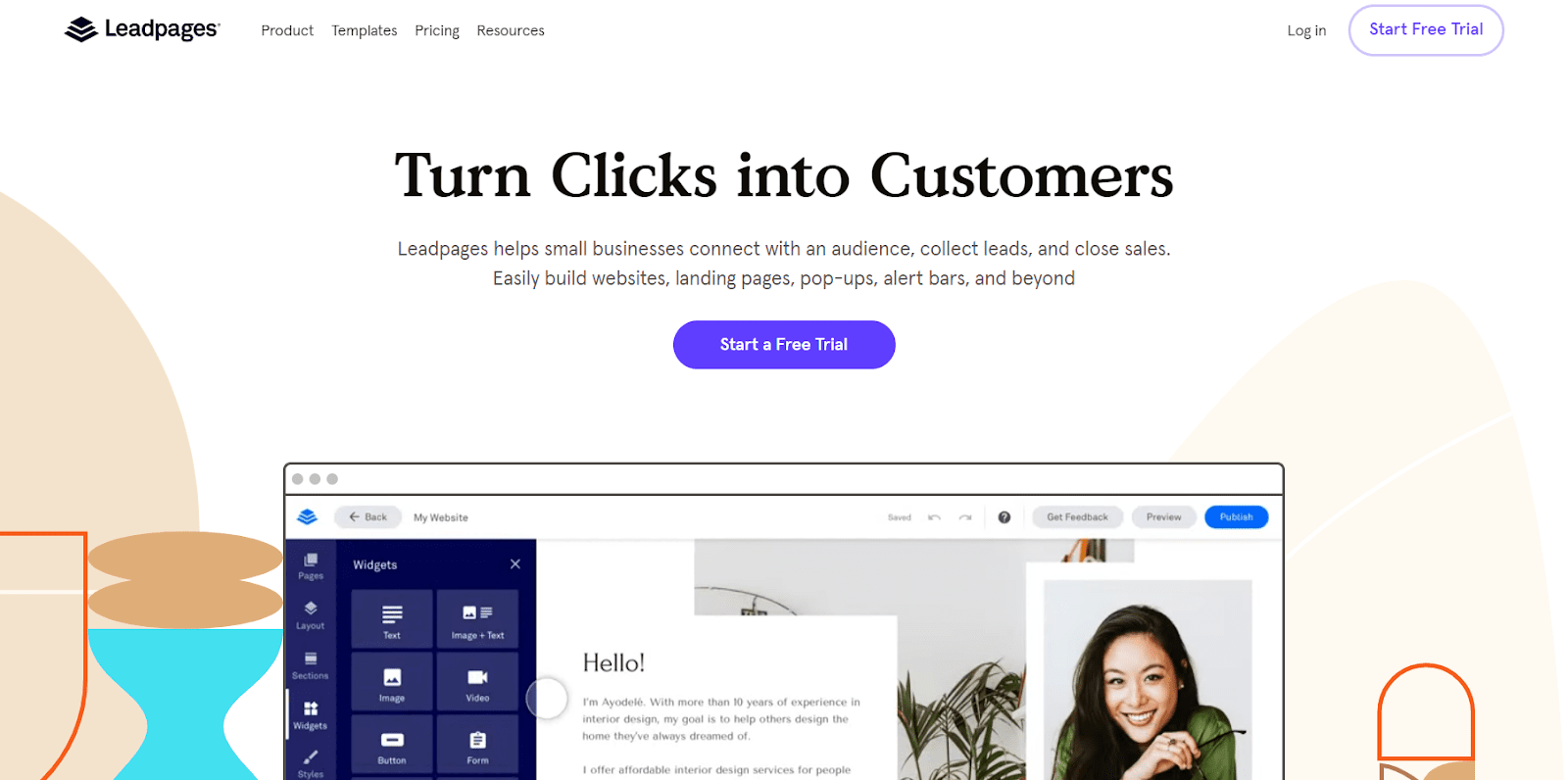 Leadpages is a popular and easy-to-use platform that helps businesses create and publish landing pages, pop-ups, and forms optimized for lead generation.
Whether you're looking to create simple lead magnets or complex sales funnels, Leadpages got you covered. Leadpages offers a wide range of templates designed to convert visitors into leads, and the platform's drag-and-drop editor makes it easy to customize the templates to match your brand.
Additionally, Leadpages integrates with various popular marketing tools, so you can easily connect your leads with the rest of your marketing and sales processes.
One of the standout features of Leadpages is its built-in A/B testing, which makes it easy to compare different versions of your landing pages and optimize for the highest conversion rate. And with Leadpages' advanced analytics, you can track your visitors' behavior and get insights into what is the costing per month – $49/mo for 1 site, 40+ integrations unlimited landing pages, and email support & $99/mo with all the features of $49 plan plus ultd A/B testing & chat support.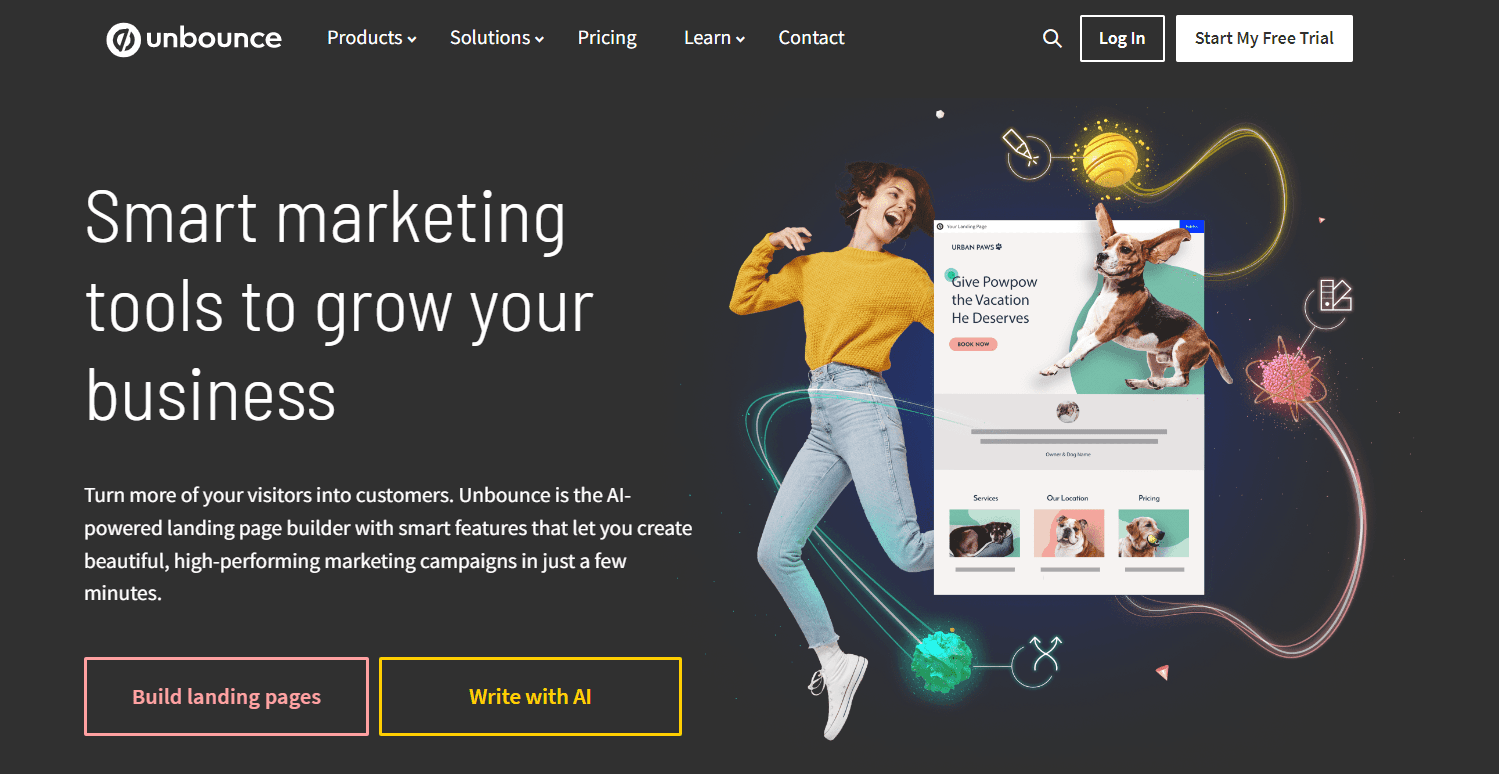 Unbounce is a platform designed specifically for landing pages and conversion optimization. With Unbounce, you can create high-converting landing pages without coding or design skills, thanks to its intuitive drag-and-drop builder. Unbounce comes with various templates optimized for campaigns, such as lead generation, webinars, and product launches.
You can easily customize these templates with your brand and messaging, and the platform integrates with various popular marketing and sales tools. One of the standout features of Unbounce is its dynamic text replacement, which allows you to serve up different versions of your landing pages based on visitor location, referral source, and other factors.
And with Unbounce's analytics, you can track visitor behavior and optimize your pages for the highest conversion rate
This feature is not available in ClickFunnels as of now. Compared to ClickFunnels, Unbounce costs substantially less. The premium features that ClickFunnels offers on its lower price levels are also available on this platform.
Although ClickFunnels may have some sophisticated capabilities, you probably won't need them since you're creating a landing page. You get all the essentials from Unbounce, and it does so quite well.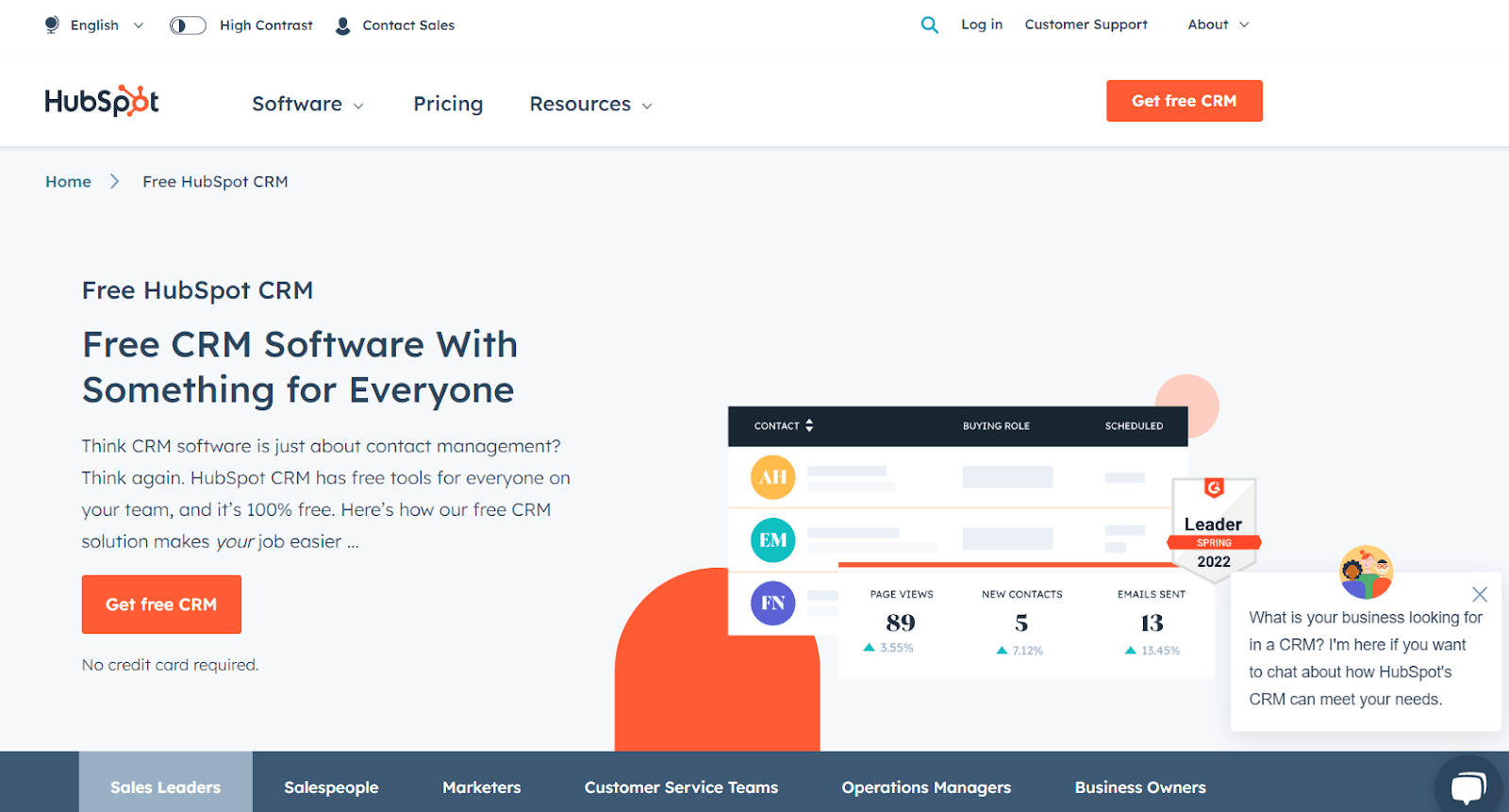 HubSpot is a leading marketing, sales, and service platform that helps businesses attract, engage, and delight customers. With features such as website building, content creation, lead generation, sales enablement, and customer service, HubSpot provides businesses with a complete solution for their inbound marketing needs.
The platform is known for its comprehensive reporting and analytics capabilities, allowing businesses to measure and optimize their marketing efforts easily. Additionally, HubSpot offers a wide range of integrations with popular tools, making it simple for businesses to connect their existing systems and workflows.
Although Hubspot aims to give you all-in-one CRM features as well as a tonne of other tools like email marketing tools, etc., Clickfunnels concentrates on creating highly effective sales funnels.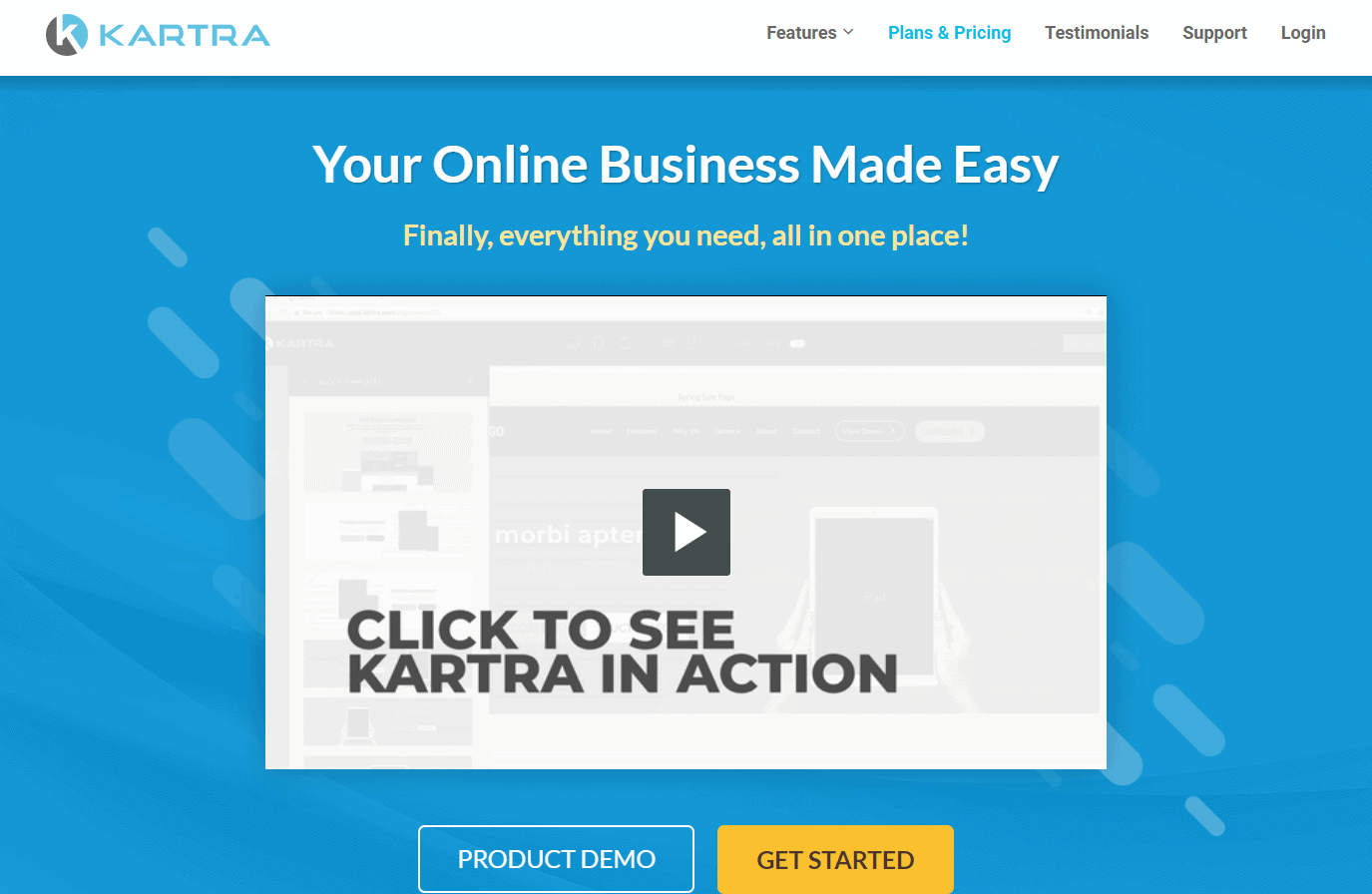 Kartra is a comprehensive online business platform that offers a range of tools to help businesses streamline their operations, grow their customer base, and increase their profits.
With features such as website building, shopping cart and checkout, email marketing, affiliate management, and membership site management, Kartra provides businesses with everything they need to succeed online.
The platform is user-friendly, intuitive, and highly customizable, making it ideal for businesses of all sizes. Kartra's beginning subscription also enables you to host 50 videos.
ClickFunnels does not offer this feature. Kartra's monthly subscription costs $99, whereas ClickFunnels monthly subscriptions start at $147.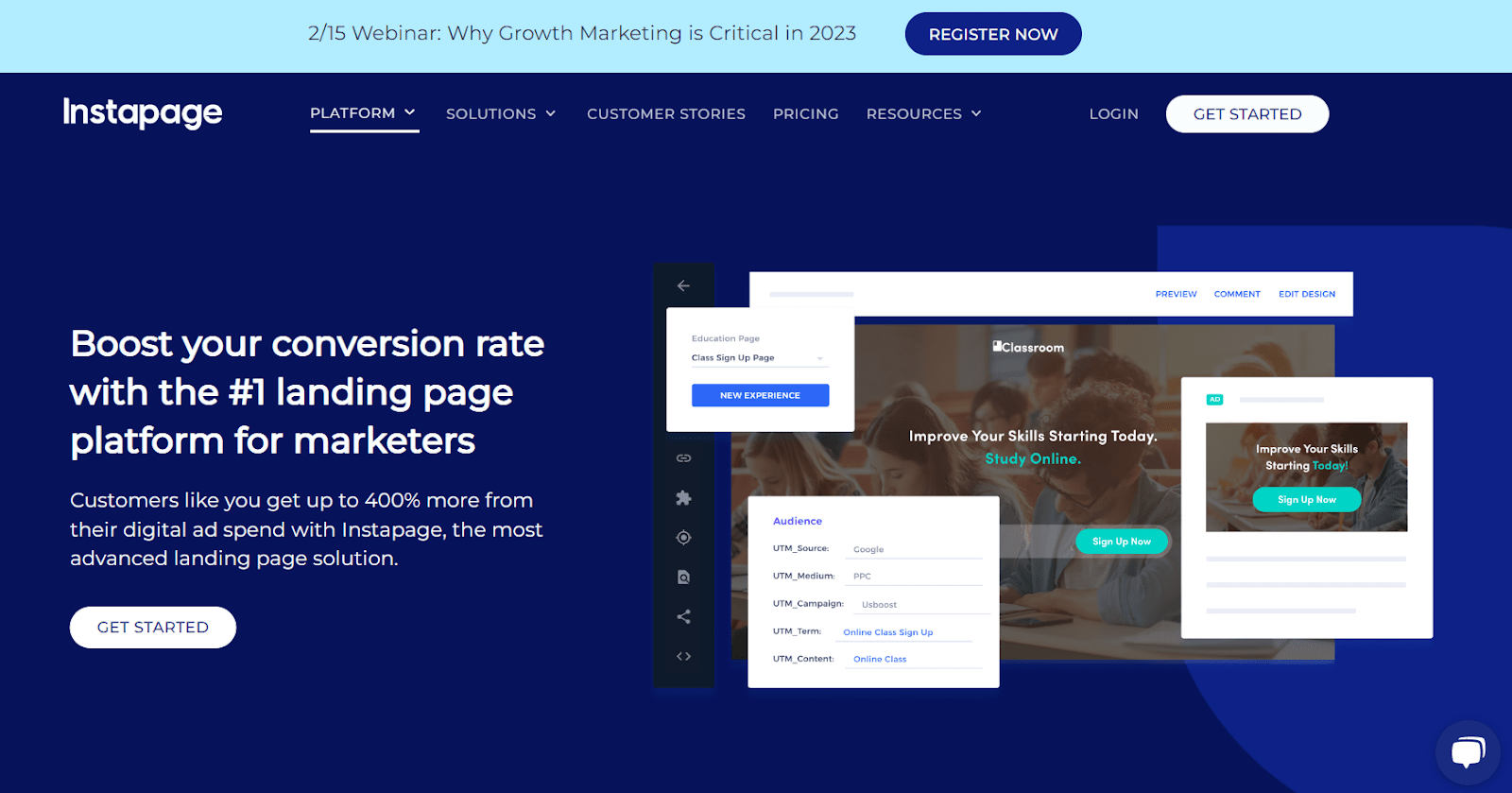 Instapage is a leading landing page platform that helps businesses create high-converting landing pages in just minutes. The platform offers a range of templates, design tools, and integrations, allowing businesses to quickly and easily build landing pages that are optimized for conversion.
Instapage also provides businesses with powerful analytics and reporting capabilities, allowing them to measure the success of their landing pages and optimize their marketing efforts accordingly.
With amazing features like dynamic text replacement (customized to users) and 24/7 live chat support from Monday through Friday, Instapage costs $299 per month which might be expensive for small businesses.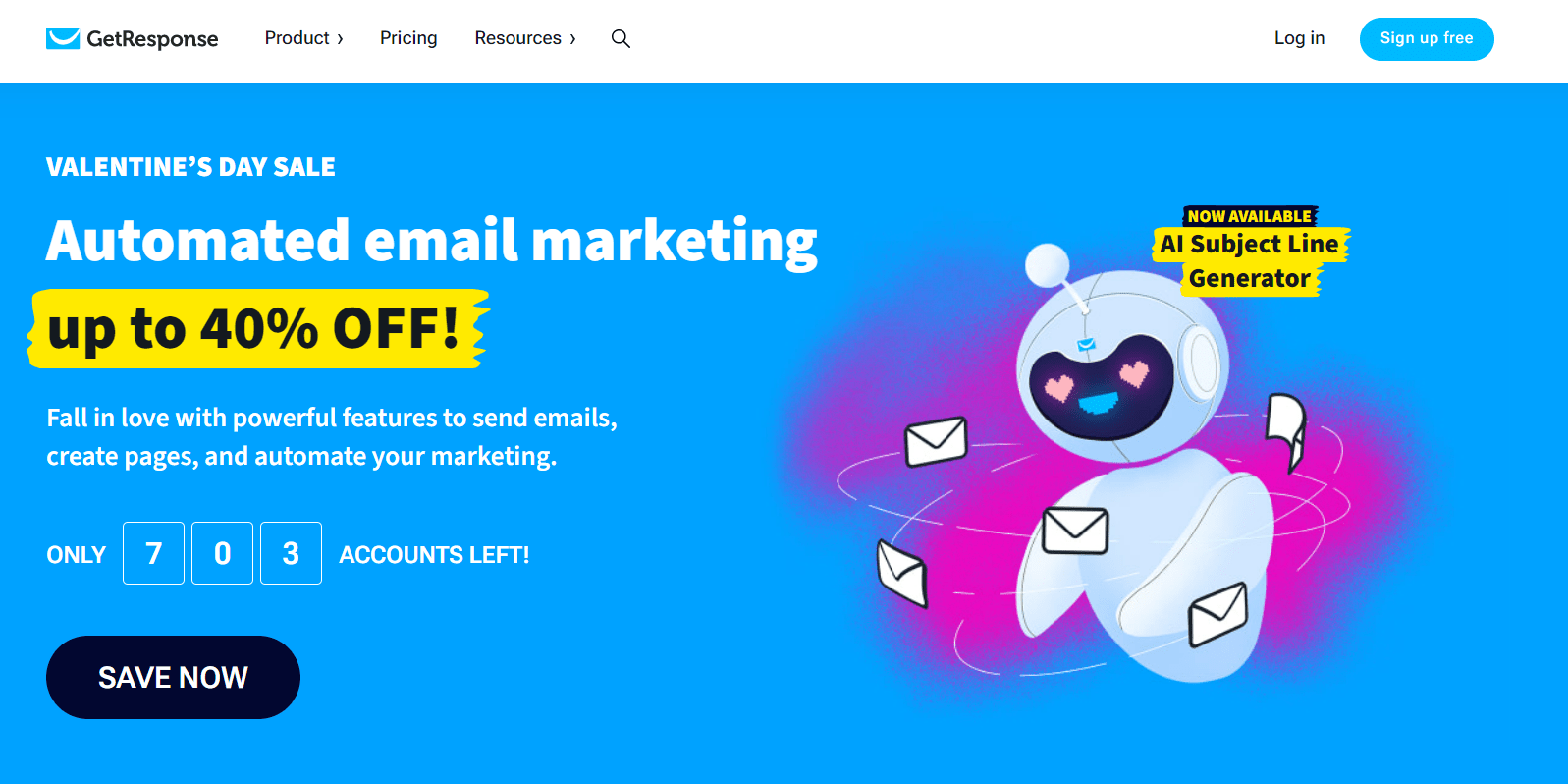 GetResponse is a great email marketing platform that helps businesses create, manage, and grow their email list. With features such as email design, automation, lead capture, and segmentation, GetResponse provides businesses with everything they need to succeed with email marketing.
Getresponse is a viable option if all you want ClickFunnels to do is harness the power of customized email marketing & lead generation. GetResponse falls short if you want to use comprehensive online business features with advanced analytics.
Conclusion
Due to its extensive feature set, which includes everything from marketing and sales funnels to the creation of digital products and the hosting and delivery of courses, FlexiFunnels stands out as the best alternative to ClickFunnels.
FlexiFunnels has all the tools you need to expand and scale your online business, including a huge selection of integrations, an easy drag-and-drop builder, and advanced analytics.
Additionally, with features like advanced sub-users access, piracy protection, automatic SSL, and DDOS protection, 30 days money back guarantee you can be sure that your business is secure and running smoothly.
Overall, FlexiFunnels is a top-notch platform for anyone looking for a powerful and versatile solution for their online business needs.
If you are willing to know more about FlexiFunnels, you might find this article insightful. You can also book a demo or ask your queries directly from FlexiFunnels experts. They're really supportive & are specialized in solving any online business problems.