Software such as Plesk or cPanel provides a graphical interface and automation tools designed to make website hosting easy even for non-experts. It provides functionality for administrators, resellers, and end-users to control various aspects of a website and server administration through a browser.
cPanel is the most popular, most widely used, and probably a powerful software for managing websites or email accounts. However, it is not free, which is why many webmasters look for free cPanel alternatives.
The world of (web) server configuration tools may seem complicated the first few times, so I thought it was time to take a full look at the best free alternatives to cPanel.
Most of the software that I list in this guide are open source, which means that you can examine their code. You can even make changes you need to. They are all free, but some have limitations for commercial use.
Top cPanel Alternatives
Free and Open-Source Software is a beautiful world. Developers are eager to create professional and free cPanel alternatives for the community.
Let's see in detail the list of alternatives to cPanel that we can try in 2020.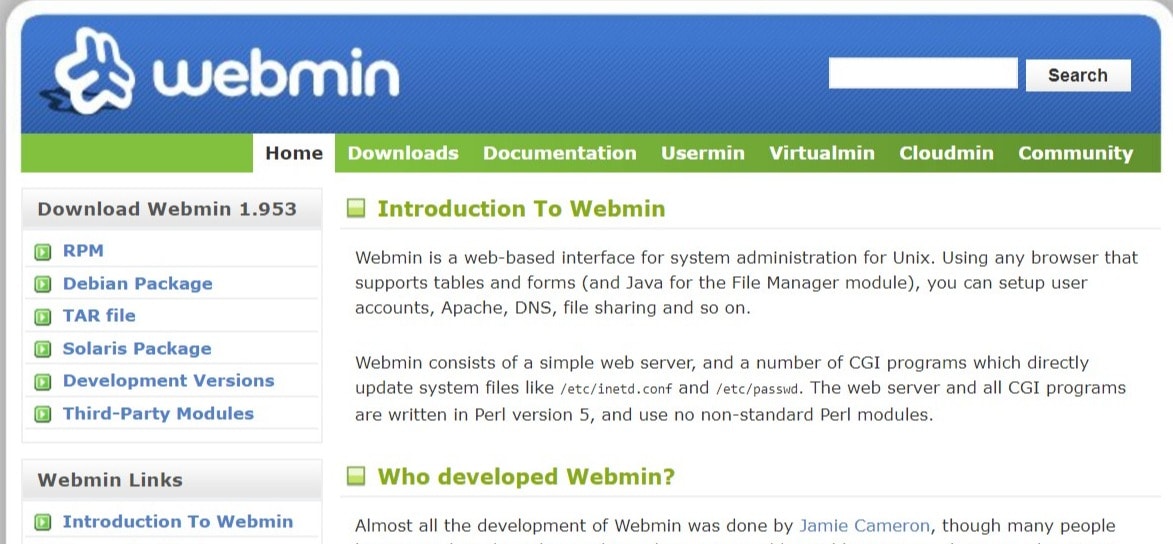 In my opinion, Webmin is the most feature-rich cPanel alternative out there. It is considered an ideal solution for most needs.
You can do mostly the same things available on cPanel, but for free. With the built-in modules, you can back up configuration files, configure Apache web servers, monitor bandwidth, configure fail2ban, set up the firewall and iptables, administer users, configure cron jobs, protect SSH connections and much more. This control panel may not have the best graphical interface, but it is possible to improve it using custom graphical themes that simplify usability.
Whether you are using Ubuntu, Debian, or CentOS, Webmin has a well-documented installation procedure. If you want to go a little further, the Webmin source code is available on GitHub.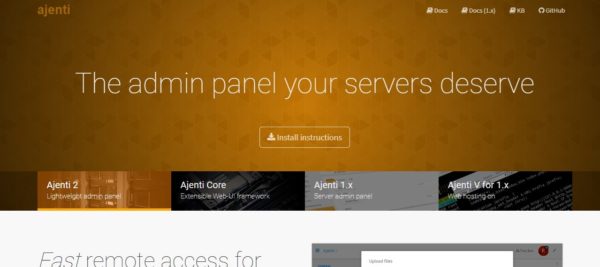 Ajenti is a complete control panel that calls itself – "An administration tool for a more civilized age, which offers you a quick and safe way to manage a remote Linux system at any time using daily tools such as a terminal, a text editor, file manager, and others."
There is a remote terminal, and it is possible to manage the firewall, install packages, manage users, monitor the use of resources, and more.
Ajenti also has a series of plugins that add functionality and compatibility, and it can be further extended with Python.
Ajenti is a top control panel for those who already have some services running on their servers.
Other panels delete existing configurations, but Ajenti allows you to "inherit" the current setting without changing it. Ajenti also considers itself "thoughtful," as all changes are non-destructive and will not overwrite files, options, and comments.
The main project is open source and is available on GitHub.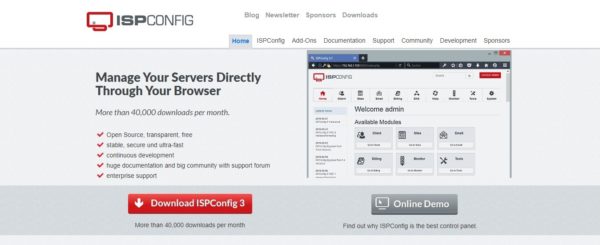 ISPConfig is another long-standing competitor in the free cPanel alternatives list. Itis undoubtedly one of the most popular with 40,000 downloads per month. With this software, you can configure Apache2 / Nginx web server, mail server, DNS, mirroring, and much more, just like Webmin or Ajenti.
A unique feature of ISPConfig is its ability to manage multiple servers from a single control panel. If you work with more than one server and want a consistent experience on all of them without installing the same control panel on each of them, ISPConfig could be for you.
ISPConfig works with Debian, Ubuntu, and CentOS, the source code is available through the GitLab repository under an open-source BSD license.
The most versatile free control panel on this list is ISPConfig 3. It has practically all the features you will need from an open-source Linux hosting control panel, as it offers four user levels: administrator, control panel user, reseller, and client.
The administrator level allows you to configure the server and administer all users. In contrast, the user level of the control panel allows the user to access only what is specified by the administrator. This means that you can ONLY allow access to the file manager or to administer mail. The Reseller Level will enable resellers to resell a set amount of resources assigned to them by the administrator.
However, resellers can subsequently create their packages and resell them. The client level includes valuable resources allocated by the reseller, but clients have the authority to use everything that the administrator allows and is fully customizable. These rules are good or bad for all software of this kind.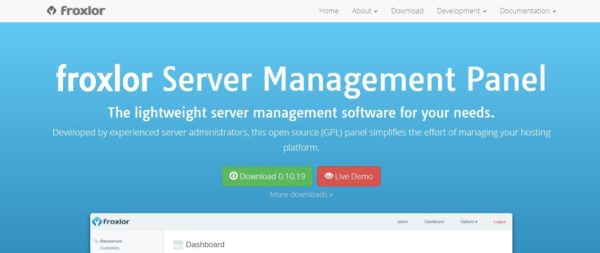 Froxlor calls itself the "light" alternative to Webmin. From their website: "Developed by experienced server administrators, this open-source (GPL) panel simplifies the hosting platform's management effort."
Froxlor has a relatively user-friendly interface. Features include installing Let's Encrypt, PHP configuration, MySQL management, and more.
Froxlor has Debian packages and a .tar.gz for production installations. Only Debian is officially supported, but it seems possible, with a little effort, to install it on Ubuntu as well.
Froxlor comes licensed with GPL 2.0, with source code on GitHub. You are free to edit and distribute the software as you see fit. However, you will need to make changes to the source available. Commercial use is also possible, as long as you declare that your product uses Froxlor.
This popular alternative to cPanel allows the management of 3 types of users: administrators, resellers, and customers; it does not include a file manager but will enable you to create an FTP account very quickly.
Sentora is a free, simple and easy to use web hosting control panel that you can install on your cloud VPS server very easily. Some providers such as SkySilk offer one-click installation of Sentora panel while deploying a new VPS server.
The Sentora panel gives you access to manage services on your web server such as PHP, MysQL and  caching. Apart from this, you can also manage multiple clients and offer them different login credentials and accounts. It serves as your FREE WHM alternative as well.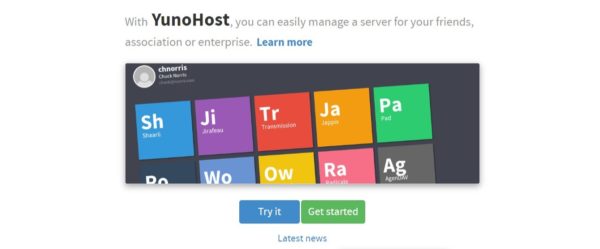 YunoHost defines itself as a "Server operating system that aims to make self-hosting accessible to everyone."
It is not complete like cPanel or Webmin, as the only goal is to install various self-hosted applications for you. Here you will not find a firewall or reverse proxy managers. Only a certain number of "apps" officially supported the installation of various programs, such as Baikal, Nextcloud, WordPress, Zerobin, and little else.
It is possible to administer a VPS via the YunoHost web interface or the command line. YunoHost officially supports Debian 8 and is primarily coded in Python with an open-source GPL license. The code is available on GitHub.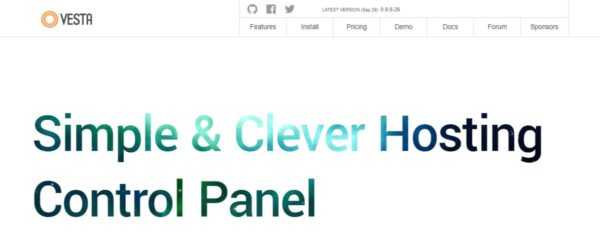 Vesta CP is a beautiful control panel. Linux users love it because it is written in Bash. Built-in features include iptables and fail2ban management for security, Nginx and Apache for a web server, various email solutions, monitoring solutions, backups, and much more. If you prefer to work via a command line rather than a web interface, you can do it with Vesta CP.
VestaCP is an elegant, quite simple, and effective control panel for CentOS, Debian, and Ubuntu servers. It can manage high traffic websites with the same efficiency as cPanel. With Vesta, you can install Nginx immediately and set up a cache and hosting. Vesta CP updates automatically and offers DNS Manager, Antivirus, AntiSpam, and the WHMCS billing service. I have installed VestaCP and Ajenti on different cloud servers with one-click installation on SkySilk. You can deploy VestaCP today on SkySilk.
Vesta works with CentOS, Debian, and Ubuntu and is licensed with GNU. The source code is available on GitHub.
Note: as of summer 2018, there has been an increase in the volume of Vesta CP servers subjected to automatic attacks based on unknown vulnerabilities. Standard solutions include the protection of SSH connections through private keys and the complete disabling of the root user. If you want to try Vesta, it is right that you know it.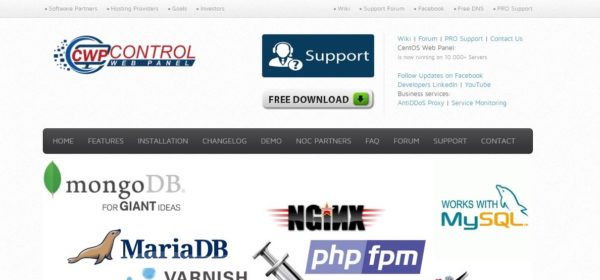 Using CentOS on your private virtual server (VPS) and you don't think Webmin is precisely right for you, CentOS Web Panel is the ideal solution. It allows you to distribute and administer Apache Web servers, firewalls, MySQL databases, SSL certificates, an Nginx reverse proxy, self-hosted email, and much more. It is also possible to manage users, distribute backups, and monitor the system's integrity through the services monitor.
A unique feature of CentOS Web Panel is its Auto-Fixer, which analyzes essential configuration files and tries to automatically correct them if you (or the panel itself) make a mistake.
For installation, an updated CentOS system, a functioning LAMP stack, and at least 1 GB of RAM is needed. It is important to remember that CentOS Web Panel is officially supported only on CentOS; if you are using Debian or Ubuntu, you will need to examine one of the other options. Unfortunately, the CentOS Web Panel code is not entirely open-source but remains free for use.

Kloxo made by LXCenter in last on the list. This control panel is a perfect replacement for cPanel as its manufacturers have designed the interface to be almost identical to that of cPanel. Kloxo integrates with WHMCS (Web Hosting Billing & Automation Platform), Hostbill, and AWBS.
Wrapping up
I hope this introduction to web server configuration systems has bought some interest to you, as you can see, you can save money by using alternatives to cPanel. Paid solutions are also available such as Cloudron, Plesk, and ClusterCS with a little expenditure.