Among the diverse types, 5G mobile proxies reign supreme because even the residential & datacenter proxies sometimes fail to work.
This captivating piece unravels the best buy mobile proxies, a must-know before you set your sights on one. If you find it difficult to choose the best mobile proxy, I would recommend you go for Smartproxy.
Quick Summary of Top 3 Mobile Proxies
List of Best Mobile Proxies Of 2023
Smartproxy's impressive pool of approximately 10 million IP addresses ensures unparalleled flexibility and anonymity.
With over 130 locations to choose from, the range of options is impressive. You can enjoy browsing with the power of 700 ASNs and unlimited threads, which will take your browsing experience to new heights.
Worried about commitment?
Fear not, as Smartproxy backs its service with a confident 3-day money-back guarantee, making it the definitive and risk-free choice for all your proxy needs.
🔥 Feature Highlights:
| | |
| --- | --- |
| ⛰️ IP Pool: | 10 Million + |
| 🌎 Locations: | Over 130 + countries, cities, regions |
| 🔗 ASN: | 700 + |
| 🤑 Money-back guarantee: | 3-days |
🏷️ Pricing:
Bright Data is your one-stop solution for a bright future in the world of proxies. Not only are they extremely reliable, but they also provide extensive location coverage, leaving no place untouched.
Need more? Well, these secret little ninjas are the best you can have for scalability. With their high-speed proxies to boast, they reign over other providers.
Want to know about quality? You betcha! Their top-notch quality is well-known wherever they go.
🔥 Feature Highlights:
| | |
| --- | --- |
| ⚡ Uptime: | 99.9% guaranteed |
| ★ Reliability: | Over 20K + users |
| 🛡️ Compliance: | GDPR and CCPA |
🏷️ Pricing:
Oxylabs is yet another name that never leaves the list of top proxies! With around 20M+ IPs in their arsenal, they sure know how to provide a plethora of options.
Talk about global reach – they've got it covered with accessibility in over 140 countries, which is definitely an impressive number.
What sets Oxylabs apart is its rock-solid service, leaving customers craving for more.
And hey, they've got you covered on privacy with support for HTTP, HTTPS, and SOCKS5 protocols. Privacy-conscious folks, rejoice! Oxylabs is where it's at!
🔥 Feature Highlights:
| | |
| --- | --- |
| ⛰️ IP Pool Size: | 20 Million + |
| 🌎 Locations: | Over 140+ geographical locations |
| 📌 Supported Protocols: | HTTP, HTTPS, and SOCKS5 |
| 🛡️ Anonymity: | No IP bans or Captchas |
🏷️ Pricing:
4. The Social Proxy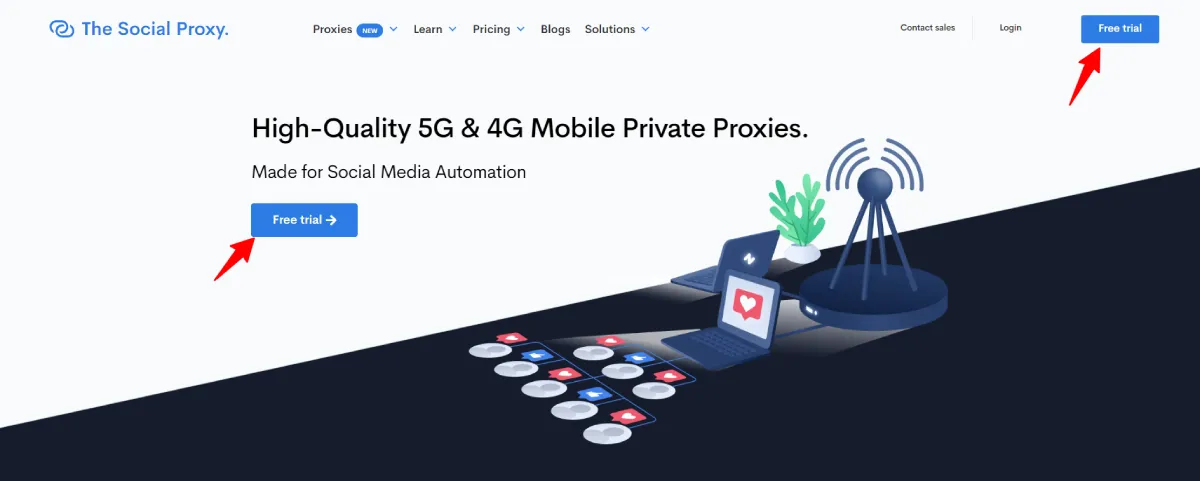 The Social Proxy, to all the automation out there, is a real game-changer! With limitless 5G and 4G mobile proxies at your disposal, you can open up endless possibilities in the virtual realm.
And let me tell you, their dashboard features are nothing short of extraordinary – prioritizing privacy like a pro!
No more pesky social media blocks to deal with; this proxy has got it covered, making our online journey smoother than ever.
But hold on, there's more awesomeness! With Social Proxy, you can bid farewell to disruptions and buffering as your connection remains unmodified and rock-solid.
And guess what? The icing on the cake is their automated IP rotation, making our lives even easier to enjoy.
🔥 Feature Highlights:
| | |
| --- | --- |
| 📱 Types: | 4G and 5G proxies |
| 📶 Connection: | Unlimited traffic |
| 🔄 IP rotation: | Auto-IP rotation every X seconds |
| 📌 Customization: | REST API |
🏷️ Pricing:
The pricing is based on the location.
5. IPRoyal
Here comes the royal one – IPRoyal. They live up to their name when it comes to services. With easy integration and API support, their perks are simply too enticing to turn down.
Not only do they offer unlimited sticky sessions and unlimited bandwidth, but they also an array of unlimited opportunities!
It sounds like something you might want to give a try. With approximately 1 M residential proxies in their arsenal, they confidently boast about their connections and services.
🔥 Feature Highlights:
| | |
| --- | --- |
| ⛰️ IP Pool Size: | 1 Million + |
| 📱 Types: | 5G/4G/3G |
| 👉🏼 Sessions: | Unlimited Sticky |
| 📈 Bandwidth: | Unlimited |
🏷️ Pricing:
6. Froxy
Meet the sly foxy, I mean Froxy! They are smarter than you might think, easily dodging captchas and blocks.
With their reach in 200+ countries and 8M+ IPs, you might assume that's all you'll ever need. But hold on, there's more!
Three whitelisted IPs with a 99.99% uptime might be more than what you need. Not satisfied yet? Here comes their customer support to save the day.
With their excellent customer support, you'll never be left dissatisfied. And to top it all off, their extensive location coverage is the cherry on top.
🔥 Feature Highlights:
| | |
| --- | --- |
| ⚡ Uptime: | 99.9% guaranteed |
| 🌎 Locations: | 200+ countries |
| ⛰️ IP Pool Size: | 8 Million + |
7. Soax
Soax is here to blow the proxy world up with its 300 ports and 3.5M mobile IPs. It provides unlimited concurrent sessions. If that's not enough to blow your mind, hear me out.
It also provides 2 whitelisted IPs and supports protocols such as HTTPS and socks5 to add a layer of security so you can rest assured.
Although it doesn't provide a free trial, its trial comes at as low as $1.99 so you can check your compatibility with the proxy and make decisions.
🔥 Feature Highlights:
| | |
| --- | --- |
| ⛰️ IP Pool size: | 3.5 Million + |
| 🔗 Ports: | 300 |
| 🌐 Supported protocols: | HTTP(S) and SOCKS5 |
| ✅ Whitelisted IPs: | 2 |
8. ProxyEmpire
ProxyEmpire boasts a choice of both dedicated and rotating UK mobile proxies, each with its unique pricing structure to cater to your needs.
But hold on tight, because that's not all! Brace yourself for limitless bandwidth, limitless threads, and limitless opportunities that await you in this digital wonderland.
And guess what? It never expires, giving you the freedom to roam and conquer the online realm without time constraints.
With a vast global reach, ProxyEmpire ensures you can venture into new territories, accessing the world from the comfort of your screen.
Now, dive into the exciting world of rotating proxies, where an additional rollover feature awaits you, ensuring seamless connectivity as you navigate the web with confidence.
🔥 Feature Highlights:
| | |
| --- | --- |
| 🌎 Locations: | 170+ countries |
| 📧 Support: | Round the clock premium support |
| 🌐 Supported Protocols: | HTTP and SOCKS5 |
| 🎯 Targeting: | City & ISP |
9. Squid Proxies
With Squid Proxies, you can cloak your real IP address like a digital chameleon, all while seamlessly accessing any website with our private HTTP/HTTPS proxies.
Enjoy the VIP treatment with dedicated IPV4s, granting you undivided access, unrivaled speed, and exclusive benefits.
Forget about restrictions as these proxies offer unlimited bandwidth, letting you explore the digital realm without boundaries. Their personalized service is tailored to suit your needs.
And the best part? Their quick setup gets you surfing right away, with non-sequential IPs adding an element of surprise to every connection.
Rest easy knowing that your online escapades will remain ad-free, and your static IP address guarantees stability without unwanted rotations.
Plus, with fresh IPs monthly, you can always renew your virtual identity.
Their top-notch 24/7 customer support is just a click away, providing peace of mind and assistance whenever you need it.
🔥 Feature Highlights:
| | |
| --- | --- |
| ⚡ Uptime: | 99.9% guaranteed |
| 📈 Bandwidth: | Unlimited |
| 🔥 Servers: | Gigabit high-speed network |
| 💲 Price: | Affordable |
10. Proxy-Cheap
Proxy-Cheap delivers an outstanding experience with its personalized dashboard, making proxy management a breeze.
Setting up proxies is a piece of cake, even for beginners, thanks to its user-friendly interface.
One of the most impressive aspects is the high uptime, ensuring uninterrupted access to the internet without any frustrating disruptions.
With a massive proxy pool at your disposal, the possibilities seem endless, giving you the freedom to explore the online world without restrictions.
Additionally, the ability to target specific ASNs and countries adds an extra layer of versatility, making it an ideal choice for those seeking precision in their browsing needs.
Whether you're a seasoned pro or just starting your proxy journey, Proxy-Cheap is here to deliver an engaging and seamless proxy experience like no other.
🔥 Feature Highlights:
| | |
| --- | --- |
| 🏆 Success rate: | Avg. 99.9% |
| 🎯 Targeting: | US State-level |
| 💳 Payment: | 256-bit SSL secured |
| 📌 Customization: | REST API/Dashboard |
Different Use Cases of Free Mobile Proxies
| Use Case | Benefit |
| --- | --- |
| 1. Market Research | Gain valuable insights without alerting competitors |
| 2. Brand Integrity | Safeguards brands from threats & malicious activities |
| 3. Travel Fare Aggregation | Access the best deals from various travel fare aggregators |
| 4. Ad Verification | Saves Advertisers money by combating ad fraud |
| 5. Spy on competitors' ad campaigns | Spy on competitors' ad campaigns |
| 6. SEO Monitoring | Track rankings on SERPs and improve SEO strategy |
| 7. Ad Intelligence | Spy on competitors ad campaigns |
| 8. Lead Generation | Reach a global audience & potential business clients. |
Related Proxy Articles:
Conclusion
Throughout this article, I have delved into the realm of the best mobile proxies, unraveling their remarkable features and shedding light on their pricing plans.
Armed with this knowledge, you can now decide which mobile proxy perfectly suits your needs.
FAQs
What is a Mobile Proxy?
A mobile proxy uses mobile device IPs based on 3G, 4G, LTE(Long Time Evolution), and 5G connectivity. Mobile proxies are extensively used for creating multiple social media accounts where users need multiple mobile device IPs.
Which type of mobile proxy is widely used?
3G connection which is almost obsolete is now taken over by 4G, LTE, and 5G. But this does not mean the extinction of 3G mobile proxy. Users don't have the option to choose 3G, 4G, or 5G proxies as the proxy system automatically fetches it.
How I choose the best mobile proxy?
Not many proxy providers offer mobile proxies. But for the ones that do, I made sure to check their authority and reliability. Yes, I did consider their pricing and use cases, but performance cannot be neglected.
Can I access free mobile proxies?
You might not find a free mobile proxy, and even if you do, such a proxy is highly volatile and unreliable.
What is the pricing structure of a mobile proxy?
You can buy a mobile proxy based on your usage. In this post, you will find proxy companies offering proxies per GB, day, week, month, and annually. Proxies charged per day may cost you a minimum of $7/day.