Pop ads, also known as Pop-up and Pop-under ads, is one of the most popular forms of advertising and marketing. Connected to CPI and CPA marketing, it leads to cost per acquisition and cost per lead-specific objectives.
Pop ad networks and pop traffic is best for you if:
You are not monetizing your website traffic with AdSense.
You're a seller who wants to increase website traffic and market it to real individuals.
You just want more visitors to your website (no matter if they convert and make any purchase or not. But this does not mean that the traffic is not going to convert at all.)
Pop advertising has been around for a long time, and it will likely continue to be an important part of marketing in the future. Some advertiser name is pop ads, and some say it pop-under ads. The method is pretty similar to mobile advertising or native advertising.
Imagine the perfect storm of traffic, demand, and value. Who does not want that? (I am not talking about the spam/fake traffic or Google Analytics spam.)
Pop ads can be a good way to generate some extra cash, but it all depends on how you use them. If your goal is just for quick traffic and not a long-term success, then pop advertising might not work well with what's going inside of AdSense because their primary focus lies elsewhere–in short bursts rather than bulk buying or constant optimization like we see here sometimes!
I personally don't recommend using both services at once since there seems no point in investing time when one has negative ROI rates while others offer positive ones instead – this would only hurt my site even more by wasting resources due to lackluster returns
I have gathered and crafted this piece of content to introduce you to the top pop ad networks. You might be having questions like – "whether pop ads are good for my website?" "Is it a waste of time and money to invest in pop ads?" or even "Is there any risk if I use pop ads and Adsense at the same time?" Let's get the answers..
Top 10+ Pop Ads Networks of 2023
You can never miss out on UngAds if you are thinking of buying popunder traffic. UngAds has a huge family of 500+ publishers which is spread over 190+ countries in the world.
You will get a huge range of targeting options if you use this tool. There is no room for worry if you choose UngAds.
This is because of the unique feature that helps them to identify click fraud. The problem of bot traffic is automatically eliminated because of this feature.
You can expect about 800 million impressions daily from UngAds. The best part is that UngAds is super user-friendly – you can do all of this on your own!
What makes UngAds a profitable ad network?
Works on CPA 2.0 and CPM price models.
Get your account setup by a professional assistant to help you in optimizing ad campaigns.
Wide range of payment methods.
Target by location, device, carrier, browser, language, and more.
Self-serve platform with antifraud bot protection.
🤑 Payment Methods: Accepts PayPal, Paxum, Payoneer, Wire, and Bank card.
Suomzilla is one of the most ideal Pop Ad Networks you should consider. This tool focuses on giving the best to its customers by providing them with the most user-friendly interface.
This makes it easier for beginners as well to get their traffic monetized. Suomzilla makes sure that your advertisement keeps on running in the background. Furthermore, they have a very transparent platform.
The affiliates and advertisers get to know B everything in one place. With a very affordable plan, you will get this top-notch tool loaded with features, giving you the boost to your passive income.
Top Reasons to choose Suomzilla:
A dedicated manager to help you run and optimize ads for best results.
Multiple ad formats supported including push, popunder, and native.
In-built anti-fraud system.
Supports multiple payment methods for depositing amount.
Allows running adult ad campaigns.
🤑 Payment Methods: Accepts Credit card, Capitalist, and Bank Transfer.
3. RichAds
RichAds is a Global High-Quality Pop Traffic Ad Network that generates conversions for any niche using daily ad impressions of 4 billion.
The network offers multiple features that help to work with pop traffic and get quality conversions:
Source Sampling – estimate the quality of clicks you get in a small amount from different sources, and scale your success by creating whitelists of the best performing sources, so you spend much less money on testing sources.
Micro bidding – helps to fine-tune your campaigns for maximum performance and accuracy with bid adjustments for different parameters like OS version, etc.
Automated Optimization – allows applying rules according to the most relevant conditions like approved conversions or engaged clicks.
Fraud Prevention – RichAds technology is verified by AdScore.
Smart Targeting – allows optimizing your campaigns for particular OS, Regions, Browser languages, Devices, and more
Run cheap all-purpose ads with:
Targeting options: Country, Device, OS, Browser, Carrier, Connection Type, and more
Profitable ad formats: popunder, clickunder
Top verticals: VPN & Antiviruses, Crypto, Gambling, Betting, Sweepstakes, Dating
Minimum deposit: $100
ActiveRevenue is a self-service traffic platform that provides advertisers with access to high-performing ad units, detailed targeting, real-time bidding on CPM/CPC, and many optimization features, including an advanced auto-optimization algorithm.
The platform is an excellent way for both advertisers and publishers to generate substantial cash from their ad spots. It can be used by any company needing extra revenue, as it has helped countless businesses succeed with successful campaigns that are profitable on time!
Out of several ad formats that ActiveRevenue delivers, high-quality pop-under advertisements are interesting and beautifully designed for desktop and mobile devices, creating good results. This is especially true for advertisers who are looking for highly targeted visits at prices that are affordable.
The available ad formats are Push Notification, PPR (Zero Click) & Pop-under.
Also Read:
ActiveRevenue Review: The best Self-serve DSP
5. AdsTerra
One of the most well-known affiliate advertising networks, particularly for pop ads, is called Adsterra. It is an all-way network, meaning it is more than just a popunder ad network. Beneficial to both the publishers and the marketers.
The wide variety of ad formats that are offered on your website can help you monetize it. Banner ads appear in the leaderboard or sidebar, pop-up windows for quick information about an offer, but they won't distract from navigating around the site as much as other types, such as video banners and direct links.
This may open up new avenues to earning money through advertising by directing visitors back here after viewing products/services listed within one minute
If you want to learn more about AdsTerra, there is banner advertising there. You won't find the common advertisement size of 300 by 250 pixels here. However, there are still ad places available that are 320 by 50, 728 by 60, and 468 by 60. In addition, considering the volume of mobile visitors you receive, Adsterra provides additional marketing technology such as sticky footer ads, Pushup ads, and more.
IcyAds is a self-service advertising platform where you may purchase visitors for use in your pop ad campaigns. You are not restricted to solely running pop-up advertisements by the Icy Ads team, as it offers additional options that can help personalize media strategy and maximize money allocated towards marketing efforts – all at no extra cost!
Pop, Push Notification, Zero Click, and more
$50 minimum deposit to start advertising
Dedicated account managers
Publisher platform to also monetize your inventory with Icyads
7. PopAds
It's no surprise that PopAds is the go-to for many leading affiliate marketers and media buyers. A proven solution, it has been used to promote products like Amazon in a creative way – with greatly improved performance over traditional advertising methods!
You can be sure that you will get the highest payout on your campaigns because top marketers have used PopAds.
When you use Popads, you are in charge. You have complete control over the prices you charge because you choose which bids to accept. You can limit how many ads people see on your site, and you can also choose to ignore ads that you don't like. On top of that, they have added a way to stop getting unwanted campaigns.
Find out the best PopAds Alternatives of 2023 to make money with pop ads.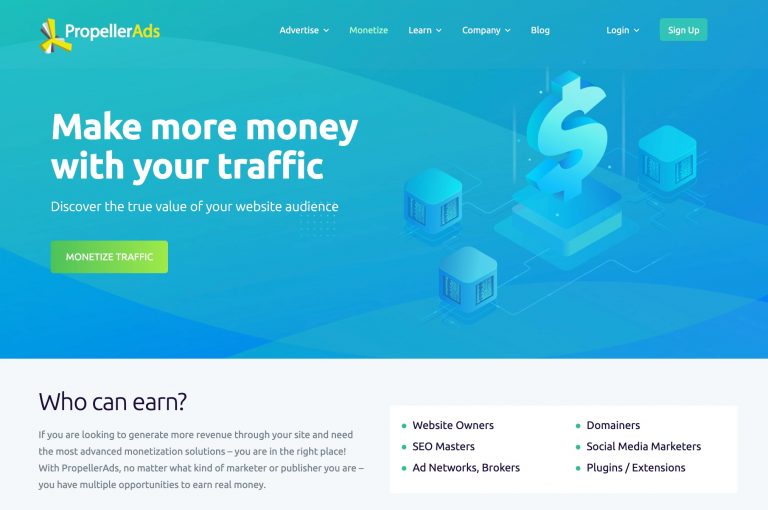 If a visitor often clicks around your site, PropellerAds will increase your revenue. No matter where on your site a user clicks, a new window will open (with promotional information) but underneath the already active window. And that's the way Pop-Under ad networks function.
Regarding monetization alone, I have heard of individuals who lost their AdSense account while simultaneously employing pop advertisements and AdSense. There are nonetheless still opportunities.
Push Notifications, Popunder advertisements, In-Page Push, Interstitials, and Direct Links are available. With PropellerAds MultiTag, you do not need to generate a separate tag for each advertisement format. Simply integrate MultiTag into your website to benefit from automated platform optimization.
Works perfectly when it comes to targeting and optimizing your ads
PropellerAds offer a massive variety of advertisers in every country and every niche, so no impressions are being wasted
You can monetize 100% of your website traffic
8. ClickAdu
Clickadu is one of the biggest names in pop-up advertising. Especially when you want to make money from your traffic and know for sure that you won't lose any money. Based on how Bemob tracks things, Clickadu is making it possible for its self-service platform to be used to make money.
If you're an advertiser, with ClickAdu you have a firm control on your budget, your expenses, and the quality of the leads you generate. If you need help getting the word out about your Android app, product, or service, I'm here to help. Immediately get in touch with me.
9. Ad-Maven
Those who want to reach a specific demographic anywhere in the world will be enamored with Ad-Maven advertising network. You may make more money with this network because it is more than just a pop-under ad platform.
Admaven is a company that provides the best in online advertising. They have pop-up advertisements, which are known as "full screen" and highly respected by many companies because it blocks your view of what's behind them while they're open!
10. PopCash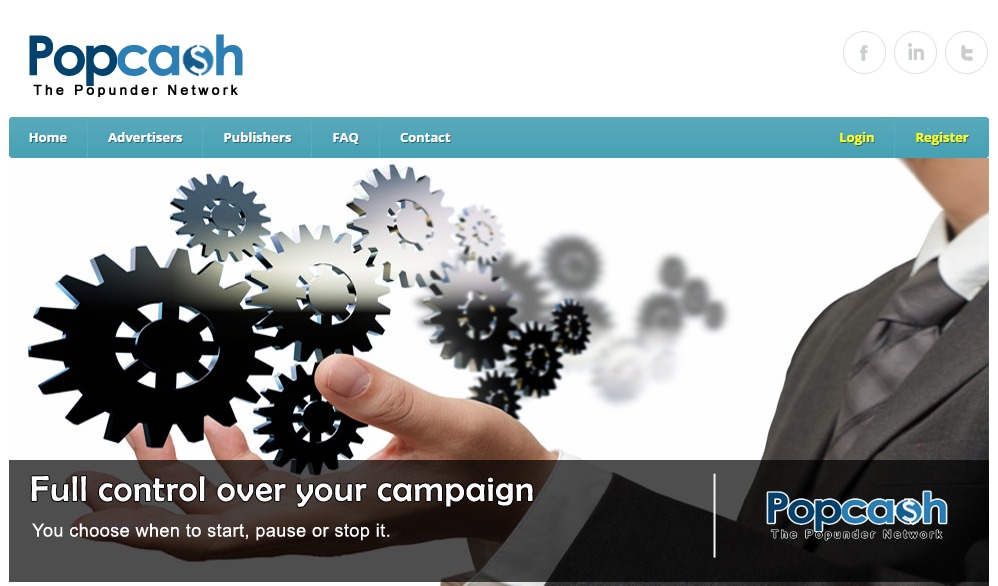 If you want to begin immediately, the PopCash network is the greatest option. There is no need to go through an arduous approval procedure. Quick and simple approval in just a few simple steps. PopCash is a simple and fast method of earning rewards. If you need money quicker than ever before, go no farther than Pop cash, an ad network that has been shown to provide results instantly.
As a result of constant moderation, all of the advertisements on their site are family-friendly and spotless. Popcash's one-of-a-kind integration is easily implemented using ad code. A referral scheme that pays 10% of the referral's profits for life is also available.
The exclusivity is pure
Payments are made every day so you never have to worry about running out of money or waiting in line to receive funds in your PayPal or bank account.
Fastest approval (No auto-approval)
Referral system
Hourly updated stats (a bit slow as you may need real-time tracking and stats.)
11. AdCash
I met AdCash in the Ad:Tech 2017 in Delhi.
The AdCash network is not limited to serving pop, or pop-under ads. You may want to think about using them to monetize your traffic. AdCash is a top network since it helps some of the most popular websites monetize their visitors while also providing advertisers with increased brand awareness and substantial revenue gains.
12. ExoClick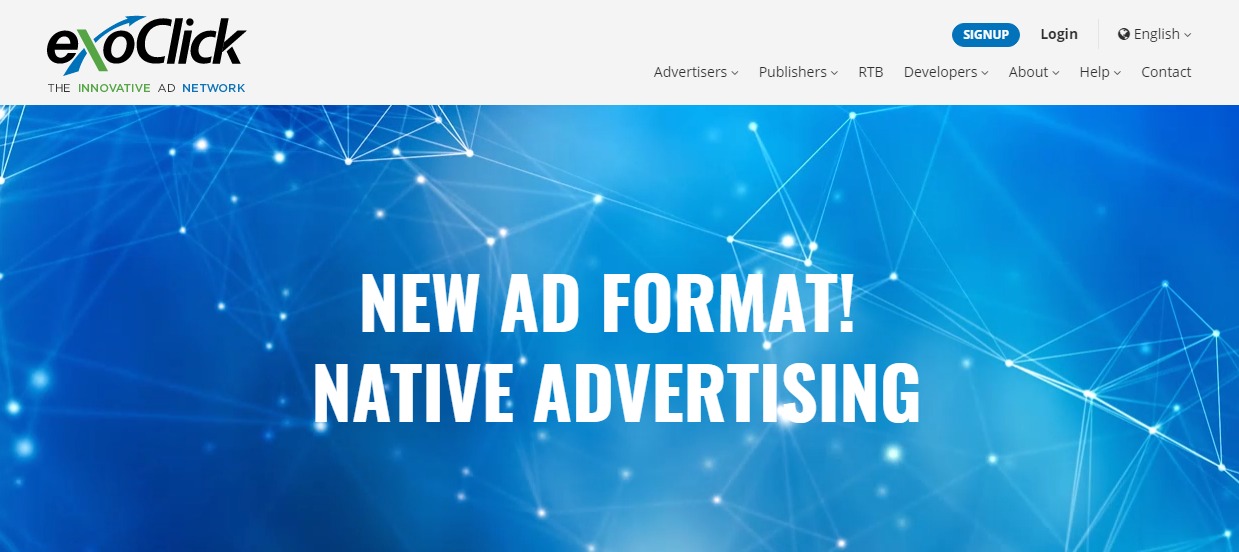 As far as I can tell, ExoClick is the primary method by which adult-oriented websites generate revenue from site visitors. A simple definition might be something like "exotic click."
Most ExoClick publisher's sites are in the 18+ niche, which makes sense given that the majority of ExoClick's advertisers target that audience.
Therefore, using ExoClick to monetize your popular adult-oriented website is a smart move. Both the conversion and click-through rates will skyrocket. In other words, have faith in me. ) (The publishers are raking in the dough. Commercials have an economic motive.
13. RevenueHits
A highly reputable affiliate marketing platform, RevenueHits. I've heard of websites using RevenueHits to make money from pay-per-click, cost-per-action, and pay-per-view ads. But in recent years, I have noticed that few professional bloggers rely on this platform for income.
The niche market is where RevenueHits shines. You acquire tons of readers and make a ton of money.
14. PopMyAds
As its name suggests, PopMyAds is a well-known advertising platform for pop-up ads, CPA advertising, and banner promotions. As a marketer, I aim to maximize my company's visibility and market share across as many channels as possible. PopMyAds is a low-cost way to generate millions of page views for your websites.
FAQs
Are Pop Ads profitable?
If you want to make easy cash, then Pop Ads is one ad format that won't want to miss out on. It is the easiest ad format compared to others and boosts your ROI faster.
Which Pop ad platform is the best?
I have tried and tested UngAds pop ads network and found it to be super-easy and profitable. Other popular pop ad networks in this list are worth trying to make some serious cash.
Final Words
When you enter into CPA (affiliate marketing), but not in CPS (cost per sale), it compels your wonders that you can sell website traffic and earn money from it.
Million Dollar Tip: Popads is an excellent way to get people to visit your landing pages. Find out how to make a pop-under window appear wherever a user clicks on your site. You need an ad creator tool to generate good advertising creatives. The next step is to keep creating your landing page (or randomize it).
Strange as it may seem, this is where it's at if you want to make a million dollars. But you have to know how to play the game well.