Back in 2021, almost 300 million people in India bought their things online. The myths about online shopping credibility in India are not that effective because the number clearly shows how Indians are fond of it.
Online shopping is not a trend that is all over the internet, even if it is on social media. However, there are platforms to buy products while resting on the couch where there are buyers. Indian eCommerce business is growing at the rate of 10%. You know how fast new eCom websites and platforms are emerging in marketing, making it one of the biggest industries in the country. 
You know, when you type a product on Google, you come across unlimited options to buy that product from. Sometimes, that becomes overwhelming to choose the best one. So, to ease that effort, we are here with the top 24 online shopping websites where you can buy products. 
Look at the most reliable online shopping websites you can trust in India.
List of top eCommerce sites
Talk about the best eCom website in the world; you will surely come across Amazon as the answer on all the websites. This is one platform where you can find everything; by everything, I mean EVERYTHING from A to Z (you see that in the logo too).
Amazon is truly often the primary eCommerce business solution for small business owners in India. Vendors can offer their products at quite market value and earn extra apart from their own businesses.
When it comes to customers, it is undoubtedly the best website you can ever find. Yeah, there are flows in some of its products, but you can honestly trust customer care. Besides, no matter what your budget is, Amazon literally has everything you have been looking for. Try it out once, and you will know how good it is.
Just like Amazon, Flipkart is the second-best eCommerce website that is exactly like Amazon. You will find brands and local and small businesses showcasing their collection and selling them at quite reasonable prices. Again, you will find everything on Flipkart, from your daily grocery to your dream headsets. 
One thing that makes Flipkart great is its customer support system which is quite impressive. Moreover, you will love how Flipkart often comes up with exciting offers and sales year-long. It doesn't have to be a big festival. Just a weekend sale works best to avail exciting deals on this website.
We often recognize PayTM as the only financial application where you can seamlessly make and receive the payment on time. After all, the pandemic taught us the real value of using Paytm. Anyway, there is a secret corner on the app that is opening up to the world with its world-class eCom services, and that is Paytm Mall. 
Trust me, the deals you find at Paytm Mall are amazing, and you can get things you need quickly. From small pens to booking flight tickets, you can find almost everything in this small space on your smartphone. Try it out once, and you never know what impressive discount you might get.
Next up, we have Snapdeal, which most Indians have heard a lot about. Without any doubt, it is extremely popular among Indian customers. Customers have identified low prices as a key feature of this shopping site. What makes it amazing is that most electronic products at Snapdeal are available at the lowest possible price.
Yes, it's hard to forget all the social controversies that make us uninstall Snapdeal without any second thought. However, all of this is old news now. Snapdeal suffered greatly at the time simply because its name sounded similar to Snapchat. Indian customers are insane.
Today, Snapdeal is one of the great eCommerce websites you can rely on. Give it another try, and you will see the difference.
Here comes Jabong, which is yet another popular Indian shopping website. This is again renowned for everything you have in mind, be it clothing, shoes, accessories, or apparel. The best thing about Jabong is that you can find all the top brands under one roof, such as Adidas, US Polo, and Nike.
Often you will find youth talking about another person they see in a public place "look, she is wearing Myntra outfit." This isn't strange because Myntra has literally brought a new wave of fashion among Indians. 
Myntra has a wide variety of brands that sell fashion accessories or clothes for all ages and genders and aesthetic and elegant home decor. No wonder why we spend hours scrolling uncontrollably on the Myntra app and end up ordering the best fashion item, accompanied by post-payment regrets.
If you ask me, Infibeam is a one-stop destination for all exclusive fashion collections, gadgets, and home decor items. Once you visit the website, you will come across categories like fashion, baby care, books, and much more. All these make your shopping experience quite effortless. 
Talking about an all-at-one-place online shopping mall, it would be hard not to mention Shopclues. At Shopclues, you will find almost everything from fashion, electronics, apparel, accessories, home decor, and whatnot. Even if you are a vendor, you can absolutely register at Shopclues and start receiving deals while sitting at home. For shoppers, this is the platform where you can find everything at quite flexible prices. 
Babies and children love shopping too. Not everything for kids you can find in malls, and even if you do, it may lack quality, or some items can be too expensive. How about having a platform that is just about offering your little loved ones the best of everything? FirstCry is just about that. Be it fashion, toys, hygiene, or daily usables, FirstCry promises you quality at reasonable prices. Besides, this works for even newborns and kids of like ten years old. 
Voonik is another online fashion store that caters to both men and women. Voonik was started in 2013 and currently has significant roots in the Indian eCommerce business. Voonik's headquarters are in Bengaluru, and it has subsidiary firms as well. Voonik's subsidiaries include Trialkart and Zohraa, to mention a few.
People with eye issues find it hard to have trustable eye accessories stores. Understanding the issues, found Peyush Bansal launched LensKart, which all premium quality lenses, glasses, and spectacles. It is the absolute best store where you can find all eye care goods and even experts who help your perfect fits. Moreover, it is the first website where you can try the glasses via AI features and purchase the glasses that look best on you. Try it out. It is super cool.
Who likes to go out and buy groceries the old fashion way? Especially after having two years of laziness at home? To solve this issue, BigBasket offers innovative retail solutions. You can now purchase fresh veggies and fruits right from your home and get them delivered to your doorstep the same day.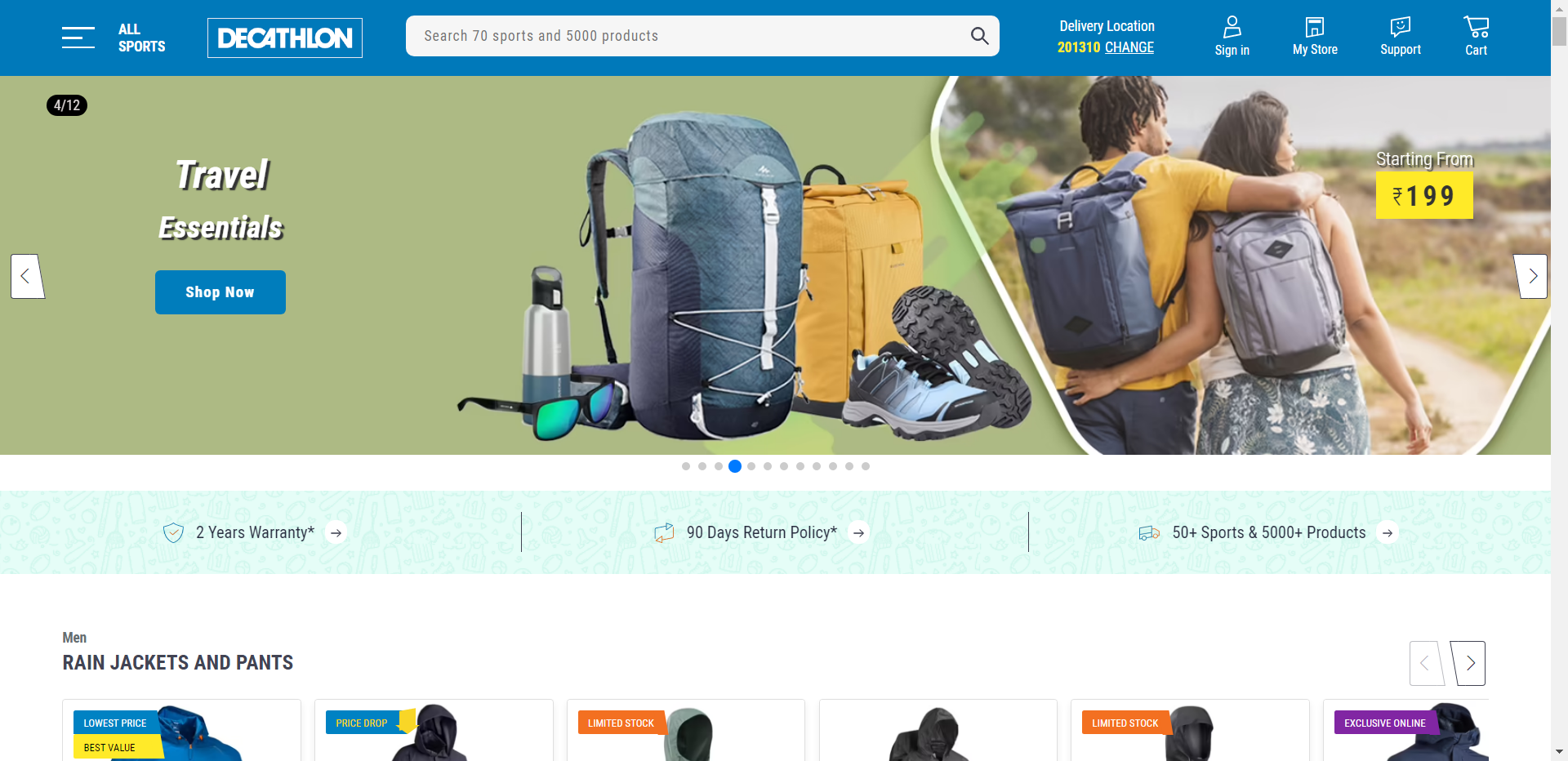 Lenskart is for people who want to take extra care of their eyes. What about people who want to take care of their fitness? Decathlon is the place to go. This is one online shop where you can find every single thing you need for your adventure or sports. No matter if you are an athlete from a specific sport or casually going trekking. Here you can purchase the best-quality sports wearables, accessories, and equipment. 
14. Ajio
If you are a fan of Myntra, you know how Ajio is a competitor to it. Not many know this, but Ajio is a division of the well-known firm Reliance Industries Limited. The same group includes Reliance Trends, Jio, and Lyf.
Ajio is one of the biggest fashion online shopping platforms in India. Their USP is a large number of brands and items, including major overseas fashion names.
Like Reliance, Tata is not behind in launching its online retail store. Tatacliq is an addition to all the ventures of Tata Industrial Group, which is famous for its top-quality electronic items. However, Tatacliq is coming up with new addition to its platform. So, if you are looking for trendy fashion and home decor items, try it out, and you will find goods at quite reasonable prices.
We often see the Kardashian sisters flaunting their fashion on the Forever brand. Why not have that in India? Yes, there are hundreds of Forever 21 stores in India, but if you don't want to leave your house for fashion, that is also possible. So, F21 is here with its online store where you can purchase the latest fashion like any Hollywood star using just the internet.
Want to style your house like a pro? Have your home decor and furniture from Pepperfry, which has an immense variety of elegant items. Cabinets to beds, study tables to chairs. The website is purely a luxury furniture store where you may begin decorating your home/bedroom with gorgeous furnishings.
18. Urbanladder
While we are on home decor platforms, Urbanladder is another website where you can find classy furniture delivered right to your home. What makes Urbanladder special is how reasonable and competitive its pricing is as compared to the competitors. Not to forget, the product quality is satisfactory.
Suchi Mukherjee, a woman on maternity leave, established Limeroad with an incredible idea in her mind that has changed the fashion altogether. Limeroad is one of the top brands in the market where you will find fashion for both men and women.
There is a unique function in the women's shopping area that allows you to construct your style on a virtual scrapbook and share it with others on the internet. So, it's a social shopping platform where people can easily show off what they buy and make money from it. How crazy is that?
Coming up next is Koovs which offers its product to clients from different leagues. It is because Koovs provides them with huge stylish product categories they can shop from. Global brands delivered to your home – that is their company model and the distinctive feature they provide.
The great thing about Koovs is there is a separate fanbase for Bollywood fashion. Getting that star fashion to the people, Koovs provides celebrity outfits to all Bollywood lovers in India. So, if you had a chance, who's outfit would you like to try on?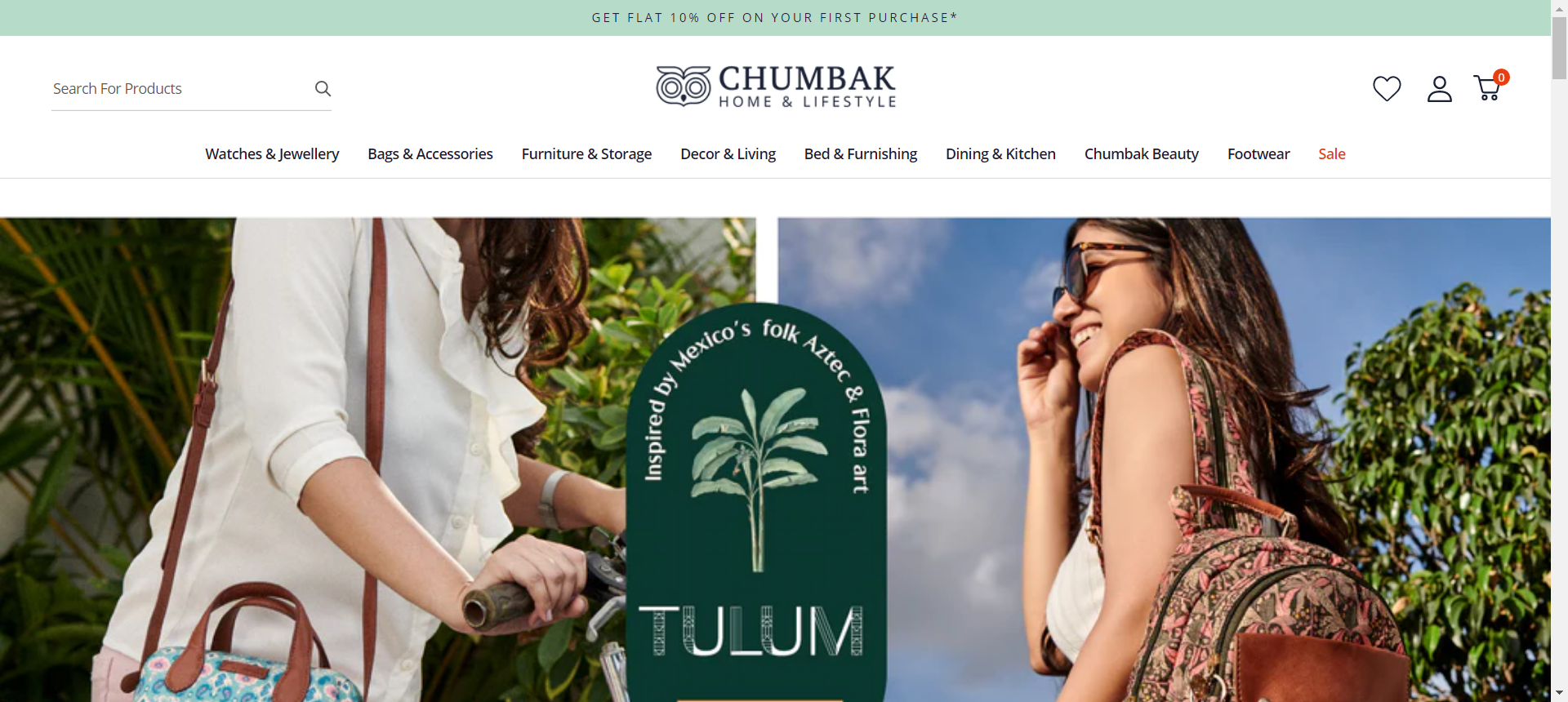 How many types have you passed through a Chumbak store and couldn't resist entering the store? I have been there. The colorful, traditional print items in the store are truly eye-catching. With the Chumbak website, you don't need to push yourself out of the store. Get the excitingly beautiful goods from Chumbak at your home with minimal effort. 
22. Fbbonline.in
Most of you know about this brand but don't have an idea of what's in the name? Well, FBB is a from the combination of the words Fashion and BigBazaar. Yup, BigBazaar has an online fashion mall as well so that you can find the latest fashion right on your smartphone screen. Moreover, FBBonline. You can buy stylish things straight from your bedroom/study room while sipping your coffee daily.
Founded by Falguni Nayar, Nykka is truly an inspiration for every women-focused online shopping website. This website has a wide range of fashion accessories, clothes, and makeup that you can purchase without worrying much about 'how it would turn out in reality?' Besides, Nykka now has a separate website for people who want to have more luxurious products from top international brands like Louis Vitton, Dior, and more. 
Websites like Nykka literally pushed every business owner to start their online business. However, what about branding your company's products? VistaPrint takes care of that. This one website is where you can engrave your company names on stationery, print visiting cards, and thank you cards, create company promotional stamps, and much more. Branding may seem too costly if you think about it, but Vistaprint here makes it all too easy and a lot cheaper for small business owners like you. 
Conclusion
Think about online shopping, and you will come across unlimited websites on the internet. Trust me, Indian customers are now opening up to making their purchase decisions by looking at online products via websites and applications. In fact, even if you are planning to start your own online eCommerce business, it is best to have a reliable and faster-growing eCommerce theme for your website.  
So, which one is your favorite amongst these? Or maybe the one you use frequently?