How often do you struggle to transform your website traffic into customers? For every business, it has become a challenge to keep their marketing game super high. However, there are new ways the market has worked wonders for such campaigns and one of them is affiliate marketing. 
Why affiliate marketing? Affiliate marketing simply allows you to have more customer attraction using tactics that can have more clicks, reactions, and impressions from people who love your content. But, ask an expert in the market, affiliate marketing can be overwhelming for your marketing team. Therefore, you need to find a solution to ease up your work. 
Talking about a reliable solution for affiliate marketing, there is nothing as convenient and effective as AdsEmpire. This tool is here to help you grow your business and customer reach. Is it so? 
Down there is a detailed review of adsEmpire. Let's figure out how great this one is for your affiliate marketing experience.
Start Earning with AdsEmpire Now
What is AdsEmpire?

Having high potential in digital marketing,  AdsEmpire is a new tech network that focuses on adding the latest features to make your affiliate marketing game easier. This tool is continuously improving the way you earn money through your traffic by offering you exciting CPA offers and Smartlink services. 
When it comes to affiliate marketing networks, we often 3xpeft it to have a wide range of profitable verticals. AdsEmpire has everything you are seeking for. From online gaming to crypto, dating, and sweepstakes, the vertical list goes on and on until you find the most suitable one. So, no matter where your niche audience is from, this platform works internationally with no chats, frauds, or any incentive traffic acceptability. 
Besides, there are rules set by you and the platform itself so that you only get high-quality traffic and no freaks for your marketing campaigns.
How to start working with adsEmpire?
To put it simply, it is pretty quick and easy to start your incredible programs with AdsEmpire. Moreover, there are multiple ways to do that like
CPA network affiliate

An advertiser

A SmartLink affiliate
How to start with it? Just follow the steps. 
Visit the website and start signing up which will hardly take a few minutes. 

All you need to do is fill in the details like name, website email, and other basics. 

Follow the steps and mention what exactly you want to do with AdsEmpire by putting in specific information. 

Now, wait for the account to be approved. 

As soon as you get the approval, you can complete your registration process real quick. 
Generally, it takes about 2 days to complete this process because it involves waiting for approval but once that is done, it is much easier to start using it. When it comes to really start your campaign, you can simply ask the team that will recommend you and helps you out with the process based on your convenience and requirements.
Is AdsEmpire the right choice for you? 
To answer this question, you need to figure out a simple thing. 
Local businesses

Affiliate Marketers

Social Media Marketers

Com + Amazon

Website Owners

Marketers

Freelancers

Any other kinds of online business
If you are any of the above-mentioned business owners, AdsEmpire is a go-to option for you. Just get it and ease up all the affiliate marketing for you.
What are the advantages of using AdsEmpire?
Here comes the advantages of AdsEmpire that make it a totally worthy software to try out. So, what are they?
AdsEmpire is an amazing platform for both affiliates and advertisers where they get to choose exciting affiliate networks. 

It offers direct CPA and SmartLink technology which make it an advanced monetization tool you can rely on. See how fast you get to the money using 100% of your traffic. 

You can work with all smarklinks and CPA offers at once. 

You will across a wide range of profitable deals once you start using it. 

While we are on offer, you can also earn a lot more through all the prizes and bonuses you earn using this software. 

AdsEmpire works in more than 50 countries worldwide. So, no matter where you live, you can still earn extra through affiliate marketing.

Having an effective landing page can be overwhelming. AdsEmpire's tools take care of that by giving you optimized services to work with. 

When it comes to payments, they are pretty flexible and work well using multiple options. But, more on that later.
Start Earning with AdsEmpire Now
What About Payments?
The best thing is, that you can easily upgrade the amount you send via a convenient app ad you get the particular traffic every week. For instance, you can have around $2000 on every payment you make via PayPal, Paxum, or Wire Transfer. Besides, this one here is very particular about the payments, you know how keeping up with the competition is critical these days. This is why the payment process with AdsEmpire is pretty simple.
Why AdsEmpire? 
Here comes the question that might be revolving around in your head. Why is AdsEmpire recommended? Find out the answer. 
This tool has:
Direct and pretty exclusive offers you hardly find anywhere. 

Use the SmartLink technology and earn through your world wide web traffic. 

From finance to dating and Sweepstake, you can find many verticals. 

Works everywhere in the world.

Choose payout options of your choice be it monthly or weekly based. 

Not to mention, make payments easier by using applications of your convenience.
Get AdsEmpire Now
AdsEmpire Review: Pros and Cons
Pros
Unique platform with intuitive features. 

Has a variety of offers for you. 

Get access to 50+ world's best EPCs. 

Landing tool pages are top-notch. 

Earn more by having rewards. 

Monetize visitors and traffic with guaranteed results.
Cons
Expensive payout rates in comparison to the competitors. 
What offers are available for you?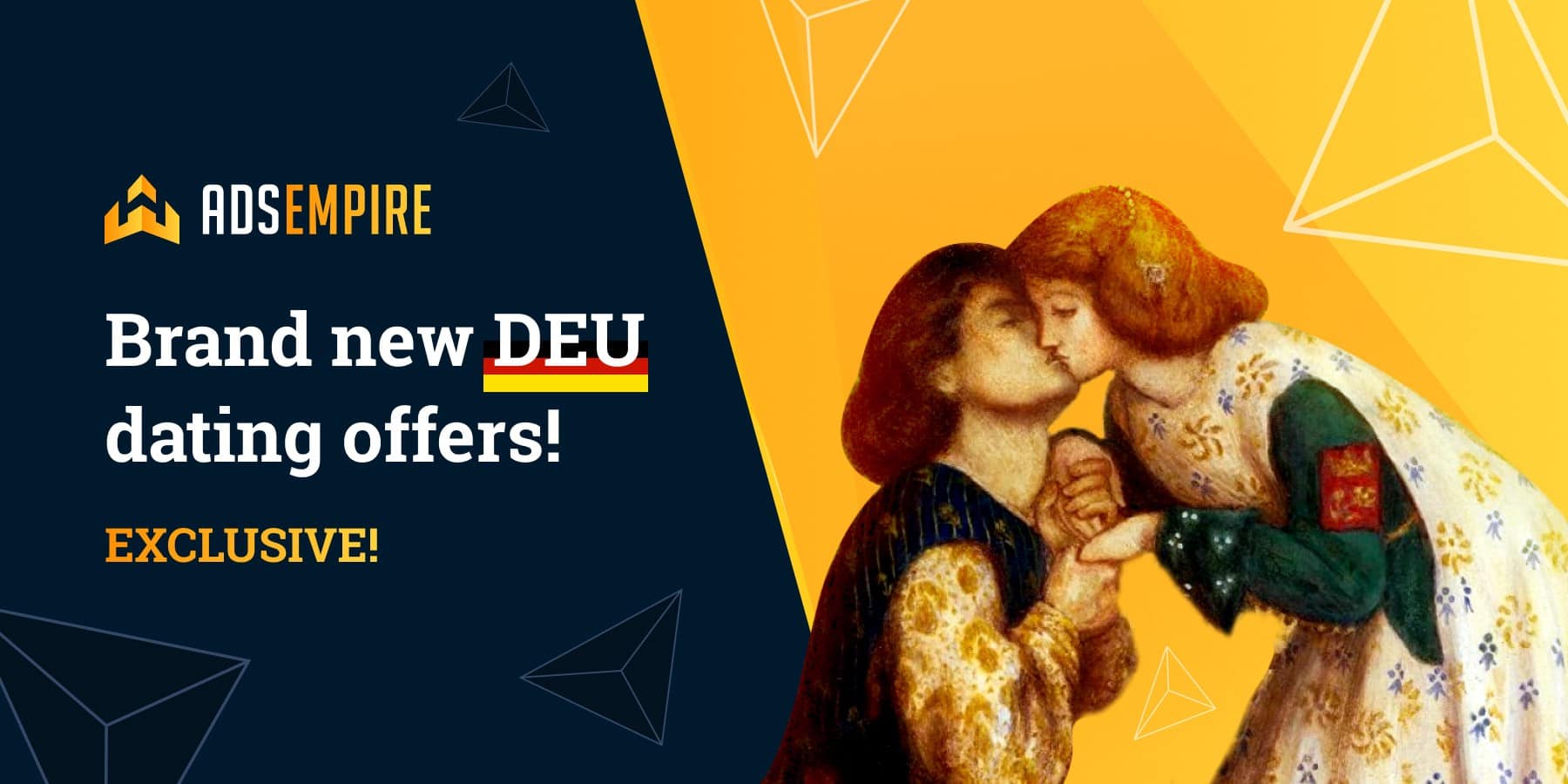 Having an offer makes it easy for us to go for a good tool. Therefore, here are some exciting offers that you can use to get the best price from AdsEmpire. That's what AdsEmpire review is for. Have a look. 
Chat-Flirts — mob $4.00 / web $4.50

FlirtSpielchen — mob $4.00 / web $4.50

BumsFlirt — mob $4.00 / web $4.50

XxxKiosk — mob $4.00 / web $4.50

Engelderliebe — mob $4.00 / web $4.50

ScharfeLiebe — mob $4.00 / web $4.50

HomoRadar — mob $4.00 / web $4.50

LilaHerzen — mob $4.00 / web $4.50

KlasseLeute — mob $4.00 / web $4.50

FrecheSpiele — mob $4.00 / web $4.50
Start Earning with AdsEmpire Now
FAQs | AdsEmpire Review
What Is AdsEmpire?
To brief it up, AdsEmpire is simply an affiliate network that has a bunch of deals for affiliates and advertisers. It helps both parties make a profile out of affiliate marketing programs. This tool is convenient for those who want to make money out of their traffic via CPA offers and Smartlink systems.
What targeting option is the right one for you?
When it comes to traffic sources, the targeting option is based on the individual requirements of the advertiser. Therefore, to find the best choice, it is better to ask your manager who will come up with the finest one for you.
What payment options are there on AdsEmpire?
When it comes to payment options, AdsEmpire has a variety of modes. To name a few, there is BitCoin, Qiwi, Paypal, WebMoney, Trustpay, Genome, and other buildings system for payments
What Are The Prime Verticals On AdsEmpire?
Talking about the prime verticals, there are iGaming, finance, dating, and gaming. You will find all these on AdsEmpire.
Is AdsEmpire right for you?
If you are someone who has an operating online business like freelancer, affiliate marketer, social media marketer or any small or big online business owner, AdsEmpire is the one for you.
What Is AdsEmpire's minimum payout?
The minimum payout of AdsEmipre is $250 per month. However, if you are using Wire Transfer, PayPal, or Paxum, you can transfer as much as $1500 per week.
Start Earning with AdsEmpire Now
Also Read:
Conclusion
Just like any other business out there, affiliate marketing demands consistency, responsibility, dedication, and strategic actions. Taking care of all these factors to run a business like this in a long run can be painful. A tool can take care of that and, instead, help you rapidly grow your business. Therefore, AdsEmpire is here with outstanding features, the latest technologies, and much more to help you get 100% out of the affiliate marketing business. 
Everything about AdsEmpire has helped thousands of affiliates to choose the right campaigns, achieve the marketing goals, and earn millions of dollars every month. You can have that too. All you need it to try out this tool for once. 
Hope you find this review valuable and helpful. We'll be back with another exciting tool to ease up your work. 
Stay Tuned.