As a publisher, you always need significant ways to monetize your traffic. For the best monetization, you've to join the best ad network that pays you a good value for it.
While there are many on the internet, I want to introduce Monetag. Monetag is the perfect solution for you. It is a fantastic audience monetization platform that uses MultiTag (an intelligent ad algorithm) to show ads on your website.
What is Monetag?
Monetag is a high-tech platform for monetizing all audiences, with access to global advertisers and revenue-focused solutions.
Publishers may monetize one hundred percent of their audience by collaborating with only reputable, hand-selected advertisers and using campaigns that are automatically monitored around the clock.
Working with Monetag provides you with access to AI-enhanced ad formats and monetization options, such as mobile web SDK & APK, outstanding revenue and user experience balance, easy integration, and the quickest weekly payments beginning with a $5 minimum payout.
Ad Formats Supported By Monetag
Monetag offers several Ad forms and possibilities. – All ad forms operate seamlessly together, allowing you to create the most lucrative income while maintaining a positive user experience.
Publishers can cover 100 percent of their internet, mobile, and in-app ad inventory with all six of Monetag's intelligent and user-friendly ad formats.
OnClick/ Pop-Under Ads
Popunder, also known as OnClick Ads, opens a new tab in the user's browser hidden under the website they are viewing. Popunder advertising is shown once the user clicks anywhere on the website.
Thanks to the popunder script's simple integration, complete compatibility with banners and AdSense, and good CPM rates, publishers may effortlessly monetize each visitor.
Smartlink
With Smartlink, you can monetize any audience type with special URLs that automatically take visitors to the most relevant offers. It is a smart algorithm that ensures 100% availability of ads for every ad click on your website.
Push Notifications
The majority of websites uses this format since it is the most prevalent. On mobile devices and in web browsers, Push Notification advertising appears as a pop-up window. The browsers of people that visit your website show an opt-in request.
Push Notifications offer the added benefit of occupying no space on your website and being compatible with all other ad formats. Push notifications may still earn revenue even if a user no longer visits a publisher's website.
In-Page Push
Extremely adaptable ad type that shows immediately on your website as a native banner while occupying no page space. It is compatible with all devices and operating systems, including iOS and macOS.
Because these advertisements are presented exactly when the user is browsing the page, it generates more clicks and impressions.
Interstitial
A few seconds after the user opens a website, an interstitial advertisement displays. The user can tap the advertising to examine the offer or dismiss it to return to the previous page.
Adjusting the size of interstitial advertisements may improve user experience, monetization, and revenue. Interstitial advertisements provide extraordinarily high CTR and CPM rates and an enhanced ad experience for users.
Vignette Banner
When a person visits your website, a banner known as a vignette banner appears. On top of a gray overlay, the advertising is often put in the page's middle, along with a "Close" and "Continue" (CTA) button, icon, title, and description.
Vignette permits higher CPM prices and raises CTR by an average of 60% compared to conventional banners. Using this format, you may perform excellently on any platform or operating system.
Monetag For Publishers
With Monetag, finding success as a publisher is straight-forward. Their superior account management and customer service team are always available to help customers with all their queries or complaints in an individualistic manner.
Moreover, they guarantee long term success if you stay within the boundaries of their guidelines, such as no adult content or bot inventories allowed on your website/channel for monetization purposes. So what are you waiting for? Join them now and make sure that every journey towards profitability isn't met with unexpected bumps!
Monetag helps publishers take their business to the next level with specialized blogs and social networks where they can discover innovative monetization choices and solutions. Unlock valuable resources today for a more profitable tomorrow!
How To Use Monetag?
Step – 1: Go to the official website of Monetag and click on 'START EARNING'.
Step – 2: Fill up the details asked for and click on 'Next'.
Step – 3: Then you will be asked for some more information. Fill up the details asked for, check the boxes, and click on 'Sign Up'.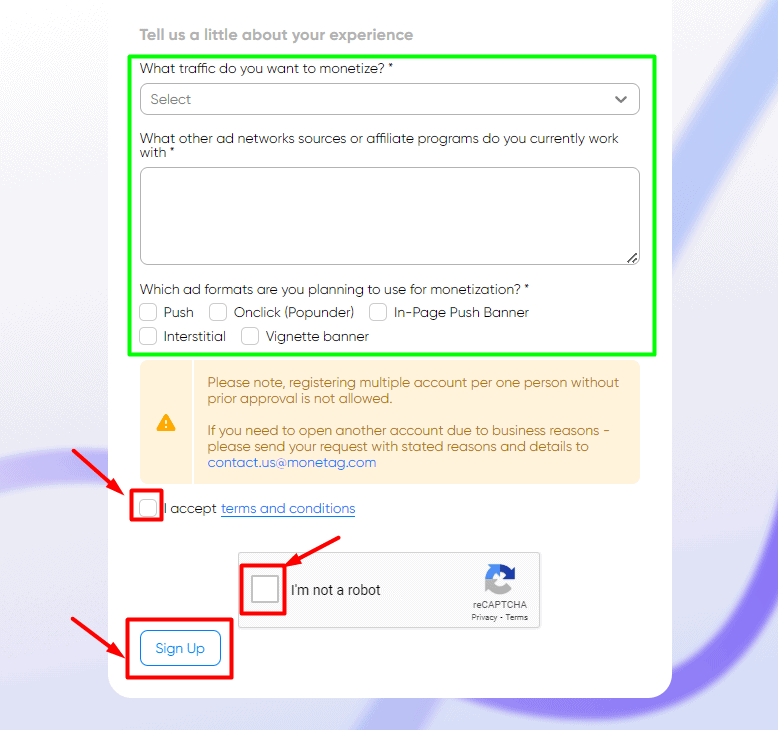 Verify your account through your email.
Step – 4: Set your password and click on 'Finish and Log in'.
Step – 5: Check out how the Monetag dashboard looks like
You can check out your balance from here.
Click on 'Add your site to start earning'. Complete the verification.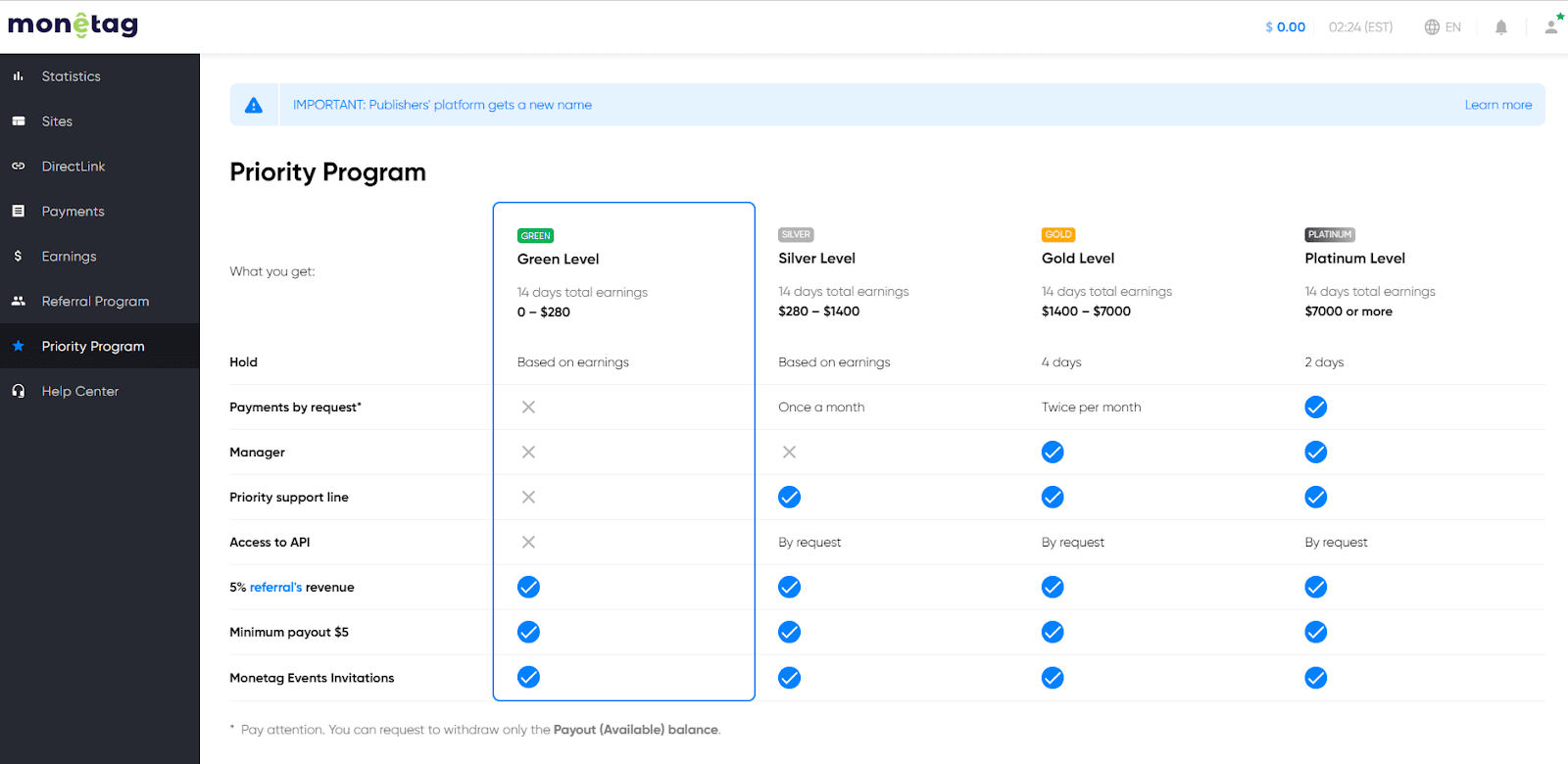 Also, check out their priority program.
Why Do I Recommend Monetag?
A wide range of integrations
Utilize various integration strategies (API, XML, Smartlink) for major suppliers, agencies, ad networks, and exchanges.
Solutions for mobile web SDK & APK
Profit from top-performing mobile web SDK and APK monetization formats. Profitability and ease of implementation!
On-time & Fast payouts
Flexible payment options and a minimum withdrawal amount of $5 provide the quickest weekly payments worldwide.
Publisher Community
Join the largest online publishing community! They cultivate unique ideas to help you make more and discover the most efficient monetization methods.
Clean & Safe Ads
They exclusively deal with well-vetted advertising. Industry-leading anti-ad fraud and malware protection tools automatically check all advertisements around the clock.
Worldwide Ad coverage
Currently, their publishers monetize 100% of their traffic. They have a large number of advertisers in every nation. Therefore, there are no wasted impressions.
What Makes Monetag A Better Alternative To Adsense
Monetag is the perfect alternative to AdSense for its straightforwardness and worldwide availability.
The platform utilizes a smart advertising algorithm to monetize your traffic wisely. Using MultiTag, it makes the best ads to appear on your web asset and gets you a great revenue.
Any user who meets prerequisites can easily sign up – no waiting periods necessary! From Onclick Pop-Under Ads to extended coverage across continents – Monetag has you covered with unparalleled features at your fingertips.
Conclusion – Monetag Review
Monetag is an audience monetization platform for publishers that helps them generate revenue through their websites. It does this by connecting publishers with advertisers who are looking for more targeted audiences for their advertisements.
The platform has various features that make it easier for publishers to monetize their websites, such as a self-service dashboard that allows them to access real-time insights into their traffic and audiences, as well as customizable ad formats that they can use on their websites.
One of the best things about Monetag is that it offers personalized support to its customers. Its team of experts will work closely with you to help you get the most out of the platform and optimize your website for maximum performance. Furthermore, they also offer advice on increasing your traffic and engagement so that you can get more out of your website.
Overall, I'm impressed with what Monetag offers publishers like myself who are looking for ways to increase their revenue streams without having too much overhead or complexity involved.
Enhance your monetization experience by signing up with Monetag now.
FAQs
Who is Monetag for?
Monetag is the key to unlocking a world of monetization possibilities: from website and app owners, brokers, SEO experts & domainers – all the way up to social media publishers. With Monetag's expansive database of advertisers in every country, you're sure to get great returns on your investment while maximizing visibility with 100% monetized audiences!
What is Multitag?
Multitag is Monetag's AI Based Technology. This AI-based solution automatically chooses the most profitable advertising for each user to maximize CPM rates – resulting in increased revenue potential by up to 53%. Empower yourself as a publisher; leverage this powerful all-inclusive script instead of accumulating individual tags for any given ad format.