Are you having difficulty deciding between Bluehost, Hostinger, and GoDaddy?
If you're searching for dependable yet cheap hosting, Hostinger, Bluehost, and GoDaddy are likely to have grabbed your attention. All three of these entry-level providers offer a variety of hosting plans, features, and functionality at an affordable price, making them excellent choices for people who run small blogs and businesses.
In this Hostinger vs Bluehost vs GoDaddy comparison, I'll evaluate these three hosting providers on different criteria like features and pricing. 
Overview – Bluehost Vs. Hostinger. Vs. GoDaddy
Hostinger – Overview
Hostinger is a business that aims to simplify the life of web developers by providing fast, reliable, and simplified web hosting services at rock-bottom rates.
Hostinger specializes in shared hosting and scalable virtual private servers that are WordPress-optimized and include a drag-and-drop website builder. Additionally, the VPS service provides daily/weekly backups and a free domain with annual subscriptions. The data center for the service makes use of cutting-edge storage technology comprised of strong solid-state drives.
The business provides a 99.99 percent uptime guarantee, which is industry standard. The average page load time is between 70 and 80 milliseconds. Because the platform is cloud-based, you can be certain that your website will always be available. Apart from these, Hostinger provides a free domain, unlimited bandwidth, and unlimited email addresses. Customer assistance is accessible 24 hours a day, 7 days a week through live chat or tickets.
The company offers some of the most affordable domain registrations in the market. Domains ending in.com cost less than $8.99 per year, while.xyz,.online, and.tech domains cost $0.99 per year. For customers with sophisticated hosting plans, the service allows for the creation of limitless subdomains and parked domains, allowing for the creation of web properties.
Hostinger provides a high-quality hpanel that is simple to use and loaded with useful features. The business offers unmetered and unlimited web hosting with plenty of space and premium cloud services. Hostinger enables you to effortlessly host any kind of website by using FTP users, email accounts, and MySQL databases. Additionally, the provider's price is very competitive in comparison to its rivals.
Bluehost Overview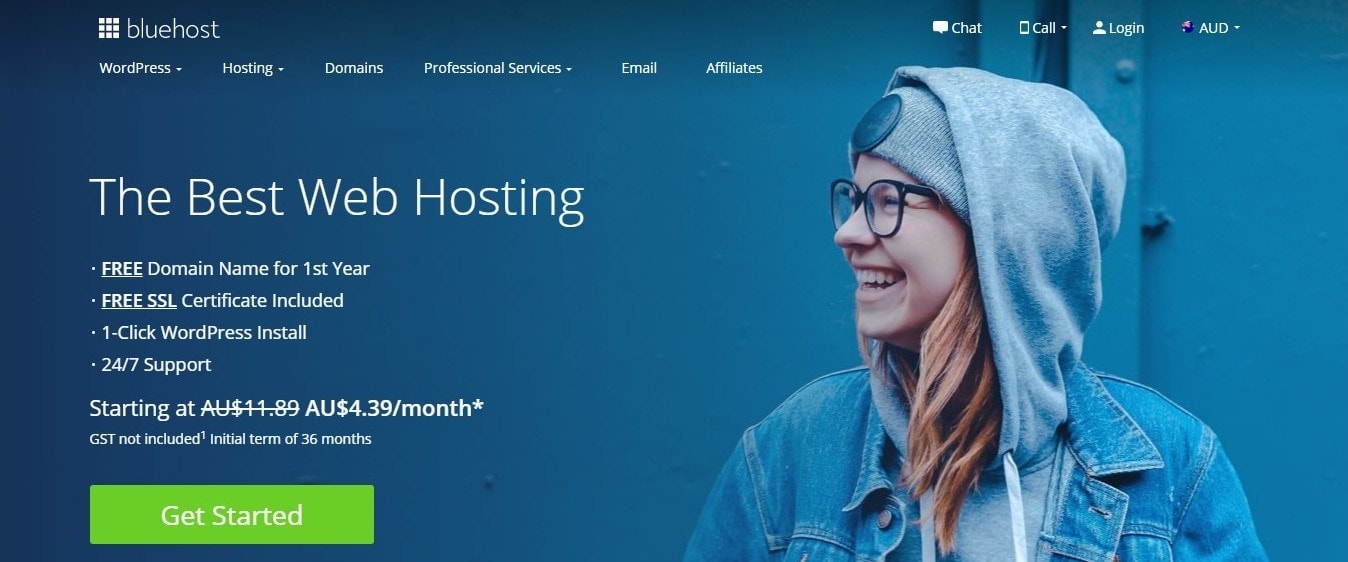 Bluehost.in is a cloud-based web hosting provider that is well-known for its flexible price plans. The company provides shared hosting, virtual private servers, and reseller hosting, as well as domain registration. It has an intuitive UI, incredibly cheap price levels, and a one-click installation for WordPress users. Indeed, WordPress.org strongly recommends Bluehost.in, noting its ease of installation and administration.
Not only is the platform cheap, but it also offers sophisticated functionality and great support to lower-tier customers just as it does to expert users. What makes the service exceptional is that it can assist you in getting the most out of Google and Bing advertising. Additionally, it provides in-house services via the utilization of its fiber connections, data centers, and Linux kernels operating on bespoke servers. The web hosting plans offered by Bluehost are very extensive, particularly in terms of bandwidth. These packages provide very high bandwidth and storage capacity at an extremely affordable price.
Web hosting options are available via the service on shared servers, with costs varying according to contract duration. These are excellent for PHP applications that need a lightweight content management system, such as WordPress, Joomla, or Drupal. Apart from this, you can be certain that your website will remain operational and secure at all times. The provider offers customers power backup through UPS and diesel generators, in addition to performing regular backups of user accounts.
Bluehost.in, a cloud-based web hosting provider, is well-known for its flexible price options. The service provides shared hosting, virtual private servers, and reseller hosting. Additionally, it offers domain registration services to people in need. Known for its affordable price models, the service offers an intuitive user interface and a one-click WordPress installation. Indeed, the service is recommended by WorldPress.org due to its ease of installation and administration.
 Bluehost.in offers a plethora of features and functions that are certain to appeal to you. It may assist you in maximizing the effectiveness of both Google and Bing advertising. Apart from its cost, the platform treats all users equally, offering sophisticated features and assistance to lower-tier customers.
What's more, Bluehost.in's web hosting options provide very high bandwidth and storage space. The platform's web hosting options are priced according to contract duration and are offered on shared servers. The service is excellent for individuals who utilize PHP applications that need lightweight content management system installations, such as WordPress, Joomla, or Drupal.
Another advantage of Bluehost.in is that you can be certain that your website will always be available and safe. This is true since the provider offers backup power through UPS and diesel generators. Regular backups of user accounts are also performed. However, if you discover a problem with the service's power backups and want to cancel, the seller has a toll-free return policy. However, since the provider maintains complete control over all aspects of its services, the chance of power backups failing is practically nil.
GoDaddy Overview
GoDaddy provides a comprehensive range of hosting services, from web hosting to VPS and dedicated servers. It is a dependable service platform for people, entrepreneurs, and businesses interested in launching, managing, and growing their internet presence.
GoDaddy also provides website builder plans and WordPress hosting in addition to hosting. Shared hosting is offered on Linux and Windows, while premium solutions provide unlimited resources. You receive a free name, SFTP uploads, and SSD storage with WordPress hosting. Additionally, daily backups are provided for free.
GoDaddy promises 99.9 % uptime and lightning-fast, secure hosting. SSL encryption is used to safeguard customer/user data, such as credit card numbers and personal information, as it is sent to and from a website. Additionally, it includes website building templates, online marketing tools, and email to assist small companies in establishing and growing their online presence.
Features Comparison – Bluehost.in Vs. Hostinger Vs. GoDaddy
All three platforms offer an uptime guarantee of 99.99 %. This number is excellent and all three of these platforms have known to maintain it.
Our Verdict – All three of them do great for this one.
Hostinger provides round-the-clock assistance and integrates knowledge base articles into each page of the hpanel through a widget. On average, a response takes less than a minute. If you are unable to resolve an issue on their website, you may contact their support professionals through live chat, email, or an online ticket.
Bluehost.in provides 24/7 assistance through email, live chat, and phone, all of which are connected via a centralized help desk site. The support site includes a knowledge base, a user forum, and video lessons that may assist you in resolving common problems. Additionally, the portal provides instant access to the server status page.
GoDaddy offers professional assistance through phone and live chat 24 hours a day. Local telephone numbers are provided for regional offices located around the globe. However, some may function exclusively during weekday business hours. Additionally, customers get access to forums, blog posts, and video lessons.
Our Verdict – Although, everything looks pretty the same in all three of them when it comes to customer support, we found out that the response time of Bluehost.in is usually the best. Also, expert customer support is available at Hostinger and Bluehost.in. GoDaddy also has nice customer support but it is a little slower than the others.
Hostinger's hpanel has a clean and contemporary interface that allows you to handle all aspects of your name subscriptions and hosting information with ease. You do not need to manage several logins to spin up a new virtual server, register or renew a domain, or change your payment information. The interface of the hpanel provides access to big icons and improved organizing features.
Cpanel is included with Bluehost.in, along with a variety of additional capabilities, in a customized Bluehost.in the control panel. Cpanel is the first of many tabs that provide access to domain management and search, upgrades, site builders, dedicated IP configuration, Postini anti-spam software, profile and billing information screens, and SSL certificate administration. Several of these features are optional. Bluehost.in's control panel is divided into two sections: the Cpanel tab and the remainder of the admin screens. Both are closely linked and accessible through the same login, which simplifies management.
GoDaddy's Linux-based servers and accounts are managed through cPanel, while reseller, VPS, and dedicated server accounts are managed via WHM. Plesk is used by Windows accounts. Please keep in mind that you may have to pay an additional fee for your control panel software, as it is not included with certain unmanaged hosting services.
Our Verdict – When it comes to the cPanel, the best cPanel, specifically optimized for WordPress is of Bluehost.in. No hosting platform can match the number of features that Bluehost.in has. You may not be needing some features but it is good to have them all with you. However, since there are more features or options in Bluehost.in, cPanel is a little complicated than the rest, but once you start working on it, you will get used to it, not rocket science.
Pricing Comparison – Bluehost.in Vs. Hostinger Vs. GoDaddy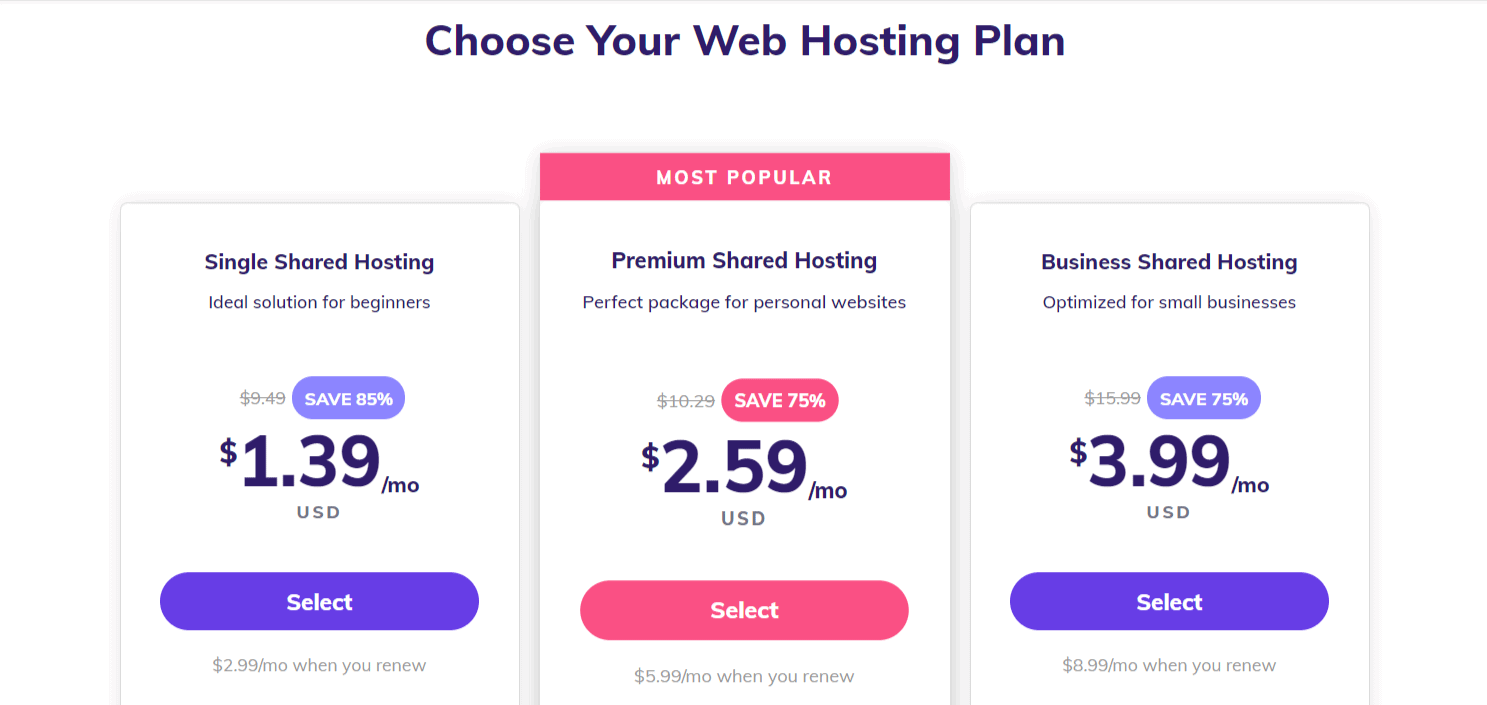 Hostinger Shared Hosting plans start from as low as $ 1.39 month and goes to as high as $3.99 per month.

Bluehost.in Shared Hosting plans starts as low as $2.95 per month and goes to as high as $9.95 per month.
GoDaddy Shared Hosting plans start as low as $5.99 per month and go as high as $ 19.99 per month.
Our Verdict – When it comes to pricing, Bluehost.in and Hostinger are very costly as compared to Hostinger. I would recommend, if you are a beginner, Hostinger can be a great option for you, and if you are looking to grow your platform, I would recommend to pay a little more and go for Bluehost.in.
Final Verdict – Bluehost.in Vs. Hostinger Vs. GoDaddy
All the three platforms, Hostinger, Bluehost.in, and GoDaddy are really good. Hostinger is a little cheaper than Bluehost.in and GoDaddy, but Bluehost.in is the winner between these three. GoDaddy is also not a bad option, but it cannot possibly win the fight with Bluehost.in and Hostinger.
Now it is up to you, whether to go for Hostinger or Bluehost.in. I would like to let you know that Bluehost.in is the hosting platform highly recommended by WordPress itself. So, especially if you have a WordPress site you must go for Bluehost. 
Even if you don't, if you are looking forward to growing your business, Bluehost.in is a good option.