Hey friends! I am glad to have got the chance to talk to Mr. Krish Kidao, a well-known name in the affiliate marketing and media buying domain. Krish is working with the top affiliate tracking software company Affise, as Country Head.
His career is such an inspiration and a source of motivation for many. In this interview, I asked him some questions about affiliate network marketing and his career. let's read on.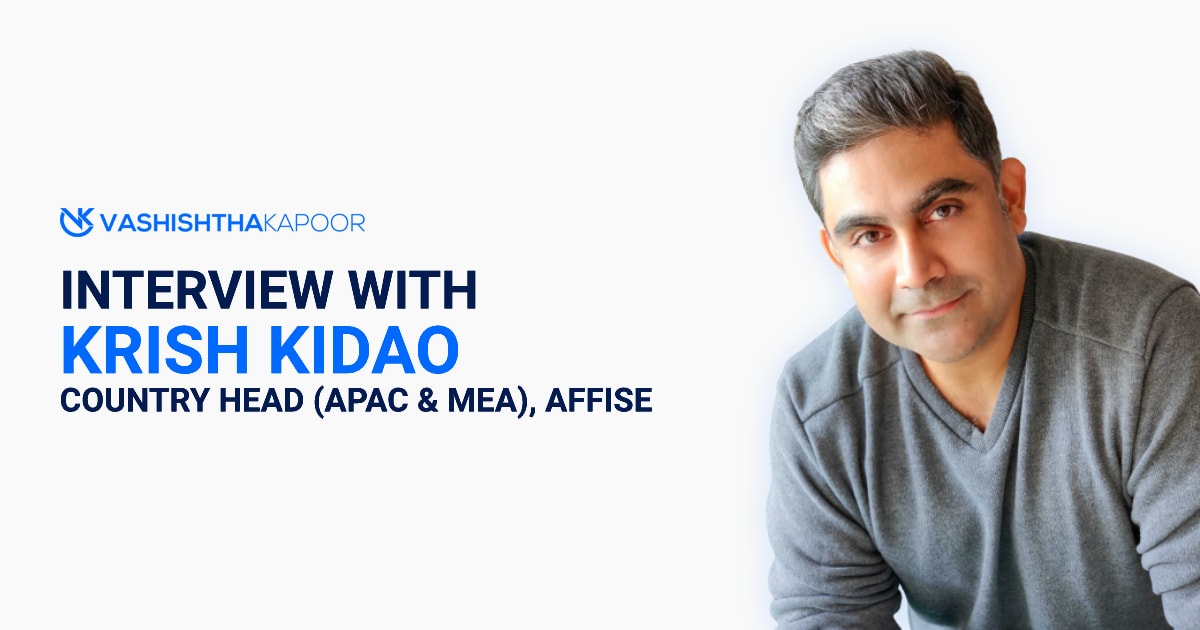 Before heading further, please let us know a bit more about you.
Hey, thanks for featuring me here! I am Krish, and I am a Sales & Business Development professional with experience of 15+ years of working in the Mobile & Digital space. I love taking up challenges, working with bootstrap companies and startups, and helping them scale and hit numbers.
Further, I am also a highly customer-centric person & very passionate about building great relationships with clients and attending to their grievances. 
How did you enter into the affiliate marketing industry?
I was always part of the Ad-Sales industry. Having worked with a television channel early in my career, I successfully moved to sell digital properties like Shortcode, SMS, Voice, and then Online Ad-Sales and Digital Engagement products primarily focussed around branding. 
As the digital industry slowly evolved and skewed itself to be performance-driven, affiliate marketing was a natural transition, so I ended up being a core part of a growing ad network. Thus, the transition to Affiliate Marketing was seamless and part of the journey. 
What is your role at Affise?
As the Country Head for India, APAC & MEA at Affise, my core focus is to drive revenue growth and increase the user base and market reach of Affise. I am also responsible for mentoring and managing a team that covers all the spectrum of our business, from onboarding and sales to account management.
I am also in charge of representing the company in major events in India & APAC and focusing on driving regional promotional activities with our marketing team's help.
Please tell us something about Affise. What changes have been there on the product side ever since you joined the team? Compare it with what it was and what it is now.
Well, at Affise we have always been passionate about our product, and it's been our constant endeavor to build and improve our product continuously. In the beginning, we had a great user-friendly product with disruptive pricing, so we managed to conquer the market quickly and establish ourselves as market leaders. 
But to sustain and keep us abreast with the rapidly changing technology landscape in performance tracking, we had to adapt and release features at a certain pace. Happy to say that we were and still are successful in adjusting to the needs of our customers.
We brought in many automation tools, campaign optimization modules, smarter and more intelligent UI, and extensive statistics like comparison reports that were really appreciated and well accepted in the market. 
How do you balance your professional and personal life? If you work at home, how do you keep the distractions away and focus on things that matter?
I have always been tuned to keep myself focussed despite working from home. My past couple of jobs had already trained me to adapt to such situations as I had the flexibility of working at home/office as and when needed. I do tend to start pretty early in the morning with my workouts, which is a great way to charge yourself for the day and also helps you to release your endorphins (I do a mix between Badminton and Gym). Post that, I respond to all my pending emails and then pace my day depending on the number of calls, meetings, etc. I ensure I take constant breaks not to overload myself; I always have music playing in the background to keep things calm. Besides, I do take breaks to play a game on the phone, watch a quick video on Youtube or TV, or just simply cut off and play with my two boys (who are great stress-busters), even if it's for 15 minutes. 
I don't believe it when someone says I don't find time to do anything. It's simply because he/she has never made an effort to find that time 🙂 
What is Affise and what makes it stand out from the competitors?
Like mentioned before, Affise is a very close-knit family with each and everyone working towards a single objective of making affiliate tracking world-class. When I joined, we were a very lean team, and now we have grown to 120+ employees across the globe from Vilnius to Belarus, Cyprus, Israel, India, and Shanghai, and we are still growing and adding more people and offices. 
Our growth has also been phenomenal, and we work with over 1000+ clients today. And that's pure because we don't just sell our licenses for the sake of increasing our revenues. We help the client grow; we are constantly in touch with the clients, get their feedback, and improve continuously.
Our onboarding, customer success, and support teams are known to be very friendly and proactive.
So we are always hand in glove with a customer, and they love that. 
What do you think is the biggest mistake that a new affiliate marketer/entrepreneur does and how one can fix that?
I guess many affiliates get into the business thinking they can make a few quick bucks in a short span of time. Still, in reality, if you do not prove consistency in terms of delivery quality to the advertisers and if you aren't able to manage cash flows and make timely payouts to your publishers, you end up piling up problems.
Advertisers look at lead quality, and publishers look at timely payments. If these are managed well, then an affiliate marketer is there to stay long.
If you're to build a new affiliate network, what would be the top priorities to consider and why?
If you are a new affiliate marketer and starting a network, here are the priorities in order:
Choose the kind of campaigns you would like to run – if it's Mobile/Desktop or both.

Adopt a world-class

performance tracking platform

, be wise in opting for better technology over cheap pricing.

Approach

direct advertisers/agencies

to get as many direct campaigns as possible.

Choose publishers very carefully based on traffic quality assurance and payment terms. 

Adhere to payment commitments. 

Create trust among your advertisers & publishers and thereby positive word of mouth.

Make yourself visible in events, summits, and network well with peers and industry colleagues. 

Social Media presence on LinkedIn and other channels is crucial. Keep promoting all the good work you have been doing; blogs are a great way to express your expertise and link them back to your website.

Hire passionate people who are there to stay longer and want to grow together with the company.

Last but not least – the digital landscape changes very rapidly. Hence I would advise learning, grow, adapt to newer technologies, and stay relevant consistently. 
Apart from their professional skills, what would you look for in the people you hire?
I love hiring people who have a passion for doing things. They should have a serious purpose/intent; they should not be here just for the sake of things and to clock a 9-to-6 Job. The person should grow along with the company, increasingly contribute to the company in terms of ideas, commitment, and knowledge. The person should also be a team player & trustworthy.
What is the most important thing that modern digital marketer lacks? What would you like to fix?
Adapt to newer technologies and practices consistently, stay focussed on building steady revenues. Failure is bound to happen, but rising from it and using the failures as a learning step is of utmost crucial.
Keep investing in relationships within the industry. 
Please name the affiliate marketing gurus you're following and why?
I don't call them affiliate marketing gurus, but the guys who know it all – I do follow Seth Godin and Guy Kawasaki. I love following Karthik Srinivasan, the ex-chief of Ogilvy. Also, I love the way he dissects the ads and comments on the communication strategies of various companies.
Apart from that, having mentors is crucial in this domain. I am lucky to have a few of them who I look upon even today. They are available to talk at any given point in time. 
How can someone reading this interview connect with you?
They can always reach out to me and drop me a message on LinkedIn, or simply write an email to me at [email protected].
What is your feedback about my blog?
I love the way your blog has shaped up, with crisp structuring and layout. The segment focussing on affiliate marketing & comparison of the key technology platforms is very beneficial and a good read. Besides, there is a lot of information available for people to access Word-Press.
I am happy to be part of this Interview series and hope to be part of many more sessions in the future.