It's hard to know who to trust when it comes to online advertising. With so many ad networks and options available, how can you be sure that you're making the best decision for your business?
UngAds is an excellent solution for businesses of all sizes. They offer various options tailored to your specific needs, and their team of experts will help you get the most out of your advertising budget.
Drill down my UngAds review, wherein I have covered everything you need to know about this ad platform.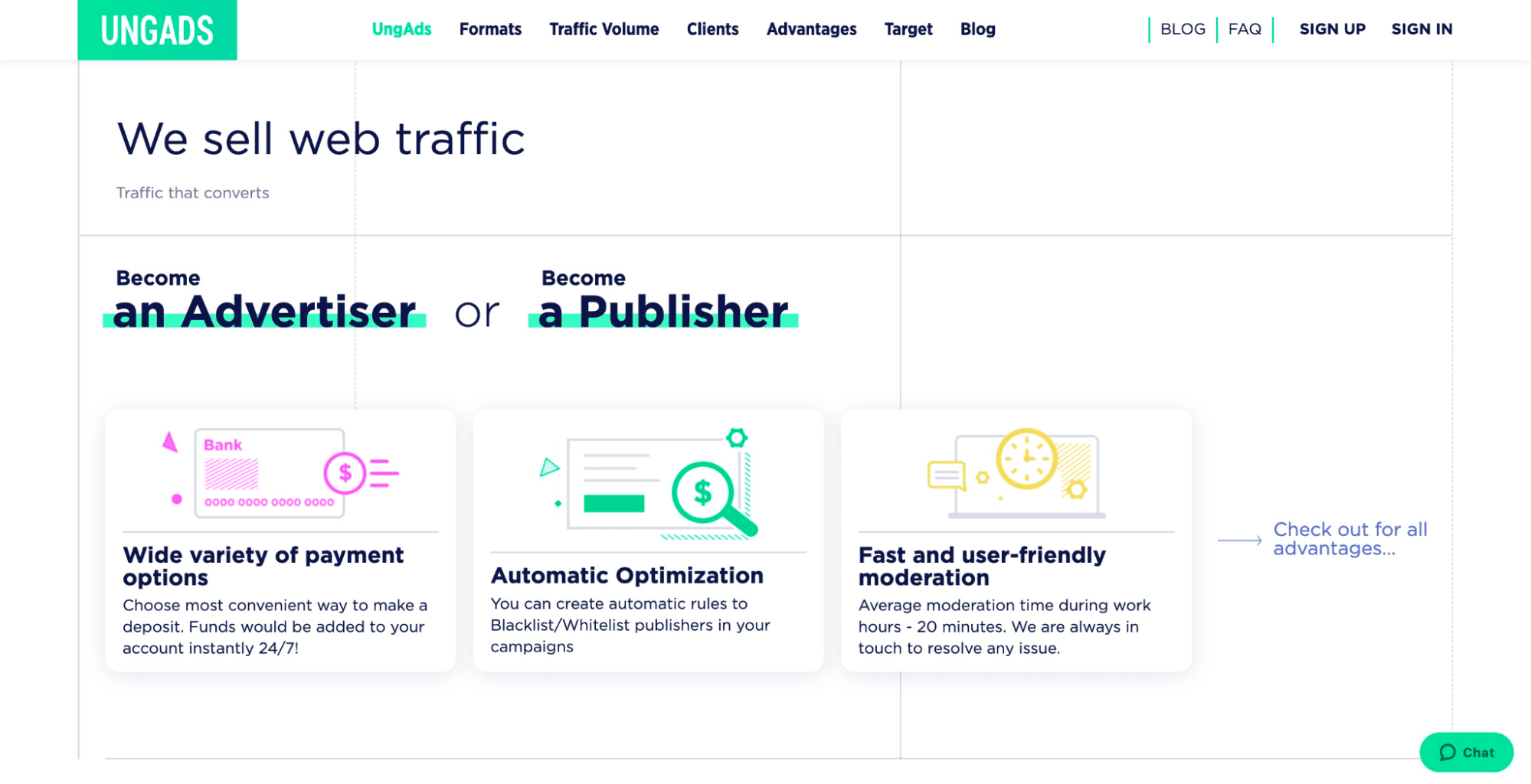 UngAds is a full-service, clever advertising network that provides the vast majority of targeting possibilities required by ad platforms.
UngAds advertising company is headquartered in Latvia and has offices in Latvia, Finland, and St. Petersburg. The UngAds advertising network offers marketers direct access to publishers that provide the best quality traffic.
Desktop and mobile campaign traffic quality are superior to many networks. The network has more than ten servers located across the globe.
UngAds offers a highly distinguished technical section with advanced advertising expertise. The network gives you complete access to the platform where you may freely build, update, run, and stop your campaigns. The minimum advertising deposit is a mere $100, and campaigns may go live in less than one hour.
UngAds may be a very successful ad network for publishers, enabling you to earn money via the CPM model. The minimum payout is $50.
You get paid via PayPal, Paxum, and Payoneer on the 5th and 20th of every month. UngAds delivers excellent customer service, and you get personal help to launch your campaigns.
---
What Can UngAds Do For You?
UngAds facilitates marketers' participation in its ad network. You just need to register and add funds to your account.
You may target your campaign by country, region/state, cities, devices, OS and OS versions, browsers, and category using the UngAds Ad Network.
You may optimize your campaigns further by including the publisher's website identification in your URL(Macro).
Typically, UngAds accepts advertisements within one hour. However, you may contact them over an instant message to expedite the process further.
Additionally, each advertiser gets a personal account manager whom you can contact for any query.
The advanced technology used by the UngAds Advertising Network to reduce inconsistencies and other technical hazards enable it to provide exceptional performance. 
UngAds offers global coverage across six continents and more than 190 countries. You may target campaigns by nation, city, and language.
UngAds is a safe and secure advertising network. You are guaranteed high-quality traffic and defense against malware, bots, and unwanted traffic.
UngAds provides a platform for self-service. Thus, you may independently develop, execute, alter, or halt campaigns. Additionally, you get a personal manager to assist you.
UngAds allows for a broader scope of targeting. The campaigns may be aimed at certain nations, towns, languages, mobile carriers, operating systems, etc.
In addition, you may monitor publisher IDs and eliminate problematic publishers or build a white list. Campaigns may be designed using the self-service platform or with the assistance of a personal manager.
The network offers several ad formats, such as Popunders, Push, and native ads. Using these advertising styles, you can quickly market your product or service, boost brand recognition, promote your app, and acquire new clients.
Therefore, UngAds is the greatest advertising network to collaborate with if you need to enhance brand recognition and conversion rates.
Ad Formats Supported By UngAds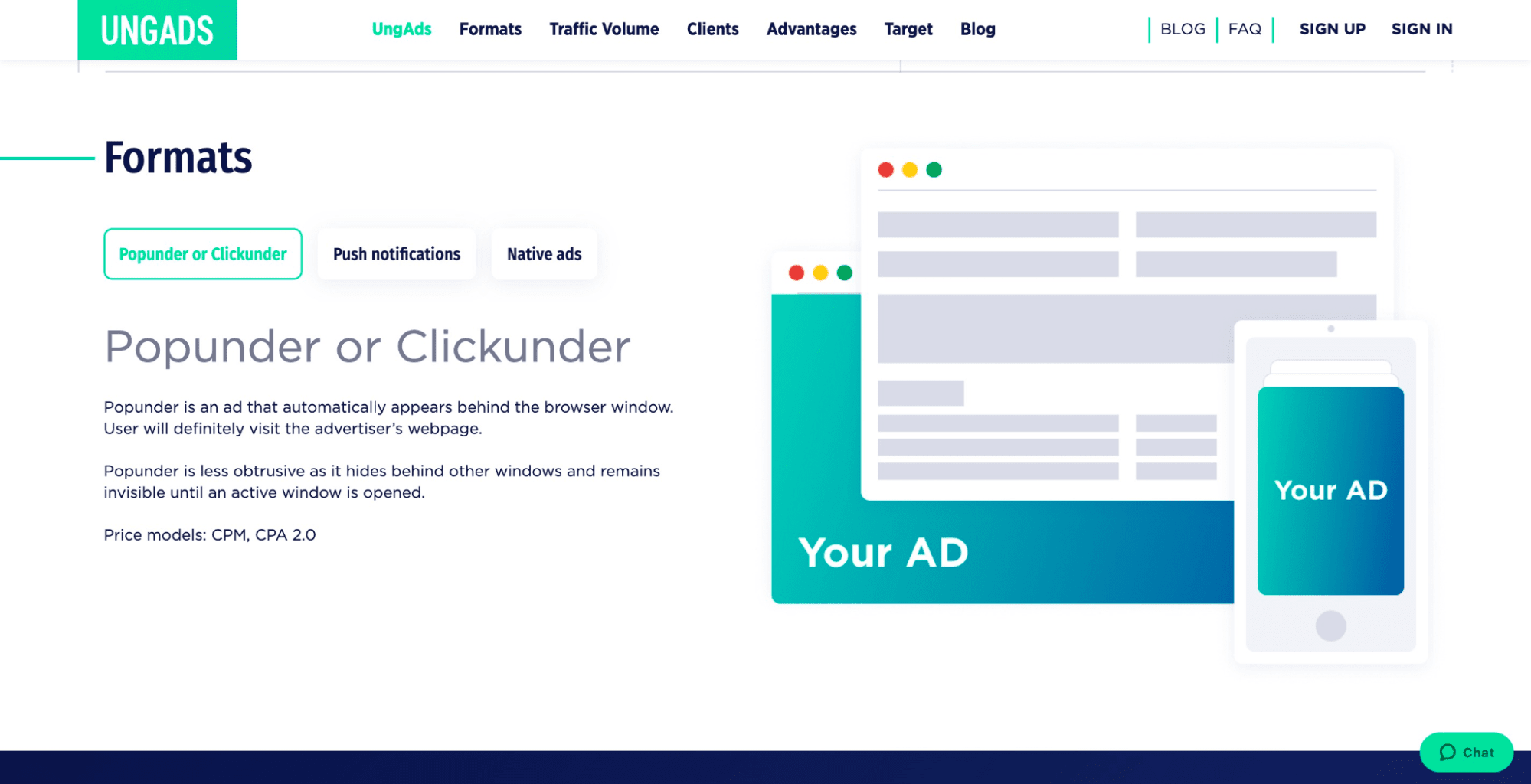 Native Ads:
Native advertisements are the most effective method of attracting attention within the context of a platform and its users' interests.
Due to their placements, native advertisements are not susceptible to banner blindness. It is almost difficult to pass them without giving them a second look; moreover, they cannot be disabled.
Notifications Push:
A push notification is an informational message that persists even after the browser window is closed. The instantaneous appearance of a notice on consumers' devices is a huge benefit of such advertisements.
Popunder or Click under:
Popunder is an advertisement that shows automatically behind the browser window. The user will visit the advertiser's website. Popunder is less intrusive since it hides behind other windows and stays unseen until a window is activated.
What Makes UngAds Ad Network Better Than Its Competitors?
Another benefit of using this network is that it offers various features designed to help advertisers get the most out of their campaigns.
For example, there are options for A/B testing different ad versions and targeting methods to find out what works best for you.
You can also track performance with detailed analytics reports that provide insight into campaign performance over time.
How To Sign up & Use UngAds?
Step – 1: Go to the official website of UngAds and choose whether you wish to become an Advertiser or Publisher.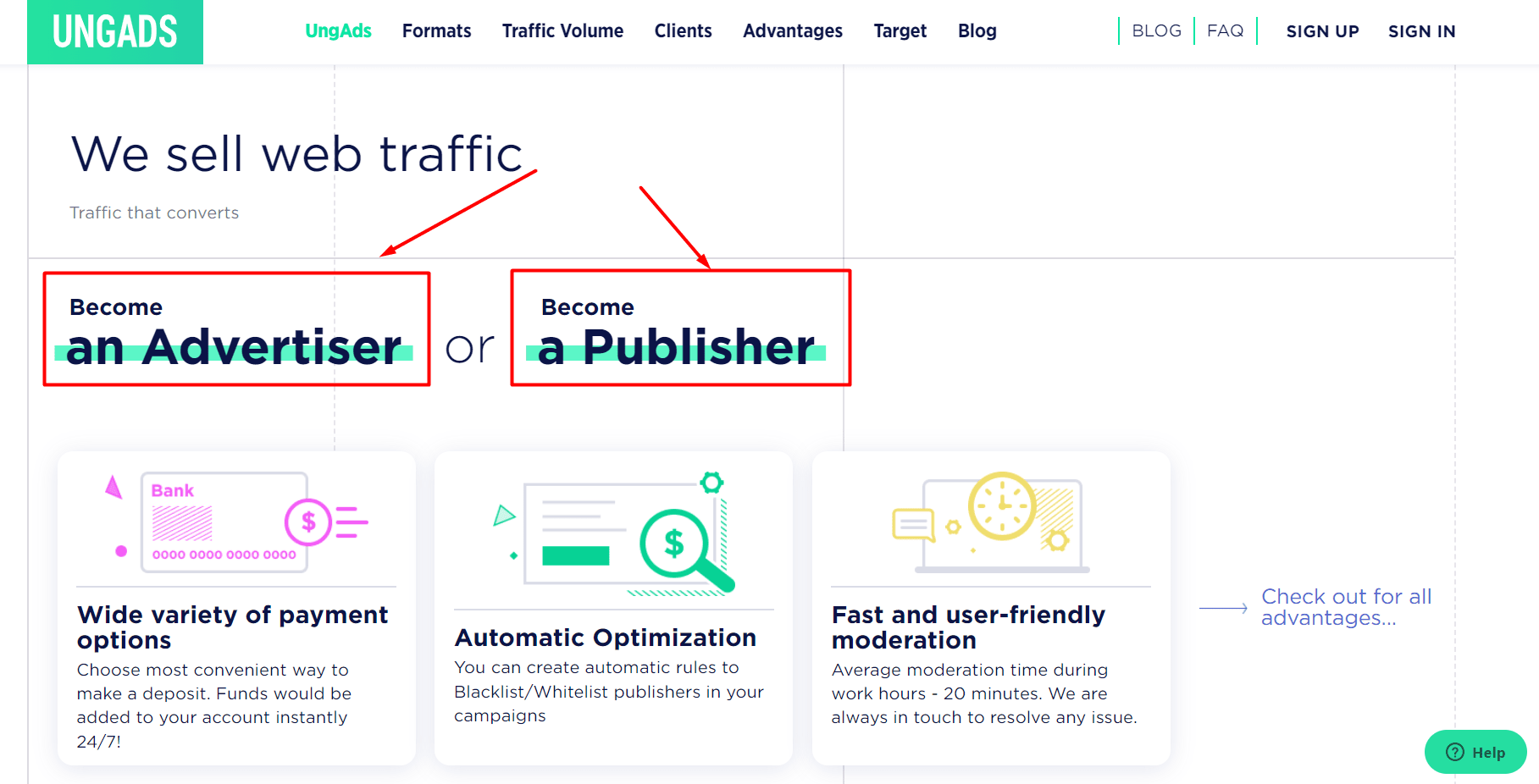 For now, I am signing up as an Advertiser.
Fill up the details and click on Register
When you register, the system sends you an email to confirm your email.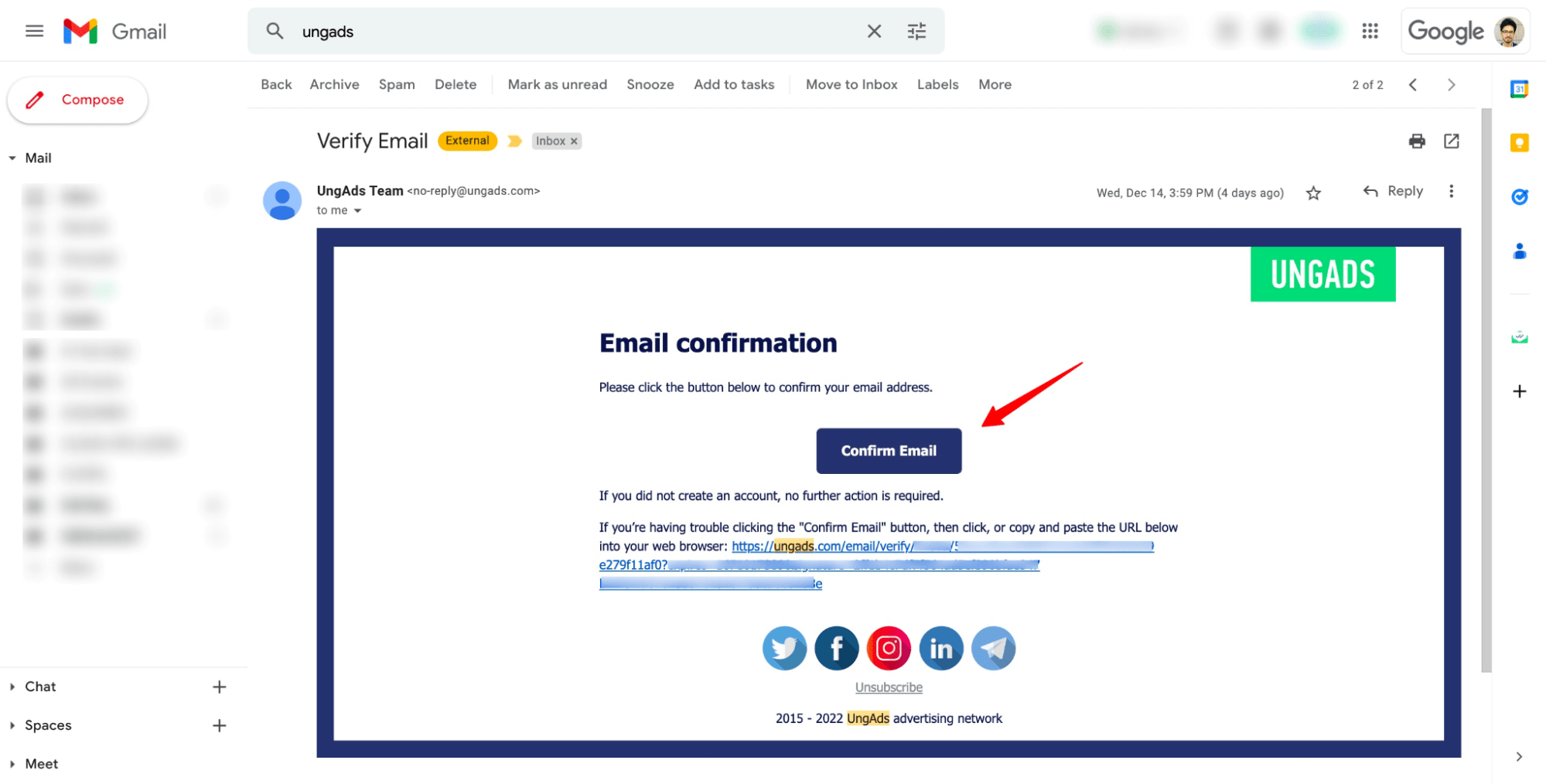 Once you click "Confirm Email" in your email, you will see a screen like this: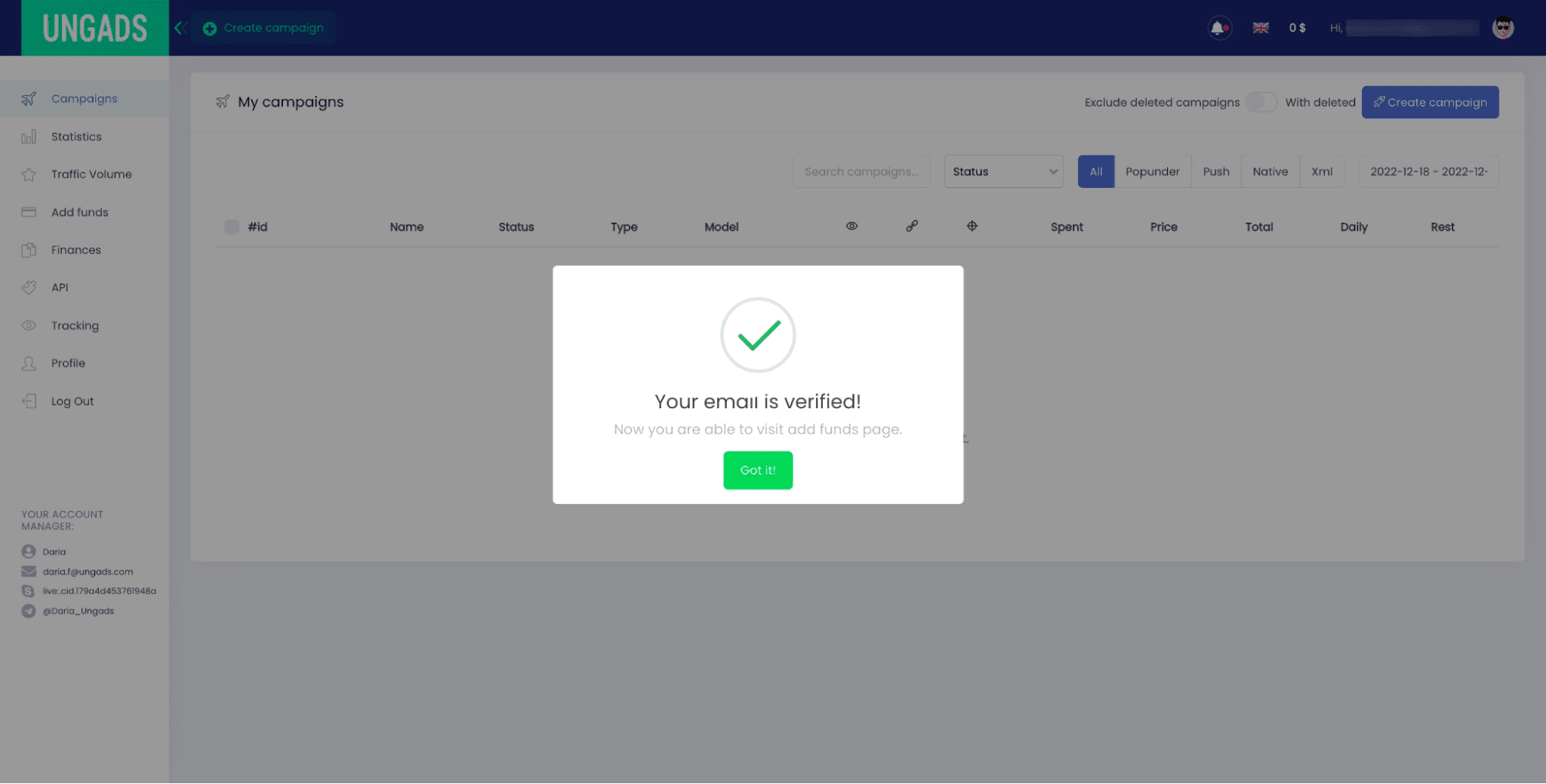 To do anything after this, I recommend you complete your profile.
Now, you need to add funds to your account to be able to run ads.
You can get a $50 bonus on your first top-up with Promo code: UNGADS_TOP
The code is valid till the end of January 2023.
You need to register in the system, add funds to your account and send this promo code to your account manager or support chat on their site.
Why Do I Recommend UngAds?
UngAds Pros and Cons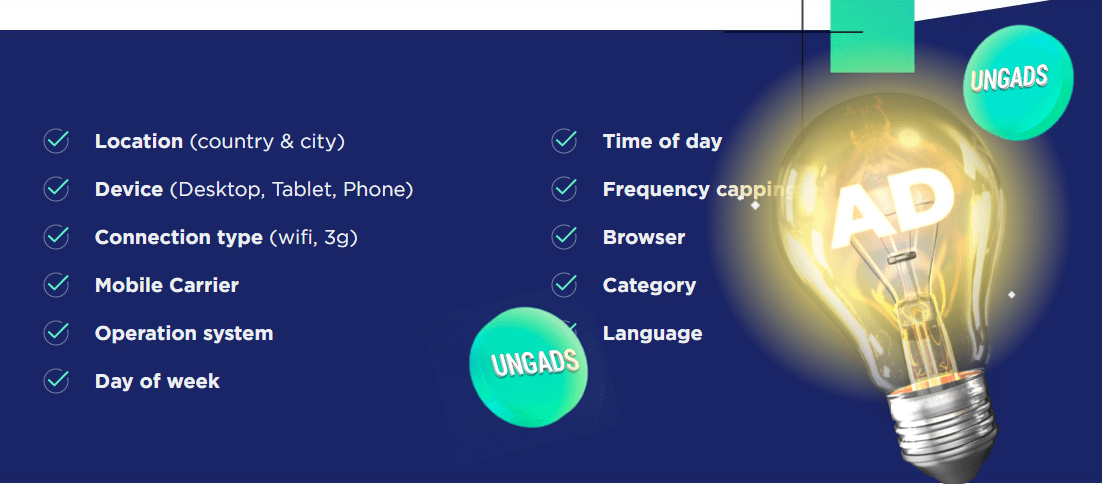 PROS
Dedicated customer support
Real-time reporting system
Auto-optimization algorithm
Multiple ad formats
Easy to use
Global coverage
CONS
Not much volume for native ads
---
More Ad Networks To Look Out For In 2023
FAQs
Is UngAds Safe?
UngAds ensures advertisers complete confidentiality of their information. It doesn't share or sell any critical information to third parties.
With its proprietary anti-fraud system, it can detect fraud clicks that help advertisers save their ad spend.
How is UngAds support?
UngAds provides a personal assistance manager that helps publishers set up and optimize their ad campaigns. Their account managers ensure advertisers of fast application approval.
Does UngAds allow other software integration?
Yes, you can easily integrate third-party software and tools with UngAds. Affiliates can integrate Binom, RedTrack, Voluum, BeMob, and other affiliate tracking software seamlessly with two clicks.
Conclusion
I was initially drawn to UngAds because of its straightforward design. For someone who isn't particularly tech-savvy, this was a huge plus! I found it quite easy to set up my account and start creating campaigns within minutes.
One thing I appreciate about their platform is that they offer detailed analytics reports for each campaign. This has been incredibly helpful in tracking how well my campaigns are performing so that I can make any necessary adjustments accordingly.
Additionally, their customer service team has been extremely helpful whenever I have had questions about setting up or managing my campaigns – something which many other platforms lack in comparison!
I am very happy with my decision to use UngAds as an advertising platform. The ease of setup and use, combined with their detailed analytics reports, make it a great choice for anyone looking for a reliable advertising network.
If you're looking for an effective way to reach your target audience online, look no further than UngAds.