First impression is the best impression. You heard the saying, didn't you? If you want to impress your site visitors, then using WordPress landing page builder plugins.
Having a blog with quality content doesn't necessarily convince your audience to buy the products you promote or sell. So, what else contributes to increasing the conversion rate?
Well, design has a significant role in increasing the number of sales you get. That's why most of the bloggers purchase a separate plugin called content builder or page builder for WordPress. You can always use a website creator to make your landing pages and sites.
Given that there are multiple plugins available, you may get confused about choosing one.
What is a Landing Page?
Landing Page simple is the first part of any sales funnel. It is a page where you make your potential customer land using media buying, popup ads or any other advertising method.
You can get many conversions for your landing pages only if your landing page is compelling and attractive enough that the user would stick to it and subscribe for your updates or buy your products.
What must be there on a Landing Page?
Some quick tips that worked for my clients are:
Above the fold view must have a quick view of the product, a teaser heading and a call to action button
You can replace the call to action button with a signup form too
Right after that you can add the details about the product
Let it be services or features. Just present it clear
Again I would use a call to action
The footer of a landing page is said to be awesome if it has the contact details too
The lead acquisition process must be awesome and if you give something for free in exchange of their emails, it would be even better.
Best Landing Page Builder WordPress Plugin List
I have manually picked each one in this article. So, you can read the features, check the pricing, analyze the features, and then make a decision. Here goes!
The numbered list represent no ranks as to quality or nothing. The plugin which is easy for me, not necessarily would be easy for all the people. That is why there are choices and this list of the landing page builder is here.
---
1. Thrive Content Builder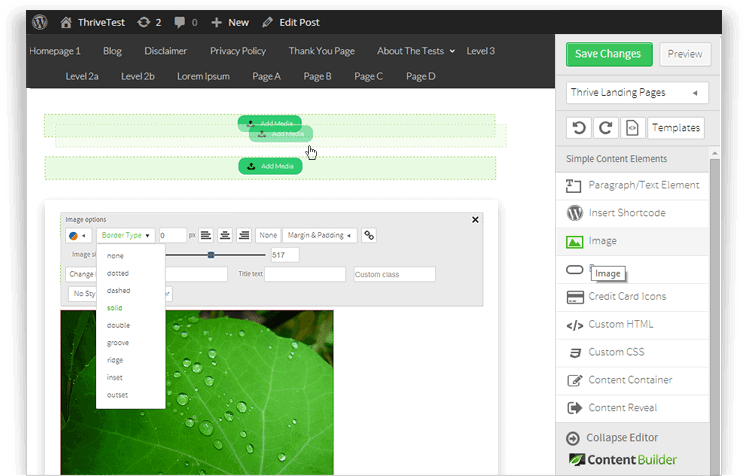 In my experience, Thrive Content Builder aka TCB is the best page creating plugin. It offers tons of customization features for you.
All you have to do is hitting a button labeled Edit with content builder and you will be presented with a lot of elements and blocks. Along with the plugin, you get about 165 landing page templates.
In case your mind goes blank when you think about design, you can choose any of those templates that ease the process.
One of the best things about TCB is how it loads your site. The developers have given keep interest in optimizing the code for maximum speed.
And, there is a feature, which places an opt-in on every 404 page.
You can also choose 5+ Best Thrive Themes Alternatives in 2021 to create a beautiful WordPress site.
---
2. Divi Builder
I hope you are familiar with Elegant Themes. They are one of the well-known WP theme marketplaces. Elegant Themes are the makers of Divi Builder.
You don't have to leave the default post editor of WordPress to create awesome looking pages using Divi. The plugin integrates itself well into the editor to give you maximum comfort.
Needless to say, you don't have any coding skills to work with Divi. And, using 46 content modules you get after installing the plugin, it is possible to design a page in any way you want. Just in case you want to use a fast wordpress theme instead and design an extraordinary website, check out this list of wordpress themes.
In case you have some CSS knowledge, custom page building feature is available there.
You can checkout the best Divi Alternatives and choose the one you like.
---
3. OptimizePress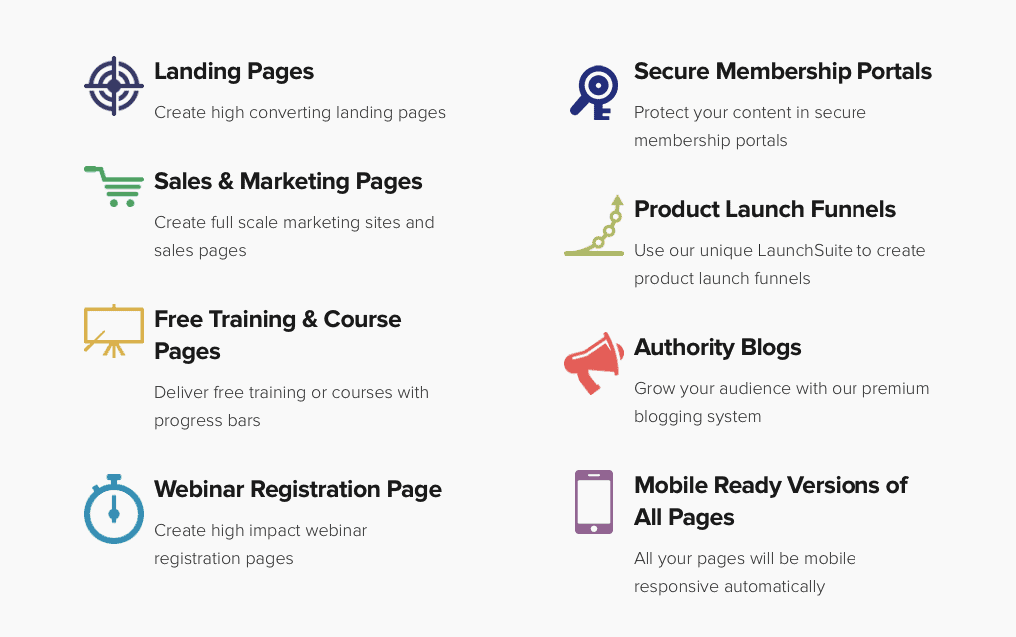 The third one in this list is OptimizePress. The plugin enables you to build elegant pages with a few drags and drops.
Even if OptimizePress has made the page building simple, they provide 30 different ready-made templates. You can use them in case you are lazy or drag-and-drop seems sluggish for you.
OptimizePress can be used to build landing pages for any purpose, be it webinar, sales, list building etc. Moreover, it also helps you protect your content from unknown access if you have a membership site.
The mobile responsiveness combined with 40 different elements brings your dream page design to reality.
---
4. WordPress Landing Pages
I know you may not be able to invest money for blogging. If you are looking for a free page builder, here it comes.
Even though WordPress Landing Pages doesn't offer as many features as a paid plugin does, you can definitely craft stunning pages with it.
The A/B split testing feature helps you choose between different page designs if you are confused. And, the developers have included an analyzer to track the conversion.
You can create own page design, a template, or your theme's default layout. They also give you a feature to enhance the functions with add-on bundles.
---
5. Visual Composer
Visual Composer comes pre-installed with some premium WordPress themes. As you are reading this blog post here, I assume you haven't got a chance to use it on your blog.
Like any other page builder, Visual Composer helps you build pages from the scratch using their elegant content modules. If you don't want a custom design, you can choose between the thirty templates as well.
Once you buy the plugin once, you will get lifetime updates for free.
There are tons of features you can get with Visual Composer, one of the unique one being the image filters.
---
6. Beaver Builder
Beaver Builder is yet another best landing page builder plugin for WordPress. You can also purchase their theme if you want. But the plugin itself provides you with the needed features.
You don't have exhilarated coding skills to come up with convincing landing pages with Beaver Builder. And, you may find a little awkward to make the landing pages go well with your own theme. Nonetheless, the issue won't bother you if you go with Beaver theme.
The editing goes on the front-end with real-time preview feature, giving you the chance to perceive how the page looks when it goes live.
Also read the comparison between Elementor Pro vs Beaver Builder to find out the better plugin.
---
7. Themify Builder
[su_youtube_advanced url="https://www.youtube.com/watch?v=waM20ewLj34″ controls="no" rel="no" fs="no" modestbranding="yes" theme="light" https="yes"]
Themify builder is one of the best lightweight landing page builder which works awesome with Themify WordPress themes. However, I am using themify builder only to draft my pages in a cool design. It makes it easy for me to design a page and add content, video, images, animations and icons to the page.
Awesome Animations in the pro version
Image Blur option also available
Custom Typography
Faster loading pages
Also Read: Themify Review : Top-Notch Quality WordPress Themes for every Purpose
---
8. Lead Pages
The last landing page builder in the list is Leadpages. I have seen many pro-bloggers using this plugin. The best thing about Lead Pages is you don't have to open WordPress dashboard to design the page.
Lead Pages gives you a platform where you can design all your pages and send the same to websites you own given that you installed the proper plugin. It comes handy for those who want to build landing pages on multiple sites.
You can manage all the pages from multiple sites at a single place if you choose to go with Lead Pages. They even host your landing pages if you want.
There are about 350+ templates available, of which 70 comes bundled with the plugin. You have to spend some extra fee to purchase those additional ones.
If you are looking for Leadpages alternatives, then read: 5+ Best Leadpages Alternatives and Competitors in 2021
---
Final Verdict
So, which is the best landing page builder plugin for WordPress?
That depends. You have to set a budget and find those come under it. If you ask me the question without any constraints, I will go with Thrive Content Builder.
Do you want a free one? Well, I got only two here. Themify Builder lite is also FREE. find the link above.
Bear in mind, you have to make investments to reap money.