AdSense WprdPress Theme Review
Summary
I could monetize my WordPress site much better with AdSense wordpress theme by MyThemeShop. The revenue increased by 40% and you can also do this.
Ads customization

Social media

Header Customization

Ad-Blocker Detector
When you especially need a wordpress theme to start a blog and whole of the monetization gonna be based on Google AdSense, the newly developed theme of mythemeshop comes first to give you a hand. And the most interesting thing about this Adsense wordpress theme is that – it is ad-sense friendly.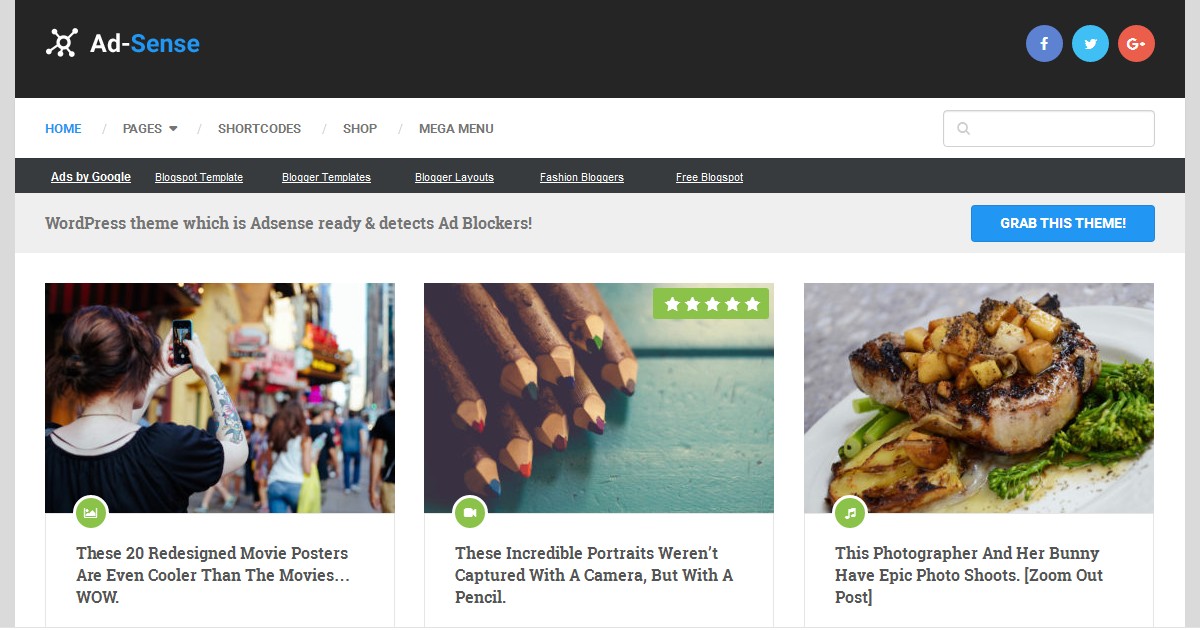 As you already know, I like diving into the depth of theme customization. And the same I have done while reviewing this beautiful and smart WordPress theme.
What is same as before
There list of features is extensive and enormous in the case of monetization
Custom header background, header social icons and floating navigation menu does not impress my readers anymore. And
Talking about the typography, it is loaded with 650+ Google fonts and you can easily customize it with your taste
header and footer is customizable as it was before in other themes – But there are
What's new in AdSense WordPress theme?
For people who think it is slow
Ad blocker detector
How would it be if you can detect the ad-blocker in your reader's browser and ask him to whitelist your website in order to explore your website. Advertisements are the life-blood of a website, No doubt. But sometimes webmasters do not make the amount of revenue that the traffic deserved. Just because of the ad-blocker.
You can easily get your website white-listed by ad-blocker users and make money through advertisements.
Call to action section
If you are promoting/selling an eBook on your website/blog, AdSense wordpress theme [mythemeshop] gonna help you heavily. This is feature is same life Steady Income wordpress theme but the positioning is modified here.
Custom background for the CTA
Custom button color of the call to action
enable/disable switch of the CTA
Homepage layouts
There are 4 different homepage layouts for visualization of posts to look out of the box. No sidebar, both sidebar and single sidebar features are also there inside the theme customization. You can also import any demo layout without uploading/downloading any extra file from anywhere.
Just click import demo and enjoy
Standard Grids – Full Width
Masonry Grids – Full Width
One post in full width
Standard Grid with Sidebar
Masonry Grids with Sidebar
Navigation advertisement
navigation ad space work like rocket to supercharge your ad-sense revenue. This seems like an extra menu (secondary menu) if you place 728×15 link ads.
You can also add large banner instead to give it an enormous layout.
Ads customization and alignment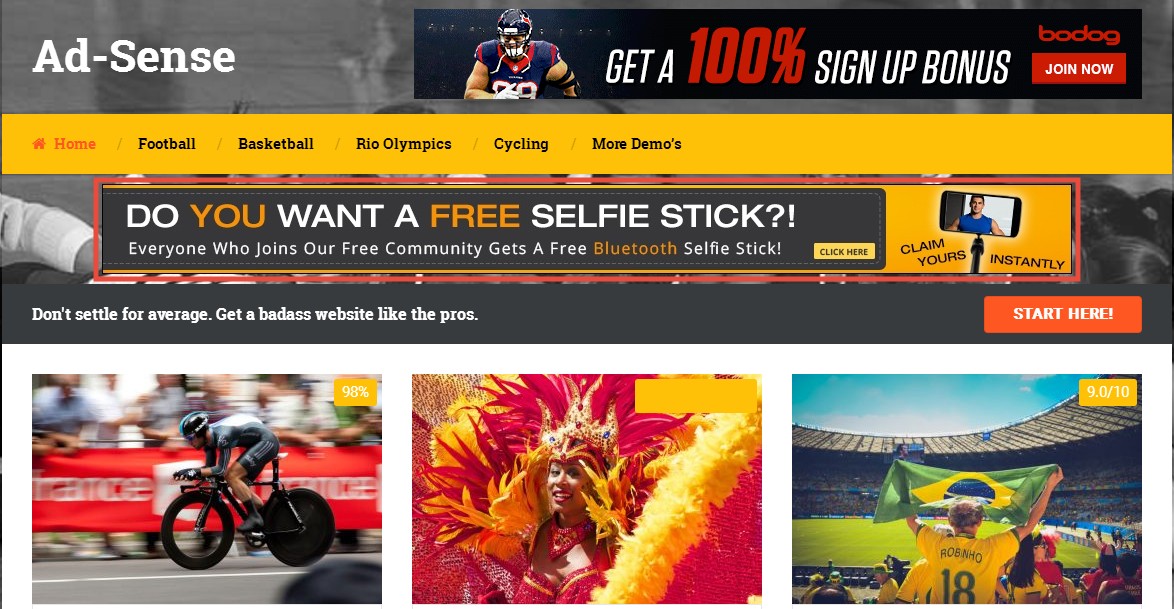 I am pretty much impressed with this feature because this is totally made for ad-sense publishers. In this feature, you just have to put the responsive ad code everywhere and choose the ad size in the theme-options. You can also choose alignment of the ads for below header and after content ad space.
What's not Good?
you can not show both the header banner and social media icons at the same time.
You can not find a better theme that eliminates ad-blocker
Final Words / AdSense theme Review
This WordPress theme is really BAND for your BUCKS. I could easily rely upon this smart WordPress template as it helps me encouraging ad-blocker users to whitelist my website using a emotional trigger popup/bar.