Artificial intelligence is impacting all industries and it's changing the face of copywriting. This is because many companies are using artificial intelligence to automate tasks, such as data analysis and decision making. But AI can also be used for creative works like content writing. So, here's a list of top AI copywriting tools handpicked by me.
Whereas, copywriting is a big part of content creation. If you cannot write, you can't create great, engaging content. But what if you don't have the time to learn how to become a good copywriter?
What if you want to get started writing immediately?
In that case, artificial intelligence tools are your friend. These tools can help you out by suggesting words or phrases for your next project. They also offer suggestions on how to improve the structure and phrasing of your sentences.
What is Copywriting?
Copywriting is a form of marketing that involves using written text to sell or promote a brand, product, or service. Copywriting can be used in print, digital, and even on the radio.
In order to be a successful copywriter, you need to have great writing skills combined with a good understanding of what your target audience wants and needs, so it is vital that before you start writing you research the topic thoroughly. You'll also need an excellent grasp of basic grammar and spelling as well as an analytic thought process to put the best stuff out there in the market.
Why have AI Copywriting Tool?
There are a lot of copywriting tools out there. Some of them can be a bit intimidating for new users, while others make the process much easier. While there's no doubt it takes practice to become good at copywriting, having access to an AI-powered tool like this one can take your copy to the next level. Copywriting is the art of using words to influence people. It's an important skill for any marketer or content creator to have, but it can be difficult to master. Thankfully, there are a variety of tools that can make copywriting easier and more effective.
How does an AI copywriting tool works?
Everything starts with deciding what you want to write about. This refers to the type of content you need. The range goes from a blog post to a short ad. The next thing to do is set concepts for the AI tool to follow. For example, say you want a social media post advertising a new yoga class.
Now that you have the machine that can execute these rules, the AI will generate content based on these rule books you have just set up by analyzing similar preexisting content from around the web and processing it into something new, real, and error-free.
List of 5 best AI Copywriting Tools
The world of marketing is changing rapidly with the advent of artificial intelligence. It has made its way into various areas of business, including copywriting.
With AI-powered copywriting tools, you can easily write effective ad copy, blog outline, product descriptions, sales copy, etc.
So, here are the best and most persuasive AI Copywriting Tools you can rely on.

First on the list of best AI copywriting tools is Copysmith. Let's begin with one reliable and high-converting software, Copysmith.
Without any doubt, Copysmith is one popular tool to use when it comes to writing amazing content for your website or even social media.
Not just that, when it comes to writing emails and conversion copies, you can totally go for it without any second thought.
Right on the home page, you will find the writer's block that lets you explore how far you can experiment with your website copies.
Besides, its specialties fall underwriting long-form posts, outlining content, and enhancing already existing content. That's how you can determine your sort of things and what your audience is welcome to fall for.
Pricing 
Copysmith basically has 3 plans and all of them are for specific types of use. Down there are the prices for each of them.
The Basic plan prices are $39 per month or $396 annually.
The Pro Plan (at $59 per month, or $600 per year).
The Enterprise Plan is totally customizable.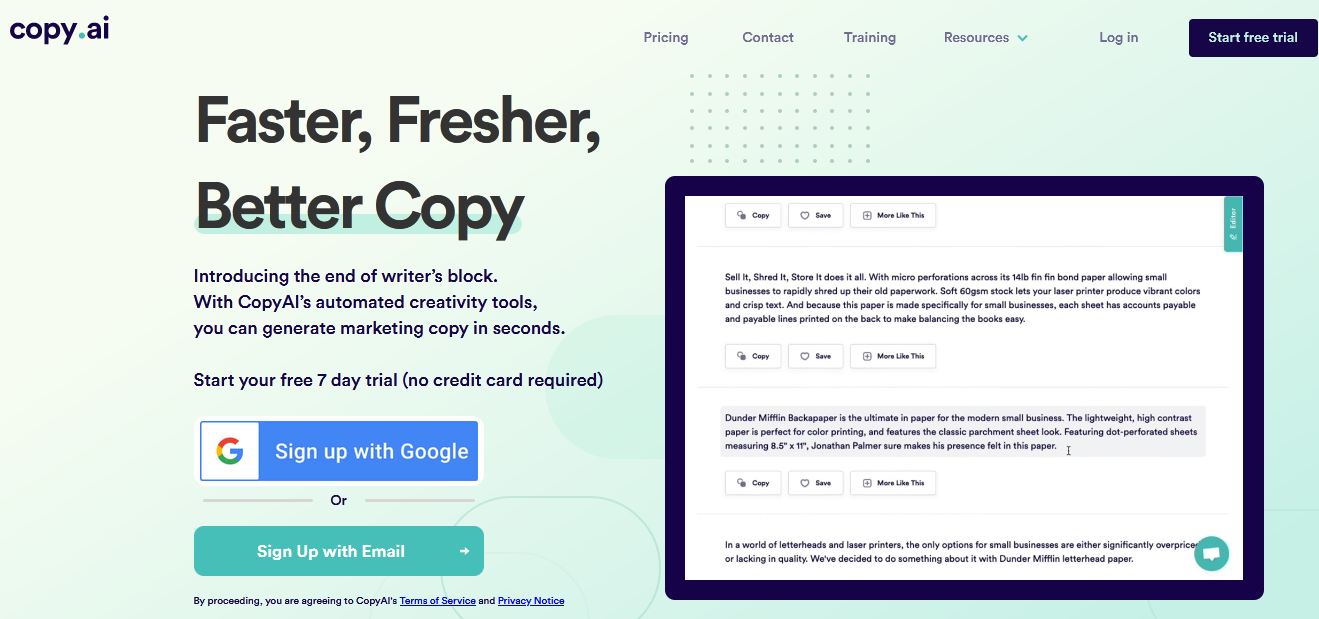 The second best copywriting tool is CopyAI which is not that old one. It was launched in 2020 and since then it has transformed the content writing experience for businesses on a large scale.
It's an easily accessible automated tool that generates market-effective copies that literally convert.
Let's look at its features. CopyAI is renowned for its templates that include a variety you can't even use them all (or maybe you can).
It has article headlines, descriptions, blog post ideas, long-form articles, primary texts, and much more.
Not just that, they all are suitable for any business and agencies be it in copywriting, e-com, or digital services company. Also, don't forget the conversions it can create for you.
Pricing 
Even though CopyAI offers a free trial to its users, there are still plans that are meant for the pros and regular writers. So, these plans are like:
Solo plan- $35/month
Multiple Seats – Customized plans
Get Started With CopyAI Now

It is one of the best AI copywriting tools you can ever go for. Undoubtedly, Jarvis is a user-proof tool. Any tool that knows everything behind what works in the market and the copywriting business is Jarvis making it a compelling tool to use.
Jarvis is basically renowned for its full-proof templates that serve you with the right combination of content as well as technicalities you have been looking for for so long.
Now, with the help of this educating prospects, responsible, and converting copies, you not only rank on your website but also gain leads. Yes! It's that amazing.
Pricing
There are three categories of pricing plans for writing, including:
Starter ($ 29/ month),
Pro Unlimited Plan ($ 109), and
Boss Mode Plan ($ 119).
Get Started With Jarvis Now
Up next we have Writesonic with is an amazing AI-powered writing tool that is known to produce high-quality blog posts, ads, product descriptions, and even landing pages along with others.
There are many companies (I won't say the names of course) that uses WriterSonic to create human-like naturally written write-ups for their website content.
For thorough manual writing, Writesonic offers parameters for variety and that includes keywords, phrases, and short descriptions.
In fact, even if you want to write social media content, you can easily go with this tool. It has everything to write for you in just 3 minutes. So, basically, that is like good content in less time.
Pricing
The pricing plans of Writesonic are what makes things easier for you. So, its plans go like these:
Starter – $11.60/month comes with 75 credits.
Professional – $39.60/month with 150 credits
Business- $199.60/month with 1200 credits.
Get Started With WriterSonic Now
It is not easy for businesses to write good ads. WordTune is making it easier by using artificial intelligence. It is hard for people to write on the internet.
Many people don't know what to write and they make a mistake. Wordtune will help them by giving them suggestions about what to write.
When you write, you sometimes should change some words to other words. It can be hard to know which words should be changed. Wordtune is an app that helps you find new words to use.
Wordtune goes deep into the meaning of each sentence you use while improving tone, word choice, and flow. It is an amazing tool for marketers, editors, students, and bloggers.
WordTune is a writing companion that helps you say exactly what you mean. By segmenting your audience into different groups, it matches the right words to your audience's thoughts and feelings.
It is one great Artificial Intelligence Software & Content Marketing Software.
Pricing
There is a free plan that works best for beginners. However, if you want to work without any restrictions, you can go for the paid versions. But what are they? Here, have a look.
Premium Plan – $9.99/month
The premium for Team – Custom-made plans.
Get Started With Wordtune Now
Also, Read More About Copywriting Businesses:
FAQs (AI Copywriting Tools)
🤷‍♀️ What is AI copywriting?
An AI copywriting tool is like a computer program that can rewrite sentences using natural language processing tools. JPMorgan Chase used an AI copywriting tool to improve its CTAs and online ad copy for home equity lines of credit. The team works as a human writer right there on the other side of the system.
🙆‍♂️ What is Copysmith?
Copysmith claims to help you write ad copy, product descriptions, emails, and more – in seconds! Their homepage states that the tool will bring an end to writer's block and help you explore creative territory quicker than ever.
🤷‍♀️ What is copy creation?
Copywriting is a type of text that aims to increase brand awareness and ultimately persuade a person or group to take a particular action.
🙎‍♂️ How does copy AI work?
Copy.ai was formed out of the notion that technology can be used to generate texts automatically, with the help of advanced AI. The product generates a number of possible text results from which the customer then chooses.
🧏‍♂️ What is AI-powered copywriting?
In general, AI copywriting is computer-generated writing created with the help of natural language processing tools. In the simplest terms, this means that a machine learns about writing from vast quantities of existing writing and then creates new writing that reads
🙇‍♂️ Will AI take over copywriting?
AI won't replace copywriting jobs, but it does have the ability to help you as a copywriter. Depending on what kind of writing you do, it may be complemented by AI or even completely replaced.
Conclusion- AI Copywriting Tools In 2023 
AI copywriting can help you achieve your business goals, especially as a digital marketer or as a busy copywriter. Do you want to buy more than one AI copywriting tool? It's best to check out free trials so you can see which tools work best for your strategy.
However, just to help you out, here are the best tools for you.
The winner
Jarvis is the clear winner in this list because of its human-like content creation that goes best with your company culture and tone. Besides, this tool is not that expensive and works for any level of copywriter.
The Cheapest
Copywriting tools like CopyAI and WordTune are the clear ones here. The biggest reason? The credit goes to their free plans that is amazing and totally helpful for beginners who don't want to invest in a paid tool.