An additional "s" in the domain name provides security. That additional "s" is applied in the domain name only if the website is SSL certified. SSL (Secured Sockets Layer) is a digital certificate which provides security to your website, giving it a green padlock, which is a symbol of safety.
People all over the world love safety and security. According to April 2019 and as per Statista study, almost 4.4 billion people are active internet users all over the world. This amounts to approximately 58% of the global population. There are infinite monetary transactions done online daily also.
SSL is that security technology which ensures that all the data which is passed in between the servers and browsers remain private and confidential. It plays a very important role in online business. Any website with an SSL certificate helps create a trusted environment for the customer making them feel safe and secure to make any transactions.
Why You Need SSL Certificate
We keep a security guard for our home to protect it against thieves. In the same way SSL certificate is the security guard for websites protecting them against hackers and cyber criminals.
Online transactions are not new now days. Though they provide you ease of making payments by saving your time, there are hidden risks of security breaches. When you enter any sensitive information on the internet there is always a risk of security breach. Intelligent hackers can read this unencrypted information and take undue advantage of it.
This is where SSL comes in. Technically it locks sensitive data by encrypting it when it passes from browser to server. Since SSL is required for PCI (Payment Card Industry) compliance, most websites acquire it.
Where to Get SSL?
There are many online shops which provide you SSL Certificates for your website. Some are cheap and some are costly.
Each shop is different from the other one in terms of price, types of certificates, security features it provides etc. In this article, we will discuss about one of the SSL providers naming CheapSSLShop, its features and its benefits.
What is Cheap SSL Shop?
CheapSSLShop is an inexpensive way to attain SSL certificates. To secure a position in this competitive world, many providers offer these certs at more than 70% discount.
"Same Certs, Less Price" or "Same Certs, Best Price" is the main motto of this CheapSSLShop.
They reduce their profits by giving fabulous discounts on SSL certs thus benefitting customers and companies. Though they are cheap, they have many positive factors impressing clients to opt for them.
A Few Positives of CheapSSLShop:
Quick and Easy Enrollment Process:
CheapSSLShop will guide you in enrollment of SSL certificate for your site via sign up or you can take help of live chat which makes the enrollment process fast and error free.
You just need to ensure that your server should be able to configure and run SSL successfully. Once you have purchased the SSL, then you can easily configure the same in hardly 15 minutes.
Even Domain Validation SSL Certificates are issued very fast. Just show that you own a domain name and you get DV SSL for the same.
Easy 4 step Enrollment Process:

Sign up as a new user

Enter the required details asked for at the time of registration

Select SSL

Pay the Price
Multiple Selection Options:
Many global SSL brands like RapidSSL, GeoTrust, Comodo, Thawte, RapidSSL, GlobalSign etc. are provided by CheapSSLShop. This gives a wide range of multiple SSL options for website owners to select which one is the best for their company.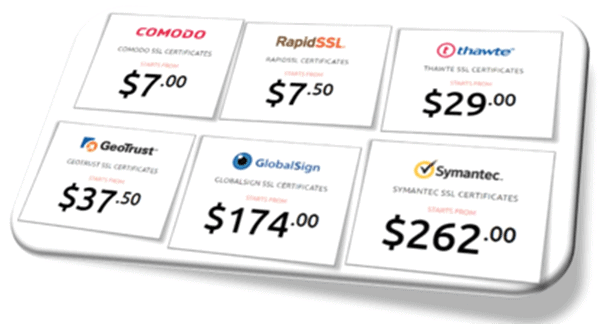 Different Brands Provide Different Types of SSL Certs Like:
Wildcard SSL certificate

– Unlimited subdomain protection

UCC/ SAN SSL certificate – Mobile Compatible and unlimited free reissues.
EV (Extended Validation) SSL certificate – Strong encryption, showing company name in address bar, safeguard against phishing attacks.
Domain Validation SSL certificate – Fast installation, universal browsers.
Organization Validation SSL certificate – Highly assured, validates your company.
Code Signing SSL certificate – Protects digital codes and signatures and confirms authentication.
CheapSSLShop offers Thirty-Days (30) Cancellation Policy, so If you have purchased an SSL certificate from CheapSSLShop, and you are not satisfied with any of its products or services, you can claim a 100% refund within 30 days after the date of the order.
Attractive Discounts and Offers:
CheapSSLShop offer discount coupons, thus making your purchase of SSL budget friendly. In order to sustain competition, they also provide addition overall discounts over and above the discount coupon. SMBs for which budget limitation is the first thing they also take advantage of available SSL products.
Provides Highest Encryption:
The main motto of SSL configuration is that it encrypts sensitive data passed from browser to server. Mostly SSL certs give 256-bit encryption. But as per CheapSSLShop, they provide the highest-level of 2048-bit CSR encryption. The higher the encryption, the safer the data.
CheapSSLShop also provides lifetime, unlimited reissues of SSL certificates. Only one-time charge at the purchase of certificate and you get benefits for a lifetime. There are many shops who charge hefty amounts on reissue of SSL certs. But CheapSSLShop doesn't charge a single penny. No reissue charges are a blessing in disguise for small businesses.
You can win the hearts of people by your customer friendly approach. Though cheap, CheapSSLShop provides an excellent 24/7/365 live chat support which is commendable. This helps customers to smoothly configure SSL in their website at their convenient time.
Customer support team is available on many social media platforms also, so they are easily accessible for clients.
Cheap is not always bad. Looking at the above advantages, one thing is certain that CheapSSLShop is gaining popularity day by day, due to their excellent advantages.
Quick installations from multiple selections, cupped with free trials, discounts and money back guarantees, and zero reissue costs work wonders for clients.
An icing in the cake is the highest level of encryption with 24/7customer support. Go; Grab your SSL certificate from Cheap SSL Shop, secure your website and enjoy its benefits.