Are you looking to monetize your desktop and mobile traffic with multiple ad formats? 
If yes, join the Clickadu ad network that supports multiple currencies and payment methods. Read Clickadu review to know more facts about the company and its performance.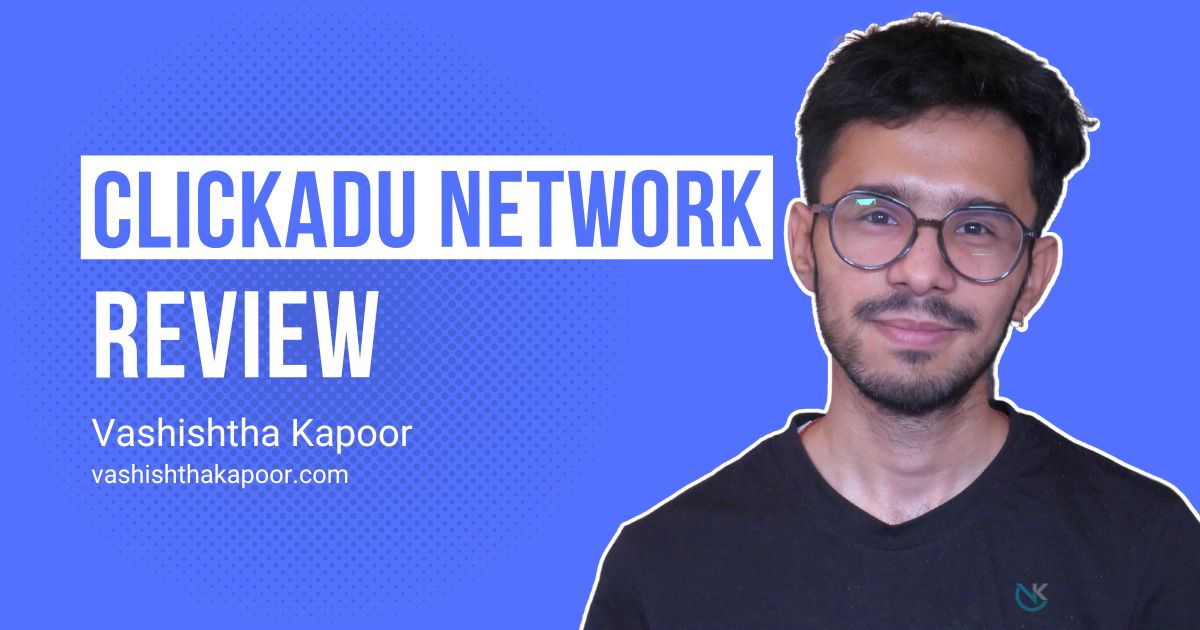 Publisher Requirements To Join AdSense
Although there are no strict traffic requirements, the company has strict policies for fraud traffic. 
Your website should not have explicit or prohibited content. Content should not be illegal or applicable only to above 18+ audiences.  
To protect advertisers' ad spending, Clickadu offers fraud and bot traffic protection. 
Fraudulent clicks and impressions, ad placement, and auto-spawning of browsers are not allowed. 
Before joining the network, you should go through the terms and conditions.
Clickadu Ad Formats Supported
Video Pre-roll: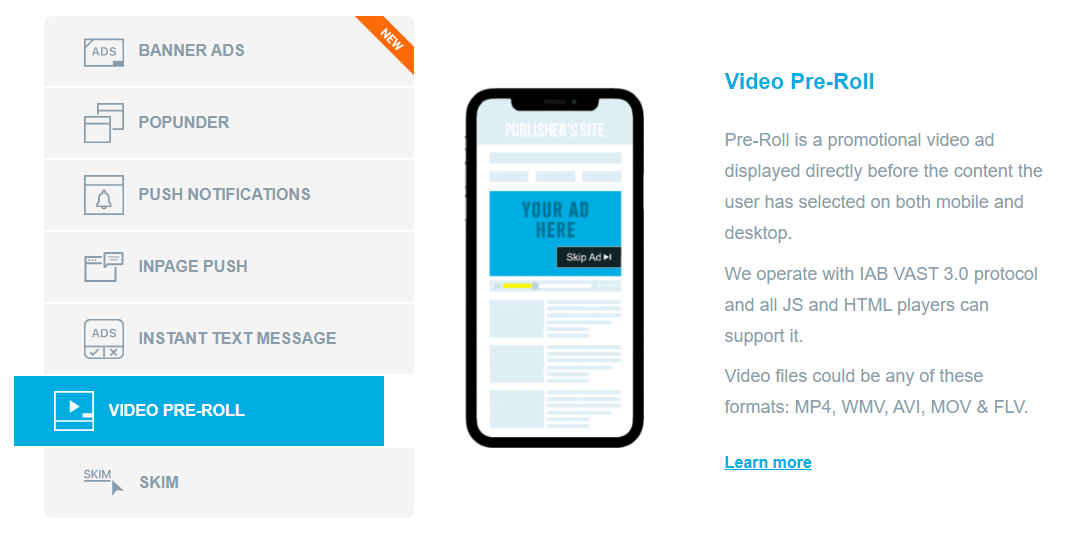 One of the modern ad formats, video pre-roll can be used on both mobile and desktop. These ads are displayed before the main content as a video to site audiences. It supports various video formats including MP4, WMV, AVI, MOV & FLV. The video ads are supported by all JS and HTML players and operate with IAB VAST 3.0 protocol.
Instant Text Message: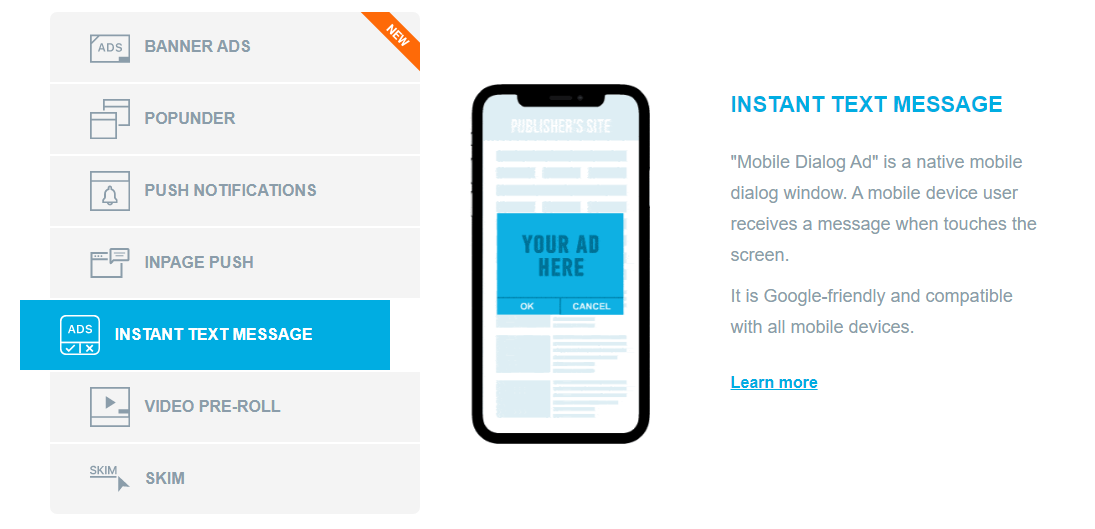 Another form of native advertising, an instant text message is not only Google-friendly but also compatible with all mobile devices. When a user surfs your website using a mobile phone and touches the screen, the user receives a message. 
SKIM:
SKIM is a link that can be inserted on any image, video, or text element on a website. This works a lot better with 100% coverage and high CPM rates. Whenever users click on the element, the SKIM ad appears on the screen.
Push Notifications: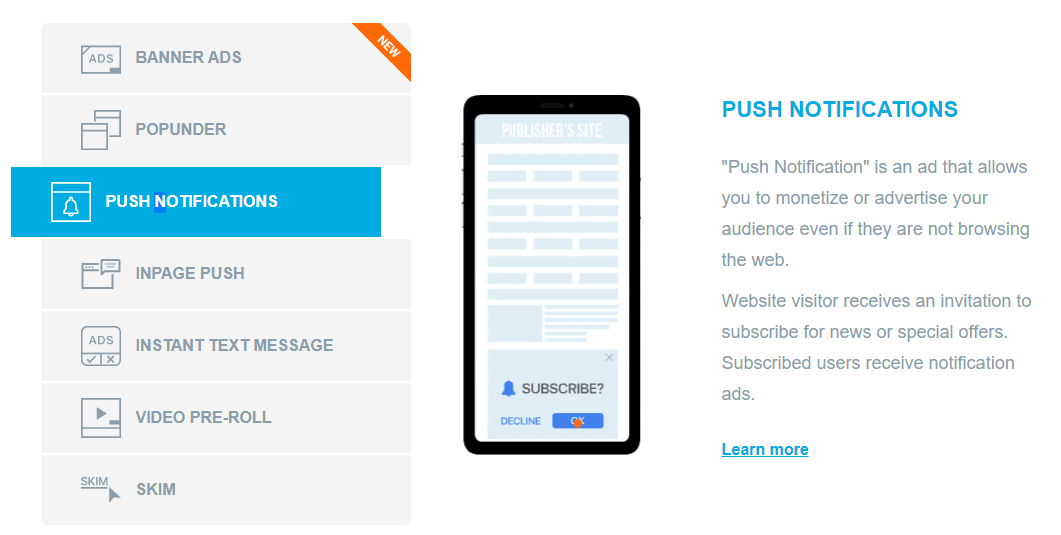 If you want to make money even when your audience isn't browsing your site, then push notifications are the best. Push notification works like an alert message. When users agree to receive push notifications, they can continuously see your ads. 
Popunder: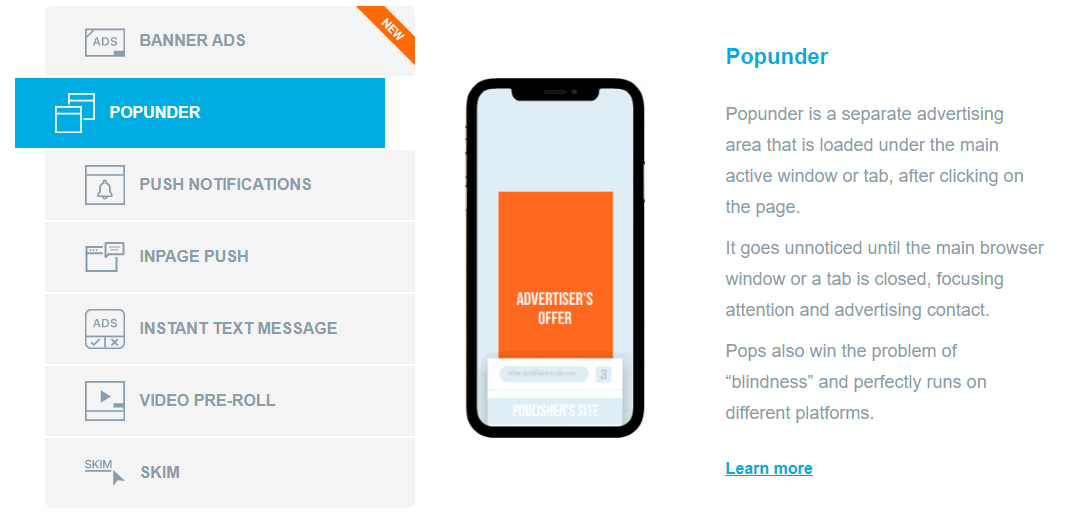 The banner blindness issue is resolved with Popunder ads. This ad appears in a separate window or tab other than the main window. Users have to close the main window and then they can see the Popunder ads. 
Inpage Push: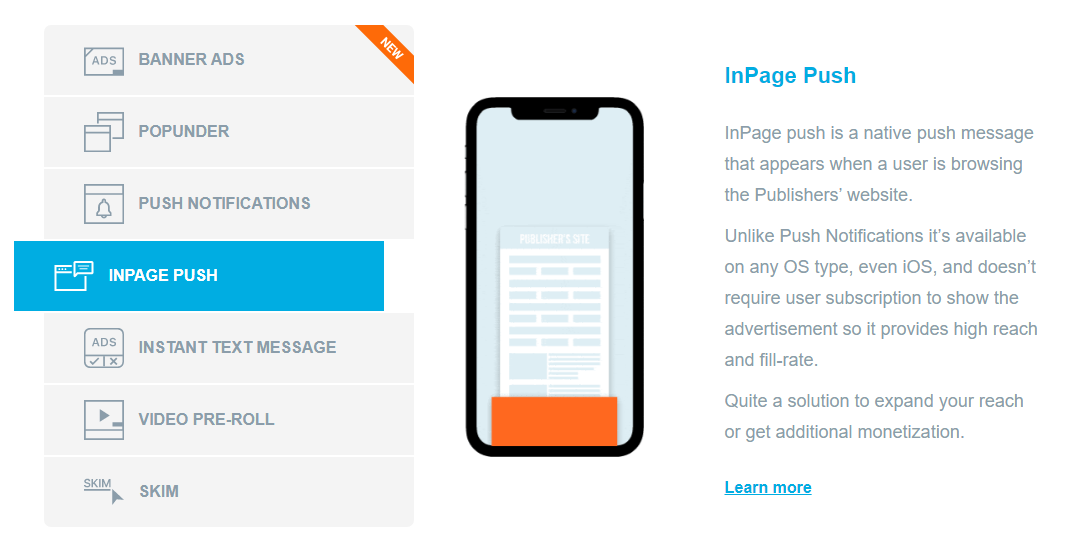 These ads don't require users to subscribe like push notifications. It appears as a native push message and is supported on all OS devices. It is available on pricing models such as SmartCPA, SmartCPM, CPC, and CPM. It's easy to install and launch and can be used as a standalone advertising format.
Pros and Cons
Frequently Asked Questions (FAQs)
What is the minimum payout?
The minimum threshold payout for publishers via PayPal is $50.
How to monetize your site with Clickadu?
To monetize your site with Clickadu as a publisher, you need to register a free account. Then, you need to verify your ownership by adding a meta-tag to your website. In 24 hours, your account gets verified and approval status is sent to your email.
Is Clickadu better than AdSense?
We can't simply say that because AdSense is a powerful ad network powered by Google. We all know nothing beats Google, but Clickadu does have some benefits. Your site is approved quickly with less traffic requirements.
Also Read:
Clickadu Review Conclusion
If you are looking for high CPM rates and an alternative to AdSense, then Clickadu could be a game-changer for you.