If you are running a business and are looking forward to the best web hosting platform, we have just picked the right one for you. Read Contabo review to find out if it is the web hosting platform that you are looking for for your website.
The packages are something that would want to make you swipe your card in one go. But, hold on, we have lots to tell you about it.
Contabo has great hosting and VPS services along with round-the-clock customer support. Contabo recently launched a few datacentres as well, improving its services and packages even further.
The price that you pay for the services that you are offered is mere pennies. Without wasting your time any further, we will dive into the details.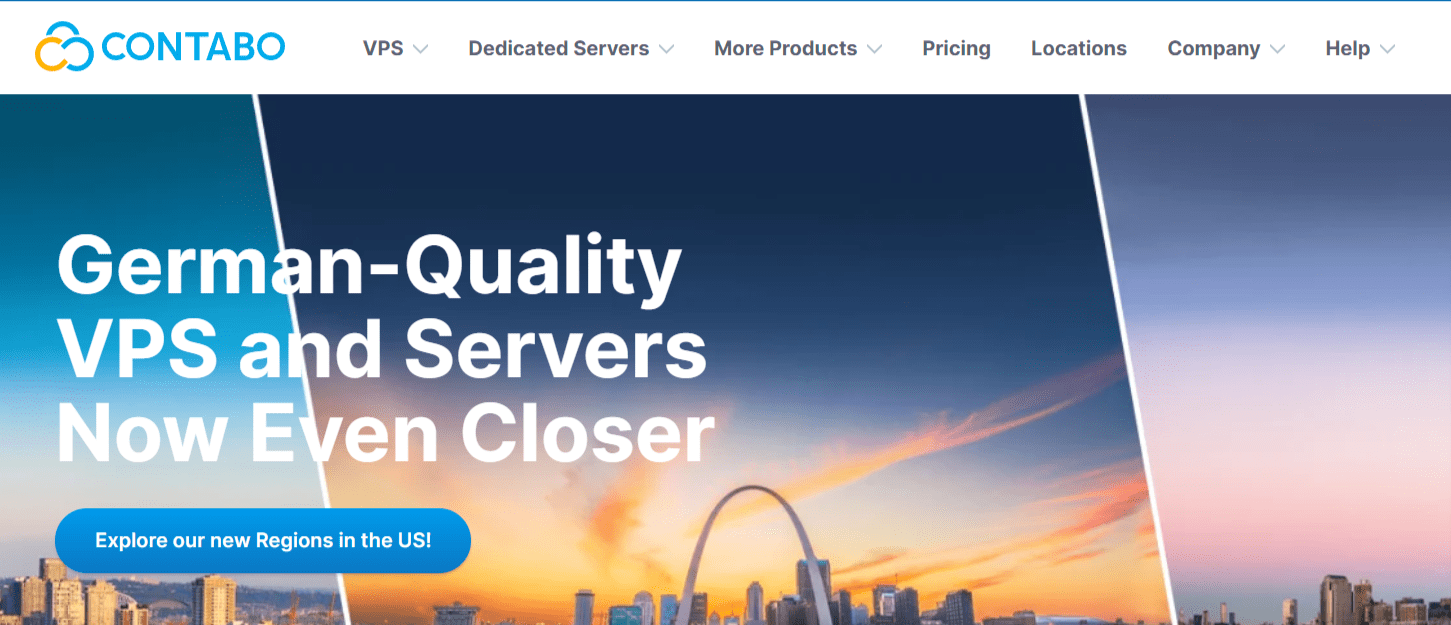 Contabo is one of the leading platforms that offer dedicated servers and quality VPS servers at the cheapest prices. Their data centres are situated in Germany, United States and Singapore. Contabo offers amazing quality virtual servers such as dedicated servers, VPS hosting, and colocation servers.
Their best bet is that the minimum amount of RAM you get in a server is 8GB. You hardly get a 8GB ram VPS under $10 per month. Without Contabo, it is almost impossible to buy such an affordable VPS for your cloud computing needs. 
You may need a dedicated server with GPU for gaming or maybe just a normal cloud server with Ubuntu and Nginx to host your websites. Contabo does it all.
Within their VPS plans, they offer SSD drives which in turn increase the performance. To further increase the speed, you can configure a server and deploy it just like you would do for a gaming setup.
Contabo
Contabo
Contabo is a leading web hosting platform. They offer services, such as dedicated servers and VPS hosting in Germany from where they provide their customers with access to the Linux environment. Contabo's best bet for performance enhancement is choosing hard drives within its VPS plans that will increase speed.
Server Locations

Pricing Plans

Support
Pros
Energy efficiency and durability
long-lasting and inexpensive
Ability to offer low prices
Proprietary optimization scripts to manage
Premium office locations
Cons
You cannot purchase a domain without hosting
Contabo Review: Top Features of Contabo Services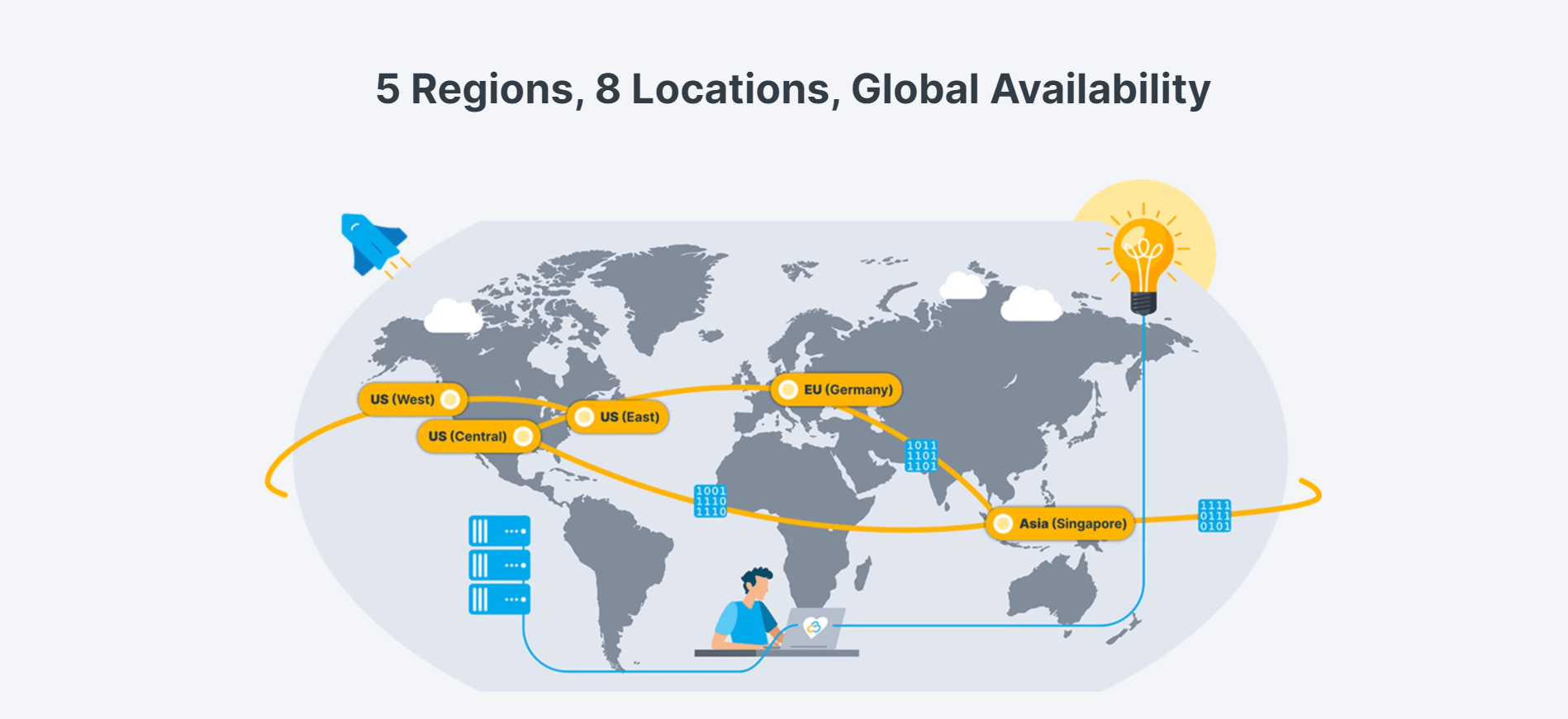 What all makes Contabo amazing?
I know this must be going on in your mind. So, down below are the features you must know about. Read on…
Deploy a VPS for just $6.99/mo
Price and performance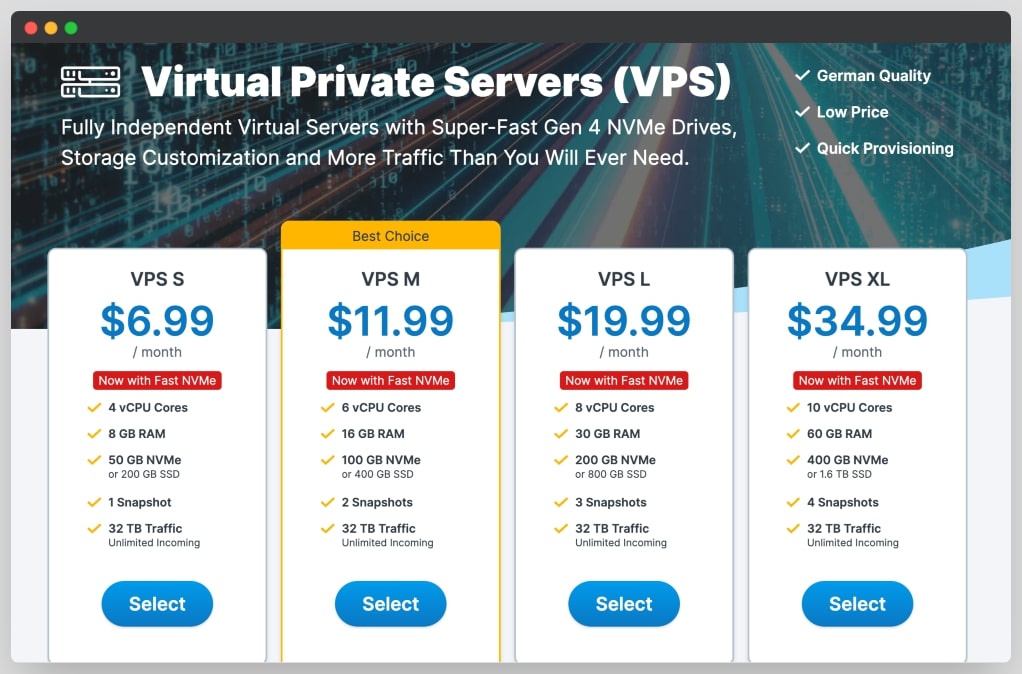 The best part about Contabo is that its performance rightly justifies the price you pay for the servers. To add to this, you get fast NVMe Storage on your VPS without paying any extra penny. This is something that makes their server much more efficient and performance-ready.
It is highly energy-efficient and the durability and stability of the hardware components is worth a mention.
Not to set you out on hype, but you would be rather impressed with the long-lasting experience that you shall have. 
Scales, and their effects 
Contabo has a hardware platform that is completely unified, unlike all the other companies, in every data center worldwide. This offers you better prices and discounts on the products. It also reduces the time that you need to spend on maintenance and management.
Optimized use

The optimized scripts that are used over Contabo are designed to manage the load on the servers. This, in turn, helps for the stable performance of the websites. The logistics and the warehouse are exceptionally handled to minimize waste. This improves the space and the performance.
Domain Name Registration
At Contabo, you can easily register your website with a new domain name. Or, if you have one already, you can even transfer your domain ownership from your existing registrar.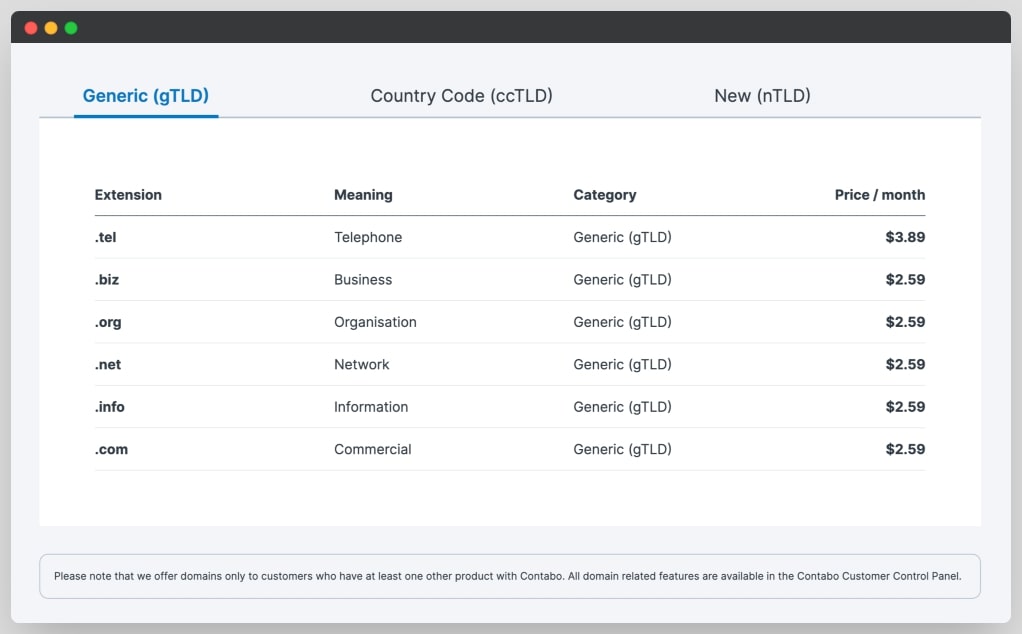 To surprise you, I would like to share a fact with you. There are over three hundred domain extensions that Contabo is offering to its customers recently. When you take up a domain from Contabo, it comes along with a customer panel, which makes your work a piece of cake.
Web and Data Security
Contabo offers bolt-on services for you to quickly and efficiently back up essential data. It works on the FTP system of encrypted backup. Apart from this, Contabo also offers a hundred per cent auto-backup option for scheduled backups.
However, this is an additional service, for which you need to pay separately.
Deploy a VPS for just $6.99/mo
Contabo Review: Price and Packages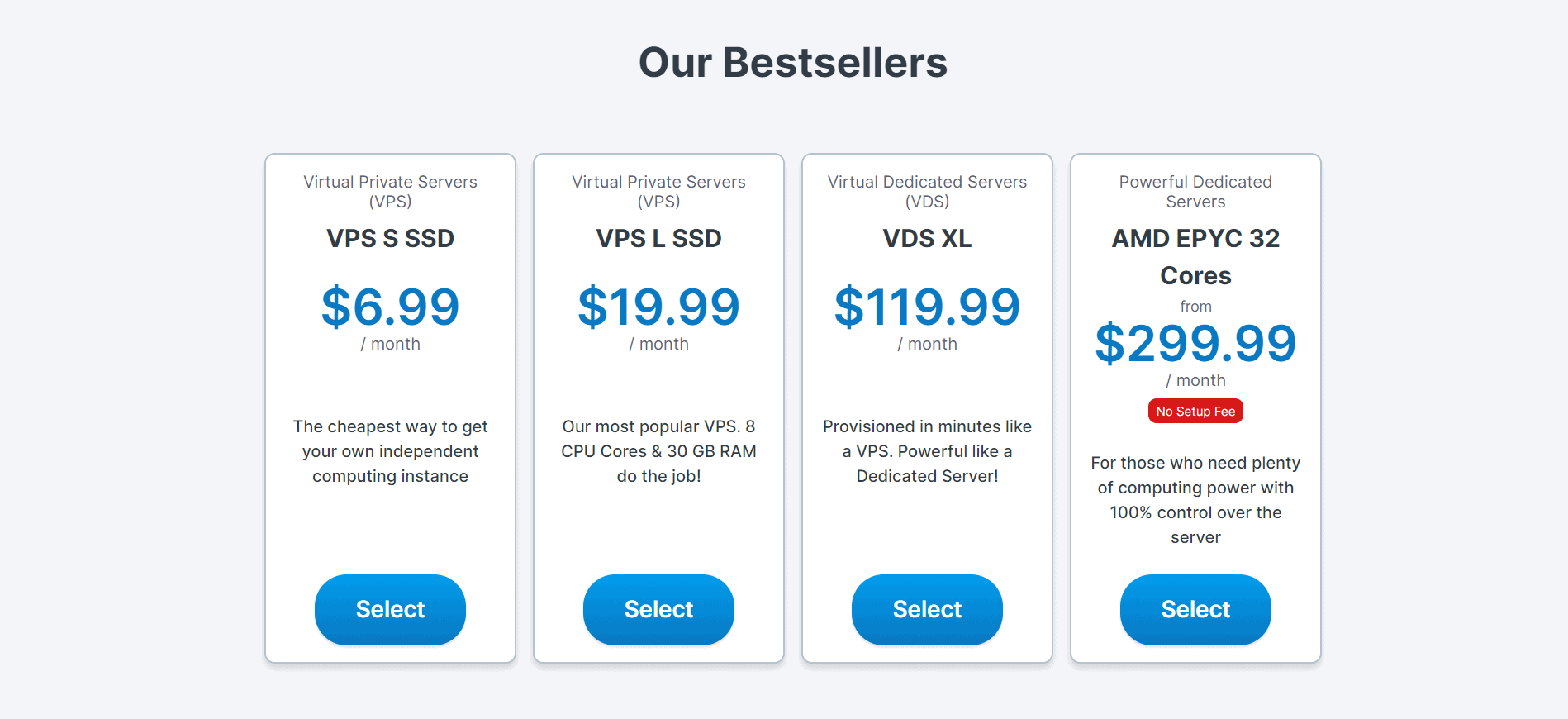 Contabo has essentially four pricing packages.
The first package is the Virtual Private Servers, the S SSD package, billed at $6.99 per month. If you wish to have your own independent and separate computing instance, this might be the best and cheapest option for you to go ahead with.

The second package is the Virtual Private Servers, the L SSD; monthly billed at the amount of $19.99. It is the most popular package that the customers opt for at Contabo. It provides VPS, with Eight CPU Cores and thirty GB RAM as well.

The third package that Contabo offers is the Dedicated Virtual Servers, the VDS XL,  which is billed at a $119.99 per month. It comes along with a powerful and dedicated server for you to work with.

Lastly, we have the Powerful Dedicated Servers, which is the fourth package offered at Contabo. The AMD EPYC thirty-two Cores is billed monthly at $219.99 for every month. There are no separate charges for a setup here.
For a moment, if you feel that the pricing is high, we would urge you to have a look at the premium services offered here. The speed and bandwidth are perfect to handle your unlimited traffic flow. They have personalized server levels.
Deploy a VPS for just $6.99/mo
Apart from the packages offered, the customers can also opt for additional paid services, automatic backups, support during an emergency, and even plans dedicated just for them. The plans at Contabo are affordable and flexible.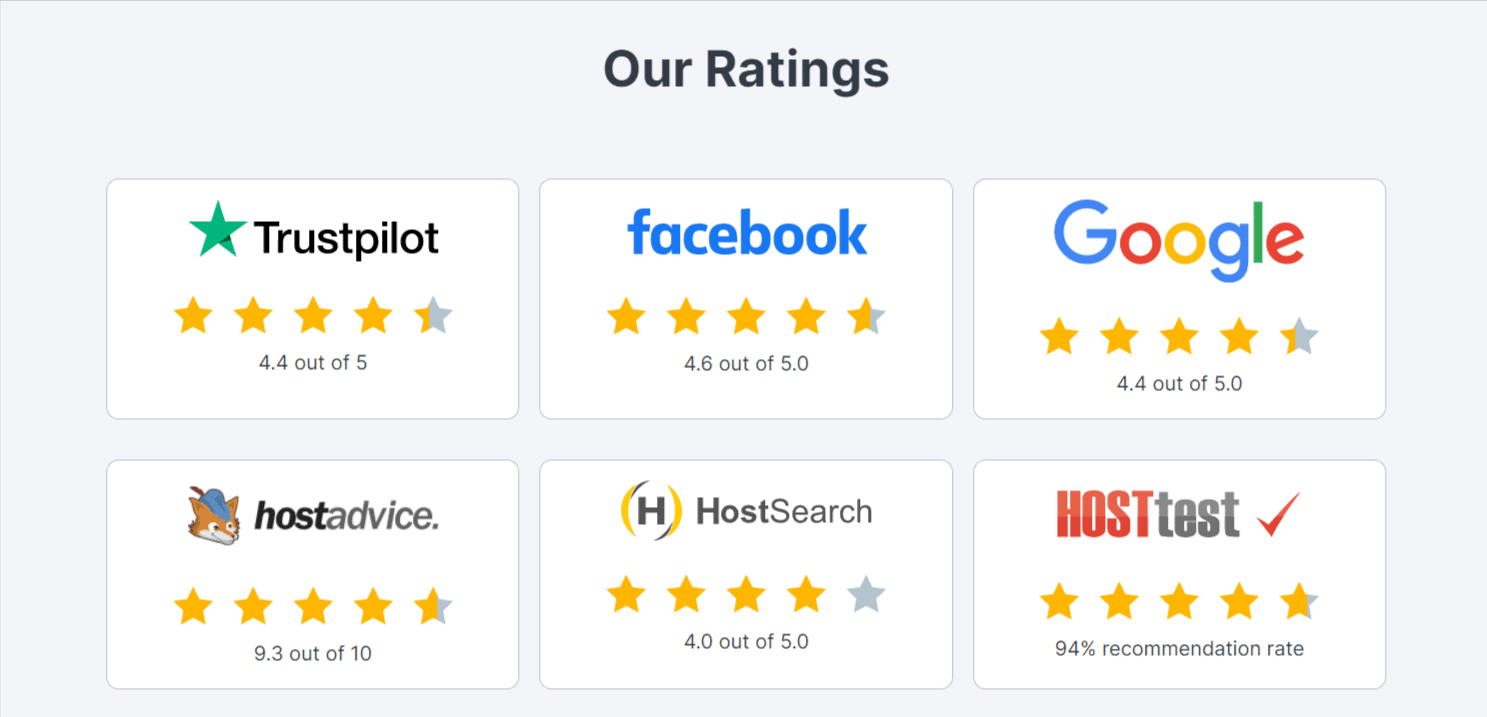 Contabo Review: Pros & Cons
Pros:
Contabo is a web hosting platform which offers colocation services to its customers

It is straightforward to do scaling with Contabo

Contabo comes with a variety of products for its customers

It is too cheap to beat pricing of any other hosting provider
Cons:
The most significant disadvantage of Contabo is that one can not buy domains without investing in its hosting plans

You need to have good understanding of Cloud servers to run a server
Also Read: Other VPS Hosting Reviews
Frequently Asked Questions
How can I install scripts?
There is an option for a one-click installment, which shall help you select from over three hundred web applications at Contabo and install them quickly.
Can you help me understand Port Speed Information better?
In simple terms, the port speed is the maximum speed that one can use during the to and fro transfer of data from the server. It means how quickly you can make the transfer of data in your dedicated server. However, we would like to tell you something here. It would be best if you did not get confused between port speed and unlimited bandwidth. They are different from each other.
If I wish to check the Data Centers' current status for any service interruption, how can I do so?
Service interruptions are a rare case scenario at Contabo. However, you can easily log in to the status tab on our website to have a look at it.
Do you offer Dos protection?
The DDoS protection is complementary to all our web hosting packages. It will get activated automatically, and the customers need not pay us separately for that. It is added by default.
If I wish to purchase any plans and do not have a PayPal account, what shall I do?
Well, to purchase any plans or packages, a PayPal account is not a compulsion. If you are a resident of Europe, you can easily use your credit or debit cards or even do a bank transfer. If you are making a payment in dollars, you can use a credit card
Deploy a VPS for just $6.99/mo
Conclusion: Contabo review
To summarize Contabo review has been stated so far, Contabo is a professional web hosting platform. The data centres were primarily based in Germany, which is now being planned to expand over central Europe.
The customers of Contabo are always booked in for long-term services and good quality support for any and all technical problems that they face while hosting over Contabo.
Deploy a VPS for just $6.99/mo