Building a funnel takes a lot of work. You need to know how to code, you need to know how to design, and you need to know how to market. Even if you can find all the right pieces, putting them together is daunting. The learning curve is steep, and it's easy to make mistakes that can cost you time and money.
Marketers designed FlexiFunnels for marketers. They take the guesswork out of funnel building so you can focus on what you do best – marketing your product or service.
With their simple drag-and-drop builder, you can create high-converting funnels in minutes, not hours. And their award-winning customer support team is always there to help when you need it.
Let us understand more about FlexiFunnels in my honest FlexiFunnels review.
What is FlexiFunnels?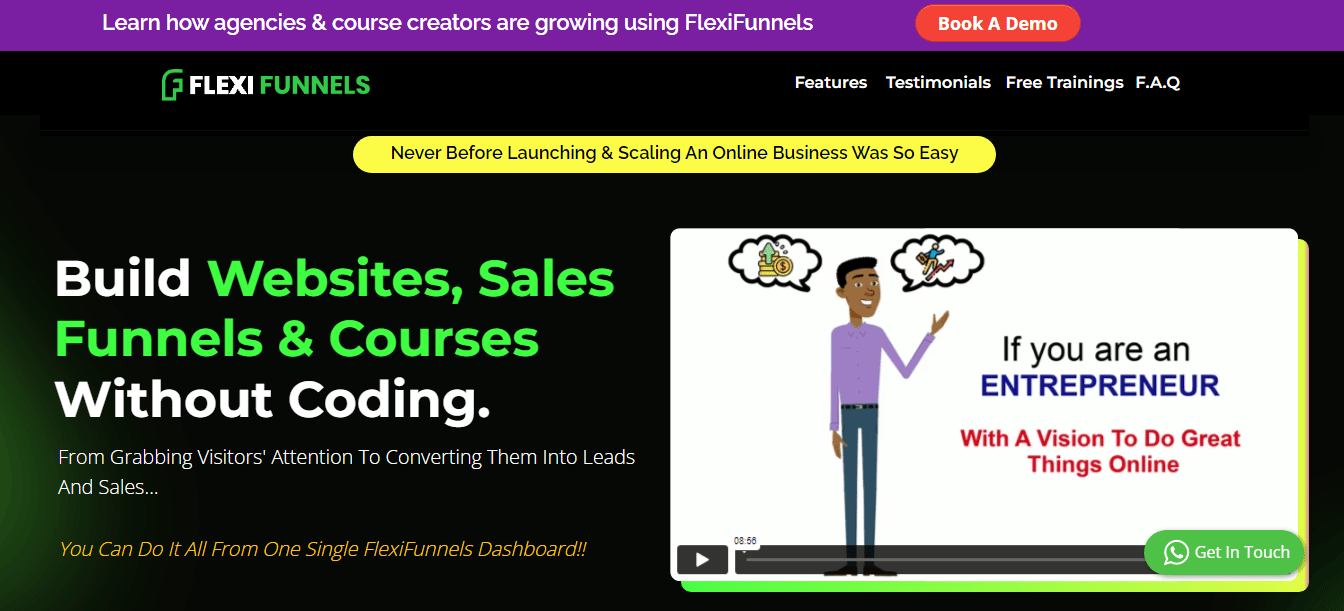 FlexiFunnels is a comprehensive platform that provides tools and resources for online marketers, beginners, agency owners & local businesses to grow their businesses and increase their sales online.
With FlexiFunnels, you can easily create and sell digital products, host and sell courses, make high-converting websites & funnels, and build and launch your entire online business even if you have never done it before.
The platform offers a simple drag-and-drop page builder, a range of ready-to-use pages, websites, and funnels, and various features such as automatic SSL, cart abandon data and automation, piracy-protected courses, and a leads & sales data reporting dashboard. 
In addition, FlexiFunnels offers a range of integrations with payment gateways, autoresponders, webinars, and more, along with super-fast CDN hosting and advanced analytics. Whether you're a seasoned marketer or just starting, FlexiFunnels provides everything you need to grow your business and reach your goals.
Who Can Use FlexiFunnels?
Social Media Influencers
FlexiFunnels provides a great opportunity for social media influencers to automate lead generation through high-converting landing pages & profitable funnels and to create and sell their products & services to the world.
You can create ebooks & courses, launch your boot camps, sell your services & much more. By doing so, social media influencers can earn an additional income stream.
Bloggers
As a blogger, FlexiFunnels offers a chance to increase your income by creating lead-generation funnels or selling quick products on your blog. With its high-converting templates, FlexiFunnels makes it easy to sell products and create effective lead-gen funnels.
Course Creators
For course creators, FlexiFunnels is the perfect solution for hosting and selling your courses. All the courses are fully piracy protected so you don't face any revenue loss due to course piracy. Plus they have super advanced features with detailed training on how to set up & launch your course profitably.
Affiliate Marketers
Affiliate marketers can use FlexiFunnels to create bridge funnels, lead generation funnels, and nurturing funnels to automate their affiliate marketing sales. Not just that, you also get advanced features with detailed Affiliate Marketing training which you can use to generate massive profits with your affiliate marketing efforts.
Local Businesses
Almost 80 percent of respondents said they conduct online research before making large in-store purchases, according to the 2017 Retail Dive Consumer Survey."
FlexiFunnels allows local businesses to get online and grow their business through its simple drag-and-drop technology & pre-made landing page & website templates using which you can take your business online effortlessly & start getting sales, orders & appointments for your business.
It gives local businesses everything that they need to sell their products & services online.
Network Marketers
As a network marketer, lead generation is a crucial aspect of your business. FlexiFunnels offers advanced marketing features that help you generate more leads, resulting in more sales for your business.

Digital Marketers
As a digital marketer, you need the best tools in the market to maximize and generate results for your clients & your company. FlexiFunnels provides you with all the advanced features you need to achieve the best results for your clients.
Newbies
If you're new to marketing and sales, FlexiFunnels can help you get started. With its client-getting workshop, you can learn how to get clients and start offering website, funnel, and course creation services. Additionally, FlexiFunnels is a great platform to launch your product ideas into the online world.
Product Owners
Product owners can use FlexiFunnels to increase leads and sales through its advanced marketing and sales features. With its user-friendly interface, FlexiFunnels has helped many product owners see an instant 2X growth.
Also, you can directly get your digital products(up to 3 MB) directly delivered to your subscriber's mailbox without needing any email marketing tool.
Agencies
Agencies can deliver superior results to their clients with the help of FlexiFunnels. With its high-tech security, speed, and advanced features, FlexiFunnels is a great tool for agencies looking to grow their business, acquire & work with high-ticket clients, and charge more for their services.
Freelancers
As a freelancer, FlexiFunnels offers a great opportunity to generate income by working on projects for clients. With an average pay of $500-$3,000 per website, funnel, and course creation project, FlexiFunnels is a valuable tool for freelancers looking to grow their businesses.
FlexiFunnels Plans & Pricing
Several factors must be considered when deciding which pricing plan to choose between the Professional Plan and Premium Plan offered by FlexiFunnels.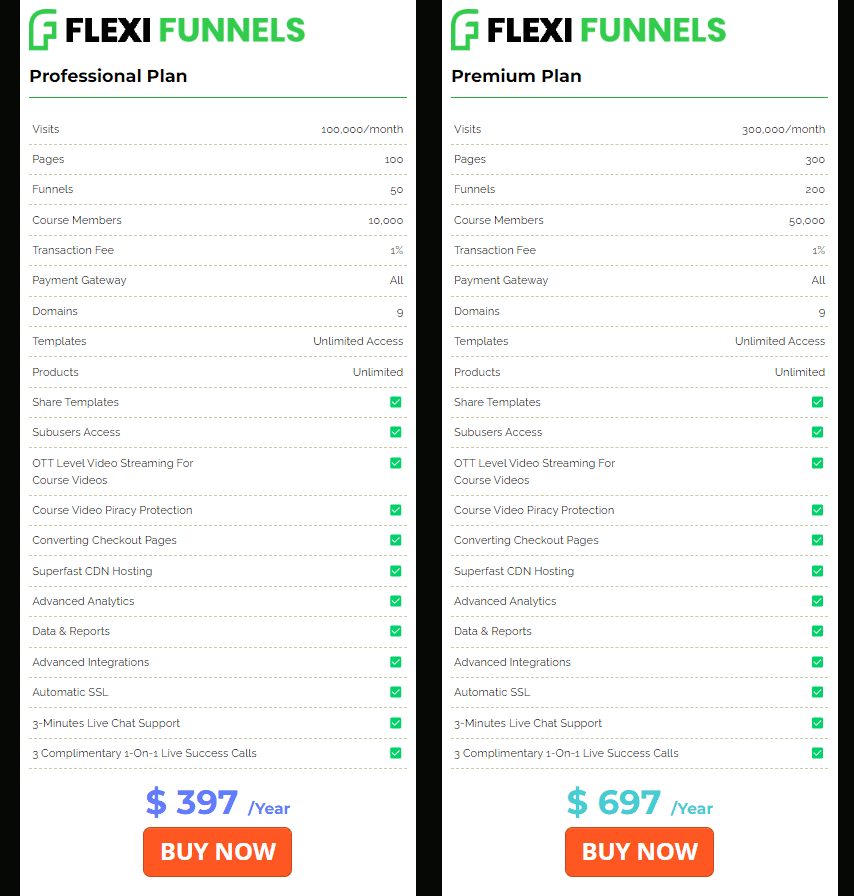 Professional Plan: It offers 100,000 visits, 100 pages, 50 funnels, 10,000-course members, a 1% transaction fee, access to all payment gateways, 9 domains, unlimited access to templates, unlimited products, sharing of templates, sub-user access, OTT level video streaming for course videos, course video piracy protection, converting checkout pages, superfast CDN hosting, advanced analytics, data & reports, advanced integrations, automatic SSL, 3-minutes live chat support, and 3 complimentary 1-on-1 live success calls.
Premium Plan: It offers 300,000 visits, 300 pages, 200 funnels, 50,000-course members, a 1% transaction fee, access to all payment gateways, 9 domains, unlimited access to templates, unlimited products, sharing of templates, sub-user access, OTT level video streaming for course videos, course video piracy protection, converting checkout pages, superfast CDN hosting, advanced analytics, data & reports, advanced integrations, automatic SSL, 3-minutes live chat support, and 3 complimentary 1-on-1 live success calls.
The choice between the two plans depends on the scale of the business, and it's specific needs. The Professional Plan would suffice if the business is small-scale and has a limited number of course members. However, if the business has a larger number of course members, it is best to opt for the Premium Plan.
In conclusion, it is best to assess the needs of the business and make a decision based on those needs. Both plans have advantages and limitations, and the right choice will depend on the business's unique requirements.
Want To Know How FlexiFunnels Saves You $$$$$ Compared To Others?
FlexiFunnels is not just a funnel builder, but it also offers advanced CDN hosting and detailed data reports and analytics. All of this by spending only $397 per year.
So, instead of spending thousands of dollars on purchasing different software for different purposes, FlexiFunnels offers everything under one roof.
How To Get Started With FlexiFunnels?
Step 1: Visit FlexiFunnels official website, and click on the "Get Started With FlexiFunnels Now" button.
Step 2: You will automatically get scrolled down to the pricing section. Here, you can choose between FlexiFunnels Professional and Premium Plan. Click on the big red button "Buy Now".
Step 3: Enter your name, email, and phone number to sign up. Check the order value which would be INR 29500. You can choose between Cashfree or Razorpay payments. Click on Complete Order and complete the payment process.
Once you have been successfully billed for the plan you have chosen, you will receive an email confirmation.
You are backed by a 30-day money-back guarantee. So, if you don't like the tool, you will get a refund.
Step 4: Log into your FlexiFunnels account with the account credentials received in your email. To log into your FlexiFunnels account, visit https://app.flexifunnels.com, enter your email address & password, and click on Login.
You can now explore your FlexiFunnels account with all the features to boost your sales. With simple drag-and-drop functionality, you can create a website, sales funnel, or courses – no coding skills required.
You will now see your FlexiFunnels dashboard just like the one shown below.
When you log into your FlexiFunnels dashboard, you will see the onboarding checklist. You can either continue with the onboarding checklist or skip it.
FlexiFunnels – Features That Set It Apart
Rigorous Testing
FlexiFunnels has undergone a thorough testing process to ensure that it is the best possible product for your online business. A 9-member testing team has been working for the last 11 months, testing the product 9 times daily to iron out any issues.
Beta Testing with 1,500+ Users
FlexiFunnels has already been beta-tested by over 1,500 beta users who were students of Saurabh. This has allowed the team to monitor how the product is being used and to make any necessary improvements.
Reliable Website Performance
The backend app development and front-end pages of FlexiFunnels customers are stored on separate servers. This means that even during backend development, your website won't experience any downtime.
Automatic SSL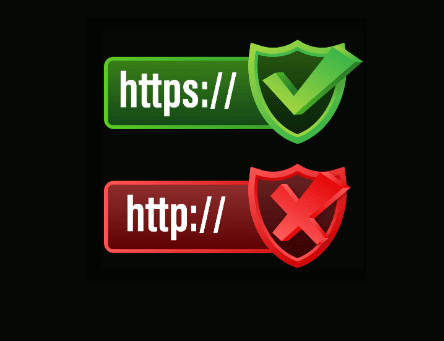 All pages and funnels built on FlexiFunnels are automatically SSL-enabled, ensuring your potential customers see a secure page when they visit your website and boosting trust.
DDOS Protection
FlexiFunnels ensures the security of your pages with DDOS protection, keeping your business safe from attackers.
AWS Auto-Scaling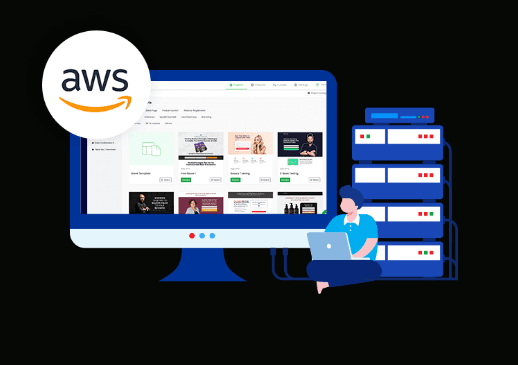 The AWS auto-scaling queue structure ensures that all processes run smoothly, even as your online business grows, and that your data is always secure.
Fast Loading Pages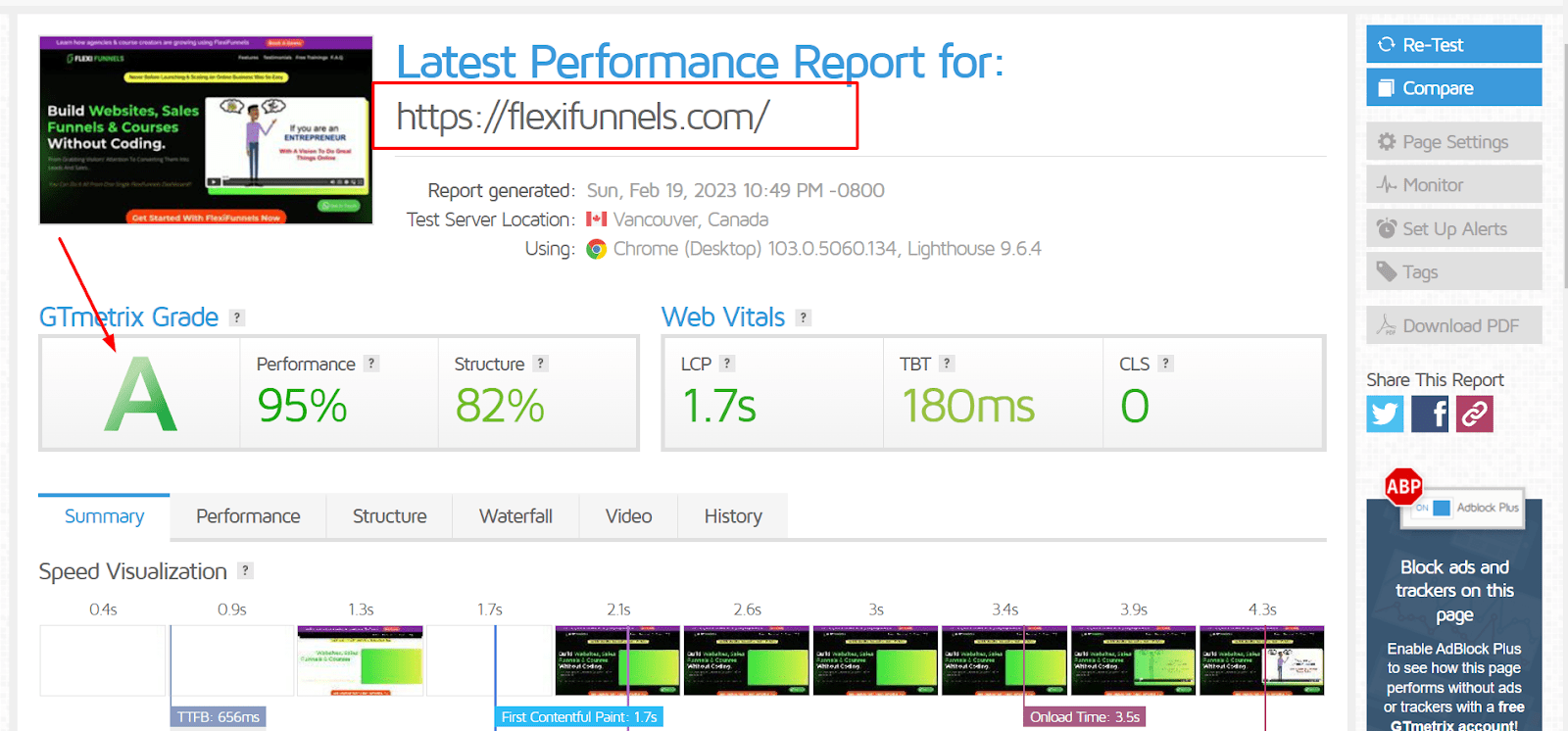 FlexiFunnels uses the fastest hosting servers and advanced optimization techniques to ensure that your pages load quickly and smoothly. The technology auto-applies all the optimizations recommended by tools like GTMetrix and Google Page Insights.
Advanced Optimization
The team has also implemented the fastest loading CDN, ensuring that your pages are quick to load, no matter where they are accessed. You also have access to conversion-boosting features such as upsells, down sells, coupons, cart abandonment features, bump offers, timers, subscription payment options & multiple payment gateways on checkout & sales pages to hyper-optimize your sales & revenue
Advanced-Data Reporting
How will you grow your sales and conversions if you don't have the data?
This is where FlexiFunnels advanced reporting and analytics help you with your revenue stream. The advanced analytics dashboard includes important KPI's to help you analyze each part of your sales funnel.
The dashboard shows your page, sales page, and checkout page views. It also shows total sales, unique orders, AOV, sales & checkout page conversion rate, Gross revenue, etc.
Full Piracy Protection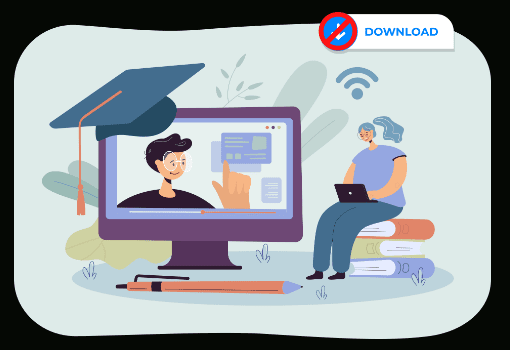 Nobody wants to see their course leaked and get sold as a pirated version. When you create a course with FlexiFunnels, your videos are encoded, so no one can download them. This feature is available only for paid courses. With FlexiFunnels, your company will grow its revenue with complete piracy protection.
400+ Done For You Page Templates
Save your time with over 400+ pre-made templates to create any page you want. In seconds, you can choose a template for your niche and start customizing it to make it awe-inspiring.
Once you are ready with your page, you can connect it with a payment gateway in one click. You can then start selling your course and collect payments.
How To Earn Money From FlexiFunnels?
FlexiFunnels is a powerful platform that provides different website and funnels creation tools, course creation, and online product sales. With its drag-and-drop landing page builder, anyone can create a high-converting website or funnel without needing coding skills. Furthermore, the websites created with FlexiFunnels are fully mobile-responsive and optimized by default, ensuring fast delivery and low bounce rates for maximum conversions.
For those looking to share their knowledge with the world, FlexiFunnels offers an easy-to-use course creation tool, allowing users to host, manage, and sell their courses online. They can manage everything from creating their course to getting paid, all without any coding required.
In addition, FlexiFunnels provides an effective platform for selling products online, with its landing page builder that can be used to create landing pages for digital or physical products. With its high-converting checkout pages and integration with various payment gateways, users can start selling their products and receiving payments directly to their bank accounts.
The checkout pages are fully customizable, with the ability to add image/video testimonials, timers, content, designs, and retargeting codes, among other features. The platform's advanced tools, like bump offers and a cart recovery system, help to increase the average order value and minimize lost conversions.
Finally, FlexiFunnels also allows users to start their digital marketing agency, providing website and funnel creation services to clients. With its ready-to-use templates and the ability to deliver projects in just a day, users can quickly provide high-quality services to their clients and start earning money. The platform provides complete training for implementing its various tools and features, making it accessible and straightforward for users to get started.
FlexiFunnels – Customer Support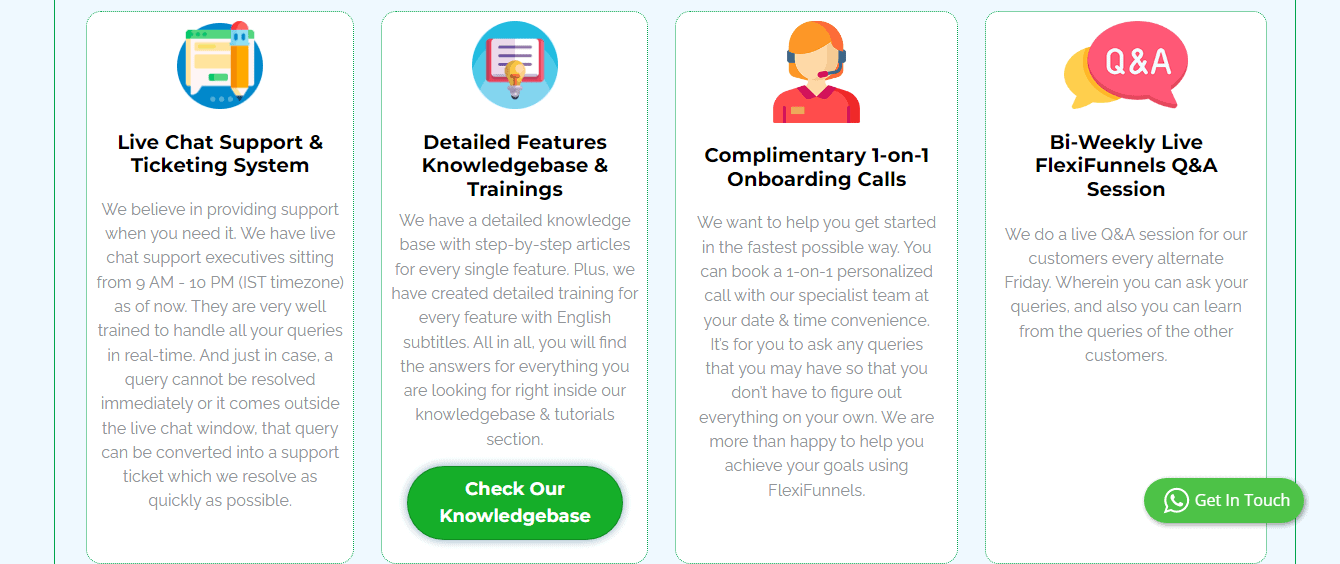 FlexiFunnels is focused on providing the best customer support possible. With a range of resources and services available, you can get the help you need to maximize your use of their platform.
Bi-Weekly Live Q&A Session
FlexiFunnels hosts a live Q&A session every other Friday where customers can ask and learn from other users' questions. It is an opportunity to get real-time answers to your queries and connect with the FlexiFunnels community.
📲 1-on-1 Onboarding Calls
Starting with FlexiFunnels doesn't have to be complex. The team offers personalized 1-on-1 onboarding calls so you can ask questions and get the guidance you need to get started quickly and smoothly.
📚 Knowledgebase & Training
For detailed information on each feature, FlexiFunnels provides a comprehensive knowledge base with step-by-step articles and thorough training with English subtitles. All the information you need is readily available at your fingertips.
💬 Live Chat & Ticketing System
FlexiFunnels' support team is available via live chat from 9 AM – 10 PM (IST timezone) to answer your questions and resolve any issues in real-time. If you need additional help, you can submit a support ticket for a quick resolution. The support chats are also open on Sundays from 9 am to 6 pm to help you with any doubts.
Why Do I Recommend Using FlexiFunnels?
🛒 Cart Abandonment Feature
With FlexiFunnels, you can access a cart abandonment feature. This means that if a customer tries to make a purchase but fails to complete it, FlexiFunnels will send an email asking them to complete the payment, which can significantly increase your revenue.
🛡️ Automatic SSL for Free
FlexiFunnels offers an SSL certificate for your website, which is crucial for website trust and engagement. This feature helps attract more customers to your website and is free.
📊 Sales Reporting Dashboard
FlexiFunnels provides a sales reporting dashboard that allows you to monitor your sales and track the growth of your business. With this feature, you can easily track your revenue and the potential visitors you attract.
📇 Contacts Centralization
The FlexiFunnels dashboard provides a centralized view of all the contacts generated during sales and promotions. This feature ensures privacy; no one else can view or challenge your contacts.
🚀 SEO Optimization and Meta Tags
FlexiFunnels provides SEO meta tags, which are essential for SEO and enable search engines to determine the content of your page. With FlexiFunnels, you can set SEO meta title tags and descriptions for your landing page and rank higher on search engines.
🔗 Connect Custom Domain
FlexiFunnels lets you map your custom domains, allowing your pages and funnels to be hosted by FlexiFunnels but still run on your domain. This makes it incredibly easy to use and takes only a few minutes to perform.
Create Digital Assets
With FlexiFunnels, you can create digital assets, such as PDFs or RK studies, and provide them to subscribers or buyers within the FlexiFunnels ecosystem. This eliminates the need to redirect buyers to external links or Google Drive.
📧 Automated Emails
FlexiFunnels allows you to connect with your favorite autoresponder tool or email marketing tool, allowing you to send follow-up emails to your leads automatically. With this feature, you can create email sequences easily and improve your conversion rate.
Automatic Split-Testing
FlexiFunnels provides an automatic split-testing feature that enables you to create multiple copies of your pages and test their conversion rate. This feature saves time and effort and helps you optimize your pages for conversions.
📱 Mobile-Responsive Pages
All pages designed on FlexiFunnels are fully mobile-responsive, eliminating the need to adjust any settings or struggle with coding. This expands your business to different types of customers, including mobile and computer users.
400+ Done-for-You Templates
FlexiFunnels provides 400+ done-for-you landing pages, which you can customize with your product details and start earning revenue without hassle. The templates are categorized into different categories, such as lead gen page, webinar registration page, sales page, and more, to help you choose the perfect fit for your product.
FlexiFunnels Pros and Cons
PROS 👍
Advanced data reporting dashboard
Subuser access
Client training
Fully mobile responsive pages
Automatic SSL and 3-minute live chat support
Page conversion stats and advanced analytics
Custom CNAME and integration with payment gateway
Fast CDN hosting.
Easy no-coding drag-and-drop builder.
400+ ready-to-use templates.
High-converting checkout pages with testimonials, timers, coupon codes, etc.
Include bump offers on your sales page.
Host & sell courses with advanced safety like piracy protection.
Seamless integrations with Email marketing platforms. Includes Active Campaign, Mail Chimp, SendLane, Constant Connect, AWeber, GetResponse and iContact
Operates on any device from anywhere, including Windows & Mac.
100% DDoS protection.
CONS 👎
There is no free trial.
Newbies will need to spend some time on the platform to get used to it.
FAQs
Is there a free trial?
There is no free trial, but a 30-day money-back guarantee ensures your money is safe.
Does the license include updates?
Yes, until you keep renewing your FlexiFunnels subscription, you will receive automatic updates.
Do I need to wait for my FlexiFunnels account activation after payment?
You can access your FlexiFunnels account immediately after your payment is successful. No more waiting hours, simply login to your account and start building your sales funnel a breeze.
Is my data secure?
FlexiFunnels protects your videos and data from piracy and also provides 100% DDoS protection. Your data is only visible to you inside the analytics dashboard and nobody can peek into it.
FlexiFunnels Review Conclusion
FlexiFunnels Funnel Builder is an incredibly powerful tool that allows even the least tech-savvy person to quickly and easily create effective marketing funnels. Their library of pre-made page templates is great for people who need help in a hurry or have limited technical knowledge.
Still, their flexibility and customizability mean that any business can build something unique and tailored to its needs. I have been very impressed with this software and highly recommend it to anyone looking to improve the effectiveness of their funnel creation process plus, they also give you a 30-day money-back guarantee.
Investing the time and effort in getting to know FlexiFunnel will pay off – you'll see results before you know it!
If you still have any doubts regarding FlexiFunnels, you can book a demo call or ask your queries directly from FlexiFunnels experts. They're supportive & are specialized in solving any online business problems.