Kinsta has been a good platform for a long time. They are reliable and provide adequate support to their users. Sometimes you can feel immersed in a platform, giving you a sort of limited worldview. So if you want to shake things up a bit, you can look at many alternatives similar to Kinsta in many aspects but still give you the thrill of something new.
What is Kinsta?
To understand what kind of value Kinsta alternatives bring, you need to first take a look at Kinsta.
Kinsta has been a significant player and has made quite a name for itself in the last few years. Four or five years back, the company changed quite a bit and made aggressive decisions regarding prices. Apart from all the features that a user can get from a managed WordPress hosting service, you also get access to the Google infrastructure as the hosting service is built on Google Cloud Platform.
Kinsta offers its new users the chance of free migration, which has been the norm for the last few years.
Due to being powered by Google Cloud Platform, the other technologies used in the service are also the latest like PHP 7+, HTTP/2, and NGINX, etc.
The security of Kinsta is quite good as it offers security features such as DDoS detection and firewall. Login hardening features will be quite useful too.
You will get back up options, too, and schedule them at your convenience.
Kinsta will give its users access to a custom-built dashboard, and the website can be managed from that easily.

Kinsta has attractive prices though they are still slightly high, considering overall services it is good. As the secret to their success is a decline in prices, they know how to be competitive.

The support provided is good, and you will get little response time. One thing that's missing is support through phone.
Best Kinsta alternatives for WordPress hosting
Here are some of the Kinsta alternatives:
Cloudways is a premier managed cloud hosting provider where you get an option to deploy a server on your favorite cloud infrastructure provider. Sky is the limit because it comes with vertical scaling option and auto-scaling with AWS cloud servers.
It has been long ever since I am using Cloudways to host several sites on a single cloud server. The best perks of their service is that you get the top-notch performance and the best technical stack to support your WordPress sites.
Not just WordPress, you can deploy anything (Joomla, Magento etc) once you deploy a server with Cloudways.
Talking further about the pricing plans, you can expect the cheapest ever managed hosting because you're charged for the numebr of servers you deploy. There is no limit on the number of applications you can host on a single server as long as you've enough resources on it.
Cloudways is the best when it comes to talk about managed DigitalOcean hosting. Not just that, you can deploy a server on AWS, Google Cloud Platform, Vultr or Linode as well.
Templ is one of the cheapest WordPress hosting platforms built on the top of Google Cloud. You get the same speed and scalability that of Google's own infrastructure. They have been offering free migrations and speed-optimization for users who migrate to Templ from a different provider.
I have also written a review of the Templ WordPress hosting platform to show you all of the amazing features and how to set up a website quickly.
The website you host with Templ is stored on compute-optimized cloud servers on Google's infrastructure.
Templ pricing starts from as low as 15 USD per month which is almost half of the Kinsta pricing.
Templ also offers a Hacked site guarantee. They will try to remove the malicious code and restore your website in case it is hacked.
WPX Hosting is one of the popular WordPress managed to host services. Started as a Traffic Planet Hosting service, it has changed quite a bit over the years. If you aim to get a hassle-free experience, you should try this one out. WPX Hosting is a very with an e-commerce website and can handle the variable traffic with ease. Many big e-commerce sites and online stores use this platform.
WPX Hosting gives you the option of a free migration with certain limits depending on your chosen plan.
As it is easy to use for beginners, it does have issues for more advanced developers. They don't get every feature due to the simple layout making it a problem.
You will also get free SSL certificates and can activate them as per your convenience.
You also get the options to add e-mails, and the management system is also not that hard to understand.
DDoS protection is the main point in the security section, and the timely inspections are also helpful.
The price is not too high, and when you compare with other services, it comes out right and less expensive.
Must read: Best web hosting plans and companies in Australia
Flywheel is newer in the market as compared to other managed WordPress hosting services. They have a different approach to others as they are a perfect platform for beginners. Small business owners, freelance bloggers, and people trying to get on the internet map for the first time should consider Flywheel as one of the options. Also, creative people tend to gravitate towards this platform.
Security issues are solved quite quickly, and the response team gets back to you immediately with the remedy provided free of cost.
Even though it has automatic backups during off-hours, you still can get back to a certain point according to your ease.
It has a pretty basic layout, which makes it quite a popular option for beginners.
The support team will help you in tackling different situations that arise while working. They do have a grip on most things.
The page load time for this service is perfect, and you are almost guaranteed to work with the plugins of your choice.
The basic packs are relatively cheap, and if you are starting, you can go for Flywheel.

As you start to expand your business, you will find the service getting expensive, which is the norm, but it is still expensive than other platforms, so it is a thing to bear in mind. Also, some of the features are charged additionally.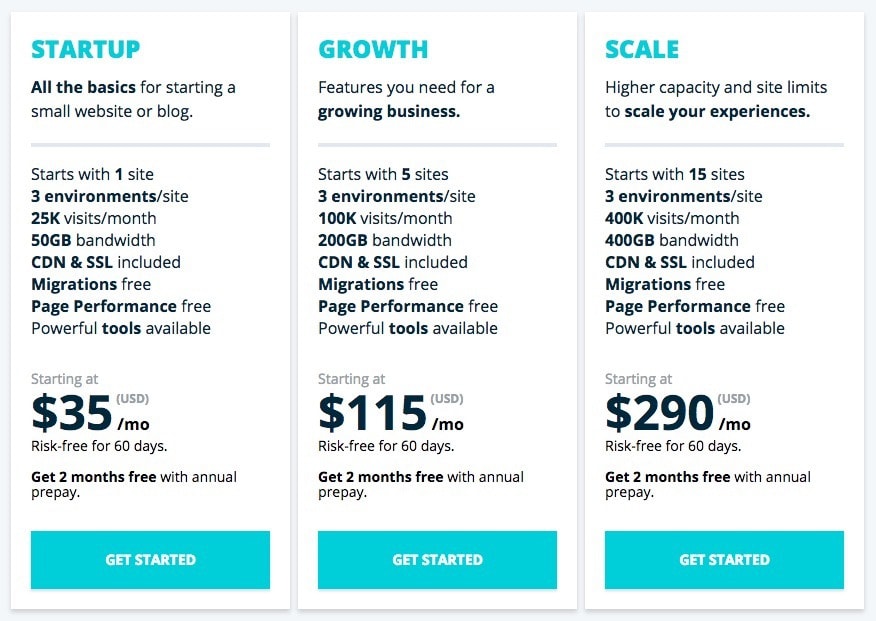 WP Engine could be considered as the most appropriate alternatives to Kinsta. You get a whole lot of options when you use this platform. Other than that, you do get the option to choose between shared hosting services and cloud hosting. Users depend on this platform as WP Engine tends to have features that make developing websites easy. You also get high speed on this platform.
The benefit of a staging area will be provided to see the changes before making them live. This tool will be very beneficial for creative people.

Migration to WP Engine is free and will also have the benefits of getting free SSL certification. Other than that, you also get CDN ready with a click.

A tool called 'hacking scan' will keep you on the safe side. If ever your website gets hacked, the team of WP Engine will restore it for free.

WP Engine has its cache technology called Ever Cache, which can reduce flexibility in the case of plugins.

You will get quite good support from the support team. They are among the best in terms of reliability and speed.

'One-click restore point' will have you to be creative and free-flowing as you can undo all the changes and get to the initial point at once.

The price does get high in WP Engine, but considering the quality of service and all the features, one can say that it is fair enough.

The best part about WPEngine is that you get to choose any of the premium Genesis child themes
FastComet did start as an ordinary service provided by a newish company, but they have been able to make their brand bigger over the years. The reason behind the growth has been constant improvement and good uptime of websites on their platform.
Content Delivery Network or CDN is available for free so that your website can load up from many servers quickly.

You will get one of the most popular control panel parent in the WordPress website i.e., cPanel. It does take a little time to get used to it.

FastComet guarantees you 100% uptime. They deliver on their promise, and your website will load up from other servers if there's a problem in one.

Recovery is also very smooth if you find your website getting hacked or any other issue taking it down.

Talking about servers, you do get multiple options to choose from the list. There are eight significant servers that you can choose based on your audience.

Customer supports fantastic in case you want any of your issues resolved. You are also supported if you're going to make any particular changes to your website.

You also get SSL certificates that too free of cost.
LiquidWeb has been in the market for over two decades and can do website hosting for you other than WordPress websites. They do provide different servers for WordPress websites. LiquidWeb offers WordPress hosting in a different brand name called Nexcess.
Indeed, the pricing is reasonable and cost-effective while making sure that you get all the essential premium add-ons.
You do not have any restrictions on page views on any plan. This allows you to have a free-flowing website instead of worrying about the limit.

SSL certificates will be provided to you that too free of cost. This can benefit you in visitor data transfer.

You get all the latest technologies and features on your WordPress managed website. Nginx, PHP 7, and many others, you name it, you have it.

The benefit of a staging area will also be provided to you to unfurl your creative self and do not worry about messing things up.

You do premium support from the team of LiquidWeb. Also, the response time is quite good after you get a ticket.
Finding the Best Kinsta Alternative
So, here I compiled a list of the best WordPress hosting plans that can replace your ongoing Kinsta commitment. If you are happy with Kinsta but still feel that others could provide more reliability or comfort, you can choose from any one option in the list.
Below are my views on Kinsta alternatives for a different purpose:
The Best Kinsta Alternative: Templ
The Cheapest Kinsta Alternative: Templ
New Kinsta Alternative: WPX Hosting
Oldest Kinsta Alternative: WPEngine
This brings a comma to our Kinsta alternatives. But I will not stop the research and continue adding more competent hosting providers to the list. Do let me know what made you switch from Kinsta and which hosting you settled on, in the comment section.