In search of the best WordPress host, we have come to a point where I made a comparison of Kinsta vs Templ Hosting.
These two platforms have a very good name in the WordPress hosting world. However, this article is to determine which is a better hosting – Kinsta or Templ?
It is not easy to compare these two platforms, so let us dive into an in-depth review of both the WordPress hosting providers.
By comparing all the features as well as the price at which these features are provided, you can decide which hosting is better. So let us delve into the world of Kinsta vs Templ Hosting.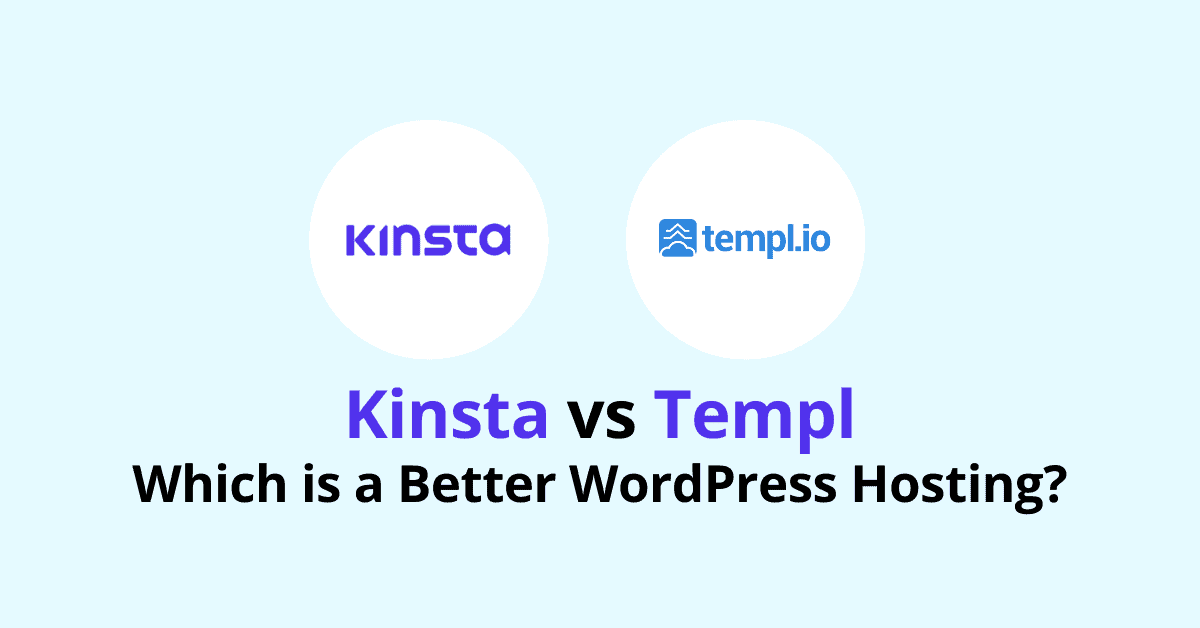 Kinsta Introduction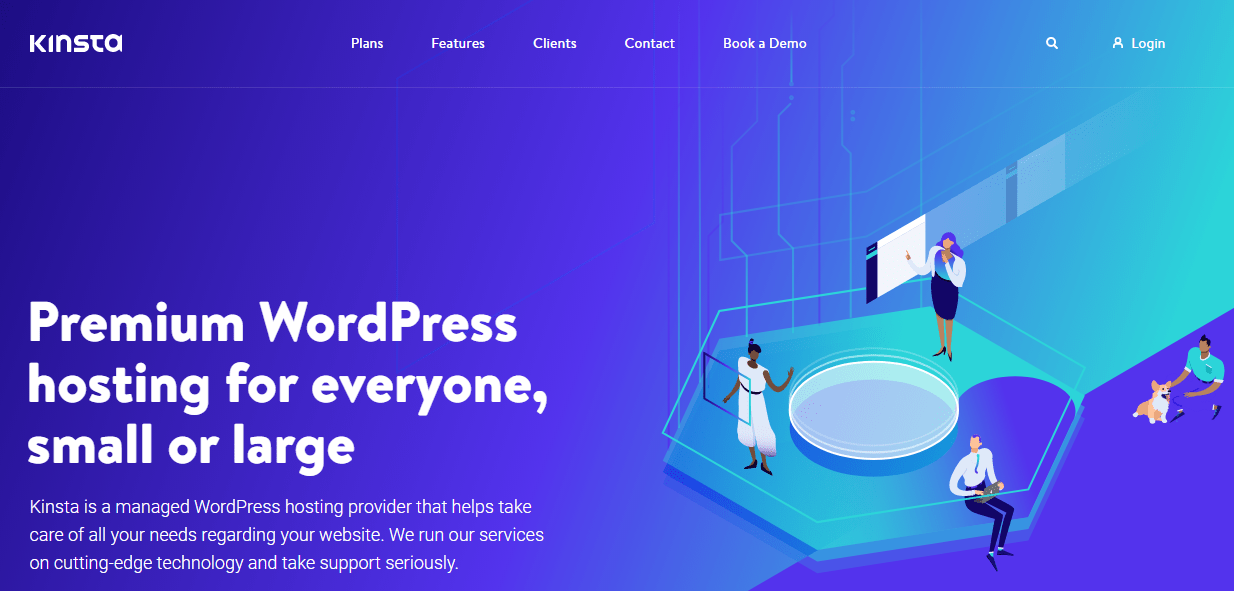 Kinsta was founded in 2013 with a single-minded goal to create the best WordPress hosting platform in the world. The real power of Kinsta lies in its diversity.
All the Kinsta employees come together from different walks of life on a unified platform. The common thread among all of them is the obsession with WordPress.
It supports local communities, sponsors WordCamps & meetups, and contributes to WordPress core development in order to give back to the society.
Check Kinsta Pricing
Also Read: Kinsta Alternatives
Templ Introduction

Templ was established in 2017 in Stockholm, Sweden. It focuses on WordPress hosting as well as WooCommerce hosting.
The goal of the Templ team is to provide hassle-free, and fast hosting services for both these platforms, so that the clients can concentrate on their business.
By partnering with Google Cloud Platform, Templ has managed to accelerate the speed of websites.
Take a trial of Templ Hosting
Also Read: Templ Review
Services Offered by Templ:
Templ provides hosting services for managed WordPress websites, managed WooCommerce, and Hosting for Agencies.
Services Offered by Kinsta:
Kinsta provides managed WordPress Hosting, WooCommerce Hosting, Enterprise Hosting, and Agency hosting.
Kinsta vs Templ Hosting: Feature Comparison
We won't be able to decide which hosting Kinsta or Templ is better if we do not compare the distinctive features of both the companies on a single hosting service.
Let us compare both the companies based on their WordPress hosting features.
The features provided by the platform makes it unique and worth the money paid. It also says a lot about the working culture of the company. Let us look at the features provided by both the giant hosting companies to their WordPress users.
Speed
Kinsta is obsessed with speed. The whole architecture of the platform is built on the basis of speed & performance.
It uses technologies like Nginx, PHP 7.4, LXD software containers, MariaDB, and compute-optimized VMs, so that the sites load at a lightning speed.
The resources are completely isolated to give the user a high-performance website. It also gives automatic scalability and high availability to its users to improve the website speed.
The data centers are located in 24 different locations around the world and are supported by Google Cloud Platform.
Templ Hosting has partnered with Google Cloud Platform to rent the CDNs in order to speed up the websites managed by it.
It provides tools to its users for creating a website in minutes. Instead of Apache, a preferred choice of most hosts, Templ uses Nginx server software. Nginx uses less memory which in turn increases the speed of loading of your website.
Also, instead of MySQL, Templ uses MariaDB which gives better performance. The latest version of PHP is employed to get a high speed.
If you want to increase your speed further, then you can get advanced speed features at extra cost .
Both platforms provide excellent speed. However, Kinsta gives better loading speed, and hence Kinsta gets our vote.
Migration:
If you are a new user, migration will not be an issue for you. However, if you are already using some platform and want to switch to some other platform, you will need a reliable migration for your data and your website.
Kinsta:
Kinsta provides its new users free migration to assist them to switch over to Kinsta at no cost. This platform has won the Easiest to do Business with Small Business Award for summer on G2.com.
Templ:
Templ also provides free migration to all its users for an unlimited number of websites.
Hence, both the platforms are at equal position in this comparison, and we can't rank one of them higher as far as migration is concerned.
Customer Support
Sometimes it becomes difficult for a user to solve an issue related to their WordPress site. The client cannot be expected to have WordPress knowledge, or for that matter an internet savvy.
Strong customer support can help such clients to resolve their issues without further problems. Let us compare customer support for both and see which one is better between Kinsta vs Templ hosting.
Kinsta:
Kinsta employs a customer support team of WordPress experts & enthusiasts. You can reach the customer support team by either email or through live chat available 24/7.
Also, there is a vast knowledge-base shared with the users to manage their WordPress site.
Templ:
Templ provides 24/7 customer support through email and live chat. If you call during business hours, it takes up to 5 minutes for Templ customer support to respond, but outside business hours, it can take up to 15 minutes.
The customer support team is an expert in WordPress management. Templ also provides free training to its users for WordPress.
I believe Kinsta has won this round because of the award-winning support to its clients.
Security
Security is one critical aspect of WordPress Hosting. Without adequate security, your site will be open to vulnerable attacks, and hackers. The result is as expected, your website will be down and you will lose business.
Kinsta:
Kinsta takes active and passive measures to protect your website and your data. Continuous monitoring for uptime, DDoS attack detection, malware scanning, SSL support, and hardware firewalls are provided by Kinsta for the purpose of security.
Your site will be monitored 24/7 for keeping it safe. Additionally, daily backups are provided in case you lose your data due to unforeseen circumstances.
Templ:
At Templ regular scanning of malware is done. If your website is affected by malware, you will get assistance to remove it.
It also helps you if your website is loading slowly, or there's a bug that doesn't load your site at all. Automatic backups are taken daily in case you lose your data.
The websites are checked every 3 minutes for maintaining uptime.
As far as security is concerned between Kinsta vs Templ Hosting, Kinsta takes a win.
Plans and Pricing
Kinsta and Templ offer their clients many plans to choose from. Over and above that both the companies' clients enjoy some free features. Let us look at what these free features are.
Free Features offered by Kinsta
Easy upgrade or downgrade
Free SSL and CDN
2 months free if you pay yearly
No fixed term contract
Instant prorated refunds
Daily backups
Free migration by the Kinsta team
Staging environments
Actionable traffic and bandwidth analytics
Free features offered by Templ
Dashboard
Server-based cache
Staging
Daily Automatic backups
Account sharing
SSH Access with WP-CLI
Free migration services
Free WordPress update for the first year
Plans
Look below to checkout the plans offered by both the platforms. You can judge which platform is better only if you know how much you have to pay for the services you are getting.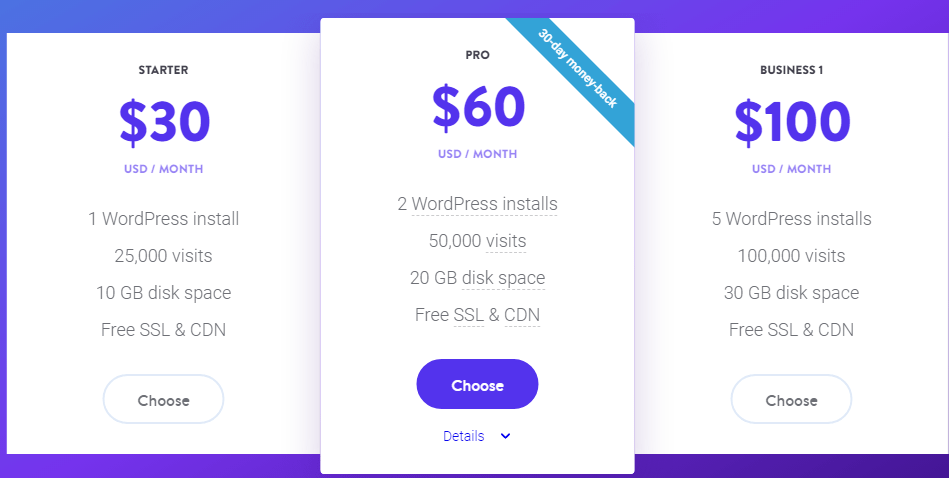 Kinsta has 10 different plans for the users of managed WordPress. The lowest plan is the Starter plan which costs $30 per month. In this plan, a user can have 1 WordPress install, 25,000 visits per month, 50 GB CDN, and 10 GB disk space.
The highest plan offered by Kinsta is the Enterprise 4 plan. In this plan you can have 150 WordPress installs, 3,000,000 visits, 250 GB of disk space, and 1000 GB CDN.
Between these 2 plans, there are eight other plans which can be bought by the clients as per their requirement. In case, the highest plan Enterprise 4 is also not enough for your company then Kinsta offers higher plans too.
It also offers dedicated VMs plans for people with higher requirements.
Templ Hosting offers five plans for you to choose from Micro, Small, Small Plus, Medium, and Large.
Plan
Price
Inclusions
Micro
$15/month
1 CPU Core (Shared 12.5%)

0.5 GB RAM

5 GB SSD Storage

5 GB Bandwidth

1 WordPress Install

Small
$29/month
2 CPU Core (Shared 12.5%)

1 GB RAM

10 GB SSD Storage

10 GB Bandwidth

1 WordPress Install

Small Plus
$54/month
2 CPU Core (Shared 25 %)

2 GB RAM

18 GB SSD Storage

18 GB Bandwidth

1 WordPress Install

Medium
$79/month
2 CPU Core (Shared 50%)

4 GB RAM

25 GB SSD Storage

25 GB Bandwidth

1 WordPress Install

Large
$149/month
4 CPU Core (Shared 50%)

8 GB RAM

50 GB SSD Storage

100 GB Bandwidth

1 WordPress Install
Get Templ Coupon Codes to save on Templ Hosting Plans.
Looking at the prices of both the platforms, we can deduce that Kinsta offers more number of WordPress installs on its plans. Hence, Kinsta is a better choice.
Conclusion
In a few words, when we compare Kinsta vs Templ Hosting, we can say that Kinsta is a clear winner and deserves our recommendation.
Check Kinsta Pricing
Take a trial of Templ Hosting