What better than gathering with people having same interest as yours on an occassion? Do you like hosting events or managing events? Well, I am here to tell you about a WordPress plugin that can create a event dashboard on my website.
Yes, I am talking about WP Event Manager Plugin.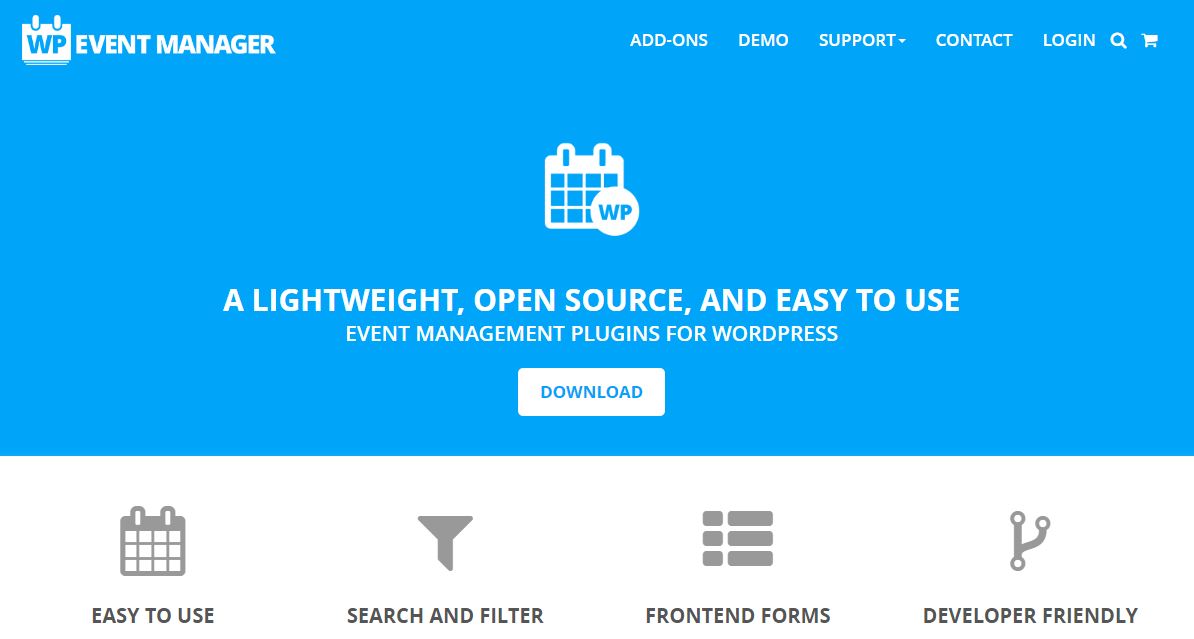 This Event listing website will have work flow like this
I will setup the website (I will come up with a detailed post)
Will invite organizers to come and post event details on the site
Event details will go to admin for approval
Once Approved the event is live on my website
Now attendees can register for the event on my website
If the ticket is paid, the paid addon can help in receiving the payments
Organizers can see entries for their events in their dashboard
Once the event comes to an end, the listing is marked as completed
I have full control over the whole system
It is a power-packed plugin to create event management dashboard like eventbrite very easily. However, it is totally different from other plugins.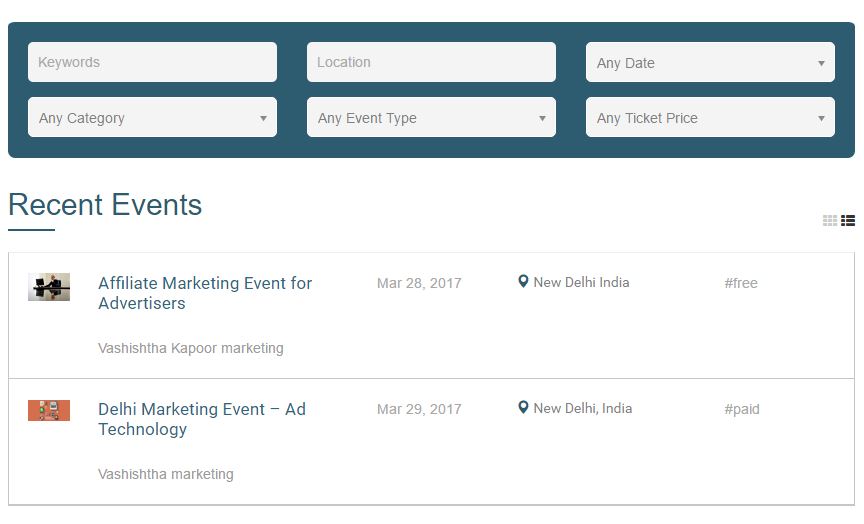 Here is a small event site I have made with this plugin.
Having your own event site is also a great feeling.
Features
Damn easy to USE

To kickstart your event site, a quick setup wizard is there to help me not trouble myself in the process. This is just a 3 step process where 3 required pages are created to get the dashboard work efficiently.
Submit Event Listing on own Site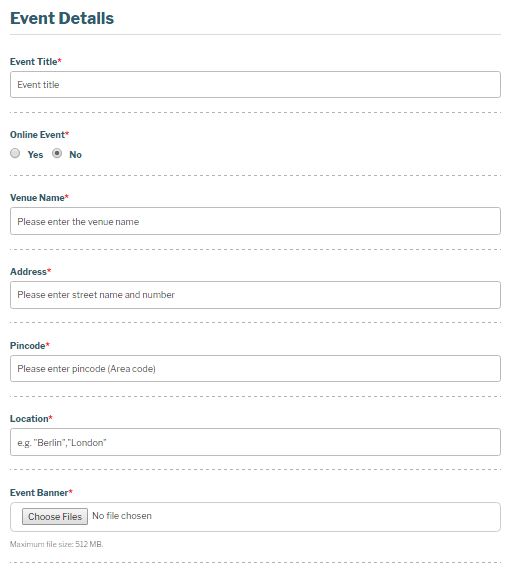 It has predesigned forms for event details to be filled by the organizer and attendees. All you need is to add the page into the site navigation. The default pages are
Events (where all events are listed)
Event Dashboard (Frontend dashboard of events for organizers)
Post an Event (A page that contains the form to list your new event)
Categorize events on location wise or type wise
It is a definite thing that when a event site will scale, it will be harder to find events in a particular category. To ease things up, I can now divide events in different meaningful categories for better navigation of my website.
It is cool. Is not it?
Custom Widgets for Sidebar

To promote my events and feature some specific events, I will add events from a specific category to my blog sidebar. This way, I get more attendees for my events through content marketing.
Paid add-ons to hold paid events and add more functions in my event site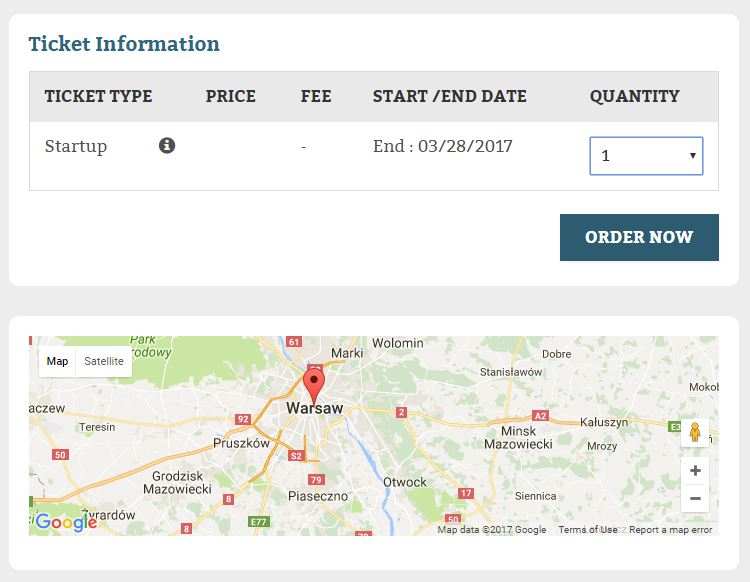 While the FREE version can help you in making a basic event management site, Pro add-ons supercharge it with more functions like attendee forms and lot more.
There is a long list of addons
1# WordPress Theme [FREE]
The freebie is a WordPress Theme that is developed exclusively for the users of the plugin. You can customize and play with this theme to design your dream event management site.
2# Google Maps [39 USD]
The Google Maps add-on lets me add maps along with the event listings. This maps addon can help my site users searching events based on locations and proximity searches.
3# Registrations for attendees [39 USD]
This feature is what you will need if you want attendees to register for the event on your site rather than contacting you directly. I can manage all the attendees in the website using the event dashboard.
4# Sell tickets [39 USD]
As simple is that, you can sell event tickets on the site easily with this addon for the plugin.  If you want to sell three level tickets or both paid and free tickets for an event, you can do it easily.
5# Calendar Widget Addon [39USD, 99USD]
There is yet another plugin addon that will add a calendar in the sidebar telling your site users about the number of events on a certain date in the whole month.
Click here for more add-ons
---
Pros and Cons
Browser Friendly
The design, outcome of the event listing is responsive and supported by all the browsers that exist. It will work best in full width pages because it already divide the event in two columns where first column covers the banner and details of the events and a sidebar for navigation. The sidebar has the logo of the organizer, Name, A link to register for the event, Venue Details and social sharing buttons.
SEO Ready
The plugin outcome produces SEO friendly HTML code as well.
New User Role : Organizer
When you install the plugin in your site, it adds a user role that is called Organizer. Anyone can register as an organizer and host event on your website subjected to be approved by an admin.
Final Verdict – WP Event Manager Plugin Review
It is better than hiring a WordPress developer and spending hundreds of bucks in making an event site. I will soon launch my event site based on this plugin only. Let me know what do you say about the plugin in comments below.